Unikrn.com Review for 2022
Two industries that have exploded in popularity recently are cryptocurrency and esports.
Cryptocurrency blew up in 2017. The industry saw returns of 1,278%, making investors and quick-hitters alike millions of dollars in profit. Governments realized crypto wasn't going anywhere anytime soon, too, and started talking about how to regulate it.
Then you have esports. The industry brought in $1.5 billion in 2017, more than double what it was projected to make. Experts expect revenue to reach $2.3 billion by 2022.
Esports is growing each year by double digits in most categories. We have no doubt the industry can hit those estimates.
So, here we have two industries that are wildly popular and profitable. You know what happens when you toss gambling into the mix?
You get a site like Unikrn.com. They are the site for esports enthusiasts. It doesn't matter if you play video games, watch others play video games, or if you bet on video games. If you're into esports, you need to have an account here.
The following is our Unikrn.com review. We cover everything you need to know before you join. This includes an in-depth look into their company, esportsbook, and other offerings.
Let's get to it.
VISIT Unikrn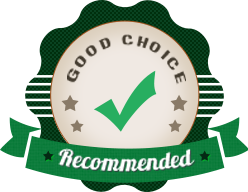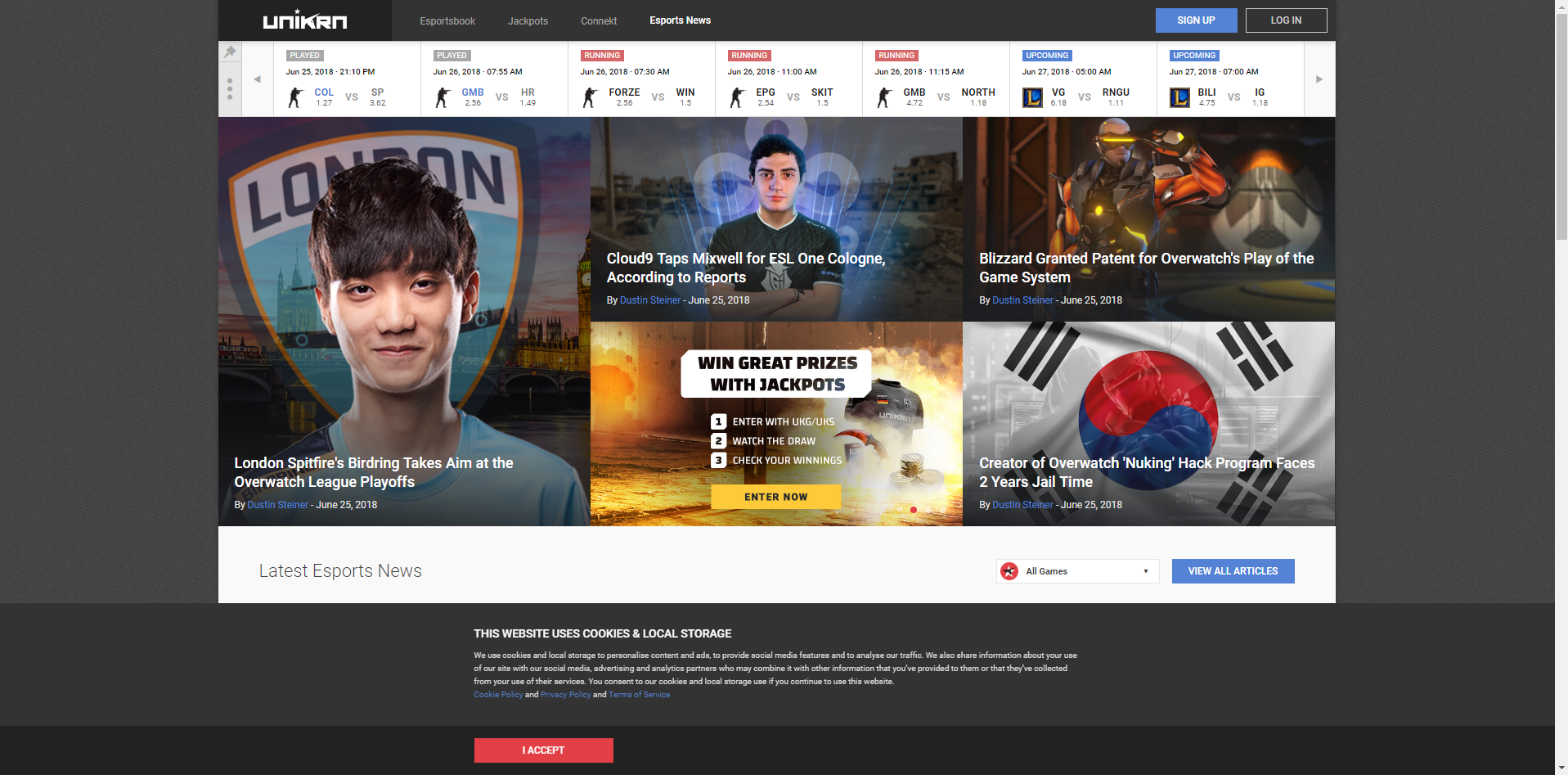 Website: www.unikrn.com
Launched in 2014
Licensed by Malta Gaming Authority
Email: support@unikrn.com
Telephone: 1-224-338-6457
Largest Esportsbook Online
Largest Variety of Esports Games/Markets
Win UKG and Skins (Both Have Monetary Value)
Tons of Ways to Earn UKG On/Offline
Win UKG for Betting, Playing, or Watching Games
Doesn't Offer Traditional Gambling Promotions
No Live Chat Support
Unikrn.com Basic Information
Unikrn.com is unlike any other "sportsbook" that we've reviewed on GamblingSites.com. They don't have the experience or legacy that bookmakers like 888 or Bet365 have. But those guys don't have the transparency, depth, or unique non-betting options that Unikrn does.
We're going to cover what they have to offer in just a few minutes. But first, we want to talk about how Unikrn.com got its start and the key things they're working on in 2020.
Their background starts nearly two decades ago with Unikrn.com co-founder Rahul Sood.
About Rahul Sood
You could say that Unikrn.com has been decades in the making based on Sood's entrepreneurial career. He's been building, selling, and investing in companies since he was 17 years old.
His first company was VoodooPC. VoodooPC built high-end custom computers. While his competitors were busy racing each other to the bottom, Sood's company went the other direction. Some of their computers sold for as much as $50,000.
Sood started the company in 1991 with $1,500 he borrowed from a credit card. He ran the company until Hewlett-Packard (HP) acquired it in 2006. They continued to build high-end gaming computers together until Sood left in 2010.
He joined Microsoft in 2011. He's known for starting the Bing Fund, Microsoft's first incubation fund for startups. He launched Microsoft Ventures in 2013 and ran the global team until he left to start Unikrn.com in 2014.
That's not the extent of his business experience, though. Rahul has also co-founded BullsOnWallStreet.com and two healthcare-related businesses, BrightSquid Medical and BrightSquid Dental.
He's documented a lot of his entrepreneurial career online. He used to run a blog, but it now redirects to his Medium profile.
He's also active on social media, especially Twitter. We recommend you follow him if you're interested in cryptocurrency, gambling laws, esports, or Unikrn.com's development.
About the Company
Unikrn is the brainchild of Rahul Sood and Karl Flores. They started the company in 2014.
In 2015, they raised $7 million ($10 million total at that point) from well-known investors like Mark Cuban and Ashton Kutcher. They also received funding from Binary Capital, 500 Startups, Indicator Ventures, and Tabcorp.
"Hundreds of companies every year try to get me to invest, whether on Shark Tank or off camera. However, I only put my money and my name on the companies that I feel will be successful, truly advance an industry and have a leadership team that I respect. Unikrn fits all these requirements. The rapid growth of esports has created an entire new category of competition and I am proud to partner with Rahul Sood and his team to help bring esports to an even greater audience. As a sports fanatic and owner of the NBA's Dallas Mavericks, I'm excited to be involved with a new sport just as it's poised for huge growth." -Mark Cuban
The company used this money to make their platform even better. For example, they made it so that you could use Unikoins – play money you used to make bets – to enter raffles, giveaways, and tournaments. They also added live streaming.
These innovations attracted new customers to their platform. They grew so fast, in fact, that they turned over 250,000,000 Unikoins in roughly 2 years.
They weren't done yet, though. Their biggest innovation came in 2017 when the company decided to make a slight pivot into the cryptocurrency arena.
Unikrn.com Holds an ICO
Mark Cuban, one of Unikrn's early investors, suggested that Sood should consider the blockchain in 2016. Sood agreed, saying that crypto would enable Unkirn to grow more efficiently.
They started working with CoinCircle to tokenize their business. The result was their own ERC20 token: UnikoinGold (UKG).
They opened the presale for their token ICO in September. The sale went from September 22nd to October 23rd, 2017. They collected 112,720 ethers, which, at that time, was worth roughly $31.4 million.
It was at this time that they also retired their Unikoins. Their soon-to-be-introduced UnikoinSilver (UKS) tokens eventually took their place.
They also created their own wallet, Unikrn Wallet. They created this to overcome some of the objections to using crypto, specifically Ethereum, to bet on sports. The biggest complaints are speed and transaction fees.
We talk more about their wallet in our banking section below.
What Does the Future Look Like?
It looks pretty darn good.
Their ICO was held shortly after they obtained their Malta gaming license. This was an important move for them. Unikrn.com decided to part ways with one of their partners, Tabcorp, because Tabcorp couldn't keep up with how fast Unikrn was moving.
The problem – Tabcorp was the only way Unikrn.com could offer real money betting in Australia and the United Kingdom.
The solution – Unikrn.com received their Malta license. They plan to offer real money betting to 80% of European countries in 2018. They told us that they plan to operate in the United Kingdom and Australia again in the future.
Then, in December 2017, they became the first crypto to be approved by a Las Vegas Strip casino.
They made a deal with the MGM to hold esports tournaments in the Level Up Lounge. You'll be able to play games like Fortnite, Tekken, and FIFA and win prizes like cash and UnikoinGold.
Then, in May 2018, the US government changed their sports betting laws so that, on a federal level, it's now legal to bet on sports. Sood said that he confirmed with New Jersey regulators that Unikrn.com will be allowed to offer real money esports betting in New Jersey.
Based on this, we expect to see Unikrn.com enter more US states once each state figures out how they're going to regulate (online) sports betting.
Restricted Countries – Who Can Play
Everyone can join and use Unikrn's platform.
Their customer support told us that everyone can bet and participate in Jackpots using the UnikoinSilver token. Only customers in areas where (crypto) betting is legal can (also) use the UnikoinGold token.
We'll talk about how to get your hands on both tokens in our promotions section.
Esports
Our website is all about gambling – playing casino games, poker, betting sports, and so on. Unikrn.com fits that description…sort of.
You can bet on esports at Unikrn. They offer so much more than that, though, helping them to stand out amongst all the sportsbooks listed here at GamblingSites.com.
We're going to look at everything you can do in the following section. We'll start with the most obvious option first – betting on competitive gaming matches in their esportsbook.
Their core offer – at least, at the moment – is their esportsbook. This is where you can bet on all sorts of video games, leagues, tournaments, and more.
Here are all the games you can bet on at Unikrn.com.
League of Legends
Counter-Strike: Global Offensive
DOTA 2
Overwatch
Rocket League
StarCraft 2
Heroes of the Storm
World of Tanks
Call of Duty
Fortnite
PUBG
King of Glory
Street Fighter V
NBA2K
Hearthstone
FIFA
One thing we noticed about their selection is how much larger it is compared to the last time we reviewed them. They've added several games since our last review.
For example, in June, they became the first esportsbook to offer action on the popular battle royale game Fortnite. They also added PlayerUnknown's Battlegrounds (PUBG), Street Fighter V, and King of Glory.
This is just the surface-level stuff, too. Dive deeper into each game, and you'll see all the competitions you can bet on. Here are some examples we found during our review.
League of Legends
NA LCS
Latin America North
Turkish Championship League
EU LCS
Legends Championship Korea
Legends Pro League
Counter-Strike: Global Offensive
Good Game League
Asia Championship
Superliga
DreamHack Summer
Overwatch
StarCraft 2
WCS Valencia
Global StarCraft 2 League
And so on.
One of the other games that caught our attention is NBA2K. Unikrn.com, along with their partner, Playwire, is going to be representing the Sacramento Kings' first esport franchise, the NBA2K Kings Guard. This team is managed by Shaq and UFC hall of famer Urijah Faber.
This is pretty cool. Unique, too. Basketball isn't the first thing that comes to mind when we think of competitive gaming. We think of games like Call of Duty, DOTA, or StarCraft. Adding competitions around games like NBA2K will open the doors for more competitors and spectators to get in on the action.
Even cooler yet – you'll be able to play games like this and Street Fighter live in tournaments held in places like the MGM Grand in Las Vegas.
Betting Options
Let's dive a little deeper into their esportsbook so that you get a complete idea of everything they have to offer here. We checked out their League of Legends options since they had 35+ competitions running during our review.
The first thing we noticed were all the competitions you could bet on. There were more than 33 in the Next To Go tab. This is where all the upcoming competitions were listed.
Then there's the Live Now tab. We found 4 competitions listed. They offered a live stream for 3 of the 4 matches via Twitch, too. The streams we watched were flawless – there was no lagging, and the graphics were crystal clear.
One potential issue we spotted while watching the stream is that the commentary was not in our native language. This won't always be the case, of course. It'll depend on where the matches are held, who's playing in them, etc. You can always mute the stream if it bothers you.
The stream will follow you down the page as you scroll, too, so you don't have to worry about missing the action as you look at the data that Unikrn.com gives you.
The data includes things like the team's win rate, percentage of firsts, objective control, wins, and so on. The type of data available will depend on the game/competition. You can use this information to make better bets.
As for markets, this will also depend on game/competition. You can bet on the winner on the first page you see (for a specific competition). Click on the View More button, though, and you'll find additional markets for you to bet on.
Here are some examples of markets we found during our review.
First Blood Map 1
First Tower Map 1
First Dragon Map 1
First Baron Map 1
Map 2 Winner
Handicap -1.5/+1.5
Total Map Over/Under
Map 1 Winner
The last tab where you'll find action is Outrights. This is where you can bet on who you think will win the overall tournament/competition.
And that wraps up their sportsbook. They have the most esports coverage by far. We've not seen a traditional sportsbook that even comes close. Factor in the streaming, variety of markets, and live betting, and you have the complete package.
The funny thing is that this is only one piece of the puzzle. We'll look at some of the other pieces in the following sections.
Connekt
Unikrn.com isn't all about watching and betting on others playing video games. No, you can earn UnikoinGold and UnikoinSilver by playing games, too.
The type of coin you earn will depend on the game you play. Play Rocket League or Clash of Clans, and you'll receive UKS. Play CS:GO, LoL, or DOTA 2, and you'll receive UKG.
It doesn't sound as if you even have to win. All they say is that the better you play, the more coins you'll receive.
There are no terms or catches, either. Once you get your coins, you can do whatever you want with them. You can participate in Jackpots, hold them, bet on competitions, and more.
To get started, all you need to do is choose the game you want to connect. Then sign in to your Steam account so that Unikrn.com can fetch all the information they need.
From there, you'll be all set to play games and earn coins.
ChallengeMe.GG
ChallengeMe.GG isn't a part of Unikrn.com – it's a sister site of theirs. Between that and the tie-in with UnikoinGold, though, we figured it was worth mentioning here.
The premise behind ChallengeMe.GG is that they're a matchmaking service for CS:GO players looking for competition. You create an account, and then you're able to look for and join (custom) matches. You can invite friends or challenge others to 1v1 to 5v5 competitions.
It goes even deeper than that, though.
They offer different styles of matches, including All or Nothing tournaments, Ladders, single-elimination cups, and more.
You can win prizes, too, such as UKG, UKS, or skins. For example, their All or Nothing tournament offered a skin worth roughly €70. Another tournament offered gold, silver, or bronze tickets that you can use to participate in their raffles. And another one we looked at was giving UKG to the winners (worth as much as $6).
Their whitepaper says that you can even bet on yourself in a match. You'll agree with your opponent(s) on how much you're both going to bet. Once you both send in your bets, you'll play. Whoever wins will get what was agreed on. The transaction will take place on the blockchain for 100% transparency.
This is a great way to add more stickiness to an already sticky esportsbook. You can play and win UKG that you can use to enter jackpots and bet on competitions on Unikrn.com.
Keep in mind that ChallengeMe.GG does require you to download software. It's compatible with Windows 7, 8, and 10. It's not currently compatible with Linux or OSX.
Sood's Medium post says they'll expand to DOTA and other games in the near future. This gives us all even more to look forward to.
Offline Tournaments
Unikrn.com made a deal at the end of 2017 with the MGM Grand to host live weekly esports tournaments.
These tournaments will be held in the Level Up Lounge at the MGM. This is across from the Hakkasan Nightclub.
Players of all skills will be able to show up and play games like Fortnite, NBA2k, Street Fighter, Tekken, FIFA, and more for prizes that include cash, UnikoinGold, and various MGM experiences (shows, fights, meals, etc.).
This is offline, but like ChallengeMe.GG, we include it here because you can win UKG, which you can use on Unikrn.com.
Unikrn.com is just getting started, too. We have no doubt that they'll come up with even more ways to bet or play and earn UKG in the future.
Banking Options
Unikrn.com no longer accepts traditional banking methods.
At one point, they did. They offered real money betting in the UK and Australia. The last time we checked them out, they accepted the following methods.
Credit cards
Direct bank transfers
BPAY
POLi
However, since they parted ways with Tabcorp, they're not able to offer real money betting. The Malta Gaming license will change that, but we have no idea how yet. We'll update this review once we know.
Right now, all Unikrn.com uses is their UnikoinGold (UKG) token. This is as close as you can get to real money betting, assuming you're in a jurisdiction that allows it. If you're not, Unikrn.com won't let you make bets with it – even if you have UKG in your wallet/balance.
It's also important to note that Unikrn.com is no longer selling UKG directly to consumers. However, Rahul Sood said that they are working on making it more accessible to customers. You can go to third parties such as CoinHub and buy UKG using fiat currency.
You don't have to buy it, though. You can earn or win it via other methods. We show a few examples of how you can do this in our promotions section below.
Unikrn Wallet
The company introduced their Unikrn Wallet at the same time as their ICO. They created the wallet because they realized that transactions costs could eat up a large portion of the token's value. Ethereum is also slow.
They created their wallet with these issues in mind. We have not seen reports of whether they accomplished this or not.
Though, you could say that no news is good news.
Accessing the Wallet
Accessing the wallet is simple. You can go directly to UnikoinGold.com or click on the sign-up button under the Unikrn Wallet tab from within your account.
Once there, you'll want to complete your registration if you haven't already. For us, we needed to add our address, phone number, email, etc.
The next step is to create your packing key.
The packing key is a sentence or phrase that Unikrn.com will encrypt. It's like a password, only it should be a little longer.
Make sure you write your packing key down. If you forget or lose it, there's no way to retrieve this information. Your wallet, along with any tokens you may have in it, will be gone forever. THERE ARE NO EXCEPTIONS.
Confirm that you wrote your key down, and then enter your Unikrn.com password, and you'll be all set. You might even receive a 2 UKG bonus once you do this. We did.
It's important that you know that you can withdraw your UKG. You can convert it to crypto and/or fiat currencies. You'll need an ETH wallet that supports ERC20 tokens first, though.
Unikrn.com will charge you 1 UKG if you withdraw your funds. You may also have exchange rates and/or (processing) fees wherever you send your tokens to.
We recommend you read Unikrn's FAQ, as it covers lots of important information about how to keep your tokens safe, who you will receive correspondence from (to prevent phishing or other scams), how UKG works, and loads more. You can find it here.
Bonus Promotions
Unikrn.com doesn't offer traditional bonuses like the ones you'll find at other sportsbooks or gambling sites. You're not going to find welcome bonuses, reload bonuses, or free bets here. There are still plenty of incentives, though.
The one highlighted on their site is their Jackpots. These are totally random drawings that award prizes like skins and UKG.
The skins are surprisingly valuable. There were several we checked out that were worth more than $30 and $40 each. You can sell your skins back to Unikrn.com for UKG if you don't plan to use them.
The largest UKG Jackpot we found was for 500 UKG. This is worth roughly $40 at today's prices. However, if more people enter using UKG than the prize is worth, the extra money will be added to a separate pool only winnable by those who enter with UKG.
You don't need UKG to enter their Jackpots, though. Many of their Jackpots accept both UKG and UKS. However, UKS users will win only 10% of the time.
Between that and the fact that UKG users are the only ones that can win bonus pools and that they have access to the highest-tier items in the legendary jackpots, it makes sense to use UKG when/if possible.
How to Get Your Hands on UKG and UKS
An easy way to get your mitts on more UKG or UKS is to complete tasks or participate in events that Unikrn.com runs. Here are a few examples of what you can do to earn more coins.
Sign up for their Unikrn Wallet
Play Dota 2, CS:GO, or League of Legends with Connekt
Watch others play games
Play their jackpots. You can (currently) win as much as 500 UKG
Connect your Facebook account to your user account
Follow Unikrn.com on social media
Sell your unwanted skins to them
Play in offline tournaments, such as those held in the MGM Grand in Las Vegas
Subscribe to their email newsletter
And so on. There's a good chance that they will come up with even more ways for you to get your hands on UKG in the future since the company is always innovating.
Another neat thing we found during our review is that you can buy pro player cards. These sort of sound like baseball cards that a lot of us collected growing up. What's neat about these is that you can earn UKG with them any time that player plays.
How cool is that? How unique is that?
Keep in mind that you will need a wallet to participate in some of their Jackpots or other promotions. However, it's probably good to have wallet access anyway if you ever plan to get your hands on UKG.
You've got to store your tokens somewhere safe. It might as well be with them.
Mobile Friendliness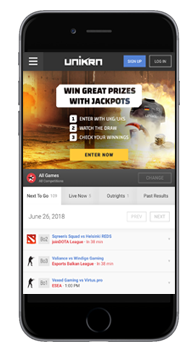 Unikrn.com has a mobile-friendly website. We checked it out during our review and were impressed by how great it looked and how well it worked.
It's pretty much identical to their website, only much smaller.
The one minor complaint we have is that their list of competitions isn't easy to find. Most sportsbooks would list them under the esportsbook heading in their main menu.
The menu would drop down to display all the competitions you could bet on.
That's not the way it works here.
You'll find their list of competitions right above the list of competitions you can bet on. We saw the All Games heading when we were there.
Click on that, and then you'll have the option to choose the game and competitions you want to view.
That's the extent of our complaints, though. Everything else, from making a bet to checking our account, was simple to do.
They've done a great job here.
Customer Support
Here are your options for how to contact their customer support.

PHONE: 1-224-338-6457
EMAIL: support@unikrn.com
Mail: 10400 NE 4th ST Suite 500, Bellevue, WA 98004
It's great to see that they offer phone support, although it's not surprising after seeing how important it is to them to offer legal, regulated, and transparent gaming.
We sent them an email to see how quickly they'd respond. We received our first response quickly – in less than an hour. But since we wanted to know more about their company (for this review), they forwarded our email to one of their managers.
We got a response the following Monday with answers to all of our questions. So, their customer supports gets two thumbs up from us.
Conclusion – Unikrn.com
Unikrn.com is in two massively popular markets – esports and crypto. They're not just involved, either. They're at the forefront, breaking new ground.
This is refreshing to see in an industry (online gambling) that's felt stale for some time now.
It's only going to get better from here, too. Unikrn.com will enter more markets and eventually offer real money betting. That's going to include bettors in the United States, too, sooner rather than later.
The bottom line – if you're into esports or esports betting, you owe it to yourself to check these guys out.
There's so much to do here that it could easily be one of the best sites you join this year.
Create your Unikrn.com account now.