Real Money Gambling in Virginia
The Virginia gambling industry is on the verge of exploding. The state is inching closer and closer towards regulated sports betting and land-based casinos.
This is in addition to the Virginia gambling sites that already accept online wagers in the state. If you want to gamble online for real money now, then we suggest you give these sites a closer look.
Rank
Gambling Site
Exclusive Bonus
Products
Get Started

#1

Bovada

50% Up To

$250

Visit Site

Bovada

#2

Las Atlantis

280% Up To

$14,000

Visit Site

Las Atlantis

#3

BetUS

125% Up To

$2,500

Visit Site

BetUS

#4

BetOnline

60% Up To

$1,000

Visit Site

BetOnline

#5

SportsBetting.ag

100% Up To

$1,000

Visit Site

SportsBetting.ag
The VA gambling landscape is about to change. The state currently has no casinos, but not only will there be casino gambling in Virginia, online sports betting is a done deal too.
The Virginia State Lottery is at the helm of these projects. Five cities will host the land-based venues and the VA Lottery will issue 4-12 mobile sports betting licenses.
This is in addition to the out-of-state gambling sites for VA that you can join.
Daily fantasy sports and advance deposit wagering are two other in-state web-based gambling options that you can take part in. The state lottery has an online subscription program too.
Things are looking bright for real money gambling in Virginia.
The Appeal of Gambling Online in Virginia
Why is the state so eager to regulate online sports betting? Why do locals to gamble online in Virginia? What's the draw?
Every gambler has his or her own reasons for gambling online. But here are a few things that appeal to most real money gamblers in VA.
Online Gambling is Accessible to All Virginians
Online gambling is all about convenience. You don't need to travel to a casino or other venue to play slots or place some bets. You can play slots online in Virginia instead.
For some players, web-based gambling is their only choice. They may be homebound for medical reasons or have other responsibilities, such as caring for small children or other family members.
Gambling Sites Fill a Void
The online gambling sites in Virginia fills a void that, until recently, the state has been unable to fill. Meaning, if you wanted to gamble for real money, you'd have to travel to another state.
The internet enables you to stay and gamble from home instead.
And even once the Virginia State Lottery manages to launch their land-based casinos, there will still be gaps in the games you can play or bet on.
The best Virginia gambling sites will fill those voids too, as online gambling websites tend to have a larger selection of poker and casino games, as well as betting markets.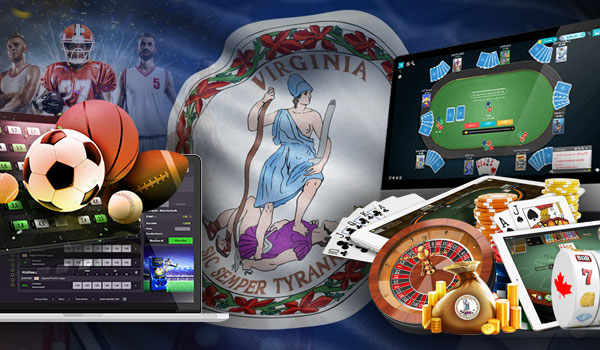 Gambling Sites are Safer
Land-based casinos will most certainly prevent you from playing if you tell them you have a problem. But how many people fess up to casino staff?
It's probably less than you think. After all, it's embarrassing to admit that you got carried away or, worse, that you can't control yourself.
But that's why we enjoy gambling online in VA. The safest Virginia online gambling sites all have options that, when used, help you to control your real money gambling. For example, you can set wagering limits, bankroll limits, or even time limits.
This enables you to not only enjoy gambling, but to enjoy it responsibly.
Virginia Gambling Site Bonuses
Land-based casinos run many kinds of promotions. For example, you can participate in slot tournaments, earn comped meals or hotel rooms, or earn points to exchange for free plays.
But there's one promotion land-based casinos never run that the top-rated online gambling sites in Virginia do. Deposit bonuses.
A deposit bonus is an offer in which the gambling site matches a percentage of your deposit. For example, a 100% match up to $1,000. You'll get $1 for every $1 you deposit, up to $1,000.
Deposit $1,000 (or more) and you'll receive an extra $1,000 in real money to gamble with. This alone is reason enough to gamble online in Virginia.
Better Gambling Banking Options
The last reason we want to share for why we prefer to gamble for real money in Virginia is the banking options you can use.
Land-based casinos tend to only accept cash. And if you forget to bring cash to the casino, then you must withdraw some from the ATM and pay ridiculous fees for the convenience.
No thanks.
Online gambling sites accept a wider range of banking options. They don't accept cash, but you can use other common banking methods instead.
Here the banking methods that most Virginia gambling sites accept.
Visa, Mastercard, and other credit cards
Bitcoin and other cryptocurrencies
MoneyGram
Western Union
Wire transfer
Not only will you have more banking options to choose from, but the best Virginia gambling sites online will offer a wide range of deposit and withdrawal limits with reasonable fees.
Those are just a few of the many reasons why prefer online gambling in Virginia to land-based casino gaming. But these reasons are only good if you join a high-quality gambling site.
Why You Must Join a Legit VA Gambling Site
We wouldn't blame you if you were itching to join a VA gambling site now, make a deposit, and place some real money wagers.
But we want to stress how important it is that you join a safe, secure, and legitimate gambling website in Virginia.
Get this wrong and you'll cancel out all the benefits we mentioned on this page. That's the best-case scenario too. You don't want to know what the worst-case scenario is.
Okay, so what does a legit gambling site look like? Well, they have the following traits in common.
License
Positive reputation
Tested and certified RNG
Responsive customer support
Secure website and software
Fair terms and conditions
It can be tough to find a gambling operator that ticks all these boxes if you're brand new to gambling for real money online in Virginia.
But that's why we're here.
Our team of experts has been at this for years, testing games, researching operators, and writing Virginia online gambling site reviews.
The result of all that work is our list of recommendations.
Instead of blindly guessing which online gambling site you join, you can use our list to make an educated decision as to where you should gamble online in Virginia for real money.
Reviewing the Best Virginia Online Gambling Sites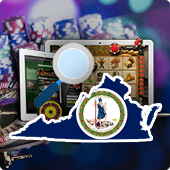 You now know that you must strive to join the safest gambling sites in Virginia you can. And you have a general idea of what a safe gambling website looks like.
As we said, you can try to find a site on your own, but this will cost you time and money – resources that you would probably rather spend gambling in Virginia for real money instead.
That's why we suggest you join one of our recommended sites. We've compiled a list of the sites we endorse to make it easy for you to choose one and get started.
How do you know that you can trust our recommendations? Because we thoroughly review every single site we recommend.
We research and test gambling sites very carefully. No stone is left unturned.
We approach every review we write as if we were deciding whether to play at that site ourselves or recommend it to our friends and family.
What do we look for? We covered arguably the most important things we look for in the previous section – good reputation, secure website, fair games, and so on.
But it's also important that every site we review accepts real money gamblers from Virginia. They must accept a wide variety of banking options, with credit cards and Bitcoin topping our list.
From there, we look for a variety of gambling promotions, quantity and quality of casino and poker games, a large selection of betting markets, and a mobile gambling app or website.
We also gauge how much fun we're having during our review. If we're having fun, odds are you will too. But if we're not, then we won't recommend them – because no one wants to join a boring gambling site.
This is tough work. It takes us hours, if not days to complete. But we do it because there is a sea of misinformation on the internet about where to go for real money Virginia gambling online.
We don't want you to fall prey to that bad information. No, we want to be your gambling lighthouse, in which we shine a light on the best and safest gambling sites in VA.
The Evolution of Gambling Laws in Virginia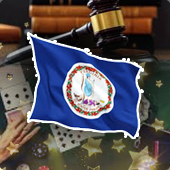 If you're already aware of Virginia's previous stance on gambling, then you may be surprised at all the expansion that's currently taking place.
For years, we've been noting that Virginia is one of the few states without casinos. But that's changing, as up to five venues in select cities will soon house slots, table games, and other betting favorites.
It's taken quite a while to get to this point, though.
Lawful Gambling in Virginia Started in the 1970s
Aside from under-the-table card and dice games, as well as unlicensed pari-mutuel wagering, nothing was officially on the books until 1973.
Charity gambling was up first, in which bingo, pull tabs, seal cards, and raffles were permitted for fundraising purposes. But another 15 years would pass before the state had a program that could really offset some of the annual budget.
Virginia Online Gambling Emerged in 2004
In 1988, the Virginia Lottery emerged and soon became a multibillion-dollar business. The same year, the official seal of approval was finally given to pari-mutuel wagering, even though the first races didn't take off until '91. Off-track betting followed in 1992.
That's not the end of the racing story, though. Advance-deposit wagering hit Virginia in 2004, becoming the first Virginia online gambling alternative.
Daily fantasy sports and lottery followed years later. Now, at least until the sports betting program is finalized, ADW, DFS, and online lottery sales are the big three when it comes to VA online gambling sites.
That doesn't mean that online gambling isn't active in Old Dominion. Some casino, poker, and sports betting sites have already begun welcoming Virginians. There are several safe sites to choose from.
No matter what you want to gamble on for real money in Virginia, we have you covered.
Overview of Legal VA Gambling
Type of Gambling
Legal Status
Land-Based Casinos
Recently approved for five locations; details pending
Online Casinos
Through out-of-area providers only
Land-Based Pari-Mutuel
One racino and OTBs
Online Pari-Mutuel
Advance deposit wagering websites
Land-Based Lottery
Retailers across the state
Online Lottery
Subscriptions available through the Lottery website
Land-Based Charity Gaming
Approved for bingo, pull tabs, seal cards, and raffles
Online Charity Gaming
None
Land-Based Sportsbooks
None
Online Sportsbooks
Officially approved for up to 12 starting in July 2021
Other Gambling in Virginia
Daily fantasy sports, historic racing
Ready for Real Money Gambling in Virginia?
The state has flown under the radar when it comes to gambling and online gambling in Virginia. Many people may not have even been aware that three in-state virtual betting programs were already running – ADW, DFS, and online lottery subscriptions.
But legal gambling is now front and center, as the state prepares for its first land-based casinos and online sportsbooks.
While all betting options are open to Virginians through out-of-state providers, it won't be long before players have the same in-person opportunities. Before too long, you'll get to have your fill of land-based slots, keno, video poker, blackjack, craps, poker, baccarat, and more.
But until then, you can enjoy real money gambling in Virginia by joining a safe, legit, and top-rated Virginia online gambling site from our list above.