Real Money Gambling in South Carolina
The Palmetto State doesn't have casinos. Pari-mutuel betting is illegal. Residents can't even have a poker table in their homes.
But you can gamble online in South Carolina. Don't join just any real money gambling site, though. Make sure you join one of the best South Carolina gambling sites on the web.
Rank
Gambling Site
Exclusive Bonus
Products
Get Started

#1

Bovada

50% Up To

$250

Visit Site

Bovada

#2

Las Atlantis

280% Up To

$14,000

Visit Site

Las Atlantis

#3

BetUS

125% Up To

$2,500

Visit Site

BetUS

#4

BetOnline

60% Up To

$1,000

Visit Site

BetOnline

#5

SportsBetting.ag

100% Up To

$1,000

Visit Site

SportsBetting.ag
Even though there aren't any casinos in South Carolina, locals are still playing real money slots and placing bets on their favorite sports teams.
How are they pulling this off?
Well, there are several out-of-area web-based providers that accept gamblers from South Carolina.
These SC gambling sites are awesome because they're more accessible than a brick-and-mortar casino. They're also safe, secure, and regulated. They accept banking methods like Visa and Bitcoin. And they run promotions you'll never see a land-based casino run.
These are just a few reasons why it makes sense to join one of these sites if you want to gamble for real money in South Carolina.
Let's look at a few more.
Why Gamble Online in South Carolina?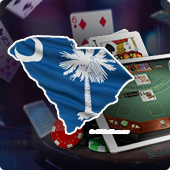 If you've never placed a sports bet through an online bookmaker or played your favorite slot game from the comfort of your couch, you may wonder why people in South Carolina gamble online.
Gambling on the web isn't for everyone. Some people prefer land-based gambling. But don't make that decision for yourself yet until you read all the reasons why people online gambling.
Quick and Easy
Whether you're accessing gambling sites in SC or anywhere else in the world, the number one reason for gambling online is convenience. You don't have to go anywhere. All you need is your computer or smartphone, and you can gamble for real money.
For some gamblers in South Carolina, the internet is the only option. Maybe they have a disability that keeps them home or they don't like smoky environments.
Gambling websites make it easy to enjoy your hobby in a safe and healthy way.
Only Alternative
This point is a bit on the nose, but you can't play poker, casino games, or place a bet in SC. Your only options for land-based gambling is to travel to another state or take a casino cruise.
The problem with land-based options is that you can't gamble on a whim.
They require planning, taking time off work, and a budget set aside for non-gambling priorities like traveling and food. That's not a concern when you gamble online in South Carolina.
The top South Carolina gambling sites are open 24/7/365, and the only money required is what you're willing to lose playing.
Better Promotions
Say you do decide to take a cruise or fly to a gambling destination like Las Vegas. You'll never find a land-based casino in South Carolina that runs promotions like online gambling sites do.
Deposit bonuses
Rebates
Guaranteed tournaments
Reduced juice
Free bets
Free plays
Most gaming promotions are reserved for real money gamblers in SC, but some gambling sites do run no deposit promos.
These are great if you're tight on cash or if you want to test a site out first before you commit with your wallet.
Variety of Gambling Opportunities
Most brick-and-mortar casinos are missing something. Maybe they have blackjack but not Double Exposure Blackjack. Or maybe they have a casino but not a sportsbook.
This is less of an issue online. Gambling sites won't have every game under the sun, but they'll have a much larger selection than a brick-and-mortar casino will.
But what makes online gambling awesome is that, if one site doesn't have what you're looking for – whether that's poker, a specific betting market, or casino game – it'll take you seconds to join a gambling site that does.
But you might not even have to worry about joining a second site if you join one of the best real money gambling sites in South Carolina from the start.
Wider Range of Stakes
Most land-based gambling options are expensive. You can't play live blackjack in most casinos for less than $5 per hand, if not $10. Scratch cards are $5-$10 each minimum. And most poker tournaments start at $50-$75, not including rebuys or add-ons.
But if you join one of our handpicked South Carolina online gambling sites, you can enjoy real money gambling for much less cash.
Take poker, for example. You can play Texas Hold'em cash games for as little as $0.01/$0.02 per hand and $1 for multi-table tournaments.
You can play blackjack games for as little as $1 per hand. And you can play live dealer roulette for as little as $0.50 per spin.
This isn't to say that you can't play for high stakes either. You can. Any legit gambling website in SC will let you play for hundreds and thousands of dollars too.
Anyway, as you can see there are many reasons to gamble online for real money in South Carolina.
Online gambling is accessible, accommodating, and affordable.
You should give it a shot if you haven't already. The information in the next section will help you get started.
Getting Started With Online Gambling
We went over several reasons why you should gamble for real money online in SC. But we understand that some people will be apprehensive to try something new or spend money online.
The great news is that the minimum deposit at most gambling websites in South Carolina is a mere $5-$20. This will allow most people to test the waters relatively risk-free.
You can take things a step further and use a more discreet banking option too, such as Bitcoin or Ethereum.
But we're getting ahead of ourselves. We need to back up a little if we're going to explain how to gamble online in South Carolina safely.
Here are the steps you need to take.
Choose a Safe Gambling Site
We're not going to spend too much time explaining this part of the process because we explain later why you should read gambling reviews and check out our process for reviewing and ranking sites.
We also have a table at the top of this page with our recommended South Carolina gambling sites. We make it incredibly easy to find a safe and legit gambling website.
All we're going to say now is that it's important to join a top-rated and safe SC gambling website. The benefits are many, such as joining a site with fair games and one that pays out quickly.
Create Your Account
Once you know which gambling site you want to join, the next step is to create an account. All you need to do is sign-up. This is easy to do.
Head to the South Carolina gambling site you want to join and find the "join now" link. This will take you to a form that asks for the following details.
Your name
Email
Where you live
Your DOB
Your phone number
Real money gambling sites ask for this information to ensure you're old enough to use their site and that you're a person who legitimately wants to gamble and isn't trying to scam them.
Fill out this form and hit submit. The gambling site will send you a confirmation email. Open that email and click the link inside. You now have an account with a gambling site in SC.
Make a Deposit
If you want to gamble for real money in South Carolina, your next step will be to make a deposit. Americans can use these banking methods.
Credit/debit cards (Visa, Mastercard, American Express, Discover)
Gift and prepaid cards
Bank wires
Money transfers (MoneyGram and Western Union)
Cryptocurrencies (Bitcoin, Litecoin, Ethereum, Dogecoin)
We recommend using cryptocurrency whenever possible.
Bitcoin is the most common form of crypto, but you can use any form you want and know that your payment will be anonymous and cheap. This is a great way to "test the waters" if you're new to online gambling in South Carolina.
Claim a Gambling Promotion
The last step before you gamble online in SC for real money is to claim a promotion. The most common promotions for new gambling customers are deposit bonuses and free bets or plays.
We already talked earlier about some of the promotions you can claim, so we won't repeat that information here.
What we will tell you is that if you want to claim a welcome promotion, now is the time to do it – during your deposit. Otherwise it will be too late and you'll miss out on hundreds of dollars.
Gamble!
The last step is to start playing games and placing bets. Online gambling software is simple to use and intuitive to navigate. If you're comfortable using your phone or laptop, you should be fine.
From here, the sky is the limit.
You can play online slots in South Carolina. Blackjack. Video poker too. Join a top online SC gambling site and you place sports bets and play poker as well.
So, that's how to gamble in South Carolina online for real money.
What's awesome about gambling online is that you can be up and running in a matter of minutes once you know which gambling website you want to join.
And we want to help you figure that out, which is why, in the next section, we're going to talk about the importance of gambling reviews and how they'll help you choose where to gamble online in South Carolina.
Our Gambling Site Reviews
Let's talk about gambling website reviews.
Reviews of online gambling sites are important because so many sites look the same on the surface but are different once you log in. Their games might be different. They might accept different banking methods. The promotions are always different too.
We review every gambling site in South Carolina to shoulder the burden. Do you want to create an account and make a deposit at dozens of gambling sites?
We didn't think so. That's why we do it for you.
Once inside, we go through every site with an open mind. We look for things that make a site unique, such as an exclusive offer or game that you can't find anywhere else.
We also go into our South Carolina gambling site reviews with a checklist, because we don't want to ever recommend a gambling website that fails to meet our standards.
Here's what's on our checklist.
Company

Ownership reputation
Terms and conditions
Customer service

Banking

Available banking methods
Turnaround time for payouts
Whether fees are charged and how much

Promotions

Variety of promotions
Promotion terms and conditions

Website

Mobile compatibility
User-friendliness
Website design

Gambling Options

Number of gambling options
RNG certification
Game variants
Betting limits
This might seem like a lot of work, and it is. It takes us several hours to research and test every real money gambling website in South Carolina.
The upside is that when we recommend a site to you, we know that it's one of the best and safest South Carolina gambling sites online.
Ranking the Best SC Gambling Sites
Once we're done reviewing every online South Carolina gambling site, we then rank them. This serves a totally different purpose from our reviews.
Our reviews are meant to tell you whether a site is a good fit for you – if they have the specific banking methods, promotions, or real money gambling options you're looking for.
This is a great way to thin out your options, to create a top list of sites to choose from.
Our rankings tell you which sites we recommend you join first. You can use this list of gambling sites in one of two ways.
To break a tie between two or more sites you're considering joining.
To choose a South Carolina gambling website when you have no idea what you're looking for
The reason doesn't matter, though. All that matters is that when you join a gambling site we recommend, you know that you're joining a safe, secure, and legitimate site for online gambling.
What's more is that we rank sites across several categories. This means that not only can you find a list of top-rated SC gambling sites but, if you want, you can dig a little deeper and find the best poker rooms, betting sites, and casinos in South Carolina.
The last thing we want to point out about our rankings is that they're not static. We're changing them all the time, to reflect any changes – positive or negative – every gambling site makes.
Sometimes this means we'll upgrade the rankings for a site, which will move them up our list. Other times it means we'll downgrade a site and they'll move down our list or be removed entirely.
The point is this – if you want the most accurate information at your fingertips regarding where to gamble in South Carolina online, our reviews and rankings will point you in the right direction.

Brief History of Gambling in South Carolina
Gambling in the Palmetto State has historically been kept to a minimum.
South Carolina's first foray into gambling was in 1976 when they passed the Bingo Act. This Act approved bingo games so long as the games benefit nonprofit organizations.
And then there was video poker, was all the rage for over a decade in the 1990s. Machines were in 7,000 locations across the state, generating millions of dollars for the state.
But anti-gambling conservative voices were loud and powerful. In 2000, video poker was sent packing, along with the millions in annual state revenue.
An education lottery was next and last on the list of regulated gambling options in South Carolina.
Fast forward to today. There's a lot of anxious anticipation about mobile sports betting. Legislators are growing weary of watching neighboring states benefit from South Carolinian gamblers.
Every state is looking for ways to supplement their budgets. South Carolina is no exception. And not only are they missing out on casino revenue, but daily fantasy sports revenue too.
The bottom line is that the state is missing out on a lot of gambling revenue. Time will tell if they decide to regulate other forms of gambling to reclaim some of it, such as legalizing gambling online in South Carolina.
This would likely lead to legal online gambling sites in South Carolina, which would be awesome to see.
Current Gambling Options in SC
Type of Gambling
Legal Status
Casinos
A casino cruise; must be three miles offshore before tables and machines open
Poker
Not approved
Pari-Mutuel
Not approved
Daily Fantasy Sports
Not officially licensed and regulated, but acceptable
Lottery
Tickets sold through local retailers
Charity Bingo
28 bingo halls
Sports Betting
Not approved, but mobile sports betting is under consideration
Online Gambling
Provided through operators from outside jurisdictions
Making the Most of South Carolina Gambling
There are quite a few missing pieces when it comes to land-based gambling and online gambling in South Carolina. The state didn't even dip its toe into the betting waters for the first time until 1976.
But even though there aren't any land-based casinos, South Carolina could still leap into the virtual gambling world. Mobile sports betting is one of the hottest topics being discussed by state legislators. If it passes, it could open the door to many real money gambling opportunities.
In the meantime, though, you're not without options. One of the best options available to you is online gambling where there are hundreds of casino and poker games and betting markets for you to choose from.
You can start enjoying all this in a matter of minutes. All you need is an account with at least one of the best online gambling sites in South Carolina, such as the ones listed at the top of this page.
Join a site now, and you'll be on your couch in South Carolina, gambling for real money before you know it.