Real Money Gambling in Washington State
In some ways, the Evergreen State has a progressive stance on real money gambling. Washington has agreements with nearly 30 tribes for legal Class III casino gaming. The state derives quite a bit of income from approved card room activities too. Currently, 60 operations are in full swing 24/7.
There are many opportunities to gamble online in Washington State, too. All you need is an account with at least one of the best Washington gambling sites.
Rank
Gambling Site
Exclusive Bonus
Products
Get Started

#1

Bovada

50% Up To

$250

Visit Site

Bovada

#2

Las Atlantis

280% Up To

$14,000

Visit Site

Las Atlantis

#3

BetUS

125% Up To

$2,500

Visit Site

BetUS

#4

BetOnline

60% Up To

$1,000

Visit Site

BetOnline

#5

SportsBetting.ag

100% Up To

$1,000

Visit Site

SportsBetting.ag
Washington is showing signs of softening its position on virtual gambling. Advance-deposit wagering (ADW) is pari-mutuel action sanctioned by the state, even though the service is exclusively online.
Sports betting was approved in 2020 and will include an on-site mobile option. Additionally, Muckleshoot Casino has a unique gambling app that allows its players to participate on the go or from home. The app focuses on games not played against the house, like bingo.
However, most of the top Washington online gambling sites are from jurisdictions outside the state. The state largely maintains an anti-online gambling position to in an effort to keep money directed toward the brick and mortar casinos in the state.
Two Types of Washington Gambling Sites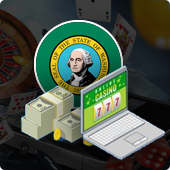 There are two types of real money gambling sites in Washington State. The first is what we call an "all-in-one" gambling site.
All-in-one gambling sites offer more than one product. For example, an all-in-one gambling site might offer sports betting and casino games, or it might offer all that plus a poker room.
There are a few benefits to joining this type of gambling site.
You only need one account to bet on sports, play casino games, and play online poker.
It's much easier to keep track of your bankroll since it's not split up between several gambling accounts.
You'll have more promotions, such as deposit bonuses, free bets, and rebates, to choose from.
What we especially like about all-in-one gambling sites, especially for beginners, is that you can get a good idea of the games you can play and bet on with only one account and minimal risk.
This is even truer if you join one of the sites we recommend on this page, which are the best all-in-one gambling sites for Washingtonians.
The other type of gambling site is product focused, which means that it's either a casino, sportsbook, or poker room.
You'll want to join one of these Washington online gambling sites if you're heavily into casino games, betting, or poker, and don't care much about the other options.
We've written guides for online casinos, betting, and poker in Washington State too, as well as made recommendations for the best sites that you can join in each category.
In some ways, the best real money gambling sites in WA are a well-kept secret. Operators aren't buying airtime for TV commercials or placing ads through local media outlets. You can pull up a list of Washington casinos or card rooms, but it doesn't include their virtual competitors. That's because, aside from a few exceptions, the Evergreen State hasn't embraced online betting.
When you're on the hunt for a safe, secure, and fair gambling website that lets Washington players use their service, it could take longer than a simple internet search. We wouldn't recommend diving in and setting up a betting account on the first site you find, even if it does say that they service Washington customers.
What do you do then, especially if you've never gambled online in Washington before?
Our suggestion would be to familiarize yourself with what you should be looking for in a reputable gambling site and take advantage of quality recommendations.
Ranking Online Gambling Sites for WA
It's one thing to take a peek at a list of suggested providers, but it's another to know why they're considered the best WA online gambling sites.
You may come across some websites that accept players from your state, but that's not enough in our book. When you're wagering real money, you need assurance that the games are fair and that you'll get your winnings when the time is right.
That's just part of the picture, too. There are quite a few moving parts to a gambling website, so we research and compile data on everything and use the findings in our overall ratings.
We have an article that gives you an in-depth look at our ranking process. But the following are some of the items on our checklist that we address whenever we prepare our rankings of the top Washington gambling sites.
General gambling options (casino, live casino, racebook, sportsbook, poker room)
Variety of banking methods
Fees associated with withdrawals or, in some cases, with deposits
Payout turnaround times
Customer service access
Transparent and understandable terms and conditions
Website design and navigation
Mobile access
Reputation and reliability
We go over every site from head to toe. We also provide full details of each site in our gambling site reviews.
This is why you can rest assured that, when you join one of our recommended sites for real money online gambling in Washington, you're joining one of the best.

Brief History of Gambling in Washington
The early days of legal gambling in the Evergreen State are similar to other US states. Pari-mutuel betting kicked things off in 1933, followed by a lull for decades.
Expansion Evolution
Phase two of gambling expansion came out in the 1970s, with bingo and raffles used as charity fundraisers. The '70s also ushered in Washington's Gambling Act, which legalized card rooms. These mini casinos have been going strong since 1973 and contribute quite a bit to the state's revenue.
Washington's lottery came up next in the 1980s, at the same time as approved off-track betting (OTBs). But the real surge in land-based betting started in the 1990s when tribal casinos signed compacts, giving them the go-ahead for Vegas-style casinos.
From Card Rooms to Casinos
There are 30 casinos spread out throughout the state, with table games, high-stakes bingo, and VLTs (video lottery terminals), instead of traditional slots.
Between the card rooms and the casinos, Washington's gambling opportunities are abundant.
The state does everything it can to protect itself and keep the money flowing in their direction. And that's why online gambling is positioned as the enemy in the Evergreen State.
Gambling Goes Online
While Washington's legal position has typically been to declare all online gambling off-limits, that's not necessarily the case across the board. Approved advance-deposit wagering (ADW) provides online pari-mutuel betting.
Muckleshoot Casino even found a loophole in the system with its dedicated app for bingo and other non-house gaming. Players buy their bingo games at the casino and have to return to collect any winnings they accumulate. But, as far as playing, they can grab their smartphones and root on B-14 from the comfort of home whenever they want.
Legal sports betting is new as of 2020, and it includes mobile access with a caveat, like the Muckleshoot app.
Casinos have the option of a mobile book, but it's micro-geolocated, meaning it only works in the confines of the venue. You could go to a coffee shop and place your slips, or multi-task from a blackjack table. But once you leave the premises, all bets are off, as it's not a fully-functional online service.
Everything else is deemed unlawful in Washington State. That doesn't mean there aren't opportunities. But because they're not sanctioned, it's a "play at your own risk" situation. If you decide to move forward and give it a go, we highly suggest that you join one of the more reputable real money gambling sites in Washington State.
Overview of WA Gambling
Type of Gambling
Legal Status
Casinos
30 tribal casinos
Card Rooms
60 card rooms
Pari-Mutuel
Approved for in-person and online through ADW sites
Lottery
Tickets sold at retailers across the state
Charity Gambling
Bingo and raffles
Daily Fantasy sports
Specifically prohibited in Washington
Online Gambling
Available through out-of-state providers, but not legal in Washington
Online Gambling Options in WA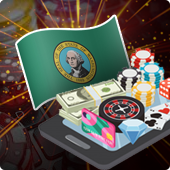 Gambling online in Washington isn't prevalent, but it's not entirely off-limits either.
There are three types of Washington online gambling opportunities you have to choose from.
Approved WA Online Gambling
Only one type of online gambling site is legal and regulated in the state of Washington, and that's ADW or advance-deposit wagering.
Pari-mutuel betting was the first on the books in the Evergreen State, and it has longevity. The activity evolved from in-person to include OTBs and ADW. There are a few options for ADW sites, and they've all been vetted by the state.
Online Gambling With Limitations
The next grouping is virtual betting with a twist. In this category, you've got the Muckleshoot Casino app with at-home bingo games. While it's a mobile service, the financial end of things is handled in-person.
This type of service will also extend to mobile sportsbooks when they launch. Mobile books are part of the new sports betting legislation.
However, all of the activities take place within the confines of the casino. So, they don't have as much benefit as other online sportsbooks, but you also don't have to go to a betting window if you're busy at a table game or having dinner.
Out of State Gambling Site Providers
Available but not "officially" approved is the third category, and it encompasses the most activity. These websites are ones that originate from other jurisdictions but have extended an invitation to Washington-based players. They're not legal within state lines, but punters still take advantage of the service.
These sites cover online casinos, sportsbooks, and poker rooms. We've made some suggestions regarding the best gambling sites for Washington. But again, you have to decide what's best for you.
Summary of Gambling Online in Washington
Not all forms of real money online gambling in Washington are permitted, yet the state has approved advance-deposit wagering websites. There is also a bingo app, and the newly approved sports betting package includes a geo-located mobile option.
It appears that the stance on Washington online gambling may be shifting ever-so-slightly. Until any official announcement, though, residents can still walk into a tribal casino, head to a card room or OTB, play some bingo, and buy lottery tickets.
A small number of online gambling sites allow residents from WA, too. So long as you stick with the best Washington gambling sites that we recommend, you're safe to play and bet on your favorite games.