Our Dafabet.com Review for 2022
Dafabet is a privately-owned gambling company based in the Philippines. They have more than 1,000 employees who routinely process thousands of gambling transactions.
Dafabet comes highly recommended from trustworthy 3rd party sources. ThePogg.com recommends them; they have good ratings at the WizardOfOdds.com; AskGamblers.com, too, along with minimal complaints. This is impressive given that Dafabet.com has been serving China and the Asian Pacific market since 2004.
So, we decided it was time we review them. And this is one review you'll want to read to the end if you're in the market for a sportsbook, casino and poker room – or, all 3. Because Dafabet.com is not a good fit for everyone. You'll have a better idea if they're a good fit for you by the time you're done reading this review.
So, enough chit-chat – let's get into the review now, starting with their payment methods.
Please Note: Our review covers Dafabet.com. But they own lots of other sites, including Dafa888, DafaPoker, DafaBetSports, and I'm sure many others. I didn't go through these sites with a fine-toothed comb; but as far as I can tell, each site has the same offers, games, options, etc.
In fact, they have so many websites that they felt the need to explain how to tell the difference between a real Dafabet-owned website, and a fake one.
VISIT Dafabet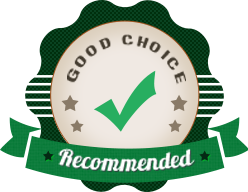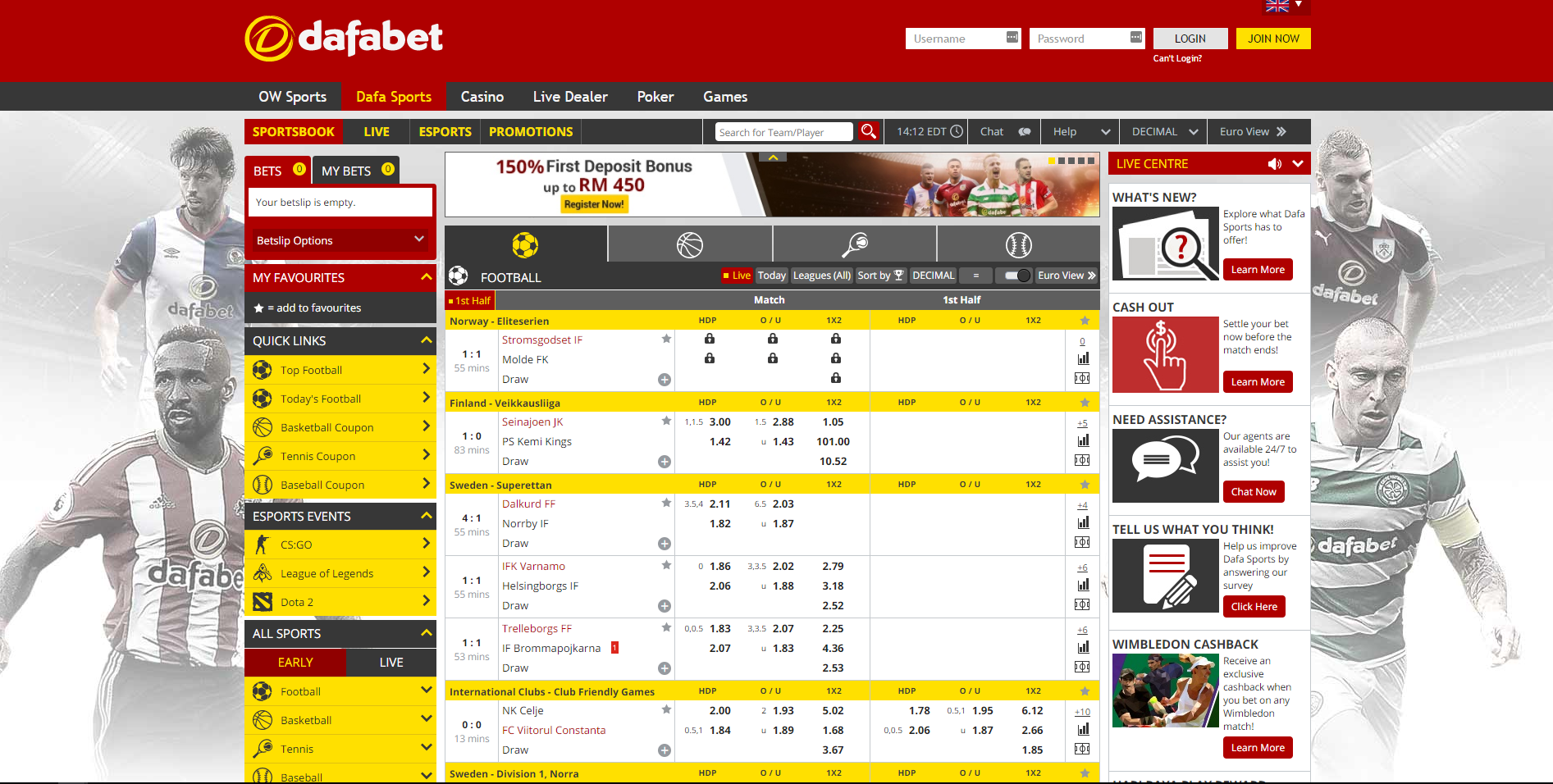 Website – http://www.dafabet.com/
Launched in 2004
Licensed by Cagayan Economic Zone Authority
Email – ensupport@dafabet.com
Telephone – 800 7423 2274
Uses Playtech Software
High Quality Games and Selection
Sportsbook Available
US Players Restricted
Banking Options
Deposits
| Payment Type | Currency | Minimum | Maximum | Processing Times | Fee |
| --- | --- | --- | --- | --- | --- |
| Asian Teller | CNY/RMB | 100 | 20,000 | Up to 24 Hours | 0 |
| Skrill | GBP, EUR, USD, KRW, PLN, INR | 10 | 60,000 | Up to 24 Hours | 0 |
| Skrill (CC/Debit | EUR, GBP, USD | 10 | 1,000 | Up to 24 Hours | 0 |
| Skrill (Bank Transfer) | EUR, GBP, USD | 10 | 1,000 | Up to 24 Hours | 0 |
| Neteller | USD, GBP, EUR, INR, RUB | 15 | 50,000 | Instant | 0 |
| eCashAsia | THB | 300 | 30,000 | Instant | 0 |
| paysafecard | USD, EUR | 15 | 1,200 | Instant | 0 |
| eTransferAsia | CNY/RMB | 100 | 50,000 | Instant | 0 |
| easypay168 | CNY/RMB, THB | 100 | 50,000 | Instant | 0 |
| inpay | CNY/RMB | 450 | 5,000 | Instant | 0 |
| Local Bank Transfer | IDR, MYR, CNY/RMB, THB, VND, INR, KRW | 150,000 | 100,000,000 | Instant | 0 |
| ePayDirect | CNY/RMB | 100 | 50,000 | Instant | 0 |
| FuyuPay | CNY/RMB | 100 | 50,000 | Instant | 0 |
| CashDirect | CNY/RMB | 100 | 35,000 | Instant | 0 |
| GoCash88 | MYR, THB | 30 | 50,000 | Instant | 0 |
| ePlus | CNY/RMB | 100 | 35,000 | Instant | 0 |
| Skrill 1-Tap | GBP, EUR, USD, KRW, PLN, RON, INR | 10 | 60,000 | Instant | 0 |
| XinBinTeller | CNY/RMB | 100 | 50,000 | Instant | 0 |
| AstroPay Card | CNY/RMB, INR | 50 | 50,000 | Instant | 0 |
| Cai Mao Deposits | CNY/RMB | 100 | 50,000 | Instant | 0 |
| VYing | CNY/RMB | 100 | 500 | Instant | 0 |
| KuaiPay | CNY/RMB | 100 | 50,000 | Instant | 0 |
| ZhenPLus | CNY/RMB | 100 | 20,000 | Instant | 0 |
| Cai Fu Transfers | CNY/RMB | 100 | 50,000 | Instant | 0 |
| JB | CNY/RMB | 100 | 50,000 | Instant | 0 |
| CashBin | CNY/RMB | 100 | 2,000 | Instant | 0 |
| WePAY | CNY/RMB | 100 | 5,000 | Instant | 0 |
| UNI Deposits | CNY/RMB | 100 | 50,000 | Instant | 0 |
| UNI Deposits (2) | CNY/RMB | 100 | 50,000 | Instant | 0 |
| Cash Royale | CNY/RMB,THB | 100 | 50,000 | Instant | 0 |
| AliChat | CNY/RMB | 100 | 3,000 | Instant | 0 |
| AliTeller | CNY/RMB | 100 | 1,000 | Instant | 0 |
| AliDeposit | CNY/RMB | 100 | 5,000 | Instant | 0 |
| BPay | VND | 200,000 | 300,000,000 | Instant | 0 |
| QianPay | CNY/RMB | 100 | 5,000 | Instant | 0 |
| QianPay (2) | CNY/RMB | 100 | 50,000 | Instant | 0 |
| ViPay | CNY/RMB | 100 | 49,999 | Instant | 0 |
| ViPay by WeChat | CNY/RMB | 100 | 1,000 | Instant | 0 |
| ViPay (2) | CNY/RMB | 100 | 3,000 | Instant | 0 |
| FastCash Asia | IDR | 150,000 | 10,000,000 | Instant | 0 |
| Union Secure | RMB | 100 | 20,000 | Instant | 0 |
You'll want to keep in mind that both the min and max limits will depend on the method and currency you use.
The 100/1,000 limits for ViPay by WeChat apply to people depositing in CNY, as that's listed before RMB.
Deposits
| Payment Type | Currency | Minimum | Maximum | Processing Times | Fee |
| --- | --- | --- | --- | --- | --- |
| Skrill | GBP, EUR, USD, KRW, PLN, INR | 10 | 60,000 | Up to 24 Hours | 0 |
| Neteller | USD, GBP, EUR, INR, RUB | 15 | 50,000 | Instant | 0 |
| Local Bank Transfer | IDR, MYR, CNY/RMB, THB, VND, INR, KRW | 150,000 | 100,000,000 | Instant | 0 |
| Skrill 1-Tap | GBP, EUR, USD, KRW, PLN, RON, INR | 10 | 60,000 | Instant | 0 |
The instant processing times are great to see. Even waiting 24 hours for Skrill is okay, since once they do process the payment it should hit your account near-instantly.
I'm also a fan of the low cash out minimums and zero fees, though you may have to pay fees on your end. You'll have to talk with your bank or payment processor to be sure.
How to Customer Support
There are a few ways you can contact Dafabet.com. You can use:
They also have other department specific email addresses, social media contacts, QR codes, Skype access, a contact form, and more, on their support.
What Offers & Deals Will You Find at Dafabet.com?
Dafabet.com offers lots of promotions. Which makes sense, considering they have a full-blown sportsbook, casino and poker room.
For simplicity's sake, we're going to list their most evergreen offers below under the same categories you'd find them under on their website.
Please Note:
Most of their offers aren't evergreen – they all seem to expire within the next few weeks or months. So, we listed the most important offers, such as the welcome bonus and VIP program. But the most important thing to take away from this is that, if you see an offer you want, you want to jump on it fast so not to miss it.

OW Sports & Dafa Sports Promos
Please Note:
The offers below are listed in both the OW Sports and Dafa Sports sections.
Welcome Bonus
This is a 150% match offer up to RM 450. The min deposit is RM 30. The playthrough is 15x the deposit + bonus.
Refer-a-Friend
Get RM 68 when you refer a friend and they make their first deposit. There are no limits to the number of friends you send. In fact, if you send 10 (successful) referrals within a two-week period, Dafabet will give you an additional RM 68.
This offer has a 3x playthrough before you can cash out. You'll also need to place bets on odds of 1.5 or higher.
MLB Cashback
Receive weekly cashback bonuses on your losses betting pre-match or live MLB baseball. Receive between 6.88-7.88% up to a max RM 60. You'll need to place bets on odds of 1.5 or higher, and your bonus needs to be rolled over 1x before you can cash out.
Dafabet FC Benefits
Opt-in to get a weekly reload bonus and cash back every week. The weekly reload bonus is 25% up to RM 300, which has a 10x playthrough on the deposit plus bonus. The weekly cashback is 4.88% up to a max RM 200. You'll also be eligible to receive a birthday and anniversary bonus.
NBA Cashback
Get 6.88-7.88% cashback on your losses every week from betting any pre-match or live NBA bet. You'll need to make bets on odds of 1.50 or higher, and your cashback will need to be rolled over 1x before you can cash it out.
Those are their core sports offers. But they also offer unlimited rebates on virtual game betting, a mix parlay rebate, frequency bonus, and a NBA Finals prediction bonus. You can see all their OW Sports promotions on the sports promotions page.

Casino Promotions
Newbie's Treat
Make a deposit between June 1st and July 16th, 2017. If you're one of 388 lucky depositors, you'll receive a RM 65 bonus. You'll need to deposit at least RM 65 to qualify.
First Deposit Bonus
This is a 100% match bonus up to RM 688. This offer has a 10x rollover on the deposit and bonus.
Important
Bets on the following games will not count towards the playthrough: all blackjack games, all roulette games, VIP baccarat games, sic bo, pontoon, craps, casino war, any video poker game, pai gow poker, any casino hold'em game, and any slot double up bet.

Casino Welcome Offers
Cash Back Club
Get up to 1.2% cashback as you play, win or lose. There is no limit and you can claim your cash back anytime. You can also play live baccarat with both higher or lower table limits.
Slots Club
Get a 100% match up to RM 1,500 on your first deposit. Slot Prestige Club members can get a 15% match up to RM 5,000. You can also earn double cash points, and have a better point exchange rate (90:1).
If you want to claim the Slots Club offer you'll need to contact customer support BEFORE you make a deposit or play your first game.
Please Note:
This offer is part of their VIP program. You choose which club you want to be in. If you don't choose the Slots Club (by contacting support), you'll automatically become a member of the Cash Back Club.
Rescue Bonus
Get RM 40 if you lose more than RM 1,000 in one day and your account balance is lower than RM 4. Get as much as RM 400 if you lose RM 15,000 in one day and your account balance is lower than RM 4. Both bonuses have a 12x rollover and excludes the games mentioned in the First Deposit Bonus above.
VIP Program
There are 3 levels to their VIP program. The name of each one depends on which VIP Club you choose.
Cash Back Club
Premiere
Elite
Millionaires
Slots Club
Each tier comes with unique perks. For example, you can get reload bonuses, higher cash point exchange rates, exclusive promotions, cash back, higher table limits, VIP manager access, and more.
There is a minimum number of bets required to enter, as well as a required monthly quota to hit. You can learn more about those, as well as any additional terms and conditions, on the cash back club page.

Live Dealer Promos
First Deposit Bonus
Make a deposit into the live dealer and games wallet and receive a 50% match bonus. You can receive one of two max bonus amounts, depending on how much you deposit.

Deposit RM 50+ and receive up to RM 288. This has a 10x (the bonus) rollover.
Deposit RM 888+ and receive up to RM 888. This has a 25x (the bonus) rollover.
Rebate
Get up to .6% on your bets when you play live dealer games at the Diamond, Black Pearl or Topaz clubs. The rebate is instant, and there's no limit to how much you can get. The exact percentage you qualify for will be determined based on your VIP level and betting range.
Cash Back Rewards
Accumulate 100 hands or more in one of their live dealer rooms. Meet their requirements and you'll be eligible for a cashback bonus worth 10% up to RM 218.
Game Promos
Wild Welcome Offer
Sign up and get 20 free spins on the Wild Gambler slot machine. Any winnings from the free spins will have a 20x rollover.
First Deposit Treat
Make a deposit of at least $40 and get anywhere from 30 to 88 free spins. You can use the spins on any one of these machines:

Heart of The Jungle
Ace Ventura
Jekyll and Hyde
Neon Life
Nostradamus
Hawaiian Treasure
Firemen Full Moon Fortunes
Jungle Trouble
Juicy Booty
Bounty of the Beanstalk
The Winnings of Oz
Sinbad`s Golden Voyage
Wild Gambler
Any money won from the free spins will have a 20x rollover.

Poker Promos
New Player Package
Create your account at Dafapoker and get an $8 cash bonus. No deposit required.
Welcome Bonus Package
Sign up directly with Dafapoker (with valid information) and you'll get a $20 bonus package. That package includes:

$5 cash
$5 bonus money
$10 casino bonus
On top of that you'll receive 90 days access to their daily freerolls with a monthly prize pool worth $4,500.
First Deposit Bonus
Get a 200% match bonus up to $1,500. You'll earn your bonus as you play real money games. Your first $35 will come fast, at the rate of 88 points per $1. The rest of your bonus will be released at the rate of 112.5 points for every $1. You'll have 2 months after every qualifying deposit to earn all the points needed to release your bonus.
New Member Lucky Chip
Make a deposit of RM 500, play RM 3,000 in side-game (bets), and you'll receive RM 30. Make another accumulated deposit of at least RM 1,000, play RM 6,000 in side games and receive another RM 30.
Depositors Freerolls
Make a deposit and you'll be eligible to join their weekly and monthly depositor's freerolls. You'll play for a share of $2,000.
Deposit Gift
This is a leaderboard challenge for everyone who makes a deposit. Make a deposit and earn at least 1,500 status points within 2 weeks to qualify. The two top players will win wireless JBL headphones.
Rescue Bonus
Get up to $50 if you lose between $200+ (or the equivalent in your currency). The more you lose, the more you're eligible to receive.
Weekly Reload Bonus
Get a 20% match bonus up to $200 every week. Your bonus will be released at the rate of .50 per 44 status points – at a minimum. But, depending on your VIP level, you can release (larger amounts of) your bonus, faster.
Best Hand Bonus
Have the best hand of the day and you can get up to $500 cash. Only quad jacks or better will qualify. Both pocket cards must be used.
Invite a Friend
Invite a friend to Dafapoker and you can share a cash reward of $160+. You'll get $15-$25 per friend referred, with no limit on the number of referrals you can make.
VIP Club
This is a multi-tier VIP program for poker players. Each tier (up) will come with multipliers, cash rewards and other perks, such as merchandise access and tournament tokens.
The 5 tiers in their program are:

Iron Dragon
$2.50 cash reward / 1.5x multiplier
Bronze Dragon
$15 cash reward / 2.5x multiplier
Silver Dragon
$15 cash reward / 3x multiplier
Gold Dragon
$100 cash reward / 4.5x multiplier
Platinum Dragon
$1,500 cash reward / 4.5x multiplier
There's a lot to collect in cash rewards and bonus money. You can see how much you can claim and what it takes to claim it on the poker page. VIP members also get access to the VIP Shop, where you can claim cash, bonus money, merchandise, tournament tokens, electronics, and more. You can see everything on the Poker VIP page.
That's it for their poker promotions. If you want to see everything they have to offer and/or learn more about a specific offer (including each offer's terms and conditions), you can do so on their main promotions page.
Dafabet Sports
There are two different sportsbook sections at Dafabet – one is called OW Sports, and the other is called Dafa Sports.
I'm not 100% sure what the differences are between the two sections. Both the 'Home' and 'Sports Betting' sections within OW Sports didn't work for me. Other than that, the only difference I see is that you can watch various video game (eSports) players on Twitch (from Dafabet's website).
Please Note:
I later came across an explanation from Dafabet.com about what the key differences are between the two sportsbooks.
Here's how they explain it:
Odds TypesPlease note that negative odds on Dafa Sports works differently to OW Sports. On Dafa Sports, the amount that you input into the betslip is always the amount that you are risking, and the amount that will be deducted from your account.
In Running BettingPlease note that for all bets on all markets for all sports, live betting, or in-running betting, occurs from a 0-0 scoreline. At no point is the current score deducted from the final score to work out if you have won or lost your bet.
The Dafa Sportsbook has a little more going on. It looked more like your traditional online sportsbook, and it included the main sportsbook, a live sportsbook and eSportsbook.
Here's a list of all the sports you can bet on:
Football
Basketball
Tennis
Baseball
American football
Aussie rules
Boxing/MMA
Cricket
Cycling
Darts
Futsal
Golf
Handball
Ice hockey
Motor sports
Rugby league
Rugby union
Table tennis
Volleyball
Winter sports
Those are the top-level options. But if you click any one of these options, a menu will drop down showing you additional sub-categories you can find betting options for.
For example, click on basketball and you'll have the option to bet on US teams. But you can also bet on games covered in other countries. Click on golf and your options include betting on men or women. Click on baseball and your sub-options include Japan, Mexico and the USA. And so on.
They cover lots of Asian leagues, too, such as China's CBA, PBA from the Philippines, Korean Basketball League (KBL), BJ League and JBL from Japan, are all covered too. Dafabet.com even has odds on the ASEAN Basketball League (ABL) which is sponsored by AirAsia and has teams from Malaysia, Singapore, Indonesia, Vietnam and Thailand competing.
You can make all sorts of bets, too. Some of your options include: Asian Handicap, odd/even, over/under, correct score, outright, total goal, first/last goal, halftime/fulltime, 1x2, and mix parlay. You can also choose whether to view/use Malaysian, decimal, Hong Kong, Indonesian or US odds. And you can choose between European and Asian views.

Live Betting
They cover several sports for live betting. When I checked them out they had odds for US baseball, volleyball, handball, tennis, basketball and football (soccer). Looking at their calendar, I found they covered many other events, too, including eSports, NBA playoffs, futsal, women's basketball, and more.
They also have live streaming, but only for people with money in their accounts. However, they do offer a live play-by-play (like what Yahoo does) which doesn't require a deposit. They have statistics for every live match they cover, too.

eSports
eSports is a growing industry, and many sportsbooks are capitalizing on it by offering odds on all the major events.
It's a big enough deal here that Dafabet has a dedicated eSports section. Inside, you'll be able to bet on events such as:
Counter Strike – Including both FaceIt and PGL.
League of Legends – Including Riot and Tencent LoL.
Dota 2 – Including BTS.
StarCraft 2 – Including Blizzard SC2.
I'm not an eSports bettor myself, so I don't know how good these options are, or whether there's value in their lines (or not), and so on.
But I do see lots of matches to bet on, as well as live streaming. Which is on top of the Twitch streaming available in the OW Sports section.
That's worth something – at least for recreational bettors or eSports enthusiasts.
Please Note:
In 2015 Dafabet.com became one of the main sponsors of Fnatic – a pro-gaming team. However, that might not be the case anymore since I don't see Dafabet on their partners page.

Cash Out
This is a feature I'm seeing more and more from online sportsbooks.
What the Cash Out feature lets you do is end your bet (cash out) before the match is over. You can do this to either secure early profits and/or to minimize any losses you fear you might take.
It gives you more control.
Another neat thing about it is that you can cash out the entire amount if you want -OR- you can cash out a portion of your stake, but leave the rest until the end of the match. The portion you cash out now is influenced by the current odds/situation, while the remainder will be influenced by the outcome of the match.
This is a neat option worth checking out.
Overall Thoughts
And …that's about it.
One thing I didn't see is betting limits. Their FAQ says it varies based on the sport/market and trend, and to send them an email if you have any questions or visit their sports rules and regulations page.
You can also bet from your mobile device. Either check out their mobile page for more details, or you can head to m.dafabet.com to get started.
Overall, coming from someone who doesn't bet much, I can see myself betting here. Dafabet.com covers thousands of markets; they offer lots of betting options; and they have live (Twitch) streaming, as well as play-by-play commentary. Their sportsbook is easy enough to use, too.
At the very least recreational bettors will enjoy their sportsbook.
Dafabet Casino
Let's talk about Dafabet's casino.
One thing that makes them different from other international all-in-one brands is their use of only one software company – Playtech. Most all-in-one brands work with several (5+) software companies to bring you several hundred unique games to play.
That's not the case here. You'll have only a couple hundred games from Playtech.
This isn't necessarily a bad thing, though. You can keep plenty busy with their game selection, especially if you're new to online gambling. But some people prefer (software) variety – that's something you'll have to figure out for yourself.
Anyway, let's talk games. We're going to list most of their games below, along with anything else we notice or have comments on. After that I'll go over any remaining details about their casino, software, etc.
The following games are examples of titles you can play at Dafabet. We've pulled them from their instant play casino, and is by no means an exhaustive list.
Slot Games
Bai Shi
Beach Life
Buffalo Blitz
Captain's Treasure
Desert Treasure
Esmeralda
Fei Long Zai Tian
Fields of Fortune
Football Carnival
Fortunes of the Fox
Funky Monkey
Gold Rally
Golden Tour
Great Blue
Halloween Fortune II
Highway Kings
Hot Gems
Jade Emperor
Jin Qian Wa
Jurassic Island
Lie Yan Zuan Shi Magical Stacks
Monty Python's Spamalot
Cashback
Nian Nian You Yu
Queen of Wands
Safari Heat
Santa Surprise
Secrets of the Amazon
Si Xiang
Streak of Luck
Sun Wukong
Sunset Beach
The Three Musketeers
Vacation Station
Vacation Station Deluxe
Zhao Cai Jin Bao
Zhao Cai Tong Zi
One thing I've noticed about the slots here, that I have not seen at other Playtech casinos, are all the Asian themed machines. That shouldn't be a surprise given the target market, but it's good to know nonetheless if you're playing from somewhere else (like the United Kingdom or Europe).
I've also noticed that there are fewer licensed titles than you'd find at other Playtech-powered casinos – at least in the instant play casino.
Lastly, there are less slot machines than I expected to find here – even in the instant play casino. I've seen reports of them having more than 125+ slots, but I found only a fraction of that. I do expect there to be more in the download, though.
Jackpot
Age of the Gods
Age of the Gods:Furious 4
AOG: Goddess of Wisdom
AOG: King of Olympus
AOG: Prince of Olympus
Cat in Vegas
Everybody's Jackpot
Funky Fruits
Geisha Story Jackpot
Gladiator Jackpot
Land of Gold
Lotto Madness
Nian Nian You Yu
Purple Hot
Silent Samurai Jackpot
Sweet Party
Wu Long Jackpot
Zhao Cai Jin Bao Jackpot
One thing I noticed here is that you can play only one of these games for free – the Purple Hot machine. Now, you can't play for free and expect to win the jackpot, let alone any (real) money. But it'd be nice to play more of these machines for free so you can see if you like them BEFORE playing them for real money.
Live Games
There are two different kinds of live dealer games – European and Asian. Here are your options for both:
Asian Live Games
Asian Live Baccarat
Asian Live Blackjack
Asian Live Roulette
Asian Live Sic Bo
Emperor Live Baccarat
Emperor Live Roulette
Squeeze Baccarat
European Live Games
European Live Baccarat
European Live Blackjack
European Live Roulette
It's nice to see both Asian and European variants, given how the focus is on Asian countries.
Card Games
Baccarat
Caribbean Stud Poker
Casino Hold'em
Pontoon
Stravaganza
Table Games
3 Card Brag
Blackjack
Craps
European Roulette
Mini Roulette
Premium Euro Roulette
Roulette Pro
Sic Bo
One thing I like are the 4 different roulette variants. That's bound to make a few people happy.
However, I'm really surprised to see only one blackjack game, and one blackjack variant (pontoon). In fact, the table and card game selection is pretty sparse overall. Microgaming-powered casinos absolutely smoke them in this area.
Video Poker
2 Ways Royal
50-line Jacks or Better
Deuces Wild
Jacks or Better
This is an embarrassingly small selection of video poker machines. This is another area where a Microgaming casino is better.
Arcade Games
Bonus Bowling
Dice Twister
Genie's HiLo
Head or Tails
Keno
Penalty Shootout
Rock-Paper-Scisscors
Rollercoaster Dice
Spin A Win
I don't have anything to add here except that if you want more arcade games, you can find them in their games section. They have a few non-arcade games, too, such as 3-card brag and 3D roulette premium. These are games you won't find in their casino.
But instead of creating a brand-new section for their 'games' product, I'll list all the games you can play below:
3 Card Brag
3D Roulette Premium
Ace Ventura
Adventures in Wonderland
Amazon Wild
Arctic Adventures
Bounty of the Beanstalk
Captain Cannon's Circus of Cash
Cash Blox
Catwalk
Chests of Plenty
Fairest of them All
Fishing King
Firemen
Full Moon Fortunes
Hawaiian Treasure
Heart of the Jungle
Innocence or Temptation
Jekyll and Hyde
Juicy Booty
Jungle Trouble
Leprechaun's Luck
Life of Brian
Little Britain
Multiplier Madness
Neon Life
Nostradamus
Sinbad`s Golden Voyage
The Alchemist's Spell
The Winnings of Oz
Again, like all their other sections, this selection of games is on the short side – especially considering it has its own section on their website.
But, the bright side is that there are several games here not available in their main casino.
Overall Thoughts
Overall, I thought the instant play casino was on the small side. Much smaller than I read it was (from other review sites).
That said, they also say there are more games in the download. So, if this isn't enough then you'll want to check out the download.
You can also play from your mobile device, though they force you to create an account before you can see any of their games. They don't say much else about it within the casino, either, other than they have a native app for Android users. iOS users will need to use their mobile browser casino.
That's about it.
Their casino offers a good mix of games overall, though, I think, some of the individual sections might leave people feeling a tad underwhelmed.
Online Poker
Last up is their online poker room.
Dafabet uses Playtech software, which means they're on the iPoker Network. The good thing about this is that the traffic from all the sites on the network is pooled together. This means you should almost always manage to find a game running.
However, the iPoker Network is 10th in overall traffic, which means they don't have THAT MUCH traffic – even during peak times. Right now – which is around their peak time – they have about 4,500 people on their site. About 1,200 of those are cash game players, and about 1,700 are tournament players.
That's not a whole lot, and it's probably the largest downside to playing poker.
Anyway, let's look at what games you can play.

Cash Games
The iPoker Network focuses on short-handed games – heads-up and 6-max – as well as their Speed Poker fast-fold games, which gives you the chance to play upwards of 150+ hands per hour.
The different cash games, variants and stakes you can play include:
Active Tables (Full Table)
NL Hold'em - €0.01/€0.02 - €0.10/€0.20
Active Tables (6-Handed)
NL Hold'em - €0.01/€0.02 - €5/€10
NLH (Speed) - €0.02/€0.05 - €0.50/€1
FL Hold'em - €0.02/€0.04 - €1/€2 & €20/€40
NLH 6+ - €0.02/€0.04 - €0.25/€0.50
PL Omaha - €0.05/€0.10 - €3/€6
PL Omaha Hi/Lo - €0.02/€0.04
Active Tables (Heads-Up)
NL Hold'em - €0.05/€0.10 - €5/€10
FL Hold'em - €0.50/€1 - €20/€40
PL Hold'em - €0.25/€0.50 - €1/€2
PL Omaha - €0.10/€0.20 - €5/€10
PL Omaha Hi/Lo - €2/€4 - €5/€10
Those are the most active tables. But they do offer other kinds of poker games, such as 7-card stud, razz and 5-card stud.
An interesting thing to note is that you can play in Euros or Pounds. They used to let you play in USD, but a few years ago they removed the option to save players money in exchange rate fees.
Tournaments
It seems like cash games don't get the coverage tournaments do. And that's likely due to how big tournament prize pools get. It's hard to compare a $500 cash game pot (or whatever) to a $1 million+ tournament prize pool.
So, it's no surprise the focus here is on tournaments. Here are some of the tournaments and series' you can participate in.
Jackpot Sit and Go
What makes this 3-person, winner takes all tourney unique, is that the prize pools are determined at random right before the tourney starts.
The prize will depend on a multiplier of 2-1,000, which is then applied to the buy-in amount. You can see how this works and the odds of a certain payout in the table below:
Twister Poker SNG Jackpot Payouts
| €1 Buy-In | €2 Buy-In | €5 Buy-In | €10 Buy-In | €20 Buy-In | €50 Buy-In | Probability |
| --- | --- | --- | --- | --- | --- | --- |
| €1,000 | €2,000 | €5,000 | €10,000 | €20,000 | €50,000 | 1 / 20,000 |
| €200 | €400 | €1,000 | €2,000 | €4,000 | €10,000 | 1 / 20,000 |
| €100 | €200 | €500 | €1,000 | €2,000 | €5,000 | 2 / 20,000 |
| €50 | €100 | €250 | €500 | €1,000 | €2,500 | 5 / 20,000 |
| €20 | €40 | €100 | €200 | €400 | €1,000 | 21 / 20,000 |
| €10 | €20 | €50 | €100 | €200 | €500 | 162 / 20,000 |
| €6 | €12 | €30 | €60 | €120 | €300 | 1,599 / 20,000 |
| €4 | €8 | €20 | €40 | €80 | €200 | 3,049 / 20,000 |
| €2 | €4 | €10 | €20 | €40 | €100 | 15,160 / 20,000 |
Wild Twister
This is a new variant of the regular Twisted Poker game mentioned above. What's different about this is that all players are automatically 'all in' on the first hand. The buy-in is .50.
VIP Freeroll Tournament
If you're a VIP Level 2 or higher, you'll be able to participate in their VIP freeroll tournaments held every Saturday. No buy-in needed, and there's over $4,000 guaranteed every month. The higher your VIP level, the higher the weekly prize pool.
You can see VIP levels and weekly guarantees in the chart below:
| Tournament Name | Buy In | VIP Level Requirement | Weekly Guaranteed Prize |
| --- | --- | --- | --- |
| $100 Weekly VIP 2 Bronze FR | Freeroll | At least Bronze Dragon (VIP 2) players may join this tournament. | $100 |
| $200 Weekly VIP 2 Bronze FR | Freeroll | At least Silver Dragon (VIP 3) players may join this tournament. | $200 |
| $300 Weekly VIP 2 Bronze FR | Freeroll | At least Gold Dragon (VIP 4) players may join this tournament. | $300 |
| $500 Weekly VIP 2 Bronze FR | Freeroll | At least Platinum Dragon (VIP 5) players may join this tournament. | $500 |
iPoker Specials – This is an array of tournaments with a combined monthly total prize pool of more than $3 million dollars. They have all sorts of tournaments to play. Some of your options include:
MTT Missions – Complete missions (for example, play 3 MTTs with buy-ins of $1-$10 to earn an entry ticket) to earn tickets to bigger dollar tournaments or cash prizes.
Wild Twister – Play the Wild Twister variant mentioned above. Buy-ins are .50.
Daily Classics – Tournaments for every day of the week. Buy-ins range from $1 to $10. Prize pools range from $500 to $10,000. Tournaments are either freezeouts or re-buys.
Sunday Line-Up – Their Sunday schedule. There are 14 tournaments to play. Buy-ins range from $1 to $100. Prize pools range from a min $1,000 to min $50,000.
High Rollers – These tournaments have larger buy-ins, thus the 'high roller' title. However, a $20 buy-in is hardly 'high roller.' Buy-ins peak at $250, and guaranteed prize pools peak at $50,000. These tournaments run throughout the week.
They have lots of options. You can get started for as little as $1, and chances are they have satellites and step tournaments, too. DafaPoker.com seems like a good place for recreational and/or smaller stakes players.

Software
Dafabet.com offers your standard download. In fact, they have a new download that's in beta. The new download will come with 6+ hold'em, a new poker format. It will also have a hand replayer for cash tables, casino side games, and easier access to promotions.
You'll have all the standard software options, too. For example:
Full or mini size table view
Resizeable tables
Choose your seat
Auto top-up
Play 16 tables simultaneously
Holdem manager and Poker Tracker 3 compatible
Buddy lists
4-color decks
Display pot / bet totals
And more. You can see all their software features and where they're located in the lobby / poker table on the software features page.
One thing I don't see is a browser poker room. This means that if you use a Mac, you won't be able to play here. I sent them an email to confirm this, and they confirmed that their download is compatible with Windows only.
That goes for iOS users, too. They have an app for Android users, but nothing for Apple. Android users will be able to play the same poker games available in their download.
Overall Thoughts
I feel their poker room is average to above average. I say that not having spent time using their software, but instead looking at their games, tournaments and traffic.
Though they are compatible with 3rd party tracking programs, and offer a hand history replayer and odds calculator, I'm not sure they're the best spot for higher volume players. There are several sites with far more traffic than these guys, which would be better suited for pros/higher volume players.
That's okay. Between the softer games (crossover from the sportsbook and casino) and lower buy-ins, this is a solid choice for part time and/or recreational players. Especially if they have basic poker strategy down.
Conclusion
Dafabet looks like a good place to gamble. They have lots of offers, and a well-rounded sportsbook, casino and poker room.
They're not a good fit for everyone, though. Here's how I'd break it down:
Sportsbook – Good for recreational and/or newbie bettors. Advantage bettors might find value here, but you won't know for sure until you check it out AND double check that their limits will work for you.
Casino – Good for recreational and/or newbie casino players. People who are easily bored with one software provider, or want to play lots of blackjack and/or video poker games will want to look elsewhere.
Poker – Ideal for lower volume and/or recreational players. If you can look past the volume concerns, then there's good value here between the low dollar tourneys and softer games.
In Summary
I think this is an ideal place for recreational, new and/or part-time players. People who gamble seriously may want to consider bigger all-in-one sites, such as 888, Bet365 or William Hill. But for everyone else, I think Dafabet.com is worth a closer look. Check them out today.
We're sorry, residents of your region are not accepted by this gambling site!
OK