Online Gambling in Wyoming
While the Cowboy State has plenty of space, it's the least populated state in the US. That could be one of the reasons why there is a lack of live gambling opportunities in WY.
So why not turn to the internet instead? There are plenty of online gambling sites in Wyoming that are happy to take your action. Create your account now and you can start gambling for real money right away.
Rank
Gambling Site
Exclusive Bonus
Products
Get Started

#1

Bovada

50% Up To

$250

Visit Site

Bovada

#2

Las Atlantis

280% Up To

$14,000

Visit Site

Las Atlantis

#3

BetUS

125% Up To

$2,500

Visit Site

BetUS

#4

BetOnline

60% Up To

$1,000

Visit Site

BetOnline

#5

SportsBetting.ag

100% Up To

$1,000

Visit Site

SportsBetting.ag
Not all residents or government officials have embraced the concept of Wyoming online. Sports betting was on the voting floor early in 2020, but it failed by a small margin.
So, the current situation includes four tribal casinos, pari-mutuel wagering, historical racing, charity gaming, and a lottery that's in its infancy state.
Web-based betting includes advance-deposit wagering, as well as daily fantasy sports, which are accepted but not regulated. There are also some real money gambling sites from other parts of the world that have extended a virtual invitation to Wyoming gamblers.
Why Gamble Online in Wyoming?
With few options for live real money gambling in Wyoming, why not try gambling on the internet instead?
Here are a few reasons for giving it a shot.
Location Doesn't Matter
In a place like WY, where there are fewer residents and plenty of distance between them, putting a casino in every convenient location would be challenging.
Gambling online is a viable alternative because one website can serve everyone in the state, whereas some residents have to travel hours to get to the closest land-based casino.
Convenience is undoubtedly the number one reason why many people turn to Wyoming gambling sites, but it's not the only one.
Anywhere, Anytime
Some people don't have the free time required to take a trip to a casino or racetrack. But once you set up an account with any of the top Wyoming online gambling sites, you can pull up slots, table games, or other games of chance within a matter of seconds.
Think about how useful this is. If you're in a waiting room, a car, or any place that has a Wi-Fi connection, you can play for a few minutes to kill some time.
It's also handy for people who enjoy playing but can't spend time in a casino for whatever reason. Maybe you're homebound or can't be around smoke. Either way, you don't have to give up your favorite casino games.
Privacy
Gambling online also provides anonymity that some enjoy. You don't have to sit at a table and be sociable or go out in public. You can stay home and enjoy your own company.
These, and other reasons, are why online gambling is an option that many people in Wyoming enjoy.
Assessing Wyoming Gambling Sites
How do you find quality real money gambling sites in Wyoming when you're new to gambling online? Or when you're not even sure which sites accept customers from the Cowboy State?
Fortunately, we've got a team of experts working behind the scenes. They compile our list of the highest quality and safest online gambling sites in WY.
Here are some of the qualities the best sites have in common.
User-friendliness
Transparency with terms and conditions
Attentive and quality customer service
A wide variety of banking methods
Fast payouts
Low or no-fee transactions
Valuable bonuses and promotions
Mobile access
The best real money gambling sites for Wyoming have more than pretty faces. They provide fair, safe, and secure online gambling.
They run a tight ship too. That means good ownership, fair gameplay with RNG (random number generator) verification, excellent customer service, plenty of banking options, and more.
We keep all this in mind when we compile our rankings (and write our site reviews.) It doesn't matter if we're creating rankings for readers wanting to know how to gamble online in Wyoming, Sydney, or London. All that matters to us is that you find a quality site.
When it comes to online gambling, there are quite a few unknowns. But when you place your trust in us, we'll uncover those unknowns so that you know exactly what you're getting yourself into when you gamble online for real money in Wyoming.

Brief History of Wyoming Gambling
Wyoming's history of legal gambling takes place within just 50 years.
The Cowboy State had plenty of under the table betting activities going on in the 18 and 1900s, but sanctioned opportunities didn't start until 1967 with pari-mutuel wagering introduced under WY gambling laws.
Four Casinos
Even with the kick start in the 1960s, Wyomingites waited almost 40 years for something new to emerge, and that "something new" was tribal gaming. Wind River was the first casino to open its doors in 2005. It's still the premier casino in Wyoming.
Today, there are four casinos in the state. Besides Wind River, which has just under 1,000 gambling machines as well as tables and other betting options, the other three are comparatively small. Each house is around 200 slots, so Vegas-style gambling is at play, but the venues don't come close to the size of Las Vegas venues.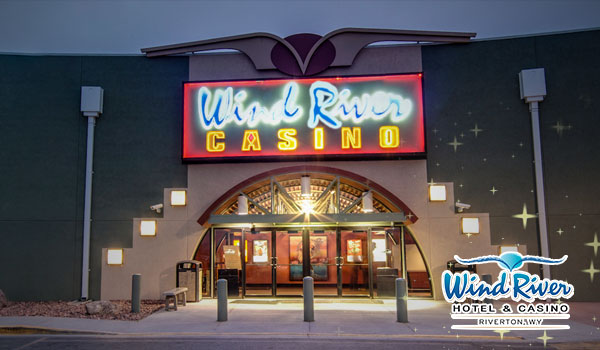 Lottery and New Gambling Machines
After casinos, there was one more phase in the WY gambling evolution, and it took place in 2013. Wyoming was a lottery holdout until that date. The relatively low population is the main reason for the delay. Even when the games finally launched, they didn't, and still don't, include instant win tickets. Residents can take a chance on multi-state draws so that the prize pools are more appealing.
Also, in 2013, Wyoming residents were introduced to new gambling machines. Historic racing was introduced as a way to supplement pari-mutuel income, and it quickly became a successful program. The machines are now at OTBs in addition to Wyoming Downs.
Real Money Gambling Sites in Wyoming
It's short and (maybe) sweet, but that's the extent of Wyoming's gambling history for now. Advance-deposit wagering is played online, as are daily fantasy sports. But DFS isn't regulated, and the state hasn't been anxious to embrace other virtual betting opportunities.
Sports betting was voted down in early 2020, but will indeed circle back and hit the house floor again until it eventually passes.
Until a new wave of expansion, residents can access Wyoming gambling sites from providers in other jurisdictions. Quite a few reputable providers offer various combinations of online casino games, race, and sports betting, and poker room action.
You'll find the best gambling sites in WY listed at the top of this page.
Before we move on, here's a snapshot of the current legal status of Wyoming gambling activities.
Gambling Laws in Wyoming
Types of Gambling
Legal Status
Casinos
Through tribal casinos
Sports Betting
Not approved in-state
Poker
In tribal casinos
Pari-Mutuel
At the track, OTBs, and through advance-deposit wagering sites
Daily Fantasy Sports
Offered to Wyoming players, but not state-regulated
Charitable Gaming
Allowed in Wyoming, but not officially regulated
Historic Racing
Available at the racetrack and OTBs
Online Gambling
No state-licensed websites
The Bottom Line on Gambling Online in WY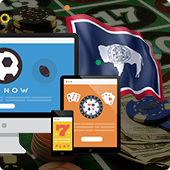 Wyoming is an ideal location for online gambling, with such a low population spread throughout the state. But even though it's a great way to accommodate more residents who are interested in placing some bets, the state hasn't been very proactive.
Sports and racing fans can participate in advance-deposit wagering or daily fantasy sports, as well as casino gambling. But none are real Wyoming gambling sites, as the operations are headquartered outside of the Cowboy State.
That's okay, though. So long as you join one of the best Wyoming gambling sites, such as the ones listed at the top of this page, you can enjoy gambling online in Wyoming without worry or fear.
We also have additional recommendations for those of you looking for something more specific.