FanDuel Review
When people think daily fantasy sports (DFS), they typically think of two of the biggest companies in the industry – FanDuel and DraftKings. Both sites dominate the industry in every sense, but the debate is long and tiresome as to which DFS site is actually the best.
A case won't be made either way here necessarily, but it's important to know everything you can about any site where you deposit (and try to win) cash. The same goes for FanDuel, which we will explore in depth in an updated FanDuel review.
While this is without a doubt one of the top daily fantasy gaming sites you'll find, this site has some fluid movement behind it with an announcement in 2016 that it would merge with top rival, DraftKings. That development has been slowed by the U.S. Federal Trade Commission trying to throw a wrench in both site's merger plans.
That merger has temporarily been delayed, but FanDuel and DraftKings continue to operate separately at an elite level. We will probably eventually get to the point where these two DFS titans become one unstoppable force and daily fantasy sports is officially legal everywhere, but until that time arrives, we should know everything we can about each site. If you're planning on playing at FanDuel, it might pay to spend some time reading through our review.
VISIT FanDuel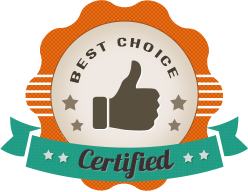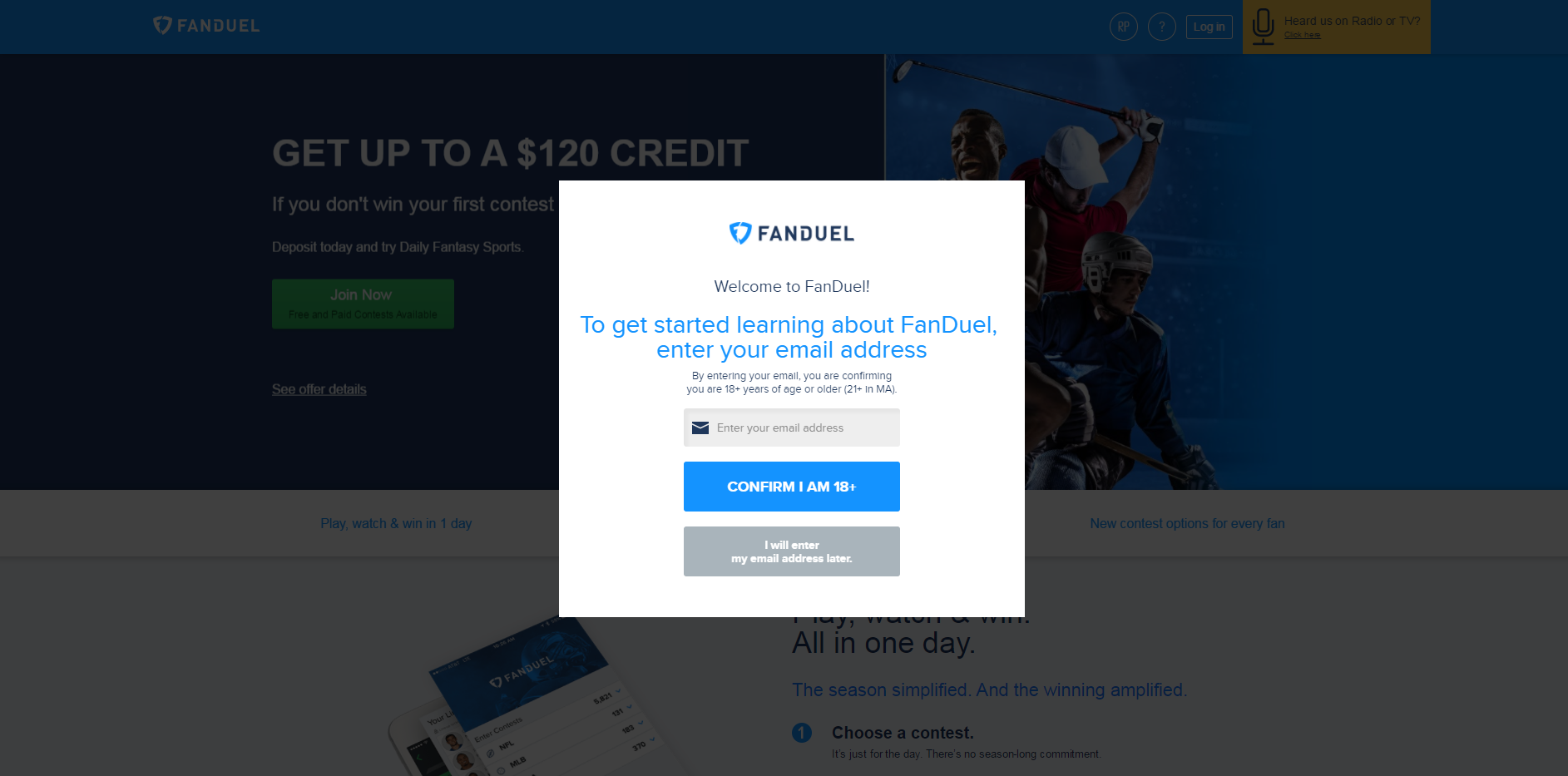 Established in 2009
Website – FanDuel.com
Based in New York, NY
Telephone – (312) 771-7019
Email – Support@FanDuel.com
Excellent deposit bonus
Well established in the industry
Earn FanDuel points
Money-back gaurantee
About FanDuel
What is FanDuel?
We don't want to backtrack too much, but in case you're a total newbie when it comes to DFS, FanDuel is one of the leading daily fantasy sports websites. Sports fans can research and create DFS lineups of their choosing, which consist of real life athletes. When your team produces enough points, you can win real money.
You can play numerous sports in a variety of different ways, you can play for free, you can play for serious cash and you can even battle your friends. If you're familiar with fantasy sports in general, it's an easy concept to get behind and understandably loads of fun.
Is FanDuel legal or a scam?
All daily fantasy sports sites are still fighting an ongoing battle with official legality currently, which is pretty weird considering DFS has never been deemed an illegal activity on a federal level. States have always reserved the right to make their own decisions on daily fantasy sports and any gambling-esque activities, however, and that won't ever change.
From what we've seen, FanDuel and DFS in general are in no way a scam. This site and others like it know how to market and offer killer promotions and contests that can entice us to play and their end game is obviously to make a huge profit. It's not necessarily to send you down a dark spiral of massive loss and depression, though.
Instead, FanDuel would love for all players to profit at least somewhat so they keep playing their contests and they continue to get a piece of the pie. FanDuel makes most of their money on site rake, which is a small fee for you to play each contest you enter. For instance, when you play a contest even as small as a $1 head to head game (more on that later), you're only getting $1.80 back if you win. The person you're going up against and you both put up $1 each (totaling $2) and FanDuel takes $0.20 of that specific contest for allowing you to play.
This is a bigger number as we deal with bigger contests and entry fees, but you get the idea. FanDuel isn't scamming us, they're providing a service. We can benefit from them hosting the contests by winning consistently and profiting and they benefit, as well.
Who Can Play
As far as legit legality, daily fantasy sports are indeed legal on a federal level. That's being tested across the United States, but as things stand, you can freely play FD for money in 41 of 50 U.S. states. Those states that currently prohibit it are as follows:
Washington
Idaho
Montana
Nevada
New Mexico
Texas
Louisiana
Alabama
Iowa
Some of these states are very likely currently working on legislature to approve FD and other DFS sites, while some that currently are legal could also change. It's up to the user to stay updated on their own state laws, but FD does a pretty good job of covering their bases and letting you know if you're allowed to use their site for real cash.
Important
If you're among these states, that's a real bummer, as you're missing out on a lot of fun and potentially some big money. You can consider moving or writing in to your state officials to try to get DFS approved.
How Do You Play?
This is a question that can be answered in two different ways; literally how do you play DFS games or how do you strategize. Your exact daily fantasy strategy will differ from sport to sport and we're not necessarily here to pave the road to your millions. Instead, we'll give you the basics on how to play DFS games at FanDuel, specifically in a few easy steps:
Sign Up

You can't do much but look around at any DFS sites until you sign up, so hit up the FD main page and enter your (real) full name, your preferred email address, a clever username and a password that isn't easy to figure out. FanDuel is about as secure as websites can get, but you can never be too safe with online information.

Before you're done, it wouldn't be a terrible idea to search around online for a Promo Code. Depending on where you get it, it can give you a nice bonus when you sign up and/or when you make your initial deposit onto the site.

Deposit Cash

After testing the waters with some free entries, you can take the next step and deposit your own money in an effort to make more of it. It's like they say, you can't win what you don't put in, so if you want to make money grinding in daily fantasy sports, you need to start by laying down some cash of your own.

You can do so via major credit cards or Paypal at FanDuel and the minimum deposit starts at $10, while the maximum deposit is $10,000. We don't suggest starting off like a high roller on your first try, but the more you put in to get going, the less you'll come back having to re-deposit later.

Play

You checked out the site, you put in some cash and now you're ready to play for real. That can be in the sport of your choosing and you can join a variety of contests. You have full control over who you face if you want to play versus just one person, or you can decide which tournaments you enter and for what entry fee.

Selecting a Contest

The first step is figuring out the contest type you want to play. FanDuel has a wide selection of daily fantasy sports games to compete in, but when you first start playing could dictate what is offered, as sports tend to be seasonal.

The sport variety is strong at FD, as users can choose between NFL, NBA, MLB, PGA, UCL, NHL, WNBA and EPL daily fantasy sports contests. Once you know which sport you want to dominate in, you'll then want to think about your contest type.

Contest types are also pretty versatile at FanDuel, as you can try your hand at "cash games" which put an emphasis on merely multiplying your money by a specific number, or GPP/Tournament contests, which take a defined sum of money and put it on the line to take home a piece of a "guaranteed" prize pool.

For the cash games, you're looking at head to head (H2H) contests against one other person, 50/50 tournaments, Double Up tournament or Multiplier contests. H2H contests pit you against another live competitor, while the other cash game tournament set a specific place your team needs to rank at when the contest is over in order to "cash out".

These cash games offer a fairly consistent payout ratio and are the most popular type among professional "grinders", or DFS experts that play daily fantasy sports games for a living.

If you're looking for more bang for your buck, you can choose from a wide variety of GPP tournaments. These can range from small to large entry fees and can contain a small number of competitors to hundreds of thousands, depending on the contest. Your odds of placing highly in these contests are not nearly as good as in cash games, but the upside (payout potential) can be massive.

For instance, a $1 H2H game at FD would return $1.80 in total (after FanDuel's rake), but a $1 entry in any given GPP could return hundreds or thousands of dollars. Most tournaments allow for you to increase your chances by creating a select number of teams per contest, while some have almost unlimited entries.

You can also level the playing field a bit in FanDuels' Single Entry tournaments, which give you a competitive field and a huge tournament with big prizes, but only allows each person to provide their best team one time.

Draft Your Lineup

Actual roster construction is obviously going to vary depending on which sport you pick, but the act of creating your DFS lineup is the same in every contest you will enter.

Every FanDuel team requires you to meet specific salary requirements and assigns salary "price tags" to every player you're able to draft. It's up to you to figure out who to draft and how to utilize strategy when building your lineup, but the final result should be a competitive team that meets the budget by either forming a team that totals just under the salary cap or hits it on the head and leaves you with $0 to use. Anything with red $ means you still have work to do.

Before you even start filling out your roster by selecting players, be sure to have some type of strategy, know the sport and understand the scoring and rules for each sport/contest type.

Not knowing how specific positions accrue points can really set you back in terms of competition, while learning this and getting it down could eventually give you an edge if you can spot advantageous spots during roster construction.
Win and Withdrawal

Everyone wants to win and hopefully that happens for you. If/when that happens, it's generally a good idea to withdraw some of your cash here and there to make sure you're not just blindly spending it moving forward. Turning a profit is the plan, but no matter what you do, just remember that any big winnings you move to Paypal or your bank account will need to be filed in your yearly tax returns.

As for actual withdrawals, you can move your cash to Paypal or withdraw to your preferred bank.

Going Mobile

You can also make the entire process extremely easy and simple by just doing it on your phone. This is actually suggested for daily players, as you can download the FanDuel app from your phone's App Store application and you'll always be one touch away from your contests and winnings.FanDuel's mobile app is fantastic and easy to use. While not necessarily the prettiest app we've ever seen, the FanDuel app has everything you need - Lobby and Contest tabs - all on the main page, as well as a drop-down tab to access your account.
Using FanDuel
In addition to knowing how to deposit, play contests and withdraw winnings, you should also be familiar with the rest of the site. Across the top of the website, you can easily gain access to the Lobby (where you can find contests to play), access Upcoming entries, look in at Live contests, reflect on old contests in your History and also plan/track DFS games against Friends.
The Lobby is important because this is where you're always going to go to find contests to enter. The Upcoming tab is also key, as you will need to go here often to look at contests you've already entered that haven't gone live yet. The biggest reason to go here is to make sure your team is the way you want it and that all of the players you've selected are active for that day.
You will always want to check in on Live contests, as well, so you can see how your team is doing in it's respective contest. Should any players be scratched or taken out of a game prior to their contest going live, this is also where you'll enter your live contest to edit them in DFS contests that allow late-swap changes.
Using the History tab is good for reflection, as you can go back and see teams that were successful or also see where you went wrong. You can also keep track of your record and how much money you've made over time on the site.
In addition to these main site tabs, FanDuel provides Responsible Play, a Friend Referral Program and a look at your account. Responsible Play can be utilized if you feel like you're abusing the services in any way or just would like help taking a break from DFS. You can also refer friends for FanDuel points to be used in contests to win real money.
Here's a more enhanced breakdown of the top non-contest features at FD:
Responsible Play
This is a great feature by FD and shows the foresight the company has in recognizing that some people are "problem" gamers. Just like with regular gambling, DFS requires you to put money on the line if you're going to regularly seek profit, and if you don't watch yourself that can admittedly get out of control.
Our personal suggestion is you simply wisely manage your bankroll by playing a select number of contests in a given day or week and commit to a low, predetermined monetary amount to spend daily/weekly/monthly. FanDuel can help you with this process by locking you out of your account for any amount of time you choose, or also restrict you from depositing or playing with more money than you specify.
Ideally you can track your monetary moves and DFS doesn't become a problem, but in the event it does, it's nice to know FD is here to help.
Refer a Friend
FanDuel has your back in case you get a little out of control and they also have your back if you don't mind spreading the good word about one of the top DFS sites online. Their awesome Refere a Friend program works very easily:
Send referral emails to friends who haven't played on FD yet
Your friend plays at least $20 in real money games and qualifies as an official referral
You and your friend both get $10 from FD
It's a pretty straightforward and easy process. You're not going to make a living off the FD referral program (we don't think), but it's a quick and easy way to get some extra money to play with if you have a solid network of friends and family. In addition, simply getting friends on the site to play with and against can add to the already enticing entertainment.
Friends Mode
This is where those referrals bring back more than just some sweet FD points, as the new Friends Mode allows for you to specifically target matchups against just people you know (your friends). Here you can keep track of win/loss records and create special contests that you may not otherwise necessarily play at FanDuel.
The Friends Mode page sounds a lot cooler and really is a lot better than it looks. Perhaps FD will enhance it as time goes on, but for now you can still create your own contests and add friends to the site to play. It's a cool service that not every site offers and if you have a lot of friends that play daily fantasy sports it's a solid perk.
FanDuel Points
Whether you earn them via the Refer a Friend program or by playing DFS contests, FD continues to give back to their loyal users by rewarding them with fake money to use in real money contests.
For every real $1 spent at FD, users get 10 FD points back and slowly can accrue enough points to eventually use on real money contests. That's a long hike to 2,400 FDP (= $1), but the more you play, the faster that climb goes.
In addition, FD rewards you further with special free DFS contests based on how many FDP you accrue in a given month. Those requirements are as follows:
Bronze Contest - $2,000 free play, requires minimum of 1,000 monthly FD points
Silver - $3,000 freel play, requires 5,000 FDP
Gold - $5,000 free play, requires 15,000 FDP
Platinum - $8,000 free play contest, requires 50,000 FDP
FD Promotions
In addition to their FDP program and Refer a Friend program, FanDuel has numerous promotions that aim to bring in new users and also reward current users. The obvious goal is to give users extra incentive to play more games, but these promotions can be quite attractive and give DFS gamers extra opportunities to win real cash, gain FD points and also win big contests.
The promotions can range from free rolls to "checklists" and numerous contests that plug various DFS sports. FD tends to generate excitement for massive on-location events, whether it be their Playboy Mansion contest, their Summer Classic or other massive promotions.
FanDuel changes and adds promotions on a weekly and monthly basis, so the point isn't necessarily specifically what they offer, but the fact that they constantly are offering something.
FanDuel History
FanDuel is far from just your run-of-the-mill DFS site, as it's put some brilliant minds together to offer a highly versatile and engaging product to the masses. FD started in Texas back in 2009 behind the genius of founders Nigel Eccles and Tom Griffiths and has evolved into the daily fantasy conglomerate that it is now.
Initially revolutionary in the industry for shortening the season long grind of fantasy sports to one-day or weekly contests, FD has grown to be one of the top DFS sites and has changed the game forever.
On top of revolutionizing the industry, FanDuel has received elite notoriety along the way, locking down numerous prestigious awards over the years, including the FTSA's Best Daily Fantasy Product in 2014 and Company of the Year in 2012.
If you're wondering how legit FD is, look no further than a massive user list of over 6 million DFS gamers, a 5-star rating for their app on the iPhone and iPad and over 4 million downloads for their app across all platforms.
FanDuel came, they conquered and they keep pushing, creating and expanding. Now on the verge of uniting with DraftKings and giving DFS one giant to look up to, FD has never looked more ready to cater to the growing needs of the DFS industry.
Is FanDuel Better Than DraftKings?
Once you get to know FanDuel it's pretty easy to see why it's such a popular and profitable entity. The only lingering question becomes whether it beats out it's top competitor in DraftKings.
That probably doesn't really matter since these two juggernauts plan on joining forces as soon as possible, but if you feel like you need to pick a side, there is evidence to support a strong backing of FD over DK.
Contests Offered
If we're looking at this unbiasedly, it's impossible to ignore the fact that DK has proven to be more versatile in the contest department. DraftKings offers all of the same popular DFS contests FanDuel does, but a few extra, as well.
Neither DFS titan offers college daily fantasy sports due to a severe hiccup with the NCAA, but DK still wins this race by offering MMA, Nascar and eSports daily fantasy games. It's arguable that FD provides the better product with more concise roster construction, better salary pricing and betting scoring, but in the contest department FD narrowly loses here on numbers alone.
Site Interface
FanDuel's site looks cleaner, is brighter and is easier to use. FD also went through a mild facelift for their brand, as they added an improved FD logo and introduced their Friends Mode campaign in 2017. DK is darker, busier and not quite as easy to use.
Availability
One pretty important aspect is which sites allow you more opportunity to play in terms of legality or geography approval. Both sites follow the same guidelines for the most part in the United States, but FanDuel does not offer services in Texas.
This would serve as a win for Texas residents who want to play and would send them to DK, but otherwise the sites are available (and not available) in the same spots.
We're not really picking a side here, as DK is a great DFS site just like FD. However, FD is a bit cleaner and easier on the eyes, while for strategy purposes the site's roster and salary settings tend to be much more palatable. DK does offer more contests and is available in Texas, though.
Summary
FanDuel is a trusted site that provided an elite product that gives anyone an opportunity to compete at a high level in the daily fantasy scene. You personally need to put in the time, research and cash to rise up the ranks and prove you're good enough to win, but FanDuel gives you a chance to do that as well as anyone.
With FD, you know you're getting elite competition, high end contests and promotions and a platform that is easy to understand and use. If you haven't gotten into daily fantasy sports yet and want to, FanDuel is a fantastic place to start and regularly compete.
FAQ
Hopefully we gave you a good look at one of the top daily fantasy sports websites out there, but in case you don't want to read everything we have to say, here's a list of quick-hitting questions with short answers:
What is FanDuel?
FanDuel is a leading daily fantasy sports gaming website where you can create fantasy sports teams to compete for real cash prizes.
Where is FanDuel Located?
Originally founded in Texas in 2009, FanDuel has grown into an international corporation with company locations set in NYC, Orlando, L.A., Edinburgh and Glasgow, Scotland.
Who Created FanDuel?
FanDuel was created by co-founders, Nigel Eccles and Tom Griffiths in Texas in 2009.
Is FanDuel Free?
Yes, you can play free games at FanDuel and win real cash or FD points if you win.
Do I Have to Pay to Play?
No, you never have to pay to play, but you certainly can. FanDuel offers a wide array of DFS contests and offers massive cash prizes, depending on the contest type.
Why Can't I Play in My State?
FanDuel is fighting the good fight to be available everywhere and to everyone, but right now some states don't allow DFS or FanDuel doesn't offer it.
You can still freely play FD for money in most states, but the likes of Washington, Idaho, Montana, Nevada, New Mexico, Texas, Louisiana, Alabama and Iowa are presently off limits. Be sure to check for updates and make sure it's legal to play wherever you are!
Is FanDuel Legal?
Absolutely. As stated, FD does not allow paid play in some states and some locations deem it illegal, but DFS is legal on a federal level. States are individually working to clear up a cloudy situation in terms of legality, but as things stand, it's perfectly legal and OK to play as long as it is allowed in your state.
How Do I Play?
It's easy! All you have to do is create an account, deposit some cash and pick the sport/contest you want to compete in. FanDuel has on site tutorials if you have any issues, or you can refer to our How to Play section on this page.
Is FanDuel Safe?
Yes, FanDuel is safe. The company profits on your profiting and playing games and they're not here to steal your money. Rather, FanDuel is safe and well respected in the industry.
Is FanDuel a Gambling Site?
No, FanDuel and all DFS sites aren't considered gambling. They provide games based on skill that require knowledge, research, strategy and collectively, said skill. It's true that you can luck into winnings in any given contest, but you're not going to consistently win if you're not actually "good" at daily fantasy sports.
We're sorry, residents of your region are not accepted by this gambling site!
OK