Bodog Review
If there was one casino – only one – you could join, the smartest thing you could do is join Bodog.
Because after more than 20 years they're still offering top-notch gambling, promotions and customer service. And while they're not perfect – because no company is – I'd still be willing to bet you'd have a heck of a time finding another sportsbook, casino and poker room with a record as clean as theirs.
If you've spent any length of time gambling online, you know how rare this is.
So, the following review is more or less a formality. Just in case you want the 411 on their games, promotions and banking options – and the few things we don't think some people will like.
Just know in advance we recommend them wholeheartedly. If you don't like wasting time, you can click this link and get signed up right now.
There are two exceptions to this, though:
You're not Canadian. Bodog.eu only accepts customers from Canada. US players will want to read our Bovada review instead. Everyone else will want to read reviews from our all-in-one section.
You're a professional gambler. As we mention in our poker, sports and promo section, Bodog seems to only want recreational bettors and poker players on their site. Everyone else runs the risk of having their accounts closed.
For everyone else? Let's get into the review.
VISIT Bodog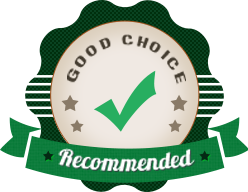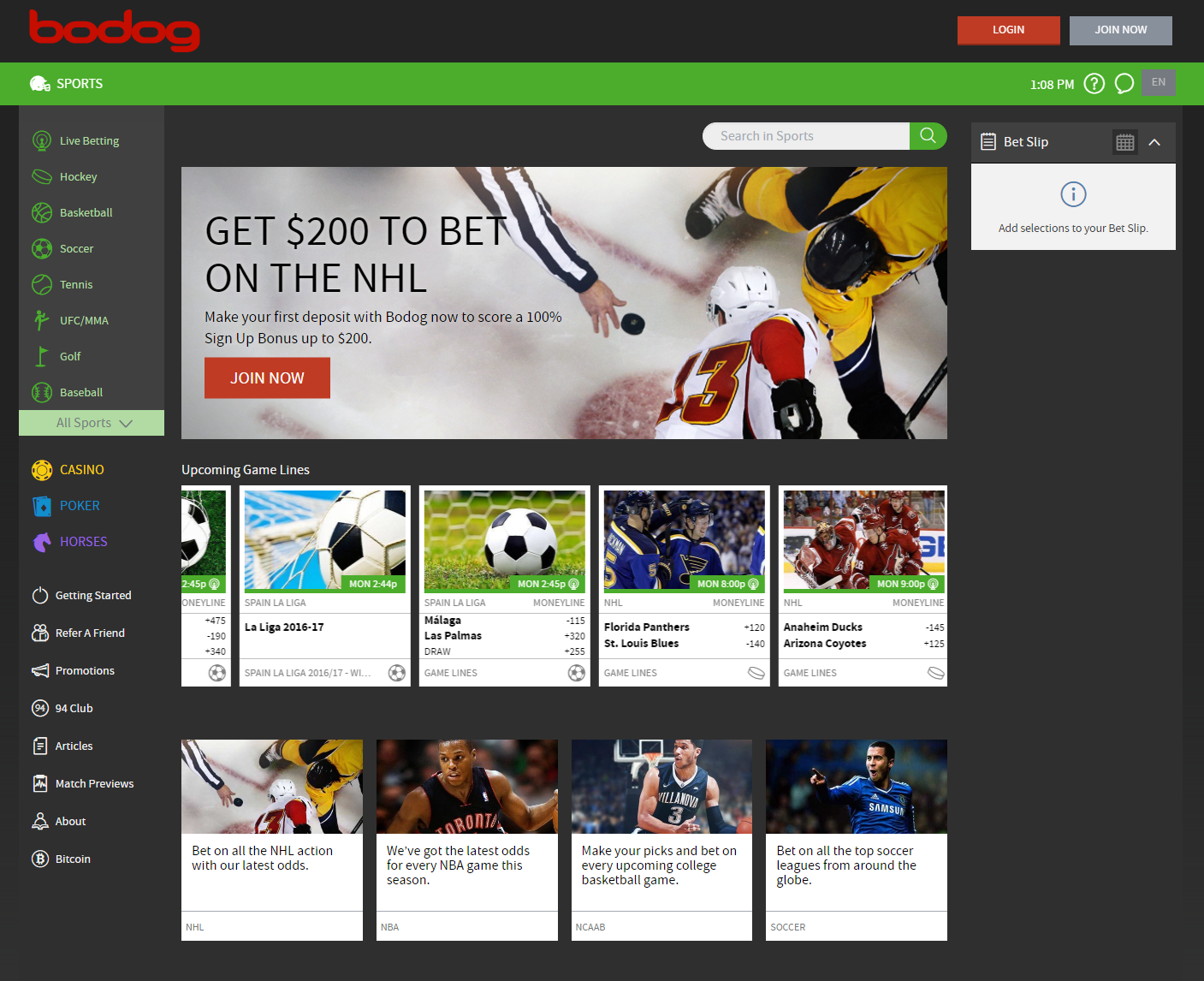 Official website – Bodog.eu
Site launched in 1994
Licensed and Regulated in Antigua
Email – service@bodog.eu
Telephone – 1-877-263-6422
Sports betting, poker & casino all on offer
Trusted and well-known brand
Good for mobile betting & gaming
Good mobile casino
Canadian Customers Only
Bodog Banking Options
Bodog only accepts the following banking options with their respective min/max deposit amounts:
Visa – $25 min/ $1,000 max
Bitcoin – $20 min/ $5,000 max
MasterCard – $25 min/ $1,000 max
Interac e-Transfer – $20 min/ $1,000 max
They do say they have more options, but availability depends on where you live. But when I double checked a couple of other review sites, they reported the same options as above.
I am REAL surprised they don't accept Neteller or Skrill. These are just as easy, and just as fast, as the other options they offer.
On the bright side, they do not charge any deposit fees.
Withdrawals are a different story, though. Your first check of every month is free. But after that each withdrawal will cost $50. The exception is bitcoin – those are free – unless your wallet charges you a fee.
You can cash out anywhere from $20 to $3,000 per request.
Support
Bodog has an in-depth FAQ section. The cover banking methods, limits, games, bonus terms, betting restrictions, and more. So, that's where I'd start if you have any questions.
But if you still need one-on-one help, you can reach out to them through the following:
Bodog doesn't offer live chat, which sucks. Live chat's usually the fastest and most effective form of communication.
That said, I've contacted Bodog many times over the past 6-8 years. I've always received a reply within 24 hours, and usually much faster than that.
Thousands of Dollars in Gambling Promotions
Bodog has several promotions running. Each of their products has one or two or five core offers. Then there are the limited time offers, and general deals everyone can participate in.
The following is a list of offers for each of their products, as well as a few of their general offers, along with any important details you need to know about limits and wager requirements.

Sports Betting Offers
100% Sign Up Bonus
Bodog will match your deposit 100% up to $200. Deposit $200 and you'll have $400 total to bet with.
The rollover for this offer is 5x in the sportsbook and racebook. You can also use this in their casino, but keep in mind that the rollover is 40x, which is much higher than their standard casino bonus/rollover.
And …that's it.
The sportsbook only has one core offer. It'd be nice to have more, but at least you have other offers you can take advantage of – like the refer-a-friend or a casino bonus. We'll get to those in just a second.

Casino Offers
The casino has far more promos than the sports section. Here are the details.
Welcome Bonus
This is a two-part bonus.
The first part is a slots bonus. This is a 100% match bonus up to $400. It has a 25x rollover.
The second part is their 'other games' bonus. This is a 100% match bonus up to $200. This has a 40x rollover, except for bets made on single or double deck blackjack, sic bo, craps, roulette and baccarat. Playing these games will NOT count towards the rollover.
If you take full advantage of both parts, you'll get an additional $600 to play with. It's a decent offer, but it's hard not to be a bit disappointed considering their cousins – Bovada and Ignition – offer a $3,000 and $2,000 bonus.
The upside – the rollover for both offers is very reasonable. And there are additional offers waiting for you once you're done with this one.
Cash Back
Every bet you make will earn you points. How many points you earn will depend on the game you play. Here's the table that breaks this down:
| Play | Earn |
| --- | --- |
| Slots, Mini Slots | 2 Casino Points for every $10 Bet |
| Blackjack, Mini Blackjack, Mini Roulette and Other Games | 1 Casino Point for every $10 Bet |
| Single and Double Deck Blackjack | 1 Casino Point for every $25 Bet |
Every 100 points you accumulate is worth $1 cash back. Every Friday, assuming you have at least 500 points, Bodog will convert your points to cash. Any points not converted will rollover to the following week.
This is a neat little bonus, and a great way to offset some of the losses – or, add to your wins – from the previous week.
Mobile Bonus
Bodog wants to get you to try out their mobile casino. Your first bet, so long as it's $100 or more, will earn you a $10 casino bonus. This offer has a 20x rollover, which will not include bets from single or double deck blackjack, sic bo, craps, baccarat or roulette.
Table Game Tuesdays
Play Bodog's table games on Tuesday. If you earn at least 50 casino points, Bodog will give you a $10 casino bonus. This includes all table games (even blackjack and roulette). The rollover and terms is the same as the mobile bonus above.
Hot Wednesday
This offer is for slots players. You'll receive $5 for every $100 you play, up to $15. You can participate in this offer playing ANY slot machine you want – unlike many other slot deals that force you to play 1 or 2 types of machines.
Thursday Double
Make a deposit on Thursdays and get a 100% match bonus. This offer is good up to $250 for slots, and $250 for other games. This has a 25x rollover, but only slots will count towards the wager requirements.
Hit and Draw
This offer is exclusive to blackjack players. Every blackjack you get from Monday to Sunday will earn an entry into their weekly draw. The winner receives a $210 casino bonus.
Only natural blackjacks count, but there's no limit to how many entries you can win.
This bonus has a 20x rollover. The weird thing is – being as it's a blackjack offer – you cannot play single or double deck blackjack to clear it (as well as baccarat, sic bo, craps or roulette).

Poker Offers
Here are the evergreen offers available to online poker players.
100% Sign Up Bonus
This is a 100% match offer up to $1,000.
This bonus is unlike the others in that it's released as you play. You earn points for every hand or game you play. Once you accumulate enough points, a portion of your bonus is released to you. You continue at this pace until you finish the offer, or it expires.
Here's a chart showing you how many points you need to earn to receive pieces of your bonus:
| Level | Poker Points | Bonus Issued | Total Bonuses |
| --- | --- | --- | --- |
| 1 | 50 | $10 | $10 |
| 2 | 250 | $40 | $50 |
| 3 | 750 | $100 | $150 |
| 4 | 1,500 | $150 | $300 |
| 5 | 3,000 | $300 | $600 |
| 6 | 5,000 | $400 | $1,000 |
You'll have 60 days to complete the offer. You can view and track your progress in the 'poker bonus' section of their software.
It's also important to know that this offer is for recreational players only. According to Bodog's terms:
*Bonus programs are intended for recreational bettors only. Professional players or players considered to be abusing the bonus system by any means may have bonuses revoked and be subject to further sanctions, at the discretion of Bodog Sportsbook, Casino and Poker Room management.
The challenge here is they don't make it clear what a professional bettor is. So, my best suggestion would be to pace yourself. Maybe don't play 10 tables at once and clear the bonus in 2 days. Spread it out some.
(Your mileage may vary, of course.)
Royal Flush Bonus
Make the rarest poker hand possible – the royal flush – and you'll receive a bonus equal to 50x the big blind – up to $200. To qualify you'll need to play holdem, use both hole cards and be involved in a hand with 3 or more players. There's no rollover on this offer.
Poker Points
You can convert your points into sports or casino bonuses. Or, you can use them to get into tournaments. Here's a sample of how you can use your points:
| Ticket Name | Cash Value | Points Cost |
| --- | --- | --- |
| $5 Sports Bonus: Issued within 24hrs, 3X rollover | $5 | 450 |
| $5 Casino Bonus: Issued within 24hrs, 20X rollover | $5 | 350 |
| Any $150 + $12 | $162 | 16,200 |
| Any $125 + $10 | $135 | 13,500 |
| Any $100 + $9 | $109 | 10,900 |
| Any $100 + $5 | $105 | 10,500 |
You can convert up to 5 million points per month. The exchange rate is $1 for every 100 points.
You'll earn poker points at the following rate for cash games:
| Rake | Points |
| --- | --- |
| $1.00 - $3.00 | 1.00 |
| $0.50 - $0.99 | 0.50 |
| $0.25 - $0.49 | 0.25 |
| $0.05 - $0.24 | 0.10 |
| $0.01 - $0.04 | 0.05 |
You'll receive 3 points for every $1.00 paid in tournament fees.

General Promotions
The following are promotions anyone can participate in, no matter if they play in the sportsbook, casino or poker room.
Refer-a-Friend
Get paid for sending your friends to Bodog. When your friends make a real money deposit, you'll receive a bonus equal to 200% of their deposit. The max you can earn is $100.
This bonus has a rollover of 5x sports, 5x racebook, 40x casino or 6x poker points per dollar. You can refer as many friends as you want.
94 Club
This is Bodog's exclusive VIP program. It looks like the only way in is to be invited. Some of the perks include weekly bonuses, access to live events/junkets, cash rewards, and more.
What Can You Bet On In the Sportsbook?
Their online sportsbook is (arguably) the most popular section on their website. While Bodog doesn't have the biggest sportsbook, or the most markets to bet on, they do have a solid and diverse selection of primarily US-focused markets.
Here are the different markets you can bet on:
Baseball
Soccer
Tennis
Basketball
UFC/MMA
Golf
Football
Hockey
Cricket
Horse racing
Boxing
Motor sports
E-sports
Olympic games
Politics
Rugby
Snooker
Cycling
Volleyball
Aussie rules
Handball
Winter Sports
A couple things that stick out to me include e-sports – which has grown slowly in popularity the last couple of years – and the Olympic games. At the time we're publishing this review, we're about a year or 18 months out before the next Winter Olympics start. So, it looks like we're going to start getting some betting options.
Types of Bets and Betting Limits
The types of bets you can make include: moneylines, point spreads, over/under, 3-ways and props. Many games offer as many as 60+ different prop bets. For example, you can bet on things like the first team to score, the player to score, how the score happens, player/team totals and more.
Bodog offers live betting, too. Many of these are just (live) props – you can bet on who will score next, get a hit next, how the point's earned, etc. – but all in real time.
Pretty simple stuff, really. It's a simple enough sportsbook for people brand new to betting sports, but robust enough for most people if this were their only sportsbook account.
There are exceptions, of course. There are some people who won't like some of the things Bodog does. Here are a few examples to show you what I mean:
Bodog has lower betting limits - The max you can bet at Bodog depends on the market, type of bet, event, etc., but will range from $500 to $2,000.
They charge more - Experts say they charge higher juice than other books – even on mainstream markets and events.
Bodog doesn't offer live streaming - However, this is something you can find at most non-US sportsbooks.
Winning bettors are punished here - Bodog has dual lines, which means when you sign up you'll get the better price – what all recreational bettors get. But if Bodog thinks you're an advantage gambler, they'll switch your pricing so that you're paying half a point to a point more than their standard lines.
The truth is, if these things don't bother you, you're probably a perfect fit.
For everyone else, you'll still want to have an account at Bodog – because they're a safe and excellent sportsbook – but you'll want accounts at Bookmaker or Pinnacle, too, as they're pro-friendly, have better prices/odds and much higher betting limits.
The Casino at Bodog
Bodog has a robust casino. It has more than 150 different casino games, thanks to their partnerships with Real Time and Rival Gaming.
They used to work with BetSoft, too But due to a recent issue (on Betsoft's end) Bodog has pulled their games. And while it's unfortunate that we don't get to play BetSoft's games anyway – because they are fun to play – it's great to see that Bodog cares more about you than they do their pocketbooks.
Anyway, let's take a look at the games you can play at Bodog.
Blackjack
Blackjack
Double Deck Blackjack
European Blackjack
Perfect Pair
Single Deck Blackjack
Zappit Blackjack
This is an okay selection of blackjack games. It's not nearly as big as some top online casinos, but I think most people are going to be happy with the basics plus a few variants. Only people who are hardcore blackjack enthusiasts and/or online gaming veterans will want more.
Table Games
American Roulette
Baccarat
Caribbean Hold'Em
Caribbean Stud Poker
Casino Battle
Classic American Roulette
Classic Craps
Classic European Roulette
Craps
European Roulette
Let 'Em Ride
Pai Gow Poker
Red Dog
Tri Card Poker
Vegas Three Card Rummy
Not too much to report here.
One thing I'd like to see added are live dealer games. They're becoming more and more popular nowadays, and there are plenty of options as far as which software companies Bodog can work with to get them.
I think adding a handful of live dealer games would only further separate them from their competition.
Slots
8 Lucky Charms
5 Times Wins Progressive
8 Lucky Charms
A Day at the Derby
A Switch in Time
All Aboard
Arabian Tales
Ares : The Battle of Troy
As the Reels Turn 1
As the Reels Turn 2
As the Reels Turn 3
Astral Luck
Atomic Age
Aussie Rules
Baby Boomers: Cash Cruise
Best of Luck
Big Cash Win
Big Money Bigfoot
Birds of Fury
Blazin' Buffalo
Bowled Over
Bulletproof Babes
Bust-A-Vault
Caesar's Empire
Candy Cottage
Cash Money Mermaids
Cash Money Mermaids
Catsino
Champs Élysées
Chicken Little
Cirque du Slots
Cleopatra's Coins
Cleopatra's Gold
Coins of Olympus
Cosmic Quest I : Mission Control
Cosmic Quest II : Mystery Planets
Costume Party
Crazy Camel Cash
Cream Of The Crop
Crystal Waters
Demi Gods
Derby Dollars
Desert Kingdom
Diamond Cherries
Diamond Dazzle
Diamond Dozen
Diamonds Downunder
Diggin' Deep
Dino Island
Dirty Martini
DJ Moo Cow
Dog Pound Dollars
Doo Wop Daddy-O
Dragon Princess
Dragons
Eggstravaganza
El Luchador
Fantastic Fruit
Fantasy Fortune
Fast Lane
Firestorm 7
Fixer Upper
Flea Market
Flying Colors
Food Fight
Football Frenzy
For Love & Money
Forbidden Slot
Fortune Keepers
Frogged
Fruit Frenzy
Future Fortunes
Gladiator Wars
Global Cup Soccer
Gnome Sweet Home
Gobblers Gold
Goblin's Gold
Gold Rush
Goldbeard
Golden Gorilla
Goldenman
Grandma's Attic
Gushers Gold
Heavyweight Gold
Hercules The Immortal
Heroes Realm
Hobo's Hoard
Hole in Won
Hydro Heat
Ice Picks
Indiana Jane
Invasion
Jack the Ripper
Jacques Pot: Gourmet Slot
Japan-O-Rama
Jenny Nevada & The Diamond Temple
Jolly Roger's
Leonardo's Loot
Lion's Lair
Lion's Roar
Loco 7's
Lost Secret of Atlantis
Major Moolah
Mega Wins
Metal Detector
Midway Madness
Milk the Cash Cow
Mister Money
Money Magic
Moonlight Mystery
Moonshiner's Moolah
Mystic Wolf
Nuclear Fishin'
Ocean Treasure
One Million  BC
Opera Night
Panda Party
Pigskin Payout
Pistols & Roses
Pond of Koi
Precious Treasures
Psychedelic Sixties
Pub Crawlers
Queen Of Kings
Rain Dance
Red Sands
Red, White & Bleu
Reel Blood
Reel Circus
Reel Crime 1: Bank Heist
Reel Crime 2: Art Heist
Reel Fighters
Reel of Fortune
Reel Party
Reel Party Platinum
Rise of Poseidon
Rock On
Roll out the Barrels
Ronin
Scary Rich
Scary Rich 2
Scary Rich 3
Secret Garden
Sevens & Stripes
Sevens and Bars
Shamrock Isle
Sherwood Forest Fortunes
Shopping Spree
Silver Unicorn
Six Shot Showdown
Snow White & The Poison Apple
Snow Wonder
So 80's
Soccer Babes
Spartan Warrior
Spy Game
Star Jewels
Strike Gold
Summer Ease
Super Diamond Mine
Surf Paradise
Swinging Sweethearts
Tahiti Time
Tea Cup Dragons
Ten Times Wins
The Back Nine
Thunderbird
Tiger Treasures
Travel Bug
Treasure Island
Tycoon Towers
Vintage Vegas
Wacky Wedding
Watch the Birdie
Western Wildness
Whale O' Winnings
Wheel of Cash
Wild Carnival
Wild Safari
Wild Wild Spin
Win Mill
Windy Farm
Winter Wonders
Witches and Wizards
World of Oz
Zombies Vs Cheerleaders
Zombies Vs Cheerleaders II
Zombiezee Money
What we like about their slots section is the variety. You can play all kinds of slot machines, such as:
3 and 5-reel machines
Classic slots
Video slots
Slots with bonus rounds
Progressive slots
Slots with features (wilds, cascading wilds, free spins, multipliers, etc.)
3D slots
Themed (movie, book, game) slots
Unfortunately, this is where BetSoft shined –  specifically their 3D slots. They are a blast to play – sort of like a video game that pays when you win. Those are the types of games I'd like to play all day, every day.
But, having your games pulled is what happens when you have faulty games and/or you don't pay people when they hit progressive jackpots.
Video Poker
Bonus Deuces Wild
Bonus Poker
Bonus Poker Deluxe
Deuces Wild
Double Bonus Poker
Double Double Bonus Poker
Double Double Jackpot Poker
Double Jackpot Poker
Jacks or Better – 1, 3, 10 And 52 Hands
Joker Poker
Loose Deuces
No much to report here. This is a good selection of video poker games. It's a nice balance between unique titles and multi-hand variants – as opposed to 1 or 2 unique titles, and the rest being multi-hand variants of those 1-2 titles.
Specialty Games
30 Ball Bingo
80 Ball Bingo
American Bingo
Beach Bums
Cast for Cash
Cavalier Cash
European Bingo
Gunslinger's Gold
Itchin' 2 Win
Keno
Penguin Payday
Pirates Pilage
Sudoku Box
Tiki Treasure
This is a decent selection of 'other' games. It's a much better balance than some casinos, where they either have 2-3 games or 2-3 dozen.
The bottom line – there's ton of games to choose from. And, the best part is, it doesn't matter what kinds of games you like to play – with the exception of live dealer games, there's a little bit of everything for everyone.
Casino Software
You can play all of Bodog's games from your browser – no download needed.
The same goes for their mobile games. No gambling apps is needed – just visit their site from your phone or tablet and you can start playing right away.
One thing I liked seeing is how many mobile-compatible games they have. We won't post them here because they're already posted above.
Besides, why deny you the pleasure of checking them out for yourself?
Play Online Poker at Bodog
When we first checked out Bodog Poker, we were a bit confused. Because if you search Google you may come across reports that suggest Bodog is no longer offering poker. In other cases, you might get different results – maybe Bovada or Ignition comes up instead.
However, we got in touch with their support to clear all this up. Here's what they had to say:
Bodog.eu and Bovada.lv are different entities with different gaming licenses run by different companies. Here at Bodog, we have a unique Poker channel that will offer you an amazing experience. At the moment, we serve Canadian based players only.
We also ask themed about where their player base comes from, because that isn't clear, either. And they said they pool their player pool with Ignition Casino.
From their support:
Bodog.eu shares the same Poker player pool with other partners including Ignition Casino. This enables us to have a large player pool and a healthy online poker ecosystem, which provides a wider variety of games to our players. Our trusted partners also implement the same strict security that we have to ensure a fair and comfortable playing environment in our Poker room.
This is sort of odd, because while they only cater to Canadians, the games aren't exclusive to Canada. You're playing against Americans, too.
They also don't mention all their partners, which I find strange.
But I think it's a good idea they do this, though, because without Ignition's traffic Bodog might not have much of a poker room to talk about. But because they do, they're the 3rd highest trafficked poker site in the world.
So, that's just a heads up in case, like us, you started your search in Google and came across a bunch of 'Bodog Poker is closed' messages.
They're not closed. Things are just a bit quieter on this end of their website.
Anyway, enough about that. Let's get to the important stuff – like what games and stakes can you play at Bodog?
Cash Games
Bodog offers holdem, omaha and omaha hi/lo. Their cash game stakes range from .02/.05 to 300/600, depending on the game, stake and variation you play.
Bodog also offers a fast fold poker game. They call theirs Zone Poker.
You can learn more about how fast fold poker games work here (http://www.pokerlistings.com/fast-fold-poker). But if you're a fan of action – if you like to play lots of hands – this is a game you'll want to check out. You can get in 100-300 hands per hour with this variant.
The stakes for Zone Poker run from .02/.05 to .50/1.
Both cash games and Zone Poker are available to play on your phone and tablet, too. Just visit Bodog from your device and head to the poker section to get started.
Tournaments
Bodog offers plenty of tournaments, too.
Let's start with their MTTs.
Bodog offers more than $2 million in guaranteed prize pools every week. They have a robust tourney schedule between their nightly majors, daily guaranteed tourneys and their Sunday lineup.
Their Sunday lineup includes their heavy hitter – the biggest tourney of the week – the $100k Guaranteed. First place will walk away with $20,000 minimum. This isn't too shabby considering you can buy in directly for $162, or satellite in for as little as $1.
Here are some of the satellites you can play to win yourself a cheap seat:
Cheap Seats
Tournaments Name
Buy-in
Day and Time (ET)
$100K Cheap Seats*
$1+$0
Daily at 12:40 AM, 3:40 AM, and 7:40 AM
Guaranteed Tournaments
Tournaments Name
Buy-in
Day and Time (ET)
$100K Special Qualifier 10 Seats Guaranteed
$18 + $1.80
Saturdays at 2:10 PM
$100K Special Qualifier 50 Seats Guaranteed
$20 + $2
Sundays at 2:10 PM
$100K Semifinal 5 Seats Guaranteed
$20 + $2
Thursday - Saturday at 8:40 PM
$100K Quarterfinal 1 Seat Guaranteed (Turbo)
$5 + $0.50
Saturday and Sunday at 2:40 PM
Next up are their Nightly Majors. These are tournaments you can play every night, which I think is creative and a great way to keep a steady flow of traffic to the site throughout the week.
Their largest event is $25,000 Guaranteed. But there are tournaments of all shapes and sizes for players of all size budgets.
Here are the Nightly Major tourneys you can play:
Nightly Major Tournaments
Time (ET)
Tournament Name
Guaranteed Prize Pool
Buy-in
Starting Chips
8:00 PM
$25,000 Guaranteed SS
$25,000
$55
5,000
8:30 PM
$8,000 Guaranteed DS
$8,000
$11
2,500
8:55 PM
$12,000 Guaranteed
$12,000
$109
2,500
9:00 PM
$10,000 Guaranteed SS
$10,000
$22
5,000
9:15 PM
$15,000 Guaranteed
$15,000
$55
10,000
10:00 PM
$10,000 Guaranteed Turbo SS
$10,000
$109
5,000
10:15 PM
$10,000 Guaranteed (10K Chips)
$10,000
$11
10,000
11:00 PM
$5,000 Guaranteed Turbo SS
$5,000
$33
5,000
Those are the most noteworthy tournaments Bodog offers. But there's far more where this came from. And don't forget, they have plenty of SNGs too.
For example, here are some of the SNG variants you can play:
Deep Stack: Get double the starting chips.
Satellite: Win your way into a bigger tournament.
Turbo: These have faster blind levels.
Double Up: Survive half the field and double your buy-in.
Triple Up: Place in the top third to triple your buy-in.
Hyper Turbo: Faster blind levels than turbos.
Buy-ins range from $1.10 to $215. Table sizes range from heads up (2 players) to 45 players.
When I last checked, there weren't many SNGs running. But I've seen reports from other players that say otherwise. But, this will depend on the day, time and day, and what you consider to be a lot. I have a SNG background, so 'enough' for me would be 10-tabling for a few hours.
You may be different. In which case, it'd make more sense for you to check their poker section out for yourself to see if their selection and volume will work for you.
Poker Software
One of the perks of playing at Bodog is their software. It's unique software that you won't find anywhere else other than their related (cousin) sites.
The most common features their software has includes:
Selecting your own card and table design
Playing in different languages including English, Spanish and Chinese
Adding card animation. Add special effects to your winning hands.
Rabbit Cam. See what the next card would've been when you fold on the flop or turn.
Show pot total
Show bet value
Show hand strength
Show folded hand
Four colored decks
You can also set up your tables in full-screen mode, cascading tiles or in a 4x4 resizable grid.
Now let's talk unique features. They have two that stand out to me.
The most unique feature, I think, is their spotlight. This is an actual spotlight you can turn on that will follow the action around the table.
I like this feature because it's easy to get lost in the action – to not know what's going on, or who's turn it is – especially if you're an inexperienced player.
More than that, if you play multiple tables like most people do, you can bring up a table and instantly know where the action is.
So, I highly recommend you turn this feature on.
The other feature that's interesting are their anonymous tables. If I remember right, they were one of the first sites/companies to offer this. And it's exactly what it sounds like.
Instead of labeling players the usual way – using their screen names – what Bodog does instead is gives everyone a number.
They do this so that it's impossible to target a specific player, or mark them for later (abuse). Between that and the fact that you can't take permanent notes, and Bodog has created a safe place for recreational players tired of being hunted down by sharks.
Bodog also limits how many tables you can play to 20. 3rd party tracking, hotkey programs and mining software are also prohibited. For those reasons, many pros will choose not to play here.
This is great for recreational players then. You can come here and feel somewhat safe and not like you're getting taken advantage of. And, once you become good enough, you can even make a little money against weaker players the old fashioned way – without outside help or software.
Conclusion
Bodog is an excellent site, hands down.
You'll be hard-pressed to find anything negative about them. We couldn't find any cases of blatant scams or scandals – much less any (legit) complaints from the last couple of years.
And, of course, if you do see some complaints, just keep in mind Bodog has been around for 20+ years. No company on Earth goes without making a few people mad, especially gamblers.
The bottom line – Bodog is a good company. A gambling site we can feel good recommending to our readers.
That said, they're not a perfect fit for everyone. In other words:
If you don't live in Canada.
You're a professional gambler or poker player.
You're a diehard Microgaming slots player.
You will only play live dealer games.
You have to bet $5,000 or $10,000 per ping pong table match.
Then there's a good chance you'll be happier elsewhere.
If you're looking for the best Canadian gambling sites, you can't go wrong with joining Bodog. You're joining a company with 20 years gambling experience who also happens to have a relatively clean background. And you get a well-rounded experience – like Las Vegas – between their sportsbook, casino and poker room. So, check them out now. You'll be glad you did.