Complete Coral Review in 2022
Coral is a well-established brand in the gambling industry. The company started out back in 1926, and is now one of the largest high street bookmakers in the United Kingdom with over 1,800 shops throughout the region.
Ever since 2002, they also operate a first-class online gambling site that offers sports betting, casino, poker and bingo all in one place. We will be reviewing the whole Coral site thoroughly here today.
Like many of the other big retail bookmakers, Coral was a little slow to fully embrace online gambling. Once they did embrace it, they had trouble competing with the rest of the industry because they were inexperienced.
They have certainly caught up in recent years, though, with a clear focus on their online operation. As a result, they now have one of the best all-in-one gambling sites on the web. We rank it very highly and have no hesitation in recommending it to our readers.
In the following review, we have provided information on each major quadrant of Coral. We will examine the game selection and promotions that are relevant to each section, as well as give you some tips for getting started and getting a hold of customer support.
VISIT Coral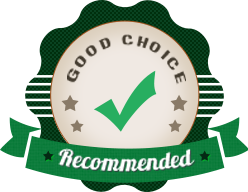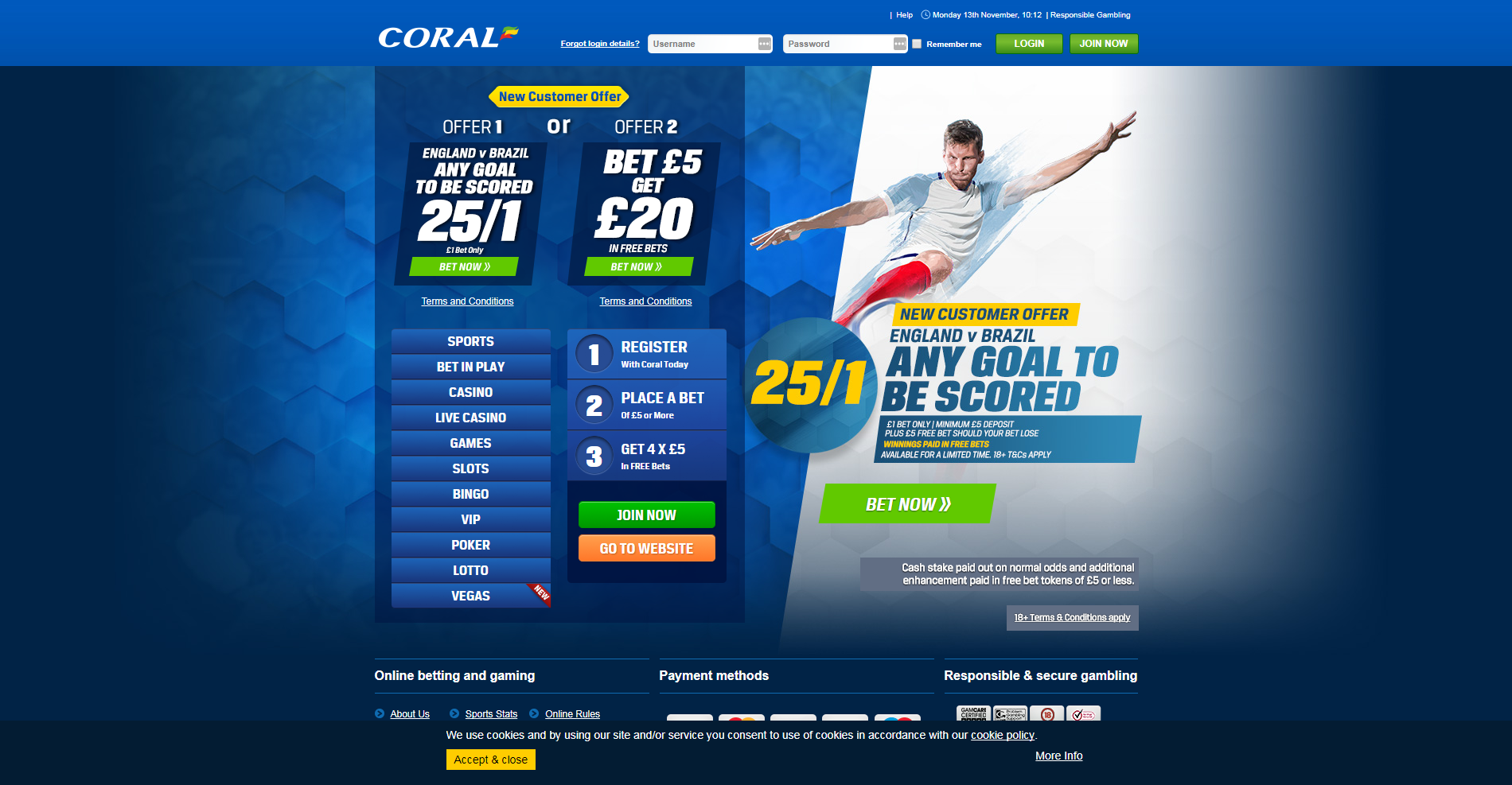 Website: www.coral.co.uk
Website Established in 2002
Company Started in 1926
Licensed by UK Gambling Commission
Telephone: +44(0) 208 507 5544
Sportsbook, Casino, Poker Room and Bingo Room
Extensive List of Promotions in All 4 Sections
Large Game Selection
Many Countries Restricted Including USA
Poor User Interface in Poker Room
Restricted Countries
The first thing that you should know before signing up is whether Coral serves your country or not.
The following countries are currently NOT allowed to play at Coral:
Afghanistan
Algeria
American Samoa
Andorra
Angola
Anguilla
Antarctica
Antigua
Armenia
Aruba
Australia
Azerbaijan
Bahamas
Bahrain
Bangladesh
Barbados
Belgium
Belize
Benin
Bermuda
Bhutan
Bolivia
Bosnia
Botswana
Bouvet Island
Brazil
British Antarctic Territory
British Indian Ocean Territory
British Virgin Islands
Brunei
Burkina Faso
Burundi
Cambodia
Cameroon
Canada
Canton
Cape Verde
Cayman Islands
Central African Republic
Chad
Chile
China
Christmas Island
Cocos [Keeling] Islands
Colombia
Comoros
Congo - Brazzaville
Congo - Kinshasa
Cook Islands
Costa Rica
Cuba
Côte d'Ivoire
Djibouti
Dominica
Dominican Republic
Dronning Maud Land
East Germany
Ecuador
Egypt
El Salvador
Enderbury Islands
Equatorial Guinea
EU
Eritrea
Ethiopia
Falkland Islands
Faroe Islands
Fiji
France
French Guiana
French Polynesia
French Southern Territories
French Southern and Antarctic Territories
Gabon
Gambia
Ghana
Greenland
Grenada
Guadeloupe
Guam
Guatemala
Guernsey
Guinea
Guinea-Bissau
Guyana
Haiti
Heard Island and McDonald Islands
Honduras
Hong Kong SAR China
India
Indonesia
Iran
Iraq
Isle of Man
Israel
Jamaica
Japan
Jersey
Johnston Island
Jordan
Kazakhstan
Kenya
Kiribati
Kuwait
Kyrgyzstan
Laos
Lebanon
Lesotho
Liberia
Libya
Macau SAR China
Madagascar
Malawi
Malaysia
Maldives
Mali
Marshall Islands
Martinique
Mauritania
Mauritius
Mayotte
Metropolitan France
Mexico
Micronesia
Midway Islands
Moldova
Monaco
Mongolia
Montenegro
Montserrat
Morocco
Mozambique
Myanmar [Burma]
Namibia
Nauru
Nepal
Neutral Zone
New Caledonia
Nicaragua
Niger
Nigeria
Niue
Norfolk Island
North Korea
North Vietnam
Northern Mariana Islands
Oman
Pacific Islands Trust Territory
Pakistan
Palau
Palestinian Territories
Panama
Panama Canal Zone
Papua New Guinea
Paraguay
People's Democratic Republic of Yemen
Peru
Philippines
Pitcairn Islands
Poland
Puerto Rico
Qatar
Rwanda
Réunion
Saint Barthélemy
Saint Helena
Saint Lucia
Saint Martin
Saint Pierre and Miquelon
Saint Vincent and the Grenadines
Samoa
Saudi Arabia
Senegal
Serbia
Serbia and Montenegro
Seychelles
Sierra Leone
Singapore
Solomon Islands
Somalia
South Africa
South Georgia and the South Sandwich Islands
South Korea
Spain
Sri Lanka
Sudan
Suriname
Svalbard and Jan Mayen
Swaziland
Switzerland
Syria
São Tomé and Príncipe
Taiwan
Tajikistan
Tanzania
Thailand
Timor-Leste
Togo
Tokelau
Tonga
Trinidad and Tobago
Tunisia
Turkey
Turkmenistan
Turks and Caicos Islands
Tuvalu
U.S. Minor Outlying Islands
U.S. Miscellaneous Pacific Islands
U.S. Virgin Islands
Uganda
Ukraine
Union of Soviet Socialist Republics
United Arab Emirates
United States
Unknown or Invalid Region
Uruguay
Uzbekistan
Vanuatu
Vatican City
Venezuela
Vietnam
Wake Island
Wallis and Futuna
Western Sahara
Yemen
Zambia
Zimbabwe
I think the question here is who CAN play..
Getting Started
Now that we got that wall of text out of the way, those of you who can legally play on Coral can go ahead and register an account!
All you need to do is click on the green 'Join Now' button in the upper right-hand corner of their homepage, and then fill out your personal information.
This step will be necessary even if you just want to be able to contact customer support by any method other than the telephone.
After making an account, you can click on your personal cashier and check out some of the deposit options. Our next section will take a deeper look at each of the banking methods that Coral offers so that this important process will be easier for you to complete.
Banking Options
There is a decent amount of banking options that are available for both deposits and withdrawals on Coral. These methods are all extremely quick and reliable heavy-hitters in the online banking world. The only method we wish they had included was bitcoin—but hey, nobody is perfect!
The one method that you have probably never seen before is Coral Connect. This method is Coral's personal plastic card that brings all their platforms of shopping and gambling together into one convenient place.
These cards allow you to deposit and withdraw online casino funds anytime you want at any of their 1,800 participating stores.
Deposits
Here is the list of deposit methods available at Coral:
Visa Debit Card
Visa Credit Card
Maestro Debit Card
MasterCard Debit Card
MasterCard Credit Card
Skrill
Skrill 1-Tap
Neteller
Paysafecard
Paypal
ECOPayz
Coral Connect
The minimum deposit for most of these methods is only €5. The exception to this rule is PayPal, which requires a €10 minimum deposit. The processing time for every one of these methods is instant, so it is tough to ask for anything more than that!
One word of caution for our readers is if you deposit using e-wallets such as Skrill, PayPal or Neteller, you will not be eligible for some of the deposit bonuses. This is most likely because these methods charge fees to use them.
Most sites do not feel like covering those costs for players AND giving those same players bonuses. Check out our promotions section for more information on which reward deals are affected by this.
Withdrawals
Here is the list of withdrawal methods offered at Coral:
Visa Debit Card
Visa Credit Card
Maestro Debit Card
MasterCard Credit Card
PayPal
Skrill
Neteller
ECOPayz
Bank Transfer
Coral Connect
This list is almost identical to the deposit options list except for the fact that Skrill 1-Tap, Paysafecard and MasterCard credit cards are absent. There is also one new addition to the list: bank transfers (also known as bank wires).
You will need to withdraw money using the exact same method that you deposited it with, unless you are attempting to use the bank transfer. If you deposited using a method that is not on the withdrawal list, you obviously cannot use the same method to withdraw.
Their terms of service ask for all players that are in this situation to contact them separately to work out a withdrawal option.
All these withdrawal methods have a required minimum amount of €5. The processing times for the PayPal, Skrill, Neteller and ECOPayz e-wallets are all no more than 24 hours.
The plastic card options along with the bank transfer option will take between two and five days to process. Coral Connect offers instant withdrawals, which is one of the first times we have ever seen so much awesomeness wrapped into one banking method.
Coral Sportsbook
We would not be shocked to find out that this sportsbook covers every professional sporting event that happens on planet Earth. The schedule of events each day is so long that you should be able to bet on anything, anywhere, anytime, anyplace.
They also appear to have a decent amount of promotions for a sportsbook, and their user interface is above average. We appreciate the live stream feature known as "Watch Now" because it allows every gambler to sweat their games without having to find it on television.

Sportsbook Game Selection
Most people think that there are only a handful of important sports in the world, but Coral Sportsbook disagrees with that opinion. They have included over 30 different betting markets to choose from, with each market providing tons of bets per day to anyone who is willing to wager.
We are especially impressed with their Virtual Sports selection since there appears to be seven different sports that are supported. This is quite a massive effort on their part to program so many sports into a video game format that facilitates betting.
Here is the list of sports markets that are available for wagers in Coral's Sportsbook:
ITV Racing
American Football
Baseball
Basketball
Boxing
Cricket
Cycling
Darts
Football
Formula 1
Gaelic Football
Golf
Greyhound Racing
Handball
Horse Racing
Ice Hockey
Motor Sports (Bikes)
Motor Sports (Cars)
Politics
Rugby
Snooker
Tennis
TV & Special Bets
UFC/MMA
Virtual Sports
Volleyball
Winter Sports

Sportsbook Promotions
Coral offers a long list of amazing promotions for their sports bettors that covers a wide variety of categories. If you enjoy Live Betting, Virtual Sports, horse racing, soccer or even creating your own bets, you have come to the right place.
Most sportsbooks do not offer very many promotions, and they choose to focus solely on casino promotions instead. We need to show some respect to Coral for being consistent all the way around and providing amazing promotions in every section of their website.
If you think you at predicting who will win any Premier League, Championship, Champions League, La Liga, or Seria A or NBA match, then this feature will appeal to you. This promotion allows you to combine match betting with stats like passes, shots or goals.
All you need to do to is tweet your bet to @Coral using the hashtag #YourCall, and Coral will reply with a specific price for the bet you came up with. This is a fun feature for those who are tired of the same old bets on spreads that are created by the casino.
To benefit from this promotion, you will need to log-in to your account and opt-in on Coral's promotions page. Once you do this, you will simply need to bet at least €25 on any sporting event between Monday and Thursday.
Once you opt-in once, you will not need to do it every week. After betting the required €25, you will receive a free €10. This €10 prize will be split up into two parts. One part is a €5 bet, and the other part is €5 to use in-shop with the Coral Connect payment option.
For players who love parlays, this will be the promotion for you. Once a day, Coral promises to give a 10% bonus on any winning parlay bet that had at least four games involved. The minimum bet is €2, and they will pay the bonus in the form of a free bet of up to €100.
For maximum bonus potential, you should be sure to make parlay bets where first place is at least €1,000. This way, you will be able to receive the full 10% bonus of €100 when you win.
Virtual Sports Welcome Offer
With this welcome offer, it is possible to claim a free €20 just for betting on a Virtual Sport for the first time. Virtual Sports are the newest rage in sports betting because they avoid weather delays and late kickoffs by simulating the sporting event on their website for everyone to watch.
All you need to do is place a bet of up to €20 at even odds, and you will receive a free bet for up to €20 no matter whether your bet won or lost. The smallest bet that you can make to qualify for this offer is €1.
For those who were hoping there would be another promotion aimed at Virtual Sports, you just got your wish! All you need to do is bet €20 or more on Virtual Horse Racing between Monday and Thursday of each week and you will receive a free €5 racing bet. That's all there is to it!</>
This promotion is interesting, and we are sure that we have never seen anything like it before. Let's say you make a bet on any U.K. and Irish horse races or dog race. Then, let's pretend that the odds have changed after you make your bet. In this event, your bet will be updated to have those new odds if these changes favor you.
If the odds move against your favor, you are not punished since your odds stay the same as when you made the bet. This offer is capped at €50,000 per day, so you know it must be a good one!
Cashouts & Partial Cashouts
Do you like being in full control of your bets to the point where you can buy out of them at any time? Well, this promotion allows you to do exactly that! Whenever you see a symbol of a hand holding a banknote next to a sports bet, you know that bet qualifies for cashouts.
Not only are you allowed to fully buy out of your bet and accept a fraction of what the winning bet would have been, but you can also cashout a small portion of your bets and leave the other parts running. This is known as a partial cashout, and you will never find this awesome feature inside of a land-based casino.
Another cool part about cashouts is that you can use them in the middle of parlays! We did not expect that to be the case. This means that if you did a 10-team parlay, you can just cashout after you win the first 9 games and avoid any further risks.
Wow, this is one of the best sports betting features that we have ever seen due to its flexibility. Coral Sportsbook is allowing us to build our own bets via mobile phone in the Player Bets builder page.
You can guess what stats you think a player will get, but you can also combine him with other players or pit him head-to-head against other players. This is a unique way to create a fun atmosphere for sports betting, and we appreciate Coral's effort in trying to keep things interesting.

Sportsbook User Interface
One of our favorite features of this sportsbook's software would have to be the bet filter. This bet filter is extremely useful for players who know exactly what they are looking for and don't want to waste time scrolling through hundreds of sporting events.
Once you filter the list of events according to the filters of your choice, you will be staring at the list of available sporting events that fit your specifications.
Another cool feature of the sportsbook software is the live racecourse broadcast that is called 'Watch Free.' This is a free and convenient way for online sports betters to enjoy the sporting event that they bet on by watching it right from Coral's website.
While it is completely standard for every land-based sportsbook to include television screens for their customers to watch the games, most online sportsbooks do not bother to include this feature. For those who do not have access to television, or the sport they are betting on is not even televised in their country, this feature can be extremely useful.
Coral Online Poker
The online poker room at Coral Poker is top-notch for anyone who enjoys receiving a bunch of promotional bonuses while playing. It is also impressive that they've managed to include a wide variety of buy-in amounts so that players of all bankrolls can participate.
As far as the number of possible poker variations to play, there are only two. This is a negative for their poker room since most places also offer 7-Card Stud, Omaha, and Omaha Hi-Lo, at a minimum. The impressive part is that one of these two variations, Six Plus Hold 'em, was completely invented by Coral Casino themselves.

Poker Game Selection
It is important for a casino to have many poker formats available for their customers. This is because it is rare for people to play just one format of poker, and it makes the site more well-rounded to have a bunch of poker variations available.
Here is the list of poker formats that are available to play on Coral's Poker Room, along with the stakes available in each game:
Six Plus Hold 'em
Twister
Speed Poker
Cash Games
Multi-Table Tournaments
Sit & Go's
Cash games, multi-table tournaments and Sit & Go tournaments are all standard parts of any online poker room. If you are unaware of what any of these forms of poker are, check out our poker glossary for more information.
A Twister is a 3-handed Turbo Sit & Go that has a random jackpot attached to it. These jackpots can reach all the way up to €100,000! Wild Twisters are also 3-handed Turbo Sit & Go tournaments with jackpots, but the difference is that each player is forced to go all-in every hand until the tournament is finished.
The winner of any Twisters tournaments will receive the amount of the jackpot
that was randomly chosen for that specific tournament.
Speed Poker is a special variation of No Limit Hold 'em where you are instantly moved to a new table with a new hand every time you fold your hand. This is great for those who do not like waiting for hands to finish. This format is not ideal, though, for those who like to take notes and watch how the people on their table play since you will be on a new table every hand.
Six Plus Hold 'em is a fun variation on No Limit Texas Hold 'em, and it also represents the only other poker game that is offered at Coral's poker room. Normally, poker rooms will have at least some Omaha games or 7 card-stud games, so we decided to knock them down a notch for their lack of options.
The rules for Six Plus Hold 'em are very similar to the rules of No Limit Texas Hold 'em, except that all cards between deuce and six are removed from the deck. This means that the lowest straight possible is Ace-Six-Seven-Eight-Nine. The hand rankings are also a tad bit different since a straight loses to three-of-a-kind and a flush can beat a full house.

Stakes
We are very impressed with the large range of stakes that are available to play in Coral's poker room. Whether you are a poor college student or a high-rolling professional player, you will find a game that suits your needs.
Below is the list of stakes that are available for each gaming format that we previously mentioned in the Game Selection section:
Six Plus Hold 'em: €0.02/€0.04 up through €0.50/€1.00
Twisters: €0.50 up through €100
Cash Games: €0.01/€0.02 up through €5/€10
Speed Poker: €0.02/€0.05 up through €1/€2
Multi-Table Tournaments: Free up through €300
Sit & Go Tournaments: €0.10 up through €100
Our favorite part of this list of stakes is that Coral offers multiple free tournaments per day for players who cannot afford to deposit. This shows that they care about offering something for everyone on the site, not just those who pay them the most rake.

Poker Promotions
We have reviewed a ton of poker sites, and we have yet to come across one that offers so many promotions to their players (other than the #1 site in the world, Pokerstars). These promotions range from deposit bonuses to daily missions to leaderboard races. There is even one deal that gives out lottery raffle tickets just for logging in!
It is clear from this long list of poker promotions that Coral truly cares about their poker players. This is good to see from a casino that is split into four giant sections because some large casinos tend to ignore their poker players.
The poker quadrant of Coral is the one with the most promotions attached to it too, believe it or not.
The reason that gambling sites are usually in favor of their casino gamblers over their poker players is due to the casino gamblers giving them larger profit margins. However, Coral Poker is not one of these ignorant places, which is good news for any online poker player that is interested in signing up.
The first reward that you will be eligible for in Coral's Poker Room is the Welcome Bonus. If your deposit is at least €5, you will receive four tokens for entry into €5 poker tournaments that must be used within two weeks. You will also receive 30 tickets to the €50 New Player Freeroll that runs every night.
If your first deposit is anywhere between €10 and €200, you will receive a 100% deposit bonus for up to €200. This bonus will be released in increments of €5 for every 300 VIP points you earn. We feel like this is a great welcome bonus all the way around, as it has prizes for all skill levels.
This is a cool promotion that gives players "missions" to work on that will reward them with freeroll entry tickets once the missions are completed. There are special freerolls for every day, week and month, so there are tons of ways to get involved at any time.
The daily freerolls have a €500 prize pool, the weekly freerolls have a €5,000 prize pool and the monthly freerolls have a €25,000 prize pool. To win entry into these freerolls, you must opt-in once you are logged into the poker client.
The weekly and daily missions include things like playing a 10$ SNG, winning five Twister tournaments in a row, being dealt pocket aces or seeing 20 flops. The monthly freeroll's only mission requirement for winning an entry ticket is to qualify for ten of the daily €500 freerolls.
€5000 Login Lottery Cash Giveaway
The name of this promotion is somewhat misleading since they are not giving away €5000 all at once. Instead, they have a succession of freerolls whose prize pools add up to €5000. These freerolls can be qualified for by simply logging into your account.
The Daily Login Lottery Tournament has a €150 prize pool split amongst the top 10 finishers. The top 100 finishers will all move on to play in the Weekly Login Lottery Tournament. The Weekly tournament runs every Sunday, and the top 10 players will split a prize pool of €250.
Coral Poker Room decided to work together with the company Super Stack to provide some fun, small-stakes satellites into live poker tournaments. These live poker tournaments usually have a buy-in of €170, and if you win multiple seats, you can use the extra money to help with travel costs.
The satellites only cost €12 and they run Monday, Tuesday and Sundays. The structure is decent since you start with 5,000 chips and there are 10-minute blind levels.
Once you win a ticket, you must email Coral Poker Room to let them know which live event you wish to play. Super Stack features tons of tournaments year-round in various locations, so we advise waiting for one to happen that is near where you live so that you can save money on travel costs.
The first thing you will need to do when joining this club is to opt-in via Coral Poker's website. The opt-in button is located on their promotions page.
The first perk of this club is that you will earn an entry into a €500 freeroll on every Thursday if you wager at least €10 on side games during that week. The second perk of this club is 10% cashback on up to €300 EVERY WEEK.
This promotion is extremely awesome for a losing player since they will be able to play longer and have more fun for every dollar they deposit. This promotion is also great for anyone who loves playing in a freeroll from time to time.
Have you already completed the Welcome Bonus and now you are stuck without any deposit bonuses to claim? Do not fear, because Coral has decided to add in a €1000 reload bonus for every player each month.
Most reload bonuses require a deposit, but not this one! All you will need to do is log-in to your account sometime during the first five days of each month and you will automatically receive a free €1000 in your bonus account. These bonus dollars will clear at the rate of €10 for every 1500 VIP points earned.
Half-Time Hold 'em is a weekly freeroll that takes place every Sunday at 16:45 GMT. It was meant to happen at halftime of the Sunday soccer matches, but Coral has opted to keep these freerolls active even though soccer season is not year-round. The entries are capped at 500 people, so you will need to be quick to get your seat!
The prize pool is a total of €50, and each of the top 25 finishers will receive a €5 free sportsbook bet. This is a fun little promotion that keeps the broke players in action, which is great to see from a poker site. Coral could have easily ignored the poor players and just given promotions to those players that give them the most rake, but this promotion proves that they do not think like that.
Daily and Weekly Freeroll Missions
Oh, look, another promotion for those who are low on funds in their account! Coral is really starting to impress us with these low-stakes and freeroll programs.
Every single day, Coral will be offering a Daily Mission Freeroll at 19:30 BST. The top 10 players from each daily freeroll will compete in Tuesday's €1,500 Weekly Mission Freeroll. Only one entry per person is allowed per freeroll.
Coral Exclusive Twister Race
The Twister Race is a group of three different leaderboards that can be climbed by playing Twister tournaments only. If you win the Twister tournament, you will receive double points toward the leaderboard.
The three leaderboards are split into different buy-in levels. The Micro Race is for those who play €1 or €2 Twisters and comes with a first-place prize of €250. The Mini Race is for those who play €5 or €10 Twisters and includes a €500 first-place reward. The Main Race is for those who play €20, €50, or €100 Twisters, and it features a first-place purse of €1,000. Each leaderboard pays the top 25 finishers each week and then the points reset back to 0.
Payday Payback offers all players on the site access to three different bonuses. The unique part of this promotion is that any player can receive all three bonuses if they complete the qualifications.
The first bonus, Payday Payback One, can be claimed by earning 100 poker points on cash game tables. The second bonus, Payday Payback Two, can be won by earning 500 poker points on cash game tables. The third bonus, Payday Payback Three, requires us to clear 2,000 poker points.
Payday Payback One rewards anyone who qualifies with one €2 Twister ticket and one Daily Mission Tournament Ticket. Payday Payback Two will gift its qualifiers with two €5 Twister Tokens which features a possible €5000 jackpot. Payday Payback Three will give those who have cleared enough poker points a €20 tournament token that is good for any poker tournament on their entire site that costs exactly €20.
Finally, a promotion for all the psychic people out there! The Poker Predictor will give each player a free chance to pick the winners of three different Sunday sporting events, most of which are soccer games.
If you fail to pick the right winners, there is no harm done because it is just a freeroll! If you pick the correct winners for all three matches, you will be entered in a poker tournament with a €200 prize pool.

Poker User Interface
After clicking on the 'Poker' tab on Coral's website, it takes about 50 seconds for the software to load the poker lobby. Once we were inside, we opted to try and look at their entire list of games, which took another 30 seconds to load. It is safe to say that Coral has some issues with lagging software.
Once the games finally loaded, we noticed that the poker software appears to be outdated. The players appear to just be floating in space around the table with no chairs, and the graphics are a little bit fuzzy. The sound effects are like a 1980's video game.
Overall, we are comfortable saying that the user interface is not one of their poker room's strong points. We do appreciate the fact that they have an instant-play feature built into their website so that we do not need to download any software to be able to play.
Coral Casino
For most online gambling sites, the casino portion of their site is the number one attraction. However, on Coral's Casino, the actual casino is only one of four major sections of their gambling operation.
While one might expect this to mean that Coral's casino is sub-par compared to their competition, this is simply not the case. They have an exceptional game selection including five variations of Live Casino games, a long list of promotions for all casino bettors and an above-average user interface.

Casino Game Selection
Coral's casino game selection is no slouch compared to the rest of the industry. They do not have a weakness in any one area as their library appears to be extremely balanced and well-rounded.
One interesting thing we noticed is that Coral decided to list a ton of their casino games in their Bingo lobby. We have no idea why they would choose to do this, but if you do not see your game of choice in this section, then you should probably check the bingo games.
Here is the list of casino games available in each category at Coral Casino:
Slots (85 total)
Pharaoh's Treasure Deluxe
Maji Wilds
Jungle Giants
Robocop
Fairground Fortunes Ghost Train
Legacy of the Wild
Halloween Fortune II
Buffalo Blitz
Miss Fortune
Gem Heat
Heart of the Frontier
Tiki Paradise
Wild Wishes
Jekyll & Hyde
The Riches of Don Quixote
Magical Stacks
Nostradamus
Cat Queen
Everybody's Jackpot
Kong
Streak of Luck
Roulette (18 total)
Premium French Roulette
Multiplayer French Roulette
Multiplayer European Roulette
Premium European Roulette
Premium American Roulette
Frankie Dettori's Jackpot Roulette
European Roulette
Penny Roulette
101 Roulette
American Roulette
Premium Roulette Pro
3D Roulette Premium
3D Roulette
Roulette Pro
Video Roulette
Club Roulette
Multi-Wheel Roulette
French Roulette
Blackjack (14 total)
Lucky Lucky Blackjack
Blackjack Super 21
Premium Blackjack
American Blackjack
Classic Blackjack
Blackjack Peek
Blackjack Surrender
Pontoon
Double Attack Blackjack
Cashback Blackjack
Buster Blackjack
Blackjack UK
Blackjack Pro
21 Duel Blackjack
Other Table Games (8 total)
3 Card Brag
Baccarat
Craps
Pai Gow Poker
Red Dog
Sic Bo
Tequila Poker
VIP Baccarat
Progressive Jackpot Games (33 total)
Jackpot Giant
Man of Steel
Batman and the Batgirl Bonanza
Batman and The Joker Jewels
Batman and Catwoman Cash
Batman and the Riddler Riches
Green Lantern
Superman II
Superman
Gold Rally
Gladiator Jackpot
Age of the Gods: Prince of Olympus SA
Age of the Gods: Kings of Olympus
Age of the Gods: God of Storms
Age of the Gods: Goddess of Wisdom
Age of the Gods: Furious 4
Age of the Gods
Caribbean Stud Jackpot
Frankie Dettori's Magic Seven Jackpot
Jackpot Darts
Video Poker (14 total)
Pick'em Poker
Jacks or Better
Jacks or Better 4-Line
Jacks or Better 10-Line
Jacks or Better 50-Line
2 Ways Royal
Aces and Faces
Aces and Faces 4-Line
Aces and Faces 25-Line
Deuces Wild
Deuces Wild 4-Line
Joker Poker
Tens or Better
All-American Video Poker
Live Casino Games
Live Roulette
Live Blackjack
Live Baccarat
Live Hold'em
Live Hi-Lo
Miscellaneous Games
Around the World
Bonus Bowling
Derby Day
Dice Twister
Genies Hi-Lo
Heads or Tails
Hold'em Showdown
Keno
Penalty Shootout
Pinball Roulette
Pop Bingo
Rock Paper Scissors
Roller Coaster Dice
Spin a Win

Casino Promotions
For starters, it is important to know which countries allow their residents to qualify for promotions. It makes no sense to study the promotions of a gambling site if you cannot take advantage of them. Players from the following countries are excluded from participating in any promotions:
Albania
Belarus
Croatia
Czech Republic
Georgia
Hungary
Latvia
Liechtenstein
Lithuania
Macedonia
Romania
Russia
Slovakia
Slovenia
One thing that stands out with Coral Casino's promotions webpage is that they put a poll next to each bonus description for users to rate how much they like the promotion. They also put a little message box next to every poll so that players can leave a comment about each promotion.
We have never seen this before and thought it was worthy of mentioning. This is a good sign since it shows that they have nothing to hide and that they are interested in improving the experience for every player on their site.
Now, let's look at each of Coral Casino's promotions that pertain exclusively to their casino games and see exactly what we can expect from them.
Live Casino 100% Welcome Bonus
If you enjoy playing Live Casino games, then this is certainly the promotion for you. Coral is offering a 100% bonus for up to €100 which will be good for betting in any Live Casino game.
The great news is that the playthrough requirements are only 40x the bonus! Most sites get greedy and try to make the requirement equal to the sum of the bonus plus the deposit, but not Coral.
The bad news is that these playthrough requirements must be completed within one week or the bonus money and any winnings will be confiscated. Another problem with this bonus is that Live Baccarat does not contribute anything to the playthrough requirements. Also, any roulette bets cannot cover more than 67% of the board or else they will contribute nothing to the playthrough.
Another important issue to be aware of is that players who deposit using Moneybookers, Paysafecard, Neteller, Skrill or any pre-paid card will not qualify for this bonus. That list represents nearly half of their deposit options, which means this is going to be inconvenient for about half of the players who enjoy playing Live Casino games.
Every time that there is a holiday coming up, you can bet that Coral will have some special promotions for them. Well, you can't bet on it, but you get my point.
For example, Halloween is during the time of this writing, and Coral has multiple special Halloween promotions. There is a special €25 Live Casino Halloween bonus as well as a €10 Halloween deposit bonus available right now, but during other holidays there will be different options.
Sword of Destiny €20k Cash Giveaway
This promotion is in the form of a raffle ticket contest and features the game named Sword of Destiny. For every €10 that you wager on this Sword of Destiny game, you will receive one ticket for the prize drawing.
The rewards for this giveaway include daily cash prizes in addition to the final prize drawing. Each day, a random player will be chosen to win €10. The final prize drawing will feature two €1000 prizes, two €500 prizes and nearly 100 other smaller prizes.
The Jackpot King features a small selection of progressive slot games that all share the same jackpot. This jackpot sometimes reaches up to 7-figures, which is life changing for nearly every human on earth.
The eight slot games that are included in this promotion are Top Cat, Worms Reloaded, Toy Factory, Super Spinner Bar-X, Slots O' Gold, The Naked Gun, Diamond Jackpots and Paws of Fury: Enter The Panda.
This exclusive priority club rewards priority points to those who gamble in the casino and the sportsbook. Each player is placed into a Priority Level that comes with better perks the higher you climb. To move up in levels, you must reach both a deposit quota and a priority points quota each month. If you fail to do this, your status will drop.
When first starting, you will begin at the Bronze Level, where you must make €1000 in deposits and clear 1,500 Priority Points. The Silver Level requires you to make €2000 in deposits and clear 2,500 Priority Points. The Gold Level requires you to make €4000 in deposit and clear 12,500 Priority Points.
The final level, known as the Platinum Level, is only available through invite-only. They invite those players who gamble the highest and the most frequently to receive a very long list of rewards.
Some of these rewards include a personal account manager, enhanced bonuses, exclusive promotions, faster withdrawals and enhanced comp point redemption rates. This is obviously a club that is worth attempting to get into, and we like that it gives casual gamblers something to shoot for if they go on a hot streak.

Casino User Interface
Our first impression of their casino interface came when we went to test out their Live Casino games. The loading time on this feature was a full two minutes, which we think is a little too long.
Once we were connected, we enjoyed how crisp and clear the video of the live dealer was. It was very easy to hear what they were saying to us, which is always a bonus when interacting with someone.
When testing out the normal casino games, we noticed that the loading times were not nearly as brutal as they were in the live casino games. The average loading time for the other games was usually between 10-20 seconds. The graphics appear to be colorful, and the atmosphere is extremely fun to gamble in.
Coral Bingo
The only word we can think of is "WOW." We have not seen very many online casinos dedicate 25% of their operation to bingo. Correction, we have seen none of them do this.
Coral decided to include a ton of bingo rooms to play in, along with an absurdly long list of promotions aimed at only bingo players. Let's look in greater detail at what is going on in this corner of Coral Bingo.

Bingo Game Selection
We do not have very many objects of comparison for the game selection in Coral Bingo. However, for an online casino, it is safe to say that this selection is far above the industry standard. Most online casinos that we have seen just have one or two forms of bingo.
Here is the list of bingo rooms that are available on Coral:
90 Ball Bingo (9 total)
Emerdale Bingo
Big Banker Bingo
Coral Value Room
Rush Room
Speed Bingo- Swift Room
Bingoal Room
Penny Bingo- Castle Room
Coronation Street Bingo
Free Bingo- Allsorts Room
75 and 80 Ball Bingo
Free Bingo- Allsorts Room
40 and 50 Ball Bingo
Rainbow Riches Room
Bingo Lotto Room
Coconut Island
Each of these rooms is home to one of their specific bingo promotions from time to time, but usually, they are just normal bingo rooms. They are organized by how many balls are involved in each respective bingo game to make it easier for those who know how many balls they like to play with.

Bingo Promotions
We figured that since Coral decided to have such a ridiculous amount of promotions for their casino, poker room and sportsbook, that they would probably go light on the bingo promotions. We were sadly mistaken, or happily mistaken for those who like to frequently play bingo.
Not only did they include more promotions than you would expect from a bingo room, they've included just as many as all the other quadrants of their website have. This is an impressive level of dedication to rewarding the bingo grinders on Coral Bingo, which we must admit we did not anticipate.
For Bingo players who are brand new to the Coral Bingo Room, there awaits a welcome package consisting of a €25 bingo bonus and 7 days of free bingo in the room of their choice.
All you need to do to receive these glorious bingo perks is to wager €5 on any bingo game. Once you do this, the €25 bingo bonus will appear in your account instantly.
The great part about this bonus is that the playthrough requirement is just a minuscule 2x the amount of the bonus. This is the smallest playthrough that we have ever seen, and it is a breath of fresh air in an industry filled with 30x-80x playthrough requirements.
During the month of November, Coral will be rewarding players who deposit using their specific bonus codes. Each month there is a different seasonal promotion, which keeps their promotions program looking fresh from month-to-month.
These bonus codes change each week, but each one will reward you with a €2 bingo or slot bonus if you deposit €5 and spend it on bingo. Any player who qualifies for all four bonuses of all four weeks will be entered into a prize drawing to win one of eight Love2Shop vouchers worth €25.
If you are down to your last penny, you should not panic. Coral Bingo has a promotion that could help you get back on your feet and screaming BINGO in no time!
Every single day in the Castle Room from 4 am to midnight there is a total of 98 bingo games that run. Each ticket costs just a penny, and there are €5,000 in prizes awarded each day.
If you deposit €10 and then spend that money on bingo tickets on any day of the week, you will qualify for a free bingo session in the Medallion Room on the following Thursday night at 20:00 GMT. There will be ten bingo games during this hour, and numerous prizes will be handed out in each game.
Any player who completes one line on their bingo card will receive a €5 bingo bonus. Two completed lines will earn the owner of the card an €8 bingo bonus. Covering every square on your card, known as a full house, is going to reward you with a €12 bingo bonus.
Even if you do not qualify for any of the above prizes, you will be guaranteed to split a €100 bingo bonus with every other player who did not qualify for a prize. This makes Thursdays a great day to play some bingo if you ask us.
Weekly Free Loyalty Rooms
Just in case Coral's Loyalty program did not offer enough perks for their players, they decided to add this weekly promotion which rewards free one-hour bingo sessions to anyone who spent at least €1 on bingo tickets in the last seven days.
The higher your tier in the Loyalty program, the more money is up for grabs during this hour of free bingo games. Below is the schedule for each level as well as the prize pool accompanied by each free hour:
Monday: Bronze Level €100 prize pool from 7pm-8pm
Tuesday: Silver Level €200 prize pool from 7pm-8pm
Wednesday: Gold Level €300 prize pool from 7pm-8pm
Thursday: Platinum Level €400 prize pool from 7pm-8pm
Saturday & Sunday: Diamond Level €500 prize pool from 7pm-8pm
If you are free on Wednesday nights, you might want to consider making this Wednesday night club a part of your weekly routine. All you need to do to join is spend €30 or more on any bingo tickets between Thursday and Tuesday of each week.
Once you complete this €30 spending requirement, you will be notified the next time you log-in that you have access to the Monte Carlo room, where the bingo hour takes place.
You will then be able to play bingo for free on the following Wednesday night from 9pm-10pm GMT and compete in a total of ten free bingo games. There are €1,500 in prizes up for grabs throughout this special weekly promotion, which is a bit larger than their other promotions.
VIP Cashback + Double Points
This addition to the loyalty program is only for those players who have reached Diamond Level status. This is the top level that is possible to reach and is the toughest to achieve since it requires the player to earn 50,000 loyalty points.
The first perk that will be handed out to these Diamond members is 10% cashback for up to €250. This bonus money will be available for use on any slot game of your choice inside the Coral Bingo. The second perk that comes along with this VIP deal is that you will earn loyalty points at double the normal pace.
This extremely valuable promotion allows those who do not have the time or money to reach Diamond Level of the loyalty program a chance to achieve Diamond status for one month. All you need to do is spend €30 on any bingo game between the first and last day of each month and you will have an entry into the prize drawing. Only one drawing ticket can be won per day per person.
On the 1st day of the following month, five winners will be chosen out of the total entries. These five winners will be able to enjoy Diamond Level status for an entire month.
Some of the prizes that come along with this deal include weekly cashback up to €250, double loyalty points every Tuesday, and two free Bingo sessions each weekend with a generous €500 in prizes for each session.

Bingo User Interface
Once we got to the Bingo lobby and clicked on Play Now, it took about 10 seconds for the card to load. This is quick compared to other parts of their website, but still relatively slow considering it is 2018 and waiting for websites to load is a 90's thing.
The layout is rather hectic since there are numbers everywhere and seven different tabs of information to sift through. It is tough to even figure out how to get a game started at first. They should make the important buttons a different color instead of making every button green.
We do like that they included a chatroom in each bingo room. This is an advantage over real bingo rooms since they do not let you talk out loud to other people very often. Adding this social aspect to a slow game like bingo is a great touch, in our opinion.
Customer Service
The three ways to get ahold of Coral's customer support team are by email, by telephone or via live chat. This is standard for pretty much every online casino, but the factor that sets the serious casinos apart from the amateur ones is whether this support is available 24/7 or not.
Luckily, Coral offers Live Chat 24/7 like any online casino should. The undesirable part of this process is that you need to make an account and log-in before you can even attempt to connect to them via Live Chat.
Most casinos do not require this, and it is slightly annoying for new players that have questions that they need to be answered before they decide whether they want to sign-up or not.
Coral does not give their email address anywhere on their website, so we must obey the following specific directions to contact them and they will email us back when they get a chance:
Scroll to the bottom of the Coral homepage
Click on the 'Contact Us' link at the bottom of the page
Click on the big green 'Email Support' button
Fill out your personal information and your question, and hit the 'Submit' button
If email or live chat is not your cup of tea, or if you do not feel like making an account just to ask them a question, you can simply call them by telephone. They list multiple support telephone numbers which are organized according to where the player lives. Below, we have listed these phone numbers for you:
Players from the UK: 0800 44 00 11
Players from Ireland: 1800 995 877
All other players: +44(0) 208 507 5544
The final level of defense for a customer who has a problem is to submit a complaint resolution form to the Gibraltar Gambling Commissioner. This form can be found here and is the only way to have your voice heard by a higher authority regarding Coral.
Once you complete the form, simply email it to the commission at gccomplaints@gibraltar.gov.gi and they will find a fair resolution to your problem as soon as possible.
It is clear to us that Coral has come a long way in a short period of time. They used to be a sub-par gambling site, and the criticism that they've received created a reliable juggernaut of a casino.
We would like to see them improve their software loading times and add in bitcoin as a banking option. These would both increase the overall experience at Coral, which is already extremely high.
There are plenty of all-in-one gambling sites on the Internet these days, but few of them can hold a candle to Coral.
It's very easy for us to recommend this site, as we believe it's genuinely top quality. With such a trusted and established brand behind it, this is an online gambling destination you should strongly consider.