Bookmaker.eu Review
Have you heard of Bookmaker?
They're a top-5 sportsbook for US gamblers. Some might even say for all gamblers. Here's why bettors and gambling site reviewers like them so much:
They have a stellar reputation. Do a Google search and you'll see they have more positive than negative reviews. And any negative reviews you find are likely to be several years old.
Bookmaker.eu is pro-friendly. They don't limit your account for winning too much.
They offer high limits. It's common to have 5-figure wager limits for many markets and betting types.
Can you think of another US-friendly sportsbook who ticks all 3 of those boxes …and who happens to pay their customers within a reasonable time frame?
We didn't think so.
That being said, Bookmaker's far from perfect. A couple things came up during our review that will stop some people from signing up.
We'll talk about those later in our review. For now, let's jump into their gambling options. What can you bet on or play at Bookmaker?
VISIT Bookmaker.eu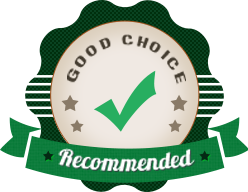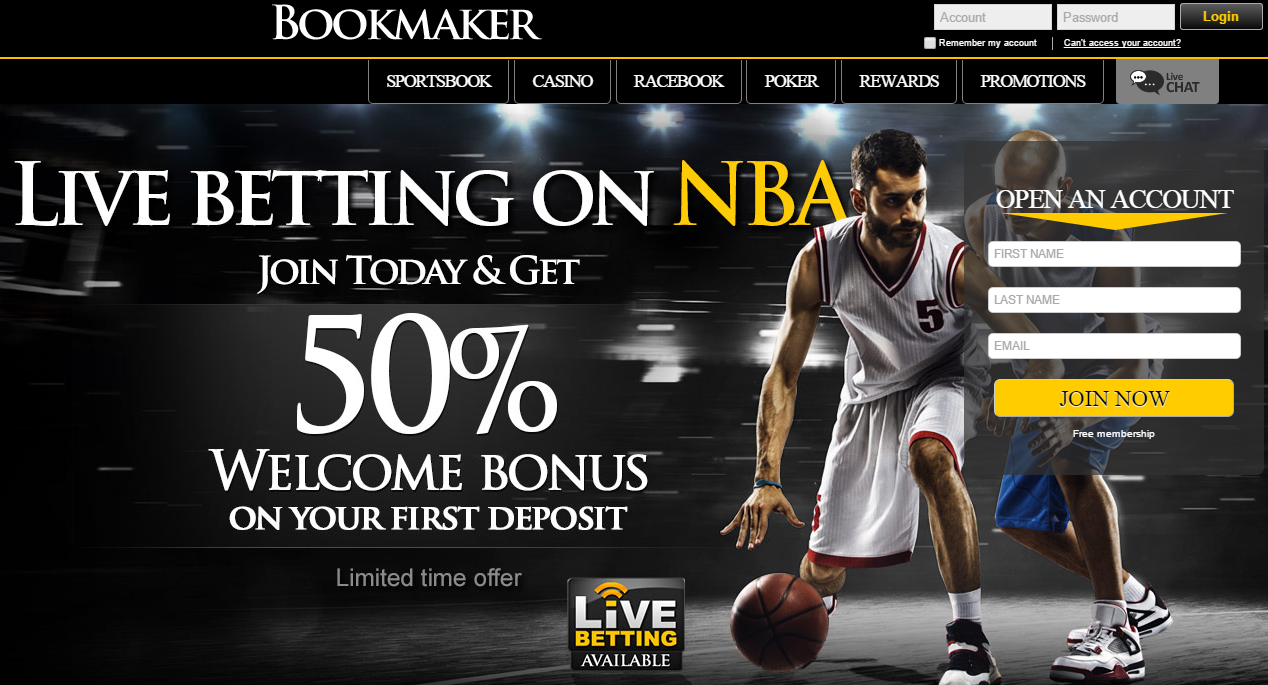 Website – Bookmaker.eu/Poker
Launched in 1996
Licensed in Costa Rica
Email – cs@bookmaker.eu
Telephone – (877) 827-3978
US Friendly
Fast payouts
Unique loyalty program
Trusted & reputable name
Average poker product
Below average casino
Overview of Bookmaker's Gambling Options
This isn't only a sportsbook review.
Bookmaker also has an online casino and poker room. The following 3 sections covers each product in detail, including:
What you can bet on or play.
How much you can bet per market or game.
Promotions for each product.
What we like and what we don't like.
Ultimately, we want to answer the question: Is Bookmaker a good fit for everyone in 2016?
Let's start with their sportsbook.
What Markets Can You Bet on at Bookmaker?
Bookmaker offers plenty of action between their sports and entertainment markets, as well as their racebook.
Here are the sports you can bet on:
Baseball
Olympics
Soccer
Basketball
Football
Tennis
Golf
Politics
Martial arts / MMA
Boxing
Rugby
Cricket
Aussie rules
E-sports
Handball
Surfing
Futures
Click on any one of these and you'll see all the submarkets they have lines for.
For example, click on baseball and you'll see MLB, MLB 2nd Halves, MLB Futures and Mexican Baseball.
For football, you'll have options like NFL, NFL Specials, Futures and Regular Season Wins. You'll also have college football, the CFL and other related submarkets.
Each market or submarket will also have a page where you can see all of the day's events specifically for that market.
The types of bets you can make vary from sport to sport, but overall Bookmaker offers parlays, money lines, straight bets, point spreads, teasers, pleasers, over/unders, futures, if bets, reverse and prop bets.
One thing we noticed during our review is how much Bookmaker focuses on major US sports. It reminded us of Bovada and one of the major complaints about them; they don't cover enough international sports.
This lead us to think that Bookmaker, too, might be a better sportsbook for recreational US bettors. That pros would be happier somewhere else.
But we were wrong.
Our expert sources say Bookmaker's one of the best options for professional high volume bettors because they offer high limit action AND they don't limit how much their customers can bet.
For example, you can bet as much as $20,000 by phone and $50,000 per NFL side. You can also bet $20,000 on NFL totals and moneylines. We're not even scratching the surface here, either.
The point is, Bookmaker takes some of the largest bets in the world. Apparently 20x more than other books do.
However, don't make the mistake of thinking this sportsbook is only for pros. You don't need to have deep pockets to bet here. With a $10 (bitcoin) or $25 (credit card) min deposit, and a $1 min bet, recreational or budget minded bettors will find plenty of action, too.
And not just sports action. Bookmaker offers a large assortment of non-sports related bets. You'll find these in Bookmaker's entertainment section. Here's what you can bet on:
Keeping Up with The Kardashians
The Oscars
Politics Betting
Presidential Elections
Reality TV
Dancing with the Stars
The Amazing Race
The Voice
American Idol
The Celebrity Apprentice
The Grammys
America's Got Talent
Survivor
X Factor
Big Brother
Miss America
Miss Universe
The Bachelor
One interesting bet we found while reviewing Bookmaker is their live lines on the United States presidential election. You bet on who'll become the next president. You can place your bets, live, all the way up to November 8th.
They have plenty of other live betting options, too. When we last checked them out they have more than a dozen MLB options. They have live football, tennis and soccer too.
Sportsbook Summary
The sportsbook's easily Bookmaker's strongest product. Between their diverse market selection, live lines and high pro-friendly limits, it's hard for most bettors to go wrong here. They're also one of the fastest books to post lines.
There are only a couple minor complaints about their sportsbook:
Their lines are competitive. It's hard to find an edge to exploit. Which sort of makes sense given they have no problems with professional gamblers.
Their $0.20 MLB lines. You can find nickel and dime lines elsewhere (5Dimes and Bovada).
That's about it. Overall, we can't complain.
Racebook
Bookmaker also has a racebook where you can bet on races held on over 50 North American tracks for as little as $1.
You can bet on races held at popular tracks, such as:
Harrington Raceway
Mohawk Raceway
Mountaineer Park
Northfield Park
Presque Isle Downs
Specific events you can bet on include:
Belmont Park
Breeders' Cup
Preakness Stakes
Kentucky Derby
Triple Crown
Belmont Stakes
Del Mar Racetrack Betting
Saratoga Racetrack
The types of bets you can make include:
Win
Place
Show
Daily Double
Daily Triple/Pick Three
Pick Six
Exacta
Quinella
Trifecta
Twin Trifecta
Superfecta
Odd/Even
That's it for the racebook. Bookmaker's real basic, no different than most other sportsbooks we've covered. Though they do have an offer or two, which we'll cover with the rest of their sportsbook offers in the next section.
Bookmaker's Sports Betting Bonuses & VIP Program
Bookmaker has plenty of offers. This is one area where they're stronger than some of their competitors, such as Bovada.
Here's a bit of info about each one.
Welcome Bonus
Get a 15% match sports betting bonus up to $600 when you sign up today. This offer has a 5x rollover, based on the deposit and bonus amounts combined.
If that's too small, then there's a different welcome bonus Bookmaker offers.
Welcome Bonus (#2)
This is a 50% match casino bonus up to $1,000. This has a 40x rollover on the deposit amount plus bonus amount.
(Once you're finished with your welcome offers, there are a few different reload bonus offers you can take advantage of. These depend on your VIP status. We'll go over this in the VIP section.)
Daily Horse Rebate
You can get up to an 8% rebate on bets made in their racebook. This is paid daily, whether you win or lose. You'll receive 3% on all Win, Place and Show wagers. You'll receive 5% on exotic wagers and 2% on Win, Place or Show wagers placed through their call center.
Refer-a-Friend Program
For every person you refer, you'll get 10% of their deposit up to $500. You'll get paid once your friend meets their rollover requirements. You can refer as many friends as you want.
Bookmaker VIP Program
Bookmaker also offers a VIP program. They call it the BetPoints Rewards Program. This is a multi-tiered program they use for all their products – sports, casino and poker.
The idea is you'll earn points every time you make a bet. These points will determine your VIP status and the types of gifts or perks you're eligible for.
There are 3 levels: Gold, Platinum and Diamond. Here's the details for each level.
GOLD
From 0 to 29,999 BetPoints.
For every reload of $300+ you'll receive:
10% free play deposit bonus (up to $500) with 3x rollover.
All deposit fees reimbursed.
1 free debit card cash out of $300 or more per month.
PLATINUM
From 30,000 to 299,999 BetPoints.
For every reload of $300+ you'll receive:
10% free play deposit bonus (up to $750) with a 3x rollover.
All deposit fees reimbursed.
1 free debit card cash out of $300+ per month.
Your BetPoints earn you 10% more than the Gold Level.
DIAMOND
: From 300,000 and up.
For every reload deposit of $300+ you'll receive:
15% free play deposit bonus (up to $3,000) with a 4x rollover.
All deposit fees reimbursed.
A dedicated VIP rep who will be at your beck and call 24/7.
2 free debit card cash outs of $300 per month.
Your BetPoints earn you 10% more than the Platinum Level.
Neat, right? And here's a simple tip:
If you deposit $300 or more, you'll automatically become a Gold VIP (instead of having to earn it). Deposit $900+ and you'll automatically become a Platinum VIP.
There's nothing wrong with earning points, though, especially since they're used for other perks. Points from the sportsbook are awarded based on the types of bets you make.
Straight Bets = 1 point
Parlays (2-15 teams) = 2 points
Teasers = 1.5 points
If bets = 1.5 points
Reverse Bets = 1.5 points
However, not all bets will be awarded points or full points. From Bookmaker's FAQ page:
PLEASE NOTE:
That Moneyline wagers on NFL, NBA, NCAA football and basketball will NOT be awarded BetPoints™. And no BetPoints™ will be awarded for wagers on parlay/teaser cards, office pools, or contests.
Wagers on soccer, 3-way hockey lines, tennis, golf, NASCAR, boxing, MMA, handball, volleyball, cricket, international basketball, international baseball, props, and futures, will be awarded ½ BetPoint per unit currency wager.
This is important to remember so you can plan/bet accordingly.
Once you have your points you can convert them to cash, purchase gift cards, frequent flyer points or merchandise, or to get free cash outs.
| BetPoints™ | Gold | Platinum | Diamond |
| --- | --- | --- | --- |
| 500 BetPoints™ | $2 | $3 | $3 |
| 1,000 BetPoints™ | $5 | $5 | $6 |
| 2,000 BetPoints™ | $10 | $11 | $12 |
| 3,000 BetPoints™ | $15 | $16 | $18 |
| 4,000 BetPoints™ | $20 | $22 | $25 |
| 5,000 BetPoints™ | $25 | $28 | $31 |
| 6,000 BetPoints™ | - | $34 | $38 |
| 7,000 BetPoints™ | - | $41 | $45 |
| 8,000 BetPoints™ | - | $47 | $52 |
| 9,000 BetPoints™ | - | $54 | $60 |
| 10,000 BetPoints™ | - | $61 | $69 |
| 12,000 BetPoints™ | - | $76 | $85 |
| 15,000 BetPoints™ | - | $96 | $107 |
| 30,000 BetPoints™ | - | $195 | $217 |
| 40,000 BetPoints™ | - | - | $294 |
| 50,000 BetPoints™ | - | - | $375 |
| 60,000 BetPoints™ | - | - | $455 |
| 70,000 BetPoints™ | - | - | $540 |
| 80,000 BetPoints™ | - | - | $625 |
| 90,000 BetPoints™ | - | - | $715 |
The above chart refers to customer accounts denominated in US dollars. Players with betting accounts n currencies other than US dollars will be awarded the equivalent value for their account currency for both BetPoints™ and Cash Back.
Bookmaker Casino
Bookmaker offers an online casino. However, it's probably their weakest product, for reasons we'll explain in a moment.
For now, let's look at their games. You can play:
Slots
Arthur's Realm
Spells & Potions
Railway Riches
Fruit Fortune Slots
Bounty Hunter
Legends of Hercules
Knight's Conquest
Pirate's Revenge
Serpent's Treasure
Retro Sci-Fi Slots
Victory Lane
Jurassic Fire
Touchdown Fever
Wild 7's
Table Games
Baccarat
Double exposure blackjack
Blackjack single deck
Blackjack single hand
Blackjack switch
Craps
Stud poker
Let It ride poker
American roulette
Single zero roulette
6-deck blackjack
Spanish blackjack
Three card poker
Table GamesPai gow poker
The limits for the table games are $1-$100/hand.
While we were here we played their blackjack game. The downside is how outdated it looked. It looked and played like it was 10+ years old. There wasn't any lag, but it felt slower than a more modern blackjack game.
That said, there's a 'fast play' option in the bottom right-hand corner. When you turn this option on, the cards aren't dealt to you – you just have them given to you immediately. We suggest using this option, especially if you prefer a faster game.
Video Poker
Deuces wild 25-lines
Jacks or better 25-lines
Jokers wild 25-lines
Aces & eights
Double bonus
Double double bonus
Deuces wild
Jacks or better
Jokers wild
We also played jacks or better video poker. A couple hands in we were dealt a full house. What we thought was helpful is how their software 'holds' the winning hand for you. This is great because it prevents you from accidentally mucking a big winner.
We played the video poker games for about 20 minutes. It's fast-paced. There's no 'fast play' option like there is for the blackjack game. It's not needed.
Bingo & Keno
Video Bingo – 8 cards
Video Keno
Earlier we sort of bashed their games for looking outdated.
However, though their software looks outdated, one thing we DID notice is that their games are mobile responsive. You can resize the windows manually and the game will shrink to fit the window. This is pretty cool.
They say they're mobile friendly, though they don't say what they're compatible with. When we checked them out we found that they're using HTML5, which is compatible with most mobile devices – including BlackBerry and Windows – and if it's not, chances are it will be in the near future.
We checked their games out on the iPhone 6. The blackjack game loaded in our browser fine. In fact, the game looked far better on our phone than it did our laptop.
The mobile games they offer include mini blackjack, jacks or better video poker, Grid Iron slots and mini roulette.
Casino Summary
That's it for their casino.
We weren't sure at first because we only looked at the games displayed on their website. However, once we logged in, we found out this is all the games they offer.
This would be disappointing if you were looking for something like Bovada, 5Dimes or Ignition Casino, where you have hundreds of games and dozens of variations at your fingertips. You won't find that here.
That goes for their mobile casino games, too. They only offer the 4 games listed above.
So, unless you're a meat and potatoes kind of person, we wouldn't suggest joining Bookmaker only for their casino. Instead you should think of this as a nice addition to their sportsbook or poker room.
Casino Promotions
Bookmaker offers the following 2 casino promotions:
100% Slots Bonus
Get a 100% match bonus on your first deposit up to a max of $500. This is for slots only and it has a 25x rollover. Only your winnings from this bonus will be credited to your account. You'll have 90 days to clear this offer.
100% Blackjack and Video Poker Bonus
Get a 100% match bonus on your first deposit up to $250. This offer has a 40x rollover, which is VERY reasonable – not only relative to the slots offer, but compared to what most table game rollovers usually are. Only play on casino games will count EXCEPT for play on mini BJ, craps, pai-gow, roulette and baccarat.
It'd be nice to see more casino offers. However, it's hard to complain when a casino offers bonuses for both slots AND table games. Most casinos don't.
Bookmaker Poker
Last up – Bookmaker's poker room.
Their poker room is actually their strongest product after their sportsbook. This is because they're apart of the Winning Poker Network (WPN).
The WPN is good news because they're 2nd in US traffic with 4400+ players online. They're 9th in worldwide traffic, which isn't bad at all considering how many more sites are out there who don't have to deal with the challenges of the US market.
The point is you shouldn't have any troubles finding action. However, what you may have trouble with is finding action at specific games, variations and limits.
Here's what we found when we checked their tables out. We'll start with their cash games.
Your options here include:
Holdem – You can play .01/.02 to 3/6 for no limit and pot limit and up to 30/60 for fixed limit. Only the no limit tables had any action. Tables were actually pretty full from the micro stakes on up to 1/2.
Omaha – You can play up to 30/60 for omaha, 75/150 for omaha hi/lo, 30/60 for stud and 40/80 for stud hi/lo. There are a few stud games running. There's some omaha action too, even some at the higher limits. But stakes for either game pales in comparison to the action at the holdem tables.
So there's plenty of action if you're a holdem cash player. Otherwise your options will be hit or miss.
A few other interesting things to note about their cash games:
They have a no flop, no drop policy. Otherwise they take a 5% commission up to a max of $3 per cash game.
They have a progressive jackpot called The Beast. This is a progressive points race where you get points for contributing to the rake at the cash tables. You'll get 1 point for every .02 "fed to The Beast" – which they figure using the weighted contributed rake method.
Now let's look at their tournaments.
When we clicked on their tourney tab the lobby opened up in a new window. This is annoying, trust us. You need to keep track of this because if you accidentally close the wrong window, you'll close the whole program. You'll not want to make this mistake while you're in the middle of a game.
Anyway …the types of tournaments you can play are:
Guaranteed
Satellites
Free rolls
Knock outs
Add-ons / rebuys
Turbos
Hyper turbos
Deep stacks
Freeze outs
Double or nothing
On demand
Hand based end
There may be a few others, but these were pulled from their game filter which strangely mirrors the one we remember from PokerStars. It works well.
Stakes vary from freerolls to $0.05 to $500. They have higher buy-in tourneys too, but these look like they're a part of special tournament series.
The biggest tournament they run is their Sunday Special. They claim the $115,000+ guaranteed jackpot is the biggest of all the US-friendly poker sites. The buy-in is $215 and first place is guaranteed a minimum of $20,000. There are plenty of satellites, too, if this is out of your budget.
While looking around we also noticed Bookmaker offers a decent number of SNG tournaments. One unique thing about their SNGs is they're all single table – 10-handed or smaller – unlike sites like PokerStars who offer multi-table SNGs.
There are plenty of options between regular games, turbos, hyper turbos and different MTT variations at stakes starting at $0.50 and peaking at $400 to hold our interest.
However, the one thing that's disappointing is there weren't many games running. Only one $220 heads up SNG was running when we last checked them out.
When we later scoped out AmericasCardroom.eu (details why to come), who are also on the WPN, it was the same thing – there were a few SNGs running. But most tables had 2-3 players who were waiting for these games to fill up.
That's too bad. We saw several SNG variations that looked like a lot of fun.
One example is Jackpot Poker. This is a hyper-turbo, 3-handed SNG. Each player starts with 500 starting chips. The blinds go up every 3 minutes.
There are 2 unique things about Jackpot Poker SNGs.
One, they're winner takes all. Second, there's a jackpot you can win. At the lower levels the jackpot is winner takes all. As the potential payout increases, the more players the jackpot is distributed to when it hits.
Here's how this looks for each buy-in of Jackpot Poker:
| $40 Buyin GTD | $10 Buyin GTDs | $2 Buyin GTDs | Frequency | Payout |
| --- | --- | --- | --- | --- |
| $100,000 | $25,000 | $5,000 | 1 in 100,000 | * See Deals Below |
| $8,000 | $2,000 | $400 | 5 in 100,000 | * See Deals Below |
| $4,000 | $1,000 | $200 | 10 in 100,000 | * See Deals Below |
| $800 | $200 | $40 | 100 in 100,000 | Winner takes all |
| $320 | $80 | $16 | 500 in 100,000 | Winner takes all |
| $240 | $60 | $12 | 7,500 in 100,000 | Winner takes all |
| $160 | $40 | $8 | 21,366 in 100,000 | Winner takes all |
| $80 | $20 | $4 | 70,518 in 100,000 | Winner takes all |
They also offer variations of this game that awards a $12,500 WSOP package. According to them:
All you have to do is keep yourself out of last place and you get to keep spinning for that 2015 World Series of Poker Main Event package. Overall, 3 players qualify for their $12,500 trip out of every 1,666 $30 Jackpots played!
This looks like fun. If only they had more traffic to this section.
Poker Summary + 2 Potential Issues
Their poker room is pretty good. The software is much better than it used to be.
It doesn't hurt that they're 2nd in US traffic, either. While you may not find the exact games you want to play – like SNGs – you will find action at the cash tables. And, the action is spread over the micro and small stakes.
We have no problem recommending their poker room to Americans. That said, there are two things we experienced you should know about.
First, we had a problem logging into their poker software (where only a download's available). For some reason the software didn't recognize our password, even though we logged into Bookmaker's site without any problems.
We chatted with customer support, and get this …they asked for our password. They said they needed it to confirm our account.
We didn't feel comfortable with sharing our password and told 'Susan' as much. She said she had it in front of her already, but just needed us to verify it.
We declined.
She went on to inform us how it's mentioned on Bookmaker's website that customers may be asked for their password for verification purposes. However, when we dug around their site we couldn't find what she was referring to.
According to their privacy policy:
BookMaker respects your choice to play our games and works hard to ensure your total privacy. We guarantee that access to your account information is restricted to you by your unique user name and password. Your customer details are stored and managed under the strictest supervision.
When you log into your account, they DO say you need to give the operator your password if/when you're making bets over the phone. But we weren't doing that.
Our problem with this is simple:
What's stopping Bookmaker's employees from accessing your account once they know your password? What's stopping them from accessing your bankroll? Credit card information?
There are so many other ways to verify someone's connection to an account, like a maiden name or secret 4-digit code (in addition to a password). We think this is something Bookmaker should change ASAP.
Now, for the sake of this review we decided to bite the bullet and give them our password if they asked for it again. So a couple days later we talked with support again about our problem logging into their poker software.
This time they sent us to WPN's poker support.
Their customer support told us our problem was that we tried to log in from a Washington State location, which Bookmaker (at one time) didn't allow. It sounds like they do now, but their software still blocks WA residents.
This sounds odd as we write this. The fix is or should be simple. But that's what customer support told us. They told us to instead download the software from AmericasCardroom.eu.
We're still not able to login using our Bookmaker login details. We've contacted support again to see what we need to do, if maybe we need to create a new (ACR) account – which won't be under Bookmaker.
We'll update this review when we hear back. The good news is that, from our understanding, this problem should be limited to only Washington residents who want to play poker at Bookmaker.
Poker Promotions
You won't find any poker promotions advertised on Bookmaker. However, when we spoke to WPN customer support, they pointed us to Americas Cardroom's promotions page.
We assume the offers are the same since they're all on the same network. With that in mind, here's a list of the different offers you can participate in:
$1,000 Bonus + Jackpot Poker
Get a 100% match bonus on your first deposit up to $1,000. Your bonus will be released to you in $1 increments for every 27.5 Award Points you earn. And when you deposit $25 or more, you'll also get 20 cards worth 2-6 tourney bucks. You can use these to play in any of their Jackpot Poker games. New players will also get a free entry to their $250 New Depositor's Freeroll.
Sit & Crush
A weekly progressive sit and go race. There's no extra cost to play, but you can earn additional cash prizes and tournament entries. This resets every week, giving you a new chance to climb the leaderboards to collect your prize.
Elite Benefits
This is their benefits program. You earn points playing real money games. Your VIP ranking will be based on the points you earn.
Here are the ranks and some info about the perks that come with each:
Lieutenant – Store access.
Captain – Higher store access. $50 cash available for purchase. Earn 1.5 CP's for every 1 RP. All lieutenant perks.
Major – Earn 2 CPs for every RP. $300 cash available for purchase. Higher store access.
Colonel – Earn 2.5 CPs for every RP. $600 cash available for purchase.
General – Earn 3.5 CPS for every RP. $1,500 and $4,000 available for purchase. Higher store level plus access to lower level perks.
5-Star General – Earn 5 CPs for every RP. Stay at 5-Star General until February of the following year. Get one luxury package to the Punta Cana Poker Classic and one for the Latin Poker Series. Get all of General benefits.
This setup reminds us A LOT of PokerStars' and their VIP program. Everything from the points multiplier to the cash options to extending your stay at the upper ranks until the following year.
This is probably one of the more extensive VIP programs available to Americans. If you're a grinder or just put in a decent amount of volume, you might want to take a closer look at this.
Other offers include new daily tournaments, a weekly progressive PLO tournament and more freerolls, as well as Jackpot Poker, the Sunday Special and The Beast, which were explained in more detail in the main poker section above.
Our biggest gripe with their poker offers is how most of them revolve around a specific kind of game. For example, a guaranteed tournament, the possibility of winning a jackpot, or climbing a leaderboard.
What they lack – that many other poker rooms don't – are actual cash offers, reload bonuses or other perks that don't rely on you getting lucky or running good at the tables – or both.
Banking Info
Bookmaker accepts several forms of payment. What's available to you will depend on what country you live in.
Here are the options they accept and the limits for each one (banking method | min/max limit per transaction | other info):

Amex
$25/$499 | $2k daily, $4k weekly, $8k monthly

Visa
$50/$2,500 | $2,500 daily, $5k weekly, $10k monthly

MasterCard
$50/$999 | $4-$20k monthly

Verified by Visa
$2k daily, $4k weekly, $8k monthly

Bitcoin
$10/$50,000 | Get loyalty program upgrades and free payouts when you use bitcoin.

Neteller
$100/$10,000

ECO
$100/$1,000

Bank Draft
$5k/no max | No personal checks. Cashier or certified checks only.

Person to Person
$100/$2,000 | Fees only if deposits are less than $300.

Bank Wire
$2,500/no max
><
Here are your options for cash outs:

Neteller
$100/no max | 2-3-day turnaround and $25 fee on cash outs less than $8k.

Person to Person
$100/$300 | One request allowed every 7 days. Takes 2-3 days. $25 fee.

Bank Draft
$100/$3,000 | One request every 7 days. Takes 7 days. $50 fee.

ECO
$100/$1,000 | No fees.

Bitcoin
$50/$50,000

Bank Wire
$10,000/$45,000 | Takes about 2 weeks to deliver. Fees are $600 to $900.
><
Keep in mind that Bookmaker requires you to rollover your last deposit 1x (100%) before you can request a cash out.
They also don't post every single option to their website. We had to log into our account to find the bank wire option. Which is pretty ridiculous anyway, between the 2 weeks to deliver it to your bank account AND the $600 to $900 in fees.
(No wonder you have to log in to find it. We, too, would hide any option with fees that high.)
If you have a question or run into any problems, you can contact them by live chat, email or Toll Free (US & Canada only) 1-888-218-4629 or FAX 1-888-436-4509. They also have a robust FAQ page.
Conclusion
Okay, let's sum things up. Here are our Bookmaker.eu pros and cons:
Sportsbook
An easy choice for most bettors. A no-brainer for Americas. Our biggest gripes are $0.20 MLB lines and competitive pricing. The biggest upsides are Bookmaker's high limits and no account capping for professionals.
Casino
Not recommended for anyone wanting to only join a casino. Bookmaker has a small selection of games (for both mobile and desktop users), and the graphics are outdated. However, the games are mobile responsive and there's a deposit bonus for both slots and table game players.
Poker
Recommended for US poker players. They have a decent player base, action for micro to small stakes cash game players, a few unique tournament/SNG variations and updated software. They have an extensive VIP program too. However, they're not ideal for Washingtonians, or for anyone looking for non-holdem cash games or consistent SNG action.
Overall, Bookmaker is a top-notch gambling site. It's hard to go wrong having an account here. Especially for American sports bettors and poker players.
Our only other complaint is how they asked us for our password. We understand each site handles privacy and security differently, but we feel as if there are so many better alternatives than to use customers' passwords.
That said, we'd probably let this slide because it's not often you come across a gambling site with a reputation as good as Bookmaker, multiple strong products and who also happens to accept US customers.
It's hard to pass something like this up. Even if you don't agree with everything they do.
Some people will. That's okay. We've reviewed several other top-notch multi-product sites, such as Bovada, Ignition Casino and 5Dimes. You're sure to find something you like between those 3 options.
For everyone else – those who can look past the password snafu – we recommend you join Bookmaker, and are confident you'll like what they have to offer.
We're sorry, residents of your region are not accepted by this gambling site!
OK