M88 Sportsbook, Casino & Poker Review for 2022
Today we're going to talk about M88.com. They're more-or-less the Asian branch of the Mansion.com gambling brand.
They're also known as Mansion, Mansion88 or Mansion 88, if you decide to do more research outside of this review.
But, I'm pretty sure you'll find everything you need to know here. Besides, other than the random forum posts, we're one of the only (legitimate) sites to thoroughly review M88.
Seriously. Scour the web and I guarantee you'll struggle to find a detailed review of their (many) casinos, sportsbooks and poker rooms – especially the latter two.
But we managed to make it happen. Because we're awesome.
Everything you need to know before signing up is in our review below.
VISIT M88 Casino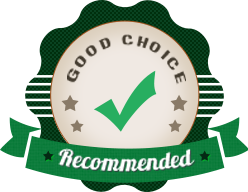 Website – www.m88.com
Launched in 2007
Licensed by Cagayan Economic Zone Authority
Email – help@m88.com
Telephone – 6017 6188 769
Variety of Promotions and Bonuses
Easy to Navigate Through Website
Large Selection of Games Available
US Customers Not Accepted
Website Isn't Mobile Friendly
About the Company
They Have Multiple Websites
M88uses multiple sites. There's one where they use English (M88.com) – then there are websites for people in Thailand, Vietnam and Indonesia.
I didn't check each site in detail to make sure they're identical. But I took a quick look and it looks like you should have a similar experience no matter which one you choose to use.
The locations mentioned above are linked to in the M88.com footer. However, during my review, I also came across Mansion88.com (not linked anywhere on M88.com). This site looks identical to all the sites mentioned above and even has the links in the footer to their additional sites.
You can also go to Mansion.com to see several Mansion-branded sites, as well as other unrelated casinos that they own/manage.
Players from These Countries Cannot Play Here
Residents of the following countries and their territories shall not be allowed to gamble at M88:
Philippines
Taiwan
The United States of America
Singapore
Hong Kong
United Kingdom
France
Guadeloupe
Guyana
Martinique
Réunion
M88 (and Mansion) are Scam-Free
I did a fair amount of research for any scam M88 might be or might've been involved in. I came up empty-handed.
I did come across two 'warnings' that said M88 isn't safe and to play elsewhere, but they didn't specify why and/or back up their claims with any proof.
There aren't any complaints on AskGamblers.com, either. Not a single one.
Not to be deterred – because I was out for blood – I did some research on Mansion.com. I figured my chances of digging up some dirt on one of their larger brands would be better.
I came up with very little going this route.
One interesting thing I found is that, the two sites who blacklisted M88, didn't have anything negative to say about Mansion. Sure, they might be run by two different groups and/or serve different audiences, but it's still all part of the same company. So, if one is bad, why isn't the other?
Note:
I also saw a discrepancy between two review sites for M88. One blacklisted the casino, while the other said nothing negative about the sportsbook. What was interesting is that – at one time – both of these review sites were owned by the same company.
I also found 9 complaints on AskGamblers.com (the most recent was December 2016). 3 of the complaints have been resolved, which is sort of surprising since ThePogg.com (who doesn't recommend them for these reasons – some of which aren't related to Mansion.com directly said they don't work with 3rd parties on player issues. But they did get involved in the complaints I read, and I thought they handled them professionally.
That's all I managed to dig up. Neither M88 or Mansion.com are blacklisted anywhere. They're not accredited or endorsed, either, but nothing negative has been said about them in reviews from other review sites.
The same applies to their ratings. They have low ratings on some review sites – often user-generated – but they also have 7-8+ /10 ratings on other sites, including AskGamblers.com.
The bottom line – I see no reason to blacklist them or discourage you from playing here. They have their issues like any company does, but it appears that they're a safe company to do business with.
How to Contact M88.com
You can contact M88 using one of the following channels:
Customer service is able to answer all your inquiries in English, Chinese, Thai, Bahasa Indonesia and Vietnamese.
I emailed them a couple times for this review. Both times I received a response within 1-2 hours from Jewel. She was helpful, and answered all but one of my questions.
M88 Banking Options
Your banking options are going to depend on the currency you use. M88 accepts the following currencies:
Here is the overall list of options you can expect to find:
Quick Transfer
Help2Pay
VPay
OnlinePay
AlipayTransfer
Alipay
WeChat
Siam Commercial Bank
Krung Thai Bank
Bank of Ayudhya
Fast Pay
EeziePay
Your only cash out option is local bank transfers. It'd be nice to see more cash out options. And, I'm surprised they don't accept any form of MasterCard, Visa or American Express. But, I'm American – it's probably just my ignorance of how things are done in Asian markets.
On a brighter note, it looks as if M88 doesn't charge fees for deposits or cashouts.
As for limits – I think it'd make more sense for our readers to check those out for themselves since limits are relative to the currency you plan to use.
What Offers Can You Claim at M88.com?
There are numerous offers with there being multiple sportsbooks, casinos and poker rooms.
What we're going to do is list M88's most important, evergreen offers below, along with any important details – the match percentage, max you can earn, the rollover, and so on. We'll organize everything below as it is on their website.
Important!
Most of their offers – even the new member offers – are on a limited time basis. So, if there's an offer you want to claim, you'll want to act quickly.
New Member Offers
100% Sign Up Bonus Up to MYR 2,400 – This has a 12-20x rollover on the deposit + bonus, depending on what and where you play. If you use this in the sportsbook the min odds must be 1.5.
300% Playtech Sign Up Bonus – This is good up to MYR 400 and you can use it for Playtech slots. This has a 25x rollover on the deposit + bonus.
100% Sign Up Bonus for Keno, Live Casino and Casino Slots – This is good up to MYR 400. It has a 20x rollover.
100% Sign Up Bonus for Sports – This is good up to MYR 400. It has a 15x rollover on the deposit + bonus, and your bets need to be on odds of 1.5 or more.
Important!
It's a good idea to read their terms and conditions outside of what you read here. They offer so many products and accept so many currencies that the rollover for your specific situation may vary.
Rebate Promotions
Receive a rebate in their casino and sportsbook. Here are their offers:
Playtech – Get between .5 and 1% playing Playtech slots. There is no max limit.
Live Casino – Get up to .8% back when you play in the live casino or play casino slots. This is a daily rebate, and there's no limit to how much you get back. There's no rollover, either.
Sports – Get up to .3% on your sports bets. This is a weekly rebate, and there's no limit to how much you get. There's no rollover, either.
MSports – Get up to .3% on bets made in the MSports section. This is a weekly rebate. There's no limit or rollover on this offer.
Keno – Get up to 1% back when you play keno. This is a weekly rebate.
If any of these offers catch your eye, you'll want to read the terms to figure out exactly how the rebate works, when you'll get paid, how much the playthrough is (when applicable), and so on.
Additional Casino & Casino Game Promos
Here are the additional offers you'll find for their casino and casino games sections.
Play for MYR 14,888 in their live casino. This is a leaderboard promo, where the higher you place, the more of the prize pool you'll collect.
Playtech Cash Back – Get 8% cash back up to MYR 500 when you play Playtech slots.
Super Slot Losing Reward – Lose playing slots and for every MYR 450 you lose, you'll get 50 to 2,000 Reward Points. When you hit 500 Reward Points, you'll get an entry to a drawing where you can win 50 Free Spins, on up to MYR 1,200.
Keno Cash Back – Get a free bet + up to 1.5% cash back (up to MYR 300) in M88 Keno.
There's also the VIP promos which we'll cover in a second.
Additional Sports Offers
Here are a few additional offers you'll find in their sportsbook:
Cash Back – Get 1.6% cash back up to MYR 600 in the sportsbook.
Virtual Sports – Get a weekly deposit bonus worth 20% up to MYR 350.
Remember, you'll want to read the terms for each of these offers before opting in.
Poker Offers
Here are (all) the offers available to M88 poker players.
Rake Race – There's a prize pool worth 70,000,000. Up top, the first-place winner will collect 30,000,000, while the 4th thru 10th place will collect 2,500,000. All you got to do is play to earn points. The more you play, and the more points you earn, the better your chances of collecting a top-10 prize.
Welcome Bonus – Get a 100% match bonus up to $200. Play to earn your bonus in 5% increments. You can see your progress in the poker client under the 'My Bonus' heading. You'll have 6 months to clear the offer.
Bad Beat Jackpot – The bad beat jackpot is triggered when someone loses with a four-of-a-kind 2's or better. The jackpot will trigger even if the players involved in the bad beat aren't opted in. Here's how the jackpot is distributed:80% of the current jackpot is distributed as follows:

40% is awarded to the losing hand (the bad beat winner)
20% is awarded to the winning hand
10% is awarded to the other players at the table where the jackpot was triggered
10% is awarded to all players playing at the same stakes
The remaining 20% is used to "seed" the next Bad Beat Jackpot.
That's it for their poker offers. One thing I wish I saw are all the freerolls I've seen from other Microgaming-powered poker rooms – including 32Red. They usually have money added freerolls, as well as 6-12 freeroll entries given to first-time depositors.
I didn't see that here. I hope it's something they offer on the backend. Or, at the very least, the freerolls are still available on the backend.
VIP Member Promotions
These are the offers for VIP members:
Free Bets – The highest bets made in the live casino, Playtech casino, Sports or keno sections will earn a spot on their leaderboard. Prizes for top finishers will range from MYR 500 on up to MYR 3,000. The total stake amount to qualify is MYR 600,000.
Keno Cash Rebate – Get up to 1% every week with no rollover.
-
That's it for M88's offers. Now let's wrap this section up by looking at their VIP Club and rewards.

M88 Prestige Club & VIP Rewards
M88 has one VIP Club and one rewards area. Let's start with the Prestige (VIP) Club.
The Prestige Club is a multi-level program for all members. It comes with perks such as:
Higher limits
Exclusive offers, gifts and treats
Dedicated 24/7 concierge service
Invites to special events
Cash rebates
And more. You also get access to VIP-exclusive promotions (like the keno rebate listed in the previous section).
There are 5 levels: Bronze, Silver, Gold, Platinum and Diamond. You can see all the perks here: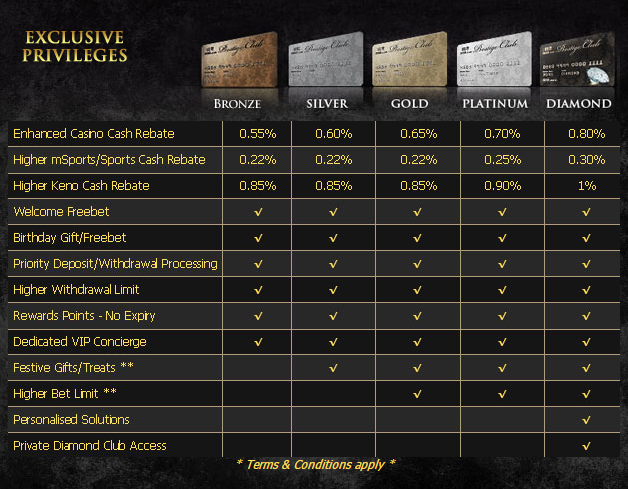 The Diamond level is invite only. Access to the other levels is simply a matter of meeting the total stake requirements.
M88 Rewards
Then there are their M88 Rewards. This is where you get to spend the points you collect playing in their casino, sportsbook and poker room. Here's how you earn points (according to M88):
For every USD 80* (or equivalent currency) wager in Live Casino and USD 60* ( or equivalent currency) wager in mSports / Sports / Casino / Playtech / Keno / Number Games / Virtual Sports you will receive 1 (One) M88 Point.
Poker isn't included in this – which is sort of disappointing – but at the same time understandable.
The problem I immediately see with this program is that you'll spend far, FAR more in points buying items than you would if you were to buy them in cash from your local department store.
For example, to redeem Apple Airpods you'd have to turn in 39,672 points. If on the low end, you have to spend $60 USD for every point, and you need 39,672 points, then this is what your math looks like:
$60 * 39,672 = $2,380,320
That's crazy. Considering they retail for around $130, you could buy thousands of these if you were able to convert your points into their (equivalent) cash value.
I thought there was something wrong with my math, because there's no way they'd expect you to spend that much on something you could buy for much, MUCH less.
So, I sent them an email. Here's what they had to say:
1st Email: Thank you for contacting us. Your understanding is absolutely correct regarding the reward points. Therefore the more bets that our member plays, the more rewards they will earn.
2nd (Follow Up) Email: The computation is indeed correct.
Pretty crazy, right?
Though, I suppose, if you're already spending the money gambling, then getting anything back at all is a bonus. But I sure wouldn't gamble for the sole purpose of collecting anything from their store.
Anyway, they have all sorts of items you can exchange points for, ranging from free bets to electronics to jewelry. If you've got a ton of points lying around, there's a good chance you can find something here to spend them on.
M88 Offers Pros & Cons
Because each section of their review is nearly a review in itself, I thought it'd be a good idea to highlight the pros and cons.
So, here are the things we like most and like least about their promotions.
PROS
A 24-40x rollover (total) ranges from real good to being reasonable (relative to other gambling sites).
6 months is more than enough time to clear a $200 (poker) bonus. Even for recreational players.
They have lots of unique offers. Between their deposit bonuses, rebates and leaderboards, there's a little something for everyone.
CONS
When you convert their offers to USD, you realize how small they are. MYR 400 is about $100 USD. That pales in comparison to most casinos' bonus offers.
The 15x (30x total) rollover on the sports offer is high compared to other sportsbooks.
The points to rewards exchange rate is ridiculous. You'll spend 5-7 figures (worth in points) for a $10 free bet, or something you can buy in a store for $150.
Most, if not all of their offers appeared to be limited time deals. If you don't act fast, you might miss out.
The Sportsbooks at M88
Let's talk about their sportsbook.
What's unique about their sportsbook – which I later found out also applies to their casino and poker section – is that there's more than one.
That's right, there are 2 sportsbooks.
I checked them both out and came to the conclusion that there aren't any big differences between them. The biggest differences I spotted are:
The main sportsbook gives you the option to flip between Asian and European view.
It looks like the main sportsbook offers more markets. I base that on them having 70 live markets to the mSports' 55 live markets.
The main sportsbook gives you the option to open the Playtech and live casino in a new browser window. That's not possible – that I can see – in the mSportsbook.
That's all I found. Otherwise, the few markets I looked at shared the same odds and betting options. I couldn't find any information reading other M88 sports reviews, either.
Important!
I sent M88 an email asking about each sportsbook, and what makes them different. Here's what they had to say:
"Good question. mSports and Sports are almost identical as they mostly offer most of the games the same. However, there are some feature in Sports which can't be found in mSports. Those are the Number Games and the Virtual Sports. In addition to their differences, there are times when mSports offer higher odds compared to Sports but not most of the time. Actually, the main reason on why our website offer 2 different Sportsbook platform is for our members to have more choices when it comes to betting."
Now let's look at your sports, market and betting options.
Sports, Market & Betting Options
M88 covers more than 200 (or 400, depending on what reviews you read) markets. This is spread out across the multiple sports they cover, which include:
Soccer
Basketball
Baseball
Volleyball
E-sports
Darts
Cricket
Motorsports
Snooker/pool
Rugby
Virtual sports
Number game
I'd bet they cover other sports, too. This is too small a list. I assume they only list the sports and markets they're covering now. Which is why options like football (NFL) aren't listed.
They have live betting, too. One section had 70+ live events going, while the other had more than 50. The options were spread out over most of the sports listed above. Mansion also tells you how many markets there are for each sport in the navigation.
As for your betting options (wager types), you'll have all the standard choices such as:
Outright
Moneylines
Handicap
Over/under
Odd/even
Mix parlay
Halftime
Full time
First goal
Last goal
Correct score
And so on.
How to Bet
You can use their sportsbook from your computer, no problem. Possibly even your tablet if it's got a large enough screen. But neither sportsbook is mobile responsive, so there's no point in even bringing them up on your phone.
What you'll want to do instead is visit their mobile page. Here they give you several apps to choose from. They have a sports-specific app (mSports) for the iPhone, and a general app for both sports and their casino for Android. You can find these apps in your app store, or by scanning the QR code on Mansions' mobile page.
Betting Limits
I didn't find many betting limits. The only one I found worth mentioning is this one, which I pulled verbatim from their terms and conditions:
The maximum winnings payable by the Provider to any member for any:
Sportsbook bet placed with the Provider shall be limited to USD180,000 (or equivalent) per payout or the maximum payout by the individual bet types whichever is lower; and
Any other bet placed with the Provider shall be limited to USD600,000 (or equivalent) per payout or the maximum payout by the individual bet types whichever is lower.
What I DID NOT FIND is anything that suggests professional bettors (sharps) will have their accounts limited or capped in any way if they win too much.
I was curious about betting limits for specific sports, so I shipped them another email. But this question was ignored in lieu of another question I sent them, so …yeah – I heard, nor found nothing regarding limits for specific sports.
Sports Pros & Cons
After going through their sportsbook, here are the things we liked most and liked least about it:
PROS
We get the impression that winners are okay here – that they won't have their accounts limited for winning too much.
They cover hundreds of markets. Their live section had 70+ when we reviewed them.
You can easily access the casinos from one of the sportsbooks.
There are several ways to customize your experience between the European and Asian views, the type of odds you prefer to read, and more.
CONS
Their website isn't mobile friendly. They make you download their apps instead.
They have two sportsbooks. They look nearly identical, and they don't make it clear what the differences are without having to ask them about it. I feel this may confuse (some) bettors.
What Can You Play in M88's Casino?
Mansion has an interesting setup in terms of how you play their games. I'll get to that in a second. But first, let's look at the birds-eye view of who they work with and the types of games you can expect to play here.
The software providers M88.com works with includes:
Playtech
Microgaming
Pragmatic Play
Genesis Gaming
iSoftBet
Habanero
GamesOS
Opus Gaming
What's interesting about their casino section is how you sort their games. You can go to a Playtech only section (which I talk more about in a minute), or you can go to the main casino lobby and choose to view games from one of the other software providers. Then you filter down your selection more using one of the following filters:
Favorite
Hot Games
New Games
Jackpots
Slot Games
Card & Table
Video Poker
Games & Keno
Show All
These are ALL the filters, but the options actually available will depend on whose games you're viewing.
On one hand, I like this setup. I think it can help you quickly figure out which software providers you like. But on the other hand, I wonder if this setup confuses people. In other words, you choose one software provider and see they only have a couple table games – or, none at all – and then wonder if that's all that's available in the entire casino.
I don't know. But I can see it happening.
Anyway, I want to move on to the game examples. But before I do that, I want to briefly explain your software (download) options for how to access the games.
Accessing M88's Games (Software)
One of the more interesting things I noticed about 88 Mansion is their sidebar – they have a list of downloads and apps for the different sections of their website.
Most of them are for the casino. For example, you can download or access:
Live Casino (for Windows)
Live Casino (for Macs)
Playtech (for Windows)
Playtech (for mobile)
MSlots (for Windows)
M88 Slots (for mobile)
Microgaming (for Windows)
What I like about this is that it breaks up their downloads so that you're not downloading a bunch of games you don't want. You're not using a ton of your computer's resources, of which there might not have been any left had M88 forced you to download everything at once.
It's also beneficial to people who know what software or games they prefer. Why bother with slots or regular table games if you prefer live dealer games?
You can do the same thing playing their games from your browser. To an extent, anyway. You have the choice of playing from the Playtech section, the Live Casino, Keno & Lottery, or the general Casino.
You can do that (the instant play casino) from both your laptop or mobile device, too. Mobile users may also opt for the native app instead, which you can find on M88's mobile page.
Overall, I like the approach Mansion took because it gives you (the player) more control over your experience and what games you play, and how you play them.
And that's never a bad thing in my book.

Examples of Casino Games
Okay, so I want to give you some examples of the games you can play.
But first, I want to point out that there's no way we could list all their games here. There's far too many. So, all I'm going to do is give you an of the games they have, and point out the things we like and dislike the most.
With that in mind, let's get started.
Slots
Savannah Cash
Fortune Lions
Triple Monkey
Fortune Day
Halloween Fortune II
Miss Fortune
Chaoji 888
Bai Shi
Buffalo Blitz
Gem Queen
Jade Emperor
Hot KTV
Adventures In Wonderland Deluxe (Jackpot)
Time For A Deal (Jackpot)
Age Of The Gods: Goddess Of Wisdom (Jackpot)
Rocky
John Wayne
Kong The Eighth Wonder Of The World
Marilyn Monroe
Sherlock Mystery
Tarzan
Jungle Jim El Dorado
Easter Feast
Magic Of Oz
Tomb Raider
Bust The Bank
Jurassic Park
Terminator 2
Mega Moolah (Jackpot)
King Cashalot (Jackpot)
Treasure Nile (Jackpot)
Major Millions (Jackpot)
Cash Splash 3-Reel (Jackpot)
Fruit Fiesta 5-Reel (Jackpot)
Dragon Kingdom
888 Gold
Hockey League
The Catfather Part II
Beowulf
Might Kong
Reel Gangsters
Great Reef
Diablo 13 Lines
Hot Safari
Romeo And Juliet
Sugar Rush
Slot Dunk
Black Diamond
Graveyard Shift
Bingo Slot
Battleground Spins
Aztec Slot
Pirate Slots
Freaky Fruits
Karaoke Star
Magic Pot
Aztec Slot
Mexican Slots
Space Robbers
Vampire Slayers
Summer Dream
New York Gangs (Jackpot)
Gold In Bars (Jackpot)
Mystic Slots (Jackpot)
Hot 7's (Jackpot)
Mystic Slots (Jackpot)
Cherry Trio
Platoon Wild
Basic Instinct
Beverly Hills 90210
Rambo
Nacho Libre
Pretty Kitty
Bar Bar Black Sheep
Lucky Twins
Agent Jane Blonde
Thunderstruck
Game Of Thrones
Stardust
Retro Reels
Okay, I got to stop there. I could keep going, though – there are hundreds of additional slot titles I can add.
One thing I want to highlight are all the variations you can play. That's one of the perks of playing at a casino who works with multiple software companies like Microgaming and Playtech. You get 3-reel classic slots, 5-reel video slots, progressive jackpots, and slots revolving around themes, TV shows, movies, and more.
It's a great selection. If I wanted to play slots, I wouldn't need an account anywhere else.
Card & Table
Baccarat
American Blackjack
Blackjack Pro
European Roulette
American Roulette
Blackjack Surrender
Casino Hold'em
3-Card Brag
Perfect Blackjack
Premier Roulette
High Limit
Baccarat
High Limit European BJ
Triple Pocket Holdem
Multi-Wheel Roulette
Craps
Atlantic City Blackjack
Multihand Blackjack
Roulette Crystal
Royale Blackjack
Roulette Titanium
Casino War
Roulette Black Diamond
Electronic Roulette
Double Exposure BJ
Roulette Pro
Blackjack Switch
Pai Gow Poker
Blackjack Surrender
Blackjack 3-Hand
Sicbo
Zero Commission Baccarat
American Baccarat
European Roulette
Spanish Blackjack
French Roulette
Cyberstud Poker
I did my best to avoid listing the duplicate games. Because when you have this many software providers, there's a good chance you're going to have 3 blackjack games, 4 American roulette and 4 baccarat games to choose from (for example).
That said, I'm real impressed by the different options from each provider. It looks as if M88 selected them personally. Because, while there are duplicates, there weren't as many as I expected – and far, far less than you'll find at other online casinos.
This is another selection I'd be 100% happy with.
Video Poker
All American
Double Double Bonus
Deuces & Joker
Aces & Faces
Jacks Or Better
Deuces Wild
Deuces & Joker
Jacks Or Better
Joker Poker
10-Line Joker Wild
50 Line Jacks Or Better
10 Line Jacks Or Better
10-Line Deuces Wild
Aces & Eights 1, 5, 10, 50, 100-Hand
This is a smaller section. Though, you can't really hold it against them because, how many video poker variants are there?
Anyway, it's an above average selection of video poker machines with enough variants to keep most video poker players busy.
Live Casino
M88.com has 2 different Asian live dealer casinos. One is Club M88, and the other is VIP. They don't list all their games like the non-live dealer sections do.
What they do show you is that you can play sic bo, live dragon tiger, baccarat and roulette, at the very least, in the Club M88 live casino. Not only that, but you can play multiple tables at one time. That's pretty neat.
Specialty Games & Keno
Monkey Keno
Virtual World Cup
Virtual Champions
Virtual Legends
Darts
Hexaline
Super Bonus Bingo
Premier Racing
Keno
Go Monkey
Potshot
Soccer Shot
Magic Pot Scratch
Non-Stop Party Scratch
Sparkle Ladies
Monsters Scratch
Formula Scratch
Cashblox
Cash Fish
Classic Slots Scratch
Rubik's Riches
3 Clowns Scratch
Basebull Scratch
Four By Four
This is another section that's good enough …but could be much, MUCH bigger if they wanted. I'm pretty sure both Playtech and Microgaming have more scratch tickets and games than this by themselves, much less when put together.
But, like I said, it's enough to keep most people entertained.
-
That wraps up our casino game examples. It's real hard to do casinos like Mansion 88 justice when they have hundreds – possibly even thousands of different games to play.
If you're still on the fence about playing here, one of the best things you can do is simply visit their casino and browse their games. You'll have a hard time finding a better selection anywhere else.
Casino Pros & Cons
Here are the things we liked most and liked least about their casino.
PROS
They have a massive game selection from top software providers like Playtech, Microgaming and Genesis.
They offer 2 (Asian) live dealer casinos where you can play multiple games simultaneously.
You can play slots with progressive jackpots in the 4-7-figure range.
I like how their table and video poker section has a good unique variant to duplicate game ratio.
M88's slot selection covers every genre or theme (celebrities, pop culture, movies, games, TV shows, etc.) you could want to play.
CONS
I think viewing their games on a software by software basis might confuse players.
They have so many games that some people might feel overwhelmed. Where the heck do you start?
The live dealer casino page is vague. They don't give you many examples of what you can play or do here. You have to log-in to see the information, which some people might be unwilling to do.
Mansion's (Asian) Poker Rooms
Last up – their poker room (Or rooms, I should say).
My first impression is that their poker room isn't nearly as popular as their casino or sportsbook. I base this on how few reviews exist for it. It's hard to find anyone has who has written about their poker room.
Note:
To clarify, I'm not talking about Mansion Poker – though, there aren't many reviews for them, either – but, instead, just the M88 branch of their poker room.
Anyway – I'm going to do what I can to provide you with details about their poker room. Let's start with who provides their software.
M88 Uses Two Different Software Companies
What's REALLY interesting about their software is they use TWO different companies. They use Microgaming and IDN Poker.
I never heard of IDN Poker before writing this review. It looks like they started sometime in 2010, though they didn't start causing a commotion in the poker community until 2016. They weren't initially tracked by Poker Scout, either, but now they are – and they're 2nd in traffic in the entire world.
That's impressive, though not terribly difficult, I think since you only need around 10-12,000 players. It's also suspicious, too, since they're brand spanking new and beating other more-established sites in large markets, such as 888 and Party Poker.
You can see what IDN Play has to offer poker players on their website, but I'll give you a quick rundown:
Tournaments
General, fast and private poker tables
Play heads up, 4 or 6-handed, or full ring
Progressive jackpots
Live texas holdem
They say they have 400,000 monthly users and 1 million total users across their network. This makes them the largest Asian (exclusive) poker network. Their software is available on Windows, Macs, iOS, Android and Windows mobile devices.
You can get an idea of what their software looks like below.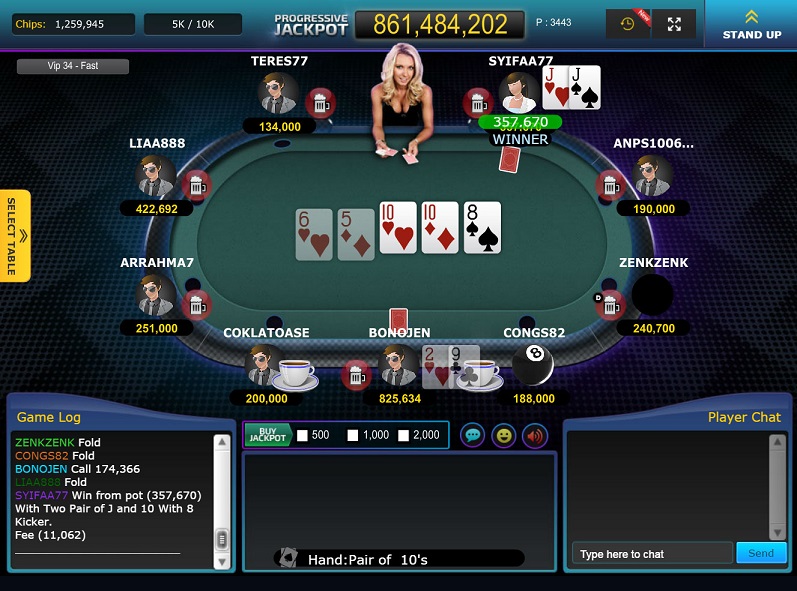 Then there's the Microgaming software.
This software is nothing new. But what makes it a little unique from the IDN software is that you won't be limited to playing only against players in Asia. The Microgaming network, or MPN, is available to players in Europe and the United Kingdom, too.
That's not necessarily a good thing, though – or, better – because the MPN has far, FAR less traffic than the IDN claims to. When I checked them out on Poker Scout, they're 13th in overall traffic. They're 11th if you ignore the US poker sites sitting above them.
The problem with that is you'll have a harder time finding a game to play. Or, finding the games YOU want to play.
But let's forget that for now, and instead focus on what games you can play on Microgaming's platform. They give you two options – an instant play or download. Here are some things you can expect to find.
Note:
I've used their instant play poker room in the past. The information I collected there is what I used for this review. You might have a slightly different experience, in terms of additional games, limits or features, if you decide to use the download.
M88 Poker Cash Games, Tournaments & Variants
The games you can choose from include:
Holdem
Omaha
5-Card Draw
Stud
7-Card Razz
Stakes vary based on what game, format and variant you're playing. But they start at .01/.02 and peak at 50/100.
Cash game variants include:
Heads Up
6-Max
8/9-Handed
Blaze (Speed / Fast Fold Poker)
Small Stacks
Deep Stacks
Caps
Pretty standard stuff.
One neat thing I recently heard about are Microgaming's anonymous tables. Lots of poker rooms offer this option. But, unlike some sites – cough – Bovada / Bodog – cough – Microgaming gives you the choice of playing at a regular table or anonymous table.
M88 have tournaments, too. Some of your options will include:
Guarantees
Live events
Satellites
Blaze Poker (speed)
SNGs
Double Ups
Bounty
Turbos
Super Turbos
Heads Up
Freerolls
6-Max
Deep Stacks
Steps
Tournament stakes range from .01 to $1,000, depending on if you're playing a MTT, STT or SNG. You can also play satellites and step tourneys to enter more expensive tournaments for less money out of pocket.
-
Anyway, that's their online poker room in a nutshell.
If you can, I would opt to play on the IDN Play platform. Because if they're not kidding around with their traffic levels, and they're really the 2nd largest poker network in the world, and the largest Asian poker network in the world, then you shouldn't have a problem finding a game here.
Not only that, but it sounds like they have a few unique games, such as the live Texas holdem.
But if you can't, or prefer Microgaming for some reason – their variants, freerolls, guarantees, etc. – then give them a shot instead. Just remember that available games might be hit or miss, especially depending on your time zone.
Poker Pros & Cons
Here are some of the bigger pros and cons to M88's poker room.
PROS
I like that they have two poker rooms. It gives people who can choose, the option to play at the higher trafficked site.
The IDN has a few unique (live) games, including live Texas holdem.
The Microgaming platform brings the tried and true game selections and variants, including guarantees, freerolls, fast-fold poker, etc.
They give you the choice of regular or anonymous tables (amongst other variants).
You can play up to 10 tables at once.
CONS
Unless you're in an Asian country, you'll have to play on Microgaming's platform IF you want to play at Mansion or M88. They (the MPN) have a fraction of the traffic most poker sites do. In fact, they don't even crack the top 10 worldwide/international.
It doesn't look like M88 offers the same types of deals other Microgaming poker sites do. More specifically, the freerolls that new customers receive entries to. They also don't mention anything about their money added freerolls.
It's possible M88 is different, but the last Microgaming poker site I reviewed – Red32 – their instant play poker site wasn't mobile compatible, nor did they have a poker app. I don't see anything about mobile poker on M88's website, so I'd assume they don't, either.
Conclusion
Congratulations – you found the bottom of the review. It was a long ride, but we made it. Now for the most important question of all:
Should you join M88?
What's so crazy about Mansion88 are all the options they have, between the two sportsbooks, multiple casinos and two poker rooms. It's real hard to find too many negatives because they cover so much ground.
But that still doesn't mean they're a good fit for everyone.
So, what do you do? Do you join? Not join? What?
Here's my thought process… I recommend them, but because they're such a large gambling site, and they offer so many options, if M88 sounds like they might be a potential fit despite their cons, then you should check them out for yourself.
There's no way we can determine who they're best for. Not when they have so much going on. The only person who can determine that is you.
So, at the very least, browse their sportsbook, casino and/or poker room. Even make a deposit and play a few games if you must. I think that's the only way most people will figure out whether M88 is right for them. Go check them out for yourself today.
We're sorry, residents of your region are not accepted by this gambling site!
OK