Slot Features and How They Work
If you've never heard of cascading reels, walking wilds, or reel nudges, then prepare to have your mind blown.
The following is the most comprehensive guide to slot machine features online. You're going to learn about slots with bonus features, multipliers, mystery symbols, free spins, and more.
We explain how each of these features makes slots more exciting to play and how some of them can help you win more money.
We also give you examples of the online slots with features and modifiers that we think you should play first.
The Most Common Slot Features
There are thousands of slots, both in land-based and online casinos. Each game has a unique combination of universal slot features, like wild symbols or bonus rounds.
Then, custom modifiers, such as cluster pays or a cascading reels feature, take the experience to the next level.
We're going to start with the common slots features found on most slot machines.
Autoplay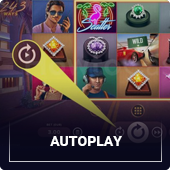 Whether you're playing slots in person or online, you might want to multi-task or just watch as the reels spin instead of actively engaging.
Autoplay is designed just for that, and it's one of the most common slot features of all.
Typically, you just click the autoplay button to start it and then again when you want to stop the process.
There are a few more settings for online slot play, though. You can set the autoplay slot feature to run for a set number (10, 50, 100, etc.) games.
You can also program the game to stop if you lose too much or get a big win. Autoplay also stops for bonus rounds.
Wild Symbols
There are a few slot games without wild symbols. Thankfully, they're few and far between.
Wilds are among the most widely used slot features, and they're good for players. They substitute for other symbols to give you a greater chance of a winning combination.
Wilds symbols often integrate with other modifiers. They can also stretch to take up entire reels, lock into place to create sticky wilds, and so much more.
Free Spins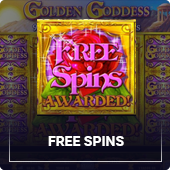 Online slots sites with bonuses usually include free spins in the package. Free spins as bonuses are not a feature, but rather an incentive or reward offered to players.
However, many slot games do have free spins as a feature.
You're usually awarded free spins based on scatter count or another trigger. You then get a number of spins on the reels that don't cost you anything, but payout as normal.
Many newer online slots include a "buy a feature" opportunity. It'll cost you somewhere between 50 and 150 times your total stake, but the free spins feature starts immediately.
Free spins can also lead to free spin re-triggers. For example, you could start the bonus with ten free spins and add another five every time a scatter symbol appears.
Scatters
A scatter symbol gets its name from its ability to do its job in any spot on the screen. Regular symbols need to ride a payline or occupy adjacent reels to be effective.
But scatters are effective anywhere on the board.
More often than not, three or more scatters unlock free spins or other bonus round activities. Sometimes you also get a scatter payout as a bonus.
Bonus Rounds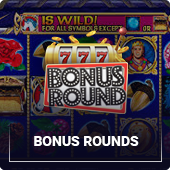 Most casino slots have features including bonus rounds, and the majority are free spins-based.
But free spins aren't the only benefit. Online slots with the best bonus features often enhance their free plays with modifiers like these.
Increasing multipliers
Sticky wilds
Random wilds
Other wild features like shifting, spreading, and expanding wilds
Symbol transformations
Synced reels
Slot machines with bonus features that don't start with free spins include other, sometimes interactive, customized rounds.
Here are some examples of bonus rounds in slot games.
Pick and win rounds
Re-spins on different sets of reels
Bonus wheel spins for cash and other rewards
Virtual board games with cash prizes, multipliers, etc.
Bonus play on additional sets of reels
It's bonus features like these that sometimes make a slot machine feel like a video game. Just one that pays real money.
Multipliers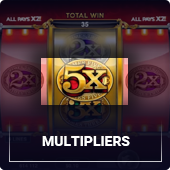 Would you rather claim a 100-credit payout or 1,000 credits?
Obviously, the 1,000 credits.
Well, if you won 100 credits with an X10 multiplier in play, then 100 becomes 1,000 in an instant.
Slots use multipliers in various ways.
Standalone value – as in X3
Combining or adding more than one multiplier – two X3's are a sum of X6 or multiplied together to become X9
Increasing multipliers – consecutive wins add +1 to the multiplier value as in X2 becomes X3 on the next win, X4 after that, etc.
Multipliers are some of the most exciting slot features, even though they don't get you to a winning combination. They crank up the value of your prizes when you do win, though.
Progressive Jackpots
The ultimate slot payout potential comes from progressive jackpot slots.
Progressive jackpots are different from standard pay table prizes. They start with a seed amount, like $5,000.00 or $100,000.00. From there, a small percentage of each bet on the game contributes to the jackpot amount.
How do you win a progressive jackpot? That depends on the game.
Land-Based Slots with Progressive Jackpot Features
Megabucks is the progressive jackpot slot series behind the biggest payouts in Las Vegas. It's seeded at $10 million, and it only gets better from there.
To win Megabucks, you have to bet the maximum and line up the Megabucks symbols.
Progressive Jackpots Online
Online slots with progressive jackpot features include Microgaming's Mega Moolah. Mega Moolah is a high-paying online and mobile slot featuring a jackpot that regularly exceeds the €20 million mark.
Mega Moolah breaks one Guinness World record after another, too.
The slot reels have nothing to do with winning the Mega Moolah jackpot. Instead, random invites lead players into the jackpot game, where they'll leave with one of four prizes.
All real money slot players are in the running. Although higher rollers have a better chance of getting the nod to play the bonus game, there's no minimum bet to trigger the invite.
Gamble Feature
While the gamble feature isn't on all slot games, it's still a common slot feature.
Players can only take advantage of the gamble feature when they win, as they have an option to risk the payout in a simple red or black, high or low game.
When you win the gamble feature, you double up. But when you lose, you lose everything.
Some slot games allow you to risk a percentage of your payout rather than the whole amount.
Fixed and Variable Payliness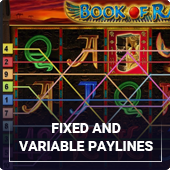 Remember the old one-armed bandits? Prizes were based on lining up three or five of the same symbols across the middle. That center line is a payline, and nothing counts above or below it.
Many slot games nowadays go beyond single paylines. Today's machines have a payline feature in which the winning paylines zig-zag across the reels.
Slots with payline features come in two versions.
Fixed paylines – These require a bet on every line. If it's a 20-payline slot, for example, all 20 are always in play.
Variable paylines – You can choose the number of lines you want to bet. For example, on a 20-payline machine, you can bet one line, or ten lines, and so on. You have to pay for each line.
Slots with different paylines can be confusing, as the paylines that win can vary from one slot to the next.
The good news is that all slots have a map in the help section that show you what lines pay.
Adjacent Ways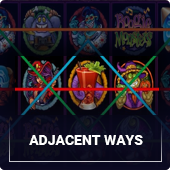 Adjacent ways slots are played without paylines. Instead, symbol matchups are determined by side-by-side reels with symbols anywhere on them.
For example, let's say you have a one-line payline slot with three cherries. Those cherries have to start on the first reel and ride the line across the center to count.
With an adjacent ways game, one cherry anywhere on each of the first three reels awards a three-symbol prize.
There are two kinds of adjacent ways pay slots.
Adjacent ways pay – Starting on the left side (reel one) and working toward the right side. This is the most common adjacent ways feature in slot machines.
All ways pay – Not only can the matching symbols be anywhere on the reels, but the combinations don't have to start with the first reel.
While the adjacent ways pay is stricter than the all ways pay feature, both features loosen the requirements of what it takes to hit a winning payline compared to a classic slot game.
That's it for the most common features on slot machines. Here's a quick summary of them all.
Common Slot Game Features and Benefits
Feature
Benefit
Autoplay
You don't have to click the spin button; autoplay spins the reels for you.
Wilds
Increase your chances of forming winning paylines.
Scatters
Unlocks bonus rounds and triggers wins without having to be on a specific payline.
Free spins
Spins that you don't have to pay for but can still win real money from.
Bonus rounds
Mini games that give you extra ways to win.
Multipliers
Increase the value of your wins.
Progressive jackpots
Prizes that can often be a life-changing sum of cash.
Gamble
Play a game of chance to double your winnings.
Paylines
Gives you the choice of choosing how many paylines to play.
Adjacent ways
No payline restrictions. Can give you hundred or even thousands of ways to win.
Unique and Exclusive Slot Features
We've covered the most common slot features like wilds and scatters, as well as add-ons, including progressive jackpots.
But that's only scratching the surface of land-based and online slot features.
The following is a list of features that are unique or exclusive to a specific machine or slot provider.
Cascading Reels
You might not even realize you're playing a game with cascading reels, as the slot feature is known by quite a few names, depending on the developer.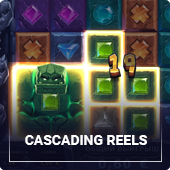 Other Names for Cascading Reels
Collapsing reels
Tumbles or Tumbling reels
Avalanches
Rolling reels
Symbol drops
Chain reactions
Regardless of what they're called, cascading reels are slot features that remove matching symbols used in winning combinations, leaving spaces on the screen.
Any symbols above those spots drop to fill in the gaps.
The rest of the open areas receive new symbol replacements, possibly leading to new payouts.
Popular Slots With Cascading Reels
Title
Provider
Reels
Paylines
RTP
Vault of Anubis
Red Tiger Gaming
7
Cluster
95.74%
Crystal Quest: Arcane Tower
Thunderkick
6
4,096
96.17%
Birds!
BetSoft
5
Cluster
96.48%
Cluster Pays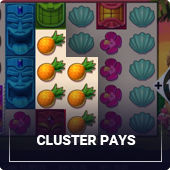 Cluster pays is not only a unique slot feature but essentially a mechanics for playing slot games in an entirely different way.
Cluster pays replace both paylines, and adjacent ways pay slots with groupings of matching symbols.
A cluster pays game is typically played in a grid formation with enough space for groups to grow from a minimum of 4 or 5 symbols to 15 or 20.
Paytables are much more extensive on cluster pays slots, as prizes are based on the size. For example, a four-symbol award could be worth X2, and ten could come in at X100.
Top Cluster Pays Slot Machines
Title
Provider
Reels
Paylines
RTP
Mahjong 88
Play 'n Go
8
Cluster
96.62%
Monster Pop
BetSoft
5-13
Cluster
97.07%
Street Fighter II: The World Warrior
NetEnt
5
Cluster
96.06%
Mystery Symbols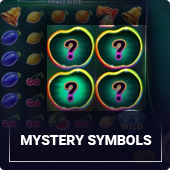 If you're a fan of surprise parties, then you might appreciate online slot features that revolve around mystery symbols.
Mystery symbols are designated images, like question marks, that appear on the screen. Before any payouts are determined, all the matching mystery symbols flip around to reveal matching images.
Sometimes they lead to exciting rewards when positioned correctly, but they could be duds if they don't connect.
You'll also come across mystery reel slot features, which are more valuable because they'll morph into stacked symbols.
Examples of Mystery Symbol Slots
Title
Provider
Reels
Paylines
RTP
Batman and the Riddler Riches
Playtech
5
243
96.09%
The Goonies – Never Say Die
Blueprint Gaming
5
20
96.00%
Fortunium Gold – Mega Moolah
Microgaming
5
40
92.67%
Win Both Ways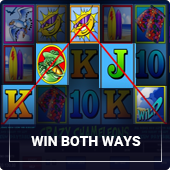 Isn't it frustrating when you pass the first two reels without seeing symbol matches?
You know right then and there that it's game over in most cases.
But that's not so when playing online slots with the win both ways feature.
Win both ways still pays if the winning combination runs from the left side to the screen's right side as usual. But it also pays for matches that start on the right side and head toward the left.
Win-win!
Slots With the Win Both Ways Feature
Title
Provider
Reels
Paylines
RTP
Starburst
NetEnt
5
10
96.10%
Dark Vortex
Yggdrasil
5
Win All Ways
96.50%
Vegas Lux
RealTime Gaming
5
720
———-
243 Ways to Win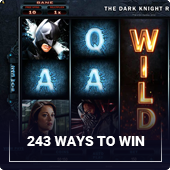 Imagine a standard slot screen with five reels and three rows for a total of 15 symbol spots. Now picture all of those 15 spaces filled with identical symbols.
When you play a 243 ways to win slot, that 15-symbol result is behind 243 five-of-a-kind payouts.
Instead of paylines, the 243 ways to win slot feature pays for adjacent symbol matches starting on the first reel on the left and running toward the right side.
The one stipulation is that the winning combinations can't skip a reel.
For example, if you have a bell anywhere on the first, second, and third reels, you've got an instant three-of-a-kind. The more bells you add, the more payouts you receive.
If you've been wondering how to calculate those payouts, it's as simple as adding up the number of matching symbols per reel and then multiplying.
So, if you have a screen filled with bells (three per reel on each of the five reels), your slot math is 3 x 3 x 3 x 3 x 3 = 243.
Slots With 243 Ways to Win
Title
Provider
Reels
Paylines
RTP
Euphoria
iSoftbet
5
243
95.99%
Midnight Wilds
Playtech
5
243
95.00%
Loony Blox
Habanero Games
5
243
98.02%
Megaways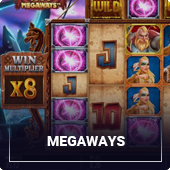 If you think that 243 ways to win slots sound exciting, what do you think about 117,649 ways to win?
Big Time Gaming developed the Megaways slot feature, but it's licensed to quite a few online slot developers.
Over the past few years, Megaways slots have been all the rage.
That's because even before you consider other bonus features, the game is boosted by the thousands of ways to win.
Payouts are calculated like the 243 ways to win slots. But what makes Megaways games so different is that the reels accommodate different sized symbols. The possibilities change with each subsequent spin.
In one game, you could have a symbol count like 3-6-7-4-4-2. Then, the next spin could result in just two symbols on each of the reels (2-2-2-2-2-2).
Popular Megaways Slots
Title
Provider
Reels
Paylines
RTP
Who Wants to Be a Millionaire?
Big Time Gaming
6
117,649
96.24%
Dragon Match
iSoftbet
4
3,3136
96.11%
Golden Leprechaun
Red Tiger Gaming
6
117,649
95.72%
Expanding Reels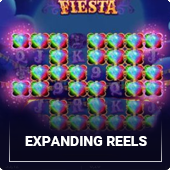 The slot screen may look like every other with five or six reels and three or four rows.
But then, all of a sudden, reels are stretching to accommodate additional rows and symbols.
That's the premise of the expanding reels online slot feature.
Some games use expanding reels in the bonus round. Others attach new rows to winning combinations, and there are other creative twists to the concept depending on the game.
Players benefit from the expanding reels concept as it offers more ways to win.
Slot Games With Expanding Reels
Title
Provider
Reels
Paylines

RTP

The Grand Galore
Elk Studios
6
4,096-1,000,000

96.00%

Diamond Fiesta
RealTime Gaming
5
50

96.00%

Wins of Fortune
Quickspin
5
259

96.54%
Expanding Wilds
When you're playing a slot game, wild symbols can turn a loss into a win. Expanding wilds are even more beneficial as they fill entire reels with wild feature power.
The expanding wilds slot feature typically activates when a single wild symbol lands on a reel that could make a payout difference.
When that happens, the wild symbol stretches to cover the entire column.
Examples of Slots With Expanding Wilds
Title
Provider
Reels
Paylines
RTP
Barry the Disco Leprechaun
Leander Games
5
30
96.26%
Guns N' Roses
NetEnt
5
20
96.98%
Greedy Goblins
BetSoft
5
30
94.97%
Expanding Symbols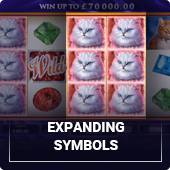 The expanding symbols feature is part of one of the best online slot bonus features you'll encounter in casinos.
There's usually one designated expanding symbol chosen at random before the free spins round kicks into gear.
Then, whenever that particular image hits the screen, it expands to cover the reel. The best part is that expanding symbols combine without the adjacent reels requirement.
In a bonus round with the expanding symbols slot feature, three symbols on any three reels will produce multiple guaranteed three-of-a-kinds.
For example, if you're playing a ten-payline game and your expanding symbol hits the screen on reels 2, 4, and 5, it stretches to cover all three, resulting in ten three-symbol awards.
Slot Games With Expanding Symbols
Title
Provider
Reels
Paylines
RTP
John Hunter and the Book of Tut
Pragmatic Play
5
10
96.50%
Golden Osiris
Play 'n Go
7
Cluster
96.27%
Book of Atem
Microgaming
5
10
96.45%
Sticky Wilds or Locked Wilds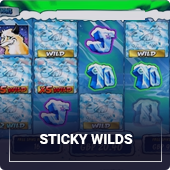 When you have a wild symbol, don't you want it to "stick" around?
Sticky wilds are also called locked wilds, and they're special features used in the main or bonus round that holds a wild symbol in position for a specific amount of time.
When they're used as one of the best online bonus features, sticky wilds remain for the duration of the free spins.
When more are added, your bonus cash potential grows.
Sticky Wilds Slot Machines
Title
Provider
Reels
Paylines
RTP
Dead or Alive II
NetEnt
5
9
96.80%
Ancient Warriors
Microgaming
4
50
96.00%
Egyptian Emeralds
Playtech
5
10
96.36%
Transferring Wilds
You're not going to come across the transferring wilds slot feature very often. That's because you need more than one set of reels in place for it to work.
The transferring wilds premise is that if a wild appears on one set of reels, it will replicate and appear on another reel set, usually in the same position.
So, if you have two game boards in play and a wild symbol shows up in the middle of your first set of reels, it will transfer to the second set's middle position.
Slot Games With Transferring Wilds
Title
Provider
Reels
Paylines
RTP
Space Digger
Playtech
5
20
95.35%
Epic Monopoly II
WMS
5 x 2
100
96.01%
Book of Ra Deluxe 10
Greentube-Novomatic
10
100
95.20%
Walking Wilds or Shifting Wilds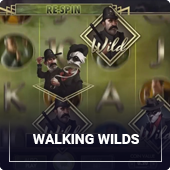 Walking wilds are in slots with bonus features, as they're a part of the re-spins process. Like cascading reels, walking wilds might be called different names, like shifting wilds, but the concept is the same.
The walking wilds slot feature takes a single wild symbol or a wild reel, depending on the game, and sends it on a westward journey.
Each spin of the reels moves the walking wild one step to the left until it eventually falls off the screen's left side.
The best-case scenario is when a walking or shifting wild pops up on the far-right side because you know it's sticking around for the next four spins.
Walking Wilds Slot Games
Title
Provider
Reels
Paylines
RTP
Taco Brothers
Elk Studios
5
243
96.30%
Quest to the West
BetSoft
5
25
97.53%
Tut's Twister
Yggdrasil Gaming
5
25
96.10%
Random Wilds
Maybe they'll fly in from the side, or perhaps there's a slot character that has the power to add the random wilds slot feature to your game.
The term random wilds says it all, as they're symbols that don't spin into place. Instead, they're randomly generated.
Examples of Slots With Random Wilds
Title
Provider
Reels
Paylines
RTP
Immortal Romance
Microgaming
5
243
96.86%
Queen's Day Tilt
Play 'n Go
3
1
96.36%
Ace Ventura Pet Detective
Playtech
5
243
96.18%
Stacked Wilds
A stacked wilds slot feature refers to groupings of wild symbols that circle the reels.
Like stacked symbols, they can hit the screen together because they're clumped together amongst other symbols.
So, when you're playing slot machines with features including stacked wilds, you'll frequently see two or three wild symbols on a column.
Slot Machines With Stacked Wilds
Title
Provider
Reels
Paylines
RTP
Crystal Forest
WMS
5
25
96.00%
The Catfather
Pragmatic Play
5
9
98.10%
Wolf Riches
Pariplay
5
50
95.98%
Colossal Reels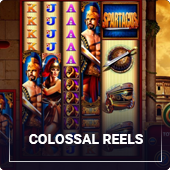 Slots with the colossal reels feature typically reserve it for the bonus round. That's because the enormous reel is the result of merging some of the standard size columns, accommodating 2 x 2, 3 x 3, or even larger.
The benefit of Colossal Reels is they give you a big push toward payouts. They usually end up in the middle of the board. So, as long as you end up with a matching symbol on the first reel, you're golden.
As you'll see below, Blueprint Gaming slots with colossal reels features are plentiful. The studio integrates it into some of the licensed brand slots in its collection.
Slots With the Colossal Reel Feature
Title
Provider
Reels
Paylines
RTP
Ted
Blueprint Gaming
5
20
95.80%
Beavis and Butthead
Blueprint Gaming
5
20
95.49%
Sausage Party
Blueprint Gaming
5
20
95.95%
720 Ways to Win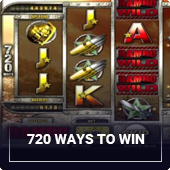 When you come across slots with 720 ways to win, you'll notice something straight off the bat.
The reels in 720 ways to win games are graduated. Instead of a neat 5 x 3 grid like you'll find in 243 ways games, it's a 3-4-5-4-3 setup that gets you to the 720 ways count.
While it's handy to have hundreds of possibilities, keep in mind that your end reels are shorter and they're the most significant, as they kick off the winning combinations.
You're at a slight disadvantage compared to slots that might offer four or five rows, period.
720 Ways to Win Slot Machines
Title
Provider
Reels
Paylines
RTP
Vegas Lux
RealTime Gaming
5
720
———-
Pollen Party
Microgaming
5
720
97.00%
Diamond Rhino
Rival Gaming
5
720
93.99%
Synced Reels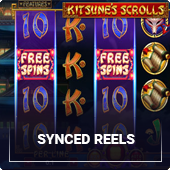 When you're playing slots, you'll take as much help as you can get, and what better than duplicating your reels.
The synced reels slots feature typically kicks into gear as symbols are rotating. One reel grabs the other, and the result two (or more) identical reels that land on the board.
For example, let's say that your second reel has a bar on the top line, a star in the middle, and a diamond on the bottom. If that reel syncs with another, the second reel will also display bar-star-diamond.
Synced reels aren't limited to two reels. The optimal result is when the synced reels feature attaches to all five (or six).
Slots With Synced Reels
Title
Provider
Reels
Paylines
RTP
Rainbow Ryan
Yggdrasil Gaming
6
4,096
96.30%
Conan
NetEnt
6
24
96.28%
Jungle Books
Yggdrasil Gaming
5
58
96.10%
Respins
More than half of slots now use the respins feature in one way or another. Online slots with the best bonus features tend to integrate respins into the equation.
A respin is a free spin, but it doesn't always start fresh.
Let's say that you're playing a game where wild symbols lock and kick off a respins sequence. In that case, the rest of the symbols exit the scene, the wild or wilds remain, and the reels spin again.
The purpose of re-spins is to get you more than one payout in a single round.
Slots With the Re-spins Feature
Title
Provider
Reels
Paylines
RTP
Wins of Fortune
Quickspin
5
259
96.54%
Sweet Chilli: Electric Cash
Ainsworth
5
25
96.17%
Lucky Stripes
iSoftBet
3
1
95.92%
Bonus Re-triggers
It can take quite a while to get the coveted three-scatter combination that unlocks the door to the bonus realm. Once you walk through, you want to stay there.
The best online slot bonus features include re-triggers. That means that when you get more scatters as you play free spins or end up with another designated result, your free game count rises accordingly.
Some online casino slots with features covering bonus re-triggers provide dozens, if not 100 or more free spins.
Bonus Re-trigger Slot Games
Title
Provider
Reels
Paylines
RTP
Foxin Twins
NextGen
5
25
96.75%
Ivan and the Immortal King
Quickspin
5
20
96.29%
Man of Steel
Playtech
5
25
95.05%
Nudges or Nudging Reels
It's another online slot machine feature known by various names. Whether you call them nudge slot features or nudging reels, it's an automated process.
Nudges push the reels up or down by one or more symbol spots to better the playing area's outcome.
For example, let's say you're playing slots with nudge features that help with bonus activation. You end up with two scatters, but the third scatter that would trigger free spins is next in line on the reel.
With nudging reels, that scatter symbol is forced into play, so you reap the benefits.
Slot Machine Games With Nudging Reels
Title
Provider
Reels
Paylines
RTP
Razor Shark
Push Gaming
5
20
96.70%
Thor: Hammer Time
Nolimit City
5
20
96.03%
Wild Pixies
Pragmatic Play
5
20
95.50%
Horizontal Reels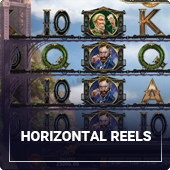 The horizontal reels slot feature makes sense as you can picture the sideways movement. But there's more to this particular slot feature, as it's used in different ways.
Online slots with the best features benefit from integrating a horizontal reel. It's attached to Megaways slots and commonly used to match symbols for wild conversions.
In Microgaming's sports-themed slot, 11 Champions, the horizontal reel is an action reel.
It doubles as a virtual coach, with dribble, pass, and shoot leading the on-screen gaming. The directives move a player around the symbol spots creating a wild trail.
Slot Games With Horizontal Reels
Title
Provider
Reels
Paylines
RTP
Lucky Emeralds
Playtech
5
10
95.73%
Magic Journey
Pragmatic Play
3
8
96.54%
Wild Rails
Play 'n Go
5
30
96.53%
1,024 Ways to Win
We've detailed 243 ways to win slots based on maximum winning ways on a 5 x 3 slot board. Then, there are the 720 ways to win that results from graduated reels.
A 1,024 ways to win feature slot is closer to the 243 concept. Instead of a 5 x 3 screen, though, you're playing with an extra row (5 x 4).
It's the same principle, as combinations start on the left with identical symbols on adjacent reels. But 20 of the same symbol covering the screen results in 1,024 payouts.
Slots With the 1,024 Ways to Win Feature
Title
Provider
Reels
Paylines
RTP
The Flintstones
Playtech
5
1,024
94.95%
Diamond Force
Microgaming
5
1,024
96.53%
Cash-o-matic
NetEnt
5
1,024
96.33%
Split Symbols
Yggdrasil slots have a splitz feature. Playtech's is an expand and split feature.
Unlike calling a wild a wild, a split symbol or split slot feature has more of a loose interpretation. The basic idea is to add symbols to the board.
For example, if you're playing a five-reel game and split a symbol, you've now got a shot at six-symbol payouts, which are more valuable.
Split Symbol Slot Games
Title
Provider
Reels
Paylines
RTP
Archer
Playtech
5
243
94.99%
Way Our Wilds
High 5 Games
5
80
96.50%
Star Clusters Megaclusters
Big Time Gaming
8
Cluster
96.54%
Symbol Transformations
Like the reel nudges feature, symbol transformations are used in conjunction with other slot features.
Wild transformations are the most common. But online slot games with bonus features including symbol transformations use them for extra mystery symbols, turn low-value into high-value symbols, or morph one image into another.
For example, in Pragmatic Play's Vampires vs. Wolves, vampires turn into wolves in the bonus round to give you better wolf screen coverage.
Slots with Symbol Transformations
Title
Provider
Reels
Paylines
RTP
Battleship Direct Hit!
WMS / Red 7 Gaming
6
117,649
95.90%
Renegades
NextGen
5
243
96.37%
Pinata Fiesta
iSoftbet
5
20
96.04%
Buy a Bonus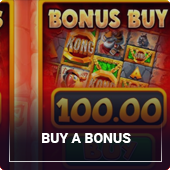 The buy a bonus feature is one of the best for impatient slot players, but it's not cheap.
Buying a bonus can cost anywhere from 50 to 150 times your total stake.
It's just like it sounds – an opportunity to buy three scatters or whatever the designated bonus trigger is in the game you're playing.
Sometimes slots have various buy a bonus features so that you can pay even more for better modifiers or more free spins.
Buy a Bonus Slot Machine Games
Title
Provider
Reels
Paylines
RTP
Star Bounty
Pragmatic Play
6
4,096
96.61%
Dawn of Olympus
GameArt
5
10
96.13%
Queen of Wonderland Megaways
iSoftbet
6
117,649
96.00%
Fruit Machine Hold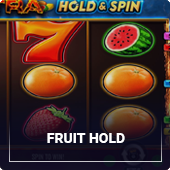 The hold feature is the primary component that distinguishes a fruit machine from a slot. Fruit machines are licensed for various locations because they include a small element of skill.
Using the fruit machine hold feature properly sets one player apart from another. Unlike slots, which produce the same result regardless of who's playing, a fruit machine will payout differently depending on the hold strategy.
Players get "x" number of holds depending on the game, and they can usually store some up, but time isn't unlimited. So, you've got to consider risk in your strategy.
The obvious time to use the hold is when you get matching symbols, as you're holding those reels in place while the others spin. But if you don't use them fast enough, you'll lose them.
Fruit Slot Games With Holds
Title
Provider
Reels
Paylines
RTP
Jackpot 6000
NetEnt
3
10
98.90%
Pub Fruity
Microgaming
3
1
95.36%
Cops and Robbers
Microgaming
3
1
96.5%
Sample These Slot Features at the Top Online Casinos
We've given you a guide to the best online casino slots with features all over the board. The only thing left for you to do now is decide where to play them.
There are long lists of features, as well as slot themes, but even more online casinos that carry them. So, you can afford to be discriminating.
Our recommendations for the top-rated casino sites consider the games with the widest variety of slot features.
Additionally, we factor in deposits, payouts, player perks like welcome bonuses, mobile play, and the provider's overall reputation.
Simply join one or more of the online casinos we recommend to get started now, or read our casino reviews to learn more about each site.
Alternatively, you could check out the best real money slots apps if you prefer playing on mobile.

Sign up Bonus
250% Up To $5,000
READ REVIEW
Visit Site
X