Review of the Luchadora Slot from Thunderkick
Many online slot games use the same themes over and over again. There are dozens of fruit games, Ancient Egyptian slots, and slot machines based on Chinese mythology.
Luchadora is a magnificent slot game with a totally distinctive theme. It is based on Mexican wrestling.
If you are getting tired of playing games that always seem the same, you will want to check out Luchadora. It is an excellent game for adding some variety to your online gambling experience.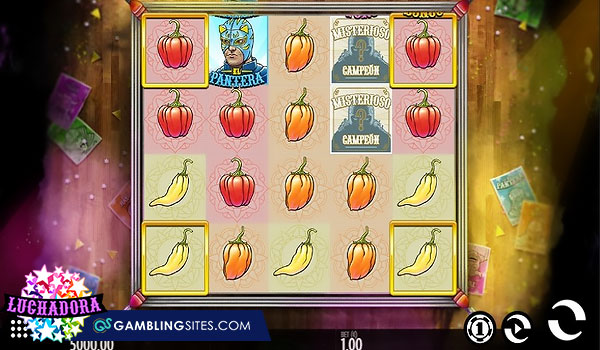 You don't have to be a fan of Mexican wrestling to enjoy the game, but fans might pick up on specific details that others may overlook. For example, fans might recognize some of the lycra wrestling costumes and background music.
This slot game is easy enough to understand, but it is not exactly the same as other slots. Keep reading our Luchadora review to find out all about this exciting game and the bonus features it offers.
Online Casinos with Luchadora
Before we jump into explaining how the game works, we want to start off by explaining where to play Luchadora.
Thunderkick is the software provider that created Luchadora. They are a small, independent software company with only fifty employees.
Because Thunderkick is such a small company, it is not as easy to find online casino sites with Luchadora and other Thunderkick games.
Fortunately, this company is becoming much more popular because they create fantastic slot machine games. Luchadora is only one of the slots that we recommend from this software provider.
As more players demand access to these games, more of the top online casinos are adding Thunderkick software to their collections.
Playing Luchadora on Mobile Casinos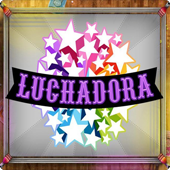 Luchadora is mobile compatible. You can play it on almost any mobile device.
To play the Luchadora slot game on mobile casinos, you need to visit your favorite Thunderkick casino site on your device's internet browser.
From there, the game is very similar to playing it on your computer. We especially appreciate the fact that you can use both landscape and portrait mode to play the Luchadora slot on mobile devices.
Many mobile slot games only work in landscape OR portrait mode, which is disappointing. Thunderkick worked hard to make sure this game works no matter what way you decide to play it.
No matter what device you use to play Luchadora online, you are guaranteed to have the same delightful experience.
Use the following buttons to find the best casino and slot apps with Luchadora and other Thunderkick games.
How to Play Luchadora for Real Money
Luchadora is a five-reel slot machine with four rows and thirty pay lines. That fourth row makes it different from standard five-by-three slot games.
Some of the paylines might seem odd to you at first because they are not the same as the paylines on other slots. But once you have been playing for a while, you will get used to the different structure.
Here are some more of the technical details of the Luchadora slot game.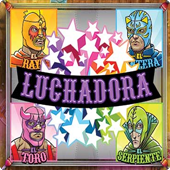 Theme: Mexican Wrestling
Manufacturer: Thunderkick
RTP: 96.2%
Reels/Rows: 5/4
Paylines: 30, fixed
Minimum bet: $0.10
Maximum bet: $100
Maximum prize: 25x ($2,500 at max bet)
Jackpot: No
Volatility: Medium
Mobile compatible: Yes
All the betting options on the Luchadora casino slot are predetermined. You have fourteen betting options between $0.10 and $100 per spin.
The overall RTP on the Luchadora slot game is 96.2%. That is a decent RTP compared to other slot games with similar volatility.
Keep in mind that the RTP is only accurate in the long run, over thousands of spins. Anything can happen in the short run. Also, the RTP only applies if you play Luchadora for real money.
Symbols on the Luchadora Slot
Now that you know the basics of how to play Luchadora, you must learn about the symbols you need to win the game.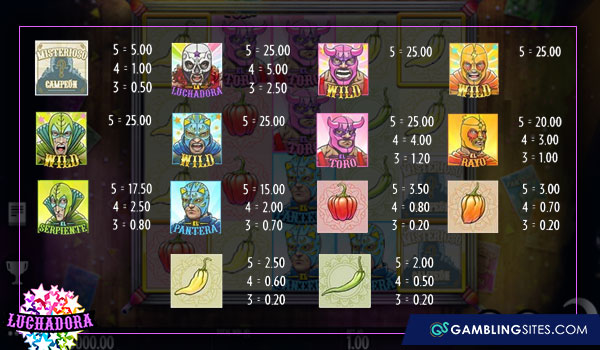 All the symbols on the Luchadora slot machine relate to the Mexican wrestling theme. Instead of classic fruit symbols, this game uses Mexican chilis and peppers as low-paying symbols.
There are also four character symbols on the Luchadora. They all represent different Mexican wrestlers.
The four character symbols can be either regular or wild symbols. To turn regular symbols into wild symbols, you must get one of those characters to stop in one of the four ring corner spaces on the reels.
Wild symbols can replace any symbol in the game. If you get five of the same wild symbol on a payline, you can earn a 25x payout for that wild symbol.
In addition to the line pay symbols, the Luchadora slot also has three special symbols.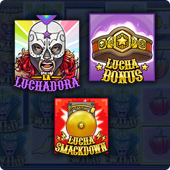 La Luchadora symbol – This symbol doesn't do anything until you activate it during the free spins bonus game.
Lucha Smackdown symbol – This symbol only appears on the fifth reel. Any time it appears, you get a prize. The options include free spins and cash prizes.
Lucha Bonus symbol – If you get three or more Lucha bonus symbols on the reels, you can earn the Lucha bonus free spins game.
Having explained all the symbols, let's now explore more information about how the bonus features work on the Luchadora online casino slot.
Luchadora Bonus Features
There are several bonus features on the Luchadora slot game. Some of them are available at any time, while others are only available during the free spins bonus.
Ring Corners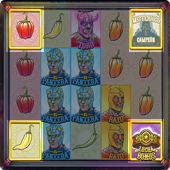 The top and bottom spaces on the first and fifth reels are highlighted with a wrestling ring. Those ring corners have the power to turn wrestling characters into wild symbols.
On the base game, any wrestler that lands in a ring corner will be wild for that spin only.
During the free spins bonus, wrestlers that land in a ring corner remain wild for the rest of the free spins. If you get all four wrestlers to become wild, you can unlock the La Luchadora symbol.
This is how you unlock the most valuable symbol in the game. We'll talk more about that in a minute.
Lucha Smackdown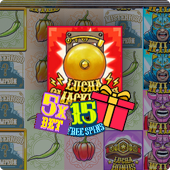 This feature is available any time the smackdown symbol lands on the fifth reel, in both the base game and the bonus game.
When the Lucha Smackdown feature gets activated, a special horizontal reel will pop up on the screen. The reel will spin, and you can earn whatever prize it lands on.
During the base game, you can win seven, eleven, or fifteen free spins. Or you could win a cash prize of 2x, 3x, 5x, or 15x your bet amount.
If you get the Lucha Smackdown symbol during the free spins bonus game, you can earn two, three, five, or seven additional free spins. You can also win the same cash prizes.
The last prize that the Lucha Smackdown feature offers is only available during the free spins bonus game. It will randomly trigger the ring corner feature, turning one of the wrestler symbols wild for the rest of your free spins.
Lucha Bonus Game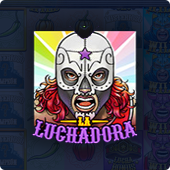 You can activate the Lucha Bonus game by getting three or more scatter symbols on the reels. The number of free spins you earn will depend on the number of scatter symbols you got.
3 scatters = 7 free spins
4 scatters = 11 free spins
5 scatters = 15 free spins
The ring corner feature is especially important during the Lucha bonus free spins game. Any wrestlers that become wild will stay wild for the rest of your free spins.
A card will show up on the screen each time one of the wrestlers transforms into the wild wrestler.
If you can get all four wrestlers to turn wild before you finish your free spin, you will activate the La Luchadora symbol.
Once La Luchadora has been activated, the mystery underdog symbol gets replaced with La Luchadora. It is the highest-paying symbol in the Luchadora online slot.
There are a lot of bonus features on the Luchadora casino slot machine. It can be confusing to keep track of which features are available during the base game and which ones are only available during the free spins.
Hopefully, our Luchadora slot review has clarified some of that information for you. Feel free to come back to this page if you need a refresher on how these bonus features work.
Summaraizing Our Review of Luchadora
The Luchadora online slot game is exciting and unique. It has a fun theme, bright graphics, and a lot of bonus features.
Overall, we think everyone can enjoy this game because it is so different from other slot games. It is not difficult to understand, and the bonus features add a lot of anticipation to the game.
However, there are a few things that could be better. We want to wrap up our review of Luchadora by giving our honest thoughts on various aspects of the game.
Graphics and Sound Effects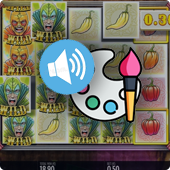 The background music on the Luchadora slot game is fantastic. It is an authentic Mexican melody that goes along perfectly with the theme, and it will make you feel like you are at a fiesta.
Don't be surprised if you find yourself dancing or bobbing your head while you play.
There are not many additional sound effects. Occasionally, you will hear spectators saying, "oh" and "aw," when winning symbols land on the reels.
Those sound effects don't add much to the game, but they don't detract from it either.
Luchadora has very simple graphics. The background image is a floor with posters that advertise wrestling matches.
All of the symbols are two-dimensional and unassuming. They do not stand out in a good way, but they don't stand out in a bad way either.
Luchadora Bonus Features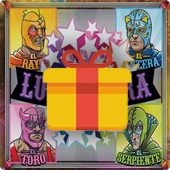 We found the bonus features to be really exciting during our Luchadora review. They are different from the standard features that every other game seems to have.
The ring corners feature is especially unique. It is an excellent way to offer several wild symbols without complicating the game.
Lucha Smackdown is a fun bonus feature that offers random bonuses.
Our only complaint about the bonus features on the Luchadora real money slot is the La Luchadora symbol.
It is confusing that this symbol appears on the base game when it can only be activated during the bonus game.
We think that particular bonus feature would make more sense if the mystery symbol were only present during the free spins bonus.
Payouts and User Experience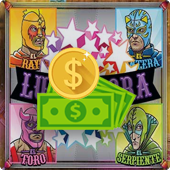 The most disappointing part of playing Luchadora for real money is that the payouts are not that exciting.
You can only win 25x your bet amount. So, if you are playing the minimum bet, the most you could ever win in this game is $2.50.
Thunderkick could add prize multipliers to the other bonus features to increase the possible payouts.
That would significantly impact the game because no one will want to play if the most they can ever win is a few dollars.
Other than that, the overall game experience is enjoyable. There are enough bonus features that you will want to keep playing, and the game's theme will put a smile on your face.
As long as you are okay with winning small payouts, you will love playing the Luchadora slot online.

Sign up Bonus
250% Up To $5,000
READ REVIEW
Visit Site
X