Slots With Progressive Jackpots
Progressive jackpot slots are thrilling games because they offer the chance to win life-changing sums of money that go above what traditional slot machines offer.
We're going to tell you all about them. First, here are the best online casinos with progressive slot games.
Rank
Gambling Site
Exclusive Bonus
Get Started

#1

Wild Casino

250% Up To

$5,000

Visit Site

Visit Site

#2

Las Atlantis

280% Up To

$14,000

Visit Site

Visit Site

#3

El Royale

250% Up To

$12,500

Visit Site

Visit Site

#4

Bovada Casino

100% Up To

$3,000

Visit Site

Visit Site

#5

Ducky Luck

500% Up To

$7,500

Visit Site

Visit Site

#6

Super Slots

250% Up To

$6,000

Visit Site

Visit Site

#7

Drake Casino

300% Up To

$6,000

Visit Site

Visit Site

#8

BetUS Casino

200% Up To

$5,000

Visit Site

Visit Site

#9

Ignition Casino

150% Up To

$1,500

Visit Site

Visit Site
If you have never played progressive slots online before, it is easy to get started. The basis of the game is the same as traditional slot machines.
However, the jackpot process is a little different. You need to understand how to qualify for the progressive slot jackpots and the terms and conditions that will affect your withdrawals.
We will cover all of that information on the rest of this page.
We'll also tell you about various manufacturers that make progressive slots, the top progressive slot games online, and how to find the best casinos with progressive slots.
How Progressive Slot Machines Are Different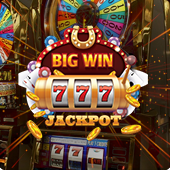 The primary difference between progressive slot machine games and traditional slots is how the maximum payout gets calculated.
Traditional slot machines offer payouts that are multiplied by your stake amount. All of the potential payouts are listed on the paytable.
The multiplier amount is fixed, so the only way to get a larger prize is to bet more upfront. Every person who plays the maximum bet has the same opportunity to win the highest jackpot amount.
Progressive jackpots are not fixed. They continually grow until someone collects the jackpot. Then, they revert to a base amount and start growing again.
A small portion, typically around 15%, of every bet gets set aside for the jackpot.
The size of a progressive slots jackpot is constantly changing based on the bets getting placed and the prizes paid out.
The best progressive slots have a guaranteed minimum payout. As long as that is in place, you will always win more than the base game offers.
Some progressive slot games offer the jackpot as the prize for getting five of the top-paying symbols. Other games have a jackpot bonus feature that gets randomly triggered.
Now that you know how progressive jackpot slot games are different from traditional slot machines, let's learn more about how different kinds of progressive games work.
How Progressive Jackpot Slots Work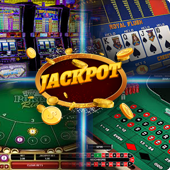 There are several different types of progressive jackpot games. They vary based on how the jackpots get calculated and how many jackpot options you can win.
Each progressive jackpot slot machine has different rules for how you trigger the jackpot.
Some of them use the highest-paying symbols, scatter symbols, or a specific symbol for the jackpot. If it is a symbol-based progressive jackpot slot, you can win the jackpot by getting three to five of that symbol on a designated pay line.
Other progressive slot machines use bonus games to trigger the jackpot. These bonus games can be randomly activated or activated with a particular collection of symbols.
Once the bonus game is activated, you have to complete the game to determine which prize you can win.

Top Tip
It's important to read the terms and conditions before you play. There may be eligibility requirements you have to meet to collect a progressive jackpot. For example, some casino sites will not let you collect a jackpot if you win it using free spins or bonus funds.
Now, let's look at the different types of progressive jackpot slot machines you can play.
Wide-Area Progressive Slots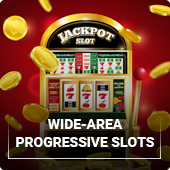 The most popular progressive jackpot slot machine games are wide-area progressives. They are the most popular because they typically offer the largest payouts.
Wide-area progressives have a network of slot machines that are all connected. The jackpot grows with every bet placed on every machine.
You can find wide-area progressive slots in land-based casinos or online. Land-based casino operators that have multiple locations are more likely to have wide-area progressive slots.
For example, MGM casinos have several progressive slot machines that are only available in MGM casinos. All of the machines are linked across their casinos so that Borgata players could win the same jackpot as players at the MGM Grand.
It's a similar principle when you play progressive jackpot slots online, but it's typically the software providers that control online progressive slots
They handle the payouts and separate the jackpot funds separately from the funds for each online casino.
These online slots games are available to players worldwide, so they can add up much faster than land-based progressive slot machines.
The larger the network is, the bigger the payouts are likely to be.
Standalone or Linked Progressive Slot Machines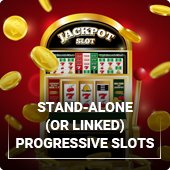 If you want better odds of winning a jackpot, even if it is a smaller size, you may want to consider playing a stand-alone progressive slot machine or a linked game.
However, these progressive slot games are only available in land-based casinos.
Standalone progressive machines collect money from players on a single machine. The jackpots grow at a significantly slower rate because only one person can play at a time.
Linked-progressives are somewhere between standalone and wide-area progressives. They have a few machines on a progressive network, but they are limited to the number of machines at a particular casino.
Typically, linked progressives have ten to twenty machines connected to their network, but it depends on the casino's size.
The jackpots grow faster when there are more machines on the network, but only if someone is playing them.
Standalone and linked progressive slot machines offer you better chances of winning the jackpot because you don't have to compete with hundreds of players across the world.
But, the payouts are smaller, and you have to visit the casino in person to play. Most people prefer the convenience of best online gambling sites and the larger payouts that wide-area progressive jackpots offer.
Random Progressive Slots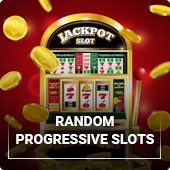 Some progressive slot machines have multiple jackpot levels. When you trigger the jackpot feature, you will play a random mini-game to determine which jackpot you receive.
The mini-games might ask you to spin a wheel or choose from a random selection of objects. If it is a spinning wheel game, the wheel sections correspond to the various jackpots you can win.
When you play a random object game, you will have three to five objects on the screen. These objects are typically symbols related to the game's theme, like briefcases, boxes, seashells, or targets.
Once you click on the symbol, it will reveal the jackpot that you won.
Random progressive slots usually have two to four jackpot levels. The odds of triggering a mini or minor jackpot are much higher than getting the mega jackpot.
For example, the Atlantean Treasures spinning wheel has ten green spaces, six blue spaces, three red spaces, and one gold space. The green jackpots are all worth less than $100.
If you are lucky enough to have the wheel land on the one gold space, you will get a jackpot of more than $1 million.
But, the chances of that happening are significantly less than the chances of getting a small prize.
Hot Drops and Hourly Drops Jackpots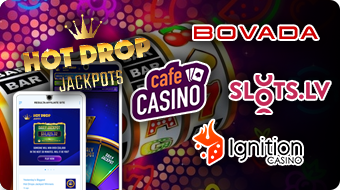 The latest craze for progressive jackpot players is Hot Drops jackpots. Hot Drops are slot games with three randomized jackpots that are guaranteed to payout at specific intervals. Hourly jackpots hit before the end of each hour, daily jackpots hit before the end of each day, and super jackpots hit before a designated prize value is reached.
Hot Drops jackpots are an incredible opportunity because you have excellent odds of winning. For example, if the hour is almost over and the hourly jackpot hasn't hit yet, you should play that game as much as possible because someone who plays in the next few minutes is guaranteed to win the hourly jackpot prize.
These jackpots are triggered by a random number generator. It is not connected to the game's software, so the progressive jackpot wheel could pop up at any time. You don't have to wait for certain symbols to line up on the reels to get lucky.
Hot Drops jackpots are only available on certain casinos, but other casinos may also offer hourly jackpots from various software providers. Check out our Hot Drops Jackpots page to learn more.
Popular Progressive Jackpot Slot Games
You might be wondering which slots games with progressive jackpots are based on your favorite theme or which ones have other bonus features that you are interested in.
To help you get an idea of some of the games available, we are going to introduce you to five of the best progressive slots online. These are just a few examples, but they will give you a place to start.
Mega Moolah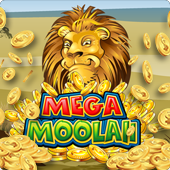 Mega Moolah is a game from Microgaming that holds the world record for the largest online slot machine payout. It is the most popular progressive jackpot game available.
There are five different versions of the Mega Moolah game, and they all share the same progressive jackpot network.
The original Mega Moolah game has an African-safari theme. Newer versions include a Mad Hatter theme on Absolootly Mad and an underwater theme on Atlantean treasures.
Mega Moolah has five reels, three rows, and twenty-five pay lines. It has a wild lion symbol and a monkey scatter symbol that activates free spins with a multiplier. Betting starts at £0.25 and goes up to £6.25.
You can win the Mega Moolah jackpot by spinning the jackpot wheel that comes up randomly. There are four jackpot options that each have different guaranteed minimum prizes.
Mega Fortunes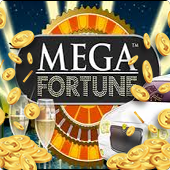 Another game with a world-record payout is the Mega Fortunes game from Net Ent. The highest payout was more than £17 million in 2013.
Mega Fortunes is based on the lifestyles of wealthy people. The symbols include yachts, limos, diamonds, cigars, and stacks of cash.
There is a separate symbol for the Wheel of Fortune bonus, and you need at least three of these symbols on an active pay line to launch the jackpot game.
The bonus game features three spinning wheels that automatically spin. You need the wheel to land on an arrow to advance to the next wheel, and the Mega jackpot is one of the options that you can win if you make it to the third wheel.
Other Mega Fortune features include a wild yacht symbol and a champagne bottle as the scatter symbol. Three or more scatter symbols activate a free spins feature.
You can play Mega Fortunes for as little as a penny, but you need to pay at least a quarter if you want to play all of the pay lines. The maximum betting amount is $50.00.
Cleopatra's Gold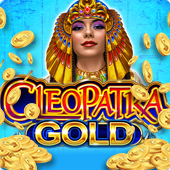 American gamblers can enjoy Cleopatra's Gold from RealTime Gaming. This Egyptian-themed game is simple and classic.
It has five reels and twenty pay lines. Cleopatra herself is the wild symbol, and any win with a wild has a 2x multiplier. If you get five Cleopatra symbols in a row, you automatically win the progressive jackpot!
You have lots of betting options when you play Cleopatra's Gold. The lowest stakes include one penny per line and go up to $5 per line.
However, Cleopatra's Gold is not a progressive penny slot. You have to bet at least $1 per line to qualify for the jackpot.
Cleopatra's Gold is an excellent progressive jackpot slot because it is so straightforward. The jackpot is automatically triggered based on the reels' symbols, so you don't have to mess with mini-games.
Hall of Gods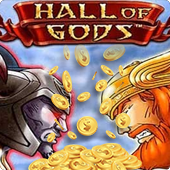 Another one of the best progressive slots is the Hall of Gods game from NetEnt. It is based on the Norse mythological gods, including Thor, Loki, Odin, and Freya.
The bonus symbol on Hall of Gods is Thor's hammer. When you get three hammers on the base reels, it will launch the bonus game.
You get to use Thor's hammer yourself to crack open the shield's on the screen and reveal your prizes. If you get three matching jackpot symbols, you can win one of the three jackpots available.
Hall of Gods highest payout was a mega jackpot win for more than £7.8 million! You could be the next winner if you start playing this exciting progressive jackpot game today!
Joker Millions Jackpot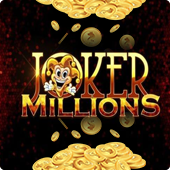 The last progressive slot machine that we recommend is Joker Millions Jackpot from Yggdrasil. It is a classic slot machine game that features traditional symbols like fruit, bells, and sevens.
You may not be particularly impressed with the basic fruit machine theme, but the features of this game make it stand out. It has a freeze and re-spin feature and a column multiplier that make it easy to stack up big wins on the base game.
Of course, the joker is the most important symbol in this game. Each joker comes with a mystery win that ranges from five to one thousand coins.
When you get three or more jokers on the reels, you can trigger a jackpot spin.
The jackpot spin starts with the jokers in the same place that they were in when you triggered it. Every spin that includes another joker triggers a re-spin.
If you are lucky enough to land fifteen jokers, you will automatically win the jackpot. It shares a jackpot with another game from the same provider, so the jackpots add up quickly.
Joker Millions Jackpot is a unique progressive jackpot game because it has so many features that apply to both the base game and the jackpot spins.
Those extra features add a lot of excitement and increase your chances of winning!
Leading Providers of Progressive Slots
You might think it doesn't matter who creates your favorite casino game. But, the software provider is significant for progressive slot machine games.
Because progressive games collect bets from players on a broad network of sites and games, the slots software provider is the one who oversees the progressive jackpot.
They separate the jackpot funds from the other funds that pay the casino. It is their job to make sure that there is enough money to cover the advertised jackpot.
Each online casino with progressive jackpot slots has a different contract with its software providers. Those contracts determine the rules of how the progressive jackpots get paid out.
Some software providers offer better games and better consumer protection rules than others. With that in mind, here are some of the top-rated progressive slots software providers.
Microgaming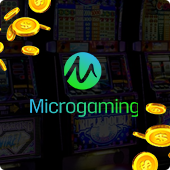 Microgaming is the most famous progressive slot machine provider because they hold the Guinness World Record for the highest online jackpot payout ever paid.
John Heywood won more than £13.2 million while playing Mega Moolah in October 2015. His initial bet amount was 25 pence.
Microgaming has paid out more than £1.3 billion in progressive jackpot winnings since 1998, across more than 18 million individual jackpots.
One reason to love Microgaming's progressive online slot games is that they have strict company policies that favor the player.
All Microgaming jackpots must be paid in their entirety as soon as the jackpot gets verified. This rule supersedes any casino terms and conditions.
For example, if you are playing with bonus funds, you can collect your jackpot before meeting the wagering requirement. However, this rule only applies to the jackpot prizes, not the base game.
IGT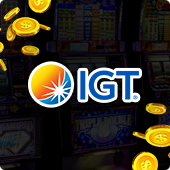 IGT is one of the largest slot machine manufacturers in the world. The company started in 1975, so they have experience creating both land-based and online slots games.
Because they operate in both land-based and online casinos, you can enjoy some of their games in both places.
IGT doesn't have a massive collection of real money progressive slots. Megabucks and Wheel of Fortune are their most prominent options. Pokerbucks is another one.
They also have add-on progressives that can be added to other IGT games if the casino wants to.
The prizes for IGT progressive jackpot slot machines are proportionate to the betting amount that you stake.
When you play progressive penny slots, you can win thousands, but if you bet a few dollars on each spin, you will have a chance to win millions.
If you are lucky enough to have access to IGT progressive jackpot slots online, you will be able to enjoy some of the most popular games with fantastic jackpots, even if you are only betting the minimum amount.
RealTime Gaming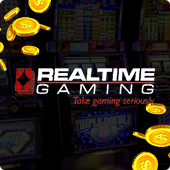 RealTime Gaming is the best progressive slots provider for American gamblers. They work with dozens of casino sites for USA players, so you have plenty of casino options to choose from.
IGT and Microgaming both have progressive collections, with several games that use the same jackpot network. RealTime Gaming has more progressive slots not on a linked network.
That means that you have lots more games and themes to choose from. But, the jackpots do not get as high because they are all separate.
The highest progressive slot payout from RealTime Gaming was $5.47 million on a game called Shopping Spree.
RealTime Gaming is one of the best progressive slot machines provider because of its accessibility.
Gamblers from all over the world can access slot games from RTG, including players who can't access games from other software providers.
Their games do not offer the highest jackpots, but they have a wide variety of games. Winning a few hundred thousand dollars is still better than not winning anything!
NetEnt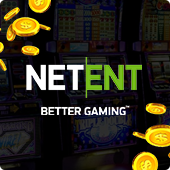 Net Entertainment is another excellent progressive slots provider. The company has been in business since 1996.
They have hundreds of casino games available, and all of their games are tested by multiple independent auditing organizations. That means you can trust the fairness of NetEnt slot games.
Mega Fortunes is the game that makes NetEnt's progressive slots famous. One winner won £17 million on this game, adding NetEnt to the list of slot machine providers with the world's highest payouts.
The progressive jackpot slots from NetEnt do not payout as often as those from other software providers. But, if you are lucky enough to get one of these payouts, there is a good chance you will win a massive amount!
Finding the Best Progressive Slot Casinos Online
Enjoying the chance to play for big slots jackpots online starts with finding the best casino sites with progressive jackpot slot machines.
You should always look for several criteria before choosing an online casino, including its licenses, banking methods, and bonus offers.
But there are some additional features that you will want to pay attention to if you plan on playing progressive slots online for money.
Here are a few things to consider.
How many progressive slots games do they offer? Does the site offer games from multiple software providers?
Do they have a variety of progressive games with different themes and bonus features?
Can you win a progressive jackpot while playing with bonus funds?
Do you have to bet the max to win every progressive? The best progressive slots casinos have multiple games that let you qualify for the jackpot no matter how much you bet.
Can you play progressive slots on mobile devices?
Are there any additional promotions, like free spins offers, that apply to games with a progressive jackpot?
The most crucial factor you want to consider is the casino's rules for paying out jackpots.
Some casinos only provide jackpots in installments. You don't really want to play at a casino that won't pay you all of your money upfront.
It will take some time to verify your win and process your payout. But, legitimate online casinos with progressive slots will process your payment as quickly as possible, typically within a week or two.
Make sure you know how an online casino site handles progressive jackpot payouts before you start playing. We include a lot of this information in our online casino reviews.
What Happens When You Win a Progressive Jackpot?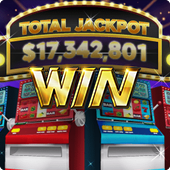 The moment that you win a progressive jackpot could very well be a moment that you remember for the rest of your life.
You will be filled with excitement and shock, and your mind will automatically create visions of a new future that wasn't possible before.
But, what actually happens from that point on? What happens next will depend on where you live, which casino you were using, and how much you won.
There are significant differences between what will happen in a land-based casino and an online one. Here are some things you should expect.
Winning a Progressive Slots Jackpot Online
If you are playing a progressive slot machine online, your win might be a little anticlimactic. You will no doubt celebrate, jump for joy, and call your mom to tell her the good news.
But, after that, you will probably go to bed in the same house and continue living your life as usual while you wait for the casino to process your payment.
The online casino will verify your transaction. Their software will run tests to make sure that you didn't hack the site or trick the game somehow.
Assuming that everything checks out, a representative from the online casino will call you. They will explain your options for withdrawing your jackpot, which may include installments or a lump sum.
Online casinos typically give you the option of remaining anonymous, or you can choose to let them share your name and location.
They may have you sign an agreement before they process the payment. For example, if you want to allow the casino to use your name and likeness in advertising, you'll need to sign a release to say that is okay.
You might have to pay taxes on the money that you won.
While you are on the phone with the casino representative, it is good to ask questions about your country's tax laws.
They should be able to tell you if the casino will withhold tax from your winnings or if they will report the win to the IRS (or other tax organization).
That initial excitement that you feel when you win might fade while the casino processes your payment and deals with all of the legal and technical stuff.
But, your elation will come right back once you have the money in your hands or bank account!
Winning a Jackpot at a Land-Based Casino
Land-based casinos are masters of emotion. They know that you will be ecstatic when you win that progressive jackpot, and they want to do everything they can to take advantage of that feeling while it lasts.
Here's what you can expect to happen when you win a progressive jackpot in a land-based casino.
Your slot machine will make loud noises, and it may flash the word jackpot over and over again. Everyone around you will know you won.
A casino employee will immediately come to congratulate you on your win. Depending on casino policy and how much you won, they may greet you with a bottle of champagne or shower you with confetti!
The casino will verify your win. This doesn't take long in land-based casino. The employee will check the settings of the machine, while security personnel will review the camera feed.
After that, the casino employee will explain your payment options. The casino or slot machine provider will determine if the jackpot is paid out in a lump sum or installments.
Most land-based casinos will make you sign a form that lets them use your picture and first name for advertising purposes. They will likely take your picture with an excessively large check.
Then you'll receive your money or first payment and, from there, you can do whatever you please with it. It's your money!
Again, the tax laws will vary from one country to another. For example, you have to pay federal taxes on any gambling winnings over $1,200 for slot machines in the USA.
The casino will send you a Form W-2G that you can use to file your taxes the following year.
You might also have to pay state taxes on your gambling winnings, but that will depend on the state law for the state where the casino is.
If you live in California but you win in Las Vegas, you will have to follow Nevada's tax laws for your jackpot winnings.
There are still technical things, like taxes, that you have to deal with when you play in a land-based casino.
But, they are much faster at processing your payments, and they are better about celebrating your win with you. For that reason, land-based progressive slots are a bit more exciting after a progressive win.
Biggest Progressive Slot Jackpot Wins in History
The best part of playing progressive slot machines for real money is the opportunity to win life-changing amounts of cash.
Let's finish up with a look at the largest progressive jackpot wins ever.
| | | | | |
| --- | --- | --- | --- | --- |
| Game | Manufacturer | Casino | Date Won | Prize Amount |
| Mega Moolah | Microgaming | Grand Mondial | 09/28/2018 | €18,915,721 |
| Megabucks | IGT | Excalibur | 03/24/2003 | $39,713,982.25 |
| Megabucks | IGT | Cannery Casino and Hotel | 09/15/2005 | $21,147,947 |
| Mega Fortune | NetEnt | Paf Casino | 01/20/2013 | €17,860,868 |
| Mega Moolah | Microgaming | Betway | 10/06/2015 | £13,212,882 |
| Mega Moolah | Microgaming | Zodiac Casino | 01/30/2019 | $20,057,734 |
| Mega Fortune | Netent | Betsson | 09/23/2011 | €11,735,446 |
| Megabucks | IGT | Desert Inn | 01/26/2000 | $34,955,489.56 |
| Megabucks | IGT | Palace Station | 11/15/1998 | $27,580,879.60 |
| Mega Moolah | Microgaming | Lucky Casino | 08/17/2020 | €14,679,069 |
| Megabucks | IGT | Bally's | 03/27/2002 | $22,618,156.67 |
| Mega Moolah | Microgaming | Luxury Casino | 03/05/2019 | $12,945,603 |
| Money Vault Millionaires | Bally | Bellagio | 02/19/2012 | $2,882,808.32 |
| Arabian Nights | Aristocrat | Paf Casino | 11/23/2012 | €8,635,872 |

Sign up Bonus
250% Up To $5,000
READ REVIEW
Visit Site
X