Dragon Lines Slot Machine
Produced by Ainsworth, Dragon Lines is a 5 reel, 100 pay line online slot that carries a heavy Asian theme.
The problem with Asian themed slots is distinguishing one game from another because it's such a crowded genre with similar slot machines.
Dragon Lines' niche is focusing on the dragon, which makes for an entertaining animation when it appears in winning pay lines. The 100 pay lines also differentiate this game from many otherslots.
Like most Asian slot machines, you'll find plenty of Chinese good luck symbols, including ingots, lanterns, and fireworks. This is one area where Dragon Lines really blends into the genre.
But does this slot differ enough from other games to make it worth playing?
Find out as we discuss Dragon Lines' atmosphere, sound effects, animations, pay table, graphics, and bonuses. We'll also cover how this game compares to a couple of other Asian theme slots.
Dragon Lines Slot Machines Overview
Atmosphere / Background
You won't immediately find anything eye catching about Dragon Lines because it looks like many other Asian slot machines.
The background is dark red – standard for this genre – and the reels are decorated with a typical oriental design.
Pleasant is a good way to describe the look and feel of Dragon Lines. Just don't expect to be overwhelmed with excitement when you see the background.
Music and Sound Effects
This slot doesn't feature any music during the main game, but you'll hear sound effects after wins.
Most of the sound effects are the generic type that are heard in three quarters of slot machines. But you will hear a gong sound when the dragon appears in winning pay lines.
Animations
The dragon is also the only symbol that provides an animation when it appears in wins. When the dragon helps form a payout, it pops out of the reel and sways back and forth.
This is an excellent animation, and it'd be nice to see more like it.
Dragon Lines Pay Table and Graphics
The symbols and payouts for Dragon Lines include:

Dragon Wild
The dragon is wild and substitutes for all other symbols except the scatter to form wins. The dragon only appears on reels 3, 4, and 5 during the main game, but it appears on every reel infree spins.

Yin Yang Scatter
The scatter symbol triggers free spins whenever it appears 3 or more times anywhere on the reels. The Yin Yang also offers 2,000 credits for 5 symbols, 200 for 4, and 40 for 3.

Gold Ingot
A Chinese symbol of wealth and prosperity, the gold ingot pays 200 credits for 5 symbols, 20 for 4, and 10 for 3.

Gold Coin
The coin pays 60 for 5 symbols, 20 for 4, and 10 for 3.

Lantern, Chinese Drum
The lantern and drum can combine to form winning payouts, delivering 40 credits for 5 symbols, 15 for 4, and 1 for 3.

Firecrackers
Firecrackers pay 30 credits for 5 symbols, 10 for 4, and 1 for 3.

A, K
The A and K are ubiquitous, paying 20 credits for 5 symbols, 10 for 4, and 1 for 3.

Q, J
Both of these symbols pay 20 credits for 5 symbols, 3 for 4, and 1 for 3.

10
Pays 20 for 5 symbols, 2 for 4, and 1 for 3.

9
Pays 20 for 5 symbols, 2 for 4, and 1 for 3.
Symbol Graphics
The best aspect of Dragon Lines is its graphics. These aren't stellar 3D graphics that'll amaze you, but they're high quality for the genre.
The dragon, ingot, and lantern all look great, while the coin, drum, and firecrackers look above average.
Of this bunch, the dragon definitely stands out with its exceptional detail, crazy red and white eyes, orange face, and purple mane.
We don't like how generic letters and numbers are used for low paying symbols because too many slots do this. But we do appreciate how Ainsworth embellished the A with dice, and the K with acrown.
Dragon Lines Slot Bonus Features
The biggest weakness of this game is that it only has one bonus feature – free spins. Free games are triggered when you get 3 or more Yin Yang scatter symbols anywhere on the reels.
The reels turn purple during free games, and you'll hear fast paced Chinese music playing. This is the only time that you get music during Dragon Lines, which makes the free spins even morespecial.
One big advantage during the bonus is that the dragon can appear on any reel, rather than just reels 3, 4, and 5. The dragon can also appear as a stacked wild, which really helps you win whenthis wild is stacked in multiple reels simultaneously.
You can retrigger 5 free games by landing 3 or more Ying Yang symbols anywhere on the reels.
When 5 free games are retriggered, you'll hear a fire alarm go off and see sparks fly while the spins are added to your counter
One thing that we appreciate about the bonus is that you can stop the free spins and activate them whenever you want. Too many slot machines automatically spin the reels without stopping, whichdenies you the chance to see wins if you have to quit playing for a minute.
While there's plenty to like about Dragon Lines' bonus feature, in the end, it's just free spins with a few extras. It would be better if there was another bonus or two in this game.
Betting Options
You can adjust pay lines from 1 to 100, and change your coin denomination from $0.01 to $0.75.This makes for a minimum bet of $0.01 per spin, and a max wager of $75.00.
Keep in mind that pay lines increase by one as you move from 1 30; then they increase by 5 line increments from 30 to 100.
As mentioned earlier, 100 pay lines is one of the most interesting aspects of this game and creates lots of excitement with so many possible wins.
Other Options
You can auto spin the reels for between 10 and 100 spins. One interesting aspect of this option is that Dragon Lines gives you an indication of the maximum amount that you can win or lose whensetting the reels on auto spin.
Here's an example: you're playing $0.01 per pay line, 100 pay lines $1.00 total bet, and setting auto spin to 100 spins. The game shows you that the max loss is $100.00, and the max win is$1,004,000.00.
Obviously these are extreme examples and unlikely to occur, but it's still nice to see what the best and worst case scenarios are before setting up auto spin.
The only other option that you have is the ability to turn sound on and off.
You don't have any turbo option in this slot, but you can click Spin and click it again to stop the reels.
Win Frequency
Dragon Lines' win frequency is above average, with the dragon wild helping out often to form wins. We also noticed that free spins are easier to trigger in this game when compared to other slots.
We did have some cold spells where we didn't win anything for several spins in a row, which is rough when 100 pay lines are in play. But overall, you should win frequently enough to keep playingfor a while.
Return to Player RTP
The RTP for Dragon Lines is 94.3%, which is below average for an online slot. But given the above average win frequency, this feels like a game that pays out a lot.
Considering that this slot is short on bonus features and multipliers, players with a small bankroll won't have any trouble lasting for a while on Dragon Lines.
Comparison to Other Asian Themed Slot Machines
We've mentioned several times that Dragon Lines is one of the countless Asian slots. Let's see how it stacks up by comparing Dragon Lines to a couple of other Asian themed games.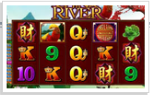 China River
Bally's China River is a 5 reel, 30 pay line slot machine that was originally produced for land based casinos, then later formatted for online casinos.
The game takes place on a serene rural river, where flowers, cherry blossom trees, and mountains can be seen. You'll also see a golden pheasant sitting on top of the reels looking around.
Right away, this game gives us something to like over Dragon Lines because its background has more depth than the typical Asian slot.
On the downside, betting options aren't as flexible in this game since you have to play all 30 pay lines. You can adjust your coin denomination, though, from $0.01 to $15.00.
In most other respects, China River and Dragon lines are the same. They both feature sound effects during wins, free spins are the bonus round, and RTP is below average in China River too, at93.98%.
If you like one game, then you're probably going to like the other.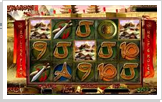 Zhanshi Slot
Realtime Gaming's Zhanshi is a newer 5 reel, 25 pay line slot that's available at many US friendly online casinos.
This game differs from most Asian slots because it has a strong identity with its war theme. You'll see a detailed fortress in the background, along with warriors, horses, battle flags, andswords on the reels.
We also like how Zhanshi has music throughout the game, which may remind you of the hit 2003 film The Last Samurai.
For how advanced the graphics and overall atmosphere are in this game, the bonus features aren't that much better. But the twist in Zhanshi's bonuses is that Feature 1 allows you to pick one ofthe triggering warriors to reveal how many free spins you get. Feature 2 is just basic free spins with a multiplier.
Despite the lack of sophistication in the bonuses, Zhanshi's graphics and music put it a notch above other Asian slots like Dragon Lines.
Conclusion
Dragon Lines doesn't have much to differentiate it from other Asian themed games.
Its best aspects include 100 pay lines, flexible betting options, and multi dimensional free spins. These aren't the most attractive qualities to many slots players, but at least they'resomething.
As for the flexible betting options, we like how you can vary bets from one cent all the way up to $75.00. It's also nice that the game shows you the potential max wins / losses when setting theauto spin option.
Regarding free spins, you have the following things to look forward to: the dragon appears on all reels, it can be a stacked wild, you can trigger more free spins, and the music / reels change.
One more positive aspect of this slot is the graphics, with the dragon, ingot, and lantern all looking excellent.
The downsides of this game include that the atmosphere / background is cliché for an Asian slot, the sound effects are also generic, and the only animation that you see is the dragon moving backand forth.
In summary, we don't see a clear reason why you should choose Dragon Lines over the many other Asian themed games available.
Our Thoughts:
If you're fanatical about these types of games and / or love Chinese dragon depictions, then this slot is worth a try. Otherwise, Dragon Lines blends in with similar slots.

Sign up Bonus
250% Up To $5,000
READ REVIEW
Visit Site
X