Lucky Ducky Slot Review
Lucky Ducky is a 3 reel, one pay line slot machine developed by Video Gaming Technology, or VGT.
Based on the famous rhyming phrase used to describe dumb luck, Lucky Ducky sells its theme with a wealthy duck who's flipping coins and wearing a top hat. This artwork helps create a recognizabletheme that makes Lucky Ducky more interesting.
But the problem with classic 3 reel slots is that they don't usually have a lot of defining characteristics.
Does Lucky Ducky break the mold?
You can find out below as we discuss this game's bingo aspect, bonus rounds, and the sequel.
Lucky Ducky Overview
Lucky Ducky is part of a line of VGT slot machines that share many of the same symbols and other characteristics. Other games in this line include 777 Bourbon Street, Crazy Cherry, Hot Red Ruby,Mr. Money Bags, and Smooth as Silk.
One common characteristic that Lucky Ducky shares with these games is its symbols, which include 7, BAR, double BAR, triple BAR, and cherry. The only unique symbol in this game is the Lucky Duckyicon.
This slot also runs on mechanical reels and features a similar pay table to other games. The largest payout available is 10,000x your bet, which would be $2,500 if you bet the lowest coindenomination of $0.25.
In 2015, VGT unveiled a wide area progressive jackpot that links Lucky Ducky to the games mentioned above. The progressive jackpot is seeded at $250,000 and was worth just over $286,000 when wetried this game.
Please Note:
You won't find Lucky Ducky in major casino destinations like Atlantic City and Las Vegas. Instead, it's found in Native American casinos across Oklahoma like Downstream Casino Resort inQuapaw, Grand Casino Hotel Resort in Shawnee, Osage Casino in Skiatook, River Spirit Casino in Tulsa, and four different casinos in Choctaw.
Given that Lucky Ducky is found in tribal casinos, it must fall in line with Class II bingo machines, which we'll discuss below.
Lucky Ducky Is a Bingo Class II Slot Machine
In accordance with the Indian Gaming Regulatory Act, tribal casinos are allowed to offer bingo related Class II gaming machines. This is why Lucky Ducky and other slot machines at tribal casinosoperate like bingo games.
These Class II machines are fed numbers just like in bingo and rather than competing against the house, you're competing against other players for one set of prizes.
Every time that you spin the reels, you generate numbers for your machine. Most of these numbers will win you small prizes, but only one player wins the top prize. When this happens, the bingostyle game resets, and you and other players on the linked machines begin playing for a new set of prizes.
When playing Lucky Ducky, you'll notice a bingo card at the top of the machine along with numbers being generated beneath it. This represents the bingo aspect to Lucky Ducky and how your prizesare determined.
Contrast what we've discussed to standard slot machines which are Class III, which are found in casino hubs like Vegas. Class III slots create their own results through a random number generator,or RNG, and you compete against the house.
While every RNG is programmed to offer odds on each payout, there's no predetermined set of prizes. Technically, you could win the same payout several times in a row on a Class III game.
Some slots players prefer Class III games because they're most common throughout the world. But in both Class II and III slots, you're dealing with games of chance that create thrills andexcitement.
Lucky Ducky Bonus
We stated earlier that 3 reel slot machines can lack defining characteristics, making them bland. But Lucky Ducky differs from the average 3 reeler because it offers two different bonusopportunities, which you can see below.
Red Screen Re Spin
The first bonus feature is the red screen re spin, which happens randomly after a winning spin. The screen will turn red, the reels re spin automatically, and you're guaranteed to at leastreceive a prize equal to your win from the triggering spin.
Nothing on the game's pay table explains the red screen feature. But we looked around forums and noticed that players have identified some common traits in these re spins.
First, you'll get a red screen re spin approximately one out of every 5 winning spins. Second, the size of your payout from the re spin normally corresponds with the payout from your triggeringspin. If you win 1,000 credits, chances are that your re spin will also pay well too.
Although you'll normally get one re spin when the red screen flashes, you can receive more than one. We got 3 re spins once, but forum discussions suggest that you can get up to 5 re spins.
Pick a Duck
The other bonus in Lucky Ducky is actually a second screen game that randomly appears after the red screen flashes. When this happens, the top case of the cabinet slides open, revealing acarnival setting with ducks swimming around in a pool.
The video screen prompts you to Pick a Duck, Any Duck. Once you select one of the floating ducks, you'll receive credits and be taken back to the main game.
We were surprised that a mechanical 3 reel game like this has a second screen bonus round. But it's definitely a nice touch that gives you another bonus opportunity beyond the red screen.
Casinos can customize Lucky Duck to include other types of second screen bonus rounds too. We haven't seen any of the other bonuses, but you can uncover them by going to different tribalcasinos throughout Oklahoma.
Betting Options
Lucky Ducky features a $1 coin denomination symbol on the front of the machine. But this is misleading because you can actually use several different denominations, including
You can also choose whether to play 1 to 3 coins per spin, which makes the minimum bet worth $0.25 per spin and the maximum worth $15.
We played with three coins per spin on the $0.25 coin denomination and won frequently. The red screen re spins help keep your bankroll high since they came up about every 3 5 minutes while wewere playing.
Considering the high win frequency in this game, Lucky Ducky is great for low rollers who want to play slots cheaply.
Other Lucky Ducky Games
As mentioned before, casinos can customize Lucky Ducky to include different second screen bonus rounds. This alone makes it worth trying in different Oklahoma casinos because you can unlock thevarious bonuses.
Beyond the different bonus rounds, VGT has also released a sequel to the original game, which you can read about below.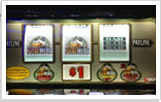 Lucky Ducky 2
You'll notice the sequel right away because the top of its cabinet is different. The duck is featured at the top holding up 2 fingers, and all of the special features are listed as well.
Speaking of which, Lucky Ducky 2 has a wild symbol, scatter symbol, and 1x multiplier. You can also play up to 5 pay lines, and the lowest coin denomination is $0.05.
Lucky Ducky 2's betting options make it more affordable than any other VGT slot because you can spend as little as $0.25 to play all five pay lines.
It's worth playing all five pay lines too because this gives you a chance at the top payout of 100,000 credits, which happens if you get 3 Lucky Ducks in a pay line.
You'll again be able to earn re spins through the red screen. When combined with the nickel coin domination, this allows you to play Lucky Ducky 2 for hours with a small bankroll.
Other Lucky Duck Slot Machines
We haven't seen another slot machine called Lucky Ducky in the North American market, so this game is original in that aspect. But we have seen other slots that are called Lucky Duck.
One is an Android app that's been developed for social gaming. This game sees you move up in levels as you play and accumulate fake money.
The Lucky Duck app also allows players to buy credits so that they can make larger bets, advance up levels, and compete in live tournaments against other players, which is by far the mostinteresting aspect.
The obvious downside to the Lucky Duck app is that you can't win real money, and any cash that you spend on credits is purely for entertainment purposes.
If social gaming doesn't thrill you, William Hill has created an online, real money version of Lucky Duck. Like so many other online slots, this 5 reel game takes an Asian angle by featuringChinese coins, fans, fortune cookies, and golden duck statues.
What's most likeable about Lucky Duck online is its bonus features, including Quack Shot and free spins. As for Quack Shot, you shoot a duck to reveal your multiplier and continue shooting ducksto pick up bonus credits.
The free spins round begins with little ducks walking out of a giant golden duck statue. Each duck that comes out of the statue will award you a free spin, meaning you want to see as many ducksas possible.
One more bonus in this game is the Vegas Jackpot round, where you choose one out of five jackpots. The Vegas Jackpot is the biggest prize and will award you the progressive jackpot.
Overall, we'd say that both the online casino and mobile app versions of Lucky Duck are good games to try if you can't make it to a tribal casino to play Lucky Ducky.
Conclusion
Appearances can be deceiving because Lucky Ducky is not your average 3 reel slot machine.
For one thing, you have access to two different bonus features in the red screen re spins and Pick a Duck round.
The latter gives you a break from the reels and adds some excitement because you're taken to a second screen. The red screen re spins are nice because they happen often and deliver frequentpayouts to keep your bankroll going.
Neither of these bonus features are ground breaking, but they are extra frills that make Lucky Ducky better than your average 3 reel slot machine.
We also like the fact that this machine offers a large fixed jackpot and a much bigger progressive jackpot. Most players will be happy if they win the fixed payout of 10,000x your triggering bet.
But what really drives players to Lucky Ducky and other linked VGT machines is the progressive jackpot. Seeded at $250k, this prize gives you something to dream about while playing.
One more good point about Lucky Ducky is the different coin denominations, which allow you to play this game cheaply. Even if you play 3 coins, which puts you in line for the best payouts, you'reonly risking $0.75 per spin. And the high win frequency can help you extend your playing time longer than on some slot machines by replenishing your bankroll. Of course this machine eats away atyour bankroll like all slots games and unless you're lucky you'll lose it all in the end on most playing sessions.
The main downside to Lucky Ducky is that it won't appeal to players who like the latest and most technologically advanced slots. Even with two bonus features, this game doesn't compare to modern,3D video slots because it runs on mechanical reels and has generic symbols.
But if you can get past this drawback, Lucky Ducky is good for a few hours of entertainment.
September
Casino of the Month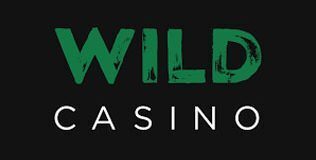 Welcome Bonus
250% up to $5,000