Who Wants to Be a Millionaire Slot Machines
Developed by Ash Gaming, Who Wants to Be a Millionaire is a 5 reel, 50 pay line online slot based on the same titled game show.
Who Wants to Be a Millionaire is one of the most successful game shows of all time and is still running on TV today.
The original U.S. version ran on ABC from 1999 to 2002 and was hosted by Regis Philbin. The combination of Regis' TV personality and an intriguing format led to a wildly popular show early on.
The format sees contestants try to answer 14 consecutive questions of increasing difficulty to win a $1 million prize. Contestants win money along the way and can choose to walk away at any time,rather than risk losing most of their cumulative winnings with a wrong answer.
Contestants are also given 3 lifelines, which they can use to gain help with difficult questions.
The show was initially an unprecedented hit, drawing 30 million viewers per episode, three nights a week in the first season. Ratings would drop off in seasons 2 and 3, with ABC canceling WhoWants to Be a Millionaire.
But it was immediately syndicated, with Meredith Viera hosting for 11 seasons (2002-13), Cedric the Entertainer hosting from 2013-14, Terry Crews hosting from 2014-15, and Chris Harrison hostingfrom 2015 until now.
Who Wants to Be a Millionaire has a long history of success, which begs the following question: Does Ash Gaming replicate the show's popular format in this slot?
Keep reading to find out as we discuss this game's atmosphere, music, animations, pay table, bonuses, and comparisons to other game show slots.
Who Wants to Be a Millionaire Slot Machines Overview
Atmosphere / Background
This slot definitely prepares you for what will be a unique slots experience. You're shown an introduction video that not only showcases the show's logo, but also the features of this slot,including a progressive Jackpot Ladder and Prize Pick bonus.
The intro ends with a replica of the show's set, with a contestant sitting opposite the host ready to answer questions.
The main game takes place in the studio, and one feature that we like is how the reels become transparent when you spin so that the host and contestant are shown behind them.
Music and Sound Effects
Ash Gaming did a good job of creating the show atmosphere by also including music from Who Wants to be a Millionaire. You'll hear another jingle from the show when you spin the reels.
Another nice touch is the audience clapping whenever you get a winning payout, along with the same music that plays during correct questions.
Animations
While this game's emphasis is on the game show atmosphere and music, Who Wants to Be a Millionaire also offers plenty of animations during winning payouts.
Who Wants to Be a Millionaire Pay Table and Graphics
The payouts and symbols for Who Wants to Be a Millionaire include:

Studio Wild
The show's studio is the wild symbol and substitutes for everything except the Jackpot Ladder scatter. The studio also pays 5,000 credits for 5 symbols, 500 for 4 symbols, 100 for 3, and 5for 2.

Jackpot Ladder Scatter
The Jackpot Ladder triggers the bonus round when it appears 3 or more times anywhere on the reels.

Show Logo
The logo pays 3,000 credits for 5 symbols, 300 for 4 symbols, 75 for 3, and 5 for 3.

Audience Choices Lifeline
This graph like symbol represents the audience's different multiple choice answers. It pays 500 credits for 5 symbols, 100 for 4 symbols, 30 for 3, and 3 for 2.

Question Mark
The question mark pays 200 credits for 5 symbols, 50 for 4 symbols, 20 for 3, and 2 for 2.

Phone, Audience, 50:50
These three symbols offer payouts worth 100 credits for 5 symbols, 40 for 4, and 10 for 3.

$1m Check, Contestant, Black Chair
These three symbols pay 50 credits for 5 symbols, 25 for 4, and 7 for 3.

Free Spins Icon
Landing 3 or more Free Spins icons on the reels triggers free games.

Timer Symbol
The Timer symbol acts as a shifting wild, moving from one reel to the left and substituting for any other symbol. After moving to the first reel, the timer symbol disappears.

Prize Pick Symbol
3 or more Prize Pick symbols trigger the same titled bonus round.
Symbol Graphics
The symbol graphics are built to represent the show, rather than to impress you. This isn't to say that they look bad, but the symbols aren't as detailed as the background.
The most detailed symbols include the audience choices, check, and question mark. All of the other symbols look adequate, except for the Millionaire logo and studio wild, which are poorly designed.
But overall, we like how Ash Gaming included a dozen symbols that relate to the game show.
Who Wants to Be a Millionaire Slot Bonus Features
Jackpot Ladder
The best and most detailed bonus in this game is definitely the Jackpot Ladder. When you trigger the Jackpot Ladder round, the reels move off to the side, revealing the contestant and host.
A ladder will appear on the right hand side, which simulates the 14 questions that you must answer to reach the game show's $1 million prize, or, in this case, the progressive jackpot.
The bottom part of the screen features a multiple choice question and four answers, while the left hand side has your 3 lifelines.
When you click Play, a cursor will move around the multiple choice answers and randomly pick one. The goal is to keep getting Advance as your answer so that you continue moving up the ladder.
If you get Collect, the round is over and you collect whatever prize you earned on the ladder. If you get Mystery, the answer flips around to reveal Collect, Advance, Advance 2 (spaces), orAdvance 3.
The lifelines add yet another interesting aspect to this round. 50:50 will remove two answers from the choices, phoning a friend will remove up to 3 answers, and choosing the audience will havethem decide your answer.
Just like the show, you can only use each lifeline once. From a strategy perspective, we only recommend using lifelines in later rounds, when more Collect symbols are presented as multiple choiceanswers.
Free Spins
The number of free spins that you earn depends upon how many triggering Free Spins icons you landed. 3 icons earns you 10 free spins, 4 earns you 15 spins, and 5 gets you 20 spins.
Unlike the other two bonuses in this section, free spins don't come with any embellishments and act like standard free games.
Prize Pick
When you trigger the Prize Pick round, the triggering Prize Pick symbols turn into multiple choice answers. You click one of the answers to collect a credit prize.
This pick'em bonus is used in many slot machines, but we love how the game show aspect is incorporated into the choices.
Betting Options
You can adjust pay lines from 1 50, and change your coin denomination from $0.01 to $6.00. This makes the minimum bet worth $0.01 per spin, and the max wager worth $300.00.
Pay lines change in 10 line increments, meaning you must bet 1, 10, 20, 30, 40, or 50 pay lines per spin. Once you get past $1.00, the coin denomination only increases in increments of $1.
Other Options
With flexible pay line and coin size options, we're surprised that there's no auto spin option. But you can at least speed up play by clicking the Turbo Mode button, which spins the reels about3x faster.
You can also click the Spin button, then click it again to halt the reels and speed up play.
The only other available option is the ability to turn sound on and off, which, given the game show theme, would detract from the entertainment.
Win Frequency
The win frequency in Who Wants to Be a Millionaire is below average, although we did pick up a lot of small wins that covered about half our bets.
Unfortunately, we also experienced cold spells that lasted for several spins in a row, which is rough when 50 pay lines are in play.
The bonuses do happen a fair amount, which gives you some big wins to counteract the small win and no win spins.
Return To Player RTP
RTP for Who Wants to Be a Millionaire is only 91.0%, which is very poor for an online slot. This partly explains why we saw our bankroll drain quicker than we'd like.
Fans of the show will likely still want to play this slot regardless of the RTP. But just bear in mind that the average player has little chance of beating Who Wants to Be a Millionaire.
Comparison to Other Game Show Slot Machines
Who Wants to Be a Millionaire is just one of the game show slots available online. Here's a look at how it compares to two other game show slot machines.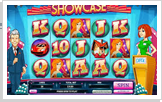 Showcase
Produced by Arrow's Edge, Showcase is a 5 reel, 20 pay line online slot that offers a generic take on The Price Is Right. The game's host even bears resemblance to former Price Is Right hostBob Barker.
One fun thing about this game is that you pick whether you want to be the male or female contestant in the beginning. You'll also hear typical game show music while you're playing, and we likethis tune better than the music in Who Wants to Be a Millionaire.
Showcase's graphics aren't as clean as those in Who Wants to Be a Millionaire, but they're still good when looking across the industry.
This slot also offers some nice bonuses, including free spins with different reels, a Bonus Wheel, and a Double Up feature.
Out of these, we really like the Bonus Wheel because it takes you to a second screen to spin for big prizes. You'll also see a lovely showcase girl presenting the prizes, just like on Price IsRight.
We wouldn't say that Showcase is as detailed or impressive as Who Wants to Be a Millionaire. But it's still a fun game in its own right that's worth trying if you like classic game shows.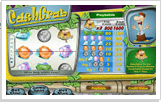 Cash Grab
Cash Grab is an older slot from Amaya Gaming that's loosely based on a generic game show.
This is a 3 reel, one pay line game that features cash, diamonds, gemstones, and coins. You play as the contestant, Lou, who's trying to enter the cash grab stage and grab as much money aspossible.
Occasionally, you'll hear studio audience laughter when Lou appears in a win and gets dizzy trying to grab money. This is the closest that you get to seeing the game show aspect of Cash Grab.
As for betting options, you can change your coin denomination from $0.01 to $5.00, and bet one or two coins bet spin. Given that there's no progression on payouts when betting one or two coins,we don't see any reason to risk two coins.
Lou serves as a multiplier, giving you a 2x for 1 symbol or 4x multiplier for 2 symbols when he appears twice or more in a pay line.
Cash Grab is a very simple game and one that's good for new slots players. But it doesn't come anywhere close to matching the features and atmosphere presented in Who Wants to Be a Millionaire.
Conclusion
Who Wants to Be a Millionaire has become an iconic game show due to its unique format, which includes tough quiz questions, ladder payouts, and lifelines.
Ash Gaming has done a good job of presenting many of the popular aspects of this game show on the reels.
All of the symbols relate to the show in some way, while the music will remind you of the drama associated with Who Wants to Be a Millionaire. We also like the transparent reels, allowing youto see the contestant and host in the background.
The absolute best aspect of this game is when you trigger the Jackpot Ladder, which sees you try to move up a 15 step ladder towards the progressive jackpot. You can use lifelines to help inyour quest to hitting the jackpot, which makes this feel almost exactly like the show.
You can also trigger free spins and Prize Pick, the latter of which allows you to choose between multiple choice answers to reveal your prize.
The only big downside to this game is the RTP, which, at 91.0%, is incredibly low for an online slot. It also doesn't help that this game has low win frequency, even when 50 pay lines are used.
Recommendations:
Despite the terrible RTP and low win frequency, Who Wants to Be a Millionaire is still a good game that feels just like the show.

Sign up Bonus
250% Up To $5,000
READ REVIEW
Visit Site
X