Slot Review of Thunderstruck II from Microgaming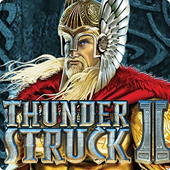 Thunderstruck II is the second game in the Thunderstruck series from Microgaming. The original was one of their most popular slot games, but it was developed back in 2003.
Slot machine technology has changed rapidly since the early 2000s. So, Microgaming launched a new and improved Thunderstruck II casino slot game in 2010.
The updated version has better graphics, a rock-and-roll-inspired soundtrack, and new bonus features. All those updates made the Thunderstruck II slot even more popular than its predecessor.
We will go over all the new bonus features and everything you need to know in our Thunderstruck II slot review.
Keep reading to find out how to win on Thunderstruck II, where to play the game online, and some recommendations for similar games.
Thunderstruck II Overview
Microgaming's Thunderstruck II is a fantastic slot game based on Norse mythology.
Thor, Loki, Odin, and Valkyrie are the main characters of the game. They are ready to help you on your journey to riches.
Thunderstruck II Slot Machine – Key Details
Theme: Norse mythology
Manufacturer: Microgaming
RTP: 96.65%
Reels/Rows: 5/3
Paylines: 243
Minimum bet: $0.30
Maximum bet: $75
Maximum Prize: 2.4 million coins
Jackpot: No
Volatility: High
Mobile Compatible: Yes
When you play Thunderstruck II online, you will have the option of choosing the number and size of coins you want to bet.
You can choose between 1 to 10 coins. The coin value starts at one penny and goes up to $20 per spin.
The Thunderstruck II slot game does not give you the option of changing your number of pay lines. That is because it is an all-ways slot machine game that automatically includes all 243 pay lines.
Once you have set your betting amounts, you are ready to start playing Thunderstruck II for real money.
Thunderstruck II Slot Symbols and Pay Table
The Thunderstruck II casino slot is full of symbols that relate to its Norse mythology theme. It also has the traditional 9-Ace as the lower-paying symbols.
You only need three of each symbol to win. However, five of the same symbol pays more.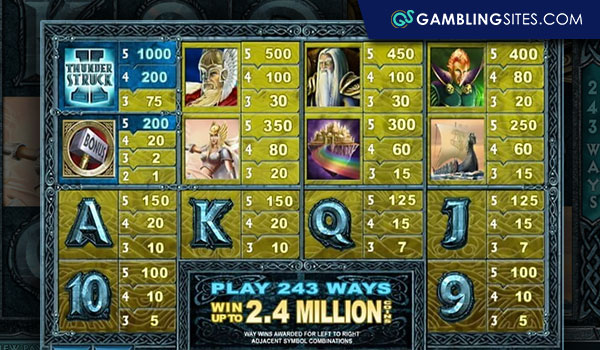 There are a couple symbols you will specifically want to pay attention to when you play Thunderstruck II online.
Thunderstruck II Logo: This symbol is the game's wild feature. It can replace any symbol except for the scatter symbol. It also automatically doubles your payout for any winning combination.
Thor's Hammer: Thor's mighty hammer is Thunderstruck II's scatter symbol. You need at least three hammers to launch the free spins bonus round.
We'll get to the free spins bonus round portion of our Thunderstruck II slot review in a moment.
Graphics, Sound, and Mobile Compatibility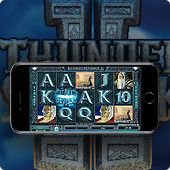 One of the changes that Microgaming made between the two different versions of the Thunderstruck slot game was to create better graphics.
All the symbols and graphics in Thunderstruck II have been updated to create a more immersive and well-rounded game.
The soundtrack has also been updated. It has a cool rock-and-roll vibe that will make you feel as awesome as the god of thunder himself.
We think the new soundtrack is way better than traditional slot machine noises, while the updated graphics make Thunderstruck II stand out.
Thanks to HTML5 technology, you can play Thunderstruck II on mobile.
You should have no problem finding a mobile casino site with Thunderstruck II since most online casinos and casino apps are compatible with modern mobile devices.
What's more is that the graphics and sound should work just as well on your phone as they do on your computer.
But don't just take our word for it – watch this video and see for yourself.
Now that our Thunderstruck II slot review has given you a basic understanding of the game, it is time to learn all about the bonus features.
Thunderstruck II Free Spins Bonus Features
One of the most common questions we get is how you win on Thunderstruck II. The best answer is to take advantage of the free spins bonus features that the game offers.
There are two ways to get free spins while playing Thunderstruck II online for money.
The Great Hall of Free Spins
One of the most exciting features of the Thunderstruck II slot is the Great Hall of Free Spins.
It is structured differently than most free spins features. The unique structure adds a lot of excitement to this casino slot.
You earn free spins every time you get at least three of the Thor's Hammer scatter symbols. Earning free spins gives you a chance to work your way through the Great Hall of Free Spins.
Every time you activate the free spins bonus feature, you will unlock one of the Norse gods' special powers. Each god relates to one of the four levels, and each level has different features.
The game tracks how many times you earn free spins. So, the more you play, the more features and bonuses you can earn. You will need to enter the Great Hall fifteen times to unlock Thor's power.
Fortunately, the game will save your progress in the Great Hall from one game session to another. Just make sure that you log in with the same account information each time.
| | | | |
| --- | --- | --- | --- |
| Level | Free Spins | Reel Features | Bonus Features |
| Valkyrie | 10 | None | 5x Multiplier on all free spin winnings |
| Loki | 15 | None | Wild Magic Symbol appears on Reel 3 and transforms other symbols into wilds randomly |
| Odin | 20 | None | Wild Ravens feature: The ravens will randomly turn symbols in 2x or 3x multipliers and if both ravens descend on the same spin, their multipliers combine to 6x |
| Thor | 25 | Rolling reels: each time you win, the winning symbols will drop, and new symbols will take their place | Consecutive wins multiplier: Every consecutive win activates a multiplier between 2x-5x, depending on the number of consecutive wins you get per spin |
Once you have unlocked Thor's power, you get to choose which free spins feature you want to use.
It makes the most sense to continue with the Thor level. That way, you get more free spins and the possibility of 5x multipliers. This is the approach we took during our Thunderstruck II slot game review.
However, if you like a different bonus game better, you will have the option of choosing whichever one you prefer.
How to Win on Thunderstruck II
You might be wondering how do you win when playing Thunderstruck II? There is no guarantee because every spin has random results.
However, this is one game where you can increase your odds of winning. The best way to do that is to work your way to the highest level in the Great Hall of Free Spins.
The rolling reels with consecutive multipliers give you the chance to win significant amounts. But it takes some effort to get there.
To work your way through the Great Hall of Free Spins, you need to collect at least three scatter symbols multiple times during the base game.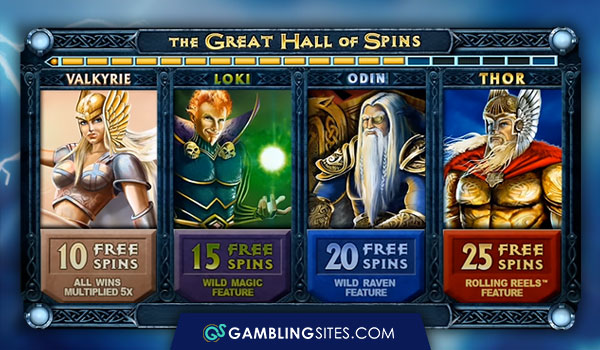 You have no way of knowing when you will get three scatter symbols. It may take one hundred spins, or it might happen after ten spins. There is no way to make the scatter symbols appear more often.
In this case, it is better to bet smaller amounts when you play Thunderstruck II so that you have more opportunities to get free spins.
Ten spins with a bet of $0.30 will cost you the same as one spin with a $3 bet.
The $3 bet will offer higher payouts during the base game. But ten chances to get free spins could be more profitable.
Unfortunately, there are no Thunderstruck II slot machine reviews that can tell you how to guarantee a win.
However, managing your bankroll to maximize your trips to the Great Hall of Free Spins is the best way to increase your chances.
Wildstorm Feature
The Great Hall of Free Spins is the most exciting feature on the Thunderstruck II online slot machine. But it is not the only one.
When you hear thunder and see lightning flash across your screen, you know Thor is up to something. He is creating a wild storm that gives you a single free spin.
You might not be too excited about one free spin, especially compared to the 25 free spins available in the Great Hall. But this free spin is a wild storm free spin.
Thor will leap onto your screen and electrify some of the reels. Any reel that he electrifies will automatically turn into wilds. The number of reels that he electrifies will be determined randomly.
If Thor happens to turn all five reels wild, you can win 2.4 million coins! That is the highest potential payout that the Thunderstruck II online slot game offers.
The wild storm feature is triggered randomly, so it may happen at any time during the base game.
Slot Alternatives for Thunderstruck II
Now that you have read this Thunderstruck II online slot review, you are probably ready to start playing the game. Unfortunately, Thunderstruck II is not available everywhere.
Microgaming is the software provider that created Thunderstruck II. They are selective about which online casinos can offer their slots. (You can find the best Microgaming slot casinos on our site.)
We want to offer you a few alternative slot games that you may enjoy if you can't find an online casino site with Thunderstruck II.
The Thor slot from Playtech is another game based on Norse mythology. It is a licensed game that features characters and symbols from the Marvel Cinematic Universe Thor adaptation.
The Asgard slot from Realtime Gaming is similar to Thunderstruck II. It has 243 pay lines, a thunderbolt feature that turns reels wild, and similar graphics.
Riches of Midgard: Land and Expand is another game with the same theme as Thunderstruck II. NetEnt released this game in 2021. It has a unique bonus mini-game activated by the outer reels.
If you are more interested in finding another game with similar bonus features, check out Elvis the King from IGT. It has an entirely different theme, but it has five different bonus games with various features.
It doesn't matter how wonderful playing Thunderstruck II online is if you can't access the game.
These other games offer an excellent alternative for anyone who can't play games from Microgaming.
Play Thunderstruck II Online
That wraps it up for our review of the Thunderstruck II game from Microgaming.
Thunderstruck II is a fantastic slot machine with high-quality graphics and sound effects. It highlights the Norse mythology theme without making it cheesy.
The free spins bonus features are the best part about playing Thunderstruck II online for real money. You can work your way through the Great Hall of Free Spins to get better bonus games.
Now all you need is to find some online casinos with Thunderstruck II. You'll find several recommendations for the best casino sites with Thunderstruck II and other slot games on our website.
Why not join one and play Thunderstruck II online now?

Sign up Bonus
250% Up To $5,000
READ REVIEW
Visit Site
X