Playtech Online Casinos, Software, and Games
Playtech casino software offers an exciting collection of slots, table games, and even live dealer games. Check out one of these top-rated Playtech online casinos to start playing these exciting games now.
All of these sites offer the best casino games from Playtech. They also meet our standards for safety, security, variety, and convenience.
Online casinos with Playtech games are available in many countries, including Canada, the UK, Germany, and Australia. Unfortunately, the US is one country where Playtech casinos are not widely available.
There are several US online casinos that offer similar games, however. Check out the following page for our recommendations.
Introducing Playtech
Playtech started in 1999 in Tartu, Estonia. That was when the online gambling market was just beginning to expand. The software company launched its first casino site in 2001, and the iPoker network followed in 2004.
Thanks to the advantageous timing, Playtech software was impressively successful in the first few years. As a result, the company went public on the AIM Market of the London Stock Exchange in 2006.
Their shares initially suffered a 40% loss when the US passed the UIGEA. But Playtech bounced back, and it was listed on the Main Market of the LSE in 2012.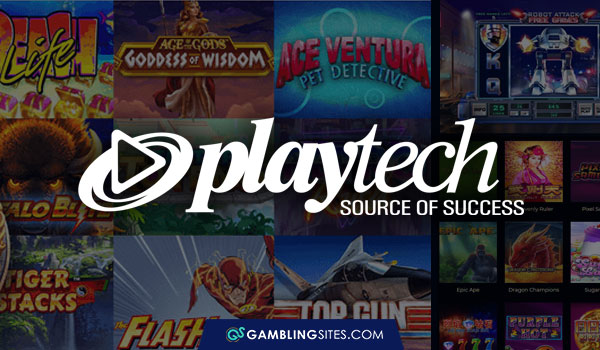 The fact that Playtech is a publicly traded company means it is subject to more regulations.
From a player's perspective, the most valuable regulation is that many of the company's records have to be made public. That means that you can find out about the financial decisions, executive officers, and other company information.
You can use this information to decide if Playtech is a company you want to support.
There are several reasons why Playtech has become such a successful corporation. The company has used effective marketing, focused on corporate responsibility, and made strategic acquisitions.
Let's explore each of these efforts in more detail.
Strategic Casino Marketing
Playtech is intentional about how it attracts new clients.
The company's marketing strategy focuses on its Omni-channel solutions that allow players to access games and account information from various devices.
Customers can access Playtech casinos online from their computers or mobile devices. Players can sign in with the same login information and pick up where they left off.
Playtech casino software also includes cabinet terminals that allow land-based casinos to offer the same games in-house and online.
Some of their most significant clients are William Hill casinos in the UK and Snai casinos in Italy.
They have also partnered with BetMGM and Parx Casino, which allows them to offer Playtech casino games in some regulated American markets.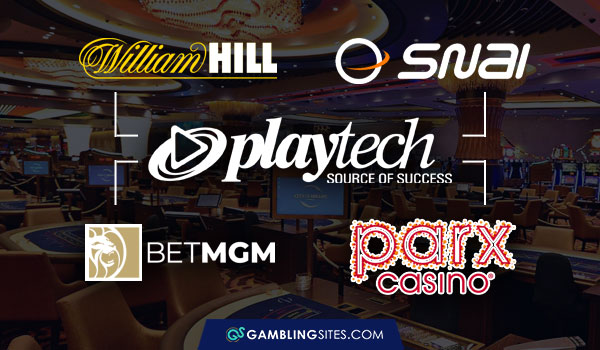 These strategic partnerships allow Playtech to cross-sell their products, attract new licensees, and increase their products.
Thanks to these effective marketing strategies, Playtech has grown to have 170 global licensees in 30 regulated jurisdictions. They add five to ten additional licensees each year.
Corporate Responsibility
As the Playtech corporation grew, the company emphasized corporate responsibility in several areas. Here are a few examples.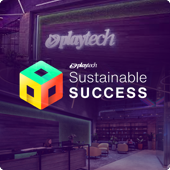 On the company's website, you can see a gender pay gap report that shows the proportion of males and females in different pay bands. It also shows the proportion of males and females that received a bonus.
The company's annual report includes information about the corporation's environmental impact and strategies they are using to reduce its carbon footprint.
Playtech takes responsibility for protecting the data of its licensees, customers, and employees. Data protection is a crucial consideration in their product design process.
The corporation has a zero-tolerance policy on bribery, corruption, and money laundering. They have training, policies, and procedures in place to prevent a lack of integrity. Playtech also works with the Gambling Anti-Money Laundering Group.
You can see Playtech's Human Rights and Modern Slavery Statement on the company website. This document outlines how they uphold human rights and ensure that they are not complicit in human trafficking.
Playtech has 6,400 employees and offices in 24 different countries. As a result, they have to emphasize the inclusion of different cultures, religions, ethnicities, and genders as part of their company culture.
The most critical aspect of Playtech's corporate responsibility is promoting responsible gambling. They have several initiatives to help their clients and customers in this area.
Their responsible gambling initiatives prevent gambling from becoming a source of crime. They also ensure that gambling is fair and protect young people and vulnerable persons from gambling-related harm.
BetBuddy is an essential part of Playtech's responsible gambling tools. It is an analytics platform that uses data mining to identify players that are at-risk for gambling addiction.
This BetBuddy software is automatically integrated into their player management software. Licensees can use this technology to meet responsible gambling regulations and get help for at-risk gamblers.
Playtech is also one of the companies that are part of the UK's safer gambling commitments.
These commitments include increasing support for the treatment of gambling addiction, creating a culture of safe gambling, and empowering customers.
Playtech corporation is committed to safe and responsible gambling and corporate responsibility in other areas. This is one reason why Playtech casinos are trustworthy.
Playtech's Acquisitions
Playtech's growth strategy has focused mainly on acquiring other gambling businesses. This partly explains why there are so many casino games by Playtech.
Every gambling business they've acquired already had dozens of games available. When Playtech acquired each business, they gained the right to sell all of those games.
Here is a timeline of Playtech's acquisitions throughout the company's history.
2006
Playtech acquires Videobet, expanding its portfolio to include land and server-based retail gambling terminals.
2006
That same year, Playtech also acquired Tribeca Tables Europe Limited. It was a poker network software provider with e-marketing that brought names like Paddy Power Poker and VCPoker to the Playtech client list.
2008 On December 3rd, 2008, Playtech acquired Gaming Technology Solutions. At the time, it was one of the largest game creators in the industry.
2010
Virtue Fusion Limited was a developer of online bingo games. Playtech acquired them in 2010.
2011
This year was the most significant year for corporate acquisitions. Playtech acquired Intelligent Gaming Solutions, PT Turnkey Services Limited, Mobenga, and Ash Gaming.
2012
Playtech sites gained access to sportsbook software when Playtech acquired Geneity Limited.
2013
The company expanded its poker portfolio by acquiring PokerStrategy.com. This acquisition enabled their licensees to access the world's largest independent poker school.
2014
By acquiring Aristocrat Lotteries, Playtech expanded its gaming solutions for Norway and Italy. This company offered server-based gaming, interactive video terminals, and server options for online clients.
2014
Playtech also acquired Psiclone Games in the same year. Their retail slot games helped Playtech expand to multiple devices.
2015
Yo-Yo Games was the home of the Game Maker Studio when Playtech acquired the company in 2015. This acquisition allowed multiple games to be developed with simple programming codes that made it easy to publish on several platforms.
2017
Eyecon was a game developer with more than 70 online casino slots and bingo games on a remote gambling server. Playtech acquired this company in 2017.
2017
One of Playtech's most significant acquisitions was the BetBuddy analytics software that allows the company to address problem gambling.
2018
By acquiring Snaitech, Playtech expanded its presence in Italy with slot machines and video lottery terminals.
Overall, Playtech acquired sixteen different companies in only twelve years. This strategy has turned many of the companies that were Playtech competitors into part of the corporation.
Almost all of those companies have contributed to the many games available on Playtech casino apps and websites. Let's take a look at some of those games now.
Overview of Playtech Casino Games
Thanks to their many acquisitions, Playtech's game collection now includes almost every type of casino game. They have everything from slots and table games to bingo and virtual sports.
Here is more information about the different games you can play on casino sites with Playtech games.
Playtech Slots
There are more than 370 games in the Playtech slots collection. Their games cover every theme imaginable, including fruit games, gems, mythology, and sports.
We won't bore you with a list of all of the slot games that Playtech offers. But we do want to point out a few of their most prominent collections.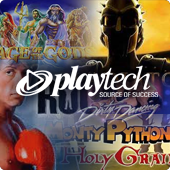 Age of the Gods: With more than twenty different titles, the Age of the Gods series is one the most extensive slot collections anywhere. Each game focuses on different gods from ancient Greek or Norse mythology. They are all connected to a progressive jackpot prize pool.
Progressive jackpots: Playtech offers more than 30 slot games with progressive jackpot prizes. These games have paid out more than $837 million in prizes to more than 90,000 players.
Branded slots: Playtech has licensing agreements with several movie studios so that they can offer branded slot games based on your favorite movies. You can play several games based on DC Comics, as well as Gladiator, Rocky, Dirty Dancing, and even Monty Python and the Holy Grail.
Most of the slots from Playtech have betting limits between $0.01 and $5 per pay line. There are typically 15-25 pay lines, but some of their more recent games have up to 243 pay lines.
Each slot game has a variety of bonus features, but they typically include free spins, wild symbols, scatter symbols, and second-screen bonus games.
All of these games are available on mobile devices through Playtech apps and mobile websites.
If you choose to play progressive jackpot games from Playtech for real money, you need to be aware of their policies. Playtech allows its casinos to offer jackpot prizes in installments.
In some cases, you can only withdraw $10,000 at a time. It could take you decades to withdraw a multi-million dollar jackpot if you can only withdraw $10,000 per week.
That shouldn't stop you from playing Playtech's slot machines. You just need to be aware of these policies before you play them for real money.
You can learn more about Playtech's slot games on our website.
Table Games from Playtech
Just like their collection of slots, the table games from Playtech offer a lot of variety. They have more than thirty table game variants available.
Almost one-third of their table games are Playtech blackjack options. In addition to traditional blackjack games, you can play Blackjack Switch, Pontoon, and Double Attack Blackjack.
Many of the blackjack games from Playtech favor the player with surprisingly low house edges.
If you play with perfect strategy, you can play Blackjack Switch with a house edge of only 0.14%. Their standard blackjack game has a house edge of 0.43%.
One of the unique blackjack variants from Playtech is Lucky Blackjack. In this game, the dealer only deals a hand for themselves. You bet on the final total of the dealer's hand.
Another third of their table games are dedicated to Playtech roulette. They have standard American and European roulette games as well as premium versions. You can also play 3D roulette, video roulette, and roulette pro.
In addition to these standard roulette games, Playtech also offers Age of the Gods roulette, 1000 Diamond roulette, and Dragon Jackpot roulette.
All of these variants have additional betting options that are linked to progressive jackpot prizes!
Here are some more examples of unique Playtech table games.
Casino Game
House Edge
Typical Betting Limits
Perfect Blackjack
0.42%
$1-$5,000
Dragon Jackpot Roulette
2.7%
3.98% on side bets
$0.10-$1,000
Hi-Lo Premium
1.02%-2.5%
$0.20-$200
Caribbean Stud Poker
2.56%-9.67%
$1-$5,000
Heads Up Hold 'Em
2.36%
$1-$1,000
Baccarat
1.06%-14.44%
$1-$1,000
Casino War
2.88%
$1-$500
Playtech Video Poker Games
Video poker might be the one area where Playtech online casino software disappoints.
They have enough games to keep average players entertained, but you will be disappointed if you are serious about video poker variations.
Here are the video poker variants from Playtech.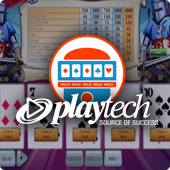 2 Ways Royals
All American
Joker Poker
10s or Better
Deuces Wild
Pick 'Em Poker
Aces and Faces
Jacks or Better
Mega Jacks Progressive
While the number of variations is somewhat limited, Playtech makes up for it by offering multi-hand games. You can play several of their games with up to fifty hands at a time.
All of the video poker games from Playtech are good choices as far as the return to player percentage goes. Each game has an RTP between 95% and 99.80%. The Two Ways Royals game has the highest RTP.
Other Casino Games by Playtech
Many of their acquisitions involved companies that operated bingo, keno, and lottery games. So you can play all sorts of other casino games from Playtech.
Bingo is the highlight of the specialty games collection. Playtech bingo network includes 100 different brands, 600 bingo options, and 300 side games.
In 2016, bingo accounted for €1.2 billion of gambling revenue across Europe. Casino games generated €3.3 billion. By comparison, Nevada bingo halls generated only $14 million in 2017.
One reason that Playtech's bingo games have performed so well is that they have omnichannel options. That means players can use the same bingo software on multiple devices.
Playtech casinos use omnichannel software to motivate players to keep playing.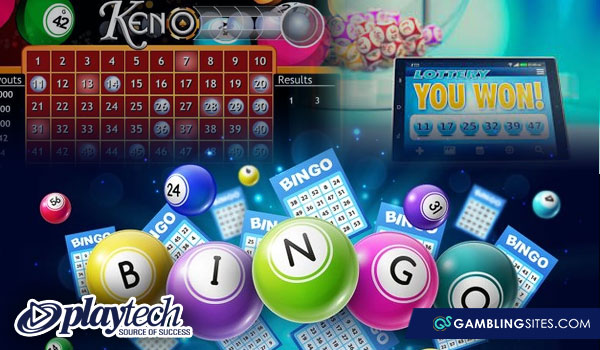 Virtual Sports are another exciting gambling option from Playtech. They use Hollywood motion capture technology and 3D game graphics to recreate sporting events.
Players can bet on horse racing, football (soccer), tennis, and basketball. These virtual sports games allow players to bet on sports that are out of season or simply play on their own schedule.
Live Dealer Casino Games by Playtech
Another way that you can play Playtech casino games for real money on your own schedule is to play live dealer games.
Thanks to their sizeable live dealer facilities, Playtech can host live casino games 24 hours a day.
Playtech has the largest next-generation Live Casino studio in the world. It opened in Riga, Latvia in 2017, and has 8,500 square meters of space for live casino games.
Here are some of the live dealer table games you can play from Playtech.
Roulette – European Roulette, Prestige Roulette, Speed Roulette, Age of the Gods Bonus Roulette
Baccarat – Baccarat, Baccarat Squeeze, VIP Baccarat, Mini Baccarat
Blackjack – Blackjack, Ultimate Blackjack, 21+3, Unlimited Blackjack, Prestige Blackjack
Casino Hold 'Em
Sic Bo
Hi-Lo
Live Age of the Gods: God of Storms
These live dealer casino games are available with native language dealers in English, Italian, Spanish, and Romanian.
In addition to hosting Playtech branded games, the Playtech live dealer studios also stream dedicated games for their various licensees.
The Playtech live dealer studio offers live dealer games with Paddy Power, Betfair, Ladbrokes, Coral, and Bet365 branding.
You can find the best online casinos with live dealer games on our website.
Other Playtech Gambling Products
So far, we have focused on Playtech casino games. But their gambling products are not limited to casino games.
Here are a few of the other gambling products available with Playtech software.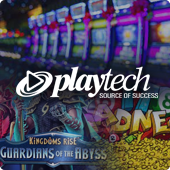 Retail Gaming – The retail gaming collection is Playtech casino games available for land-based gambling facilities. They have more than 40,000 gaming terminals around the world.
Kingdoms Rise – This collection of slot machine games is unique because players can collect tokens for every spin. Then, they can use those tokens to purchase extra game features, like multipliers. There are eight Kingdoms Rise games, and they are all connected to a progressive jackpot.
Financials – Playtech has a unique trading option for their clients. Finalto is the financial division of Playtech, and it allows clients to trade stocks, create hedge funds, and manage financial resources.
Lottery – Through some of their subsidiaries, Playtech offers video lottery terminals and other lottery games in specific markets.
In addition to these options, Playtech also offers poker and sports betting. Here is more information about each of those gambling options.
Poker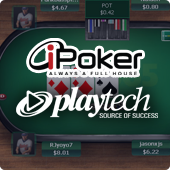 Playtech launched the iPoker network in 2004. It is still one of the largest online poker networks in the world, with up to 35,000 players during peak times.
All of the casino sites with Playtech software can offer customizable poker rooms that reflect their brand.
When you play poker on a Playtech casino site, you will compete with other players all over the world. For example, you might be playing on Paddy Power while your opponent is playing on Bet365.
The design of the games might look a little different for each casino. But the stakes, buy-ins, and game options will be the same.
Playtech poker options include cash games, speed poker, sit-and-go tournaments, multi-table tournaments, and several jackpot options.
You can play poker games such as Texas Hold 'Em, Omaha, Omaha Hi/Lo, 6+ Hold 'Em, and Soko.
Learn more about playing online poker and the games you can play by visiting our poker section.
Sports Betting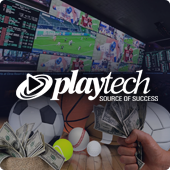 The sports betting division of Playtech includes both retail and digital sports betting options.
There are more than 60,000 retail sports betting terminals from Playtech around the world. They have 120 sports betting partners in 24 different territories.
Their digital sports betting products include in-play betting, live score, match data, and match visualizations. It is available in twenty different languages, so players from around the world can bet on the same sports.
Of course, the Playtech sportsbook is part of their omnichannel product. That means that players can place their bets on any device, using the same account they use for casino games.
In addition to a wide variety of sports betting markets, Playtech also offers race betting options. If your favorite sport isn't available, you can always try their virtual sports betting games instead.
You can learn more about sports betting and where to bet online by visiting our sports betting guide.
Our Opinion of Playtech Online Casino Software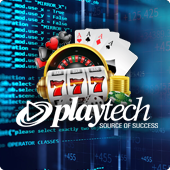 Playtech is one of the largest casino software providers in the world. That is primarily because of their corporate acquisitions.
Instead of starting from scratch with new ideas, Playtech simply merged with smaller casino companies that had their own game collections.
All of these acquisitions increased the number and types of casino games that Playtech offers. However, because they come from so many different companies, they are not always similar.
There are not many features that make Playtech casino games stand out because those features change from one game to the next. It would be nice to see more continuity between their various brands.
The collection of slot games is undoubtedly one of Playtech's greatest strengths. Their branded slot games and progressive jackpots offer exciting game opportunities.
Playtech is also really good at identifying the games that people enjoy playing. Once they find a game that does well with their players, they expand on it with massive slot series.
Age of the Gods and Kingdoms Rise are both slot machine series that Playtech developed with eight to fifteen different games in each series.
It is surprising that Playtech can create so many games without fans getting tired of the same old thing. That is a testament to Playtech's ability to find the right balance between variety and continuity.
Overall, the Playtech online casino software includes a wide variety of games with exciting variants and unique jackpots.
Whether you play Playtech casino games for free or for money, you are sure to enjoy all of the different games they offer.
Casino Software Providers Like Playtech
As thrilling as the Playtech casino games are, there are, of course, some games they do not offer. Most players will enjoy some of their games, but not all of them.
Fortunately, most Playtech sites also use other software providers. That way, their players can enjoy even more games from several different sources.
Here is a little information about some of the other casino Playtech alternatives you will find on Playtech casinos online.
Microgaming
Here is a little primer to Microgaming casino software.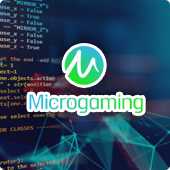 Famous for setting the world record of the largest online progressive jackpot ever paid.
Microgaming stipulates that casinos must pay progressive jackpots in their entirety instead of installments.
They have paid out more than €3 billion in progressive jackpot prizes. On average, more than 7,000 players win a Microgaming progressive jackpot every day!
This software provider offers branded games, including Game of Thrones, Jurassic Park, and Tomb Raider. They also have themed live dealer games with Playboy bunny dealers.
Microgaming is an industry leader in fair and responsible gambling. The corporation is one of the founding members of eCOGRA.
When it launched in 1994, Microgaming was one of the first online casino software companies. It has also been a pioneer with the first wide-area progressive jackpot and the first mobile casino games.
Microgaming is one of Playtech's most significant competitors. Both of these companies offer top-of-the-line casino games in regulated markets.
You can play table games, video poker, live dealer games, and slots from Microgaming. Their video poker collection is much more substantial than that of Playtech.
Progressive jackpot players are especially keen on Microgaming games. That is because they have more progressive jackpot games, higher payouts, and more player-friendly rules than Playtech.
No matter which Microgaming games you choose to play, you can trust that they will be fair. All of their games are independently audited for randomness.
Learn more about Microgaming software for casinos here.
NetEnt
Here is an overview of casino provider NetEnt.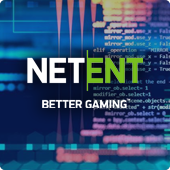 NetEnt is famous for slot machine games with a high RTP. They have more than 200 games with an RTP of 95% or higher.
They have a limited collection with only eight progressive jackpot games. But these games are some of the most popular online jackpot games.
NetEnt has some of the world's highest online jackpot payouts. They held the world record before Microgaming took the title.
Their table game collection covers the basics, but it doesn't have many unique variants to offer.
In 2020, Evolution Gaming bought 90% of the shares in Netent for €8 billion. So now you can play all of Evolution Gaming's live dealer games on NetEnt casinos.
NetEnt offers their clients several back-office tools to facilitate online gambling for their customers.
NetEnt titles like Gonzo's Quest and Starburst are some of the most popular online slot games ever. That is why the company has won several awards for its slot machine collection.
In addition to branded games based on movies, NetEnt also offers a collection of branded slots based on musicians and bands. So you can jam out with Jimi Hendrix, Guns N Roses, and Motorhead while you play the games based on these artists.
Some of the top online casinos in the world offer NetEnt software. That is because they offer hundreds of high-quality casino games.
NetEnt games are available in some US states and dozens of other countries worldwide. You can learn more about their slot machines and software on our website.
888 Casino Software
Here are some facts about 888.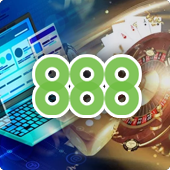 This manufacturer is part of 888 Holdings Public Limited. The corporation operates several casino sites in addition to developing software.
888 software has won the Operator of the Year award from EGR five times. It also won the Best Digital Operator award in 2014 from Global Gaming Selection.
There are 213 games from 888 software, including 147 slots and 37 table games.
888 is another one of the founding members of eCOGRA.
The company creates social casino games for players who want to play 888 casino games for free.
Many of the games from 888 are collaborations with other software providers. For example, they have worked with Next Generation Gaming, NetEnt, Evolution Gaming, and Ash Gaming in the past.
The 888 corporation started as Virtual Holdings Limited in 1997 in the British Virgin Islands. It received its first gaming license from Antigua.
At first, the company operated its own casino sites. It wasn't until 2007 that they started offering casino software for other companies to use.
Today, the company has headquarters in seven different countries, including Israel, the UK, the USA, and Gibraltar.
Their game selection includes a wide variety of slots, table games, video poker, and live dealer games. 888casino software also excels in offering specialty games, like bingo, keno, and online scratch cards.
Playtech Alternatives for US Players
Playtech, and the other three Playtech competitors we just mentioned, are not available for USA online casinos.
Because American gamblers cannot play Playtech casino games online, we want to highlight a few of the software providers that are available for players in the US.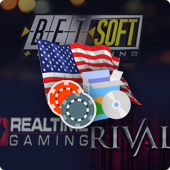 Betsoft is a prominent software provider that specializes in 3D slot games. All of their games feature cinematic-quality graphics and animations.
RealTime Gaming is another American software provider that offers slots and table games. They have an impressive collection of progressive jackpot games, including table games with jackpot side bets.
Rival Gaming specializes in interactive slot games with second-screen mini-games, progressive storylines, and other bonus features. They also make table games and video poker.
These software providers are excellent alternatives to Playtech software. They do not offer the branded games that Playtech is famous for, but they ofer dozens of other great games for you to play.
The casino games from Playtech and these other software providers offer exciting winning opportunities and hours of entertainment.
Check out one of our recommended Playtech casino sites to start playing these exciting games today!
AUGUST
Casino of the Month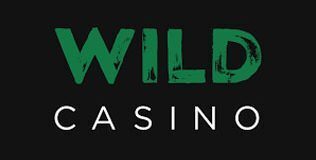 Welcome Bonus
250% up to $5,000
Read Review
Visit Site