RealTime Gaming Casino Software and Games
When you play casino games online, you probably don't give a thought to the software company that designed the games. But that is a mistake.
The software provider can make or break your online gambling experience. So, it is a good idea to familiarize yourself with the people who create your favorite games.
If you enjoy casino games like Megasaur, Cash Bandits, or Bubble Bubble, RealTime Gaming is the software provider you want to learn about.
RTG is one of the top online casino software providers worldwide, but their games are especially prominent in the United States.
We explain everything you need to know about RealTime Gaming casino software on this page. That includes information about the kinds of games they offer and what makes their software stand out.
Let's get started by exploring the top-rated RTG casino sites.
Best RealTime Gaming Casinos Online
If you know you like casino games by RTG, then you need to know where you can play them. Unfortunately, that information is not always easy to find.
We have compiled a list of the best RealTime Gaming casinos online. There are hundreds of other RTG casinos to choose from, and they will all have a similar game collection.
These five RealTime Gaming online casinos stand out because of some of the other aspects of their casino experience.
Top 5 RTG Online Casinos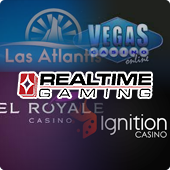 All of these RealTime Gaming casinos are licensed, safe, and trustworthy. They all have a variety of promotional offers and banking methods to make your experience easier.
You can find out more about each of these casinos by checking out our in-depth casino reviews. They cover everything you need to know about these RTG online casinos and why we recommend them.
Overview of RTG Casino Software
RealTime Gaming software includes a wide variety of casino games. They have slot machines, table games, and video poker games. You can also enjoy live dealer games from RTG and tournaments.
There are more than 300 RTG casino games, with new games introduced every month.
| | |
| --- | --- |
| Company Website | RealTime Gaming |
| Headquarters | Heredia, Costa Rica |
| Launch Date | 1998 |
| Target Markets | Worldwide, including: USA, Europe, Canada |
| Types of Game | Slots, table games, video poker, live dealer games |
When you play RealTime Gaming casino games for real money, you may notice that your bankroll lasts longer.
That is because many RTG casino games are designed so that you experience losses over time instead of all at once.
The exact house edge and theoretical Return to Player percentage vary from one game to the next. But RTG specifically designs their games so that players will keep coming back.
Some of the features that entice players to keep playing include unique variants, different kinds of jackpots, and exciting bonus features.
Most of those features depend on the games you play. There is one aspect of RealTime Gaming online casino software that applies to every game, though, and that is the company's accessibility.
Accessibility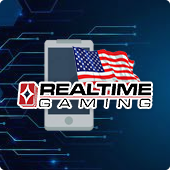 One reason that RTG is a prevalent software provider is that its software is accessible in multiple ways.
RTG casino software uses updated technology that works on mobile devices and desktop computers. RealTime Gaming casino apps allow players to access their favorite games on whichever device they prefer.
More importantly, RealTime Gaming is available in any market. Other online casino software providers only work with clients in particular markets based on the gambling laws in their area.
The United States is often one of the restricted countries because the laws that govern online gambling are confusing.
RealTime Gaming allows anyone to use their software, including online casinos in the US. They leave it up to individual clients to navigate the gambling laws on their own.
That is a good thing for players in the US because it means they can access casino sites with RealTime Gaming games.
Because other software providers refuse to work with USA online casinos, RTG casinos online are some of the only options for American players.
Unfortunately, that means that they are not held to the highest standard. RealTime Gaming can get away with offering less quality because they automatically get clients in the US.
The hands-off approach that RTG takes with its casino clients also attracts some rogue casinos. RealTime Gaming does not take responsibility for vetting its clients the way that many other software providers do.
That's why it's imperative you join a safe online casino with RealTime Gaming games.
RTG vs. Other US Casino Software Providers
Players from the United States make up a core group of people who play casino games by RealTime Gaming. Therefore, many of their games are designed with that target market in mind.
There are two other software providers that primarily work with USA online casino sites. We want to give you an overview of each of these software providers and the types of games you can expect from them.
| | | | |
| --- | --- | --- | --- |
| Features | RealTime Gaming | Betsoft | Rival Gaming |
| Overall Number of Games | 300+ | 200+ | 260+ |
| Number of Slots | 105+ | 120+ | 105+ |
| Number of Table Games | 18+ | 21+ | 10+ |
| Number of Video Poker Games | 16+ | 1 | 7 |
| Number of Progressive Jackpots | 45+ | 13 | 6 |
| Company Launch Date | 1998 | 2006 | 2006 |
| Mobile Compatible Games | Yes | Yes | Yes |
You can learn more about Betsoft and Rival Gaming software on our website.
All of these software providers have unique games to offer and different features that make them stand out. Let's explore some of the games you can play from RealTime Gaming.
Casino Games from RealTime Gaming
RealTime Gaming sites offer a wide variety of casino games, including blackjack, other table games, slots, and video poker.
One of the reasons you might enjoy using RealTIme Gaming casino apps is because they offer unique game variants that might not be available on other sites.
We will go over all of the different casino games from RTG, including the unique variants that make this software provider unique.
Blackjack
Blackjack is undoubtedly one of the most popular games in the casino. So, of course, RTG offers several blackjack options.
Here are the six blackjack variants that you can find on casino sites with RTG games.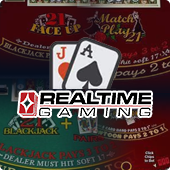 Standard blackjack
Face-Up 21
Match Play 21
Perfect Pairs
Pontoon
Super 21
When you look at the names of those variants, you might think that RealTime Gaming has created several unique blackjack variants. No other software providers offer Face-up 21 or Match Play 21.
However, the reality is that RTG has simply given other blackjack variants a new name. Face-up 21 is the same as Double Exposure Blackjack. Match Play 21 typically goes by Spanish 21.
The most unique variant that RealTime Gaming casinos offer is Super 21. This variant is sometimes available in land-based casinos with the name Super Fun 21.
Super 21 is a six-deck blackjack game where the dealer hits on soft 17. Blackjacks only pay even money, but that is because you have other ways to win.
If you take six or more cards without a score of more than 20, you automatically win. Five-card hands that score 21 also automatically win with a 2:1 payout.
You can also earn a higher payout if you get a blackjack where both cards are diamonds.
The collection of blackjack games from RealTime Gaming is varied enough to keep most blackjack players entertained.
Just don't be fooled by games that are the same as other variants with a unique name.
Table Games
In addition to blackjack, online casinos with RealTime Gaming games also offer other casino table games. That includes multiple variants and several unique games.
Here are some of the table games from RTG that you can play.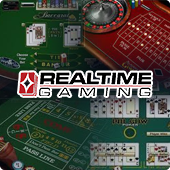 Baccarat
Craps
Roulette – American and European
Casino War
Caribbean Stud Poker
Caribbean Hold 'Em Poker (Casino Hold 'Em)
Tri-Card Poker
Pai Gow Poker
Red Dog
Another exciting and unique table game that RTG offers is Vegas Three-Card Rummy. Many different rummy variants are popular globally, but rummy games are not typically included in the casino.
The objective in Vegas Three-Card Rummy is to get fewer points than the dealer, where the points are based on card values. However, if you have a pair, a triple, or a suited run, you get zero points.
You can also play a side bet that pays out if your hand has twelve points or less.
Side bets play a prominent role in RTG table games. That is one feature that sets their games apart from other software providers.
Slots
Of course, slot machines represent the largest selection of RTG casino games. They offer more than one hundred different slots, and they introduce new slot games regularly.
RTG slots cover a wide variety of slot themes, including Ancient Egypt, classic fruit games, sports, animals, and mythology. They also have a unique collection of Christmas-themed slot games.
Here are a few of their most popular slot games.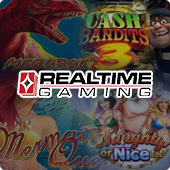 Mermaid Queen
Naughty or Nice
Bonus features are crucial in modern slot machines. RealTime Gaming software has created a few specific bonus features that make their slot games more exciting than the games from their competitors.
Feature Guarantees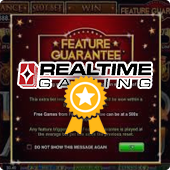 The best part of modern slot machines is often the free spins or mini-game bonus features. They typically offer the best opportunities to win big prizes.
Slot players get incredibly frustrated when they play hundreds of spins without ever triggering the bonus feature. RTG software found a way to prevent that frustration.
Some of their slot machine games come with a feature guarantee. You are guaranteed to trigger the feature within a certain number of spins.
RTG casino games with a feature guarantee have a countdown box at the top that tells you how many spins before the feature guarantee takes over.
If that countdown gets to zero before you trigger the bonus feature, the game will automatically launch the bonus feature.
Some games have feature guarantees for every 150, 250, or 500 spins. The countdown resets every time the bonus feature gets triggered.
Win-Win Feature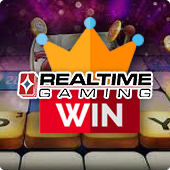 Another frustrating experience for slot players is when they finally get the bonus feature, but they don't win a significant payout. That is where RTG's win-win feature comes in.
If your winnings from a bonus feature are less than 10x your bet amount, you will get an automatic prize based on your bet amount.
The win-win feature offers a prize between 2x-250x your bet. It is a random multiplier, but there are different options based on how much you won during the bonus feature.
Both of these features address some of the situations that ruin other games. They also show that RealTime Gaming is mindful of the players' experience.
You can learn more about RealTime Gaming's slots by reading the following guide on our website.
Video Poker
Video poker variations are surprisingly lacking from many software providers. Luckily, that is not the case with RTG casino software.
Here are all of the video poker options you can play on RTG apps.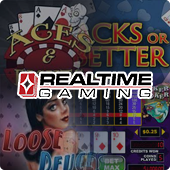 Aces and Eights
All American Poker
Bonus Deuces Wild
Bonus Poker
Bonus Poker Deluxe
Deuces Wild
Double Bonus Poker
Double Double Bonus Poker
Double Double Jackpot Poker
Double Jackpot Poker
Jacks or Better
Joker Poker
Loose Deuces
Mystery Bonus Poker
Pick 'Em Poker
Sevens Wild
Seven Stud Poker
Many of these variants are combination games. For example, Bonus Deuces Wild combines the concepts of Bonus Poker and Deuces Wild.
There are only so many ways to modify video poker games, so the fact that RTG has created so many variants is impressive.
On top of offering an extensive collection of games, RTG casinos online allow you to play several multi-hand variants. You can play a single hand or play 3, 10, 52, or 100 hands at a time.
One thing you need to be aware of with RTG online casino software is that they offer casinos multiple paytable configurations.
That means that some casinos might have better video poker odds than other casinos, even though they both offer RTG games.
If video poker is the game you are most interested in, it is worth it to search around for the best paytables.
No matter which RTG online casino you choose, you will certainly have several video poker options.
Progressive Jackpot Games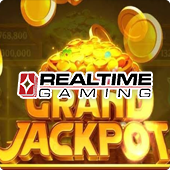 One of the features that make RTG software stand out is that they have several progressive jackpot games. Progressive jackpot games collect contributions from bets played on the same game across various casino sites.
RealTime Gaming casino games also include local jackpots that are only available at particular casinos. For example, the current jackpot for Cleopatra's Gold is $406,995. However, the jackpot for Cleopatra's Gold on Bovada is only $1,108.
It is a smaller prize because few players contribute to the prize pool and because a player won their jackpot recently.
Aztec's Millions is one of the most popular progressive jackpots from RTG. It is seeded at $1 million, but the average win is more than $2,750,000.
In addition to progressive jackpots on slot machines, RealTime Gaming also has table games with progressive jackpot side bets. Caribbean Stud Poker is the most popular option.
RealTime Gaming has paid out more than $62 million worth of jackpots to more than 6,000 players since 1998.
Specialty Games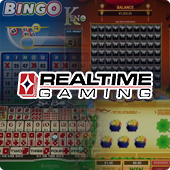 There are several other games that RealTime Gaming has produced since they started. That includes multiple scratch card games, bingo variants, keno, and sic bo.
These specialty games are not consistent. Casino sites with RealTime Gaming games may choose not to offer these games because they are not as popular as more traditional casino games.
In other cases, RTG chooses to retire games if they are not performing well. If you are interested in specialty games, you can find the most up-to-date information by browsing various RTG casino sites.
Another category of games RealTime Gaming says they produce is live dealer casino games.
Their website says they have "high performance video feed, Vegas quality operating procedures, and friendly attractive dealers."
That may be true, but we have never seen their live dealer games on any of the RTG casino apps we review.
It is not clear if they only offer live dealer games in some areas or if casinos simply choose not to use them. Either way, live dealer casino games by RealTime Gaming are not prevalent.
RTG Casino Games on Mobile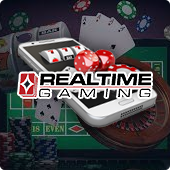 RealTime Gaming is a responsive software company that pays attention to what the players and casino clients want.
Modern gamblers demand the ability to play RealTime Gaming casino games for free and real money on the go. RTG responded by making mobile gambling their top priority.
The company has converted older games to make them compatible with mobile devices. Every new game that gets introduced is also available on their mobile platform.
That means that you don't have to sacrifice your favorite games just because you want to play on the go. All of their games are available on most tablets and smartphones.
To play RTG casino games on your mobile device, you will have to access a casino site with RTG games from your device's internet browser.
All our recommended RealTime Gaming casino sites are mobile compatible.
Once the casino is loaded on your mobile browser, you can log in with the same account you use on a computer. The games, banking methods, and bonuses are all the same.
We have tried playing RTG games on mobile casino sites. The games work just as well and have the same quality of graphics, no matter what device you choose to play on.
About RealTime Gaming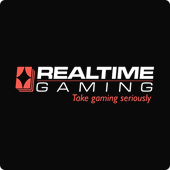 The quality of games they offer is the most important thing you need to know about RealTime Gaming. But it is also worthwhile to know a little about the company behind the games.
RealTime Gaming started as a gaming software company in Atlanta in 1998. That means they were one of the first companies to offer online casino software. They were quite successful from the beginning.
One reason for their early success is that they were one of the first companies to offer back-end solutions. Their complete software package included everything needed to create turn-key casino sites.
When the United States passed the UIGEA, RealTime Gaming was forced to shift gears, along with the entire online gambling industry.
They moved their gambling-related business to headquarters in Heredia, Costa Rica, in 2007. Around the same time, they were acquired by Hastings International, which is part of the HBM Group.
Hastings International has offices in Curacao and the Netherland Antilles. RTG has a gambling license from Curacao.
1998
RealTime Gaming launched in Atlanta, Georgia.
2006
RTG Asia launches a sister company to offer games for the Asian casino market.
2007
RTG moves its headquarters to Heredia, Costa Rica, and gets acquired by Hastings International.
2015
The company introduced the Business Intelligence Suite. It is an even more in-depth solution for online casinos, including player retention analytics, bonuses, and affiliate tracking.
Product Availability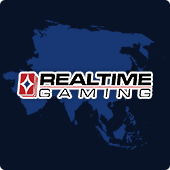 You can play RTG casino games for real money all over the world. The company takes a hands-off approach to gambling laws. They believe it is the casino's responsibility to manage online gambling laws.
Canada, the United States, and Europe are some of the markets where their games are most prevalent, but you can also play RTG games in Asia thanks to their sister company.
The online casino software is the primary focus for RealTime Gaming. Their games are available through mobile platforms, instant play websites, and downloadable software.
They also offer kiosk machines for land-based casinos and internet cafes. These internet-based kiosks can be customized based on language, currency, and game selection.
In addition to offering RealTime Gaming slot games, these kiosks have attractor loops with advertisements to attract clients. They also allow limited internet browsing capabilities.
The kiosk machine games are unique. Companies like IGT and Bally started by creating land-based slot machines, and they have introduced online versions of their popular in-person games over time.
RealTime Gaming started as a company based on online casino gambling. That gives them expertise that land-based slot providers do not have.
When RTG decided to create land-based slot machine kiosks, they incorporated the casino support and internet technology features that their online games were known for.
More Recommended Online Casinos
Many gamblers appreciate RTG casino games, but some players prefer to have access to games from several different software providers.
Here are some other USA casino recommendations. Some of these sites use RealTime Gaming software exclusively, while others use multiple software companies.
Rank
Online Casino
Exclusive Bonus
Get Started

#1

Wild Casino

250% Up To

$5,000

Visit Site

Visit Site

#2

Las Atlantis

280% Up To

$14,000

Visit Site

Visit Site

#3

El Royale

250% Up To

$12,500

Visit Site

Visit Site

#4

Bovada Casino

100% Up To

$3,000

Visit Site

Visit Site

#5

Ducky Luck

500% Up To

$7,500

Visit Site

Visit Site

#6

Super Slots

250% Up To

$6,000

Visit Site

Visit Site

#7

Drake Casino

300% Up To

$6,000

Visit Site

Visit Site

#8

BetUS Casino

200% Up To

$5,000

Visit Site

Visit Site

#9

Ignition Casino

150% Up To

$1,500

Visit Site

Visit Site
There is no reason that you have to be loyal to casino sites with RealTime Gaming games. You can create accounts on multiple gambling websites to have access to even more game variety.
Joining multiple sites also means that you can take advantage of more casino bonuses. Every site we recommend has a welcome bonus that will match your first deposit, as well as other bonuses for existing customers.
You can find out more about these casinos and how we choose which casinos to recommend to our American readers by checking out this page.
Final Verdict on RTG
RealTime Gaming is an excellent casino software provider with a large variety of games. They have more than one hundred slots and more video poker options than any other US software provider.
RTG is known for offering progressive jackpot games on both slot machines and table games. Their slot games incorporate exclusive qualities like the feature guarantee.
You can play RTG games on any device, including mobile games. They also have downloadable software and instant play platforms.
Casino operators also appreciate RealTime Gaming for several reasons.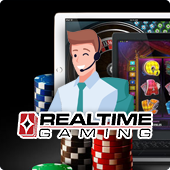 Their software is less expensive than other software providers.
The operator can choose from turn-key websites or customizable options.
RealTime Gaming offers an extensive collection of back-end software features that help casinos track players, manage bonuses, and oversee day-to-day operations.
RTG takes a hands-off approach to casino licensing and gambling laws.
Casino operators can configure the game settings and paytables with the options that they prefer. That means that the games might not be the same from one site to the next.
Overall, we think that RealTime Gaming is a quality casino software provider. Both casual and professional gamblers can enjoy the variety of games they offer.
However, we have to acknowledge that a large part of their success comes from being one of the only providers available for USA online casinos.
Their games and software options are good, but RTG would have to work a lot harder to stay competitive if more software providers were available in the US.

Sign up Bonus
250% Up To $5,000
READ REVIEW
Visit Site
X