Casinos With Microgaming Software and Games
Some of the most popular online gambling games are casino games from Microgaming. They are the creators of world-famous slots like Mega Moolah, Immortal Romance, and Thunderstruck II.
You can play Microgaming casino games for real money at any of these top-rated casino sites.
Microgaming is one of the best creators of online casino games. This company often sets the standard that other creators try to imitate.
Online casinos with Microgaming games are available in 20 different jurisdictions around the world. While they have a global reach, most of their clients are in Europe and Latin America.
Unfortunately, Microgaming casino games are not available in the United States. If you are looking for USA online casinos, check out this page for our top recommendations.
If you are lucky enough to have access to Microgaming casino sites, you may want to know more about the company that created some of your favorite casino games.
You could spend hours researching Microgaming because there is so much to know about this fantastic company. Or you could just read the rest of this page. We have done the research for you and created a guide to Microgaming casino software with everything that you need to know.
If you want to know about the company's history, the games they offer, and Microgaming casino apps, keep reading this page.
Our Guide to Microgaming Casinos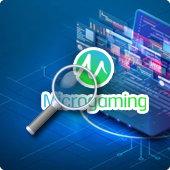 Introduction to Microgaming
Microgaming claims to be the developer of the first true online casino software and the first mobile casino software.
Other developers might disagree with that claim, but Microgaming is undoubtedly a pioneer in the online gambling industry.
Here are some interesting facts about Microgaming and how it has influenced the online gambling world.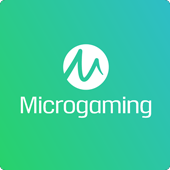 There are more than 800 different casino games by Microgaming.
Microgaming progressive jackpots have paid out more than €3 billion. On average, their jackpot games pay more than 7,000 winners per day!
More than 800 online casino brands offer Microgaming software.
All of their games are independently audited for randomness and fairness.
Microgaming collaborates with 12 independent gaming studios to create new games each month.
This software company is a founding member of ECOGRA, the Internet Gaming Council, and the All-In Diversity Project.
Microgaming's headquarters are a BREEAM-rated five-story building on the Isle of Man.
While the headquarters are on the Isle of Man, Microgaming started in South Africa in 1994. That means Microgaming has been creating casino games since people had to access the internet through a dial-up connection.
Microgaming made a name for itself by introducing the world's first online progressive jackpot game. It was called Cash Splash, and it was released in 1998.
As the online gambling industry grew, many players found themselves scammed by rogue casinos. Other players liked the idea of playing casino games on their computers, but they were nervous about sending money over the internet.
Microgaming realized that they had to do something to prevent scams and reassure their customers. So they worked with other casino developers to launch the Internet Gaming Council and eCOGRA.
Since then, Microgaming online casino software has continued to improve with innovative new games, exciting technology options, and an astounding progressive jackpot network.
Microgaming products have proved to be popular with players, clients, and industry organizations.
Microgaming's Awards
Thanks to their worldwide popularity, responsible corporate policies, and innovative products, Microgaming has won several awards. Here are a few examples.
Organization: Gaming Intelligence
Award: Hot 50 Winners
Year(s): 2019 (John Coleman – CEO), 2020 (Andrew Clucas – COO)
Organization: Awards for Excellence
Award: The Hooded Ram Brewing Co Award for Company of the Year, The Sure Award for Workplace Wellbeing, The Celton Manx Award for Corporate Social Responsibility, The Abacus Award for Innovation and Independent Thinking, 5+ more awards
Year(s): 2018, 2017, 2014, 2012, 2009, 2008 (2), 2007, 2006
Organization: Global Gaming Awards
Award: Digital Product, Digital Gaming Innovation
Year(s): 2016, 2015 (2), 2014
Organization: Casino Beats
Award: Pride of Gaming Awards – Microgaming PlayItForward
Year(s): 2019
Organization: The International Gaming Awards
Award: Great Place to Work, iGaming Software, Mobile Product of the Year, Innovator of the Year
Year(s): 2020, 2018, 2017, 2016
Organization: Women in Gaming Diversity Awards
Award: Diversity and Inclusion, Company of the Year
Year(s): 2019, 2018
Organization: EGR B2B Awards
Award: Innovation in Slot Provision, Poker Network, Mobile Gaming Software, Innovation in RNG Casino Software, Innovation in Bingo, RNG Supplier
Year(s): 2019, 2018, 2017, 2016, 2015 (2), 2014, 2013 (4), 2012 (2), 2011 (2), 2010
Organization: National Technology Awards
Award: Tech Investment Award
Year(s): 2018
Organization: Malta Gaming Awards
Award: Slots Platform of the Year
Year(s): 2018
You can see a complete list of awards that Microgaming has won on their company website.
It is impressive that organizations across several disciplines recognize Microgaming casino software. They are a leader in the online gambling world, but they are also leaders in several other areas.
The company is continually recognized for excellence in technology, online gambling, diversity, and corporate responsibility.
Independent Gaming Studios
Most online casino software providers have a collection of 200-300 games. Microgaming software includes more than 800 different games.
How does Microgaming create so many more games than all of its competitors? The simple answer is that they don't do it by themselves. There are twelve additional independent studios that create games exclusively for Microgaming.
Here is a little information about each of Microgaming's partner studios.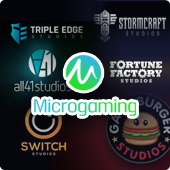 Triple Edge Studios is a small game development studio specializing in internationally produced games available on multiple platforms. Some of their games include Poseidon Ancient Fortunes, Absolootly Mad, and Sisters of Oz.
Stormcraft Studios is a small South African company specializing in 3D slot graphics and branded games. You can play Thunderstruck, Immortal Romance, and Fortunium from Stormcraft Studios.
All41Studios is an Estonia-based company that focuses on creating mobile games for Microgaming powered casinos. Shamrock Holmes, Book of Atem, and Alchemy Fortunes are a few of the games from All41Studios.
Veterans of the online gambling industry started Slingshot Studios in 2016. Their game collection includes Banana Odyssey, A Dark Matter, and Game of Thrones Power Stacks.
Game developers with experience in both land-based and online gambling started Fortune Factory Studios. They focus on developing new twists on old themes and games. Tiki Mania, Mystic Shrine, and Aliya's Wishes are a few of their games.
Switch Studios is a Microgaming partner that exclusively develops table games. They have created unique variants, like multi fire roulette and Atlantic City blackjack.
Pulse 8 Studios specialize in creating online slots with an Asian flair. Many of their games appeal to the Asian casino sites with Microgaming games. Their games include Lucky Twins Jackpot, Relic Seekers, and Carnaval Jackpot.
Gameburger Studios create bold games that are similar to the games you might find in a Vegas casino. Hyper Joker, Tarzan and the Jewels of Opar, and Hyper Gold are a few of their games.
Aurum Signature Studio creates customized slot games with specific branding to reflect Microgaming casinos. Their games are only available on select casino sites.
Alchemy Gaming uses analytics and metrics to create unique slot games, like Goldaur Guardians, 10,000 Wishes, and Africa XUp.
Neon Valley Studios create Vegas-style slots, like Queen of Alexandria, Augustus, and Noble Sky.
Buck Stakes Entertainment is another South African gaming studio that specializes in immersive gambling experiences. This company started in 2021, so they are the most recent addition to the Microgaming partners list.
Each of these studios is an independent contractor. They are not Microgaming subsidiaries.
Microgaming has convinced each of them to sign an exclusivity agreement that means they cannot sell their games to other software providers.
While these studios create fantastic games, they would not be able to get their games into players' hands if it weren't for Microgaming's expansive network of casinos.
It is interesting to note that Microgaming still controls some aspects of the games.
For example, Absolootly Mad and Fortunium are both games that are connected to the Mega Moolah jackpot network. They are both on the same network, even though different studios designed them.
ECOGRA and Fair Gambling
Microgaming is one of the founding members of eCOGRA, which is an acronym for e-Commerce and Online Game Regulation and Assurance.
eCOGRA is an independent testing and certification organization. Here are a few of the services that eCOGRA offers to its clients.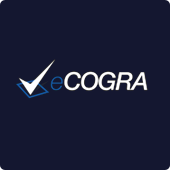 Game Testing – eCOGRA tests and audits individual games to make sure they are random and fair. They also inspect and test live dealer casino games.
Information Security Reviews – The organization helps online casinos and software providers meet the privacy and security requirements of their local gambling laws.
Updates and Changes – When various gambling jurisdictions update or change their gambling laws, eCOGRA helps online gambling companies meet the new requirements without interrupting their operations.
Platform Certification – eCOGRA helps new casino sites get their platforms certified to avoid compliance issues and optimize efficiency processes.
Random Number Generator Testing – Online casinos rely on RNG software to determine the outcome of their digital games. eCOGRA can help by testing the RNG software to make sure it is working correctly.
RTP Validation – eCOGRA helps software companies calculate and report the anticipated return to player percentages for their games.
Player Disputes – If a player believes an online casino cheated them, they can reach out to eCOGRA to act as mediators. eCOGRA will investigate the situation and help players get the payout they deserve if the online casino was unfair.
Those are just a few of the services that eCOGRA offers. To sum it all up, eCOGRA helps inspect, test, and audit every aspect of an online casino site and reports that information to licensing authorities.
While Microgaming worked with other software providers and online casinos to formulate eCOGRA, it is an independent company. Microgaming was involved in management from 2003 until 2011.
In 2011, eCOGRA was bought out by other management professionals to guarantee its objectivity in the online gambling industry.
Today, Microgaming is a client and member of eCOGRA, but the two corporations are entirely separate.
Nevertheless, Microgaming was integral to the start of eCOGRA. The software company recognized a need for safe gambling options, created a solution by founding eCOGRA, and saw it through until the organization could operate independently.
Microgaming's commitment to fair, safe, and responsible gambling measures has not waivered since they helped start eCOGRA in 2003.
Timeline of Major Events in Microgaming's History
Since it launched in 1994, Microgaming has nearly three decades of experience in the online gambling industry. They have had several significant accomplishments since then.
We won't go over ALL of the events that are part of Microgaming's history, but here are a few highlights.
1994
Microgaming started and created the first online casino game.
1996
The software provider was a founding member of the Interactive Gaming Council. It is a group of online gambling companies that work together to address issues in the industry.
1998
Cash Splash was introduced by Microgaming. It was the world's first online progressive jackpot game.
2003
eCOGRA was founded by Microgaming and several other software providers.
2004
The software provider introduced the first mobile casino software years before many of Microgaming's competitors would even consider mobile games.
2005
Microgaming introduced its first branded slot based on Lara Croft: Tomb Raider.
2006
Mega Moolah, Microgaming's highest-paying progressive jackpot game, was introduced for the first time.
2008
Two of Microgaming's slot games featured innovative designs. Cashapiller was the first slot game with 100 pay lines. MySlot was another game that the company released. It allowed players to upload their own graphics for a personalized game.
2013
Quickfire Bingo launched, creating a live bingo network with instant liquidity and Microgaming side games.
2014
Microgaming became the first company to release a slot game for a wearable device. They re-engineered their popular Thunderstruck slot for smartwatches.
2014
PlayItForward is a corporate and social responsibility initiative that Microgaming launched in 2014. It supports community events, environmental responsibility, and the arts.
2016
Microgaming created an apprenticeship program to help young people develop leadership skills and eGaming experience.
2018
Microgaming became a founding member of the All-In Diversity Project, an organization aiming to increase diversity in online gambling corporations.
2019
IWG, a game supplier in London, struck a deal with Microgaming to convert several of its most popular games to instant-win games.
2019
Square Eniz and Microgaming renewed their licensing agreement that allowed Microgaming to create games based on Lara Croft: Tomb Raider. They announced that they would add a third title to the game series.
2020
This year was one of Microgaming's most exciting years for progressive jackpots. They paid out more than $30 million throughout the year and had at least one 7-figure winner seven months in a row.
2021
Mega Moolah pays out another world record jackpot win when a player in Belgium won big on Absolootly Mad. Microgaming set the previous record in 2015.
Microgaming Gambling Products
Microgaming has a wide variety of gambling products. The most prominent product is their collection of casino games, which we will explore in the next section.
Throughout the company's existence, they have also created several other gambling products. However, several of their less popular products have been phased out in recent years.
For example, Microgaming Sportsbook launched in 2006. It offered betting on football, tennis, horse racing, and other sports in 25 different currencies. This product is no longer available, but it is unclear when it was phased out.
The Microgaming Poker Network started in March of 2003. It grew rapidly through tournaments and World Tour events and earned Microgaming several awards for the best poker software. However, Microgaming closed the poker network division in 2020. Most of the poker sites that were on the network joined Playtech's iPoker network.
The Microgaming bingo network was launched in 2004. It allowed players to interact with other players instead of merely offering RNG games.
Despite gaining large clients in 2018 and hiring a new managing director of bingo in 2019, the bingo network did not generate enough revenue for Microgaming. They phased it out in 2020, just a few months after the poker network closed.
Many players are disappointed that Microgaming has discontinued these products. But you can still enjoy poker, bingo, and sports betting from different software providers on Microgaming casinos online. That is because of their Quickfire software platform.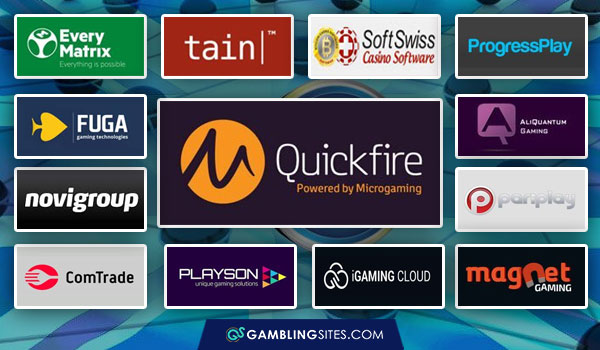 Most Microgaming sites operate on the Microgaming Viper platform. Microgaming handles all of the back-end operations on these sites, from player management to promotions.
Quickfire allows casino sites to integrate Microgaming casino games with software from other companies. That means you can play casino games from multiple providers, all on the same site.
Some Microgaming online casinos also offer other products, for different types of gambling. Typically, Microgaming casino sites offer the full range of Microgaming casino games, whether they use the Quickfire platform or the Viper platform.
Online Casino Games by Microgaming
There are several reasons that Microgaming's casino games are so popular. Here are a few of the top reasons.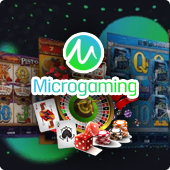 Microgaming has 18 progressive jackpot slots, with thousands of winners every day. They regularly add new games to their collection.
You can play several branded slot games from Microgaming, including Playboy, Jurassic Park, Terminator, and Lara Croft.
All of Microgaming's casino games include high-definition graphics and animations.
Microgaming slots come in all shapes and sizes. Their collection includes games with a range of pay lines from 5 to more than 1,000.
Microgaming has more than 70 table game variants, including live dealer games.
No matter what type of casino games you are interested in, there is a good chance that Microgaming offers it. They have slots, table games, live dealer games, video poker, and specialty games.
Let's explore a few of their most popular game categories.
Microgaming Progressive Jackpot Slots
Slot machines are Microgaming's specialty. They have more than 650 individual slot titles! You can learn more about Microgaming's slot machines on our website.
With so many games to choose from, you are sure to find various themes, betting limits, and features that capture your attention.
Microgaming was the first company to create an online progressive jackpot game. It was the Cash Splash game that they introduced in 1998.
Since then, Microgaming has continued to focus on offering the best progressive jackpot slots. They have three primary jackpot pools, with several games in each collection.
Mega Moolah is their most popular jackpot series because it is responsible for multiple world record payouts. There are nine titles in the Mega Moolah collection.
WowPot! is another series with six different games. Book of Atem and Sisters of Oz are two of the most popular games in this series.
Major Millions is their smallest collection, with only two games eligible for the prize.
All of these progressive jackpots offer six-figure payouts or higher on the top prizes. On average, Microgaming progressive slots payout 5.4 times per MINUTE.
Most of those payouts are mini jackpots that typically offer prizes between $100-$1,000. Mega jackpots payout far less often. Those are the ones with six-figure payouts or higher.
Here are some of the most popular progressive slot games from Microgaming.
Mega Moolah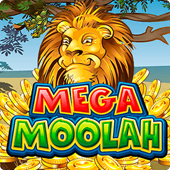 While there are nine different games in the Mega Moolah collection, the one that started it all remains the most popular.
Mega Moolah is an African safari-themed slot game. It is a 25-pay line slot with a maximum bet of only $6.25. The base game is relatively simple, but it does have multiplier wilds and a free spin feature.
To win the jackpot, you need to spin the jackpot wheel, which shows up randomly at the end of any paid spin.
If you are lucky enough to spin the jackpot wheel, you are guaranteed to win one of four progressive jackpots.
You only have one chance to win the mega jackpot, while there are eight chances to win the mini jackpot.
Wheel of Wishes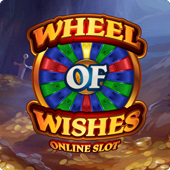 The Wheel of Wishes slot game is an Arabian desert-themed slot with symbols like a genie's lamp and a treasure chest. It has ten pay lines and a 93.34% RTP.
Wheel of Wishes is connected to the WowPot! collection. To win the jackpot, you first have to activate the power spins by getting two or more scatter symbols.
If you can get the scatter symbol to appear stacked on the center reel during the power spins, you get to spin the jackpot wheel to earn one of four jackpots.
You can increase your odds of winning the jackpot by activating power mode. It turns any spin into a power spin, but you have to pay more for power mode spins.
African Legends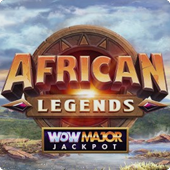 African Legends is one of Microgaming's newest progressive jackpot slots. It was released in October 2020.
This game features rolling reels. When you win, the winning symbols will disappear, and new symbols will take their place. That will continue until you have no winning symbols.
You can earn multipliers on all of your payouts depending on how many consecutive wins you get. If you get eight wins in a row, you will automatically win the Wow Major Jackpot.
Unlike other progressive games from Microgaming, African Legends only has one jackpot prize level available.
Video Poker Games by Microgaming
With more than fifteen different variants, Microgaming's video poker collection is extensive. Their collection includes both classics and unique varieties.
Many of Microgaming's video poker games are available in multi-hand varieties on Microgaming casinos online.
Here are a few of their most popular options.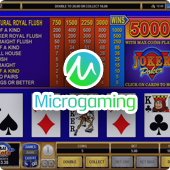 All Aces Poker is a classic game where you earn extra payouts for four-of-a-kind hands. Microgaming's All Aces Poker game has a generous paytable and a 92% payout percentage.
Tens or Better is one of the unique video poker variants that Microgaming offers. It is similar to Jacks or Better, but you have one extra chance to win. The paytable reflects that extra chance to win, and there is a significant difference between the royal flush and straight flush payouts.
Deuces Wild Flash Poker is another classic video poker game with a Microgaming twist. The payout percentage is 99.37%, and this game has a double-up option that allows you to double your winnings.
Supajax was the first video poker game to include a progressive jackpot. It is unique to Microgaming. There is an additional Supajax card in the deck. You can win the jackpot if you get the Supajax card and four jacks.
Video poker is a very simple game, so there are not many ways that you can add variety. Fortunately, Microgaming has incorporated generous paytables, gamble features, and jackpot options into its collection.
Microgaming Table Games
Slots might be the main focus, but Microgaming software doesn't neglect table games. They have an entire studio contract with Switch Studios dedicated to digital table games in particular.
You can play more than 30 different blackjack games, eleven roulette variants, and five different types of baccarat.
Many of these games are updates of classic games with new graphics or increased betting limits.
For example, the gold series games have the same rules as traditional table games, but they have enhanced graphics and sound effects.
In addition to offering revitalized graphics, there are a few table games that Microgaming offers that you won't find from other software providers.
Here are a few of Microgaming's unique table game options.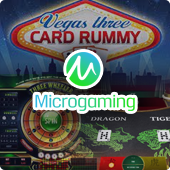 Vegas Three-card Rummy is a game where you compete against the dealer to get the fewest points. Rummy melds have zero points, and other cards get points based on their number value.
Three Wheeler is a unique wheel game where you have to bet on how three spinning wheels will land. Each wheel has six numbered spaces. You can bet on singles, doubles, or triples.
Dragon Tiger is a simple card game where you bet on which hand will get the highest card.
All of the table games from Microgaming feature high-quality graphics and an authentic casino atmosphere.
Live Casino Games from Microgaming
In addition to digital table games, you can play live dealer casino games from Microgaming. Their live dealer studios feature well-trained, professional, and attractive dealers.
You can choose your live dealer game based on the dealer you like best or the betting limits you prefer.
Here are some of the live dealer games that Microgaming offers.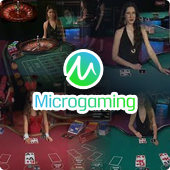 Fortune Finder
Baccarat
Roulette
Blackjack
Casino Hold 'Em
Sic Bo
One of the most exclusive options that Microgaming offers are Playboy branded live dealer games.
These games follow the same rules as traditional table games, but the dealers are all attractive women in Playboy bunny costumes.
More Microgaming Games
Microgaming also has several specialty games, including online scratch cards, bingo games, and casino poker variants.
When Microgaming announced that they were closing down their poker network, they emphasized that they were entering a new age of poker games.
That new age seems to still be in the works, but in the meantime, Microgaming has added some new casino poker variants.
Casino poker games are different from traditional poker because they force you to compete against the dealer or the house instead of other players.
Similarly, while you can't play bingo on Microgaming's live bingo network, they have a few digital bingo games that are still available.
Here are some of the top specialty games from Microgaming.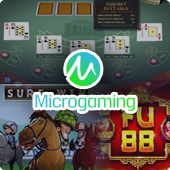 Hold 'Em High Gold Series is a multi-hand casino poker game where you earn a payout based on the five-card poker hand you create.
Hold' Em Poker is the latest casino poker game from Microgaming. It is a house-banked variant of Texas hold'em, but Microgaming has three versions with different limits and payouts.
Sure Win is one of Microgaming's online scratch cards. It is based on a horse race, where one jockey has better odds of winning.
You can also play scratch cards based on some of Microgaming's most popular slot games, including Avalon and Immortal Romance.
FU 88 is an Asian-themed bingo game from Microgaming. They also offer classic Pachinko that will appeal to Japanese players.
Microgaming also offers some interactive casino games, like the Incredible Balloon Machine. These games are similar to slot machines, but the outcome is based on the player's actions.
For example, instead of simply pressing the spin button, players have to press and hold it. They earn prizes based on when they let the button go.
Microgaming Casino Apps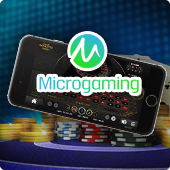 Microgaming was the first online casino software company to offer mobile games.
They started offering mobile casino games in 2004, while many of their competitors did not launch mobile games until 2010 or later.
Today, all of their games are released for both computers and mobile devices at the same time.
You can access Microgaming casino sites from your mobile internet browser. In addition, some casinos also offer Microgaming apps that you can download to your device.
The games are the same whether you download an app or use a mobile casino site. Downloadable apps are programmed to work better with specific devices, while mobile sites are available for every device.
In addition to offering casino games on smartphones and tablets, Microgaming has also pioneered games on other modern technology.
You can play some of their slot machine games right from your smartwatch. They have also worked with Oculus to create virtual reality casino games, including VR roulette.
These VR and smartwatch games have not been as popular as mobile casino games. But that could change as the technology becomes more available.
Either way, Microgaming is undoubtedly a pioneer in mobile online casino games.
Visit our casino apps page to find the best Microgaming casino app.
Microgaming Casino Software – Final Verdict
Microgaming is one of the world's best casino software companies. They have proved themselves time and again by being the first to introduce new games and by offering world-record jackpots.
The company is one of the oldest software providers in the industry. Yet, they have survived the ups and downs of the industry because they are innovative and adaptable.
Slot machine players love Microgaming software because there are so many games available. The same goes for players who want to win life-changing progressive jackpots.
Here are some specific casino games we recommend for Microgaming players.
| | |
| --- | --- |
| If you like… | Try this Microgaming Game |
| Vampire romances | Immortal Romance |
| Life-changing jackpots | Mega Moolah |
| Single-reel Re-spins | Book of Oz |
| Multiple free spins features | Thunderstruck II |
| Branded Slot Games | Brides Maids |
Of course, if you are unsure of our recommendations, you can always play Microgaming casino games for free to see if you like them before you play.
Alternatives to Microgaming Powered Casinos
Microgaming casino games are exciting and thrilling, but they are not available to players everywhere.
If you can't access Microgaming casino sites, or you want additional gaming options, check out these other casino software providers.
Now that you have read our guide to Microgaming online casino software, it should be evident why this company is such a leader in the online gambling industry.
Check out one of our recommended Microgaming powered casinos to start playing their games today.
August
Casino of the Month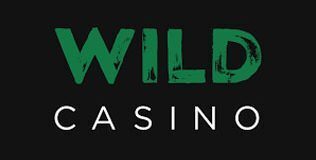 Welcome Bonus
250% up to $5,000