Review of NetEnt's Motörhead Slot
Motörhead is the legendary, Grammy-winning rock and roll speed metal band formed by Ian "Lemmy" Kilmister.
The band included various musicians, but Lemmy, Phil Taylor, and Eddie Clarke were the primary members. They had an impressive career that spanned more than four decades.
Between the 1970s and the 2000s, Motörhead released 22 studio albums, 12 compilations, ten live recordings, and five EPs. Ace of Spades was one of their most definitive albums.
They also inspired the Motörhead casino slot game from NetEnt. The game was released as part of the NetEnt Rocks collection in 2016, one year after the band's founder passed away.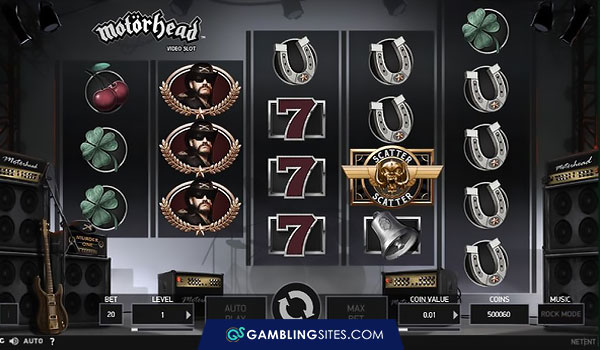 It is a 76-pay line game that features mystery symbols, stacked reels, and a free spins feature. You can win up to 11,400 coins on a single spin!
Those bonus features are exciting, but the main attraction of this game is rocking out to Motörhead music while you play. Our Motörhead review tells you all about this rock and roll game and what you can expect.
Motörhead Slot Overview
The Motörhead slot game features a unique reel structure. It has five reels, but the reels are different sizes. Starting from the left, the first two reels have three rows each. Reels three and four have four rows, and the last reel has five rows.
Other than the distinctive setup, Motörhead is a standard slot machine game with 76 fixed pay lines. You can bet up to ten coins per spin, and the coin values range from $0.01-$1. All bets are multiplied by 20, so the minimum bet per spin is $0.20, and the game's max bet is $200.
Here are a few more key details about the Motörhead online slot.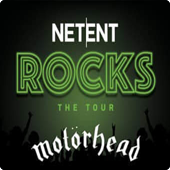 Theme: Musicians/Bands – Motörhead
Manufacturer: NetEnt
RTP: 96.98%
Reels/Rows: 5 reels, 3-4-5 rows
Paylines: 76, fixed
Minimum bet: $0.20
Maximum bet: $200
Maximum prize: 11,400 coins
Progressive jackpot: No
Volatility: Low
Mobile compatible: Yes
Theme, Symbols, and Paytable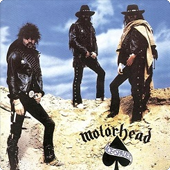 This game is inspired by the band Motörhead and their music. You can see their influence on the game's design.
The reels are set up on a stage with amplifiers and the band's drum set behind them. When you win, spotlights will flash across the screen, making you feel like you are at a Motörhead concert.
Of course, the most apparent aspect of the theme is the music. You can turn on the "rock mode" feature to listen to Motörhead songs while you play.
Here are the songs included as the soundtrack of the Motörhead online slot game.
Aces of Spades
Killed by Death
Iron Fist
Overkill
All these songs were performed by Motörhead, published by Motor Music LTD, and sold under the EMI Entertainment World Inc record label. They were all written by various members of the band.
The symbols on the game also reflect the Motörhead theme. Most notably, the mystery symbol is the band's logo, Snaggletooth.
There is also an Ace of Spades wild symbol that can replace any symbol other than the scatter, and a Snaggletooth scatter symbol. Lemmy himself is the highest-paying symbol.
All the remaining symbols are classic slot machine symbols, including bells, sevens, clovers, stars, and cherries.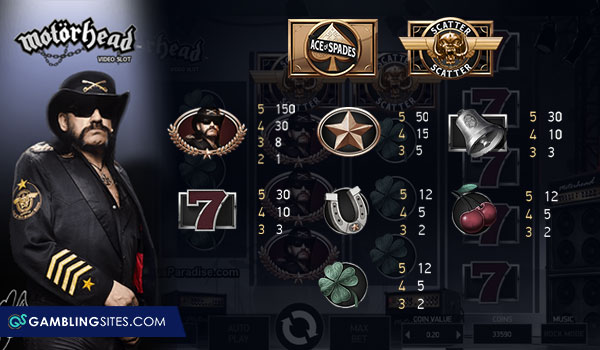 These symbols have an edgy rock and roll design, but they do not represent the theme as well as the special symbols.
NetEnt could have used guitars, microphones, and other band members instead of ordinary slot machine symbols. Choosing symbols that relate to the band would have better represented the theme.
Features on the Motörhead Slot
There are several bonus features in the Motörhead game. We want to continue our Motörhead slot review by explaining more about those features.
But first, we need to tell you about how much you can win in this exciting game!
What Is the Maximum Win on Motörhead?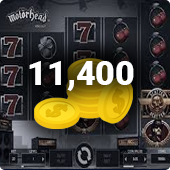 The maximum win on a single spin is 11,400 coins. That is a surprisingly high jackpot considering that the highest-paying symbol only pays 150 coins for five in a row.
It seems impossible to win more than 11,000 coins when the max symbol prize is so low. The only way to win the maximum prize is to get the Lemmy symbol on multiple paylines.
Fortunately, the game has a built-in feature that makes it easier to win big. All the symbols are stacked symbols that can take up an entire reel.
Stacked symbols make it easier to win because multiples of the same symbols appear next to each other, but they are on different pay lines.
You can earn multiple payouts for the same symbol as long as they are on separate pay lines.
If you can get the Lemmy symbol to take up all the spaces on all the reels, you could win the max prize. But only if you play Motörhead for real money.
The wild symbol and mystery symbol features make that more probable than you might expect.
Now that you know about the maximum payout, let's talk about the features. There are two bonus features on the Motörhead online slot machine.
Free spins
Mystery symbol
The mystery symbol also includes the bomber feature. They go together because they are two versions of the same feature.
Mystery symbols are available on the base game and the free spins reels, but the bomber feature is only available on the base game.
Let's continue our review of the Motörhead slot by exploring these features in more detail.
Mystery Symbol and Bomber Feature
Snaggletooth, or War Pig, is the band's logo and the mystery symbol in the game. At least one reel on every spin will have stacked mystery symbols.
Depending on where that reel lands, you could get between zero and five mystery symbols on a single reel. You can also get multiple mystery reels.
At the end of the spin, all the mystery symbols will turn into another randomly selected pay line symbol. It could be the cherry, or the clover, or Lemmy himself. The mystery symbol could also be the Ace of Spades wild symbol.
Stacked mystery symbols can increase your payouts when they line up with other symbols on the reels.
The bomber feature is another feature you can get when you play Motörhead online. It is activated randomly at the beginning of any base game spin.
When the bomber feature begins, red and white spotlights flash across the screen, and you will hear bomb siren sounds.
Each bomb adds a cluster of mystery symbols to the reels, with a guarantee of at least ten mystery symbols. Then the reels continue to spin, and the mystery symbol gets revealed.
While the bomber feature adds a lot of hype, it is really just another form of the mystery symbol reels. There are only two differences between the mystery reels and the bomber feature.
The first difference is that the mystery symbols appear in clusters instead of stacked on a single reel. Second, the bomber feature guarantees at least ten mystery symbols, while the mystery reels offer no guarantees.
Both features increase your chances of getting higher payouts because all of the mystery symbols turn into the same random symbol.
Free Spins Feature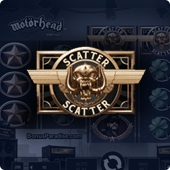 There is another Snaggletooth symbol on the Motörhead real money slot. It is the scatter symbol.
This scatter symbol only appears on the third, fourth, and fifth reels. If you get three scatters on a single spin, you will get ten free spins.
During the free spins, the Ace of Spades wild symbol can appear as a stacked reel like the mystery symbol.
So, some of the reels may have stacked wilds, while others will have stacked mystery symbols. You can even get one reel of wilds and another reel of scatter symbols during the same spin.
The free spins feature on the Motörhead slot machine is an excellent way to get some significant wins without paying for additional spins. But it is not nearly as exciting as the mystery symbols feature.
Other Slots in the NetEnt Rocks Collection
Motörhead is one of three slot games in the NetEnt Rocks collection. All three of these games are branded slots based on famous musicians or bands.
They were released in 2016 as part of Net Entertainment's twentieth anniversary.
You might expect these games to be similar since they are part of the same collection. But the only thing they have in common is that they each focus on a particular band and feature their music.
Here is a comparison of the games in the NetEnt Rocks collection. You can also check out our in-depth reviews to find out more about these other games.
Motörhead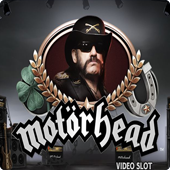 Wild Symbols – Ace of Spades
Scatter Symbol – Snaggletooth Scatter
Bonus Features – Mystery Reels, Bomber Feature, Free spins with stacked wilds
Paylines – 76
Maximum Prize – 11,400 coins
Jimi Hendrix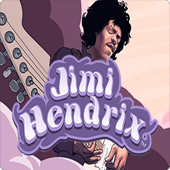 Wild Symbols – Hendrix Headshot
Scatter Symbol – Jimi playing the white guitar
Bonus Features – Pick-and-click game, Multiple free spin features, Purple Haze feature, Red Guitar re-spin
Paylines – 20
Maximum Prize – 8,000 coins
Guns n' Roses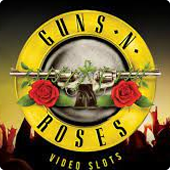 Wild Symbols – Bang Logo, Appetite for Destruction Wild
Scatter Symbol – Bonus Wheel
Bonus Features – Encore Free Spins, Crowd Pleaser Bonus Game, Solo Multiplier, Legend Respins
Paylines – 20
Maximum Prize – 1,250 coins
Each of these games will appeal most to players that are fans of the bands' music. They all have a unique set of bonus features that are worth checking out, even if you don't care for the music.
The Motörhead online casino slot has fewer bonus features than the other two games in the NetEnt Rocks collection. But it has more paylines and a higher payout.
We also noticed that the Motörhead game is the only one to feature a unique reel structure. The other two games both have standard five-by-three reels.
If you like all the bands equally, you will probably enjoy all these games. Taking the music out of the equation, the Motörhead slot is best for people who like low-volatility games with more pay lines.
Online Casinos with Motörhead
Before you can enjoy the game, we need to tell you where to play Motörhead. This game is available on most NetEnt casino sites.
NetEnt does not operate in some countries, including most of the United States. Players in those restricted countries cannot play NetEnt games for real money.
However, you can play the Motörhead slot for free. NetEnt has a demo version on its website, and several other casino sites allow you to preview the game without creating an account.
If you do have access to online casinos with Motörhead, you can play it on your computer or mobile device.
Motörhead Slot Review Conclusion
The Motörhead casino slot was made for fans of the band. If you enjoy their music, you will love playing a game with their music in the background.
But the game has to offer something more than just good music. So, we want to wrap up our review of Motörhead by sharing our opinions on the game features and design.
RTP and Volatility
Motörhead slot machines have an RTP of 96.98% and a low-volatility design. The RTP is on the higher end, so you should have good odds of winning when you play Motörhead online for real money.
Low volatility slots offer more frequent wins, but the wins do not offer the massive prizes you might find on high volatility games.
The stacked mystery symbols on the Motörhead game make it easier to win more often. That is especially true because there is at least one mystery reel on every single spin.
Mystery reels don't guarantee that you will win, but they definitely improve your chances. The value of those wins depends on which symbol the mystery symbols turn into.
Lemmy is the highest-paying symbol in the Motörhead slot game. But five Lemmy symbols in a row only pays out 150x.
In comparison, the highest-paying symbol on the Guns N' Roses slot pays 750x for five symbols. Some games offer 1,000x or more for the top symbols.
So, the only way to win big on the Motörhead game is to get combination payouts on multiple pay lines.
Overall, the higher RTP means that you have good odds of winning something, but you have to know that low-volatility games do not offer the highest payouts. You will want to keep playing because you win often, but those wins might not be particularly valuable.
Graphics and User Experience
There is no doubt that the Motörhead online slot has a rock and roll theme. The flashing lights, amplifiers, and musical instruments will make you feel like you have a front-row seat at a concert.
Turning on rock mode to listen to Motörhead songs while you play completes that concert experience.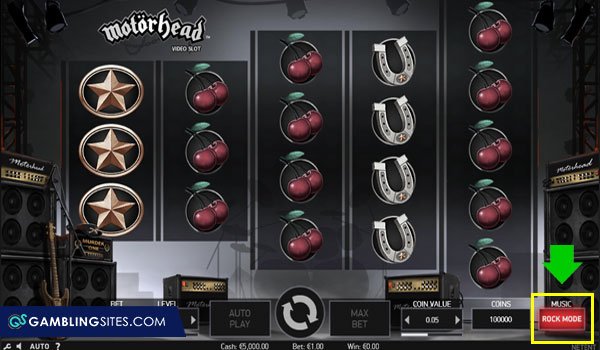 However, if you replaced the Snaggletooth symbols and changed the music, it could easily represent any rock and roll band. There is not much imagery that is specific to Motörhead, and we think that is a missed opportunity.
The game is easy to figure out and start playing. You can change your bets, turn on the music, and set the autoplay features from the game's main screen.
We appreciate the unique reel structure with three, four, and five rows. It makes the game unique without adding too much confusion.
Motörhead Bonus Features
Bonus features are vital to keeping players interested in a game that is otherwise very repetitive. Unfortunately, the real money Motörhead slot falls short in this category.
The mystery reels definitely increase your chances of getting more frequent payouts. It is beneficial to the player that there is at least one mystery reel on every spin. But they don't really add anything that makes the game more interesting.
After you have been playing for a while, the mystery symbols just seem like any other symbol.
NetEnt wants you to think that the bomber feature is another bonus, but it is really just a different format of the mystery reels.
The free spins feature is another bonus feature on the Motörhead casino slot machine. We would be disappointed if it weren't included, but nothing makes this feature stand out from other free spin features.
Compared to the other games in the NetEnt Rocks collection, the bonus features in the Motörhead game are lackluster. They may give you a better chance of winning, but they are not creative or exciting.
Of course, none of that matters if you enjoy listening to Motörhead music. The music is the primary reason that people want to play the Motörhead slot online.
That wraps up our Motörhead slot review. If you'd like to check it out, then visit one of our recommended NetEnt casinos.

Sign up Bonus
250% Up To $5,000
READ REVIEW
Visit Site
X