Discover the Best iPad Casino for 2022 (and How You Can Get Started Today)
Let me take a wild guess and say that you're probably reading this page from your iPad.
And why wouldn't you be?
Mobile devices have changed how we do everything. How we communicate. How we access information. How we build businesses. How we shop.
And how we gamble for real money.
It's no surprise, either, considering how mobile devices like the iPad have made everything we do so accessible, fast, and convenient.
Which likely explains why mobile usage has overtaken desktop usage.
It's only going to get cooler in the future, too, as virtual reality becomes more mainstream. You can already use your phone for VR gaming. Imagine what VR gambling from your tablet will be like when it gets here.
And it will come before you know it – mark my words.
Anyway, let's talk about what you can do from your iPad now, in the present – namely, playing casino games online for real money.
You'll find the best iPad casinos in the list below. You can either read our reviews to learn more about each one, or visit your favorite ones now, sign up, and check them out for yourself.
For everyone else, here's a rhetorical statement — every mobile casino is different. They will have different games, software, and sometimes even different offers.
For that reason, we want to give you a 30,000-foot view of iPad gambling in 2017. We want you to know how to gamble from your iPad and what to generally expect from mobile-friendly casinos.
How Do You Play Casino Games from Your iPad?
Let's talk about how you'll play casino games from your tablet.
While you can download a seemingly infinite number of casino apps for play money, you might be surprised to hear that many casinos do NOT offer native apps.
Some casinos do. And if you plan to play at a casino for a long time, it'll probably make sense to download it, because everything should look and operate better than it would in their browser casino.
If that's the path you're interested in taking, then there are several ways to get your hands on the native app.
For example, you might find it by simply searching the Apple app store. Or some casinos will have a QR code you can scan, while others will have you enter your device and phone number, and they'll send you a link to the app via email.
Some casinos offer all of the above. In that case, you can then choose whichever method you prefer to download their app.
Browser (or Instant Play) Mobile Casinos
Now let's talk about your other option for playing casino games – the browser casino. This is also known as an instant play or Flash casino.
This the most common option for iPad gamblers. These casinos are built using Flash, HTML5, or other mobile-friendly programming languages – and usually some combination of these.
There's no download needed – all you need to do is open an internet browser, preferably Chrome or Safari, and then log in and play.
Sometimes the main casino (for desktop users) will be the casino you play from. It'll be mobile responsive, so the website will simply make itself smaller to fit your tablet. Other casinos will have a site designed and available exclusively toiPad users.
Some casinos will send you to a URL you might not recognize, such as to another casino or to one of the software providers they use. I remember seeing a few Real Time Gaming casinos do this. So don't be alarmedif you end up on a different casino/software URL than the casino you're playing at.
And while the quality varies from one mobile browser casino to the next, the games from casinos who do a good job will make it difficult to tell the difference between their native counterparts. The games fit the screen well, look great, andare easy to navigate and use.
For that reason, I recommend going this route over native apps, assuming you find a well-built, mobile-responsive casino.
Two Things to Think About BEFORE Joining an iPad-Friendly Casino
You wouldn't expect there to be a night-and-day difference between a casino's desktop and mobile casinos. But sometimes there is – and you'll want to know what the biggest differences are so that you can make sureyou'll be happy at whatever iPad casino you decide to join.
In my opinion, the following are the two most important things to double-check before you join a casino.
Offers usually aren't at the top of my list of priorities. But, because there are often mobile-exclusive offers, my priorities had to shift in this case.
Ultimately, you shouldn't have any problem claiming the same offers available to desktop users. This includes welcome and reload bonuses, VIP or comp perks, cash back, and more.
However, you'll notice that many casinos offer small deals exclusively to mobile users. The most common I've seen are free bets or free spins.
The free spins are self-explanatory.
You'll receive so many spins for a mobile slot machine of your choice from a list of preselected slot machines.
Now, the free bets vary some, but the most common offer I've seen is a free (insurance) bet if you place your (first) bet on any mobile casino game, or if you place your first bet on a specific kind of game, like live dealer table games.
If you choose to claim this offer, what you'll do is make your bet – and most casinos say it needs to be your "first" mobile bet – on a game. If you win, you get nothing – you collect your winnings and move on. But if you lose your bet, thecasino will reimburse you up to so many dollars.
That's all there is to it.
I've seen other exclusive offers, such as mobile welcome bonuses. But I'm finding those to be rare nowadays. Most casinos keep things simple and let you claim their main welcome bonus.
One thing you'll find true at 80% of online (mobile) casinos is that they DO NOT offer all the games they offer to their desktop users.
Sometimes it's not even close.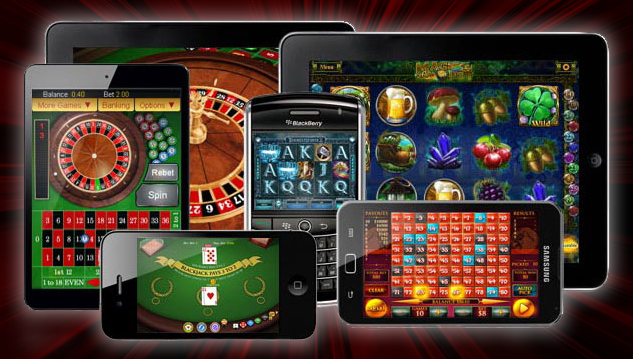 I've seen casinos who offer 150-200 (desktop) casino games only offer 15-25 of those games to mobile users. What's more is that these games are weighted towards slots, with a blackjack and/or roulette game added for "balance."
And unfortunately, depending on where you're playing from, those types of casinos might be the only ones you can choose from if you're adamant about playing from your iPad.
Other players – those living in non-US countries – will likely have far more options to choose from. And many of those casinos – like 888 or Bet365 – will offer most, if not all, the games offered in their main casino. That means you'll get toplay all sorts of table and video poker games, slots, progressives, and even live dealer games.
I think we're a few years away from all casinos doing the same. So, for the time being, you'll want to make sure you do your research and ensure that the casino has the iPad-friendly games you want to play BEFORE you sign up.
The best way to figure this out is by reading our reviews. You can also visit the casino from your iPad, or contact the casino's support team.
Conclusion
That's all there is to it.
With mobile being so popular that all casinos are forced to adapt or die, if not make it their main focus entirely, it's easier than ever to play your favorite casino games for real money from your iPad.
But because there can be such a big difference in what casinos offer mobile users, I highly recommend that you read our mobile casino reviews before joining one. Or sign up for free to a couple casinos you're interested in and then have a lookaround – maybe even play a few games for free.
That way you don't make a commitment with your wallet, only to find that the casino isn't as good or mobile-friendly as you first thought.
iPad Casino Gambling FAQ
Here are some common questions I've received or have seen about mobile gambling that didn't fit in the information above.
This is aimed at iPad gamblers, but most, if not all of it, will apply to anyone, regardless of the tablet brand or operating system they're using.
How safe are iPad casinos?
Online casinos use the same type of encryption tech that banks use (as I understand it). Considering that you'll often use the same website used by desktop users, the protection or security you'll have is the same.
Now, because you're on a mobile device, some safety-related things will be your responsibility.
For example, if you're using public WiFi on an unsecured connection, there's more risk. If you're breaking out your credit card and plugging in the numbers in the middle of a busy Starbucks, clearly you put yourself at risk to have your CCinfo stolen.
You see what I mean?
Anyway, as long as you find the casinos we recommend on this site, safety isn't a concern.
The rest is up to you.
Do the games look and play the same on your iPad?
For the most part.
You can't expect them to be identical, of course. Most desktop users have 13" or larger screens – and often much, MUCH larger.
But then you need to scale that down for screens SMALLER than 13". So, the games need to be scaled down to properly fit those screens and those (different) resolutions.
Some casinos do a good job of this. Others don't.
Overall, though, you'll find that the buttons might be in a different spot, or look different (especially if on a native app), but for the most part they'll be like their desktop version.
Can I still play slots with features and bonus rounds from my iPad?
Yeah, absolutely. You can play slots with wilds, multipliers, bonus rounds, free spins, progressives, mini/major jackpots, and loads more.
The only thing I can't really guarantee is that a specific slot theme or title will be available. That will vary from casino to casino.
Can you play and win progressive jackpots from your tablet?
Oh, yeah! Here's a good example – someone won €7.9 million playing Mega Moolah – the largest progressive win on a mobile device – from their iPad.
Do I need to create a new account?
That depends – do you already have an account at that casino? If not, then you'll need to create an account. I recommend doing this from your desktop, as you'll need to fill out a few forms.
But if you already have an account, all you should need to do is log in from your iPad by using the same login credentials.
Can I still get a deposit bonus?
Absolutely.
As I mentioned above, some casinos will have an offer exclusive to mobile users. Others will let you claim the same deposit bonus offered to desktop players.
How do I know if a casino is compatible with the iPad?
There are a few ways, and all of them are easy.
Read our reviews. We'll tell you whether they're compatible, as well as listing the types of games or sometimes even the specific titles you'll get to choose from.
Go to the site. You'll know if it's mobile responsive. And if you can't tell for sure, you can try playing a game for real money. Otherwise, you can see if they have a mobile page explaining your options.
Contact the casino's support. They *should* know.
I all but guarantee that any mobile casino you come across will at least have a few games compatible with your iPad, though, as Apple is one of (if not the most) popular mobile operating systems.
Can Americans play from their iPad? Is it legal?
I'm no lawyer.
That said, if you're playing at a regulated site from within one of the legal states, then I'm pretty sure you're playing legally.
However, if you're playing at an offshore site, then chances are someone – whether it's you, your bank, the casino, or all the above – is breaking some kind of law.
But this varies from state to state. The best way to know for sure is to chat with a lawyer.
Can you play for fake money? Can you play for real money?
You can. I can't think of a mobile casino that doesn't let you choose between playing for fake or real money.
That said, if you decide to play live dealer games, then chances are high that you WON'T be able to play for fake money.
Our reviews will tell you for sure, though.
What generations of the iPad do casinos support?
This varies too much to say for sure. But most casinos who offer mobile gaming will tell you what their system requirements are. And, in the case of native apps, you'll see which iPad (software) versions aresupported.
In my experience, though, newer is going to be better. My iPad lasted a couple years before they stopped updating it and it was more or less phased out.
You should be fine if you have an iPad that's come out within the last few years.

Sign up Bonus
250% Up To $5,000
READ REVIEW
Visit Site
X