Rival Slots Online – Top Games and Where to Play
Unless this is the first time that you're reading about Rival slot games, you've like come across some references to i-Slots.
The i-Slots concept is exclusive to this game provider, and it helped Rival make its name in online casino gaming. Rival has some other tricks up its virtual gambling sleeve, too.
Rival Gaming has been creating slots, table games, and video poker since 2005, with a specific focus on the United States. Catering to US gamblers poses additional challenges, although it's nothing like 2006 when Rival first started to break into the market.
These days, players can find Rival slot games in more than 50 online casinos. They include the coveted i-Slots collection, a handful of progressive jackpots, and a recently introduced innovation known as Rival Alive.
Where to Play Rival Slots Online for Real Money
Your sights might be set on playing a specific Rival-produced slot. But do you know that where you play is as important as what you play?
Here are the best Rival slots sites online right now.
Rank
Gambling Site
Exclusive Bonus
Get Started

#1

Bovada Casino

100% Up To

$3,000

Visit Site

Visit Site

#2

Las Atlantis

280% Up To

$14,000

Visit Site

Visit Site

#3

Wild Casino

250% Up To

$5,000

Visit Site

Visit Site

#4

Red Dog Casino

225% Up To

$12,250

Visit Site

Visit Site

#5

Ducky Luck

500% Up To

$2,500

Visit Site

Visit Site

#6

Super Slots

250% Up To

$6,000

Visit Site

Visit Site

#7

BetUS Casino

200% Up To

$5,000

Visit Site

Visit Site

#8

Ignition Casino

150% Up To

$1,500

Visit Site

Visit Site
Casino sites with Rival slot games come in all shapes and sizes. You've got smaller ones primarily dedicated to Rival slot-exclusivity. Then, you'll come across multi-provider casinos with extensive lists of gambling opportunities.
It's not so much the size that matters, but what's behind the homepage. That's why each of the online casinos on the above list has received background checks and been reviewed from top to bottom.
When we compile our list of recommended Rival slots casino sites, we pay close attention to the service as a whole.
So, regardless of which gambling website you pick, you'll find enough deposit methods to ensure safe and quick transfers. There's also top-notch customer service and enough player perks, like bonuses and free spins, to keep you coming back for more.
If you're looking for somewhere to play Rival slot games online for real money, our recommendations cannot be beaten.

The Rival Gaming Story
Rival doesn't have a biographical type of history. The company lets the products speak for themselves, and the team is not only behind the scenes but hidden from view.
While Rival slot games are storyline-based, Rival itself doesn't have much of a tale to tell.
Two Rivals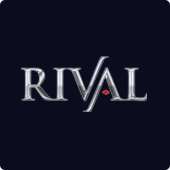 The company was established in 2005 and can be confused with another "Rival Games," which specializes in video games and not gambling opportunities.
If you're looking through other reviews or background information, it's easy to cross the two as they appear quite similar.
As Rival has always intended to serve the US market, overcoming its humble beginnings is a testament to its staying power.
The studio came together in 2005, right before the 2006 Unlawful Internet Gambling Enforcement Act in the United States, which sent offshore providers packing.
Rival powered through, though, with the help of its proprietary platforms and self-managed casino websites.
Successful Real Money Slots
Once Rival i-Slots hit the top US online casinos, there was no stopping the relatively small operation.
It's not every day that a slot producer unveils a custom product with widespread name recognition. When it happens, though, it solidifies the company's position as a major player.
These days, Rival's slot games speak for themselves.
Many online players in the US seek out Rival games like As the Reels Turn, Reel Crime, Hole in Won, and Strike Gold.
A Class Act
Casino operators have the option to purchase the entire Rival package, which includes the "Casino Controller" or customized back-office platform.
Rival also has a trademarked Class Act system that takes care of the site operations, including fraud protection, player classification, and bonuses.
Owners that don't want to go all-in with Rival can also take advantage of its third-party integration service. It's like a slot game a la carte menu.
That gives multi-provider casinos the ability to add Rival's most popular titles to their already-established slot banks.
Rival Headquarters
Address: Arch. Makariou Iii, 3 Mitsi House, Office 111, Nicosia, Cyprus
Phone: 866-253-3509
Website: rivalpowered.com
Rival i-Slots Concept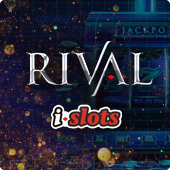 Discussing Rival games without mentioning i-Slots would be like telling the story of Microgaming without mentioning Mega Moolah. Or discussing gambling in Nevada without bringing up Las Vegas.
Rival's i-Slots are what put the company on the map. They're standout titles that have become player favorites over the years.
Regular online slot players gravitate to Rival slots casinos online just to play a game like Cosmic Quest or Reel Crime.
i-Slots are games that tell a story. The best example of this is As the Reels Turn, a soap opera turned slot game set in the fictional El Paradiso Casino.
As those reels turn, the storyline progresses, and, as that happens, it triggers bonus features and payouts.
Rival i-slots are interactive experiences, so players get to select items and provide input into the tale's unfolding.
Players can follow the characters as more is revealed over time. But Rival found that users craved more, so many of the i-Slots titles have prompted sequels.
Just like your favorite film ends up with a "II' after its name, so do Rival i-Slots.
As the Reels Turn is a trilogy, carrying over new characters and introducing new ones in As the Reels Turn II and III.
Rival also carries the i-Slots mechanics into Reel Crime, Cosmic Quest, Rock On, Spy Game, Hole in Won, Bowled Over, and Heavyweight Gold.
The New Rival Alive Concept
It's been a while since Rival wowed online casino players with an innovative new product. But that changed in 2020 when Wrath of Medusa hit virtual gaming floors.
Wrath of Medusa is labeled as a Rival Alive game. It's a new concept, and, like i-Slots, there's a progressive sequence developing. However, it's more of a visual experience, whereas i-Slots are story-driven.
In Wrath of Medusa, you start at the crumbling temple and make your way to Medusa's hideout.
The gameplay isn't anything new with expanding wilds and bonus rounds. However, impressive video lead-ins and scene changes immerse players in the action with exciting special effects.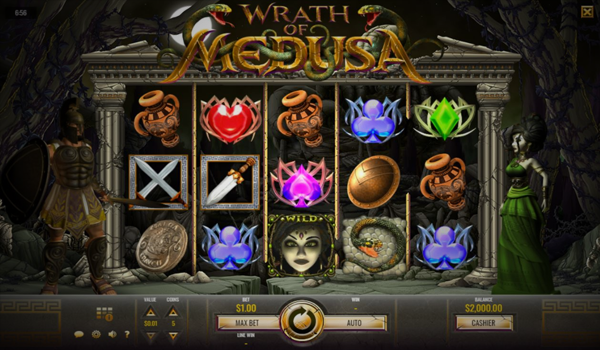 About Rival's Real Money Online Slots
If you take a peek at Rival's slot library, you'll notice various themes and unique features, as you would with its competitors.
Here are some of the things you might like to know before playing Rival slots online for real money.
First 6 Reel slot with Daikoku Blessings
Aside from i-Slots and Rival Alive, the studio focuses more on the reel count than the modifiers.
You won't come across too many mentions of cluster pays, expanding reels, or thousands of ways to win.
Instead, new releases, like Diakoku Blessings, which provide 4,096 ways to win, are marketed as six-reel slots.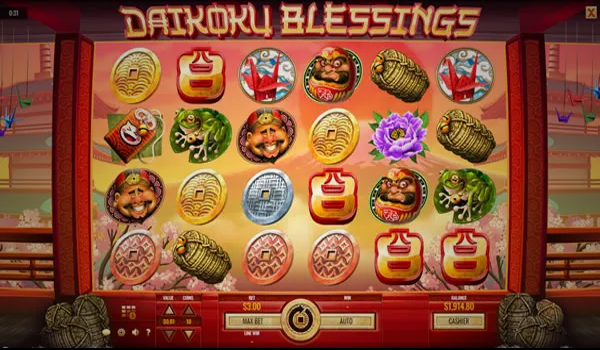 Dozens of 3 Reel Slots
While six reels seem to be high on the list for Rival's developers, the company has an impressive portfolio of three-reel games.
Some are classics, but others integrate new features into an old school setup.
For example, Merlin's Mystical Multipliers is a Rival slot release rolled out at the end of 2020.
It takes on the three-reel format, but they're invisible, allowing the symbols to float in mid-air magically. Instead of the traditional free spins bonus, the appearance of the Mystical Multiplier cranks up the payout volume by X7.
Aside from its memorable name, the three-reeled Dr. Acula is another game that goes over the top with limited space.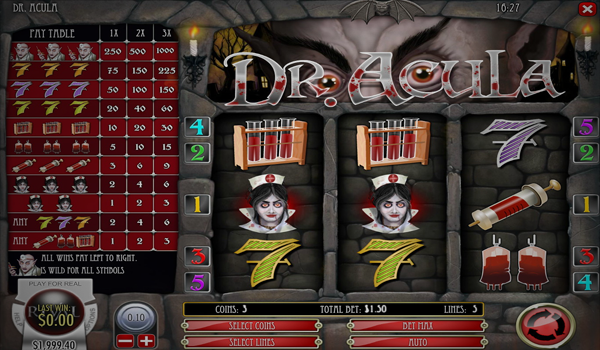 Dr. Acula takes place in the dungeon of the Acula castle with throbbing blood bags and squirting syringes.
A lot can happen within five lines with Triple Lucky Lightning Sevens, Wilds, and Jackpot symbols.
Rival Slot Jackpots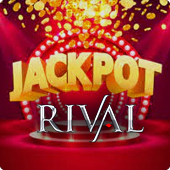 Rival isn't known for its progressive jackpot games, but there are a few with big money payouts.
Strike Gold is a Rival classic that was re-released in 2020 for unified gaming. Like Dr. Acula and Merlin's Mystical Multipliers, it's a three-reel game, but it sticks to one payline.
Players can bet one or two coins, but the progressive jackpot, typically in the five-figure range, requires two. Otherwise, players receive a 2,000-coin consolation prize.
Money Magic is a five-reel progressive with nine variable paylines. While there's a five-coin per line requirement for jackpot contention, players can choose to stick to one or two lines. Compared to Strike Gold, Money Magic has more tricks up its sleeve.
Rival Mobile Slots
While Rival has an excellent reputation for its innovative gaming, there's room for improvement when it comes to Rival slot games for iPhones or Android devices.
It started producing games for mobile browser access beginning in 2014 but hasn't converted everything on the list.
The company now is revamping some of its older titles, presumably to accommodate mobile devices and new technology.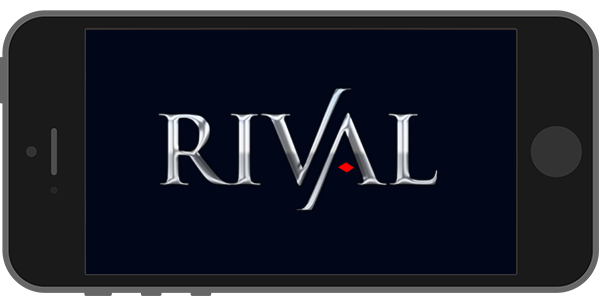 Playing Rival slots on the go is prioritized. But it's not yet possible to pull up all Rival slot games on smartphones and tablets. You'll still find some of their games on real money slot apps, though.
Rival has recently built a unified lobby in HTML5 for cross-platform gaming. It works with instant play or casino downloads and should eventually cover all of Rival's products.
Rival Casino Slots With High RTPs
As with Rival mobile slots' limitation, the company's RTP (return to player percentage) situation should be addressed.
It doesn't go out of its way to provide players with relatively high RTP slots. Instead, most hover around the 94% range.
There are, however, a few games that exceed expectations.
Cosmic Quest: Mystery Planets: 98.95%
Gold Rush: 98.02%
Cleopatra's Coins: 96.9%
Five-Reel Circus: 7%
Rival Slot Machines – Online Only
The 200+ game collection is for online access only, as Rival isn't in the machine game. It doesn't produce land-based slot games or hardware.
If you're interested in experiencing i-Slots or checking out a jackpot game like Major Moolah or One Million Reels BC, you'll need to head to online casinos with Rival slots.
Rival does, however, cater to new gambling sites with more than its game titles. It's a full-service operation with everything needed to go from a blank page to a fully operational online casino.
That's where the Casino Controller and Class Act trademarked system come in, as they're the driving force behind the games.
More than Just Rival Slots
Rival set out to be more of a well-rounded casino provider from the early days, instead of exclusively sticking to slots. While the bulk of the catalog is slot-based, Rival has a relatively small collection of real money table games and video poker.
Table games are primarily blackjack-driven, but the unique offering is called Card Clash, which is essentially Casino War. Video poker doesn't go too far off the beaten path either. However, Rival has produced both single-hand and multi-hand variations.
You can find these other games at most of the top real money casinos with Rival slots.
Popular Rival Slot Games at Online Casinos
We've covered i-Slots and the new Rival Alive concept that recently debuted and should be making further appearances.
Even though players are initially drawn to casinos with Rival slots for the storyline concepts, they find other favorites in the process.
The following are a few of the best Rival online slots.
Hole in Won
Players can get in nine holes in Rival's interactive Hole in Won slot, but taking a few shots is part of the slot action.
Hole in Won is a 15-payline game with plenty of wagering flexibility. Coin values range from 0.01 to 1.00, and each line accommodates up to five credits. The top payout is worth X750 based on what you've staked per line.
But the appeal of Hole in Won is the bonus round. Three birdies will get you in the game, and you get to line up the shots for prizes along the way. A little training could help with Hole in Won, as you putt your way to cash rewards.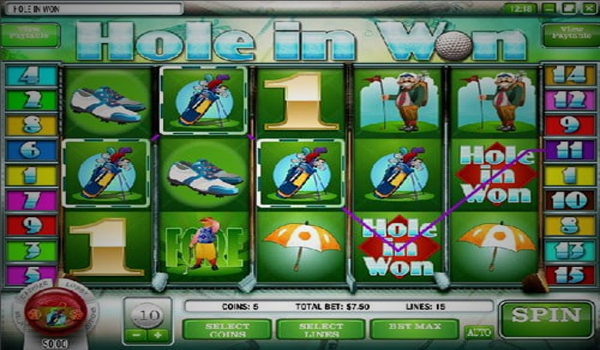 Major Moolah
When Major Moolah was released in 2009, it stirred up controversy as it's strikingly close to crossing Microgaming's Mega Moolah boundaries. Even glancing at the two titles, it's easy to mix them up with the near-identical designation.
Mega Moolah rolled out in 2006 and is the highest-paying progressive jackpot game in online casino history. Major Moolah, which is Rival's jackpot-driven slot, came around three years later.
The Rival version is more of a classic slot with its simple three-reel design. It brings back the good old sevens, bars, and stars with the top three-of-a-kinds worth 600 credits. Major Moolah is seeded at 10,000.00 and has delivered as much as 89,000.00 in a single payout.
Instead of an interactive bonus round like Mega Moolah, the key to Major's success is to stake 3.00 per spin and end up with three "MM" symbols on a payline.
Zombiezee Money
If killing zombies is your thing, then you're in luck with Zombiezee Money. It's a comic book-style slot with five reels, free spins, and zombies that turn entire reels wild.
The highlight of Zombiezee Money, though, is the Boneyard Bonus, one of two unique feature rounds in this game.
In the Boneyard Bonus, players grab their weapon of choice and prepare to do battle. You could compare the Boneyard Bonus to a good, family-friendly game of whack-a-mole. Instead of moles, though, it's the zombies that take the hits.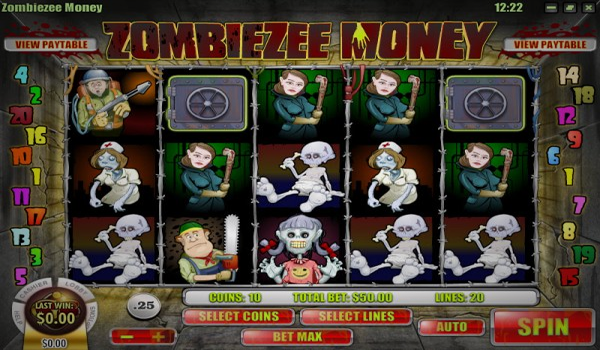 Cleopatra's Coins: Treasure of the Nile
Rival's Cleopatra's Coins, a simple 15-line game with a top X500 payout, is exciting enough to prompt a sequel. So, in 2020, Rival revealed the all-new Cleopatra's Coins: Treasure of the Nile.
Treasure of the Nile has similar design elements, but the gameplay heads in an entirely different direction.
Whereas the original had 15 lines and a free spins bonus, Cleopatra's Coins: Treasure of the Nile is a 50-line game without a free spins round. Instead, it uses sticky win re-spins as its credit-booster. You spin for wild scarabs and keep going until you come up short.
Cleopatra's Coins: Treasure of the Nile is mobile-friendly and has a top payout of X600.
Popping Pinatas
If you're in the mood for mariachi music and an interactive pick and win round, then Popping Pinatas is your go-to slot fiesta.
It's a five-reel Rival real money slot with a long cast of characters that pay in five-symbol formation. As you spin, you're also helping the beautiful Catalina look for her missing chihuahua.
The bonus involves the pinata popping. But instead of candy overflowing, you'll get coins instead (so you probably won't mind). The Super Round includes missing dog symbols that could lead you to Catalina's precious pet and a finder's fee.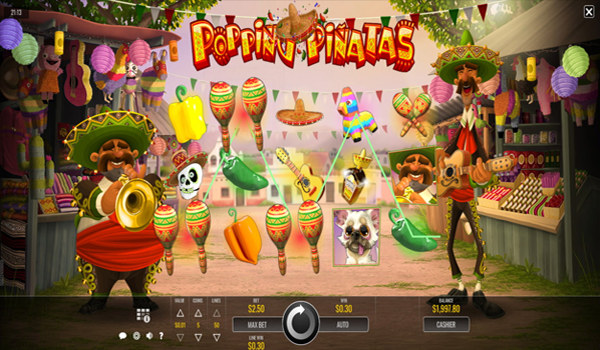 Scary Rich 3
One, two, three Scary Rich games sit in the virtual banks of online casinos with Rival slots. The third gives you a frightening Scooby-Doo vibe as the main characters fight to survive the haunted mansion.
It's not quite that easy, though, with evil cleavers, chomping skulls, and armor that comes alive.
The goal is to make it to the Free Spin Thunderstorm round, where expanding werewolf wilds prove to be friends and not foes.
World of Oz
It's not a licensed game from what we can tell, but World of Oz adopts Dorothy, the Scarecrow, Tin Man, and Cowardly Lion nonetheless.
World of Oz is a low volatility slot that could keep you playing for quite a while as long as you steer clear of the Wicked Witch of the West and her flying monkeys (remember them from the film?).
Once you arrive at the glistening green gates of Emerald City, the Wizard could give you the gift of winning if you didn't have that inside of you all along.
The five-reel journey is accompanied by free spins, wild symbols with multipliers, and a Super Bonus Round.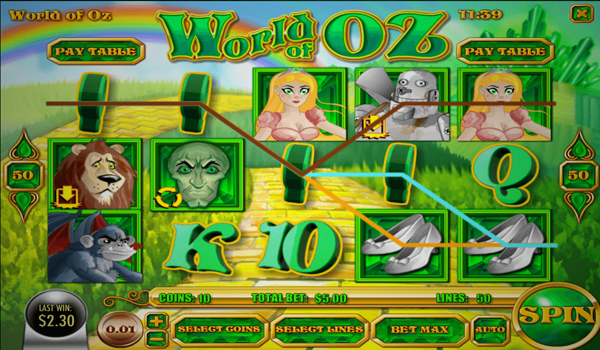 Other Popular Slots From Rival
Rival Online Slots at a Glance
While every game is different, most of Rival's slot games primarily stick to a pattern. You're not going to find lists of cluster pay titles or unusual mechanics like expanding reels or rows and morphing symbols.
Instead, the lion's share of the collection is standard payline-driven with a few modifiers like expanding wilds or multipliers plus a free spins bonus round.
Many also include second bonus opportunities that tend to be more interactive. Pick and win games are sometimes used, but there's a number of skill-based interactive rounds.
Here are some common traits among Rival online slot games.
Three, five, and six-reel games
A handful of progressive jackpot titles
Traditional variable payline-style slots
Bonuses and super bonuses
Cartoonish graphics
Storyline-driven progression
Three-reel games are prevalent and, while some have some exciting new features, others are as old school as it gets.
You'll hear the reels turn, play one payline at a time, and see the sevens and bars spin through like a blur.
Here is what's limited, or missing completely, from the range of real money Rival slots.
Megaways titles
Licensed brands
Cluster pays
Hundreds or thousands of ways to win
Six-figure progressive jackpots
Bonuses to Play Rival Online Slots for Real Money
When you play Rival slots online for money, what could sweeten the pot?
How about free spins or deposit match bonuses.
You'll find that the top-rated and reputable Rival online slot sites, including those on our recommended list, are generous with player incentives.
New players always receive something special, but loyal players get their share of perks as well.
Check out the latest bonuses available at some of the very best casinos online today and see if anything appeals.

Sign up Bonus
250% Up To $5,000
READ REVIEW
Visit Site
X