Hide Bonus Offers
| | | | | |
| --- | --- | --- | --- | --- |
| #1 | BetOnline Sports | 60% Up To $1,000 | Visit Site | BetOnline Sports |
| #2 | Bovada Sports | 50% Up To $250 | Visit Site | Bovada Sports |
| #3 | BetUS | 125% Up To $2,500 | Visit Site | BetUS |
| #4 | Everygame | 100% Up To $500 | Visit Site | Everygame |
| #5 | MyBookie | 100% Up To $1,000 | Visit Site | MyBookie |
The Funniest Casino Jokes That Will Make You Laugh (Even if You're Losing)

There are a lot of emotions that are amplified in the casino setting. The trick is to keep things light and fun to ensure that you and your party have an enjoyable experience. Something that you can always do is use some of the best casino jokes to lighten the mood.
Gambling can be tough on people and can even lead to addiction if not performed correctly and safely. If you get upset when you lose, maybe gambling isn't your scene. Losing is a big part of gambling, so being able to lose the right way is very important.
Telling some jokes to counteract the losing aspect in a casino is a great way to go about that. Let's look at the 31 funniest casino jokes to help you have some fun the next time you gamble.
Ranking the 10 Best Casino One-Liners
My wife has left me because I am a compulsive gambler. I'd do anything to win her back.
I did well at strip poker the other night. I played my socks off.
Why didn't the elephant like to play cards in the jungle? Because there were too many cheetahs.
They say one in every seven friends has a gambling addiction. My money's on Mark.
Your best chance to get a straight flush in a casino is in the bathroom.
There is a very easy way to return from a casino with a small fortune: go there with a large one.
Why don't vampires like gambling? They get nervous when the stakes are raised.
I got asked to leave the casino the other night. They said I had a chip on my shoulder.
The safest way to double your money is to fold it over once and put it in your pocket.
Chuck Norris won the World Series of Poker using Pokémon cards.
If you're looking for some of the top casino jokes, you can't go wrong with a good one-liner. They're quick, funny, and easy to remember. These types of jokes are great to help you get your mind off a recent loss in the casino.
Joking about gambling problems could also be an excellent way to make everyone aware of the potential issues here. You don't want to end up like No. 1, who gambled his wife away.
Strip poker is also a dangerous game to play, so playing your socks off might not be what you want.
You also can't go wrong with a good cheetah joke, either. There are a lot of different variations when it comes to this one as well. "Why can't you gamble in Africa? Too many cheetahs" is another funny one.
No. 5 is another one of the funniest casino jokes. You can say that to one of your buddies who can't seem to win a bet.
Numbers 6 and 9 are from Jack Yelton, a professional poker player, and Kin Hubbard, an American cartoonist. No. 6 reminds me of Tom Haverford from Peacock's Parks and Recreation.
Tom says he never loses in horse racing because he bets on all the horses (0:39 mark).
At the end of the day, a good one-liner would be a perfect way to cheer yourself or someone else up quickly.
Greatest Casino Jokes for Blackjack Players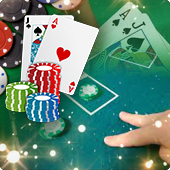 Blackjack is a simple game, but it can be very frustrating. A good way to relieve some stress is to crack a couple of the greatest casino jokes.
From a dealer's perspective, you could say, "I had to quit my job at the blackjack table. I just couldn't deal with people anymore."
Maybe you are looking for something more on the pop culture side of things; how about, "What company never loses at blackjack, you ask? Forever 21."
Here is another one of the best jokes for the casino.
A man goes into a casino and sees a sign that says, "If you have a gambling problem, call 1-800-GAMBLER." He thinks about it for a moment and then dials the number. When someone picks up, he says, "I have an ace and a six. The dealer has a seven. What should I do?"
Sometimes you just start relying on prayer to help you win a hand, so what's the difference between a man praying in a church and a man praying at a blackjack table?
The man at the blackjack table means it.
Does anyone go to yoga to calm their nerves before playing blackjack? How about, "what did the yoga instructor say when the blackjack dealer asked him if he wanted another card? Namaste."
Best Casino Jokes for Poker Players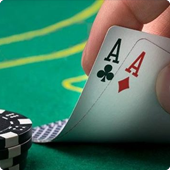 People tend to take poker very seriously, especially at high stakes. Not everyone needs to be in a serious mode to enjoy a poker game, though. Here are some of the top casino jokes to tell at the poker table to lighten the tension.
"What's the difference between online poker and live poker? You can cry after a bad beat online, and no one will laugh at you."
One of the best things about playing poker online is that you don't need to have a "poker face." That even allows you to cry if you get dealt a bad hand at a bad time, and no one will know. If you can't handle your emotions and want to play poker, check out the best live dealer casinos.
There's a lot you can do with poker terms, such as folding. Here's a couple to get you started.
"Everyone said that Martin would be a wonderful maid … all he does is fold!"
You could also tell a story about some chores around the house about folding, such as "my wife challenged me to a game of strip poker, but then I realized she just wanted to do the laundry. So, I folded."
Maybe you like to spend the holidays at the casino; you know who an easy opponent is? Santa Claus, because he always checks twice.
Top Casino Jokes About Roulette
I tried to warn him about playing Russian roulette, but it went in one ear and came out the other.
Russian roulette may be the easiest game on Earth. Not a single person alive has ever lost at it.
Russian roulette: 5 out of 6 people recommend.
Six stormtroopers decided to play Russian Roulette. They got away with a warning but had to pay for the damage.
My friend loves playing Roulette, so I figured I would introduce him to Russian roulette. Blew his mind.
Okay, most of these are about Russian roulette, but they're just too easy. How could you not love "5 out of 6 people recommended" when joking about it?
The Star Wars stormtrooper joke is pretty relevant right now, with May the Fourth happening last month and the release of the Obi-Wan Kenobi TV show.
If you were looking for more traditional roulette jokes, how about "I was in a casino last night and had a few spins on the roulette wheel… Before the manager told me to get off."
Or "The roulette dealer had a unique personality. He had a different spin on everything."
Roulette is another fun and simple game to play. You just need to make your own decision and watch your pinball go spinning around the wheel in hopes of landing on your decision.
Online roulette can be something you have wondered about, so let's make sure we know if online roulette is rigged before we get started.
Best Casino Puns to Use
Puns can make for some of the best casino jokes too. Maybe you'll come across a slot machine or a good steak on your next casino visit and think of these great jokes. When's the best time to visit the casino, you ask? How about any time?
Dad jokes are very similar to puns, so throw a couple of these at him the next time he's gambling.
Here's one to get you started, "A midget chef had to quit his job at a casino; he said the steaks were too high."
Maybe a casino has a lizard or fish tank. What would you call an iguana that runs a casino? The Lizard of Odds.
Is there a certain slot machine you know that doesn't spin quite as fast as the others? Why not call it the slot machine?
The Johnny Depp defamation case is all the rage right now, so how about a Captain Jack Sparrow/pirate joke for you? Why can't pirates play cards? Because they're standing on the deck!
Maybe you're a fitness guru; how about "Why was the dietician kicked out of the casino? He was caught counting carbs."
You can try out some of these puns while waiting to hit the jackpot at some of the best progressive slots. It might be a good idea to check out the slots with the best bonus games, though.
The Top Casino Jokes for Your Next Visit
Now that we have gone over the top 31 funny jokes about casinos, you should be ready for your next visit. The best casino jokes will be a way for you to keep things in good spirits or lighten the mood when it feels appropriate.
The chances of you losing money when you visit a casino are always pretty high, so having these jokes in your arsenal will help you out when you're feeling low. If you are having such a fun night because you're winning, then it's a win-win! If you go to the casino and have an enjoyable experience, that's all that matters.
You could also gamble from your own home if you didn't wait to be there in person. Check out the safest online casinos to have a good time online and in person.
Secure Online Casino