When Is the Best Time to Visit the Casino?

The short answer to "What's the best time to visit a casino" is "Whenever we want to, buddy." But the reality is not that easy to define.
Depending on a variety of variables—including your choice of game, your agenda, and your nearness to a casino—the best time for you to visit the casino could be vastly different.
Sure, the best time is when you are free from stress, have adequate funds you are not loath to lose and have a casino within walking distance.
I don't know about you, but I can count the number of times all three of those situations have simultaneously occurred to me on the thumbs of one hand.
There are definite advantages to playing certain games at certain times. I've broken down the best times to play your favorite games based on your schedule, agenda, and favorite game itself. Whether you're just having an unplanned couple of hours at the casino or you're there for a variety of non-gambling reasons, you need to know what to expect.
Let's start with broad strokes: daytime, nighttime, weekday, and weekend. Then we'll get into the details of your agenda and favorite game.
What is the Best Time of Day to Go to the Casino?
A general guide for casino visitage (rhymes with garage, but said with a French accent, the haughtier, the better) would be simply splitting the day between light and dark. Unsurprisingly, casinos are mostly busy in the evenings and throughout most nights.
Games to Play at Night
Stop smirking—I'm not talking about those kind of games.
Progressive slots—particularly the must-drops—are more likely to hit for much the same reason—the jackpots are being driven ever-higher by the multitude of people frantically hitting that PLAY button.
High-stakes poker is best played in the evening because it is when the high rollers come out to play.
Texas Hold'em has its pros and cons in this time frame. The pro is that most tables will be open, and you'll have that many more opponents to play against.
The con is that poker rooms can get pretty tight in seating, which means that you may either be sitting outside the poker room playing a penny slot while you wait for a seat to open up or seated at a game that is too rich for your blood but has a seat immediately available.
You'll find more open table games in the evening hours. Games like blackjack, pai gow, roulette, and craps are good to play any time because you're battling the house, not your fellow gamblers. But the evening is when the casino opens up the most tables, so that's when you'll have the best opportunity to find a seat at the game you want to play.
Games to Play in the Daylight
Still not talking about those kind of games, so stop giggling.
If you're a social poker player (i.e., not a pro here in Vegas to grind out the entry fee to the WSOP Main Event), you may find daytimes in the poker rooms preferable to late evening play.
Table games of all sorts are more accessible during the daytime, and because you're playing against the house rather than other gamblers, a crowd is neither necessary nor welcome.
Ultimately, deciding the best time to visit the casino can often come down to two things; how social you want to be, and what games you want to play.
What is the Best Day for Gambling?
The best days to visit the casino also depend on your gambling preferences. Still, in the case of conventions and other business or social occasions (see next section), you may find the days you can gamble—and even the time frames—a bit restricted.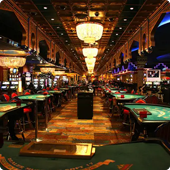 Monday through Thursday
Assuming you don't have a case of the Monday's, you may be interested in gambling right away to start your week week. Hopefully after you clock out, of course.
This is the Sargasso Sea of gambling when the action is relatively dead during the day and only increases mildly during the evening hours. Naturally, if you're visiting a local casino, the difference between weekday and weekend attendance may be minimal.
You'll typically find available seats at all the table games—the trick is finding one manned by a dealer. Regular slots play works in this time frame, but save your progressive slot play for busier times.
Destination resorts like the MGM Grand or the Tropicana tend to rock on the weekends, making their minimal weekday action more surprising.
Friday through Sunday
Friday is when metropolitan areas within a few hours of your casino fill the freeways between themselves and your casino with barbarian hordes of weekend revelers.
By Friday night, your favorite casino will be very, very busy. Saturday continues as more invaders join the Friday vanguard, so Saturday night sees every venue in the casino—from the casino floor itself to the dance clubs, nightclubs, bottle clubs, and auditoriums—overpacked with people.
Important
Friday night and the entirety of Saturday are your days for poker rooms and progressive slots.
Sunday tends to start early, and most Saturday revelers are too busy regretfully packing up and preparing for the drive home. It's incredible how much longer a three-hour drive is on Sunday than on Friday. Sunday play favorites should be table games (when they're open), slots, and video poker.
Naturally, the best sports betting sites are the exception—they're dead during the week and electrified on the weekends.
When Gambling Isn't At the Top of Your Agenda
If your target casino is part of a resort, it's possible that your main reason to be there is not so much to gamble as it is to see a concert, enjoy some fine dining, or even for an extended vacation stay.
Whichever time of day or night you prefer to gamble, if you're at the casino for reasons other than doubling your money, you still plan to squeeze in a wager or two, so let's look at your best gambling options for the venue, the time of day, and for your schedule.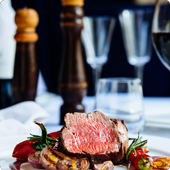 Dream Date
Unless you only do breakfast dates, your window of gambling opportunity will be in the evening hours—and probably on the weekend.
Since this is also the time, everyone else in the free world chooses to go on a date, expect dinner reservations to be elusive, show tickets to be expensive, lines for everything—all topped off with a casino floor awash with humanity in varying stages of inebriation.
The games you'll want to concentrate on are those that favor short-term evening play like progressive slots, craps, and roulette.
Far From the Madding Crowd
If, on the other hand, you choose the quiet, contemplative games where your deep thoughts are not interrupted by the computerized sounds of a jackpot (keno, anyone?), you're going to want to visit the casino between 9 am and 5 pm, preferably Monday through Thursday.
Mornings are a special time in a casino. The staff is chipper and polite and has not had its professional good humor broken against the rocky shoreline of the Umbrage of a Thousand Guests.
Of course, this is also that time of the day when the vacuum cleaners come out to play, and carts loaded with whatever it is they're constantly shuttling about in the casino—money, maybe? Luggage? Card-counters?
Whatever. The important thing is that people are sparse on the casino floor in the early morning hours and through daylight hours. If you hate people (and who doesn't?), daytime is a great time to smoke a cigar and play keno.
Convention Attendance
Okay, you're already in a bad situation because no conventioneer's plan survives first contact with the casino as with war.
You may have the best intentions of schmoozing potential customers to stock your innovative left-handed sprockets. Still, the siren song of the casino floor keeps making your eyes lose focus while your thoughts turn to all the houses you will buy with your progressive jackpot wins.
The first thing to do is get out of the resort hosting the convention. Don't stop at nearby casinos. Instead, find one that isn't hosting some auxiliary convention, and play there.
Do that if you are a slot or table game player.
If you prefer live poker rooms, however, stay in the casino hosting the convention—the hold'em tables will be filled with fellow out-of-towners who are more likely to be eager to test their untried skills at this "hold them" game they've heard so much about.
It's Show Time!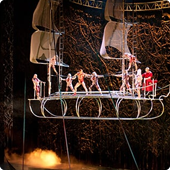 If you plan to book-end one of the best Las Vegas shows with an hour of before-and-after gambling, you'll be playing on the casino floor during the busiest time of the day: the evening.
If slots are your game, note that machines near the entrance to the show venue are likely to be swamped, even inaccessible, thanks to the swarms of show-goers eager to take a few last whacks at winning that jackpot before they fall asleep (again!) halfway through Cirque du Soleil's "O" presentation.
Your best bets for before-and-after-show play are the slots, craps, and roulette games.
The Name of Your Game
But what if your visit to a casino is specifically to gamble? There are many choices, from slots and table games to poker rooms and racebooks. Not to mention keno rooms, but let's not go there, m'kay?
Here are the best times for each game and the reasons behind those times.
Poker Rooms, Baby!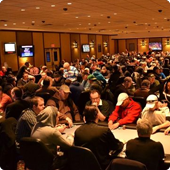 Poker rooms can provide refuge from the crowds but present their share of challenges. You're not going to find it easy to flit from game to game as you might on the casino floor. Weekends and evenings are also tough on table-hoppers.
You'll typically find yourself waiting for a seat at the table you want to play at during those busy times. Of course, you can always take a seat at a lower-limit table and hone your Texas Hold'em skills while waiting for that higher-end seat.
Naturally, for high stakes poker games and tourneys, you'll want full tables, so you'll want to play after dark. On the other hand, if you're grinding the low-limit hold'em tables for lunch money, then pretty much anytime is good as long as the tables are relatively full.
Table Games
We've all walked into a casino during the day and walked past table after table game, each manned by a dealer with nothing to do but stand there and wait for a player.
With table games, you typically want to visit your casino after dusk and into the early morning hours. This is when table games will be the most crowded, the action fast and plentiful, and your opportunities to profit most abundant.
Additionally, more table games will be in operation, and those dealers who were dozing at their blackjack and pai gow tables at three in the afternoon have been replaced with the best dealers the casino has on hand.
At night—even during the weekdays—craps tables can look like a shark tank at chum time. Ditto the roulette tables. Evening (particularly on the weekends) is when your table game choices are most abundant.
The Slots
Mid-afternoon into the early evening are typically the best times to play the slots—if you want to find your favorite machine without having to have your henchmen forcibly eject people from their seats in front of you, which is frowned upon by most casinos, take it from me.
Evenings and weekends can make it challenging to get a seat at any of the more popular slots.
Progressive slots are the one exception here—you'll want to play a progressive slot when that slot bank is at its busiest—usually in the evenings and the weekends, and whenever the progressive jackpots are nearing their sweet spot of winning.
In fact, you can read up on how often they hit below.
Where Everybody Knows Your Name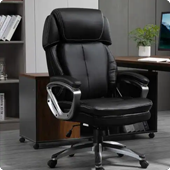 Let's face it: Nobody goes to a casino looking for a friend. They've either brought those friends along with them or are entirely disinterested in finding new ones.
If you want to gamble, perhaps the best time to visit a casino is irrelevant. Maybe there's a place you can gamble without fighting crowds for a seat at the table or the slot machine. And it's a friendly place, a place where everybody does know your name.
You know where I'm headed with this, of course. It's your own home.
Your favorite slot machine? No waiting. Live dealer blackjack and roulette? Step right up. Every flavor of poker known to man, and you can imagine at every buy-in and limit? A good online casino has a comfy chair and fits into your schedule perfectly.
.