Hide Bonus Offers
| | | | | |
| --- | --- | --- | --- | --- |
| #1 | BetOnline Sports | 60% Up To $1,000 | Visit Site | BetOnline Sports |
| #2 | Bovada Sports | 50% Up To $250 | Visit Site | Bovada Sports |
| #3 | BetUS | 125% Up To $2,500 | Visit Site | BetUS |
| #4 | Everygame | 100% Up To $500 | Visit Site | Everygame |
| #5 | MyBookie | 100% Up To $1,000 | Visit Site | MyBookie |
Slots with the Best Bonus Games in 2022 – Assessing the Top 7

What do we mean when we say "best slots with bonus games for 2022"?
Think of it this way. What if you went to a restaurant and discovered that they would serve you a meal and tasty beverage, change your oil, walk your dog, and maybe even make next month's mortgage payment for you?
That would be my all-time favorite restaurant, even if the food weren't that great.
Unfortunately, such a restaurant doesn't exist. But at casinos—the real world and otherwise—you'll find slot machines are just as generous as that imaginary restaurant.
They're called slots with bonus games (or, as I like to call them, "slots with benefits"). What do these slots have to offer, though—and what makes them so hard to resist?
Volatility vs. Entertainment
Before we just dive into the best slots with bonus games for 2022, it's important to understand all slots aren't created equal. It's a good idea to embrace the way slots work, and how that helps or hurts your wallet.
To assist you in this, let's look at volatility and entertainment and their role in slots.
Volatility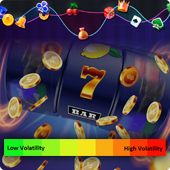 If you're not knowledgeable about volatility, let me clarify some of the most common misconceptions.
Volatility is simply the rate at which a machine pays out, measured against its paytable. So high volatility means the machine will feature high payouts—but not very frequently. Low volatility means the obverse—very frequent payouts of small amounts.
With that in mind, know that one of the best ways to keep someone seated at a slot machine is to build it so that it pays out frequently.
The problem, of course, is making sure that it isn't overly generous with those payouts. Making the volatility of a slot machine j-u-s-t right is something that keeps slot designers up all night.
The difference between a volatility level that creates a legend like the Buffalo slot from Aristocrat could be a matter of one or two percentage points.
Another way of looking at volatility is the player's degree of risk of losing the wager. A slot machine with a high RTP (Return to Player) has a low volatility. A machine with a lower RTP has higher volatility.
It might seem intuitive that high volatility means a slot machine is more likely to pay off, either in larger payouts or more often, but the truth is the exact opposite.
The thing is, most people enjoy winning, regardless of whether the payout is big or small. How do you encourage them to play the low-volatility slots? Micro-wins. A couple of years ago, I pulled out my soapbox and held forth for many, many words about micro-wins that made the low-volatility slot machines sexy again.
Why? Because they are paying out like Christmas every day, that's why.
But people don't just play slots for the fun of cleaning off nickel and quarter smudge from their fingers. They're here for the entertainment value, well.
Entertainment
Today's slots resemble the old one-armed bandits like that slab of solid-state circuitry in your pocket resembles the crank phone your great-great-grandmother used to call the family doctor to make a house visit.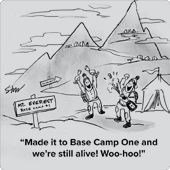 All slot machines these days offer some sort of music or sound effects package, generally reserving orchestral pieces (or merry-go-round calliope stuff) for the big wins.
Online slots may have a different feel, but they offer the same barrage of sound and animation that real-life slots do.
And because the internet was just a figment in Al Gore's imagination a couple of decades ago, everything built for the internet is loaded with graphics, animations, sound effects, and the background music that combines in a synergistic way to attract the player's attention and hold it in a firm grasp for hours.
Before we dive into our list of the best slots with bonus games for 2022, you will find that many progressive hot-drop slots also offer great bonus rounds—and that's often in addition to the hefty progressive jackpots they offer.
Starburst (RTP: 96.1%)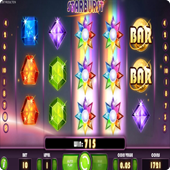 A favorite of slot players since NetEnt introduced it in 2012, this five-reel, three-row slot with ten pay lines features jewel-like symbols along with the more familiar bars and 7s of the traditional slot.
Like most online slots, the player can choose the number of pay lines to play (one to ten) and the number and denomination of the coins in.
The play proceeds regularly, with various combos of symbols paying at varying levels. The combos can be formed anywhere on the screen (rather than building from left to right), which introduces some surprise into the game.
The real excitement is when the Starburst Wild symbol—a multi-pointed star—pops up on one of the reels. It replicates onto the rest of that reel and serves as a wild card for any potential combos generated on that spin. After paying out on those, it generates a free spin and pays out on any winning combos there.
NetEnt provides a free-play version free-play version of Starburst if you want to get a good idea of the graphics, sound, and a feel for the win potential.
88 Fortunes (RTP 96%)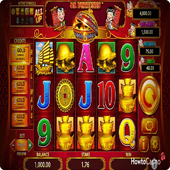 Shuffle Master made this popular slot machine for Bally in 2016, and it has become a go-to slot for many players. The game style is the well-known five-reel, three-row layout, but it offers 243 pay lines because three pay lines are for n00bs.
The minimum bet is 88 coins since 8 symbolizes luck and good fortune in China. The symbols on the reels are the nine through ace and a chalice, a turtle, a boat, a coin, and a bird.
There's also a scatter symbol—a gong—that can appear on reels. When three gongs appear, the player receives ten free plays. Incidentally, the low-worth card symbols are not included in these free spins, so you're getting the best chance to win big. And you can retrigger more free spins with hits on additional gongs.
And of course, there's the wild symbol, called the Wild Fu Bat. When this symbol appears, it serves as both a wild card to fill any winning combos and send a bit of coinage to a bowl resting above the reels.
The golden Fu Bat symbol looks like a complex drawing, but it is actually a Chinese character surrounded at the four corners by stylized bats. It might take a bit of squinting, but eventually, you'll see the bats. Keep trying.
When three Wild Fu Bats show up, it's time for the bonus round: 12 Chinese coins you must turn over until you uncover three babies of identical value money value—at which point you win that money amount.
Also, at random times (not tied to combinations on the reels), the RNG decides it's time to share the contents of that bowl at the top of the screen—the ones all your wild symbols have been contributing to. The bowl explodes, and the resulting shower of coins dissolves into the familiar 15 coins for the player to turn over. Good times.
Louisiana Voodoo Queen (RTP: 94.43%)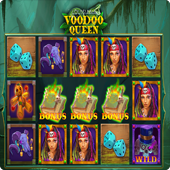 This Flipluck creation is a 5-Reel, 3-Row slot with 50 pay lines. The symbols are a headstone, a voodoo witch, a voodoo doll, a hex mask (looks like a goat skull), the essence of death (a potion bottle), dice of fate, a bone necklace, tarot cards (yeah, I know, but that's how they spell it), and a heart.
There are two scatter symbols: a spellbook and a tombstone (which also awards free spins). Throw in a wild symbol (top-hat wearing skull with googly eyes), and you got yourself a creepy but potentially profitable slot game.
The eerie background music matches the creepy graphics well.
The fun starts as soon as you win anything in a regular spin less than 40 times your bet. You can choose to "gamble" by hitting the appropriate button. This will take you to a new screen where you'll "roll" three dice to try to grow your initial win. If you win the roll, your win is doubled, and you are then given another opportunity to double your new winnings with another roll.
Continuing to win with the dice rolls keeps doubling your win. You can cash out after any win with the dice—and that sounds like a good idea since if you lose, your win goes down to, um, zero.
Cleopatra (RTP: 95.7%)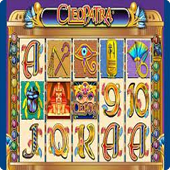 One of the workhorses on the casino floor is IGT's Cleopatra. Introduced in 2002, this machine features plenty of quick bonuses to encourage repeat play while still offering the bigger payouts of a medium to the high-volatility machine.
Set in ancient Egypt, the symbols include the nine through ace, a scarab, stylized fans (to keep the scarabs away, I guess), a stylized eye, and a crook-and-flail (symbol of Egyptian royalty) doncha know), and a gold ingot.
There's also a Sphinx symbol that serves as a scatter wild, and getting three or more of these on a single spin earns the player 15 free spins—and multipliers accumulate during the free spins, making your potential winnings a wonder to behold. Suh-weet.
The Cleopatra symbol is added to the fun, which is wild and doubles any pay line she appears in. Find out more about this terrific slot in the review below.
Dead or Alive II (RTP: 96.82%)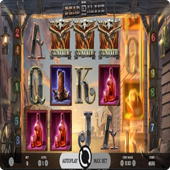 NetEnt's Dead or Alive II is a five-reel, three-row slot game with nine pay lines. Regular symbols include the ten through ace, hats (cowboy hats, but what other kind is there, really), cowboy boots, sheriff's badges, shootin' irons, and whiskey bottles.
Special symbols include crossed pistols for scatter wilds and several shady-looking characters for wild card symbols.
If at least three scatter wilds show up, the player is given a choice of three different bonus games to play: Old Saloon, High Noon Saloon, and Train Heist—all three of which provide the player 12 free games.
The game features haunting but unobtrusive background music, and the play is replete with sound effects that will remind you of western movies. Incidentally, we reviewed Dead or Alive II recently.
Fu Dai Lian Lian Boost Peacock (96-98%)
This 5-reel, 3-row game from Aristocrat Gaming is a spin-off from the original Fu Dai Lian Lian slot (commonly referred to as "the bag game"). And like its predecessor, Boost Peacock features the three bags prominently.
First, though, let's look at the regular part of the game. The symbols on the reels are nine through ace, crowns, dragonflies, butterflies, and bouquets of flowers. There's an odd-looking potion bottle that serves as a wild symbol. And there are special coin symbols that appear to represent one of the three bags, and they feed coins into their respective bags.
Speaking of which, the Boost bags are named Prosperity, Longevity, and Jackpot. Prosperity Boost delivers free games. Longevity Boost offers free games with x5 wins. And in Jackpot Boost, players get ten free spins to try to collect jackpot name letters to win that jackpot.
The respective bags fill as play continues and will trigger a bonus round at an RNG-selected moment. As noted above, each of the three bonus rounds provides a unique version of the bonus round.
Incidentally, Fu Dai Lian Lian Boost Peacock offers up four levels of jackpots—mini, minor, major, and grand, with the last two of which are progressive.
Buffalo Gold (RTP: 96%)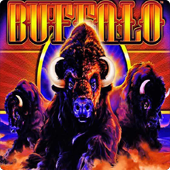 If you play real money slot apps anywhere in the solar system (sorry, Pluto!), you have seen the popular Buffalo slots from the folks at Aristocrat. You may have even played one of the many variations of Buffalo—that is if you were able to find a machine not already occupied.
Of all the Buffalo variations, the one that seems the most popular is Buffalo Gold. The screen is five-reel, four-row, and 20 pay lines, with symbols consisting of nine through ace, wolves, elk, and the buffalo itself. The wild symbol is a setting sun and serves as a stand-in for all other symbols on the reels except for the scatter symbol—a gold coin.
You get payouts on combos of most of the symbols, but of course, everyone's shooting for at least three buffalo (which is the plural of buffalo, btw) in a winning combo.
The bonus features are triggered when at least three scatter symbols (gold coins) appear anywhere on the screen. This triggers eight free spins—and each of those free spins can generate more free spins if gold coins appear.
The goal?
The player's goal is to acquire 15 golden buffalo during the free play (the slot keeps track), and once that is accomplished, all subsequent free spins will result in a screen filled with buffalo (the 9 through ace symbols excluded) as the philosopher said: Winning!
Wild symbols (the sunset) appear on only the second, third and fourth reels, multipliers, and wilds. Each is marked as "double" or "triple"—and multiplies the product of the previous wild.
Buffalo Gold is replete with free spins and generous wilds with multipliers, and there's even a risk game where you can attempt to double your wins.
Finding the Best Bonuses in Online Slots in 2022
Now, you may share Conan the Barbarian's view on what is best in life, but of course, that might not be practical in real life—neither at a casino nor in the privacy of your own home or office. Or yurt.
But striving to become Conan the Bonusmeister might be a bit more realistic goal (not to mention more socially acceptable).
Your best bet is to try each of the games noted above to find the one you like the best, while reading up on how to win a progressive jackpot slot probably isn't a terrible idea, either.
Remember that good bonus slots work hard to keep your interest by being entertaining and being occasionally generous with the wins. Just don't forget to win while you're being entertained.
For these slots and more, visit the safest online casinos below.
Safe Online Casinos