Online Casinos in Arkansas
If you live hours away from Southland, Saracen, or Oaklawn Casino, it's not convenient to make the trip. You have to make a weekend or week of it.
But that doesn't mean you're out of luck, because the best Arkansas online casinos are only a few clicks away 24 hours a day.
How We Rate

Safety & Security
You should be able to gamble online without fear. So we only recommend licensed sites that use the latest security and encryption techniques.

Bonuses
Maximize your bankroll with fantastic bonuses. Our recommended sites offer valuable bonuses with fair terms and conditions, including manageable wagering requirements.

Games & Betting
The best sites have the best wagering options. That's why you will find extensive games and betting opportunities on our recommended sites.

Banking
Getting your money to and from your account shouldn't be a hassle. We only recommend sites with a variety of convenient banking methods, including cryptocurrency and e-wallets.
The real money gambling climate in the Natural State has rapidly evolved over the past few years.
Arkansas casinos are now in full gear, as is daily fantasy sports (DFS). If you want to play bingo, participate in a raffle, place a pari-mutuel wager, or buy a lottery ticket, you've got plenty of options too.
Those land-based betting opportunities are easy to spot. But real money online casinos for Arkansas residents are a different story. It's sometimes tough to find a legit online casino.
But that's why we're here. In our guide below, we're going to fill you in on our review process and give you some tips for finding and getting the most out of Arkansas online casinos.
The Impact of Issue 4 on Arkansas Casinos
Our focus here is primarily on Arkansas casinos online. But there've been recent changes to Arkansas gambling laws. We want to briefly touch on the three new brick and mortar Arkansas casinos with slots and table games in the state.
Arkansans with a keen interest in casino gambling have been following the passage of Issue 4 since 2018. Issue 4 approved the first land-based casinos in the state, as well as sports betting within them.
Both Oaklawn and Southland, received licenses and opened their racinos to the public.
Current Casino Options in Arkansas
Casino
Address
Telephone
Oaklawn Racing Casino-Resort
2705 Central Avenue Hot Springs, AR 71901
1-800-OAKLAWN
Saracen Casino-Resort
3512 Market Street Pine Bluff, AR 71601
870-686-9001
Southland Casino-Resort
1550 N Ingram Blvd. West Memphis, AR 72301
800-467-6182
A third license was awarded to Saracen Casino-Resort in Pine Bluff, which took two years to complete. In the meantime, though, a mini-casino served as a soft opening with slots and lower-limit sports wagering.
The three floors in Garland, Jefferson, and Crittenden counties are now not only filled with Vegas-style slots, but Issue 4 also provides for casinos with table games in Arkansas. Real money table games are entirely new to the state, along with sports betting.
The state recently approved Gulfside Casino Partnership for a proposed casino in Polk County.
Arkansas Casinos Online vs. Land-Based Casinos
| | |
| --- | --- |
| Online Casinos | Land-Based Casinos |
| Wide range of slot machines | Variety of slot machines |
| Live casinos with real dealers | Small table game selection |
| Progressive jackpot games | Progressive jackpot games |
| Use Bitcoin and other banking options | Use cash or card only |
| Deposit bonuses | Earn player comps |
Arkansas now has prominent land-based casinos with slots, table games, and sports betting. The Saracen Resort, for example, includes a 300-room hotel and 2,000 gambling machines.
But none of the casinos have an online presence.
The closest you can get to online or mobile gambling from the three casino properties is Oaklawn Anywhere, a race betting app offered by Oaklawn Racing Casino-Resort.
AR Online Casinos with Real Money Gambling
If you want immediate access to slots, table games, and even live dealer tables, you'll turn to one of the reputable providers of Arkansas online casino games.
Today's legitimate gambling sites have licensed gaming, a wide range of slots, and live casinos with real dealers. You can claim bonuses, play in tournaments, access progressive jackpot games, and turn to helpful customer service whenever you need it.
There are some differences between AR online casinos and the brick and mortar casinos in the state. One of the most significant differences is banking.
Depositing Cash at Casinos in Arkansas
You won't be inserting twenties into your computer or smartphone, as you would in a slot machine. Instead, it's time to get creative. The best online casinos in Arkansas provide a variety of banking methods.
Credit cards, debit cards, gift cards, and Bitcoin are a few US players' top choices. As you may know, though, cards can be challenging, as they require bank approval. Some users have no problem at all, while others have banks or credit unions with stringent coding rules.
If you run into any issues, though, Bitcoin is a wise alternative.
Table Game Differences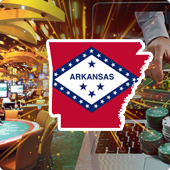 Slot machines are quite similar to online slots for Arkansas players, but table games are considerably different.
You'll find the same games, like blackjack, casino poker, roulette, and baccarat. However, unless you head to a live online casino, tables are RNG (random number generated).
That means that results are arbitrary, as with slots. You're competing with the computerized house, instead of having a shuffle master or dealer in charge of the action.
So, you've got distinctions with banking and table games. The third significant difference is with Arkansas casino bonuses, which we'll cover next.
Incentives for Using Arkansas Online Casinos
If you feel like a VIP when you receive free play cash, comps, or gifts in your local casino, then you'll be happy to know that the best Arkansas online casinos won't leave you out in the cold incentive-wise.
Online casino promotions are unique from land-based casino promotions, though.
AR Online Casino Bonus Limitations
Arkansas casino bonuses could extend to free hotel rooms, meals, and physical gifts, like branded merchandise when you're in person. Your typical AR casino online doesn't offer those types of player rewards because they have to work with the limitations of doing business online.
Most real money online casinos for Arkansas players will provide one or a combination of the following types of promotions.
Deposit-match free play bonuses
Free spins
Tournaments or drawings
The first two are the most prevalent, and we'll narrow that down even more to deposit-match incentives. In addition to banking, these types of incentives are entirely different than what you can claim locally.
Deposit Bonuses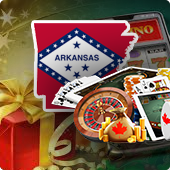 You can easily recognize a deposit-match bonus, as it'll read something like "Receive 200% up to $500." That percentage is a signal that it's time to read through the terms and conditions.
There are a few things to keep an eye out for in those terms and conditions.
Rollover
Eligible games that contribute to the rollover (some are explicitly excluded)
Maximum stake
Any limitations on your payout
Now, if you're not familiar with these types of promotions, those four things may seem foreign to you. Once you get the gist, though, you'll be a pro and will know when to claim a bonus and when to say no.
Rollover is the number of times you need to play your bonus and, usually, bonus plus deposit, through before you can request a withdrawal.
A common rollover with online Arkansas casino bonuses is X35, applied to the prize plus deposit. If you deposit $100 to receive a $200 bonus, the playthrough requirement is $10,500.
Eligible games are the games that help you to satisfy your rollover.
In nearly 100% of the cases, slot games come in at 100%. So, every dollar of betting on a slot helps you to work off your rollover.
The rest of the inclusions and exclusions vary per casino. Sometimes table games will get you a 20% contribution. But, then again, a few may not help, and may even void your bonus. That's why it's essential to understand the four components of Arkansas online casino bonuses.
Maximum stake is the most that you can stake in a single game or spin while you're working off a rollover.
The maximum stake is usually around $10. Real money Arkansas casino sites don't want their players making huge bets to work off the bonus rollover.
Limitations on your payout are the most that you can cash out of your casino account based on a bonus award
This particular condition tends to appear more with welcome bonuses. When you're new to an Arkansas online casino, the maximum reward could be something like 30 times your deposit.
You'll want to keep an eye on this one, especially if you enjoy progressive jackpot games, as you could be limited if you hit a big jackpot.
Free Spins for Your Arkansas Casino Bonus
Another popular incentive issued by online casinos for Arkansas players is a batch of free spins. They're usually given for a specific slot title and can be quite beneficial. However, the "r" word returns, as rollovers apply to free spins winnings too.
So, for example, let's say that you receive 50 free spins with an X20 rollover. You play your 50 freebies and end up with $100 as a result. Now, you have to bet that $100 through 20 times ($2,000) before requesting a payout.
Both free spins and deposit-match bonuses are enticing opportunities and can lead to some big-money results. However, we always caution online players to read and understand the terms and conditions to get the most out of these types of casino rewards.
Our Rankings of the Best Arkansas Casinos Online
You can see that we have a few recommendations for which top-rated Arkansas online casinos you should join for real money casino gambling.
But what you can't tell from that list is how we arrived at it. Here are some details of how we rank the best online casinos for AR.
Arkansas Online Casino Background Checks
The first thing that you'll want to know is that we don't just look for pretty websites or include every website labeled as an Arkansas online casino. We've been in the industry a long time and take our job seriously. While our process includes full reviews, which we'll get to next, it also involves pre and post-review monitoring.
Before we dive in with a complete AR online casino process, we look at player feedback, the ownership reputation, and newsworthy items about the service. We immediately eliminate any provider with established patterns of payout issues or that doesn't follow fair gaming practices.
Monitoring AR Casino Sites
After we complete reviews, we do the same monitoring for any significant changes in service levels. That's why you may see some occasional shifts in our rankings. We don't consider our Arkansas online casino ratings to be final. They're always a work in progress.
Our review process itself is a lengthy one. It takes into consideration the following criteria.
First impressions
User-friendliness
Range of deposit and withdrawal options
Banking specifics (fees, turnaround times, limits)
Customer service accessibility and responsiveness
Licensed software
Variety of gaming opportunities
Live dealer casino
Mobile access
Types of bonuses and promotions
Rollover and other bonus conditions
Tournaments, contests, and other player perks
Once we have all of the information compiled, including the background details, we can put together an accurate list of online casino ratings and rankings for real money gamblers in Arkansas.
Not only do we post our results, but you have access to the full reviews for each casino site. You can quickly scan them to see if a website has the banking options you're looking for, a specific betting opportunity, live casino action, or a full range of gaming for mobile play.
Ultimately, you have to make the decision on which AR casino is the best for you. But we've done all of the time-consuming legwork so that you can save yourself a lot of time.
Play Your Favorite Games Online Now
Hopefully, we've demystified Arkansas online casinos for you. Or, if you've already been using them, maybe you've learned a few things about bonuses, banking, or which sites are ranked higher than others.
Whatever the case, new and top-rated online casinos for Arkansas players are right at your fingertips on your computer or mobile device. All our reviews contain the info you need to figure out which online casino is right for you.
Or you can throw caution to the wind and jump right in with one of our highly recommended Arkansas online casinos and start playing your favorite casino games for real money right now.
FAQ for Arkansas Online Casinos
Is there online casino gambling in Arkansas?
Yes. Quite a few US-facing online casinos are open for Arkansas players.
They include various betting opportunities, including slots, table games, video poker, and specialty games.
Is the legal Arkansas casino age 18 or 21?
The age limit for Arkansas casinos is 21.
That age applies to both land-based and online AR casinos.
How can I find the best payouts in Arkansas casinos?
The best casino payouts go hand in hand with top-rated casino providers. From Southland Casino-Resort to any of the recommended online casinos for Arkansas players, you'll find slots with progressive jackpot opportunities.
Table games like Caribbean Hold 'em, also have side bet action that could lead to five or six-figure payouts.
Are there casino apps for Arkansas players?
You won't find any Arkansas casino apps in the Google Play or Apple store. The only state-regulated app is Oaklawn Anywhere, for horse racing bettors, offered by Oaklawn Racing Casino-Resort.
However, all of our recommendations have excellent Arkansas mobile casinos that include most or all of the betting opportunities you'll find in the desktop or laptop versions.
What's the best way to find real money slots in AR?
There are two ways to participate in real money slot gaming in Arkansas.
The first is by pulling up the list of casinos in Arkansas, as you'll find three brick and mortar venues (Oaklawn, Southland, and Saracen).
The second is by joining one of our recommended, safe AR casino websites. They have all the real money slots and table game action you need, which you can access using your computer or mobile device.
Can I claim a no deposit bonus in Arkansas online casinos?
Probably. Arkansas casino no deposit bonuses aren't listed in the master list of promotions and player incentives.
However, contacting customer service at your favorite AR online casino may do the trick. Many gambling sites are willing to issue a no deposit bonus as a new or return player incentive.
Where can I access Arkansas online casino reviews?
You've come to the right place because we have an entire library of casino reviews for the best casinos in AR.
Along with other background information, we use our full evaluations of gambling sites to rate, rank, and arrive at our recommendations for Arkansas players' best casinos.