Hide Bonus Offers
| | | | | |
| --- | --- | --- | --- | --- |
| #1 | BetOnline Sports | 60% Up To $1,000 | Visit Site | BetOnline Sports |
| #2 | Bovada Sports | 50% Up To $250 | Visit Site | Bovada Sports |
| #3 | BetUS | 125% Up To $2,500 | Visit Site | BetUS |
| #4 | Everygame | 100% Up To $500 | Visit Site | Everygame |
| #5 | MyBookie | 100% Up To $1,000 | Visit Site | MyBookie |
7 Top Slots to Play at Bovada – The Best Slot Machines to Sample

What are the best slots on Bovada? That might depend on the types of slot games you enjoy playing.
It's no secret that some slots enthusiasts tend to be picky when trying out new titles. That also applies to some of the older ones that have somehow passed them by. Is there anything wrong with that? No. But falling into that category can prevent you from getting out there and exploring what could potentially end up being a new favorite!
Although I won't always fall in love with a new game I play, I do always try to make an effort to see what else is out there, especially when it comes to the games available on some of our top casino sites like Bovada.
Over the past week, I've been dabbling around on the best slots to play at Bovada. Or, to be more precise, playing tons of new games to find the best Bovada slots so I can write about them.
As you can see from this title, I found seven of which I'm a fan! Here they are, in no particular order.
1. Reels and Wheels XL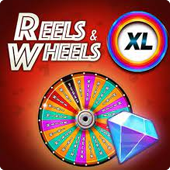 Slot Type: Jackpot Video
Software Provider: Woohoo Games
Jackpot: Yes
Progressive Jackpot: Yes
Free Spins: Yes
RTP: 96%
With over 300 slot titles in its catalog, you can get a little spoiled for choice when trawling the Bovada casino.
Some might believe that the easiest way of answering my initial question — what are the best slots on Bovada — would be to look at what other players had recommended. But alongside being an absolute cop-out, doing that would kind of defeat the purpose of looking for new slots to play.
The first game I chose, which eventually made it onto this list of the best Bovada slot machines, is Reels and Wheels XL. Although it wasn't the usual type of slot I enjoy playing, I was pretty impressed with the $306,000 jackpot advertised on screen. More than that, the 96% RTP also appealed.
This video slot features five different progressive jackpots. You can play for a shot at one of them if the bonus symbol lands on both the 1st and 3rd reels and the bonus wheel symbol stops anywhere on the fifth.
With a retro design and old-school feel, I wasn't expecting a lot to begin with. But it's pretty catching and certainly fun to play. It's essentially a 5-reel, 20-line payline video fruit machine with a progressive feature, free spins, and a cool bonus feature.
I spent a bit of time on this one and had some fun. Mission accomplished in that regard. I managed to hit the bonus wheel once, and it was a buzz when I landed the mini jackpot, taking just shy of 85 dollars in profit.
While I wouldn't say it was the best slot on Bovada to play, never mind the best progressive slots to play, it has made this list for a reason.
2. A Night With Cleo
Slot Type: Adult Video
Software Provider: Rival Gaming
Jackpot: Yes
Progressive Jackpot: Yes
Free Spins: Yes
RTP: 92.5%
A Night With Cleo. That sounds tempting or terrifying, depending on your interpretation of historical events.
One of the many slots to fall into the ancient Egypt categories, this is one of the most popular titles in the site's catalog. There are numerous reasons why some of the team here regard it among the top Bovada slot machines, and I can certainly see why.
Unlike the others on this list, I had played this one before. Thus, I knew how it worked and what to expect. But the fact of the matter was that it had been a while since I sat down and gave A Night With Cleo some time, and I came away impressed with what I found.
Although the RTP is not amazing at 92.5%, the presence of a potentially life-changing jackpot is enough to get one excited.
Also, this is an adult-themed slot, which means that you'll hardly be bored out of your mind—distracted, maybe. But it's not one of those games that will put you to sleep, as evidenced by the slightly raunchy title.
An animated version of Cleopatra appears throughout the game. But it's during the adult bonus game you get to spend, well, more time with the legendary, seductive Queen of the Ptolemaic Kingdom. If you aren't attracted to cartoons like me, it's still fun!
Feel free to head over to the casino to sample the game yourself. But if you're looking for a much more comprehensive review of one of the best slot games at Bovada before you get stuck in, I've got you covered!
3. Cyberpunk City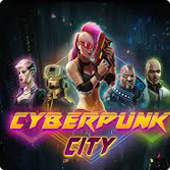 Slot Type: Modern Video
Software Provider: Proprietary
Jackpot: Yes
Progressive Jackpot: Yes
Free Spins: Yes
RTP: 95% to 96% (Estimated)
Cyberpunk City is another top game you can play on the site or through the Bovada mobile app.
As the name suggests, this one is set in a dystopian future where punks are still at it. So, to those who claim "punk is dead," the creators of one of the best slots on Bovada think otherwise. Those creators are the proprietary developers who have made this one for the site.
So, game specifics. Well, it's a jackpot slot with an RTP estimated around the 95 to 96 percent mark. As Bovada has not published these details, we can only gauge this figure. However, I would be shocked if it was less than one point below 95%.
The design is very colorful, which adds a nice sense of excitement to any wins you have.
As you can see, the symbols are well crafted, with a futuristic neon scheme standing out against a black background. The symbols fall onto a 5×3 grid where the highest paying icons are the picture symbols. The lowest paying symbols are, as expected, the 9 to A ones.
There is an expanding wild that can bump your winnings by x3. But more exciting than that is the fact that, should you trigger the random progressive jackpot, you could walk away with a staggering, life-changing prize.
As one of the best Bovada slots, you're bound to have a great time playing this one. It's packed with numerous features, looks great, and is well worth trying out.
4. Jackpot Cleopatra's Gold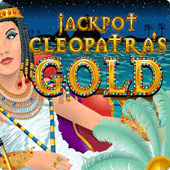 Slot Type: Classic Video
Software Provider: Real Time Gaming
Jackpot: Yes
Progressive Jackpot: Yes
Free Spins: Yes
RTP: 95%
Off the back of the much-loved Cleopatra's Gold comes Jackpot Cleopatra's Gold.
Now, if you have ever wondered how often progressive jackpots drop, the chances are that you will be hunting down your chance to scoop a major prize. But while the allure of playing jackpot slots is obvious, not everyone chooses these titles thinking they are going to land the big one.
I can only speak for myself when I say that while I would love to see one drop in my favor, my decision to play some of these games isn't down to the big prize at the top of the screen. Sometimes, as with the best slots to play at Bovada with an Egyptian theme, I might be there for the entertainment value.
So, what makes Jackpot Cleopatra's Gold a great choice? You could ask a thousand fans who have played it on any of the top US online casinos and get a thousand different answers. But as I have you here now, you're going to get mine.
In a nutshell, here's what does it for me.
Simple and classic design
Solid RTP
Cool sound effects
Exciting bonus round
Retriggered spins
All wins tripled on free spins
And, of course, there is a chance to win a staggering amount of money. Should you get lucky, that is.
I tend to like the old-school slot designs as they can inject a sense of nostalgia into my gaming experience. And nothing quite does it for me where themes are involved, as the old Egyptian ones. A case in point is that we have two different Cleopatra slots on this list of the best Bovada slots!
5. 8 Lucky Charms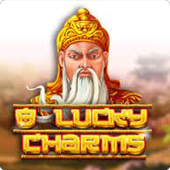 Slot Type: Classic Video
Software Provider: Spinomenal
Jackpot: Yes
Progressive Jackpot: No
Free Spins: Yes
RTP: 97.4%
Wouldn't you agree that simplicity can sometimes be calming?
In an age where slots can be overwhelmingly loud, brash, and completely distracting, it's refreshing to play some classic games. Having tasked myself with finding the best slots on Bovada casino, I didn't hesitate to add 8 Lucky Charms to the list.
At first glance, you might confuse this one as yet another leprechaun-themed slot in the vein of Rainbow Riches or Leprechaun Hills. Now, that couldn't be any further from the truth.
Those who understand the significance of the number eight in Chinese culture probably guessed it to be an Asian-themed slot. I mean, the image is an obvious giveaway, of course.
Spinomenal released this slot to appeal to those who have a particular fondness for this subgenre of games. If you've ever spent any time playing at casinos around the world, you might have noticed that there are plenty of these slots out there.
What makes 8 Lucky Charms one of the best slots to play at Bovada is that it retains a classic feel while coming with most of the desirable we look for in new games. An RTP of 97.4% is one of them. Another is the fact that it has an awesome bonus game. One that I managed to play three times before moving on to the next title on this list.
Although there is no progressive jackpot to play for, I'd certainly recommend 8 Lucky Charms to try for yourself. It's among the best Bovada casino slots for beginners and experienced players alike.
6. Ming Legend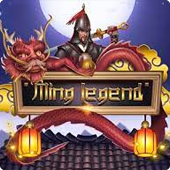 Slot Type: Modern Video
Software Provider: Proprietary
Jackpot: Yes
Progressive Jackpot: No
Free Spins: Yes
RTP: 94% to 96% (Estimated)
Another Chinese-themed game, Ming Legend, could hold claim to being the best slot on Bovada.
Bold claim? Absolutely. But I said I could, so I'm not ready to commit just yet. Even if this game is ridiculously fun to play, it's tough to separate it from the pack until I've spent more time with it.
My first impressions were mostly good. This is a new game with all the hallmarks of being just that. The graphics are great, for the most part. The sound is good enough to tune in for. There are multiple ways to win money playing Ming Legend, regardless of your starting stake.
This slot, based on The Ming Dynasty, which ruled China from 1368 to 1644 A.D, allows players the chance to bag some great prizes. Whether this is through the Golden Dragon Scatter Symbols that award between 10 and 30 Free Spins or through the generous, random win multipliers is a matter of how lucky you are.
Although the low-paying symbols look a little similar at times, I don't think this is a great hindrance. I had a good time playing this slot and have no hesitation in adding it to my list of the best slots to play at Bovada.
7. Golden Buffalo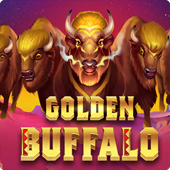 Slot Type: Classic Video
Software Provider: Proprietary
Jackpot: Yes
Progressive Jackpot: No
Free Spins: Yes
RTP: 96%
Last but not least, Golden Buffalo is on my list of the best slots at Bovada casino.
This is a classic game that many readers might have played at some point in the past. Whether that is with Bovada or one of the many land-based slots while gambling in Las Vegas, this iconic title is massively popular with enthusiasts around the world.
Although it has been around for a while, it's still one of Bovada's top slots. This has a lot to do with its design and playability, sure. But who can ignore the fact that the wild multiplier feature on the free spins can potentially win you up to 3125x your bet?
With a theme that revolves around dusty desert plains, Golden Buffalo features an array of animal symbols that come with varying multipliers when landed. The lowest pay icons are from 9 to A, meaning it's the raccoons, wolves, and, of course, the buffalo you will be hoping to land.
This game comes with a top prize of $500,000. That's the most that can be won during a single game. But even though the chances of winning are more than just a little against you, there's so much more to enjoy about this title than the top prize.
If it comes, though…
More Top Slots to Play at Bovada Casino
There you have it, some of the best slots you can play at Bovada. If any of these caught your eye, feel free to
visit Bovada now
.
Of course, this list is subjective. There might be some games above that you have played that didn't do it for you. That happens. We all have differing opinions on what makes a great slot and varying approaches to our aims when playing them.
If I said that I sat down and played every single one of the 300+ slots on the site, I would be a liar. Of course, I didn't! I might eventually be able to say that, but for now, I have to settle for saying I've sampled a high volume of what they have to offer.
I'd recommend trying some of the slots on Bovada out for yourself. You can start with the ones above or take a similar approach to me and go in without any biases or preconceptions of what you might and might not enjoy.
Remember, you can also play Bovada free slots on demo mode. I found most of the games I tried were available to try for free before I sampled their real money titles. But keep in mind that this does depend on where you are playing from!
You will have noticed that most of the best slots games to play at Bovada I referenced came with progressive jackpots. This wasn't a hugely influential factor in my choices, of course. But it does help!
If you're interested in learning more about the world of progressive slots, I'd suggest looking into guaranteed payouts with hot drop jackpots. You can find out more about these by reading the following piece!
Hot Drops Jackpots with Guaranteed Payouts