Games with the Best Progressive Slots for 2022 ($37M in Jackpots)

When you're looking for the best progressive slot games for 2022, you're not looking for entertainment, the best drink service, or the best background music.
You're looking for the benjamins. The pesos. The loot. The necessary. The… well, you get the idea.
The best place in a casino (online or otherwise) to find stacks of cash are the slots that offer progressive jackpots.
What makes progressive slots so special? Well, regular slots are "have fun and maybe take someone special out to dinner with your winnings." Progressive slots are "have fun and buy everyone at your high school reunion a new car with your winnings."
A not insignificant difference.
Okay. Now that I've gotten your attention, let's take a stroll through our list of the best progressive slot games around.
Lightning Link ($15,491,103.27)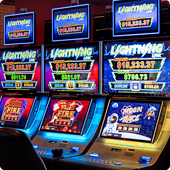 Manufacturer: Aristocrat
Year Introduced: 2014
Reels: Various
Rows: Various
Pay Lines: Various
Progressive Jackpot levels: Various
Seed: Various
Aristocrat's Lightning Link comprises an entire family of games connected to the same jackpot, all offering the same Lightning Link bonus round.
Raging Bull
Mine Mine Mine
Dragon's Riches
Fire Idol
Magic Totem
Eyes of Fortune
Bengal Treasures
Wild Chuco
Tiki Fire
Heart Throb
Best Bet
Moon Race
Happy Lantern
Sahara Gold
High Stakes
Magic Pearl
All the games offered under the Lightning Link aegis offer casinos both networked and stand-alone configurations to make it a small casino option and scalability for the larger casinos.
The heart of the Lightning Link is the bonus round featuring three rows with five reels with coin symbols of varying amounts and blanks on each reel. As the reels turn, whatever coins appear at the end of the spin remain the total of which is your payout.
If each spin results in at least one new coin, the spins continue. When all 15 spots are filled with coins or a spin results in no new coins, the bonus round is over, and the player's total win is calculated and paid.
Each of the various Lightning Link games noted above also offers unique bonus rounds. Many of the newer machines allow the player to choose from a menu of different Lightning Link games.
Before we go further, it may be a good idea to brush up on all things slots. To do that, check out our slots guide.
Gladiator (€2,374,847.22)
Manufacturer: PlayTech (online), Microgaming (casinos)
Year Introduced: 2008
Reels: Five
Rows: Three
Pay Lines: 25
Progressive Jackpot levels: Jackpot
Seed: $50,000
This popular slot is based on the movie Gladiator, and many of the symbols on the reels are characters from that movie. Still, it's the Gladiator bonus round that attracts most progressive players to the game—and what makes it one of the best progressive slot games in the world.
Any time three wild symbols (Gladiator helmets) show up on the pay lines (2,3 and 4), the bonus is started. Reels 2,3, and 4 are blanked out, and nine helmets descend in sequence to fill the empty spaces. The helmets can be any one of three colors—gold, silver, or bronze. All gold could mean a progressive jackpot win.
If you're hungry for more details about this game, we recently reviewed the online version of Gladiator.
Buffalo Grand ($1,559,521.68)
Manufacturer: Aristocrat
Year Introduced: 2015
Reels: Five
Rows: Five
Pay Lines: 1024
Progressive Jackpot levels: Mini, Minor, Major, Super, Grand
Seed: $500,000 (Super)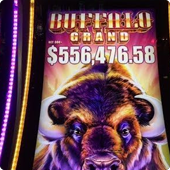 Buffalo Grand recently joined the growing herd of Buffalo games; its distinguishing characteristic is a healthy progressive jackpot. The game has all the goodies common to Buffalo aficionados, including free spins, the wild symbols (buffalo), and the bonus symbols (wagon wheels).
It differs in the reel set-up: five reels with reel one at five serving four rows, while reels 2, 3, and 4 serve five rows. In regular play, any three wagon wheels trigger the jackpot bonus, which calls up two-segmented wheels, the lower of which consists of various multipliers.
The upper wheel has segments for both cash amounts and all five of the progressive jackpots.
Divine Fortune ($300,000)
Manufacturer: NetEnt
Year Introduced: 2017
Reels: Five
Rows: Three
Pay Lines: 20
Progressive Jackpot levels: Minor, Major, Mega
Seed: €10,000 (Mega)
NetEnt is no slouch in the slots department, and the popularity of its lower-end Divine Fortunes proves it doesn't take the promise of outrageous fortunes to bring in the players.
The game's theme music and graphics all center around Greek mythology, with symbols of Medusa, the Minotaur, a griffin, and a lion, all interspersed with symbols of jack through ace. Pegasus is the wild card, with a Zeus-like fist clutching a lightning bolt serving as a free spin symbol.
The most important special symbol (for our purposes) is the Golden Coin bonus symbol. Collect enough of these bonus coins, and you'll be taken a jackpot bonus screen consisting of three rows of five blanks.
In this jackpot bonus round, you'll get primed with three gold coins of varying denominations, and then the remaining blanks will turn with blanks interspersed with coins. You'll have three spins, and as long as at least one new coin is added, you'll continue to get free spins (much like Lightning Link's bonus round).
Megah Moolah Online ($2,400,000)
Manufacturer: Microgaming
Year Introduced: 2006
Reels: Five
Rows: Three
Pay Lines: 25
Progressive Jackpot levels: Mini, Minor, Major, Mega
Seed: $1,000,000 (Mega level)
The Mega Moolah progressive slot game is primarily available in Europe. Its graphics and symbols are v-e-r-y reminiscent of Disney's Lion King, with goofy giraffes, gibbons, grinning water buffalo, laughing zebras, grumpy elephants, and gazelles like they're posing for selfies—you get the idea.
It's not a Disney machine, but you may be excused for your misapprehension.
The smiling monkey symbol is the trigger for the jackpot bonus, which brings up a spinning wheel segmented into various denominations and all four of the progressive jackpots.
Find out more about Mega Moolah Online, as well as where to play below.
Mega Bucks ($15,491,103)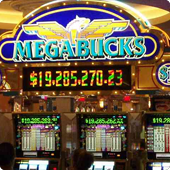 Manufacturer: Microgaming
Year Introduced: 1986
Reels: Various
Rows: Various
Pay Lines: Various
Progressive Jackpot levels: Various
Seed: $10,000,000
You could fill a moderately sized casino with just the members of the Megabucks progressive jackpot family:
Megabucks Double Gold
Megabucks Triple Double Stars
Megabucks Double Diamond
Megabucks Platinum Pay
Megabucks Wild Sapphires
Megabucks Crystal Sevens
Megabucks Fire Sapphires
Megabucks Spinning Reel 2x3x4x5x Gold
Megabucks Double Diamond Deluxe
Megabucks Spinning Wheel Double 3x4x5x Times Pay
Megabucks Wolf Run
Megabucks Red Hot ReSpin
No list of the best progressive slot games is complete without including the G.O.A.T of progressive jackpot slots—Megabucks.
Megabucks is the world champ of progressive slot games—and rightly so. Since its introduction to a bemused but eager public in 1986, it has dealt out tens of millions of dollars in progressive jackpots.
And before I forget, all the machines mentioned above in the Megabucks list share in contributions to (and in wins paid from) Megabuck's single progressive jackpot amount.
Most of the Megabucks slots eschew fancy graphics and complicated themes, preferring to offer up one-to-three-pay line/three-reeler excitement with jackpot bonus rounds that are truly memorable. Players will still find five-reel/four-row play on some newer Megabucks games.
The game in all its avatars has paid out nearly three-quarters of a billion dollars in its four decades of existence.
Fun Fact: In 1989, Elmer Sherwin walked into the brand-new Mirage in Las Vegas and hit the Megabucks jackpot for $4.6 million. Sixteen years later, the 92-year-old Sherwin walked into the Cannery Row Casino & Hotel and hit the Megabucks jackpot there for $21 million.
Dragon Link ($1,241,642)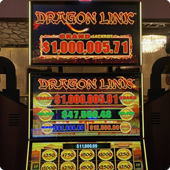 Manufacturer: Aristocrat
Year Introduced: 2018
Reels: Various
Rows: Various
Pay Lines: Various
Progressive Jackpot levels: Mini, Minor, Major, Grand
Seed: $1,000,000 (Grand)
Like Megabucks, Aristocrat's Dragon Link is a family of connected progressive slot games, including:
Silk Road
Golden Gong
Peace & Long Life
Genghis Khan
Golden Century
Spring Festival
Happy & Prosperous
Autumn Moon
Peacock Princess
Panda Magic
As if Aristocrat didn't have enough going for it with Buffalo and Lightning Link, it has added a host of new slot machines in the new Dragon Link family.
With graphics, music, and sound effects all centered on Asian themes, Dragon Link offers a successful combination of jackpot bonus rounds, wild symbols, and scatters.
Tips for Playing the Best Progressive Slot Games
Every progressive slot game has its quirks and pathways to glory. Still, they all share the same basic characteristics, and we've got a list of dos and don'ts for players eager to become the following progressive slot millionaire:
Mind the Gap: The gap between your bankroll and what you'll need to invest in hitting that progressive jackpot. Don't bet more than you can afford to lose, and set a limit for yourself for each play session.
Go Where the Money Is: Seek out progressive slots where the jackpot has reached its highest level. Please don't play the progressives that recently paid millions and are now back at their seed levels.
Bet the Amount Necessary to Win: Most progressive slot games require a max bet to qualify for the progressive jackpot. Don't set yourself up for the heartache of winning-not winning the jackpot because you bet three quarters instead of the required four to qualify.
Do Your Research: Like any job, you need to know what you can expect from the progressive slot game you're working on–and how best to optimize your play for that particular game. Reading this article is a good start, but we've also focused on how to win a progressive jackpot slot.
Check Out All the Options: While $42 million seems reasonable to win, you can often find more attainable goals at the lower end of the spectrum. In fact, there are progressive slot games that are hardwired to pay out at a specific amount or within a specified time period. These are called hot drops or must-drop games, and while the jackpots won't be in the gazillions, they will still be much more than regular slot jackpots—and infinitely more attainable.
Money, Money Everywhere…
I'm surprised that you're still reading with all the opportunities listed above to bring rapturous joy to the progressive slot player's heart. That said, you can always find plenty more opportunities with a visit to one of our fully-vetted online casinos chockful of slots with progressive jackpots.
Oh, and one last note: That dollar figure mentioned in this blog's title ("Best Progressive Slot Games for 2022 ($37,733,002.05 in Jackpots") reflects the total of the recent single wins on the games featured in this blog. And the amount next to the game's header is the amount of that single recent win.
As they say in all the best movies: Come get some! If you want to get in on the fun, head on over to the top real money casinos.
Top Real Money Casinos