European Sports Betting Sites
In almost every country in Europe, sports betting has continued to increase in popularity over the years. We have online betting to thank for that! This has made it easier than ever before to place wagers on sports events, and there are several other benefits to betting online, too.
European sports bettors have a significant advantage over bettors in other parts of the world, as they have access to an excellent selection of sports betting sites. They are welcomed at most sites, including some of the very best around.
This is great, but it makes choosing which site to use extremely difficult. Luckily, we're here to help! Below is a list of what we consider to be the top European sports betting sites at this moment in time. Each one provides a genuinely first-class service and is trustworthy when it comes to finances.
Rank
Betting Site
Exclusive Bonus
Get Started

#1

BetOnline Sports

60% Up To

$1,000

Visit Site

Visit Site

#2

Bovada Sports

50% Up To

$250

Visit Site

Visit Site

#3

BetUS

125% Up To

$2,500

Visit Site

Visit Site

#4

Everygame

100% Up To

$500

Visit Site

Visit Site

#5

MyBookie

100% Up To

$1,000

Visit Site

Visit Site
This isn't just some random selection of available options. Our rankings have been carefully and diligently compiled based on exhaustive research and extensive testing. We can state with absolute confidence that the sites we've chosen to recommend here are the ones to use if you want the best possible online sports betting experience. Sign up at any one of them, and you won't leave disappointed.
Please note that these sites specifically target European customers. As such, residents from most European countries are welcome to sign up. However, some of these sites do restrict residents of a few countries. This is because those countries have legislation in place that dictates which sites can and cannot provide gambling services to their residents. It's unlikely that this will affect you, but it's still something that we feel obligated to point out.
One other important point to mention is safety. We take a wide range of factors into account when preparing our rankings, as you'll discover later, but nothing is more important than ensuring that we only recommend sites we know can be trusted. This is something we take very seriously. Although most sites are perfectly safe to use, there are a few out there that aren't. We want to help you avoid those. That's why we only ever recommend sites that earn our seal of approval.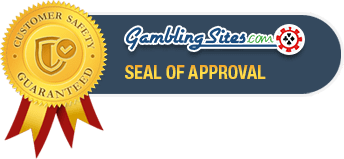 GamblingSites.com's seal of approval isn't given to just any betting site. Recipients must have proven beyond any reasonable doubt that they are reliable, trustworthy, and safe. Any site that's even remotely associated with suspicious activity or unethical practices will simply not make the grade.
With all of that out of the way, you may be ready to jump straight in and join one of our recommended sites. Please feel free to go ahead and do that if you are, but we do have some more information for those who need a little more help. Below is a short list of the various topics we plan to cover throughout this page.
Alternative Betting Sites
There's no doubt that the sites listed on this page provide a great service and a good all-around experience. However, we're aware that not all sports bettors want exactly the same things from a sports betting site. The ideal option for one person might not be quite right for someone else. Everyone has their own personal preferences and requirements.
With that in mind, we've ranked the best sports betting sites in several other categories, too. These categories are primarily for people who place significant importance on one particular aspect of what a site has to offer. You can find the relevant rankings on the following pages:
There's another set of rankings you might be interested in, too. Some of them offer other gambling activities in addition to sports betting. But they're ranked here specifically on the quality of their sports betting service. They're not necessarily the best options if you also enjoy casino games or poker. If you want to find the best "all-in-one" gambling sites, then you should check out our rankings on the following page:
How to Assess a Sports Betting Site
We've told you that we rate the sites listed on this page very highly and consider them to be the best around. But we haven't really told you why. So what is it that makes them stand out from the vast number of sports betting sites around today?
It's actually several things. There isn't one single factor that makes a site worthy of our recommendation. They have to perform well in a variety of key areas, which is why we have to do so much research and testing. We have to be absolutely sure that a site really does reach the standards that we're looking for.
Some of the factors we take into account are more important than others. They all have an impact on the user experience in one way or another, though, so they all influence our rankings.
Here are some of the questions we have to answer when assessing the overall quality of a sports betting site:
How long have they been operating for?
Who owns the site?
Do they have a good reputation in the industry?
Do they hold a recognized betting license?
Are they operating legally?
Which regulatory body are they governed by?
What deposit options are available?
What sports are covered?
How competitive are the odds and lines?
Is live betting available?
Is the site mobile compatible?
How generous is the sign-up bonus?
Do they run regular promotions and special offers?
How quickly do they process withdrawals?
This might seem like a long list of questions, but it's vital that we answer them if we're to gain a clear picture of just how good a sports betting site really is. And there's actually a lot more that we take into consideration, too. We have thousands of readers who trust our recommendations, so we can't leave anything to chance.
If you'd like to know more about the exact process we follow for ranking sports betting sites, we describe it in detail on the following page:
Online Sports Betting in Europe – FAQ
In this section of the page, we answer a few questions that we are frequently asked in regard to online sports betting in Europe. Please feel free to contact us if you have a question that isn't answered here or anywhere else on the page.

Is online sports betting legal in Europe?
We can't give a definitive answer to this question, unfortunately. The European Union governs its member countries to some extent, but each country is still responsible for implementing their own legislation. There are certain statutes that countries must adhere to, and the European Union can challenge any laws that they pass. But ultimate legislative authority is still the domain of the individual governments.
For this reason, there are no laws pertaining to online gambling that apply throughout the whole continent. Each country has its own stance on what's legal and what's not. Some countries actively regulate online gambling and some don't. Some countries impose restrictions on the companies allowed to provide gambling services, while other countries are much more liberal.
With so many countries within Europe, we can't provide all the relevant information here. We do have a page dedicated to European gambling laws, though, which you might want to take a look at.
One thing that we will mention is that we're not aware of any countries that make it explicitly illegal for residents to use online gambling sites. Most of the relevant laws are aimed at those who provide gambling services and not those who use such services. So although we can't be completely definitive, we do believe that you can probably bet online without having to worry about breaking the law.
Is it safe to bet online from Europe?
The simple answer to this question is yes, providing you use the right betting sites. We touched on this earlier. You can rest assured knowing that all of our recommended sites are safe to use!
You'll probably be fine even if you're using sites that aren't on our recommended list. But this is risky. Although the majority of sites are safe, there are some that we wouldn't want to trust with our money. So you have to be very careful when choosing where to deposit. Do all of the necessary research and make sure you pick somewhere with a proven reputation.
Are these sites available in my native language?
Most of the European betting sites that we recommend are available in multiple languages. We can't state that each and every one of them is available in each and every European language, but there's certainly a good chance that you'll be covered. It's very unlikely that you won't find at least one site that's available in your native language.
How can I deposit to European betting sites?
One of the factors we look at when ranking sites is the range of deposit options available. We typically only recommend sites that offer a wide range of banking methods, so you should have plenty of options for getting your money online.
As a general rule, you can expect to see at least the following options for both deposits and withdrawals:
Visa
MasterCard
Maestro
Neteller
Skrill
PayPal
Check
Bank transfer
The majority of our recommendations will also offer various region-specific banking methods, too.
Can I deposit and bet in my local currency?
This depends on where you live and what your local currency is. If you live in a country that's adopted the Euro, then you'll be fine. You can deposit in Euros at almost any sports betting site. If your local currency is something else, you'll probably be fine, too. Our recommended sites allow you to deposit and bet in almost every single European currency.
There's no need to worry even if your local currency isn't available. You'll still be able to get money online. It will just be converted into another currency at the time of deposit. This might cost you a little in exchange fees, but it shouldn't make a huge difference.
Which sports are covered by European betting sites?
It would be easier to tell you which sports AREN'T covered by European betting sites. Most of them cover almost every sport you can imagine. You'll certainly find all of the mainstream sports, and usually several less popular ones, too.
To give you some idea of the range of sports you can bet on, here's a partial list of what's available at one of our recommendations:
Soccer
Tennis
Golf
Cricket
Rugby
Boxing
Hockey
Ice Hockey
American Football
Australian Rules
Basketball
Cycling
Motor racing
Volleyball
Badminton
Fencing
Which odds format is used at European betting sites?
The standard odds format at European betting sites is decimal. Actually, we have found that this is quickly becoming the online standard in most regions. Most people seem to find it's the easiest format to use.
Don't worry if you prefer the fractional or American formats, though. At most places, you can choose to have the odds displayed in whichever format you prefer. And if this is not an option, you can always use our odds converter tool when placing your wagers.
Will my winnings be taxed?
This is another question that we can't definitively answer, for the same reason as before. Taxation laws are also the domain of individual governments, so it depends on where you live. Gambling winnings are tax-free in some European countries, but they're subject to taxes in others.
Our advice is to check with a qualified professional on this issue. If you do win some money from betting, then you should definitely find out whether you have a tax liability or not.
Tips and Advice for Online Sports Betting
In the final section of this page, we're going to provide you with a few simple tips that should help you have an enjoyable and rewarding online betting experience.

Open accounts with multiple sites
There are several advantages to using multiple sports betting sites, and two big ones in particular.
First, it allows you to benefit from more bonuses, rewards, and special offers. We explain about these in a moment. Second, it makes it easy to shop around for the best odds whenever you're placing a wager. The odds will usually vary a little from site to site, so it makes sense to get the best odds possible. Although this will only make a small difference each time you win, over time it can add up to be pretty significant.

Take full advantage of bonuses, rewards, and special offers
We just referred to these. They are one of the primary benefits of betting online and can be very valuable if you know how to take full advantage of them. Simply signing up with a few sites and claiming the welcome bonuses can help maximize your bankroll, and there's even more added value available for regular bettors.
Some sites offer weekly or monthly rebates on your losses, while others offer rewards based on how much you've staked. Most sites frequently run other promotions and special offers, as well. These can include enhanced odds, reload bonuses, refunds on losing wagers that meet certain criteria, and all kinds of other things. Check out the following two articles for more information:

Always stick to a budget
This is a vital piece of advice that applies to all forms of gambling. It's something that we repeat regularly throughout our website, as it's something you really must try to do. When betting online, it's all too easy to get carried away and starting risking more money than you can truly afford. We categorically do not want you to do this. It can lead to all sorts of problems that have the potential to ruin your life. This might sound dramatic, but the consequences of irresponsible gambling can be disastrous.
So decide how much you're prepared to spend on your betting in any given week or month. Ideally, set that sum of money aside. And then stop when you've reached whatever limit you imposed. This way, you'll always be gambling responsibly, and should have a great experience without having any financial difficulties.

Read our sports betting guide
We're going to leave you with this: our sports betting guide is a genuinely useful resource for ANYONE who has an interest in betting on sports. Written by bona fide experts, it's packed full of information and advice. It covers all the basics for those who are just getting started, and a plethora of more advanced topics for those who want to learn how to bet successfully on a regular basis.
July
Sportsbook of the Month

Sign up Bonus
60% Up To $1,000
READ REVIEW
Visit Site
X