Online Sports Betting FAQ – Answers to Important Questions
It's rare for a day to go by without us getting asked a question about online sports betting. Even more rare is being asked a question we have never been asked before. Most of the questions we receive are ones that we've answered time and time again.
Don't get us wrong. We're happy to answer questions whether we've been asked them once before or 100 times before. We're here to help, and we'll do that in any way that we can. But before you contact us with your question, take a look at our FAQ section. Chances are we might already have the answer you're looking for.
We've divided these questions into a few different categories, so it's easier for you to find what you're looking for. If your question isn't covered here, then we encourage you to get in touch with us.
Most Frequent
Licensing & Regulation
Getting Started
Depositing & Withdrawing
Placing Wagers
Odds & Lines
Bonuses & Rewards
Miscellaneous
Most Frequent
Is online sports betting legal?
There are no universal laws that apply to online betting on a global basis. So the answer to this question depends on where you live, and where the sites you use are based. The local laws in your country determine whether it's legal for you bet online. The local laws where a site is based determine whether it's legal for them to provide online betting services.
Here's what we can tell you for sure.
Most laws relating to online betting apply to those that provide services rather than to those who use them.
It's rare for a country to make it explicitly illegal for an individual to place an online wager. In fact, we're not aware of ANY country that does this.
We haven't heard of a SINGLE case of anyone being arrested for placing an online sports wager.
Legitimate betting sites are typically based in countries/regions where online gambling is legalized.
Basically, it's VERY unlikely that you'll personally be in breach of any law if you decide to wager online. Since we're not lawyers and we haven't studied every piece of relevant legislation in every single country, we can't be 100% positive. We have done a lot of research though, and we're confident that you have nothing to worry about.
Legitimate betting sites aren't in breach of any laws either, as long as they're abiding by the legislation in the jurisdiction where they are based.
We cover the subject of sports betting law in more detail in the following article.
Is online sports betting safe?
Fundamentally, yes. Use trusted betting sites to ensure that your funds and personal information will be completely safe. They're not going to disappear with your money, or sell your banking details. They have advanced security measures in place to prevent hackers from accessing your account too.
Are there ANY safety risks involved? To be honest, yes. There are a few rogue sites that can't be trusted, and your own computer (or other device) might not be fully protected from hackers. There are some precautions you can take to minimize this risk. Check out the following article for some advice.
Why should I bet online?
There are several good reasons for betting online. Here's a list of our favorite ones.
It's a fast, easy and convenient way to place wagers.
We can bet on pretty much any sport or event we want.
We have a wide variety of different wagers to choose from.
The odds and lines tend to be better.
We can earn bonuses and rewards just for depositing and placing wagers.
We could go on. Honestly, there are a ton of reasons why placing wagers online is better than the alternatives. We're not the only ones who think so either. It's the most popular way to bet in the world, and literally millions of people choose to place their wagers online.
Not convinced? Just give it a try. You'll soon find out why it's so popular.
Which betting site should I use?
There isn't one single correct answer to this question, as it depends on several factors. In simple terms, however, any site that meets the following criteria should be fine.
Reliable and trustworthy.
Proven track record.
Licensed, regulated and operating legally.
Accepts customers from your region.
These are the minimum requirements. Ideally, you want to use one (or more) of the very best sites around. You should also try to use sites that suit any preferences or specific requirements you may have. Identifying the right ones requires more effort, but it's worth it to ensure you get the best possible experience.
Want a quick solution? Then check out our recommendations. We've ranked the top sports betting sites in a variety of different categories, making it easy to find exactly what you need. Each and every site we recommend is thoroughly tested to make sure it's genuinely high quality.
Best Sports Betting Sites
As recommended by GamblingSites.com
It would be quicker to list the sports that you CAN'T bet on, since this list wouldn't be very long. These days pretty much every sport that's played professionally is covered by online betting sites.
Not every site covers every single sport of course. There are some sites that focus primarily on just the major sports and big events. These are quite rare though, as most sites cover at least a few of the less mainstream sports and events too. Some sites offer truly amazing coverage of different sports and events.
So no matter what sport you want to wager on, and what event, you're very likely to find at least one site that's got it covered.
Yes. Assuming you only use the reputable and trustworthy sites that is. The top sports betting sites have absolutely no issue with paying out to their winning customers, which is exactly how it should be.
Unfortunately, there are a few sites that look for any excuse not to pay their customers. There are also some that don't even bother to look for excuses, and just flat out refuse to pay. These are the exception rather than the rule though, and such sites are pretty easy to avoid.
There may be occasions when even reputable betting sites choose not to pay winnings for legitimate reasons. These reasons include breaches of terms of conditions, abuse of bonuses or promotions, and mistakes in the odds and lines.
This depends on the terms of the site and your local laws. Typically, you have to be either 18 or 21.
Please note that it's a VERY bad idea to lie about your age when signing up with a site. We can almost guarantee that you'll get discovered eventually and often times this means you'll be forced to forfeit any money you've deposited or won.
If you're not old enough, you're not old enough. Just be patient, and wait until you are.
It's possible, yes. There's nothing to suggest that betting online is any more addictive than betting offline though. The fact that it's so accessible might increase the risk a little, but this is offset by measures that are in place to help you control your online betting.
Most betting sites allow you to "self-exclude" on a temporary or permanent basis. This means you'll be unable to log in and place any wagers. You can also set limits for how much you're allowed to deposit on a daily, weekly or monthly basis.
The majority of people who bet online are able to gamble responsibly without any problem at all. With that being said, we strongly recommend that you avoid ALL forms of gambling if you have an addictive personality or think you lack the discipline to stick to a budget and stay in control.
If you ever feel like your gambling is getting out of control, please stop immediately and seek help. Don't let the problem get any worse.
Licensing & Regulation
There's no single organization that's responsible for regulating the online betting industry on a global basis. Regulation takes place at a local level, in individual online gambling jurisdictions. Licensing authorities within these jurisdictions have the power to issue betting licenses and set the rules for how betting sites must operate.
Here's a list of some of the most reputable online gambling licensing authorities around the world.
United Kingdom Gambling Commission
Alderney Gaming Control Commission
Lotteries and Gaming Authority of Malta
Gibraltar Gambling Commissioner
Isle of Man Gambling Supervision Commission
Online betting licenses are issued to sites that meet the criteria of the relevant licensing authority. To operate legally, sites MUST hold a license in the jurisdiction they're based in. The license basically gives them the right to offer their services to customers, and proves that they are subject to regulation.
The criteria for licenses varies from one licensing authority to another. The fundamental principle is always the same though. Licenses are issued only to sites that can demonstrate that they're able to operate in a fair and ethical way. They can subsequently be suspended or revoked if a site fails to meet its obligations or stick to the regulatory requirements.
Yes. A site that is unlicensed is almost certainly operating illegally. When a site isn't being regulated, they are free to do whatever they want and are under no obligation to treat their customers fairly. For obvious reasons, these sites should be avoided at all costs.
There's simply no good reason for a legitimate site NOT to be licensed and regulated. In our opinion, any site that doesn't have a license probably has no intention of operating ethically.
Most sites that are licensed and regulated display the relevant information for their customers to see. This information is usually found at the bottom of each page on the site. It will include details of any licenses they hold, and the authorities that issued them.
Here's an example from one of our recommended sites, Betway.

It's not unheard of for rogue sites to display false information that implies they're licensed when they're not. If you're ever in doubt, you can always check with the relevant licensing authority. They'll be able to confirm whether or not a site is licensed to operate.
Please note that every single one of our recommended sites is properly licensed and regulated. We carry out strict checks to ensure this.
Getting Started
Visit any online betting site and you'll see a prominent link or button that says something like "join now" or "sign up." Here's an example from a site that actually features TWO buttons.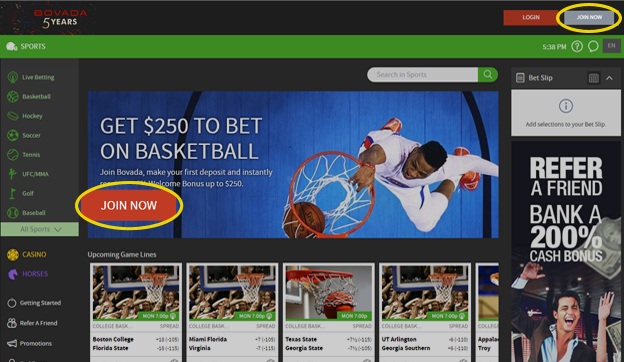 Click on one of these buttons and you'll be presented with a form to fill out. You'll have to enter a few personal details, and choose a username and password. Then you'll be asked to accept the site's terms and conditions. That's it. Your account will then be open and ready to use.
You'll typically have to provide the following information.
Full name
Address
Email address
Phone number
Date of birth
Some sites might request a little more information, but it's usually just the basic details outlined above.
Please note that at some point you'll be asked to provide identification documents. Possibly when you first join or make an initial deposit, but probably when you request a payout for the first time. This is standard, and nothing to worry about. Sites are required to ask for proof of identification to prevent fraud and money laundering.
This is entirely up to you! Some people are happy to use just a single site, while others prefer to spread their action around. Either approach is fine.
With that being said, there are a couple of advantages to using multiple sites. The main one is that you can shop around and compare the odds and lines on offer. This will allow you get the best value for each wager placed, and can make a significant difference to your overall returns.
Depositing & Withdrawing
Depositing funds to your account is easy. Here's what you need to do.
Log in with your username and password.
Visit the "cashier" or "my account" page.
Pick a deposit method.
Enter the relevant payment details (such as a credit card number).
Enter the amount to deposit.
Hit "confirm" or "submit."
Once you've done this, the funds will usually be added to your account instantly. For some methods though, there might be a slight delay.
This depends on the site. The following methods are the most widely available.
Although most places will offer as many different options as they can, please note that some options aren't available in certain regions. This is usually due to legal restrictions.
A lot of sites have to accept Bitcoin deposits in recent years. Especially those that accept US customers. Please see the following page for more information on this increasingly popular deposit method.
June
Sportsbook of the Month

Sign up Bonus
60% Up To $1,000
READ REVIEW
Visit Site
X