How to Bet Online – Guide to Online Sports Betting
People have been betting on sports in one way or another for centuries. While the fundamentals of sports gambling have remained largely the same, how we place our bets has changed significantly.
The rise of online sports betting over the last couple of decades has been incredible, and it's easier than ever to bet money on sports. Traditional sportsbooks and bookmakers still take a lot of action, but most people prefer using the many sports betting sites online these days.
If you're new to betting online, we can help you get started. This includes showing you the best sites for betting on sports online.
Rank
Betting Site
Exclusive Bonus
Get Started

#1

BetOnline Sports

60% Up To

$1,000

Visit Site

Visit Site

#2

Bovada Sports

50% Up To

$250

Visit Site

Visit Site

#3

BetUS

125% Up To

$2,500

Visit Site

Visit Site

#4

Everygame

100% Up To

$500

Visit Site

Visit Site

#5

MyBookie

100% Up To

$1,000

Visit Site

Visit Site
How does online sports betting work? How do I place bets online? Is it safe to bet online?
These are just some of the questions we hear from people who want to learn to bet on sports online.
We answer them all in this guide to betting on sports online.
Getting Started with Online Sports Betting
We'll begin with the basics of how to bet on sports online, from choosing which of the many sports betting sites to join right up to placing an online bet.
How to Bet Online – A Step by Step Guide
Pick a betting site – The first thing you need to do is pick a website or betting app that offers real money online sports gambling.
Open a new account – Once you find a suitable site for betting on sports online, it's time to register your account.
Make your first deposit – Before you can make an online bet, you'll need to put some cash in your betting account.
Place your wagers ­– Now you're ready to start placing your bets online, so it's time to make your selections.
Withdraw your winnings – If you win some money from your online betting, you can request a withdrawal to get your cash.
Let's now dig a little deeper into each of these steps.
The following details will help you fully understand how online betting works and what's involved in placing sports bets online.
Picking a Sports Betting Site
The key to choosing which sports betting sites to use is to explore various factors that will ensure a safe and enjoyable online betting experience, and even improve your chances of making money.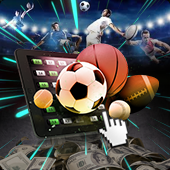 Safety and security
Variety of betting options
Odds and betting limits
Payment speed
Mobile compatibility
You must consider at least these factors if you're doing your own research into gambling websites and mobile betting apps.
Always remember that choosing which sports betting sites to use is an important decision and not one that should be rushed. You should check out the following page for more advice on this topic.
An easier way to ensure you use the best options for sports betting online is to follow our recommendations.
The sites we recommend for online sports gambling are all trusted and reputable, and each one offers an excellent overall service. We know this because we spent a lot of time testing and researching a wide range of online sportsbooks and bookmakers.
For more details on our recommended sites for betting on sports online, please see the following page.
Opening an Online Betting Account
Once you find a website for online betting that looks reliable, it's time to register a new account.
The process only takes a few minutes, and you will be asked to fill in the following information.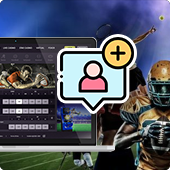 Full name
Postal address
Email address
Telephone number
Date of birth
Username and password
That's the bare minimum that all real money online betting sites request, and you may be asked for a few more details.
Some betting websites might require you to verify your account by emailing you a link you have to click, so be sure to use a real email address when you sign up.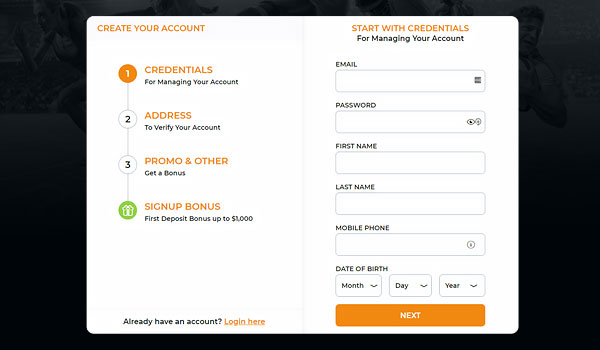 Depositing Money for Online Betting
You need to add money to your account before you can start placing wagers online.
Most online bookmakers offer at least a few banking options. Exactly what's available will depend on the site you use and where you live.
Here are the most popular banking methods available for real money sports betting on the web.
Credit and debit cards such as VISA, MasterCard, and Maestro
E-wallets including PayPal, Skrill, and Neteller
Bitcoin and other cyrptocurrencies
Prepaid cards and gift cards
Wire transfers and person-to-person transfers
Regardless of whether you want to deposit small or large sums, at least one of the options above should do the job.
Be careful with e-wallets, though, as not all betting sites online accept them when it comes to bonuses and promotions.
Since we mentioned that, don't forget to claim your welcome bonus the first time you make a deposit. It's also a good idea to keep your eyes open for other promotions every time you add cash to your account.
Placing Your Online Wagers
At this point, you will have an active account and be able to bet on sports online for real money. Just open the betting website, log in, and check what markets are available.
Here are the betting options you'll find at most sportsbooks online.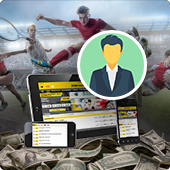 Moneyline bets
Point spreads
Totals
Futures
Prop bets
Make sure that you carefully explore all of the opportunities at your disposal. The best online sports betting apps and websites offer a huge variety of markets.
They cover all kinds of wagers on all kinds of different sports, so you'll always find something to bet on online.
Cashing Out Your Winnings
If you make wise decisions, there's every chance you'll end up winning money from betting online. That leaves only one step – to withdraw your profits.
Usually, you can use the same payment method you deposited with. If that's not possible, the sportsbook will offer you alternative options.
Here's a quick look at the approximate waiting times for the most popular banking methods.
| | |
| --- | --- |
| Payment Option | Payout time |
| Credit/debit cards | 3-10 working days |
| E-wallets | 24-48 hours |
| Cryptocurrencies | 24-48 hours |
| Wire transfers | 10-15 working days |
That's what you should usually expect, but there might be exceptions based on your country of residence and the online betting site you joined.
Online Betting Information for Beginners
Now that you know how online sports betting works, where to bet on sports, and how to get started, you might want to expand your knowledge a little further.
Here's some more useful information for beginners to betting online.
Advantages of Betting on Sports Online
Knowing how to bet on sports online is important, of course. But before you get started, you might want to think about whether online sports betting is right for you.
The answer is likely yes, as it's the best way to bet on sports for most people. Here's a quick overview of the main advantages of sports gambling online to demonstrate why that is.
It's easy and convenient – Gambling on sports online is much faster and easier compared to using land-based bookmakers.
Better odds and lines – The odds and the lines at internet sportsbooks are better.
Value from bonuses and promos – The best betting sites offer a ton of bonuses and promotions to every customer.
Variety of sports and betting markets – There's more variety in terms of sports, leagues, and betting markets when you bet on sports online.
Low betting limits – You can wager as little as $1 on your online sports bets.
Check out the following page for more information on the advantages of online sports wagering.
Sports Betting Bonuses and Promotions
We mentioned that one of the big benefits of online betting for real money is the bonuses and promotions available.
Here are some of the main types of offers you'll find when betting on the internet.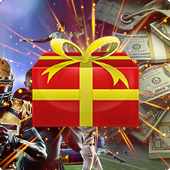 Welcome bonuses for new customers
Reload bonuses for existing customer
Free bets
Enhanced odds or reduced juice
Wagering leaderboards
Betting rebates
Contests
Learning how to take full advantage of all these offers should be part of your online betting strategy. The following pages explain things in more detail.
Online Sports Betting FAQ
Most people who are learning how to place bets online for the first time have questions. They often have LOTS of questions.
There are certain questions about online betting that we see time and time again. Here are some examples.
What sports can I bet on online?
How many online betting sites can I join?
How much do I have to deposit to bet online?
Are there real money apps for sports betting?
Can I change my mind once I've placed an online bet?
Who sets the online betting odds and lines?
Is online betting legal?
For the answers to these questions and many more, please check out the following page.
Alternatives to Betting on Sports Online
If you have any doubts about whether online sports betting is the best way to wager, you might be interested in the alternatives.
Depending on where you live, some or all of the following may be available to you.
Bookmaking shops
Retail sportsbooks
Casino-based sportsbooks
Telephone betting services
Personal bookmakers
There are certain merits to each of these, but none of them match the convenience of betting online. None of them offer the same kind of value, either.
We have no hesitation in recommending that you at least TRY placing bets online, but we wouldn't talk you out of also exploring other options.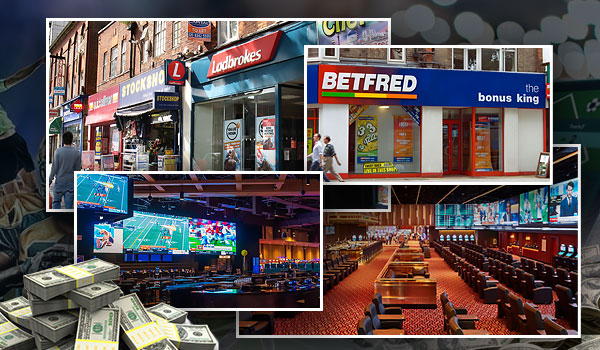 Tips for Betting Online
Now it's time to focus on how to make the most out of betting on sports online.
Here are some great tips for gambling on sports on the internet. Follow them all, and they'll really help you get the best possible experience.
Set a Budget and Stick to It
It's important to keep your discipline when betting on sports online. You should be careful not to lose control and gamble too much money. It can be easier to do that on the web when you're not handling physical cash.
The best way to avoid any issues with this is to set a budget and stick to it. Determine a fixed amount you are willing to risk and apply a reasonable staking plan.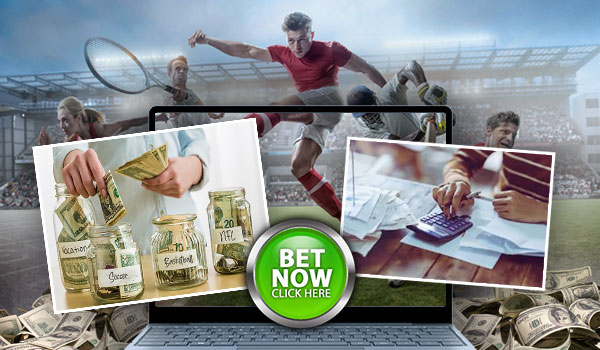 Proper budgeting will allow you to have fun for longer if that's your main goal. It's also vital if your ultimate aim is to make money by betting online.
Staying smart from a financial standpoint is always sensible, and it's definitely the case when gambling on sports or anything else.
Exploit Bonuses and Promotions
We already explained how sports gambling online offers plenty of opportunities for extra cash. You can start with a huge welcome bonus and find ways to earn more value later on.
One of our top online betting tips is to keep up to date with all the latest bonuses and promotions at your disposal.
Don't go out of your way for a promotion if it's not worth it, though, as that could hurt your bankroll.
Use Multiple Betting Sites
Most experienced bettors use multiple sites for betting online, and we recommend you do the same.
Here are some of the biggest advantages of using multiple online gambling sites.
You can shop for the best odds and lines
You get more promotions and bonuses
Lower risk of getting restricted for winning
Simply put, you get higher value for your money. That's essential when sports betting online.
If you want some tips on how best to organize this approach, check out the following post by one of our gambling experts.
Bet on Mobile
One of the best parts about online sports betting is that you can place a wager at any given moment. All of the modern bookmakers offer mobile betting via apps or websites that work on phones and tablets.
You can bet with devices such as iPhones, iPads, Android, Windows Phone, and several others.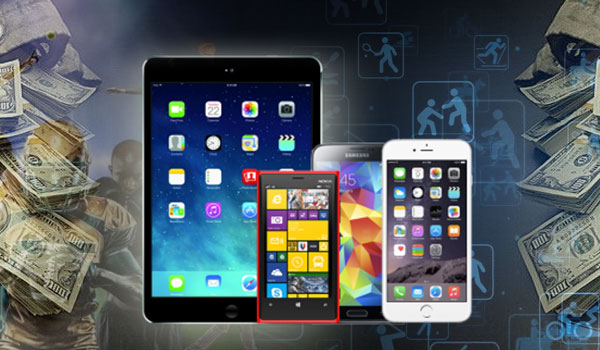 Mobile sports betting means you can scan the odds for a good wager any time you want.
You can also often find exclusive promotions for betting with your mobile device.
Take Advantage of All Side Features
The online sports betting industry has brought us many innovations that improve the experience immensely.
Some of the modern features can really help your online sports betting strategy. You should take full advantage of them.
Here are a few examples.
| | |
| --- | --- |
| Feature | Main Benefits |
| Bet Builder | You can create unique wagers |
| Cash Out | More control over luck and variance |
| Virtual Sports | Bet any time with near instant results |
| Live Betting | Many additional betting opportunities |
If you want to learn more about these online wagering features, check out the following post.
More Resources for Betting on Sports Online
We hope that you found the answers to your questions here. Hopefully, you're comfortable that you know how to bet on sports online and everything it entails.
Here are a couple of other pages in our online betting guide that may interest you.
There are also plenty of other sports betting resources on our website. Our goal is to provide you with everything you need to gamble real money on sports and be successful.
You can visit our main guide to sports betting to discover all that we have to offer.
One particularly useful part of our site is our blog. We cover a wide range of gambling topics, including sports betting.
Our resident betting experts provide all kinds of analysis and insight into various sports leagues and sporting events, along with general betting advice.
Here's a selection of our latest posts.
If you're looking for specific betting suggestions, we have you covered with our daily betting picks.
This is where we share our predictions and best bets, with several picks provided each day. Here are our most recent online sports betting tips.
June
Sportsbook of the Month

Sign up Bonus
60% Up To $1,000
READ REVIEW
Visit Site
X