Making Selections & Placing Wagers
There are two things that you HAVE to know before you start betting on sports. The first is how to make your selections, and the second is how to place your wagers. Lucky for you, we cover both of these subjects in this article.
We start with a few general tips for making your selections. These were designed to meet the needs of complete beginners, so they're relatively simple. This means they probably won't turn you into a successful sports bettor. By following them, though, you can at least guarantee that you'll get started in the right direction.
Next, we explain what you need to do to actually get your money down. The process varies depending on WHERE you're placing your wagers, so there are three separate explanations here. There's one for betting in Las Vegas sportsbooks, one for betting in bookmaking shops, and one for betting online.
By the time you finish reading through this article, you'll be ready to start betting on sports. We hope you enjoy it as much as we do!
Making Your Selections – Tips For Beginners
There's no single "correct" way to make your sports betting selections, but it's important to know that it's the quality of these selections that will ultimately determine how well you do. By consistently making good decisions, you'll be well on your way to making a decent profit.
Don't expect to be able to do that as a beginner though. You'll need to gain some experience first, and there's a lot more to learn too. While you're getting that experience, we suggest focusing on following these five tips.
Start slow
Bet on what you know
Avoid the complex wagers
Don't make snap decisions
Try to be impartial
Start slow
There are many options when betting on sports. Not only do we get to choose just about any sport we want to bet on, but we also have the option to choose just about any tournament, competition, or event. When it comes to choices, we are spoiled.
This is a positive thing for sure. The more opportunities there are to bet, the better our chances are of finding GOOD opportunities to get our money down. It's very easy to get carried away with all these options though, especially as a beginner. One of the biggest mistakes that most bettors make is placing too many wagers when they first start out.
We actually recommend taking it slow while you're still learning by placing only a limited number of wagers. You'll make fewer mistakes this way, and probably lose less money.
Bet on what you know
We strongly recommend betting exclusively on what you know to start with. This is just common sense. You'll have a much better chance of making good selections when betting on sports that you understand.
Make sure you stick to the leagues and competitions that you're familiar with too. If you follow the NFL closely, but not college football, then bet on the NFL and leave college football alone. If you only follow the English Premier League, don't start betting on other leagues you know nothing about.
Avoid the complex wagers
There's no harm in learning how all the different types of sports wager work. As a beginner, though, we advise sticking mostly with the simple ones. There's no reason to make things more complicated than they need to be. Using basic wagers can be a lot of fun and you'll still have a chance of making some money. Once you gain more experience and have a better grasp on how things work you can start trying out those more complex wagers.
Don't make snap decisions
This is the most valuable tip on this page. A lot of beginners put very little thought into their selections, and just make snap decisions. They rely solely on what their instinct tells them, which is a HUGE mistake. No-one can make good selections without properly thinking things through.
From the moment you start betting on sports, try to get in the habit of carefully considering each selection. Don't rely on what you already know, or think you know. Do some extra research and analysis, so that you have plenty of information to work with. Then make sure that you take ALL relevant factors into account. Otherwise you're basically just guessing, and that's not a recipe for success.
Try to be impartial
When betting on sports that you already follow, you naturally have your favorite teams and/or players. And, of course, you want those teams and players to do well. Do NOT make the mistake of letting this influence your selections though. You need to make selections based on what you think will happen, not what you want to happen. Letting your heart rule your head will almost certainly cost you money.
We think these tips are more than enough to start with. However, if you'd like some more advanced advice on making selections at this stage, please take a look at the following article.
How to Place Sports Wagers in Las Vegas
Sports betting in Las Vegas is quite the experience, especially when visiting any of the top casino sportsbooks. Some of these are truly amazing venues where we could happily stay for extended periods of time. Here's a picture of one of our favorites.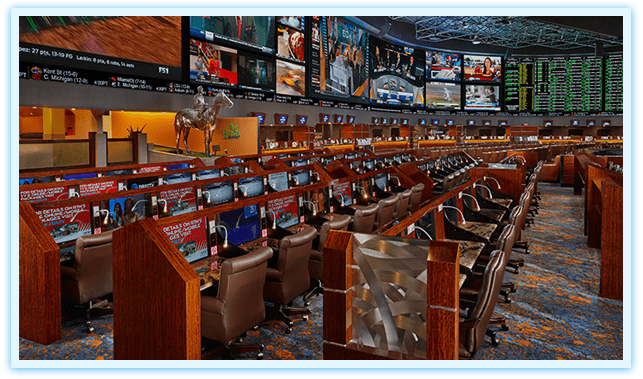 This is the Westgate Las Vegas Superbook. It's a genuinely awesome sportsbook. There's over 4,000 square feet of HD video screens, so it's no surprise the Westgate was voted the best place to watch football in Vegas. There's plenty of seating, a fully-stocked bar, and food service too.
There are two ways to bet at most modern sportsbooks in Las Vegas. These are as follows.
Use one of the Interactive Player Terminals
Visit the wagering windows
Look at the picture above and you'll see some small screens directly in front of the seats. These are Interactive Player Terminals, and they're very easy to use. First you need to add some funds, using cash or card. Then you'll see a list of available betting markets, along with the odds. You need to choose what you want to bet on, and how much you want to stake. Your wager is then placed automatically.
Betting at the wagering windows is a little more work, but still pretty straightforward. You first need to look at the big betting boards, as these display all the information you need about the available betting markets. You might be able to see the boards in the background of the photo above, but here's a close-up of one just in case.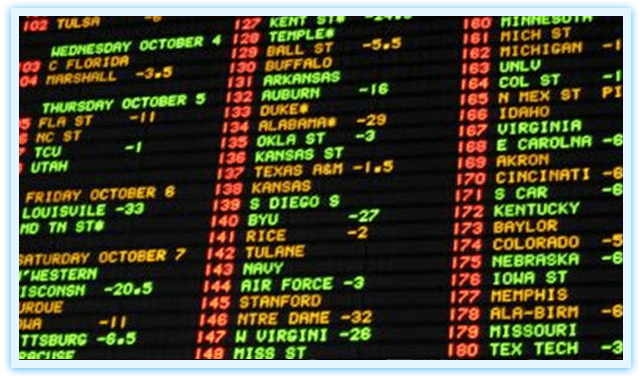 Don't worry if all the numbers here confuse you. Most sportsbooks provide sheets or booklets that explain what they all mean. If you're not sure about something, don't be afraid to ask. Sportsbook clerks are used to dealing with newbies, and they'll be happy to help you out.
Once you've chosen your wager, be sure to take a note of the relevant reference number. This is usually a three or four digit number, like the red ones in the above image. You need to quote this number when placing your wager at the wagering windows. Then you'll have to tell the cashier what type of wager you're placing, your selection, and how much you want to stake. Lastly, you'll hand over the cash, and receive a printed ticket in return. You'll use this to collect the winnings if your wager is successful.

Top Tip
Make sure that you check the ticket right away. The cashiers are only human, and they can make mistakes. You need to let them know immediately if they have, as you can't go back 20 minutes later and expect them to change it then.
How to Place Sports Wagers in a Bookmaking Shop
Bookmaking shops are commonplace in the United Kingdom, and in a few other countries around the world too. They operate in a similar way to Las Vegas sportsbooks, but they're a LOT less glamourous. Most shops are fairly small, with just a few screens, and you'll rarely find any food or drink available.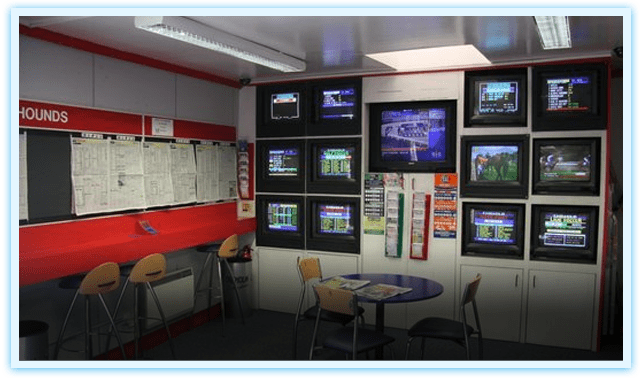 The process for placing wagers is the same at most bookmaking shops. They don't tend to accept verbal instructions, and betting terminals are rare. So you usually have to write out a betting slip with details of your wager(s). The following information should be included.
Event
Type of wager
Selection
Odds
Stake
The staff in these shops will be happy to help you fill out a betting slip if you need assistance, but don't ask them to actually fill it out for you. They won't be able to, as it's against policy.
Bookmaking shops don't have betting boards like the Vegas sportsbooks. The few screens they have do display some information on current betting markets (mostly horse racing), but not EVERYTHING that's available. So you may have to ask what the odds are for your chosen selections before entering them on the betting slip.
Once you've handed over your slip, and the stake money, you'll get a copy or a printed receipt. Again, it's important to check that all the details are correct. Mistakes can only be rectified if noticed right away.
How to Place Sports Wagers Online
Betting in Las Vegas sportsbooks or in bookmaking shops is easy. Want to know what's even easier though, and way more convenient? That's right, betting online! There's no need to leave the house, and a device with internet access is all that's required. Well, that and an account with a suitable betting site.
One of our top recommended betting sites is Bovada. Here's a screenshot of how the site looks.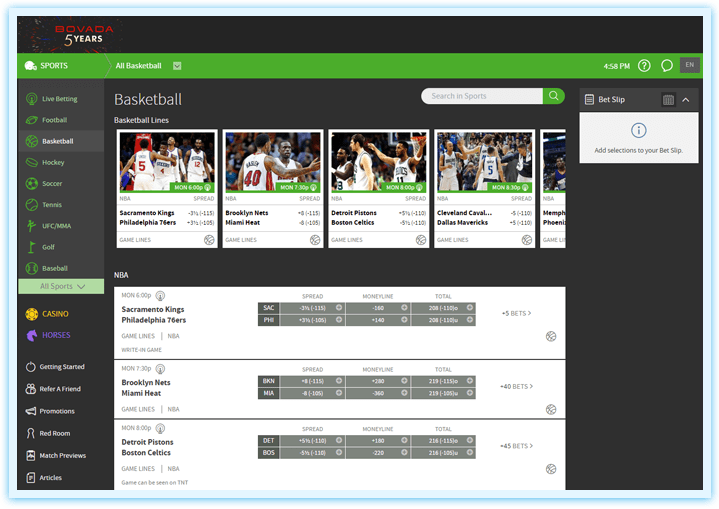 To place a wager here, the first thing to do is select the relevant sport. There's a list of the most popular ones on the left-hand side of the screen, and this can be expanded to show all options. We already selected basketball before taking this screenshot, so the site is displaying the latest odds and lines for some upcoming basketball games. More games can be found by scrolling down and/or across.
Some wagers can be placed directly from this screen. If you liked the Brooklyn Nets on the moneyline, for example, you'd just click the "+" button next to the odds for this selection. It would then be added to the bet slip on the right-hand side of the screen. You'd enter the amount you wish to stake, confirm the wager, and it would be placed automatically. The stake would be deducted from your betting account at this point.
If you wanted to see more betting options, you'd have to go to another screen. See the "+40 Bets" next the lines for the Nets game? Click on that and you'd see all the available bets for the game. To make a selection and place a wager, you'd follow the same process we outlined above.
That's pretty much all there is to placing wagers online. The process varies a little at different sites, but it's usually very similar to what we've described here.
We're sure you'll agree with us that online betting is easy. There is one challenging aspect of it though, and that's picking the right sites to use. This may not sound especially difficult, but do you know how many there are to choose from? Hundreds! Determining which ones can be trusted and which ones provide the best service is actually a lot of work.
Don't worry though. We've done the work for you. We've painstakingly researched and tested a huge range of sites, then ranked them based on our findings. So all you have to do is check these rankings out, and pick from our list of recommendations.
BEST SPORTS BETTING SITES
As recommended by GamblingSites.com
June
Sportsbook of the Month

Sign up Bonus
60% Up To $1,000
READ REVIEW
Visit Site
X