Types of Sports Betting – Different Ways to Bet
When most people think about sports betting, they think of fixed odds gambling which is by far the most popular type of betting available.
There are many other ways to bet on sports, though. It's important to know how each of them works, so you can find the most suitable forms of sports betting for your personal needs and goals.
This page helps by exploring all the main types of sports gambling. Here's what we cover.
The Different Types of Sports Betting and How They Work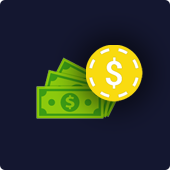 Fixed Odds Sports Betting
Fixed odds sports betting is the most natural place to start. It's the most popular form available both online and in land-based bookies.
This the classic way of betting with which most people are familiar. The main reason behind the mainstream status of fixed odds gambling is its simplicity.
There are two sides in this form of betting. One side places the wager (usually the player) on a certain outcome and the other side accepts it (the bookmaker). They agree on the odds and, once the event is over, the bet is settled.
If the player that placed the wager wins, the return is based on the agreed odds. If the player loses, the sportsbook wins the full stake of the player.
Here's a simple example of how traditional fixed odds betting looks like for a classic two-way outcome market in tennis.
You can back either of the players to win the tennis match. Let's say you pick Roger Federer and you stake $100. If the Swiss maestro wins the clash, you win $191. This your initial stake returned, plus $91 in profit calculated by the odds.
If Rafael Nadal is victorious, you lose your $100 to the bookmaker that accepted your wager.
The same logic applies to all markets of this type. Here are some of the different ways to bet on sports using fixed odds.
Moneyline – This can be called "full-time result," "match result," or simply "winner." The concept is always the same and it's the most popular type of bet in many countries. You place a wager on the winner of the event and that's it. In certain sports, the draw or tie is also an option.
Futures – Most bookmakers offer long-term ways of betting with fixed odds. For example, you can back a team to win the Super Bowl. This is pretty similar to moneyline betting, besides the fact you must wait for a while before your wager is settled.
Handicap Markets – Handicaps are also called spreads. They work similarly to the moneyline market with one major exception. One of the teams/players stats with a predetermined advantage over the other and you have to decide whether the opponent can overcome it.
Totals – You will find lines for the overall points scored by both sides, and you can bet on over or under. The line could be as low as 1.5 in a sport such as soccer or higher than 200 in basketball.
Props – Most bets that are not in any of the categories above are called props. They cover all sorts of markets, including stuff like a player to score first in a game, the next coach to get fired, transfer wagers, and more.
All of the betting options above are available for single wagers or multiples. If you combine several different selections in an accumulator or parlay, all of them have to win. There are also systems that include various combinations and only some of your selections have to be successful for you to win.
That last part is especially popular in online gambling. The internet sportsbooks changed the industry forever in other ways, too. For example, you can enjoy features like Bet Builder and Cash Out.
The first one allows you to combine all sorts of types of betting markets to create unique ones, while the latter gives you the chance to settle your wagers before the event is finished.
If that sounds interesting and you want to try fixed odds betting online, the following top sportsbooks are the place to start.
Rank
Betting Site
Exclusive Bonus
Get Started

#1

BetOnline Sports

60% Up To

$1,000

Visit Site

Visit Site

#2

Bovada Sports

50% Up To

$250

Visit Site

Visit Site

#3

BetUS

125% Up To

$2,500

Visit Site

Visit Site

#4

Everygame

100% Up To

$500

Visit Site

Visit Site

#5

MyBookie

100% Up To

$1,000

Visit Site

Visit Site
One big advantage of betting online is that you get access to fixed odds betting on areas outside of sports. You can place wagers on the following, for example.
Esports – The popularity of esports like Dota 2, LoL, and CS: GO has exploded recently and most betting sites cover them and many other games.
Politics – You can try your luck with many big political events from the USA, Europe, and other locations.
Entertainment – If you like betting on TV shows, award ceremonies, and movies, you will find excellent opportunities online.
Pari-Mutuel Betting
Another relatively popular option when it comes to sports gambling is pari-mutuel betting. The main concept here is to eliminate the bookmaker, or at least reduce their margins.
All money placed on a betting market is combined into a pool. Once the event is over, all the bettors that have backed the eventual winner split the prize pool. A percentage is taken out by the pool organizer, which can be a bookmaker or another organization.
The distribution is determined by the stake of every contestant. For example, a person who has placed $200 will earn twice as much as someone who put $100 in the pot.
Pari-mutuel betting is among the most popular types of betting when it comes to horse and dog racing, but it can be used in other sports, too.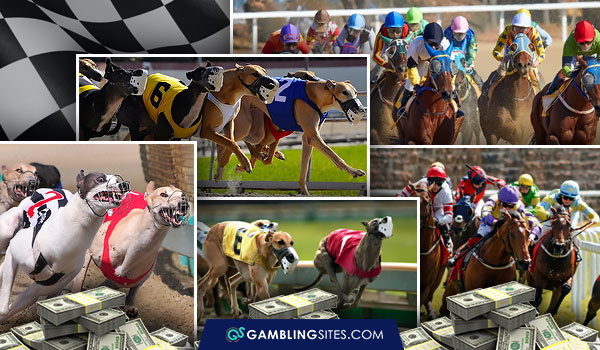 We've covered the main concept of pari-mutuel betting, but there's a lot more you need to learn if you want to be successful. The following guide has all the necessary details, so feel free to check it out.
In-Play/Live Betting
Next in line is live betting that has exploded since online sportsbooks were born. In-play gambling essentially is a form of fixed odds betting but with a major twist.
Unlike the traditional option where you place your wagers before the event has started, you actually bet while the event is already running!
Live gambling is one of the most popular types of online betting because it features several strong advantages. You can obviously watch the games as they unfold and use your direct impressions instead of relying only on stats and past events.
Most people like the quick turnaround time, too, and many online betting sites offer additional bonuses for live betting.
Finally, you gain access to unique markets that you won't find otherwise. Here are some examples.
Next Team to Score – This one is popular in sports like soccer, football, and even basketball. You can place a wager on the next team to score a goal/touchdown/basket.
Race to X Points – You can back any team/player to reach a certain number of points first. It could be 5, 10, 50, or even more, depending on the sport.
Next Player to Score – This one is most popular in soccer and hockey, but you can also find variations of the market in football, basketball, and other sports.
Team/Player to Win Next Quarter/Half/Innings/Set – As you can see by the different variants, this option can be found for basketball, football, hockey, tennis, baseball, and many other sports.
To Get Booked/Fouled Out/Sent Off – Another market that's offered for many sports and this one is related to any potential sanction that comes from the referees.
There are many other one-of-a-kind opportunities and you can also enjoy all the traditional markets like moneylines, spreads, and totals.
Almsot all online betting sites offer in-play gambling nowadays, so that's another reason to give it a try. If you want to learn more about one of the most dynamic ways to gamble on sports, check out the following page.
Exchange Betting
If you're looking for a betting type that eliminates the classic role of the bookmaker, you should certainly think about exchange betting.
The system works in a simple fashion and there are two sides involved. One of them bets on a certain outcome by backing it, while the other essentially bets on the opposite outcome by laying the original one.
Let's use an example, so you can understand how this works. Imagine that you want to bet on the San Antonio Spurs to beat the Houston Rockets. You want to back the Spurs at the odds of +100 with $100.
Another person believes that the Rockets will win, so he's willing to match your $100 and he accepts the wager.
Similar to fixed odds betting, a win for the Spurs would bring you $200 or a total profit of $100. If you lose, the other person collects the $100 you initially wagered.
The laying side effectively serves as a bookmaker and you can take that role if you want to. As long as someone is willing to bet on something you want to lay, it's all good.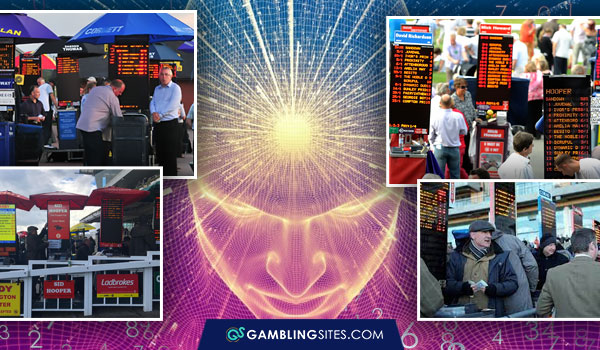 The role of the betting exchange is to provide the platform where you make your wagers. It charges a small percentage of winning wagers for the service, which usually works out much lower than the margins applied by traditional sportsbooks.
If you'd like to learn more, the following guide goes into more detail about one of the few betting types that don't require a traditional bookmaker.
Spread Betting
There are spreads in fixed odds betting but we're talking about something entirely different here. This is a separate form of sports gambling that offers a unique concept.
The main concept of spread betting is that it's not about being right or wrong. It's HOW right or wrong you are that matters.
Let's explore an example to understand how this works and compare spread betting to fixed odds.
Imagine that the San Antonio Spurs are facing the Houston Rockets. You are interested in the total points market.
In fixed betting, you will get a line like 191.5 points and you can bet on whether the total score would be over or under that line. If you back the over, any result of at least 192 is enough and brings the same profit. Whether the teams score 195 or 240 points doesn't matter.
That's not the case in spread betting. Here's how the lines would look like if you take this route.

There are two major differences to traditional fixed odds betting here. The first one is that the lines represent the spread of the bookmaker which is how the sportsbooks make money.
Also, there are no odds here. That's because your returns depend on the exact number of points. When you place your wager, you determine how much money you will earn per point over or under the spread.
If your stake is $10, you win the same amount for every point that's over or under the spread. If you lose, you lose $10 for every point in the opposite direction.
For example, let's check a few different outcomes if you bet $10 on over 192 for the market above .
| | |
| --- | --- |
| Total Number of Points Scored | Win/Loss |
| 212 | $200 |
| 193 | $10 |
| 190 | -$20 |
| 182 | -$100 |
The overall mechanic behind spread gambling makes it one of the riskiest types of sports betting. You can lose a ton of money if your prediction is way off.
At the same time, you can win big if things work out in the way you expect. That is attractive to many players!
Check out the following guide to spread betting to learn more.
Daily Fantasy Sports
Another interesting opportunity that became popular in relatively recent years is daily fantasy sports (DFS). This one is available exclusively on the internet for now and it's very different from classic gambling.
In DFS, you enter a contest against other players by paying an entry fee. Once you're in, you build a roster of real athletes and earn points based on their performance. Here are some examples of events that bring you points in popular sports.
| | |
| --- | --- |
| Sport | Events |
| Football | Touchdown, Successful Pass, Field Goal |
| Basketball | Points, Assists, Rebounds, Steals |
| Soccer | Goals, Assists, Clean Sheets |
| UFC | Wins, Knockouts, Successful Submissions |
Basically, every positive contribution by a member of your roster brings you points. The entrants in any contest are ranked by the total points they collect when all the included games are finished and the top performers split the overall prize pool.
It's important to note that when you pick your lineup, you have a salary cap that limits your options. You have to use a balanced approach by selecting both star players and undervalued members who are cheap but still contribute.
All major US leagues are available on most daily fantasy platforms, alongside the likes of UFC, the English Premier League and other top soccer leagues, golf, NASCAR, Formula 1, and many more.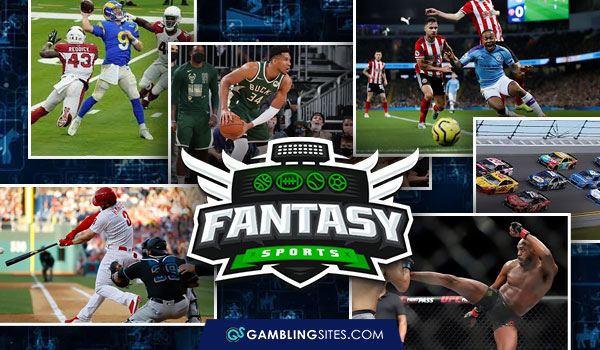 You can also enjoy season-long fantasy games for some sports, but they last for months and there's not always money on the line. The daily fantasy format is significantly more popular and readily available for real cash.
Many people believe that DFS is one of the types of sports betting with the least luck involved and it's even considered a skill game in certain regions. To learn more about it, check out this page.
Contests at Online Betting Sites
There's a good argument that sports contests don't qualify as separate types of bets. However, they are offered by most online sportsbooks, you pay money to enter, and you earn cash prizes based on the performance of real teams and players.
From where we're standing, that's close enough to count as one of the different types of betting options, even if it's technically not!
Either way, you can find plenty of exciting contests at the top betting sites, including the following.
Squares – This popular game is usually available for the Super Bowl, but you can find it for other NFL games too.
Brackets – Another exciting contest that's available for knockout tournaments.
King of the Hill – This one features different variations and the goal in most of them is to correctly predict the outcomes of games from major US sports.
You can find more contests available online and they can be a lot of fun. In most cases, you pay an entrance fee that goes to the prize pool. The money is then shared by the best participants.
In certain cases, you might even find free contests with real money prizes. Either way, it's an entertaining addition to the traditional types of sports betting.
Picking the Most Suitable Form of Betting
With so many types of betting available, it can be tough to find the most suitable one. All of them have their pros and cons, so you should consider different options based on your needs.
For example, if you're relatively new and inexperienced, you should probably start with fixed odds betting. It's simple and available everywhere, so you can easily gather plenty of experience and try different markets. If that's your choice, our guide to sports betting will be extremely helpful in helping you get started.
Once you feel confident in your knowledge, you can experiment with other options. Spread betting can be very profitable because there's no cap on your profits, while exchange betting and pari-mutuel gambling are against other players, so you give up less value overall.
As for daily fantasy sports and the various contests at online betting sites, they are a lot of fun and they bring a completely different experience. You should at least give them a shot at some point, especially if you know the major US leagues well.
June
Sportsbook of the Month

Sign up Bonus
60% Up To $1,000
READ REVIEW
Visit Site
X