Expert Guide to Betting on Athletics
Athletics may have lost some of its appeal after multiple doping scandals, but the sport still has a loyal fan base. Huge events like the Summer Olympics are wildly popular and watched by millions of people.
If it's a sport that you follow, you might be interested to know that athletics betting offers plenty of opportunities to win money. Open an account at one of the best sites for betting on athletics online, read this guide, and you'll be well on your way to making a profit.
Rank
Betting Site
Exclusive Bonus
Get Started

#1

BetOnline Sports

60% Up To

$1,000

Visit Site

Visit Site

#2

Bovada Sports

50% Up To

$250

Visit Site

Visit Site

#3

BetUS

125% Up To

$2,500

Visit Site

Visit Site

#4

Everygame

100% Up To

$500

Visit Site

Visit Site

#5

MyBookie

100% Up To

$1,000

Visit Site

Visit Site
The top-rated athletics sportsbooks online cover many events, offer excellent odds, and deliver plenty of special offers that could boost your returns.
We share more information about them later in this guide. We also provide tips on how to bet on athletics successfully, an overview of the different disciplines, and details of the big competitions you can bet on.
Contents of Our Athletics Betting Guide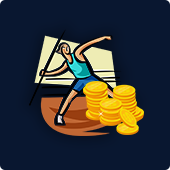 Types of Athletics You Can Bet On
Athletics combines multiple disciplines and there are many different categorizations. Most of the disciplines are available for betting one way or another, so that means plenty of interesting sports gambling opportunities.
The traditional classification includes four main groups; track and field, cross country running, road running, and race walking. These days, athletics has a more varied assortment of classifications used by the World Athletics organization.
Here are the various modern classifications, most of which you can bet on.
Sprints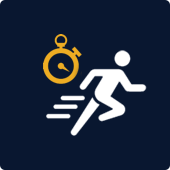 Sprints are some of the most popular disciplines when it comes to athletics betting and the sport as a whole. The fast pace and the thrilling experience of watching elite athletes giving everything over a short distance has always been compelling for the fans.
There are three distances covered in this category.
100 Meters
200 Meters
400 Meters
They are available for both men and women in most major athletics competitions, both in singles events and relays. The 4 X 200m relay is excluded from some big tournaments, such as the Summer Olympics.
Middle and Long Distance Running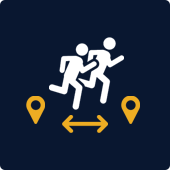 The next group of athletics disciplines includes running once again, but the distance is much different this time around.
Here are the most popular options that are often part of big athletics competitions such as the Summer Olympics and World Athletics Championships.
800 Meters
1500 Meters
5000 Meters
10000 Meters
3000 Meters Steeplechase
All distances are run on a flat track, with the exception of the steeplechase run that includes obstacles.
Hurdles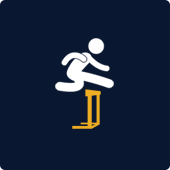 Hurdles add a little extra spice to sprints, and are great fun to watch. The best athletics gambling sites usually cover hurdles races extensively, especially around major events.
There are three main disciplines here.
100 Meters Hurdles – That's the shorter distance in women's hurdles.
110 Meters Hurdles – Men run a longer distance because the gap between the hurdles is slightly bigger.
400 Meters Hurdles – That's the long-distance discipline for both men and women.
Hurdles have been around for a long time and are included in all important athletics tournaments.
Road Running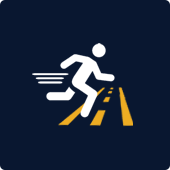 The road running events are among the toughest disciplines in any athletics competition.
Only two are common – the marathon and the half-marathon. They typically take place mostly on roads with the final meters in a stadium.
The marathon is 42.195 kilometers (26.2 miles) long and the half-marathon is exactly half of that.
These two are among the best disciplines for live athletics betting because they run for hours.
If you're wondering where the exact distance comes from, the legend says you can trace it way back to Ancient Greece.
Jumping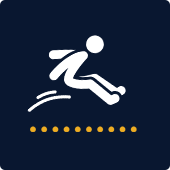 Athletics also includes all sorts of jumping competitions. Many of these are usually part of the schedule at the biggest events in the sport.
Here a list of the most common jumping disciplines.
High Jump – This involves jumping and clearing a bar that is set at a certain height. Three consecutive failed attempts put an end to an athlete's participation and the best result achieved counts for the standings.
Pole Vault – The rules are like high jumping, but each competitor uses a pole to jump as high as possible in this one.
Long Jump – Covering the most distance is the key to success here and each contestant has six attempts to do so. In most big athletics tournaments, part of the field is eliminated after the first three tries.
Triple Jump – This is similar to the long jump, but a different approach is required. Athletes must carry out a hop, a skip, and a jump in each attempt before the distance is measured.
All of these disciplines are used for both men and women at events. The top athletics betting apps offer odds on all of them.
Throwing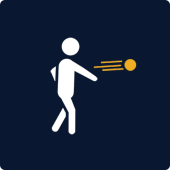 There are plenty of throwing disciplines in athletics and all of them require both strength and an excellent technique to achieve the best results possible.
Here are the main types of throwing.
Shot Put – The athletes throw a metal ball that weighs 7.26 kg for men and 4kg for women, trying to cover the longest distance. Each contestant has a fixed number of attempts, usually 4 or 6, and the best one counts for the final standings.
Discus – This discipline is like shot put, but the participants throw a 2 kg (men) or 1 kg (women) discus instead of a metal ball.
Hammer – In this one, the athletes are throwing a ball that's attached to a grip using a steel wire. It's one of the more unusual throwing objects in athletics!
Javelin – There's nothing unusual in javelin throwing and this discipline is exactly what you would expect. Each contestant has to throw a javelin as far as possible and has multiple attempts.
All of these throwing disciplines are included in major events for both men and women. You won't always find odds for them, but the top-rated sites for athletics betting with real money cover them for the Olympics and other big tournaments.
Combined Events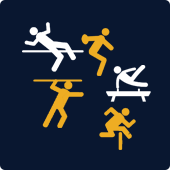 The combined events are some of the most challenging in athletics. They require a mix of strengths and skills.
As the name suggests, the contestants have to engage in various disciplines. They earn points for their performance each one.
Women usually compete in the heptathlon that features seven disciplines, while men compete in ten in the decathlon.
Here's what each includes.
| | | |
| --- | --- | --- |
| | Decathlon | Heptathlon |
| 100m hurdles | No | Yes |
| High jump | Yes | Yes |
| Shot put | Yes | Yes |
| 200m sprint | No | Yes |
| Long jump | Yes | Yes |
| Javelin throw | Yes | Yes |
| 800m run | No | Yes |
| 110m hurdles | Yes | No |
| 100m sprint | Yes | No |
| 400m sprint | Yes | No |
| Discus | Yes | No |
| Pole vault | Yes | No |
| 1500m run | Yes | No |
Many believe that these are THE toughest competitions in athletics. They take place over the course of two days and the winner is the one who earns the most points across all disciplines.
Race Walking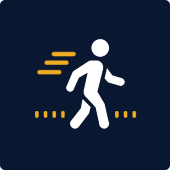 The biggest distance covered in major athletics events is the 50k race walk competition for men. There are also 20k race walk disciplines for both men and women in most of the big tournaments.
Race walking is a very specific technique of moving that requires you to keep one foot on the ground at any given moment.
If an athlete fails to do that, a judge calls for a lifting violation. In most major tournaments, three penalties lead to an instant elimination.
Wne you bet on athletics live, be sure to follow the number of violations because big favorites have been eliminated because of lifting in the past.
Race walking pretty much concludes the most popular athletics disciplines, at least when it comes to events included in the Summer Olympics and other big tournaments.
There are other categories like cross country, mountain running, and ultra-running, but they are not typically covered by even the very best athletics betting sites.
Biggest Events for Athletics Betting
The leading sites and apps for betting on athletics all cover the biggest events in the sport.
Minor competitions are rarely available because the online bookies are usually reluctant to offer athletics odds if they don't have a solid edge.
That's why you should focus on the biggest events for athletics gambling. Here are some details of each of them.
Summer Olympics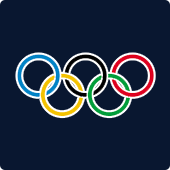 Inaugurated: 1896
Frequency: Once every 4 years
Number of disciplines: 26
Location: Varies
There's no bigger event in the world of athletics than the Summer Olympics. The sport has been part of the event since the first modern edition in 1896 that took place in Athens, Greece.
The number of disciplines has changed multiple times in the past, but there are currently 26 different disciplines in total. Most of them are the same for both men and women, with the exception of the 50 km race walk and a few others.
Top athletes from all over the globe prepare for the Summer Olympics and their goal is to peak when the event comes along.
Betting on athletics online during the Olympics can be a lot of fun and opens the door to plenty of opportunities to make money. We have an Olympics betting guide that can help you with your strategy, so make sure you check it out.
World Athletics Championships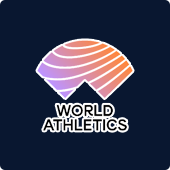 Inaugurated: 1983
Frequency: Biennial
Number of disciplines: 25+
Location: Varies
The biggest variety of athletics bets are usually available when the World Athletics Championships takes place. It's the most prestigious competition after the Olympics and it features close to 50 different events in every edition.
All the popular disciplines feature, along with several others. The United States has dominated the World Athletics Championships and is the only country with more than 150 medals in total.
The competition takes place once every two years and it's held in seasons when there are no Summer Olympic games. This allows the best athletes in the world to focus on the World Athletics Championships.
Viewership numbers are excellent and all the best online betting sites for athletics cover the different disciplines.
It must be mentioned that the World Athletics Championships takes place mostly outdoors. There's another big event for indoor athletics.
World Indoor Athletics Championships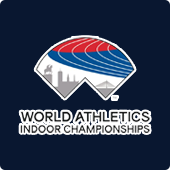 Inaugurated: 1985
Frequency: Biennial
Number of disciplines: 15+
Location: Varies
The World Indoor Athletics Championships is the biggest indoor competition and one of the few of this type available for online athletics betting.
Although the list of disciplines covered is shorter compared to the outdoors championships, there are some unique ones like the 60 meters sprint and 60 meters hurdles.
The World Indoor Athletics Championships is held once every two years in odd years.
Diamond League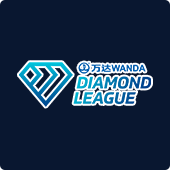 Inaugurated: 2010
Frequency: Annual
Number of disciplines: 15+
Location: Europe, Asia, North America, Africa
The Diamond League is an annual series of top-level athletics competitions that take place over four continents. It's the replacement of the former Golden League.
There are 14 one-day events that take place in different cities across Europe, Asia, North America, and Africa between May and September each year.
The list of disciplines is similar to the Summer Olympics and the World Athletics Championship, with only a handful like marathon, half-marathon, and race walks missing.
Athletes collect points for their performance and there are additional prizes for the best of them over the course of the season.
Many sportsbooks online offer athletics betting odds on the Diamond League throughout the year.
Other Athletics Events
The most popular athletics competitions are your best chance to win money, but the online sportsbooks sometimes cover some of the obscure events, too.
These can also be great for finding value bets, as the bookmakers don't typically don't know a lot about them.
Here are some examples of such competitions.
CrossFit Games: This unorthodox event has become wildly popular recently.
World U20 Championships: The future stars of the sport compete against each other in the youth championships.
World Athletics Cross Country Championships: The biggest event for cross country disciplines.
World Athletics Relays: If you like relay disciplines, you can't miss this one.
Tips for Betting on Athletics
If you want to bet on athletics online, you must focus on the biggest events because many of the smaller ones simply aren't available.
On the positive side, this will make your life easier in terms of preparation and finding information for your wagers.
We have prepared a list of athletics betting tips that can help you recognize the best opportunities that are offered by the top online bookmakers for the sport. Let's start with some basics that you simply must know before risking your money.
Essential Tips for Betting on Athletics
If you have limited or no experience when it comes to gambling on athletics and sports, you should be aware of the following basics.
Bet for Value – Your main focus should be to evaluate all the outcomes and pick the athletics odds that come with positive return expectations. This approach is called value betting and it's the only way to make money in the long run.
Bet Online – The best athletics apps and sites online offer higher odds and more promotions than land-based bookies, so using them is the smart choice.
Use Multiple Sportsbooks – If you want to go a step further in terms of returns, picking multiple sites to gamble on athletics can certainly help. You can enjoy shop around for the best odds and more promos.
Be Reasonable With Your Bankroll – You should always pick a budget and manage your bankroll properly when you bet with real cash.
Discipline Is Crucial – You should work on your discipline, so you can keep your emotions at bay and not let personal bias take over. It will also protect you against placing too many wagers which is a common mistake.
We have a couple of pages that go into more details on the fundamental concepts of sports betting. They all apply to athletics so are well worth exploring.
Check Personal Bests and Season's Bests
One of the cornerstones of your athletics betting strategy should be to check the achievements of every contestant before you place a wager.
There are two main numbers that should be analyzed here and the first one is the personal best result in the athlete's career. It's a good benchmark for his or her ceiling. Naturally, you should always take into account when it was achieved and under what circumstances.
If it was before a career-changing injury or in the prime of an athlete that is now in a decline, it's probably not indicative of current potential.
That's why you should consider the season's best performance, too. It's obviously a more accurate representation of current ability based on recent results.
However, it's possible that the athlete is capable of improving dramatically for major events like the Olympics. That's why exploring both numbers is the way to go.
Evaluate Priorities
No athlete can perform at their best in every single competition during the athletics season. Prioritizing some of the events and hitting top form when they come around is the key to success in this sport.
The best in the world usually have teams of nutritionists and trainers that help their preparations.
You should always try to figure out what the main goal of an athlete is before placing your wagers. Everybody is pushing as hard as possible in the Olympics, but that's not always the case in other tournaments.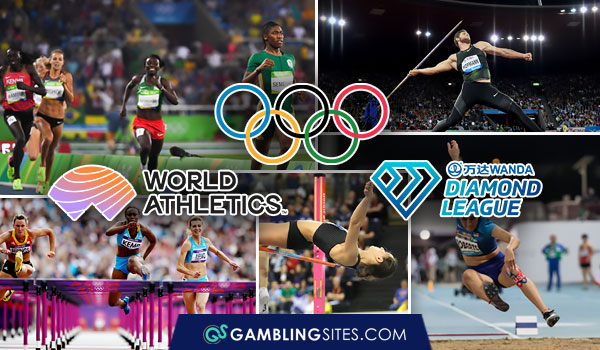 Indoors vs. Outdoors
Another important factor is to check whether the event is taking place indoors or outdoors. Naturally, open stadiums are affected by weather conditions.
There might be strong winds involved or even rain that could make an event more unpredictable. In certain disciplines like high and long jumps, disrupting the rhythm of the athletes could lead to many failed attempts.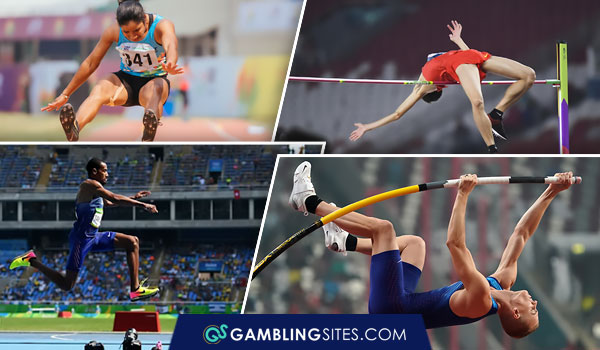 Indoor athletics competitions usually easier to predict. You see fewer surprises because the weather doesn't play a role.
How to Bet on Athletics Online
If you're still wondering where to bet on athletics, we feel obliged to reiterate our stance that online sportsbooks are better.
They are much easier to use and they have higher odds on average. If you add the more flexible limits and the countless promotions at your disposal, there's no doubt that placing your wagers on the internet is the way to go.
If you agree with us, let's show you the top betting sites for athletics once again and share more details on what they have to offer.
Best Athletics Betting Sites
Our team spend a lot of time selecting the leading athletics sportsbooks because they are so many options out there.
We use the following criteria to rank them and maintain our list of recommendations.
Reputation and Security Measures – We only want safe betting sites for athletics that can be trusted and will protect you from harmful third parties.
Athletics Coverage – We expect to see as many competitions and markets as possible.
High Odds – Getting the highest athletics betting odds available is crucial for your chances to win money.
Bonuses and Promotions – Even the top athletics online betting sites don't have many exclusive offers for the sport, but their regular promotions can be used for athletics.
Fast and Reliable Payments – It's important to receive your money quickly and fast payouts are also telling about the financial condition of a sportsbook.
Customer Support – If you need help, the staff should be there to oblige.
We make sure to keep an eye on our recommended athletics bookies in order to switch things around if some of them suffer a decline, or others improve. The list is always fresh and representative of the best options available at any given time.
Top Apps for Athletics Betting
If you want to bet on athletics on mobile, you will be pleased to hear that all of our top-rated sportsbooks work on popular devices such as iPhone, Android, iPad, and Windows Phone.
All of them use mobile athletics betting sites that are compatible with pretty much any modern phone or tablet. Some even have native betting apps for the most popular devices if that's your preferred choice.
Either way, you can get access to the full range of markets and enjoy all features that are usually available. The user interface is optimized well, so the whole mobile betting experience is enjoyable.
Alternatives to Athletics Betting
Betting on athletics is certainly exciting and can be very profitable. The sport is not that popular among mainstream audiences which means the bookies don't typically invest too much resource in setting their prices. The room for error in the odds is bigger than in the more popular sports.
If you follow the sport regularly and have some expertise, there's a good chance that your athletics betting picks can bring you money.
We have betting guides for other sports of a similar profile, so check them out if you prefer such an approach to your sports gambling.
Picking the mainstream sports has some advantages, too. Finding information is easier and plenty of bettors follow the media narratives which can skew the odds and create great gambling opportunities.
The following guides can help you recognize those opportunities and take full advantage of every chance to win cash.
We also recommend checking our sports blog and betting picks sections. Our writers regularly share their thoughts and recommended bets that can help you with your own decisions. Here's a selection of our latest picks.
June
Sportsbook of the Month

Sign up Bonus
60% Up To $1,000
READ REVIEW
Visit Site
X