Betting on Volleyball – Top Sites and Expert Tips
Volleyball is not one of the most watched sports in the world, but betting on volleyball is more popular than you might think. With a host of high-profile leagues and competitions across the globe, online volleyball betting is a big deal. That is exactly why we created this guide.
We explain how to bet on volleyball in this guide. We also show you where to bet on volleyball online. On that note, here are our top-rated volleyball betting sites.
Rank
Betting Site
Exclusive Bonus
Get Started

#1

BetOnline Sports

60% Up To

$1,000

Visit Site

Visit Site

#2

Bovada Sports

50% Up To

$250

Visit Site

Visit Site

#3

BetUS

125% Up To

$2,500

Visit Site

Visit Site

#4

Everygame

100% Up To

$500

Visit Site

Visit Site

#5

MyBookie

100% Up To

$1,000

Visit Site

Visit Site
As well as examining the best volleyball sportsbooks, we share our top volleyball betting tips below. We break down all the main volleyball betting markets, too, and look at the best volleyball competitions to bet on.
We mainly cover indoor volleyball on this page, although there are also plenty of beach volleyball betting tips for you to take advantage of. If that all sounds good to you, then let's get right into it.
Our Guide to Betting on Volleyball Online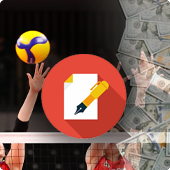 Where to Bet on Volleyball Online
We all know that volleyball isn't as popular as some other team sports such as soccer and basketball. Still, many of the best sportsbooks present tons of opportunities to bet on volleyball online.
When it comes to gambling on volleyball, it is important that you choose the top volleyball betting sites and apps. The best sites for betting on volleyball provide a better all-round experience, as well as higher returns on your volleyball wagers.
Of course, there are hundreds of sportsbooks out there. But not all of them are suited to betting on volleyball. That's why our team of experts observe the following criteria when ranking the top-rated volleyball gambling sites.
Top Volleyball Betting Bonuses – All the best online betting sites for volleyball provide attractive volleyball betting promotions and bonuses.
Best Volleyball Odds – If you're betting on volleyball online, you want to get the best volleyball betting odds, right? All our recommended volleyball betting websites have hugely competitive prices.
Tons of Volleyball Betting Markets – Looking for an unrivalled range of volleyball betting options? Look no further than our top-rated volleyball sportsbooks online.
Live Volleyball Betting Opportunities – All our approved betting sites for volleyball have multiple in-play volleyball betting options.

These are just some of the main factors we consider while ranking volleyball betting sites and apps. We also cover general factors like safety and security, payment options, customer support, and more.
For more information, check out our process for ranking betting sites and apps.
Best Volleyball Betting Site – BetUS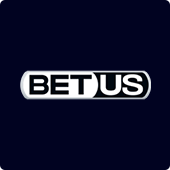 Year Established: 1994
Welcome Bonus: 125% sign-up bonus
Payment Options: Visa, Mastercard, Bank transfer, Bitcoin, Bank Wire, American Express, Bitcoin Cash, Ethereum, Litecoin
US Customers: Yes
Payout Speed: Same-day payout approvals
Having scoured the internet, we truly believe that BetUS is the best volleyball sportsbook online.
Founded in 1994, BetUS has been at the forefront of online sports gambling for almost 30 years. With close to three decades of experience, BetUS is among the most trusted and reputable companies in the industry.
First of all, the generous sign-up bonus gives you a massive head start when it comes to laying down your volleyball bets. After you've bagged your bonus, you can use a multitude of payment options to add money to your account – including cryptocurrencies.
BetUS also offers speedy, same-day payout approvals, meaning you can get your hands on your winnings in no time at all. There is a mobile version, too, enabling you to place your volleyball wagers on the go.
What more could you ask for!?
Top Betting App for Volleyball – MyBookie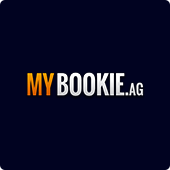 Year Established: 2014
Welcome Bonus: 50% match up to $1,000
Payment Options: Visa, Mastercard, Bitcoin, Litecoin, Ethereum, Bitcoin Cash, Ripple, Person 2 Person
US Customers: Yes
Payout Speed: 24 hours to 10 business days
When it comes to the best volleyball betting apps, MyBookie is right at the very top of the list.
Boasting a slick user interface, the MyBookie app is super-easy to navigate. On top of that, the app is compatible with Android, BlackBerry, iOS, and Windows. You should be able to use it no matter what your preferred mobile device.
Along with an attractive welcome bonus, MyBookie offers a vast range of payment options. It accepts a host of different cryptos, along with all the mainstream credit and debit cards.
Ultimately, there are lots of reasons why MyBookie is one of the best apps for betting on volleyball. If you want to find out more, why not go through our MyBookie app review?
More Trusted Volleyball Sportsbooks Online
There are plenty of other legit sites and apps for volleyball betting. Although we rate BetUS and MyBookie among the very best options, we urge you to explore our other recommended volleyball sportsbooks.
Joining multiple volleyball gambling sites is only going to enhance your chances of winning money. You can take advantage of all the different bonuses, promotions, and betting opportunities.
Now that you're familiar with the best online volleyball betting sites, it's time to show you how to bet on volleyball.
Below, we share useful volleyball betting tips, cover all the popular wager options, and more.
Volleyball Betting Options
Before you even think about parting ways with your cash, it is vital that you are aware of all the main volleyball betting options. After all, there are lots of different ways to gamble on volleyball.
Let's take a look at all the popular volleyball betting markets, including futures, matches, in-play, and props.
Volleyball Futures and Outrights
All the top volleyball betting sites offer futures and outright markets for many of the sport's leading competitions. Here are some of the main options.
Tournament Winner – It doesn't get any easier than this! Simply select a team (or teams) and back them to win the competition.
To Reach the Final – Not only can you back teams to win the tournament, but you can also bet on teams to reach the final.
MVP of the Tournament – Many of the top competitions hand out an MVP award at the end of play and you can wager on the winner of that award.
Best Setter – Essentially, a setter runs the team's offense. This volleyball outright market enables you to predict the best setter in a tournament.
While some bettors don't want to wait weeks (or even months) for futures and outrights, they can be seriously profitable. Before a competition gets underway, the prices are invariably more attractive, meaning you can find better betting value.
If you're serious about volleyball gambling, you should definitely bet on volleyball futures.
Betting on Volleyball Matches
There is no denying that wagering on individual matches is the most common type of volleyball betting. There are plenty of different options, too, giving you more opportunities to win money.
Let's take a look at all the top markets for betting on volleyball matches.
Match Winner – Undoubtedly the most popular volleyball betting market for individual matches, this wager allows you to predict the winning team.
Point and Set Totals – You can also gamble on the total number of points and sets in any given volleyball match.
Handicaps – All the best volleyball sportsbooks offer handicap markets. For example, Team A (+4.5 points) or Team B (-1.5 sets). These markets make a contest more even.
First Set Winner – As the name suggests, this volleyball betting market enables you to bet on the winner of the first set in a match.
Correct Score – This a tricky wager to get right, but it can be very lucrative. For instance, you could select Team A to win 3-0, or Team B to win 3-2.
It is also worth remembering that some of the top volleyball betting sites offer interesting prop bets for high-profile matches, related to the performance of each team or selected players. Make sure you keep an eye out for those.
Volleyball Live Betting
Live betting on volleyball can be great fun. It can also be very profitable! Below, we cover all the mainstream in-play volleyball betting markets.
Next Point Winner – If you're following the match closely, you can bet on the next team to win a point.
Current Set Winner – Another popular live volleyball betting market is current set winner. As you would expect, this wager enables you to predict the winner of the current set.
Race to 5/10/15/20 Points – This in-play volleyball betting market allows you to gamble on which team reaches a certain number of points first.
Team to Lead After 10/20/30 Points – You can also bet on which team will be leading after a certain number of points.
Handicap for Current Set – The top volleyball bookmakers offer handicaps for current sets. In essence, this gives a team a virtual deficit to overcome.
Before you bet real money on volleyball, please understand that live betting can be volatile. We share more advice on in-play volleyball betting further down this page, so make sure you stick around for that.
Volleyball Prop Bets
With dozens of different volleyball events taking place all around the world, you can't always find prop bets for every single tournament. However, the top volleyball sportsbooks always dish up props for the biggest competitions.
Here are some examples of volleyball prop bets to keep an eye out for.
Total Number of Points Scored – This volleyball prop lets you bet on the combined number of points scored in a tournament. For example, over 5,000 or under 8,000.
Highest-Scoring Team – If you think you know which side will score the most points in a competition, you can back them to be the highest-scoring team.
Player to Score the Most Points – Use this volleyball prop bet to back a player to score the most points in a tournament.
Bookmakers are always thinking of new and exciting volleyball props. Although we have shared a few of the more common options above, there are many more to take advantage of.
With that in mind, we suggest exploring all the best volleyball gambling sites to find more top prop bets.
Indoor vs. Beach Volleyball Betting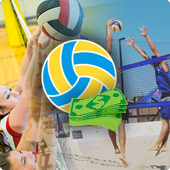 Indoor and beach volleyball have the same basic principle. Both disciplines require teams to keep the ball off the ground on their side of the court, using three touches or less, and ground the ball on the opponent's side of the court.
However, there are several notable differences between the two codes for the sport.
For starters, an indoor court is slightly larger than a beach volleyball court. Beach volleyball uses a slightly bigger ball.
The scoring system is different, too. While a team needs to reach 25 points to win an indoor volleyball set, a beach volleyball set is won by the team that reaches 21 points first. Indoor is first to three sets, while beach is first to two sets.
Indoor volleyball teams are also much larger, with six players per side. On the other hand, beach volleyball teams comprise just two players.
INDOOR VS. BEACH VOLLEYBALL – KEY DIFFERENCES
Indoor Volleyball
Beach Volleyball
Surface
Hard court
Sand
Court size
59 feet (18 meters) by 29.5 feet (9 meters)
52 feet (16 meters) by 26 feet (8 meters)
Scoring
25 points to win a set; first to 3 sets
21 points to win a set; first to 2 sets
The ball
Heavier, allowing it to move faster and harder
Softer, lighter, and marginally bigger
Team size
6 players, substitutions allowed
2 players, no substitutes
Due to the notable differences between the two disciplines, you need to make sure that you adapt your volleyball betting strategy depending on which code you are wagering.
Sure, most volleyball betting strategies are relevant for both indoor and beach volleyball. But there are certain nuances that you should be aware of.
Bookies Cover More Indoor Events and Markets – While beach volleyball isn't as popular, indoor events are always widely covered. With lots of different markets on offer, it is easy to bet on indoor volleyball regularly.
Surprises Are More Common in Beach Volleyball – Indoor volleyball teams consist of six players, meaning there is more margin for error. But with only two players per beach volleyball team, upsets occur far more frequently.
Beach Volleyball Odds Often Present Better Value – Bookmakers are generally more prepared for indoor volleyball events, investing more time in calculating accurate odds. Beach volleyball odds can sometimes be more generous.
Indoor Volleyball is More Popular and Accessible – You can find more information on indoor volleyball, so it is easier to carry out research and make winning volleyball predictions based on your findings.
Before you bet on volleyball for money, it is vital that you know which discipline you are betting on. Although many aspects are the same, there are some key differences that cannot be overlooked.
Men's vs. Women's Volleyball Betting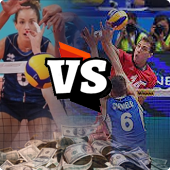 As well as understanding the differences between indoor and beach volleyball, you should also familiarize yourself with the differences between the men's game and the women's game.
The key difference between the male and female games is the net height. The men's net height is 7 feet, 11 5/8 inches (2.43 meters), while the women's net height is 7 feet, 4 1/8 inches (2.24 meters). This is because, generally, men are taller and jump higher than women.
Considering the physical differences, men's volleyball tends to be more power-driven. By contrast, women's volleyball is usually more finesse-orientated, as the women aim for specific areas on the court, rather than slamming the ball over the net.
In terms of the flow of the match, all the factors above lead to the following trends.
Longer rallies in women's volleyball
More points for the receiving teams in men's volleyball
Shorter sets and matches in men's volleyball
More side-outs in men's volleyball
You should always consider the main differences between the men's and the women's game when betting on volleyball. Due to the nuances, both games present unique gambling opportunities.
If you follow the volleyball betting tips below, you will be in good standing to win cash while wagering on both the men's and women's game.
Women's Volleyball Favorites Often Win by Larger Margins – Men win points easier when receiving, meaning underdogs have more chances to win points. But in the women's game, the favorites tend to dominate and win by greater margins.
Longer Rallies Lead to Fatigue in Women's Volleyball – Due to the lengthy rallies in women's volleyball, players often tire towards the end of a match. If a match goes to the fourth or fifth set, the fitter of the two teams will have an advantage.
Look for Better Value in Live Women's Volleyball Odds – The number of long steals in the women's game also means that you can often find excellent live betting odds and more in-play opportunities.
When volleyball betting with real money, make sure that you understand the difference between the men's and women's game before you make your volleyball betting picks.
Professional vs. College Volleyball Betting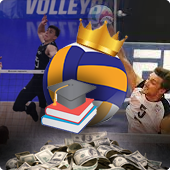 In many countries, you can only bet on professional volleyball. But in the United States, college volleyball betting is available.
The National Collegiate Athletic Association (NCAA) hosts its own championships and tournaments. Several US sportsbooks cover these, enabling you to win cash from NCAA volleyball betting.
In total, 43 colleges compete in men's NCAA indoor volleyball, with 25 teams in the women's competition. Colleges battle against each other in different conferences throughout the year, while there are also knockout events.
More recently, NCAA beach volleyball has grown in popularity. That said, fewer teams compete in the tournaments, meaning the betting opportunities are few and far between.
It is worth noting that NCAA volleyball follows the same rules and regulations as the professional game. So, when it comes to betting on college volleyball, you don't really need to adjust your volleyball betting strategy.
To learn more about college volleyball, head over the official websites for NCAA men's volleyball and NCAA women's volleyball.
Tips for Betting on Volleyball Matches
In this section, we share our top tips for betting on volleyball matches. Building a solid strategy for betting on volleyball matches is key to your success.
We cover a wide range of volleyball betting tips, focusing on various aspects of the sport. We show you how to evaluate the strength of a volleyball team, study form, assess head-to-head records, and examine more tips for in-play volleyball betting.
Consider the Context of the Match
Before you place your volleyball bets, you need to consider the context of the match you are gambling on. Some matches are far more important than others, meaning teams can perform differently under certain circumstances.
First, you need to establish if the match is part of a knockout tournament or a league.
In a league situation, teams can sometimes afford to lose matches. But when it comes to knockout competitions, every match matters.
You will sometimes find that stronger teams (bookies' favorites) rest key players in favorable or less important matches, giving the weaker teams (bookies' underdogs) a greater chance of upsetting the odds.
For example, if a team has already qualified for the next phase of a tournament, the coach may decide to leave their top players on the subs bench to keep them fresh for more important matches down the line.
You should also consider home advantage, too. Just like pretty much every other sport, volleyball teams tend to benefit from home-field advantage.
Evaluate Both Teams
If you want to make winning volleyball predictions, team evaluation is essential. Before you even think about laying down your volleyball wagers, you should analyze the teams you are betting on.
In terms of evaluating a volleyball team, here are four important aspects to consider.
Overall quality
Leadership
Coaching staff
Squad depth
Obviously, examining the overall quality of the team is the best place to start. But you shouldn't stop there.
Studying the squad depth is also vital. If a team has solid substitutes as well as a strong starting line-up, chances are they will dominate their opponents.
Look out for players with good leadership qualities, too. Teams with influential captains usually stand a far better chance of winning matches, while teams with experienced coaches also tend to perform well.
Look for Strengths and Weaknesses
The next of our volleyball betting tips mainly concerns the indoor game.
With six players per team, there are bound to be strengths and weaknesses throughout each side. If you can identify the strong and weak areas of a team, you will give yourself a greater chance of landing your volleyball betting picks.
The table below details five important statistics to analyze.
VOLLEYBALL STATS TO STUDY FOR BETTING
Statistic
What to Look Out For
Serving
Aces, errors
Receiving
% Positive reception, aces allowed
Offense
Efficiency, unforced errors
Block
Blocks per set/match
Defense
Digs per set/match
Some teams may be strong offensively, while others might be better at the defensive side of the game. By examining each team closely, you can establish which matchups are likely to win you money.
We understand that scouring a ton of stats can be pretty time-consuming. That said, the more time you spend studying the strengths and weaknesses of a team, the more likely you are to win cash.
Examine Recent Form
This might seem like an obvious thing to do but studying the recent form of teams is important for betting on volleyball. Even the best teams go through rough patches, so it is vital that you examine the form guide.
Analyzing head-to-head records can also be hugely beneficial, as some teams enjoy playing against certain opponents more than others.
You can gain tons of useful information by going through past results.
Don't forget to look out for team news, too. Keeping on top of all the latest developments regarding injuries and suspensions is key, especially if you want to get the better of the bookies.
Certain sides rely heavily on their star players. If their key performers are unavailable for selection through injury or suspension, they won't perform to the best of their ability. This can lead to changes in the betting prices.
Volleyball Live Betting Advice
Although you can't place in-play wagers on every volleyball match, the sport's top events always produce live betting opportunities.
If you're interested in live volleyball betting, the following tips can help you make a profit.
Follow the Live Stats – When it comes to in-play volleyball betting, it pays to follow the match statistics. You can discover emerging patterns and trends by tracking the stats – and this can aid your live wagers.
Observe the Body Language of Players – Keep an eye on the body language of players, too. Players could show different emotions like frustration, anger, or determination, giving you an idea of what might happen down the line.
Watch the Matches – While following statistics is great, we strongly recommend watching the match you are gambling on. Live commentary and stats will only get you so far, so watching the match is vitally important.
Look Out for Players with a Strong Serve – You should always know which players are the best servers, as the chances of a team enjoying a mini break, or a hot streak will be higher when the strongest server is serving.
Follow Impact Subs – Coaches often make tactical switches in order to favor their team. Keep an eye out for extra blockers or top servers entering the court, as the course of the match could change quickly.
If you follow these volleyball live betting tips, you will only enhance your chance of landing your in-play wagers.
Volleyball Competitions to Bet On
We thought it would be a good idea to wrap up our volleyball betting guide by looking at some of the best volleyball competitions to wager on.
There are hundreds of volleyball tournaments across the globe, both for indoor and beach volleyball. Below, we look at some of the most high-profile volleyball events to bet on.
Olympics – The Olympic Games volleyball event is arguably the pinnacle of the sport. For more information, head over to our Olympic volleyball betting guide.
FIVB Volleyball Men's World Championship – Taking place every four years, this competition is contested by the senior men's national teams of the members of Fédération Internationale de Volleyball (FIVB).
FIVB Volleyball Women's World Championship – The women's edition of the tournament also takes place once every four years, with 24 teams competing for the trophy.
FIVB Volleyball Nations League – Inaugurated in 2017, this is an annual competition contested by the senior men's national teams of the FIVB. We also have a guide to betting on the FIVB Nations League.
US College Volleyball – Run by the National Collegiate Athletic Association (NCAA), college volleyball is a big deal in the US, with teams from all over the country battling it out for the title.
Italian SuperLega – Widely regarded as the top domestic volleyball league in the world, Italy's SuperLega consists of 12 teams, with many of the sport's best players plying their trade there.
Russian Super League – Alongside the Italian SuperLega, Russia's Super League is one of the biggest domestic volleyball leagues on the planet.
FIVB Beach Volleyball World Championships – When it comes to beach volleyball, the World Championship is the most prestigious event.
July
Sportsbook of the Month

Sign up Bonus
60% Up To $1,000
READ REVIEW
Visit Site
X