Betsoft's Safari Sam 2 Slot Game
Going on an African safari is definitely a bucket-list item that everyone should get to experience at least once. But it can be a very expensive experience!
If you can't afford the African dream vacation you fantasize about, you might want to check out the Safari Sam 2 slot game instead.
It might not be quite the same as getting up close and personal with giraffes, elephants, and lions. But it is an exciting slot machine that is packed full of bonus features.
Our Safari Sam 2 slot review tells you all about this thrilling slot game. We cover everything you need to know about how to play Safari Sam 2, the pros and cons of this game, and more.
Safari Sam 2 Online Slot – Key Details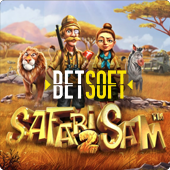 Theme: African Safari
Manufacturer: Betsoft
RTP: 96.30%
Reels/Rows: 5/3
Paylines: 50, fixed
Minimum bet: $0.20
Maximum bet: $120
Maximum Prize: $50,500
Jackpot: No
Volatility: Medium
Mobile Compatible: Yes
How to Play Safari Sam 2
The Safari Sam 2 casino slot is a standard 5×3 slot machine. It has 50 fixed pay lines. Instead of allowing players to choose their pay lines and coin values, Betsoft has preset betting amounts.
There are eleven betting amounts you can choose from. They range from $0.20 to $120. You cannot bet any amount other than one of the eleven options they offer.
Once you have chosen your bet amount, you can manually press the spin button or turn on autoplay.
The game's autoplay feature will allow you to play up to 100 spins automatically. All you need is enough funds in your account to cover those 100 bets at your chosen bet amount.
Now that you know the basics of how to play Safari Sam 2, let's explore the symbols that you will be looking for.
Safari Sam 2 Symbols and Paytable
The Safari Sam 2 online slot game has ten basic symbols and two bonus symbols. The compass, Safari Sam, and Safari Pam are the high-paying symbols.
You can earn medium payouts when you get a lion, a zebra, a safari jeep, and the safari tent. Playing card symbols Ace through Jack are the low-paying symbols.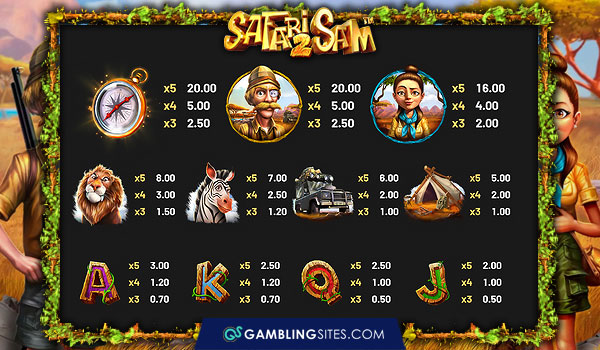 The compass is the wild symbol in the Safari Sam casino slot game. A beautiful image of an acacia tree against the sunset acts as the game's scatter symbol.
We explain more about both of those symbols in the bonus features section of our Safari Sam slot review.
3D Graphics Make Up for Lackluster Symbols
Betsoft is the software provider that created the Safari Sam 2 casino slot. They are known for their fantastic slots with 3D graphics. This game is no exception.
The graphics and animations on the Safari Sam 2 online slot machine are incredibly detailed. We particularly appreciate the fact that the zebra seems to be copying Safari Pam's facial expression.
That same attention to detail is present in the background images, as well as the symbols themselves. Safari Sam and Safari Pam look like they are breathing while they stand next to the reels.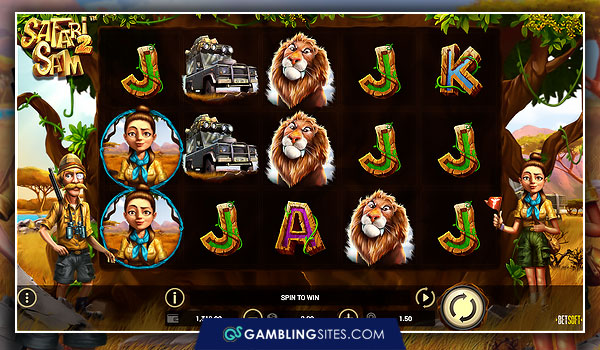 Betsoft has also created fantastic animations that occur every time you win. The winning symbols will light up and become larger to highlight your winnings.
Whenever the Acacia scatter symbol appears on the reels, the entire screen bounces to get your attention.
The animals underneath the Acacia tree are animated. If you activate the free spins, the leaves from the tree will fall across your screen.
There is nothing particularly exciting about the symbols and paytable for the Safari Sam 2 online casino slot. But this slot certainly lives up to Betsoft's reputation for creating games with excellent graphics.
Safari Sam 2 Bonus Features
You might be captivated by the magnificent graphics for the first few spins. But your admiration will fade after that.
As soon as the excitement of playing a new game wears off, you may start to wonder what makes the Safari Sam 2 casino game special.
If the timing works out, that should be about when you start to experience the Safari Sam 2 bonus features. Once you get the chance to see all of these bonus features in action, you will understand why we love playing Safari Sam 2 for real money online.
Base Game Bonus Features
There are two bonus features that are part of the Safari Sam slot base game. They are called the Safari Stack and the Call of the Wild.
Safari Stacks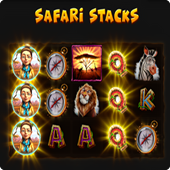 The Safari Stack happens whenever you get three symbols that appear stacked on top of each other. You will automatically get a payout for having three of those symbols.
Most slot machines only offer payouts on horizontal pay lines. Offering payouts for vertically connected symbols is like adding five extra pay lines.
But that is not all that the Safari Stack does. After you have received your payout for the Safari Stack, it will crumble. New symbols will fall into their places.
If the new symbols match the other symbols on a horizontal pay line, you could get an extra payout.
The Safari Stack feature can be retriggered if three identical symbols fall into place. You will keep getting cascading symbols until there are no more Safari Stacks on the reels.
When we played the Safari Sam 2 slot online, we noticed that we got Safari Stack payouts more often than we got payouts on the horizontal pay lines. This feature significantly impacted our payouts.
Safari Sam's compass is the wild symbol in the game that can replace any symbol other than the Acacia scatter symbol when it appears by itself. This can help you get more Safari Stacks.
It is also the key to the Call of the Wild bonus feature.
Call of the Wild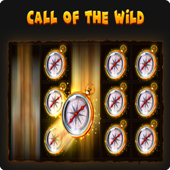 The Call of the Wild bonus feature on the Safari Sam 2 real money slot occurs randomly at the beginning of a spin. When the Call of the Wild happens, the wild symbol will take over as a stacked wild.
Most often, only one reel will become wild. But the Call of the Wild feature can change up to four reels to wilds. The more wilds that appear, the more chances you have to win.
We appreciate that both of these bonus features are available on the base game. We enjoyed getting them during our Safari Sam 2 review. They make the Safari Sam 2 casino slot so much more exciting.
Having these features means that you don't have to wait for the free spins feature to start collecting significant wins. But the free spins feature IS another thrilling part of playing Safari Sam 2 online.
Free Spins Bonus Feature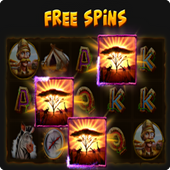 The Acacia tree is the scatter symbol on the Safari Sam casino slot machine. It offers additional payouts and triggers the bonus feature.
5 Acacia symbols = 50x payout and 20 free spins
4 Acacia symbols = 12x payout and 12 free spins
3 Acacia symbols = 3x payout and 7 free spins
Free spin features always add a lot of excitement to slot games. They give you extra chances to collect payouts without risking part of your bankroll.
But the Safari Sam real money online slot goes above and beyond to make sure the free spins are worth waiting for.
Every free spin automatically has a Call of the Wild feature. That means that every free spin has at least one reel that is full of wilds. You could get up to four wild reels on the free spins.
The Safari Stack feature is also active on the free spins. If you get three stacked symbols, you will receive that payout, and then the Safari Stack will crumble.
When the Safari Stack crumbles in free spins mode, it is guaranteed to be replaced with another reel full of compass wild symbols.
You might have to play Safari Sam 2 for a while before you collect enough scatter symbols to trigger the free spins. But those free spins are worth waiting for because they are chock full of wild symbols.
Altogether there are three bonus features on the Safari Sam 2 slot game. The Safari Stacks and Call of the Wild features are available at any time.
Those features become even more valuable when they are combined with the free spins feature.
Pros and Cons of the Safari Sam 2 Slot Machine
We want our Safari Sam 2 slot machine review to give you a complete picture of what to expect when you play the game. To do that, we can't just focus on everything the game does well.
There are pros and cons to everything, and the Safari Sam 2 online slot game is no exception. Here are some of the things we liked and disliked about the game.
Pros
Safari Stacks offer payouts on vertical pay lines and cascading reels
The Call of the Wild bonus feature offers stacked wilds on one to four reels
Free spins feature with guaranteed stacked wilds
Excellent graphics and animations
The sound effects enhance the theme
Can play Safari Sam 2 for free or with real cash
Cons
No Safari Sam 2 progressive slot game
The low-paying symbols have nothing to do with the theme
Fixed bet amounts
The maximum Safari Sam jackpot is low compared to other slot games
It takes a long time to trigger the free spins feature
Overall, we really enjoyed playing Safari Sam 2 online for money. It is an entertaining game with a lot of bonus features that will help keep your attention.
The graphics and sound effects are on point. They exemplify the reputation that Betsoft has for creating beautifully designed slot games.
We had to nit-pick to find some things we didn't like to add to this Safari Sam 2 online slot review. One game can't have everything, but this game comes pretty close.
It does NOT have a progressive jackpot. If you really want to play a progressive jackpot game with a slot theme like Safari Sam 2, we recommend playing Mega Moolah.
If you are looking for higher prizes or varied bet amounts, you may want to consider playing high-stakes slot games.
We think most people will enjoy playing the Safari Sam 2 slot online. It truly is a fantastic game that will entice most slot players. We couldn't get enough of it while writing this Safari Sam review.
Where Can I Play Safari Sam 2?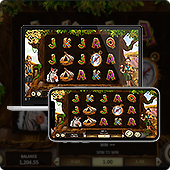 Now that you have read our Safari Sam 2 slot review, you are probably ready to start playing this adventurous game for yourself.
Before you can start playing, you need to find some Safari Sam 2 online casinos. Fortunately, it is pretty easy to find online casino sites with Safari Sam 2.
All you have to do is find casinos that use Betsoft software. Since most casinos do not advertise the software providers they work with, you may have to do some research to find one.
We can help save you some time. Most US casino sites work with Betsoft. So, a fast way to find Betsoft casinos is to check out our US online casinos page.
You will find at least one online casino with Safari Sam 2 on that page. We guarantee it.
Any online casino with Safari Sam 2 will also have other fantastic Betsoft slot games like these.
What's more is that you don't even need to use a computer to play Safari Sam 2 for real money – or any of the slots listed above.
That is because Safari Sam 2 is also a mobile slot. You can play this game from any mobile device that can access the internet.
There is no need to download a Safari Sam 2 app. Instead, you can access your favorite Safari Sam 2 mobile casino from your device's internet browser.
The game uses optimization software that makes it work on iPhones, Androids, and tablets. So, you don't have to worry about whether YOUR device is compatible. It most likely is.
Thanks to mobile compatibility, you can play Safari Sam 2 online for real cash from anywhere. If you are lucky, you just might win enough to pay for that African safari vacation you have been dreaming about!

Sign up Bonus
250% Up To $5,000
READ REVIEW
Visit Site
X