Review of Stacked – Online Slot From Betsoft
Stacked is a new slot machine that Betsoft introduced in 2021. This magic-themed slot machine has quite a few tricks up its sleeve to help you win big while playing slots online.
We have a trick up our sleeve, too – this Stacked slot machine review.
Here is some of what we cover.
An overview of the game
How to play
Symbols and payouts
Features
Mobile access
There are thousands of slot machines you can play online. You don't have the time to go through them all to find your favorites. No one does.
That's why we wrote this slot review; to help you figure out if you want to play Stacked from Betsoft.
Spoiler alert – we think you will. We enjoyed testing this game, especially the features. There are a couple of new features Betsoft added to help you win more from each spin.
What are these new in-game features? We explain in our Stacked slot review below.
Stacked Slot Overview
Here is what you need to know about the Stacked slot game.
3D graphics
Magic slot theme
Up to 20 paylines
4×4 reel-to-row setup
Bet 0.20 to 150.00 per spin
Win up to 664.3X your original stake.
US-friendly
Available for real money or practice play
How to Play Stacked
Stacked is a simple slot game. It doesn't take long to get accustomed to the game's layout and setup.
All the options are at the bottom of the screen, below the stage. This is where you'll find the spin and auto-spin buttons, the sound and info buttons, and your betting options.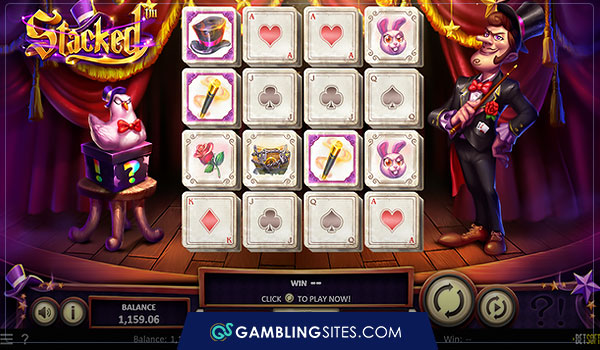 The first thing you'll want to do is set your bet amount. But keep in mind that the betting amounts are a bit odd.
For instance, you can go from betting 0.20 to betting 0.70. Then it goes from 0.70 to 2.50. Then from 2.50 to 6.00. These jumps continue until you reach the maximum betting limit of 150.00.
Once you've set your betting amount, you can start to play Stacked.
Stacked Slot Symbols and Payouts
The Stacked slot game uses a magic slot theme.
All the symbols resemble things you might see during a magic show.
Clubs
Spades
Diamonds
Hearts
Roses
Rabbit
Locked Chest
Magic Wand
Hat
Mystery Box
How do you win on Stacked? You need to match at least three of these symbols on a payline. When you do, you will receive the minimum payout for each symbol.
You will get the maximum win for a symbol if you hit four symbols on a payline.
The lowest-paying symbols are the club and spade playing cards. You will receive a 6x payout for matching three of these symbols on a line.
The highest-paying symbols in Stacked are the hat and the mystery box. Match four of these symbols on a payline and you'll receive a 500x payout for your line bet.
That's not the maximum payout, either. You can win as much as 664.3x your line bet, which comes out to $99,645 if playing the maximum.
But remember, that near-$100,000 payout is only available if you play Stacked online for real money.
If you trigger that payout playing Stacked for free, the only thing you'll get is a bad-beat story.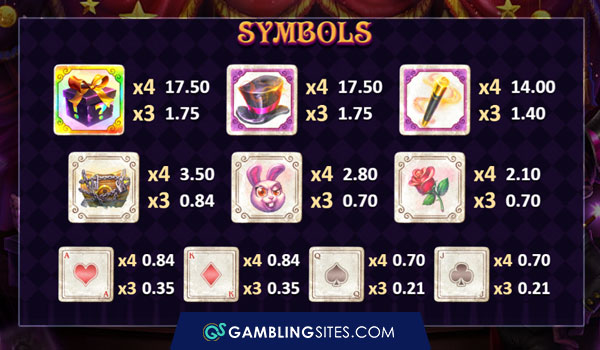 Stacked Slot RTP and Volatility
The Stacked online slot has a decent RTP of 96.39%. This is above average when compared to most online slots.
It means that you'll get $960.30 for every $1,000 you put into the machine. But this is based on the long run. In the short run, you can do much worse or much better than the posted RTP.
If you're nowhere near the RTP in the short run, know these two things.
This is normal. It happens to everyone.
Betsoft included a neat feature or two to help you break out of these winning-less slumps.
As for variance, the Stacked slot is a medium-low volatility machine.
This means that you can expect to hit winning pay lines consistently. But because you're winning at a high frequency, the amounts you win will often be lower compared to higher-volatility slots.
Stacked Slot Features
During our Stacked slot game review, we triggered a couple special in-game slot features that helped us turn losing spins into winning, profitable spins.
Here are the three main features in the Stacked slot machine from Betsoft.
The Secret Trick
Fix the Trick
Mystery Box
Here is what you need to know about each Stacked slot feature.
The Secret Trick
The Secret Trick is a random feature that can occur on any spin. When you trigger this feature, a few cards are added face down to the reels.
Once the reels stop, the cards flip over. They all have the same symbol. These can help you complete or make new winning paylines in Stacked.
Fix the Trick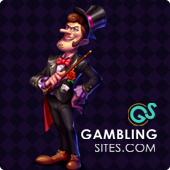 This is one of the features in Stacked we teased you about.
If you've gone a while without hitting a payline, you might trigger the Fix the Trick feature.
This feature will do one or both of the following.
The magician will pick up to 8 symbols from the reels and transform them into a winning stack that are 3X their original value. The symbols don't have to match, either. Wild symbols are worth as much as the highest-paying symbol.
The magician will nudge a symbol up or down one row if it can help to create a winning payline.
This is an awesome feature because we all go on cold streaks from time to time. Sometimes you decide to move on to another machine if you're not winning enough.
But doing that might mean that you miss out on great features like the Stacked online slot has.
This feature helps you win more, which is not only more fun but also ensures that you stick around to see everything the Stacked slot has to offer.
Mystery Box
This is arguably the best in-game feature in Stacked. The Mystery Box is both the wild and scatter symbol.
It will substitute for any symbol to help form winning paylines. If you manage to land three Mystery Boxes, you'll unlock a bonus round and receive five free spins.
We managed to trigger a bonus round during our Stacked slot machine review. It didn't take us long, either, which is awesome.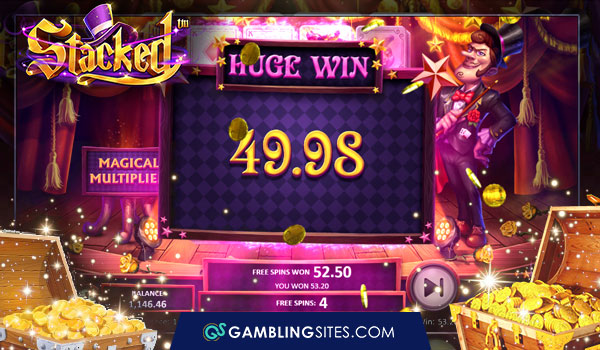 Before you play the bonus round, you'll play a pick-me game.
The cards will reveal the different perks that will apply to your free spin game.
Magical Multipliers – Multiply your free spins winnings by 2X, 3X, or 4X.
Spectacular Spins – Receive an extra 2, 3, or 5 spins for the bonus game.
Instant Win – Receive an instant payout of 5X, 10X, or 20X along with your bonus winnings from the free spins.
Prismatic Reel – Turn one reel fully wild for the entire duration of the free spins period.
More than one perk can apply to a free spin. For example, both the Magical Multiplier and Instant Win can apply to one spin.
The exception is the Prismatic Reels. If you get this extra, then this will be the only extra you get for that spin.
But it will be well worth it.
That wraps it up for the features you can enjoy when you play Stacked online for money or in practice mode. These were a lot of fun to test during our Stacked slot machine review.
Why not join one of our recommended online casinos and test them for yourself?
Play Stacked on Mobile
We tested the Stacked mobile slot during our review. Mobile slots are hit or miss, especially if they weren't developed with a mobile-first mindset.
But Stacked was. Stacked on mobile is just as good as playing it on your PC.
What's more is that you don't have to download an app to play it. All you need is a compatible mobile device and browser, and an account with a mobile casino.
That's it. Once you have those things, you'll play Stacked using your mobile internet browser. We had a great time playing it on mobile, too.
The first thing we noticed about the mobile Stacked slot is that you can play it in both landscape and portrait mode.
Most mobile casino games force you to play in landscape mode. Sometimes the games won't even appear in portrait mode. But Stacked does, which is awesome.
The game looks and plays great in either mode, so you'll want to review Stacked yourself to see which option you prefer.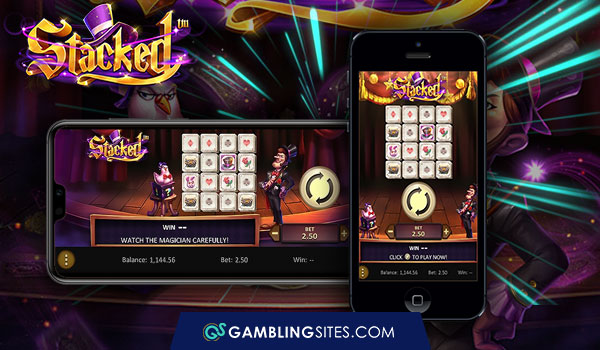 Speaking of options, those are easy to find. You'll find a small three-dot menu that will lead you to your sound, autoplay, and music settings. This is where you'll find the Stacked paytable, too.
Finding these options is intuitive. If you know your way around a mobile game, you'll have no problems adjusting the settings to your preferences.
Our only complaint during this phase of our Stacked slot machine review is that reels were tiny in landscape mode and small in portrait mode.
It's probably not possible to make the reels bigger in landscape mode, as there is only so much vertical real estate to work with.
However, we think Betsoft could shrink the spin button a little to give themselves room to make the reels a little bigger in portrait mode.
But that was the extent of our complaints during our Stacked mobile slot review, as well as the slot as a whole.
Betsoft did a great job here. We enjoyed playing Stacked online regardless of the device we were using.
Stacked Slot Pros and Cons
Now that we've looked at the features, graphics, and mobile access, let's look at the pros and cons you might face when you play Stacked for real money.
Pros
Stacked hit consistently. You'll rarely go on a long cold streak. We were hitting some wins every few spins during our Stacked review.
The in-game features – especially The Secret Trick or Mystery box – provide you with even more opportunities to win.
You don't need to download an app to access the Stacked slot on mobile.
The mobile Stacked slot works in both landscape and portrait mode.
Stacked looks awesome. You feel as if you're part of the crowd during a magic show.
All the design elements scream "magic," from the playing cards to the wand to the magician.
Cons
While consistent, the payouts were weaker compared to other high volatility slots.
The reels on the Stacked mobile slot could be bigger in portrait mode.
Play the Stacked Slot from Betsoft Now
The Stacked slot machine from Betsoft is an awesome new game with few flaws.
We like the high RTP and 3D graphics and love the Fix the Trick and Mystery Box features. You can't complain about the consistent payouts, either.
However, the payouts were smaller than we'd like to see. We also think that Betsoft can make the reels bigger and easier to see in portrait mode on mobile.
But those complaints are minor in the grand scheme of things. They didn't stop us from playing the game during the testing phase of our Stacked slot review.
We don't think they should stop you, either.
It certainly hasn't stopped anyone else. Betsoft just released Stacked in March 2021, yet we're already seeing a lot of people searching Google to learn more about it.
If you're ready to play Stacked online for money, all you need to do is create an account with one of the best casino sites with Stacked.
Check out our recommendations for where to play Betsoft slots online.

Sign up Bonus
250% Up To $5,000
READ REVIEW
Visit Site
X