Review of the Book of Darkness Slot Game
If you've ever wanted to take on the darker side of the magical arts, we have a slot machine for you. It's the Book of Darkness online slot from Betsoft.
The design features have a sinister quality, with a dark background, stone accents, and a creepy soundtrack. When you first start the game, a deep, intense voice will challenge you to find the Book of Darkness.
However, the game's darkness is only surface level. The clinking of traditional slot machine sounds clash with the creepy soundtrack. There is nothing particularly frightening or dark about the game itself.
Despite the inconsistency of the theme, the Book of Darkness casino slot is a fun game. This Book of Darkness slot review tells you all about it, including how to play the game and how to win.
Let's start by exploring some of the technical features of the game.
Book of Darkness Slot Details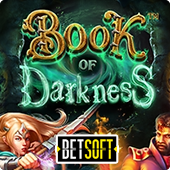 Theme: Magic/Sorcery
Manufacturer: Betsoft
RTP: 96.48%
Reels/Rows: 5/3
Paylines: 10
Minimum bet: $0.10
Maximum bet: $40
Maximum Prize: $25,600 (640x Max bet)
Jackpot: No
Volatility: High
Mobile Compatible: Yes
How to Play Book of Darkness
Betsoft makes it easy to play Book of Darkness online for real money. They have predetermined bet amounts that range from $0.10 to $10.00.
When you choose one of these bet amounts, that is the exact stake you will risk each spin. You don't have to multiply that amount by the number of pay lines or a bet level.
Once you have selected your bet amount, you can manually press the spin button or start autoplay. The autoplay button lets you choose between ten to one hundred spins.
Now that you know the basics of how to play Book of Darkness, let's explore the symbols and paytable.
Book of Darkness Symbols and Paytable
There are three categories of symbols in the Book of Darkness slot machine. The high-paying symbols include the Book of Darkness wild symbol, the huntress, and the dark wizard.
Magical items, including the potion, the dagger, the ring, and the crystals, are medium-payout symbols. They are followed by the ace, king, and queen, which act as the low-paying symbols.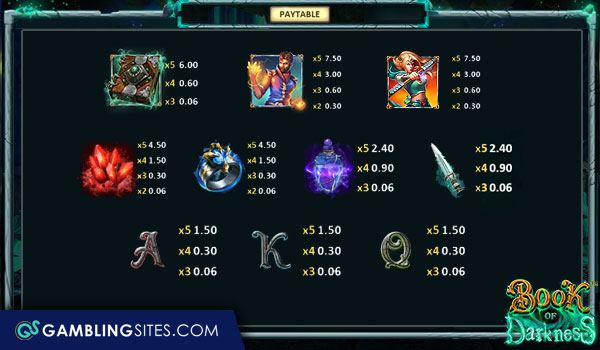 One thing you will appreciate about the Book of Darkness slot is that it offers payouts for only two symbols.
Any time you get at least two of the ring, the crystals, the huntress, or the dark wizard on a pay line, you will earn a payout.
It is helpful to offer payouts for two of a kind. That makes it easier for you to cash in on several small wins that add up over time.
However, it is challenging to remember which symbols offer two-of-a-kind payouts and which symbols you need three of.
It doesn't make sense that two of the high-paying and two of the medium-paying symbols should be the ones that offer payouts on two of a kind.
Another confusing aspect of the Book of Darkness slot game is the animations. Any time the book, huntress, or dark wizard shows up on a pay line, they activate an animation.
That can make you think you have won or activated a bonus feature, even when that is not the case.
There are only a few ways to activate the bonus features in the Book of Darkness online slot machine. We will go over those now to help you avoid any confusion.
Book of Darkness Bonus Features
When you play Book of Darkness, there are three possible bonus features you can get.
Free spins
Clash for Power
Shadowform
The Shadowform bonus feature is only available once you have already activated the Clash for Power bonus feature.
Our Book of Darkness slot machine review explains each bonus feature in detail. Let's start with the most straightforward option; the free spins feature.
Scatter Symbol and Free Spins
The Book of Darkness symbol is unique because it is both the scatter symbol and a wild symbol in the game.
It can replace any other symbol, including the huntress and the dark wizard. There is only one exception.
This symbol cannot replace the huntress or the dark wizard in the sequence needed to activate the Clash for Power bonus.
You can also earn free spins and scatter symbol payouts any time the book symbol shows up three or more times on the reels. They don't need to align on a pay line to earn the free spins and payouts.
| | | | |
| --- | --- | --- | --- |
| Number of book symbols | 3 | 4 | 5 |
| Scatter payout | 2x | 20x | 200x |
| Number of free spins | 10 | 15 | 20 |
These free spins come with an extra feature that will help you collect even more payouts. Before the free spins start, the pages of the book will open to a random page.
On that page, you will find one of the Book of Darkness slot game symbols. It could be any symbol other than the book itself.
Whichever symbol the book lands on will become an expanding symbol during your free spins. Any time you get three or more of that symbol on the reels, it will expand vertically to take over the reels.
The expanded symbols mean extra payouts for you because you will have multiples of the same symbol across several pay lines.
We think the free spins feature is valuable because it is easy to trigger and offers significant payout opportunities. Unfortunately, we didn't trigger this feature while writing this Book of Dark slot review.
Clash for Power Feature
The second Book of Darkness online bonus feature is called the Clash for Power. It is difficult to trigger because there are only two ways to activate it.
You have to get the huntress, the book, and the dark wizard symbols in a straight, horizontal line on the reels. The book must be in the middle.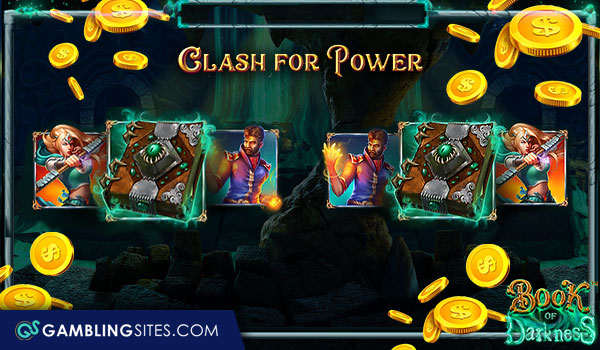 It will not get activated if the book comes before or after both characters, if the symbols are in a diagonal line, or if there is a space between them.
All three of the symbols must line up perfectly, which makes it an extremely difficult bonus feature to activate.
If you are lucky enough to get the symbols in order, the Clash for Power battle will begin with an announcement from that intense voice from the beginning of the game.
The huntress and the dark wizard will battle for the power of the Book of Darkness. You will have to choose which character you think will win before the battle begins.
Once you have made your choice, the reels will start spinning. They will keep spinning until one of the characters wins the battle. That usually happens within fifteen to twenty spins.
You can collect any wins along the way. But you will probably be far more interested in paying attention to who is winning the battle. So, how does one of the characters win?
Any time three or more of the huntress or dark wizard appears on the reels, they will expand vertically. That creates an automatic win for you of 20x your bet amount.
Each time one of the characters takes over the reels, that character will earn a point. The first character to earn three points will win the battle.
Unfortunately, we didn't manage to trigger this feature while writing this Book of Darkness online slot review, either. But that's just how it goes sometimes, isn't it?
Shadowform Bonus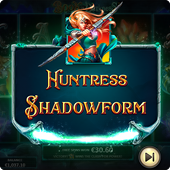 If the character that you chose at the beginning of the Clash for Power battle wins, it will activate their shadow form. The bonus feature will end if your character loses.
When the Shadowform feature gets activated, you will get ten additional free spins. Your free spins will have an extra incentive, depending on which character you chose.
The huntress offers ten free spins with a 5x multiplier on all wins.
Before the free spins begin, the dark wizard will choose five expanding symbols at random. These expanding symbols work the same as the expanding symbols in the free spins feature.
Some people prefer to have every win multiplied. Other people like the excitement of potentially more significant winnings based on expanded symbols.
The odds of each character winning are exactly the same because the winner is determined by the reels randomly.
So, instead of trying to figure out which character wins more, you should choose your Clash for Power character based on the bonus features you prefer.
Both of these features offer excellent opportunities to increase your winnings.
No matter which character wins, taking advantage of the Clash for Power and Shadowform features is how to win on Book of Darkness.
Book of Darkness Slot Review Verdict
Overall, we definitely enjoyed playing the Book of Darkness real money slot online. It is a fun game with an edgy theme that anyone can enjoy.
The best part of the Book of Darkness online slot game is the exciting bonus features that offer incredible winning opportunities.
However, it takes a long time to activate those bonus features. Some players might get bored with the repetitiveness of the base game while they are trying to trigger a bonus.
That might sound negative, but our Book of Darkness review would not be complete without offering both the positives AND negatives. This is an approach we take with all our slot game reviews.
With that said, here are a few more things we love about the Book of Darkness slot and a few things we wish they would change.
Pros
Excellent 3D graphics
An immersive soundtrack that matches the theme
The user interface makes gameplay easy for beginners
Payouts for two-of-a-kind on some symbols
Scatter symbol that also acts as wild
Free spins feature with expanding symbols
Clash For Power bonus mini-game
Shadowform benefits offer even more bonus features
Play Book of Darkness for free or real money
Cons
The theme may not be edgy enough for some players
Too many animations might be confusing
Sound effects clash with the soundtrack
It is challenging to trigger any of the bonus features
Layered bonus features make it harder to earn the highest payouts
No progressive jackpot
Online Casinos with Book of Darkness
Now that you have read our Book of Darkness slot review, you are ready to start playing. But first, you need to find a casino site that offers Book of Darkness.
Instead of searching for Book of Darkness casinos online, it is easier to search for casinos that offer Betsoft software.
Most casinos that have Betsoft software will be Book of Darkness online casinos. Check out our recommended online casinos for some options.
Once you have found an online casino site with Book of Darkness, you can read our reviews to find out more about each casino's promotions, banking methods, and customer service.
There are also Book of Darkness mobile casino options. It should be very easy to access the Book of Darkness slot on mobile devices.
Most of the time, you will just have to access your favorite casino site from your device's internet browser. The software should be optimized to fit any screen size.
That means you can play on your mobile device without needing to download a particular Book of Darkness app. The game should work just as well on your mobile device as it does on your computer. Or you can use real money slots apps if you prefer.
No matter where or how you decide to play Book of Darkness online for money, it is a fun magic-themed game that you will enjoy because of its exciting bonus features – if you can trigger them.
If you enjoyed playing the Book of Darkness slot online, then you might want to read the following blog post where we recommend some other magical-themed slot machines.

Sign up Bonus
250% Up To $5,000
READ REVIEW
Visit Site
X