Review of the Megasaur Slot from RTG
Chances are good that if you were ever to meet a T-Rex or a triceratops face to face, you would be running for the hills.
Fortunately, the Megasaur slot machine from Realtime Gaming lets you encounter these creatures without risking your life.
This dinosaur-themed slot machine is packed full of bonus features that will get your adrenaline rushing.
Megasaur slots even offer a feature guarantee that promises to activate the Megasaur feature at least once every 250 spins!
Okay, enough teasing. Let's dive into our Megasaur slot review. We explain everything we love about the Megasaur slot game and a few things that we think could be better.
But first, we need to explain how to play Megasaur. Luckily, it is almost the same as playing most other slot games.
How Do You Play Megasaur?
There is one thing that is different about playing Megasaur. This game has three predetermined bet amounts.
You can either bet the minor ($1.25), major ($2.50), or mega ($5) bet amounts. These bet amounts coincide with the jackpot amounts that you are eligible to win.
Because the bet amounts are predetermined, they already include the fixed number of pay lines and specific coin denominations.
Other than that, Megasaur online is very similar to other slot machine games. Once you've chosen how much to bet per spin, you just hit the button to spin the reels.
Here are some of the game's technical features.
Megasaur Slot Key Details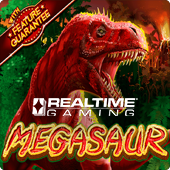 Theme: Dinosaurs
Manufacturer: Realtime Gaming
RTP: 91% – 97% (may vary between casinos)
Reels/Rows: 5/3
Paylines: 25, fixed
Minimum bet: $1.25
Maximum bet: $5
Maximum Prize: 50,000 coins (not including the jackpot)
Jackpot: Yes
Volatility: High
Mobile Compatible: Yes
Megasaur Theme, Symbols, and Paytable
One thing we appreciate about the Megasaur online slot machine is its execution of the dinosaur theme. You will see a leafy jungle with rolling volcanos behind the reels.
The background music also fits the theme, with a soundtrack that is similar to the Jurassic Park movies.
Any time you win with a wild symbol, the Megasaur will roar. These sound effects enhance the overall theme and bring the dinosaurs to life before your eyes.
The sound effects are just part of the animations that occur every time you win. Each of the dinosaurs also have different actions. It is surprising how detailed the images are, considering their size.
Half of the game's symbols are animated dinosaurs. The other half are ace through nine card symbols with a prehistoric design.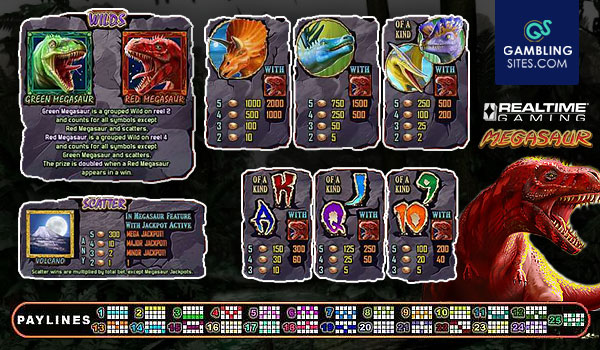 Usually, we get disappointed when slots use traditional card symbols instead of symbols that relate to the theme.
But in this case, it makes more sense. It is easy to tell all of these dinosaurs apart. The pterodactyl looks nothing like the triceratops.
If Realtime Gaming had added more dinosaurs for the low-paying symbols, they would have been too similar. It would have made the game too confusing.
Another reason we think you will love to play Megasaur online for money is that it offers two-of-a-kind payouts for all of the high-paying dinosaur symbols.
Of course, those wins are much smaller than the five-of-a-kind payouts. But they help keep you interested by offering more frequent wins.
Megasaur is a high volatility slot. That means that it offers significant wins, but they do not happen often. You may have to spin the reels many times before you win anything major.
The two-of-a-kind payouts make the high volatility of the Megasaur slot game less obvious.
The small yet frequent payouts help you stay interested while you wait for one of the bonus features to get triggered.
Bonus Features on the Megasaur Casino Slot
Megasaur online casino slots are packed full of bonus features! This game has everything from stacked wilds to a progressive jackpot.
Some of the bonus features are available on the base game. Others are only available once another bonus feature has already been activated.
Our Megasaur slot review explains each of these features so you know how they work.
Megasaur Wild Symbols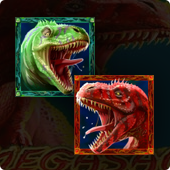 Megasaur has two wild symbols, the green and red Megasaur.
Each of these symbols can take the place of any other symbol on the reels. There are only two exceptions. They cannot replace the volcano scatter symbol or the other wild symbol.
When you see the images of both Megasaurs, it is clear that the red one is more vicious. That must be why it has an extra bonus feature.
Any time the red Megasaur is part of a winning combination, it will automatically double your prize. The 2x multiplier does not apply to combinations with the green Megasaur, though.
Both Megasaurs can become stacked wild symbols that increase your odds of winning. However, they each have a specific place on the reels.
The green Megasaur only appears on the second reel, and the red Megasaur is only on the fourth reel.
This setup creates a perfect opportunity for an additional bonus feature. Unfortunately, Realtime Gaming did not take advantage of it.
When both the green and red Megasaurs appear stacked on all three rows, they look like they are getting ready to face off in a battle.
It would have been the perfect setup for a mini-game or an automatic respin.
We don't understand why Realtime Gaming chose not to include a feature that could be triggered by both wild symbols taking over their respective reels.
Despite this missed opportunity, the Megasaur wild symbols are a vital part of the game. They add animations and sound effects that are more exciting than any of the other symbols.
More importantly, they give players a chance to win more often. The 2x multiplier triggered by the red Megasaur increases your payouts and makes the game that much more exciting.
Megasaur Free Spins Feature
The Megasaur casino slot machine also incorporates a scatter symbol with an image of a volcano. You can earn payouts depending on the number of scatter symbols that appear on the reels.
Scatter Payouts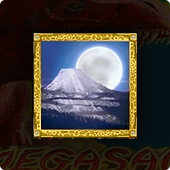 5 scatters = 300x total bet
4 scatters = 10x total bet
3 scatters = 2x total bet
2 scatters = 1x total bet
It is worth pointing out that the scatter payouts are multiples of your total bet amount.
All the other payouts on the paytable are listed as multiples of your line bet. Total bet payouts are much more valuable.
Of course, the volcano scatter symbol does more than merely offer a payout. It also triggers the free spins feature whenever you get three or more scatter symbols on the reels.
Before you can start the free spins feature, you need to determine how many free spins you earned. You will click on each volcano scatter symbol to reveal the number of free spins it offers.
Each volcano scatter symbol will have two, five, or ten free spins. That means that you will automatically earn at least six free spins.
You could earn up to fifty free spins, but only if you got five scatters with ten free spins each.
During the Megasaur free spins feature, both the green and red Megasaurs get hungry. They will eat any of the other dinosaurs that appear on the reels, creating an expanding wild effect.
If both Megasaurs appear simultaneously, the red one will take over. You can still earn the 2x multiplier for any winning combination that includes the red Megasaur.
This Megasaur slot free spins feature is impressive all on its own. It has expanding wilds, built-in multipliers, and a generous number of free spins.
But the Megasaur casino slot game does not stop with a basic free spins feature. Three additional bonus features are built-in to the Megasaur free spins feature.
Megasaur Progressive Jackpot
You can retrigger more free spins by collecting more scatter symbols during your free spins. In addition to offering extra free spins, those scatters also activate the Megasaur progressive jackpot.
Jackpot prizes are only available during the free spins feature. Your potential prize amounts will depend on which bet level you played during the base game.
If you were betting the max bet, you have the option of winning the entire jackpot. As we write this Megasaur review, the current jackpot amount is $1,023,093.83.
When you play with the major or minor bet levels, you will only have an opportunity to win a portion of the Megasaur progressive slot prize.
The jackpot prize also depends on how many scatter symbols you can line up during the free spins feature. Here is a table that shows the potential prizes for different bet amounts.
| | | | |
| --- | --- | --- | --- |
| Your Bet Amount | Prize for 5 scatters | Prize for 4 scatters | Prize for 3 scatters |
| Max ($5) | 100% of jackpot | 20% of jackpot | 10% of jackpot |
| Major ($2.50) | 20% of jackpot | 20% of jackpot | 10% of jackpot |
| Minor ($1.25) | 10% of jackpot | 10% of jackpot | 10% of jackpot |
Clearly, the possibility of winning the entire jackpot amount is enticing. But it will not be easy to win.
First, you would need at least three scatters to trigger the free spins while betting the max bet. Then, you would need to get an additional five scatters to win the jackpot.
If you can afford to play at the max bet, then go for it. But it is not worth it to risk more than you can afford to spend just for the slight chance of winning the Megasaur progressive slot game.
Needless to say, we did not win the progressive jackpot while writing this Megasaur slot machine review.
Win-Win Feature
The Megasaur jackpot feature is difficult to trigger. So, Realtime Gaming included another bonus feature that would be available to almost everyone. It is called the win-win feature.
Thanks to the win-win feature, you are guaranteed to win something from the free spins feature. It offers an additional bonus prize for every free spins feature that wins less than 10x your bet amount.
Here are the potential prizes you can win thanks to the win-win feature.
| | |
| --- | --- |
| If your total free spins prize was 0 | You would win 250x your total bet amount |
| If your total free spins prize was 1x or 2x your bet amount | You would win between 5x to 250x your total bet amount |
| If your total free spins prize was 3x, 4x, or 5x your bet amount | You could win between 3x to 250x your total bet amount |
| If your total free spins prize was 6x, 7x, 8x, 9x, or 10x your bet amount | You could win between 2x to 250x your total bet amount |
These win-win multipliers are determined randomly, but they always fall within these ranges. Some people may win 100x or 200x, while others only win 10x.
Whichever bonus prize you won will get added to any other amounts that you won during the free spins. It is crucial to understand that the win-win feature is based on the total prizes during all of your free spins and your overall bet amount.
You cannot qualify for the win-win feature if you win more than 10x your bet amount. The more free spins you have, the more likely you are to win enough to earn more than 10x.
That is only $50 when you are betting the max bet. When you consider the expanding wilds and other features, the chances are good that you will win more than $50 during your free spins.
We love the fact that the Megasaur slot has a win-win feature because it offers every player a guarantee. You will either win from the free spins or win a bonus through the win-win.
That is not the only guarantee that the Megasaur slot offers, either.
Feature Guarantee
Another fantastic part of playing Megasaur online for real money is that it has a feature guarantee. Realtime Gaming guarantees that the Megasaurs free spins feature will get triggered at least once every 250 spins.
The Megasaur online slot machine has a built-in feature guarantee meter. If that meter drops below 26, the feature guarantee meter will display on the side of the game screen.
Once you see the feature guarantee meter appear, you have two options.
You can wait until the feature guarantee meter drops to zero. At that point, the Megasaur free spins feature will automatically trigger. The free spins bet will be based on the average bet size for the spins since the last feature.
The other option is to press the instant trigger button. That button will launch a mini-game with red and green spots on a wheel. Once you press play, the wheel will spin. If the wheel stops on a green space, the free spins feature will start. But you will go back to the main game if the wheel stops on a red space.
The instant trigger feature automatically resets the feature guarantee meter, no matter the result. If you don't win the instant trigger mini-game, you may have to wait for another 250 spins to launch the free spins.
We think it is wiser to continue playing until the feature guarantee meter reaches zero. But the instant trigger option is available if you want to take that risk.
Keep in mind that the feature guarantee meter gets reset every time you activate the free spins feature. It also resets every time you exit the game.
Megasaur will time out if you keep the game open without playing it. It is best to play your 250 spins consecutively, so you don't miss out on the guaranteed feature.
There are so many fantastic features that are part of the Megasaur slot game. It can be confusing to keep track of all of them, how they get activated, and the prizes they offer.
To help you get the most out of this Megasaur slot game review, we created the following table to help you keep track of all these excellent features.
| | | | |
| --- | --- | --- | --- |
| Bonus Feature | Activation | Potential Prizes | Other Information |
| Wild Symbols | Get a green or red Megasaur on a pay line | Paytable prizes | 2x multiplier for red Megasaur wins |
| Megasaur Free Spins | Three or more scatter symbols | Free spin prizes or win-win bonus prizes | Guaranteed feature every 250 spins |
| Megasaur Jackpots | Three or more scatter symbols during the free spins bonus feature | Progressive jackpot | Max bet= 100%; Major bet= 20%; Minor bet= 10% |
Where Can I Play Megasaur?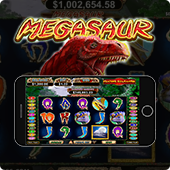 Now that you have read this Megasaur slot review and know all about its magnificent bonus features, you are probably dying to start playing Megasaur for real money.
To do that, you are going to need to find an online casino site that offers Megasaur. Fortunately, it is one of the most popular slots from Realtime Gaming.
This software provider is popular around the world, so you can access an RTG slot casino almost anywhere. Any online casino that uses Realtime Gaming software should be a Megasaur casino.
Many of the casinos that use Realtime Gaming software are also available on your mobile device. Their software is optimized to provide the best Megasaur slot games on mobile internet browsers.
You don't have to download a specific Megasaur app. Use the same process you use on your desktop computer to log onto your favorite Megasaur casinos online from your phone.
Our casino reviews will help you find casino sites with Megasaur and tell you all about their mobile gambling options.
No matter where you choose to play Megasaur, you will love the excitement and features of this prehistoric-themed slot game!
Other Slot Games You May Like
If you enjoyed playing the Megasaur slot online, here are a few slots like it that you might want to play next.

Sign up Bonus
250% Up To $5,000
READ REVIEW
Visit Site
X