Slot Machine Games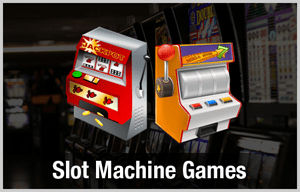 One of our favorite ways of trying to understand any subject is to look at it in terms of categories and sub-categories. Slot machine games can be categorized in more ways than you might think,too. They can be categorized according to denomination, gameplay features, and manufacturer.
The purpose of this page is to provide a broad overview and explanation of these various categories of casino slots games. We provide more detailed explanations of individual games andcategories on dedicated pages which are linked to throughout the text.
Also provided on this page is an extensive list of games that you can play for free. Most of the games listed are also available for you to play for real money, however we provide you with freeversions here for your convenience so you can find which games you like the best.
A List of Slot Machine Games
Here you can find an extensive list of all the different games that are available for you to play for free. Ranging from all different kinds of providers and themes to choose from, you will beable to find which ones are your favorite and keep yourself entertained for hours on end.
Slot Machines by Denomination
One of the easiest ways to categorize slot machines is by the denomination or coin size. We use the following categories:
Free slots
Penny slots
Nickel slots
Quarter slots
Dollar slots
High roller slots
Below we've listed the most common denominations along with some observations about each of them.
Free Slots
If you're flat broke, free casino slots are the only kind of slot machine game you can play. You won't find any free games in a Las Vegas casino, but if you can access the Internet—and let'sface it, these days, everyone can access the Internet—you can find a number of ways of playing for free.
Some of these free games are previews of online casinos' games. They offer these as a marketing tool, hoping you'll sign up to play for real money eventually.
Other free slots seem to have no such agenda. But even in the case of those games, you're usually helping the owner of the site providing those games by giving them an audience for theiradvertisers. These advertisers might include online casinos, but they might include any other kind of merchant who wants to get in front of a lot of eyeballs.
Penny Slots
"Penny slots" is almost a misnomer, because it's a rare penny slot machine that you can actually play for just a penny per spin. And that's true in Las Vegas as well as on the Internet. We wereplanning a trip to Vegas recently, and when we were considering hotels in the Downtown area, we ran across mention of a casino there which offered true penny slots. But that's a novelty, notsomething easy to find.
The reason you can't play for a penny per spin is simple enough. Modern penny slots feature multiple lines and often require you to bet multiple coins per line. If you're playing a slot machinewith 25 lines at a penny per line, you're betting 25 cents every time you spin the wheel.
Payback percentages vary based on denomination, too. With penny slots, you're looking at around a 93% payback percentage in the most generous casinos in Las Vegas.
Nickel Slots
Nickel slots are a big step up from penny slots, but they're still aimed more at low rollers than other games. As with penny slots, you're looking at betting on a minimum number of lines onever spin. But since the denomination has quintupled, your bet size also quintuples. That 25 payline slot you were playing for a quarter a spin in the penny denomination now costs $1.25 perspin to play.
The payback percentages for nickel slots are pretty comparable to those for penny slots—93%, maybe 94%, and that's at the most generous Vegas casinos.
Quarter Slots
Quarter slots are where you're starting to get into the average gambler range. You can find 3-reel classic slot machines where you can play for a quarter a spin, although it's more common to berequired to place a 3 unit bet per spin on these games. And of course with video slots with lots of pay-lines, you can easily wind up betting a LOT of money on a single spin.
You don't have to be a high roller to enjoy quarter slots, but you do need more of a bankroll than a low roller usually has.
Payback percentages start to improve at this denomination, too. You can find games in Vegas with a 95% or 96% payback percentage.
Dollar Slots
Dollar slots are starting to venture into high roller territory. If you're in the high roller slots parlor at a casino, these will be the lowest denomination games you'll find there. As withthe other denominations, you can find games where you can bet multiple units on multiple lines, so your total bet per spin can add up quickly. But it's also relatively easy to find dollar slotswhere you can play for a single dollar per spin.
Payback percentages improve again here, to between 96% and 97% at the best Vegas casinos. In fact, this is the denomination we recommend playing at if you want to maximize your paybackpercentage. The dollar machines are the sweet spot—any slot machine with a lower or higher denomination has a lower payback percentage. We talk more about that in the section about high rollerslots below.
High Roller Slots
We consider any slot machine game that you can play for $5 minimum to be high roller slots. So this category is broader than our other denomination categories, because it also includes gameswhere you can play for $25 or even $100 per spin.
These high roller games are easier to find at land-based casinos than at online casinos, but high rollers can usually get the action they crave at an online casino by playing games withmultiple pay-lines.
Strangely, the payback percentages actually seem to go down slightly when you switch from the dollar denomination and move up to high roller slots. You're looking at payback percentages of 94%or 95%, even at the loosest Las Vegas casinos.
Slot Machines by Jackpot Type
This is an easier way to categorize slot machine games, as there are really only 2 categories:
Flat top slots
Progressive jackpot slots
We explain the intricacies of both jackpot types below. (And actually, there are multiple sub-categories of progressive jackpot games, too.)
Flat Top Slots
Traditional slot machines have a flat amount as their top jackpot. The majority of slot machine games that you find online or off are this type of game.
The Double Diamonds slot machine from IGT is one of the most popular games in the world. The best possible combination in that game is 3 of the "Double Diamonds" symbols. The payoff forthis combination is 1000 to 1, regardless of what denomination you're playing.
That 1000 to 1 is a flat amount. It doesn't change while you're playing.
As a general rule, flat top slot machines offer a better payback percentage than progressive slot machines.
Progressive Jackpot Slots
Progressive Jackpot slots are games where the top prize grows continually as you play. The game (or games) take a tiny percentage of each bet and increase the size of the jackpot by that amountas you play. Once you've won the progressive jackpot, the game re-sets to its original minimum jackpot amount, and the prize pool starts growing again.
There are 3 kinds of progressive jackpot slot machine games:
Standalone progresssives
Local progressives
Wide-area progressives
A standalone progressive jackpot game has a jackpot exclusive to that machine. It grows based on the money you put into it while you're playing. It grows when other playersare playing that machine. The prizes on these games are smaller than on the other 2 types. You'll understand why when you read a little more about how those other games work.
A local progressive jackpot game is a networked game, but its exclusive to a single casino. For example, you might have 8 or 12 (or more) games in a single casino which sharea single progressive jackpot.
Anyone who's playing on any of those networked games within that casino is adding to the overall jackpot for all those games. If anyone on any one of those games hits the jackpot, it re-setsacross that entire network.
The advantage to this type of game is that the jackpot grows larger much faster than a standalone game ever could. Instead of having a single player increasing the size of the jackpot a fewhundred times per hour, this game might have a dozen or more players helping to increase the size of the jackpot over time.
This is called a "local" game because all of the casino slots sharing the jackpot are in the same location.
A wide area progressive jackpot game is also a networked game, but the network is shared across multiple casinos. Literally hundreds of machines might be sharing thisjackpot, which increases rapidly, and often to large amounts.
The most famous example of a wide area progressive jackpot is Megabucks. It's an IGT game with a $1 minimum bet found throughout Nevada, but especially in Las Vegas. The jackpot size on thisgame STARTS at $10 million.
The largest Megabucks jackpot won to date was for $39.7 million.
The only problem with progressive jackpots is that their payback percentages are lower because of the cost involved in creating and maintaining these large jackpots. Since the odds of winninga progressive jackpot are a once in a lifetime kind of thing, it's not even realistic to include the top prize in your calculations of the games' payback percentages.
Slot Machines by Gameplay Features
The most interesting and fun way to organize slot machine games into categories is to look at the gameplay features. Some games fall into multiple categories below.
Classic 3 Reel Slots
It's exceedingly rare to find actual mechanical slots anymore—at least ones that you can really play for real money. Modern slot machines are powered by a computer program called a random numbergenerator. Those reels that spin in the window are literally just for show, regardless of whether they're animated on a computer screen or actual spinning reels.
Classic 3 reel slots have 3 reels, a flat top jackpot, and usually a single payline—although some of the more modern versions of a classic 3-reel slot might have 2 or 3 pay-lines that you canactivate.
If you're interested in maximizing your payback percentage, you should stick with classic 3-reel slots. They have the highest payback percentage in the casino.
They lack the features you'll find on more modern games. You won't see bonus games, scatter symbols, or wild symbols on a slot machine of this type. You'll rarely find a game of this type with aprogressive jackpot.
Some modern slot machine players find games without those features boring. But if you love slots and want the best slot machine odds in the casino, these are the games to seek out. (And they'renot even that easy to find any more, either.)
Video Slots
Video slots are slot machines which don't even have spinning reels any more. They just have a computer monitor with animated spinning reels. They're powered by the same kind of computer program(a random number generator, or RNG) as the other games on this list.
These are the games which usually come with all the other bells and whistles like scatters and wild symbols. They're also the ones with the bonus games.
All online slot machines, by the way, qualify as video slots. After all, even if they only have 3 reels, a single pay-line, and a flat top jackpot, they're still using a computer monitor andanimated reels—unless you have some kind of computer that we don't know about (one with actual spinning reels).
5 Reel Slots
Most 5 reel slots games are a subcategory of video slots. The concept is easy enough to understand—this is just game that features 5 reels instead of 3.
One of the advantages to a 5-reel slot machine is that you have more potential pay-lines. The math behind that is easy to understand, too. Since you have more reels and more stops visible on eachreel, it's easier to set up more potential paying combinations.
On the other hand, since these games often have 5, 10, 15, or 25 or more pay-lines, your bets per spin can add up faster than you could imagine.
There are also 6-reel and 7-reel slot machine games available, but they're so unusual that we might as well lump them in here.
3D Slots
3D slots are basically just video slots with extra graphics. These are common online, and we're big fans of this technology.
Our favorite 3D slots games come from a manufacturer called NetEnt, which is an abbreviation for Net Entertainment. Some of the games of this ilk from that manufacturer include Gonzos Quest, Hallof Gods, and Mega Fortune.
Other manufacturers and providers offer 3D slots, too. Aristocrat produces 2Can and 50 Lions, for example.
You can learn more about 3D slots on our page devoted exclusively to that subject.
Bonus Slots
Bonus slots are games which feature a bonus game. Usually this bonus game is triggered by something that happens on the screen—a certain combination of symbols, for example.
The most famous example of a bonus slots game is Wheel of Fortune. It's often found in a progressive jackpot game, but players love playing the bonus game so much that we've read reports ofplayers who were disappointed at winning the progressive because they didn't get to spin the wheel.
But that's the bonus game in Wheel of Fortune—you get to spin the wheel.
On a lot of other games, you're just taken to a video screen with a number of random choices with prizes behind them. Often you'll get to keep choosing symbols on that screen until you hit acertain option which ends the bonus game.
The number and variety of bonus games available in this kind of game are staggering. Some of them include skill elements or look like old time video games like Space Invaders.
Many video slots include bonus games as a matter of course. They're exciting and fun, but they cost the player a premium in terms of payback percentage. Like progressive jackpots, the machine hasto pay for these features. They do that by offering a lower overall payback percentage.
243 Way Slots
You're probably already familiar with 5-reel video slots with multiple pay-lines. But 243 ways slots games take that concept to its ultimate conclusion:
Any combination of winning symbols from left to right pays out.
These games first became popular in Australia, a country which might legitimately be able to claim slot machines as their national pastime. Of course, they call these games "pokies" instead of"slots", but that doesn't mean they're different games.
Scatter Symbols
Scatter symbols are just a feature of many modern slot machine games. They're symbols which don't have to be on any particular pay-line in order to pay off—if more than a certain number ofscatter symbols are on the screen anywhere, you get paid off.
In a 243 ways slots game, all the symbols become, by default, scatter symbols.
Wild Symbols
If you've ever played poker at the kitchen table with family members or buddies, you're probably familiar with the concept of a wild card. That's a card in a poker game which can substitute forany other card in order to fill a particular hand.
In a slot machine game, a wild symbol works the same way. Many times the wild symbol on a game—especially in an online game—is the logo for that particular brand.
Famous Slot Machines
It would be a disservice to our readers to not include mention of some of the most famous slot machine games available. We've already talked about Double Diamonds, Megabucks, and Wheel ofFortune. But here are 7 more slot machine games that are so famous it would be silly not to mention them on a page which hopes to be comprehensive about the subject of slots games: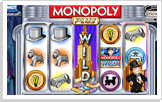 Monopoly Slots
There have been multiple iterations of Monopoly slot machines over the last couple of decades. Like Wheel of Fortune, Monopoly is a brand name separate from its slot machine. But that brandname has translated into tremendous popularity for this game.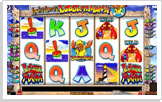 Lobstermania
Many of the most popular and famous games borrow their fame from another property, but Lucky Larry's Lobstermania is an unusual example of a game with an entirely original idea. Like Monopolyslots, it's been available in multiple iterations throughout the years. Now it's more commonly called just plain Lobstermania, but old-timers like us still remember it as "Lucky Larry's".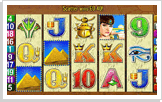 Queen of the Nile
This is an Australian game created and manufactured by Aristocrat, a company responsible or any number of innovations in the industry. The game features a number of gameplay options that arenow common on multiple games, including wild symbols, scatter symbols, and free spins.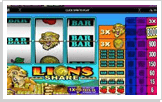 The Lion's Share
This game is famous because it featured a progressive jackpot that took over 20 years to hit. It was located at the MGM Grand, which couldn't get rid of the game until the jackpot finally gothit by a player. (Those are the regulations in Nevada.) It's gone now, but it was hugely famous and the most played game in the casino for a long time.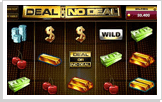 Deal or No Deal
This is another game which borrows its fame from another property—in this case, the game show of the same name. One wonders if the game show was designed with the idea of having an accompanyingslot machine property. The theme of the game show is so perfect a fit with how slot machine bonus games work that it's uncanny.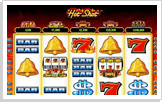 Hot Shot Slots
This is one of the most famous progressive slot machine games available. The manufacturer behind this gem is Bally, which incorporated elements from several other of their popular games intoit.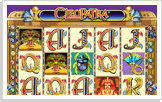 Cleopatra
Games with an ancient Egypt theme are perennially popular with gambling machine aficionados. Cleopatra, like Queen of the Nile, is a hugely popular game. This game was designed and manufacturedby IGT (International Game Technology).
Video Poker Games
We're going to briefly mention video poker games here because they have a distinct similarity to slot machines. But since they lack spinning reels, they can't properly be considered the same typeof game, even though they look alike.
But if you're a fan of gambling machines in general, video poker games are worth looking at as an option. Theygenerally feature better payback percentages than slot machines. You also get the added bonus of playing a game where strategy plays a role in your outcomes.
Conclusion
The variety of slot machine games available is almost incomprehensible. We've done our best to provide a comprehensive overview of the different types of games, but we might have left somethingout—the niche is that big.
If we missed something, please contact us and let us know so we can update the page accordingly.

Sign up Bonus
250% Up To $5,000
READ REVIEW
Visit Site
X