Advantages of Playing Slot Machines
Slot machines sometimes get a bad rap in the gambling community because they are luck-based games that do not require any skills or strategies.
Despite what those people say, slot machines are the most popular form of real money gambling in America. Up to 80% of casino revenue in Las Vegas comes from slots alone.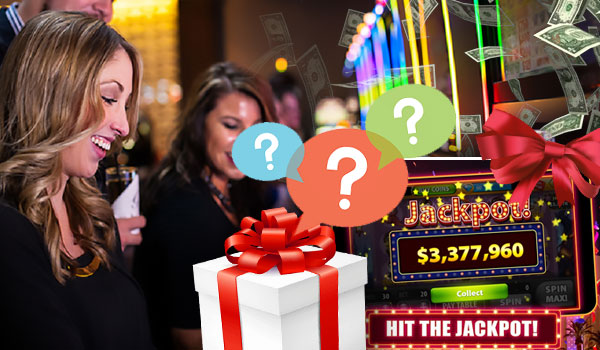 There are plenty of advantages of playing slots. That is why so many people keep coming back to these simple games, both online and in person.
Here are some of the benefits of slot machine gambling.
Online Slots Advantages
Online gambling is incredibly convenient and available to everyone (as long as they are above the legal gambling age).
You can use a variety of banking methods, such as credit cards or cryptocurrencies.
You have more anonymity when you gamble online.
Online casinos offer better promotions than land-based casinos.
It's easier to learn and play your favorite games.
All of those benefits of online gambling apply to online slot players, but they benefit table game players too.
Here are a few additional benefits that are specific to playing online slot machines for real money.
Slot Game Variety
The variety of slot games that online casinos offer is unparalleled. Most online casinos offer at least 150 slots games and some have more than 1,000.
Compare that to the number of online table games, which typically numbers around 50-60.
Land-based casinos may have 1,000 slot machines, but they typically have ten to twenty machines with the same game. So, they only offer around 50 different games.
Online slots offer more variety than any other casino game. You will have hundreds and sometimes thousands of different games to choose from.
Many casino slot sites update their game collection regularly. You can enjoy seasonal games with holiday themes or try out the latest creation when it comes out.
You will never run out of different slots games to play because casinos add more all the time.
And while each individual site has a massive collection of games, you're not limited to a single one. You can experience even more slot variety by joining several online casinos.
If you visit a few different sites, you might find several casinos that offer the same games. That is because they use the same software provider.
Searching for online casinos that use different slot software providers makes it easy to find casinos that offer different games.
Some providers specialize in particular games or features. For example, Net Entertainment is famous for having the best slots graphics. Playtech is popular because it offers licensed games with superhero themes.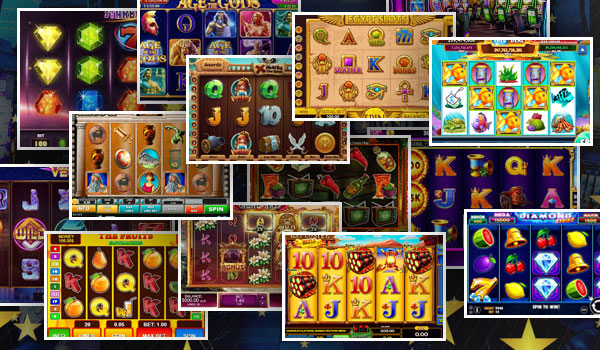 While all slot games have the same basic structure, there are several features that make each game unique.
Cleopatra II is an entirely different game than Crazy Cherry, and they are both different from Blood Suckers.
You can enjoy different themes, special features, and bonus rounds that make your gambling experience different depending on the games you decide to play.
Online casinos also make it easy to find the games you want to play. You can search for a specific game by name, or you can use drop-down menus to find games with specific features, such as progressive jackpots or 3D games.
That is a significant advantage over land-based casinos. There is no need to wander through the casino, endlessly trying to find a specific game.
When you find the game you want to play, you can join immediately, without waiting for another customer to leave.
Online casinos can accommodate an infinite number of slot players simultaneously, so you will never have to wait for your machine to become available.
Better Promotions with Smaller Playthrough Requirements
One of the benefits of gambling online is taking advantage of promotions and bonus offers. These offers are usually far more beneficial for slot players than table game players.
The bonus offers that are available will depend on the casino site that you choose, and there are different types of bonuses, too.
Two Common Types of Casino Bonuses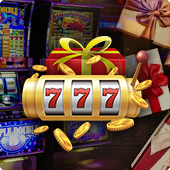 Two of the most common bonus types are deposit matches and free spins. Any player can collect these bonuses, but the free spins offer more value for slot machine players.
You can try out new slots games for free, and anything you win from free spins will be added to your bankroll. Some of these promotions have small playthrough requirements, but they are reasonable.
Deposit matches are another excellent way to gamble without spending too much of your own money. You have to make a deposit, but then the casino will match it to give you twice as much money to gamble with.
Some online casinos reserve deposit matches for slot machine players, or they only allow players to use bonus funds for slot games.
In many cases, online casinos will offer larger deposit matches for slot machine players than table game players.
That means they will give you 150% or 2x as much as your deposit. Some casinos even offer 4x matches! If you deposit $100, they will give you $400, and you have $500 of money to play your favorite slots games.
These kinds of promotions are prevalent on older casino sites that use the same offers since they launched.
Reasonable Playthrough Requirements
As exciting as these bonus offers are, they do come with a playthrough requirement. Some players might see the playthrough requirement as a catch, but it is not as frustrating for slot players.
Playthrough requirements prevent you from withdrawing any money until you have wagered more than the amount you initially deposited plus the bonus funds. Here is an example.
Bonus Playthrough Requirements
Deposit Amount
$100
Bonus Amount
150% Match = $150
Deposit + Bonus
$100 + $150= $250
Multiplier
40x
Total Wagering Requirement
$10,000
You can use any money that you win toward meeting your wagering requirement, so you do not have to deposit an additional $10,000. But, you do need to wager that full amount in total.
Meeting playthrough requirements can be frustrating, but it is far more frustrating for table game players.
Online casinos only count 10% or 20% of their wagers toward the wagering requirement. So, that $10,000 requirement will take $100,000 worth of table games bets to meet.
Slots games always count 100% toward playthrough requirements, making it a lot easier to meet those requirements in a reasonable amount of time.
Disadvantages to Playing Online Slot Machines
Of course, there are also disadvantages to playing slot machines. The biggest disadvantage is that slots games have a higher house edge than most casino games.
The higher house edge is why online casinos let slot players count 100% of their wagers toward the playthrough requirement.
Here are some examples of casino games, their house edges, how much they count toward playthrough, and other vital information.
| | | | |
| --- | --- | --- | --- |
| Game | Number of Variations | House Edge | Playthrough Percentage |
| Slots | 1000+ | 5-20% | 100% |
| Blackjack | 15-20 | 0.5-1.5% | 10% |
| Roulette | 3 | 2.6%-5.26% | 5% |
| Craps | 1 | 1.36%-16.9% | 0% |
| Baccarat | 6 | 1.06%- 9.5% | 5% |
| Poker | 5 | 2.5-10% Rake | 0% |
| Keno | 1 | 25-29% | 100% |
For some players, the house edge is too much of a deterrent, so they do not enjoy playing slots. They play games like blackjack or video poker instead.
However, if you are okay with a little higher risk, you can take advantage of much better bonuses and have more game options.
Your preferences and comfort level will determine if slots are right for you, but don't write them off just because of the house edge.
Land-based Slots Advantages
Those are just a few of the advantages you experience when you play slots online, but there are many others. However, some people prefer the experience of gambling at a brick-and-mortar casino.
In general, online casinos offer better promotions, more game variety, and more convenience. But there are a few advantages to land-based slot machine gambling, too.
The Atmosphere
The one thing that brick-and-mortar casinos can offer, that online casinos can only imitate, is the immersive atmosphere.
Every detail of land-based casinos is designed to make you feel like a winner so that you will keep gambling.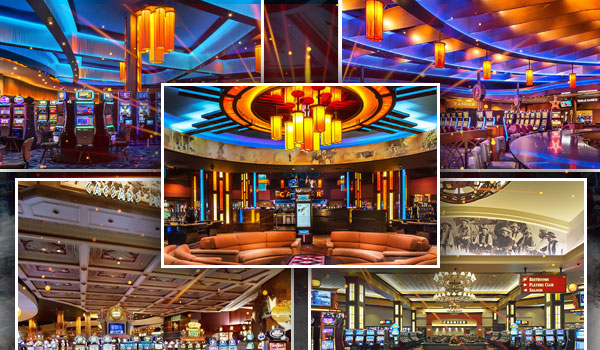 For slot machine players, this atmosphere is best represented by the flashing lights and the sounds of hundreds of machines.
When you play slots in a land-based casino, you will be physically surrounded by the excitement of hundreds of other players. It makes it feel like your game is a less solitary experience, even if you don't talk to anyone else.
Some people get overwhelmed by the atmosphere in a land-based casino. It can be over-stimulating. But, most people enjoy it as a fun way to get out of the house.
Online casinos cannot make you feel the same way while you are sitting in your pajamas on your couch.
The Celebrations
If you are lucky enough to win a significant jackpot, you will instantly be celebrated in a land-based casino.
The machine will make enough noise to tell everyone that you just won. A casino employee will come to congratulate you. They may bring you a bottle of champagne or shower you with confetti.
You will also get your picture taken with a larger-than-life check, and your picture will be added to the casino's website and hall of fame. All of those celebrations will make you feel special.
When you play slot machines online, those wins are a little bit anticlimactic. Your phone or computer will still make celebratory sounds, and you may see digital confetti thrown across your screen.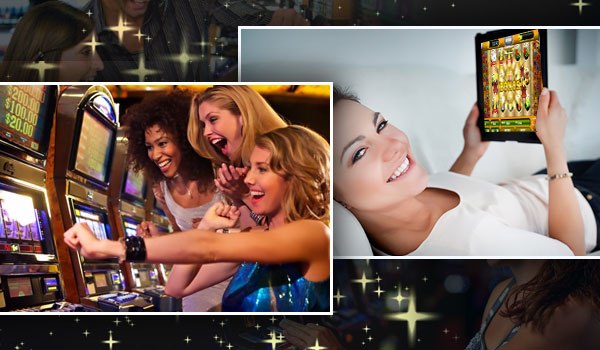 But, other than that, you will just be sitting in your house or on the train, celebrating the win by yourself.
You will still be excited, but you would probably feel silly, showing too much excitement if you are playing in a public place.
Even if you win a life-changing amount of money, your life is not going to change overnight. Withdrawals from online casinos can take several weeks to process. So, you won't get your money right away.
Some online casinos have withdrawal limits or special terms and conditions that apply to jackpots. They may not be willing to pay your whole jackpot in one payment, so you might have to accept installments over several months or even years.
No matter how you get your payments, a win is still a win. But it is far more exciting when you win in a land-based casino.
The advantages of playing slots in person have more to do with how you feel while playing than the game itself. But that is an important aspect for some gamblers.
Why Play Slot Machines?
So far, we have highlighted many of the advantages of playing slot machines that depend on where you play.
However, there are also slot machine benefits that apply to all players. It does not matter whether you play online or in person. Here are some of those advantages.
There Is Always A Game Available
There is nothing worse than taking the time to travel to a land-based casino, only to find out that there are no seats available at your favorite table game.
Land-based casinos often reserve entire tables for high rollers and VIP guests, so you may be limited to one or two tables for your favorite game.
Each table can only fit six to ten people, so if there are more than a few dozen players, you will have to wait until someone leaves.
You don't have to worry about that when you play slot machines. There are always machines available.
If the machines with your favorite game are taken, you can easily find another machine with a similar game. As long as you are willing to try a few different games, you can always find an open slot machine.
Online slot machines are always available, and they can accommodate hundreds of players playing the game simultaneously.
That is also true of digital table games. But, if you want to play live dealer table games, you might be limited to the number of seats available.
Some online casinos offer live dealer bet behind, but that is not the same as playing the game for yourself.
Even if you are remarkably particular, you are bound to find several slots games that you will enjoy.
There are so many variations that cover hundreds of different themes. You might not like Wheel of Fortune or traditional fruit machine games, but there are dozens of others for you to choose from.
Here are a few common slot machine themes that you might like instead.
Fairytales
Game shows
Sports
Mythology
Science Fiction
Movies
Superheroes
Chinese Mythology
No matter your hobbies or interests, you are bound to find a slot machine game that fits your fancy.
Slot machines offer more variety than any other game in the world. You can always find a game available, and everyone can find a few games that they will enjoy based on their own fascinations.
Budget and Beginner Friendly Gambling
The most crucial lesson that every gambler has to learn is that you should only gamble with money you can afford to lose. You might get lucky and win, but you might not.
Using money that you need for groceries, rent, or other expenses, for gambling is dangerous and one of the signs of gambling addiction.
Depending on your budget and financial situation, that might mean that you cannot afford to gamble. However, almost everyone can afford to play slots.
Even if all you have is an extra $10, you can play penny slots with that money. Every land-based and online casino offers penny slots.
Of course, penny slots typically cost a little bit more than a penny. You have to pay one penny per pay line, and playing the maximum number of pay lines is the best way to increase your odds of winning.
But, you can play all the pay lines on most penny slots for a quarter. If you have ten dollars, you have forty quarters, so you can play at least forty spins on a slot machine.
During those forty spins, there is a good chance that you will win at least some of the time. Even if you only win even money, that is enough to give you one more spin.
The amount of time you can play slots will depend on how quickly you choose to play and how much you win and lose. As long as you go slowly, you could easily get an hour of entertainment out of a $10 bankroll.
$10 Won't Last Playing Blackjack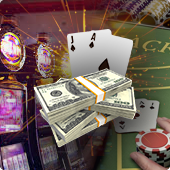 Typical minimum bets for table games are $1 when you play online. Your $10 bankroll will only last for ten hands, and it is entirely possible that you will lose all ten.
If you are playing in a land-based casino, you will be lucky to find a table minimum of less than $10, but it depends on which game you want to play.
Some casinos allow $1 bets on roulette, but there are usually restrictions on what kinds of bets you can make that way. The same goes for craps.
Blackjack games typically start at $10, but they might decrease the minimum to $5 if the casino is not busy.
Similarly, baccarat minimums are usually around $25, but they may offer $10 or $15 minimums if there are only a few players.
Trying to play table games in a land-based casino typically requires a bankroll of at least $50. Even that won't last long if you are playing at $5 or $10 per round.
Slot machines are much more accommodating for low-stakes players. They are also easy to play, so they are far less intimidating for beginner players.
Even if you have never gambled before, you can play slots. Because slots are entirely based on random luck, you don't have to worry that your lack of knowledge is to blame for your losses.
You Can Control the Game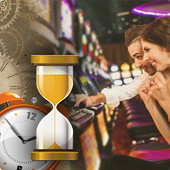 Another advantage of playing slot machines is that they are an entirely isolated game. You don't have to listen to anyone else or let them determine how you play.
The best example of the control slot machine players have is the pace of the game.
If you want to keep your game going at a steady rate, you can use the auto-spin feature. It will automatically spin a certain number of times or until you run out of money.
Each spin takes a few seconds, but the machine will pause to tally any amount that you win. So you can typically play a few hundred spins per hour using the autoplay feature.
However, if you want to play at a slower pace, you can press the spin button manually. There is absolutely no reason you have to play continually.
You can press the spin button once every minute, or every five minutes, or every ten minutes. The pace is entirely up to you.
If you are playing in a land-based casino, the casino employees may watch to make sure you actually play.
Cocktail waitresses will not offer free beverages to people who are sitting at a slot machine without actually playing!
They might ask you to play more or move to a different machine if you play too slowly for the casino's liking. But that is only likely to happen if another player is waiting to play on your machine.
As long as no other players are waiting, casinos don't mind how long you stay or how often you play.
That is not true when you play table games at a land-based casino. Table games move at the pace of the dealer and the other players. If you are taking too much time, the dealer will move on without you.
Some dealers will let you skip a few hands here and there, but if you skip several hands in a row, they may ask you to leave. That is especially true if other players are waiting.
When you are playing slots online, you can log in and play one spin per day if that is the pace you want to play.
The site will automatically log you out after a certain amount of time, but they don't care if you play once per day or once a month, or ten times every three months.
Even though slot machines have a higher house edge, you can make your bankroll last because you can control how quickly you play.
You might lose every single round, but you can still play for an hour or two if you only spin once every few minutes.
Online slots also give you control over some of the game settings, too. You can turn the sound effects and background music off if you prefer. Some online slots give you options that affect the quality of the graphics.
Slot machines give you complete control because you are the only person playing the game. You can play your favorite game, and you can play it the way you like it because your choices don't impact anyone else.
Play What You Want To Play
Some gamblers will tell you that slot machines are a waste of time because of the high house edge and their repetitive nature. But, you don't have to listen to what those people say.
There are certainly factors that might convince some people not to play slot machines. And there are plenty of casino games to choose from, so slots are far from the only option.
There are several advantages to playing slots, though.
They offer more variety than any other casino game, and they are far better for budget gamblers. When you play online, they offer better promotions and faster playthroughs.
Gambling is simply a form of entertainment. As long as you find slot machines entertaining, you should feel free to enjoy slot games as often as you want to.

Sign up Bonus
250% Up To $5,000
READ REVIEW
Visit Site
X