Hide Bonus Offers
| | | | | |
| --- | --- | --- | --- | --- |
| #1 | BetOnline Sports | 60% Up To $1,000 | Visit Site | BetOnline Sports |
| #2 | Bovada Sports | 50% Up To $250 | Visit Site | Bovada Sports |
| #3 | BetUS | 125% Up To $2,500 | Visit Site | BetUS |
| #4 | Everygame | 100% Up To $500 | Visit Site | Everygame |
| #5 | MyBookie | 100% Up To $1,000 | Visit Site | MyBookie |
Ignition Casino Now Owns Bovada Poker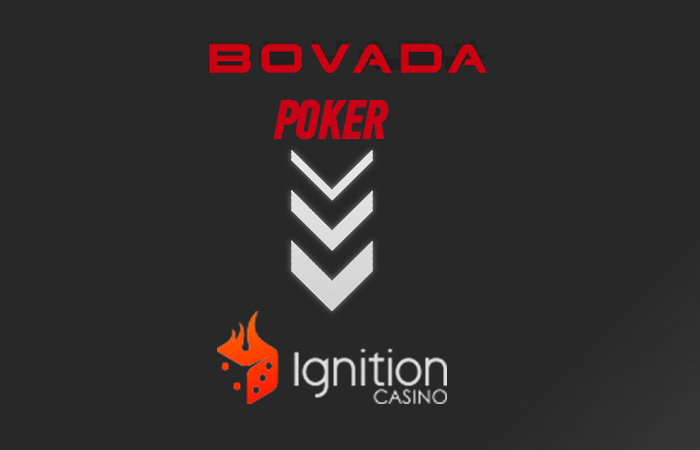 Bovada Poker will never be the same.
Actually, per recent reports, it's officially coming to an end. Bovada declared as much on Tuesday, officially announcing the acquisition of Bovada Poker by new online gambling entity, Ignition Casino.
Working under the same parent company, Ignition Casino shares Bovada's platform, which figures to make the transition for Bovada users effortless. Bovada's surprise announcement rocked the Bovada Poker community, but the company insisted their users were in good hands with Ignition Casino, who will still offer many of the features Bovada customers are used to.
The transition of Bovada Poker to Ignition Casino's site is expected to be complete come September 30th. At that time, Bovada will no longer provide online poker services to their customers. While Bovada will be out of the online poker game, they will still continue on strong with online casino offerings, in addition to their popular racebook and sportsbook.
Who is Ignition Casino?
The initial reaction by many Bovada Poker players will be, Ignition Who? It's fair to wonder about Ignition Casino, seeing as they're still a very young online gambling site, having just been founded this year (2016).
That being said, Ignition Casino is still extremely reputable, as they are affiliated with the same parent company (Betting Partners) as leading gaming sites such as Bovada, Bodog and Slots.lv.
What does this mean? It means whether you're a Bovada Poker user thinking about transferring your account to Ignition Casino or you're just considering signing up as a new member there, you're in pretty great hands.
Our Ignition Casino review probably lays out all you need to know, but here's the jist:
U.S. players accepted (exclusively)
Strong foundation and connections
Virtually the same platform and layout
Wide variety of games
Fully licensed and regulated site (Kahnawake Gaming Commission)
Super easy to sign up/transfer accounts
Depositing and Withdrawing is effortless and fast
Sweet Bonuses
On top of our own look at Ignition Casino, everywhere we've looked, we've seen nothing but good things. Casino.org gave Ignition Casino 4 out of 5 stars, BestUSACasinoSites.com gave the site a full 5-star rating and Bit Coin Casinos gave it a 95% rating.
Every new site is going to have some growing pains, but the foundation and affiliation is very strong and beyond respectable. In other words, if you enjoyed your time with Bovada Poker, you're likely to find a very similar (if not enhanced) experience with Ignition Casino.
Only time will tell if the acquisition is a fit for old Bovada Poker users, but everything known to the public to this point suggests the transition will go seamlessly.
The two sides have certainly made an effort to make that the case, with Bovada giving current users almost two full months to make the switch. In addition, per Bovada's statement on Tuesday, the two sites will work in unison on shared player pools up until the transfer is complete.
There is always some hesitancy with big changes or acquisitions specifically, but trust is often the kicker. With the strong affiliation and backing already there for Ignition Casino, half the battle should already be over for transitioning or new poker users.
What Does This Mean For Bovada Poker Players?
There are still going to be questions, of course. People who play poker online rarely love change, as it often means adapting or dealing with guideless, interfaces or a drop off in integrity or upside in the way they play the game. None of that seems to be the case with the switch from Bovada Poker to Ignition Casino, but it's fair that stigmas like that still exist.
The good news is nothing is really changing for Bovada users, save for where they'll go to play going forward. If they wish to close out their accounts, they can do that. If they want to stay on Bovada to bet on horse racing, various sports or play in their online casino, they can also do that. They can even do the latter and test the waters over at Ignition Casino until they're fully ready to dive in.
One way or another, that dreaded "change" arrives on September 30th, but both sites plan to work together to make sure Bovada Poker customers are still feeling comfortable with the move.
In fact, should they transfer, former Bovada Poker users could even benefit from the acquisition.
All of the details can be viewed at Bovada's FAQ page, which they set up to make the account transfers easier, and also to answer as many questions as possible.
For the most part, here's what Bovada Poker users will want to know:
Complete your account transfer by September 30th
Players who complete their transfer early will be eligible for special Bonuses
Ignition Casino offers a very similar poker experience
Ignition Casino can be trusted (regulated/fully certified)
All poker cash and poker tickets will be transferred
Poker Points will not be transferred
You can immediately withdraw funds from IC account upon transfer
The actual transition is made super easy by Bovada. Just follow this breakdown:
Log into your Bovada account
Click "Join Ignition Casino"
Confirm/Edit your account information
Create a new password
Click "Create Account" at IC
Why the Change?
On top of wondering what online poker life will be like at Ignition Casino, most users are likely wondering what will happen to Bovada following the transfer, or why it's happening in the first place.
Bovada hasn't given any reason for the acquisition, however, and we're not in the guessing game business. However, the lasting good news is that Bovada is still here to stay, as they will continue to offer some of the best online casino, horse racing betting and sports betting that can be found on the web.
The poker product will be gone, but everything else still grades out an elite level. Whether you're a poker customer considering using Bovada's other services or a new gambling customer looking to see what else Bovada has to offer, take a look at our Bovada review for a full, unbiased breakdown.
Should You Play at Ignition Casino?
One thing we don't do here is tell our readers what to do. All we can do is assess situations and websites based on our own knowledge, opinions and experiences, and report that back.
From what we've seen and heard, there is a lot to like about Ignition Casino and the affiliations, security and versatility of the website are very appealing and frankly, pretty reassuring.
There is no guarantee that you will love playing anywhere as much as you did with Bovada Poker, but one way or another, that product will cease to exist by September 30th. We personally will soak up the greatness that is Bovada Poker until it's last days, but considering the product is going to be virtually the same over at Ignition Casino, we're going to give the new site a chance.
While new poker/casino sites often need to earn your trust with outstanding customer service, fast and reliable payouts and proven security, they also often go that extra mile to make sure you're going to want to remain a part of their community.
The feedback has been positive so far out of Ignition Casino, and the fact that they're acquiring Bovada Poker suggests they're only out to offer their customer base the best product possible. We look forward to "revving up" with Ignition Casino, and encourage our readers to give them a shot, as well.