Guide to Betting on the MotoGP
MotoGP is by far the most popular motorsport that involves motorcycles. The fans LOVE it. Riders race against each other in various parts of the world over the course of the season and the action is intense.
Betting on that action can be intense, too. The good news is that there are some safe online betting sites for MotoGP that offer excellent opportunities to make money from your favorite races. Let's take a look at our top picks.
Rank
Betting Site
Exclusive Bonus
Get Started

#1

BetOnline Sports

60% Up To

$1,000

Visit Site

Visit Site

#2

Bovada Sports

50% Up To

$250

Visit Site

Visit Site

#3

BetUS

125% Up To

$2,500

Visit Site

Visit Site

#4

Everygame

100% Up To

$500

Visit Site

Visit Site

#5

MyBookie

100% Up To

$1,000

Visit Site

Visit Site
These are the best MotoGP betting apps and sites for multiple reasons. They all impress us with their safe conditions and great sports gambling opportunities they offer to their customers.
We share more details on how to take full advantage of those opportunities. We also explain how to bet on the MotoGP online with real money and more.
Contents of Our Moto GP Betting Guide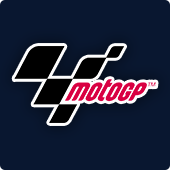 Betting on the MotoGP Online
If you don't have much experience with MotoGP online betting for real cash, this section has all the information you need.
For a start, let's take a look at the main reasons why you should place your wagers on the sport on the internet.
Why Bet Online?
Some of you may be used to brick-and-mortar sportsbooks and there's nothing wrong with that. If you're good with the fact that you're leaving money on the table, that is.
Here's why you should bet on the MotoGP online if you want the best long-term results.
Advantages of Betting on the MotoGP Online
Higher Odds – The average MotoGP betting odds you can find on the web are higher than what the land-based bookies offer.
More Markets – The variety of markets is also better and that leads to more opportunities to make money.
Bonuses and Promotions – The best sites for betting on the MotoGP online all offer excellent bonuses and promotions.
Convenience – Placing your MotoGP bets online is quick and easy. The time you save can be invested in better preparation.
MotoGP Live Betting – If you want to bet on the MotoGP live, you can do it at any given moment during the race.
If you are ready to move your betting action to the internet, here's what you have to do.
How to Bet on the MotoGP Online
There are few simple steps you need to take to place your MotoGP wagers online. Let's take a look at them.
Join a Bookmaker – We strongly recommend picking one of our top-rated MotoGP sportsbooks online. The process of opening an account is simple and you only need to fill in a few pieces of information like your address, name, and date of birth.
Make a Deposit – Once your account is ready, you need to add some cash to start gambling on the MotoGP. The top bookies for motorsports support credit and debit cards, Bitcoin, other crypto, e-wallets, and other convenient banking methods.
Place a Wager – You're good to go at this point, so take a look at the markets of the best MotoGP betting sites and place your wager.
Cashing Out – If you do well with your MotoGP betting picks, you can use the same payment method you deposited with to withdraw your profits.
There's nothing complicated about MotoGP betting online and you can even enjoy all markets and features on your mobile device.
If you want more basic tips on how to get started, you should check our motorsports betting guide because it covers all the fundamentals in more detail.
Using Apps for MotoGP Betting
If you decide to gamble online, you can also enjoy mobile MotoGP betting and reap the benefits. All of the bookmakers here are available on popular devices such as iPhone, iPad, and Windows Phone.
They operate responsive sites that adjust to your phone or tablet instantly. Some of them have native MotoGP apps, too, if that's your preferred choice.
Both options give you instant access to all the betting markets and features that are available on the desktop site.
MotoGP Championship Betting
All of the best sites to bet on the MotoGP offer different wagering options to their customers, including various long-term markets.
The most popular among them allows you to back any rider to win the MotoGP Championship when the season is done. If that sounds interesting, we have a few MotoGP betting tips that can improve your chances to make money.
Consistency Is Essential
The MotoGP season is long and gruesome, so there is a lot of time for all sorts of twists and turns that affect the rankings. Here are the most obvious ones.
Riders Form – You might see some riders flying for several races before hitting a slump in their performance.
Bikes – The teams are constantly working on improving the bikes, so it's possible that some machines get stronger as the campaign progresses, while others fade away.
Different Conditions – Every track in the MotoGP is different and the location matters, too. There are races in hot countries where it often rains, while it's super dry in other places. The riders have to be flexible and the teams have to make sure the bike is ready for the next challenge.
With around 20 races on the MotoGP calendar every year, the most consistent riders have the upper hand.
Don't forget to consider the team behind them, too, because every rider is dependent on the bike that he's given.
Start With the Previous Winner
You should always start with the previous champion unless he retired or got injured. We've seen plenty of legendary streaks in the MotoGP throughout the years, and it's not uncommon for a rider to dominate for large periods.
Here are some examples of consecutive titles since the start of the new century.
| | |
| --- | --- |
| Rider | Consecutive Years Won |
| Marc Marquez | 2016-2019 |
| Marc Marquez | 2013-2014 |
| Valentino Rossi | 2008-2009 |
| Valentino Rossi | 2001-2005 |
A simple calculation shows that the champion has been able to defend his title pretty much half of the time. If you exclude the cases where he was injured or retired, the percentage is even bigger.
That's why you should always respect the defending champ when you gamble on the MotoGP winner.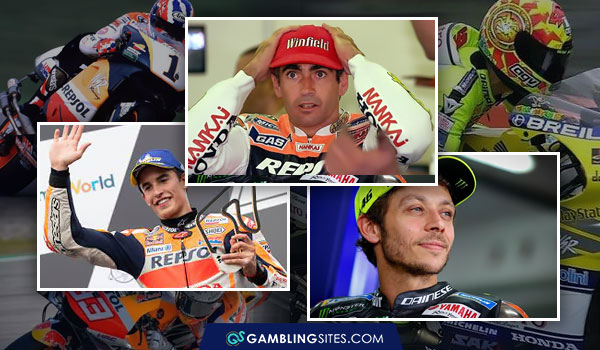 Consider the Teams
There are plenty of teams involved in the MotoGP and not all of them have the resources required to fight for the title.
Some secondary organizations exist primarily to develop young riders for the future and experiment with the bikes.
You should exclude them when working on your MotoGP betting predictions and only focus on the top teams that are expected to be competitive.
Explore Other MotoGP Futures
The top MotoGP betting websites online have other interesting futures that might be worth your attention. Here are some examples.
Team Standings – You can bet money on the MotoGP team that you expect to collect the most points.
Constructor Standings – Many MotoGP gambling sites offer the option to back an engine manufacturer to win the constructor title.
MotoGP Props – You can often find exciting prop bets such as head-to-heads between selected riders, number of wins for a contestant, nationality of the champion, and more.
You should always explore all of your options when you want to bet on the MotoGP for money. Otherwise, you risk missing out on good opportunities.
Betting on MotoGP Qualifying
Qualifying is an important stage of every MotoGP race, and the fans love it. It also presents some interesting betting opportunities ever since the online motorsports gambling sites decided to cover it.
Here are the markets that you can find online when it comes to betting on MotoGP qualifying.
Pole Position Winner – Bet on any rider to start the race from first position.
Head-to-Head – The MotoGP bookies have different pairs of riders, and you can pick one of them to finish in a higher position than the other.
Top Finish – You can back a rider to finish in the top 3/5/10.
The types of online bets for MotoGP qualifying are rather limited, but you can still win some cash if you're watching the preparations before the race anyway.
Here are our best tips if you decide to give it a shot.
Follow the Practice Sessions – All teams are involved in practice sessions that give them the chance to prepare the bikes for qualifying and the races. Use the results from these sessions as your starting point.
Stick to Riders Who Excel in Qualifying – Some riders love qualifying because it's purely about hitting the fastest lap possible. There's no need to worry about preserving the tires, racing with other riders, or other external factors. Make sure you recognize the riders that excel at this stage and build your MotoGP betting strategy for qualifying around them.
Look at Previous Races – Analyze the qualifying in the last few races in order to understand which teams are better prepared for this stage of the MotoGP weekend.
Consider Previous Years – It won't hurt to check what happened in previous seasons on the same circuit before you place your wagers.
Betting on MotoGP Races
We expect most of our readers want to bet on MotoGP races and that's a smart approach. With around 20 of them available each season, building a successful strategy can be very profitable.
Before we move on to our tips, here are the most common MotoGP betting markets when it comes to individual races.
Race Winner – Plain, simple, and offered by all trusted MotoGP gambling websites online.
Podium Finish – Another market that's clear; back a rider to finish on the podium.
Fastest Lap – If you expect a rider to record the fastest lap, you can bet money on that.
H2H Battles – Some MotoGP bookmakers on the internet offer head-to-head betting by pairing up the riders.
Live MotoGP Betting – The top sites and best apps to bet on the MotoGP cover the races live, so you can place your wagers after the start.
You can make money on all of these options with the right strategies. We have some tips to help with that.
Betting on the Final Standings
If you want to bet on the MotoGP race winner or another market that's related to the final standings, such as a podium finish, you should consider the following.
Form – Make sure you explore the past few races to see which riders are in the best form because MotoGP performances can be very streaky.
Practice and Qualifying – The build-up to the race can tell you a lot about how strong the different teams and riders are. And, of course, the place on the starting grid is important, too.
Weather Conditions – Always explore the weather conditions. A rainy race can be very wild and all sorts of surprises are possible.
Previous Performances on the Same Track – Every rider has their favorite tracks, so be sure to check how the favorites performed in previous years.
Pick Multiple Winners – The MotoGP betting odds for the winner market often allow you to pick more than one rider and still have the potential to make good money. If you see value in the prices for multiple bets, that can be the optimal approach.
We also have gambling advice for the other types of MotoGP racing bets.
MotoGP Live Betting
If you prefer to bet on MotoGP while the races are running, you should consider the following tips.
Follow the Strategies – Some riders push as fast as possible right from the start, others prefer to stay close to the front and increase the tempo gradually to spare the bike. It's important to try and figure out how each rider approaches the race.
Look at Lap Times – The most obvious objective way to understand how well each rider is doing is to follow the lap times.
Weather Updates – Changing weather conditions have led to many dramatic twists before, so that's something to consider.
Watch for Trends – You should be watching the races and evaluating the numbers carefully at any given moment. Look for riders that are increasing the tempo and be careful of guys who are recording slower and slower times, as they might be experiencing technical difficulties.
Analyzing MotoGP Tracks
One of the most crucial factors you should always consider when betting on MotoGP races is the track. Different tracks present different challenges to riders and affect their chances of winning.
For example, some tracks have several long straights and a higher average speed. Riders on bikes with a high top speed have an advantage on such tracks. Others have shorter straights and more turns, making top speed less important.
The following table shows the tracks that were included in the latest MotoGP calendar.
| | |
| --- | --- |
| Circuit and City | Country |
| Losail International Circuit, Lusail | Qatar |
| Algarve International Circuit, Portimão | Portugal |
| Circuito de Jerez-Ángel Nieto, Jerez de la Frontera | Spain |
| Circuit Bugatti, Le Mans | France |
| Mugello Circuit, Scarperia e San Piero | Italy |
| Circuit de Barcelona-Catalunya, Montmeló | Spain |
| Sachsenring, Hohenstein-Ernstthal | Germany |
| TT Circuit Assen, Assen | The Netherlands |
| Red Bull Ring, Spielberg | Austria |
| Silverstone Circuit, Silverstone | United Kingdom |
| MotorLand Aragón, Alcañiz | Spain |
| Misano World Circuit Marco Simoncelli, Misano Adriatico | San Marino |
| Twin Ring Motegi, Motegi | Japan |
| Buriram International Circuit, Buriram | Thailand |
| Phillip Island Grand Prix Circuit, Phillip Island | Australia |
| Sepang International Circuit, Sepang | Malaysia |
| Circuit Ricardo Tormo, Valencia | Spain |
Here are the profiles of some of the most iconic MotoGP tracks.
TT Circuit Assen
Opened

1955

Total Laps

26

Track Length

4.542 km

More Info

The legendary TT Circuit Assen is nicknamed "The Cathedral" by motorsport fans which pretty much tells you everything you need to know. It hosts races from various competitions, including the MotoGP and Superbike Championship.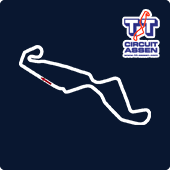 Circuit of the Americas
Opened

2012

Total Laps

20

Track Length

5.513 km

More Info

Very few circuits in the history of motorsports became notorious as fast as this one. Located in Austin, Texas, the Circuit of the Americas has been a part of the MotoGP since 2012 and it can welcome 120,000 people for every race.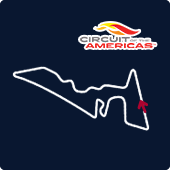 Phillip Island Grand Prix Circuit
Opened

1928

Total Laps

27

Track Length

4.448 km

More Info

Many believe that this is the most exciting circuit on the MotoGP calendar because of the high speed and the countless overtaking opportunities. The Australian GP often delivers legendary races and the fans adore it.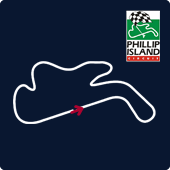 MotoGP Betting vs. F1 Betting
If you're a motorsports fan, there's a good chance that you are interested in both the MotoGP and Formula 1. That can be useful from a betting perspective, as some of the factors you need to consider are the same across both forms of racing.
However, there are also some differences that you should be aware of. Let's take a look at them.
No Pit Stops in the MotoGP – Pit stops are crucial for F1 betting and can turn a whole race upside down. There's no such thing in the MotoGP.
More Overtaking in the MotoGP – The sheer size of the F1 cars makes it much harder to overtake, especially on circuits such as Monaco. That's not a problem in the MotoGP where you see lots of overtaking in every race.
MotoGP Is More Competitive – You often see one or two teams way ahead of the rest in Formula 1. That rarely happens in MotoGP.
More Markets and Sites for F1 – There are fewer online MotoGP betting sites compared to Formula 1 sportsbooks. The same applies to the markets at your disposal.
There are definitely things you can learn from betting on Formula 1 that will help with betting on MotoGP. And vice versa. However, these differences mean that you also have to adjust to your strategies across the two competitions.
MotoGP Glossary
Knowing how and where to bet on the MotoGP online is vital, of course. You need to fundamentally understand the sport, too, which is why it's a good idea to learn some of the important terms used.
They can be helpful when you're digging for information that can improve your chances of recognizing value bets.
| | |
| --- | --- |
| Term | Meaning |
| Airbox | This is where the air filters of the motorcycle are located. |
| Apex | That's the tightest point of the corner. |
| Banking | This one shows the height amplitude between the outside and the inside of a turn. |
| Box | This is the garage where the mechanics reside. |
| Blistering | Blisters could appear on the tires as a result of excessive temperatures and could lead to tire failure. |
| Burnout | This technique combines front brakes with skidding the real. It's used to heat the tires or celebrate victories. |
| ECU | The Electronics Control Unit that's responsible for controlling all electronics in the motorcycle. |
| Grid | That's the part of the circuit from which the riders start the race. |
| Hairpin | A very tight turn, often U-shaped. |
| Lean Angle | That's the angle of tilting when the riders are turning. |
| Slipstream | When a rider follows another rider in a straight and uses him to reduce the air resistance, usually preparing an overtake attempt. |
| Slicks | Soft tires designed to deliver a strong grip with the track. |
Other Useful Motorsports Betting Guides
Most MotoGP betting sites cover other motorsports, too. If you're also interested in gambling on any of them, the following guides can help.
We cover motorsports extensively on our sports blog, and we provide motorsports betting picks on a regular basis. Here are the latest recommended bets from our writers.
June
Sportsbook of the Month

Sign up Bonus
60% Up To $1,000
READ REVIEW
Visit Site
X