How and Where to Bet on the Ryder Cup
Hosted every other year, the Ryder Cup represents the zenith in team golf. A lot of planning goes into this revered competition that alternates between US and European soil, and there are tons of ways to get in on the action.
If you're wondering where to bet on the Ryder Cup, what kinds of bets you can place, or anything to do with the format and future venues, it's time to breathe a sigh of relief.
Our Ryder Cup betting guide addresses all your queries, and then some.
Our Guide to Betting on the Ryder Cup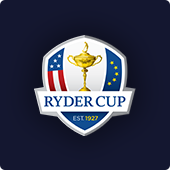 Top Sportsbooks for Betting on the Ryder Cup
Rank
Betting Site
Exclusive Bonus
Get Started

#1

BetOnline Sports

60% Up To

$1,000

Visit Site

Visit Site

#2

Bovada Sports

50% Up To

$250

Visit Site

Visit Site

#3

BetUS

125% Up To

$2,500

Visit Site

Visit Site

#4

Everygame

100% Up To

$500

Visit Site

Visit Site

#5

MyBookie

100% Up To

$1,000

Visit Site

Visit Site
There are tons of advantages tied to using the best Ryder Cup betting sites showcased above. First and foremost, they're safe across all fronts. Rest assured, you can get your money on and off the site without worrying about any of your personal information being at risk.
While you might find one site easier to navigate than another, you'll be doing yourself a favor if you stay active on all these sportsbooks before and during the Ryder Cup.
On top of giving yourself the luxury of shopping for the best price, you'll open your eyes to a much broader selection of Ryder Cup bets. You'll also be able to claim a plethora of Ryder Cup betting bonuses.
As we'll introduce in a devoted segment, bets will be distinctive (and there will be more of them) during the Ryder Cup compared to a "regular event."
Another great reason to stick to these sites when betting the Ryder Cup online is you can seamlessly transition from a desktop or laptop to any mobile device.
Ryder Cup Betting Apps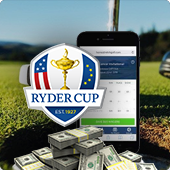 We're in a day and age where everyone is doing everything on their phone. Thankfully, a mobile device is all you need to lock in your Ryder Cup betting picks. The sites we've endorsed above have a trusted platform on any iPhone, iPad, or Android.
Rather than search for the bookmakers on the app store and wait for them to download, just open your favorite internet browser and type in the names of these sites. You'll have the opportunity to view each sportsbook in its original form – don't worry about being directed to a partial version.
It's especially beneficial to take advantage of mobile Ryder Cup betting while the event is being played. Easy access to up-to-the-minute live odds adds a whole new layer of excitement to your betting experience.
Ryder Cup Format
You know where to bet money on the Ryder Cup. Now let's get you firmly acquainted with the format in place.
It's been altered over the years since this tournament was established in 1927, but the format of the Ryder Cup remains unchanged dating back to 1979.
Ryder Cup Schedule of Events – 1979-Present
Day 1
Day 2
Day 3
Morning – 4 foursomes; Afternoon – 4 fourballs
Morning – 4 foursomes; Afternoon – 4 fourballs
Singles all day
The only thing that is sometimes different is the order of foursomes and fourballs during the first two days of play.
Sometimes fourballs will be played in the morning and foursomes shifts to the afternoon; it's entirely up to the hosting captain.
8 Team Matches on Friday
8 Team Matches on Saturday
12 Singles Matches on Sunday
There is a total of 28 points up for grabs, and the first team to accumulate 14.5 points is awarded the trophy.
Before we go any further, let's quickly rehash foursomes and fourballs to avoid any potential confusion.
Foursomes
Foursomes is a fancy way of saying "alternate shot." One member (of the two-man team) tees off on the odd-numbered holes while the other member tees off on the even-numbered holes.
Once the tee shot is struck, the team plays alternate shot until that hole is completed.
Fourballs
Fourballs is another way of saying "best ball." It's a little bit easier to "go low" during this session. Each man plays his own ball throughout the entirety of the round. Only the lower of the two team scores is recorded.
Sunday's singles are self-explanatory as each captain sends out all 24 competitors in 12 head-to-head showdowns. One of the interesting differences between the Ryder Cup and the Presidents Cup is how the Sunday order is determined.
Sunday Singles Selection Process
Once Saturday's portion of play is completed, each captain sits down with his vice-captains (and sometimes players) to fill out the Sunday "batting order."
Unlike the Presidents Cup where the captains go back-and-forth announcing who's slotted in what position, it's all premeditated at the Ryder Cup. Each squad fills out its 12-man order without prior knowledge of the other team's order.
Vast Selection of Ryder Cup Bets
Now for the slice of this guide that's dedicated to all the different types of Ryder Cup wagers you can place.
There's a lot to unpack in this section, so let's jump right in.
Who Will Win the Ryder Cup?
One of the cool things about betting on if USA or Europe wins is that you don't have to wait until September arrives to settle in on your Ryder Cup prediction.
Click on the golf futures tab on any of the betting apps/sites we recommended, and you'll see odds for the Ryder Cup pretty much year-round (during a Ryder Cup year).
Who Will Make the Ryder Cup Team?
Another bet you can place way in advance is who will be on the Ryder Cup team. This prop won't be available at all the best sites for Ryder Cup betting, but BetOnline and SportsBetting.ag typically come through.
The exact criteria for qualifying changes from year to year, as can the number of captain's picks pending extenuating circumstances. One way to keep track of who's in line to make the team is by checking the official Ryder Cup standings.
Betting on Individual Matches
Every foursome, fourball, and singles match that goes out can be bet individually.
Maybe you're dubious about the United States winning the cup but are keen on a specific duo taking care of business in a certain match. Perhaps you want to fire away on a handful of the singles matches on Sunday.
All 28 matches in the Ryder Cup will be posted as individual bets.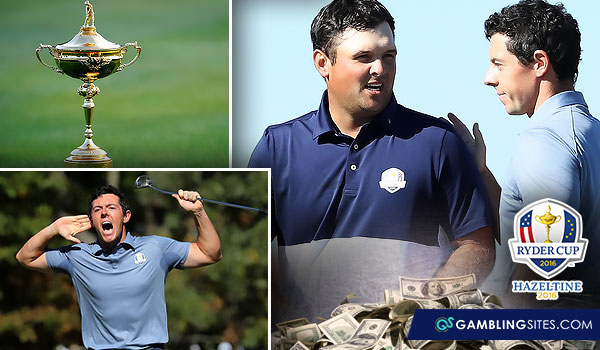 Most Points Scored (US/Europe/Overall)
You'll be able to bet on which player scores the most points on each team, as well as who will be the top point scorer at the Ryder Cup in general. This is where trying to gauge who's got the best chance to play five matches enters the equation.
The "top-point scorer" market branches off into additional markets zeroing in on the captain's picks and rookies.
Most Points Scored by a Captain's Pick (US/Europe/Overall)
Most Points Scored by a Rookie (US/Europe/Overall)
That's nine Ryder Cup betting markets right there, and there are loads more to uncover.
How Many Matches Will a Player Compete in?
Some sites might offer this bet for all 24 golfers while others will select a smaller number of high-profile players. Winning or losing the matches is irrelevant here as you're simply betting on how matches the player will appear in.
Here's an example of this market from the 2018 Ryder Cup.
How Many Matches Will Tiger Woods Compete In?
3 or Fewer; +1000
4; +160
5; -160
Total Points Won by a Player (Over/Under)
You can bet on how many points a player will score across the three days of the competition.
Going back to the 2018 Ryder Cup for some perspective, here's what these bets looked like.
Total Points Won by Sergio Garcia
Over 2.5 Points; +150
Under 2.5 Points; -170
Total Points Won by Tony Finau
Over 1.5 Points; +125
Under 1.5 Points; -105
Head-to-Head Matchups
In traditional head-to-head matchups, you're betting on which player shoots the lower score. Attacking H2H matchups at the Ryder Cup is a bit different.
The winner will be determined by which players ends the week with more points.
This won't be subjected to solely matching up Americans versus Europeans. Guys from the same team will be pitted against one another.
Miscellaneous Ryder Cup Prop Bets
The following list clues you in on some of the Ryder Cup props that will be scattered across the sites. This serves as another reminder of why it's crucial not to stick to just one site.
First player out in singles for the Europeans
Last player out in singles for the Americans
Player to hole the winning putt
Who will hit the opening tee shot on Friday?
As fun and profitable as betting golf online can be, the dials get turned up a notch every two years at the Ryder Cup.
Ryder Cup Betting Tips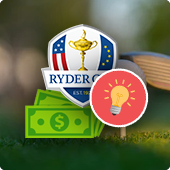 You can apply models to help you forecast how an individual will perform at "normal" events. The Ryder Cup is an entirely different beast where in most cases, course history doesn't exist. Recent results play much less of a factor.
Instead, hone in on team chemistry and pay attention to momentum.
We've compiled several golf betting strategies on this page – many of which are applicable as tips for betting the Ryder Cup.
What stands out about betting on the Ryder Cup (compared to regular events) is you should be doing most of your damage after the event starts.
Watch the Tournament, Target the Sunday Singles Session
We alluded to all 28 matches being posted as individual bets. Make sure to take advantage by poring over these opportunities.
The closer you're following the action, the more of a handle you'll have on how individuals are dealing with their emotions. You'll have a firm grip on which guys are playing well and which guys aren't ready to step up to the plate.
By the time Sunday morning's matchups are announced, you'll have tons of information at your disposal to help formulate your predictions.
Between changing venues and setups to the turnover on each roster from year to year, every Ryder Cup is unique. That's why the best way to dish out Ryder Cup betting tips is to focus our efforts on the particular Ryder Cup in question.
Betting On the 2021 Ryder Cup at Whistling Straits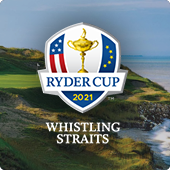 After a worldwide pandemic put a wrench in the 2020 Ryder Cup, the festivities were postponed until 2021. The plan is to have fans in attendance and proceed with business as usual.
One of our top golf writers prepared this early look at the 2021 Ryder Cup in the interests of curbing our appetite until September inches closer and we know more.
Once the tournament is upon us, we'll be sure to unleash a full-blown Ryder Cup betting preview highlighting our predictions and best bets for the week.
We will also contribute additional content to help you win money on the Ryder Cup, like an article featuring 2021 Ryder Cup power rankings. Follow our golf blog to stay in the loop.
Ryder Cup Results
It's time to start rounding out this guide to betting the Ryder Cup with some data about this event. Starting with who's won every single edition.
Winners of Every Ryder Cup
Year
Course, Location
Winning Team
Score
1927
Worcester CC, Massachusetts
USA
9.5-2.5
1929
Moortown Golf Club, Yorkshire
Great Britain
7-5
1931
Scioto CC, Ohio
USA
9-3
1933
Southport and Ainsdale GC, Lancashire
Great Britain
6.5-5.5
1935
Ridgewood CC, New Jersey
USA
9-3
1937
Southport and Ainsdale GC, Lancashire
USA
8-4
1947
Portland GC, Oregon
USA
11-1
1949
Ganton GC, Yorkshire
USA
7-5
1951
Pinehurst #2, North Carolina
USA
9.5-2.5
1953
Wentworth Club, Surrey
USA
6.5-5.5
1955
Thunderbird CC, California
USA
8-4
1957
Lindrick GC, West Riding of Yorkshire
Great Britain
7-5
1959
Eldorado GC, California
USA
8.5-3.5
1961
Royal Lytham & St Annes GC, Lancashire
USA
14.5-9.5
1963
Atlanta Athletic Club, Georgia
USA
23-9
1965
Royal Birkdale GC, Lancashire
USA
19.5-12.5
1967
Champions GC, Texas
USA
23.5-8.5
1969
Royal Birkdale GC, Lancashire
TIED
16-16
1971
Old Warson CC, Missouri
USA
18.5-13.5
1973
Muirfield, East Lothian
USA
19-13
1975
Laurel Valley GC, Pennsylvania
USA
21-11
1977
Royal Lytham & St Annes GC, Lancashire
USA
12.5-7.5
1979
The Greenbrier, West Virginia
USA
17-11
1981
Walton Heath GC, Surrey
USA
18.5-9.5
1983
PGA National GC, Florida
USA
14.5-13.5
1985
The Belfry, Warwickshire
Europe
16.5-11.5
1987
Muirfield Village, Ohio
Europe
15-13
1989
The Belfry, Warwickshire
TIED
14-14
1991
Kiawah Island Golf Resort, South Carolina
USA
14.5-13.5
1993
The Belfry, Warwickshire
USA
15-13
1995
Oak Hill CC, New York
Europe
14.5-13.5
1997
Valderrama GC, Andalusia
Europe
14.5-13.5
1999
The Country Club, Massachusetts
USA
14.5-13.5
2002
The Belfry, Warwickshire
Europe
15.5-12.5
2004
Oakland Hills CC, Michigan
Europe
18.5-9.5
2006
K Club, County Kildare
Europe
18.5-9.5
2008
Valhalla GC, Kentucky
USA
16.5-11.5
2010
Celtic Manor Resort, Newport
Europe
14.5-13.5
2012
Medinah CC, Illinois
Europe
14.5-13.5
2014
Gleneagles, Perth & Kinross
Europe
16.5-11.5
2016
Hazeltine National GC, Minnesota
USA
17-11
2018
Le Golf National, France
Europe
17.5-10.5
As you peruse through the list of Ryder Cup winners, keep the following thought in mind.
1979 was a big year for the European team. It's not only the first time that the current 28-point system was put in place, but it was also the first time that the Euros could include players outside of Great Britain and Ireland.
Considering the GB&I team didn't win a single Ryder Cup between 1959-1997, it's no wonder that team Europe decided to open their options. And boy did this change pay dividends.
Despite losing the Cup in 1981, '83, and '85, Europe is 11-8-1 at the Ryder Cup dating back to 1979.
Ryder Cup Records
Phil Mickelson's 12 appearances are the most of all time. Lefty's place in Ryder Cup lore doesn't end there, though, as his name is plastered all over the Ryder Cup record books.
Most Matches Played at the Ryder Cup
Name
Matches Played
Phil Mickelson
47
Nick Faldo
45
Sergio Garcia
45
Lee Westwood
44
Bernhard Langer
42
Neil Coles
40
Tiger Woods
37
Seve Ballesteros
37
Billy Casper
37
Collin Montgomerie
36
Christy O'Conner Sr.
36
Tony Jacklin
35
Jim Furyk
34
Lanny Wadkins
34
Arnold Palmer
32
Now let's move on to the most points accumulated by an individual in Ryder Cup history.
Most Points Won at the Ryder Cup
Name
Total Points Won
Sergio Garcia
25.5
Nick Faldo
25
Bernhard Langer
24
Billy Casper
23.5
Collin Montgomerie
23.5
Lee Westwood
23
Arnold Palmer
23
Seve Ballesteros
22.5
Phil Mickelson
21.5
Lanny Wadkins
21.5
Jose Maria Olazábal
20.5
Lee Trevino
20
Sergio Garcia surpassed Nick Faldo after beating Rickie Fowler 2&1 on Sunday at the 2018 edition.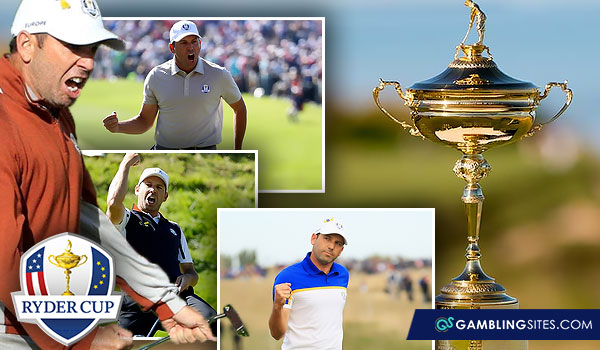 We'll now start listing an assortment of other captivating Ryder cup records.
Most Foursomes Points Won at the Ryder Cup
11.5, Sergio Garcia
11.5, Bernhard Langer
10.5, Seve Ballesteros
10, Tony Jacklin
Most Fourballs Points Won at the Ryder Cup
10.5, Ian Woosnam
10.5 Jose Maria Olazábal
9.5, Sergio Garcia
9, Phil Mickelson
9, Lee Westwood
9, Seve Ballesteros
Most Singles Points Won at the Ryder Cup
7, Collin Montgomerie
7, Billy Casper
7, Lee Trevino
7, Arnold Palmer
7, Neil Coles
Most Points Won by the Same Pairing at the Ryder Cup
12, Seve Ballesteros and Jose Maria Olazábal
Finally, here are a couple of tables depicting the youngest and oldest players to ever appear in a Ryder Cup.
Youngest Players to Compete in a Ryder Cup
United States
Age
Europe
Age
Horton Smith
20 years, 339 days
Sergio Garcia
19 years, 258 days
Jordan Spieth
21 years, 61 days
Nick Faldo
20 years, 59 days
Tiger Woods
21 years, 270 days
Paul Way
20 years, 216 days
Rickie Fowler
21 years, 292 days
Bernard Gallacher
20 years, 221 days
Oldest Players to Compete in a Ryder Cup
United States
Age
Europe
Age
Raymond Floyd
51 years, 20 days
Ted Ray
50 years, 67 days
Jay Haas
50 years, 290 days
Christy O'Connor Sr.
48 years, 273 days
Raymond Floyd
49 years, 23 days
Dai Rees
48 years, 196 days
Fred Funk
48 years, 95 days
George Duncan
47 years, 283 days
Future Locations of the Ryder Cup
Want to get a leg up on your preparation for future Ryder Cup gambling? Keep this table handy so you can check in on where future Ryder Cups will be played.
Upcoming Ryder Cup Venues
Year
Hosting
Golf Course
Location
2021
United States
Whistling Straits (Straits Course)
Sheboygan, Wisconsin
2023
Europe
Marco Simone Golf and Country Club
Rome, Lazio, Italy
2025
United States
Bethpage Black
Farmingdale, New York
2027
Europe
Adare Manor
Adare, County Limerick, Ireland
2029
United States
Hazeltine National Golf Club
Chaska, Minnesota
2031
Europe
TBD
TBD
2033
United States
Olympic Club (Lake Course)
San Francisco, California
2035
Europe
TBD
TBD
2037
United States
Congressional Country Club (Blue Course)
Bethesda, Maryland
For a deeper dive into the venues being utilized in the United States, scan through the course guides below.
Betting on Golf's Most Acclaimed Events
Do you feel like you've got a decent grasp on how to approach this spectacle of an event?
You should be familiar with the best Ryder Cup betting websites and be in tune with the types of wagers you'll be able to place. We broke down the Ryder Cup format, offered tips and advice, as well as incorporated a bevy of records to help you gain perspective.
The Ryder Cup only comes around once every two years. Very few golf tournaments are as prestigious and offer as many opportunities as possible in the betting arenas.
In fact, the Presidents Cup and the four majors are the only other events that can even hold a candle to the significance of the Ryder Cup.
July
Sportsbook of the Month

Sign up Bonus
60% Up To $1,000
READ REVIEW
Visit Site
X