Basketball's Greatest Players
We grew up idolizing them. The best players before our time and the ones who dominate the game today. We are talking about the greatest players to ever play basketball.
We wanted to create an organized page for you any time you wanted to know a little more about former and current legends of the game. Notice the title is not "good basketball players." This page is dedicated for the players we recognize as great.
We are talking about Hall of Fame players and current players that will surely find a spot in the Hall of Fame when their playing career is finished.
Whether you're a fan of the Lakers' and Celtics' heydays in the 80's or current superstars like LeBron James-this page will be beneficial. We aim to cover as many of the great players of the past and today.
The following players are arranged in a chronological order. We started at the beginning and transition into today's NBA superstars.
Let's start with the original Hall of Fame Class in 1959 and take a tour through the true legends of the game- all the way into today's superstars. Feel free to scan through the page and jump straight to the era you are looking for. Otherwise, buckle up and enjoy this ride through basketball's greatest players.
Section Titles-Year Inducted into
Hall of Fame
1959-1977
Being that basketball's first professional game was played in 1946, we thought this was a good place to start. The NBA wasn't officially formed until the 1949-1950 season when the National Basketball League and the Basketball Association of America merged. Back then, there were only 11 teams. Thanks to the merger, 17 teams were now part of one united league.
It wasn't like today's NBA game, where we see 30 teams with studs everywhere. Standout players were few and far between when the game first got started. It seems fitting to start with a member from the original Hall of Fame Class of 1959, a man who towered over his competition.

George Mikan
Born
1924
Birth Place
Joliet, Illinois
Playing Career
1942-1956
Championships/MVP Awards
6 (5 BAA/NBA, 1 MVP)
Teams Played For
DePaul University 1942-1946, Chicago American Gears (NBL) 1946-1947, Minneapolis Lakers 1947-1954, 1956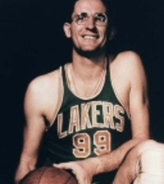 Prior to the 1940's, there weren't many tall people playing basketball. When Mikan arrived on the scene, the road for tall people wanting to play basketball was officially paved.
At 6'10" and 245 lbs., Mikan was literally a man amongst boys. He was the first "big-man" in the NBA. His enormous stature allowed him to literally play above his opponents. Another notch on Mikan's belt was the fact that he was the best player on the first real dynasty the NBA has witnessed.
George Mikan played his entire eight-year NBA career with the Minneapolis Lakers. In the first year of the NBA, his 27.4 points per game average led the league. The Lakers went on to win an NBA Championship thanks to the impressive 31.3 points he averaged per game during the playoffs.
Mikan's illustrious playing career came to an abrupt end after the 1954 season when he announced he was retiring to spend more time at home with his growing family. After a year off, Mikan surprised everyone by returning to the Lakers. Unfortunately, his comeback didn't live up to the hype as he was only able to play 37 games that season. Scoring less than 11 points per game, it was clear his playing abilities had deteriorated. This retirement would be final.
An attempt at coaching the team during the 1957-1958 season was also short-lived. An abysmal 9-30 record midway thru the season left Mikan scratching his head and he decided to step down.
Four NBA Championships and a five-time member of the All-NBA First-Team, Mikan was an easy choice for the official "NBA's 50 Greatest Players of All-Time" in 1996. An inductee of the first class of the Naismith Memorial Basketball Hall of Fame in 1959, George Mikan will always be remembered as the first great big-man in basketball.

Bob Cousy
Born
1928
Birth Place
Manhattan, New York
Playing Career
Manhattan, New York
Championships/MVP Awards
8 (6 NBA, 1 NCAA, 1 MVP)
Teams Played For
Holy Cross 1946-1950, Boston Celtics 1950-1963, Cincinnati Royals 1969-1970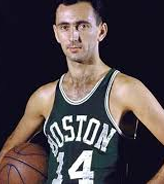 Bob Cousy was arguably the first "true point-guard" that will go down as one of the best players in the history of the NBA. Growing up in New York City, Cousy's presence as a pass-first point-guard was noticed early on during his collegiate career at Holy Cross. The three-time All American started his career in 1950 and his 13 seasons as the Celtics point guard were tremendous.
Cousy led the league in assists per game for a record eight consecutive seasons from 1952-1960. The 1956-57 season may have been his most memorable, as he won the NBA's Most Valuable Player award and won his first NBA Title with the Celtics.
We assume Cousy treasured this first NBA Championship. By the time his renowned playing career ended in 1963, Cousy was no stranger to the NBA Championship Trophy. After losing the Finals to the St. Louis Hawks in 1958, the Celtics reeled off eight consecutive NBA Titles until the Philadelphia 76ers won it all in 1967. Cousy was the leader of the team in the first five of the Championships during the incredible 8-year run.
It is also worth noting that during the 1970 season, 41-year-old Cousy decided to suit up as a player while he was coaching the Cincinnati Royals. This was merely an attempt to boost ticket sales, and boy was he right. Despite playing only 34 total minutes in seven games, the ticket sales increased by 77%.
Thanks to 6,955 career assists (7.5 per game) and six NBA Championships, Cousy was awarded his seat in the Hall of Fame in 1971. A successful six-year run as coach of Boston College and a four-year stint coaching the Cincinnati Royals concluded his career in professional basketball. His no. 14 jersey was retired and will always hang in the rafters at Celtics games.

Bob Petit
Born
1932
Birth Place
Baton Rouge, Louisiana
Playing Career
1951-1965
Championships/MVP Awards
3 (2 MVP, 1 NBA)
Teams Played For
Louisiana State University 1951-1954, Milwaukee/ St. Louis Hawks 1954-1965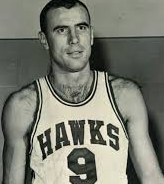 Bob Petit was the true definition of a legend in Baton Rouge, Louisiana. Born and raised in the backyard of the LSU Tigers, Petit brought Baton Rouge High School their first state championship in over 20 seasons. Petit chose to attend LSU and his career for the Tigers was nothing short of marvelous. He averaged 27.4 points and 14.4 rebounds per game during his 72-game collegiate career.
The winner of the maiden Most Valuable Player award in 1956, Bob Petit dominated from the start. Averaging 20.4 points per game and 13.8 rebounds per game, Petit breezed to Rookie of the Year honors in 1955. His monstrous career averages of 26.4 points and 16.2 rebounds per game and an NBA Championship in 1958 led him to become the only additional member (Bob Cousy) of the 1971 Hall of Fame Class.

Bill Russell
Born
1934
Birth Place
Monroe, Louisiana
Playing Career
1953-1969
Championships/MVP Awards
18 (11 NBA, 5 MVP, 2 NCAA)
Teams Played For
University of San Francisco 1953-1956, Boston Celtics 1956-1969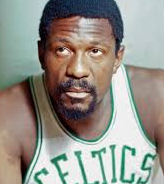 Bill Russell is truly a basketball icon. His dominance in the game of basketball is as complete as we have seen. We are going to touch on some of his highlights and accomplishments, but you may want to check out a more in-depth look at what Bill Russell achieved during his playing career. It's pretty incredible.
13 seasons, 11 NBA Championships. No other player in the history of the NBA can make such a statement. This came after winning consecutive NCAA Titles in his final two seasons at the University of San Francisco. Add in the five NBA MVP awards and 12 All-Star game selections he received. Bill Russell's trophy collection at home would make a professional memorabilia collector turn green with envy. This man knew how to win, period.
His 7'4" wingspan caused severe problems for his opponents. His astonishing career average of 22.5 rebounds per game is second in history by a slim margin to Wilt Chamberlain.
His status in the game goes far beyond his skills on the court. In his final three seasons (1966-1969) Russell served as the head coach while still playing as a member of the Celtics. He was the first African-American head coach of a North American Professional Sports Team to win a Championship. Paving the way for all the opportunities for African-American potential coaches in all the major sports is a major accomplishment that should not go unnoticed.
As a token of appreciation to the accolades and achievements Russell compiled over his career, the NBA changed the name of the NBA Finals MVP Award in 2009 to honor Russell. It is now simply named the Bill Russell NBA Finals Most Valuable Player Award. Russell was inducted into the Hall of Fame in 1975.

Elgin Baylor
Born
1934
Birth Place
1934
Playing Career
1954-1972
Championships/MVP Awards
0
Teams Played For
College of Idaho 1954-1955, Seattle University 1956-1958, Minneapolis/ Los Angeles Lakers 1958-1972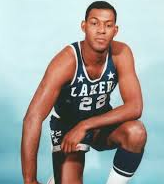 To say the first overall pick in the 1958 draft was a fairly good one for the Lakers organization would be quite the understatement. 24.9 points, 15.0 rebounds, and 4.1 assists per game as a rookie was more than enough to garner the NBA Rookie of the Year Award. However, Baylor was just getting started as his numbers just got better. Try 33.8 points and 17.1 rebounds per game over the next four seasons.
What makes his astounding rebounding numbers even more impressive is that at 6'5", Baylor was actually considered undersized for a power forward. His uncanny ability to shoot a variety of shots helped him amass a career scoring average of 27.4 points per game, good enough for third all-time.
The 11-time NBA All-Star and 10-time selection of All-NBA First-Team was a unanimous selection for the Naismith Memorial Basketball Hall of Fame in 1977.
1978-1986
This generation of basketball took off like a rocket ship in terms of mega-talented superstar basketball players. This era of players who played in the 1960's and 1970's was the start of the NBA superstars we have come to know today. We have witnessed some of the greatest players of all-time play during this generation. There wasn't just a few of these stars in the sixties and seventies- they showed up in bunches.

Wilt Chamberlain
Born
1936
Birth Place
Philadelphia, Pennsylvania
Playing Career
1956-1973
Championships/MVP Awards
6 (4 MVP, 2 NBA)
Teams Played For
University of Kansas 1956-1958, Harlem Globetrotters 1958-1959, Philadelphia/San Francisco Warriors 1959-1965, Philadelphia 76ers 1965-1968, Los Angeles Lakers 1968-197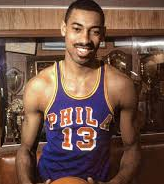 To properly do Wilt "The Stilt" Chamberlain justice, a 12-page piece on his accolades alone might be more appropriate. Our goal is to talk about his mind-boggling statistics and his consistency year after year.
If you like far-fetched, video-game like numbers, just take a look at what Wilt was able to accomplish over his career. In Wilt's first 12 seasons, he never averaged less than 21.1 rebounds per game. Wilt averaged more than 30 points per game in each of his first 9 seasons. Wilt averaged 41.7 points per game over his first five NBA seasons. Let that sink in.
Chamberlain's dominance was never clearer than it was during the 1961-'62 NBA season. His stats were nothing short of a miracle. 50.4 points and 25.7 rebounds per game over the course of an 80-game season are numbers that can hardly be imagined. Well, that's exactly what Wilt did. Things we didn't believe could happen were just another day in the office for the 7'1" goliath we knew as Wilt.
Of course, we can't talk about Wilt Chamberlain without mentioning his most memorable feat. On March 2nd, 1962, in Hershey, Pennsylvania, Wilt scored 100 points in a single game. No, that is not a misprint-100 points in a single game. Unfortunately, there is no footage of his performance that night, as only audio recordings from the 4th quarter captured the historical feat.
His single-season numbers that year only make up a small portion of his colossal career statistics. His 22.9 rebounds per game and his career total of 23,924 rebounds both rank 1st all-time. His 4,029 points in a single season record also tops the charts. His complete list of records and achievements would be a sufficient article in itself.
Teams tried to employ two and three defenders at once to try and contain Wilt. The four-time NBA MVP and 13-time All-Star had none of it. He scored and rebounded at will, and there was nothing opponents could do to stop him.
His no. 13 jersey is retired by the Warriors, 76ers, and Lakers organizations. His no. 13 jersey also hangs in the rafters at Allen Fieldhouse, the historic homecourt for the Kansas Jayhawks. His induction into the Hall of Fame in 1979 was as well-deserved as any player in the enshrinement.

Oscar Robertson
Born
1938
Birth Place
Charlotte, Tennessee
Playing Career
1957-1974
Championships/MVP Awards
2 (1 NBA, 1 MVP)
Teams Played For
University of Cincinnati 1957-1960, Cincinnati Royals 1960-1970, Milwaukee Bucks 1970-1974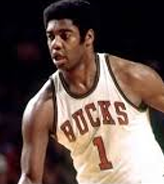 Nicknamed the "Big O", Oscar Robertson's talents as a basketball player were off the chart. Some players made their name by being a significant scorer. Some players were outstanding rebounders or passers. Robertson was all three.
Oscar's incredible NBA career makes some people forget how pure his dominance in college basketball was while at the University of Cincinnati. Robertson won the scoring title and was named College Player of the Year in each of his three seasons playing collegiately. In 1998, the name of the NCAA Division I Player of the Year Trophy was aptly renamed, the Oscar Robertson Trophy.
His first five seasons in the league were pretty silly if you ask us from a statistical standpoint. 30.2 points, 10.6 assists, and 10.4 rebounds per game to be exact. This included averaging a triple-double during the 1961-'62; and not a small one. The funny thing is his ridiculous 30.8 points 12.5 rebounds and 11.4 assists per game averages that season weren't enough to overtake Wilt Chamberlain for the MVP honors. Until 2017, Oscar was the only guard to average more than 10 rebounds in a single season; and he did it three times.
1971 turned out to be a special year for Oscar. After a deteriorating relationship with the Cincinnati Royals, namely coach Bob Cousy, Robertson was traded to the Milwaukee Bucks. This proved to be a blessing as The Big O went on to win his only NBA Title of his career that season. His illustrious career was recognized in 1980 as he was added to the Naismith Memorial Basketball Hall of Fame.

Jerry West
Born
1938
Birth Place
Cheylan, West Virginia
Playing Career
1957-1974
Championships/MVP Awards
1 (NBA)
Teams Played For
West Virginia University 1957-1960, Los Angeles Lakers 1960-1974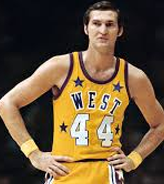 Some folks may wonder how large Jerry West's impact on the NBA has been. How about the fact that the NBA's logo is an outline of West dribbling? What more needs to be said?
It didn't come easy for West. He was so fragile as a child he received vitamin injections and was told not to play sports to avoid getting injured. As a freshman in high school, he was simply told he was too short to play basketball. Jerry came back to school the next year standing six feet tall, and the rest is history.
After being named West Virginia Player of the Year in 1956, Jerry West was now the top recruit in the nation. He decided to stay close to home and attend West Virginia University, where he lead the Mountaineers to the Final Game in 1959. He amassed career averages of 24.8 points and 13.3 rebounds per game during his college career. Not bad for a kid who was supposed to be too short to play basketball.
West's excellence on the court continued when he was drafted second overall by the Lakers in 1960. His career averages of 27 points, 6.7 assists, and 5.8 rebounds only tell half the story. His leadership and ability to excel during crunch time is what truly made West great.
14 seasons, 14 All-Star Game selections. The 10-time All-NBA First-Team Selection was only able to win one NBA Title, despite leading the Lakers to the Finals nine times. The battles West's Lakers teams had with the Celtics throughout the 1960's rival those battles the teams had some 20 years later in the 1980's.
Jerry West would go on to coach the Lakers from 1976-1979 but found greater success in later years as an NBA executive. West became the General Manager of the Lakers organization in 1982 and had a huge influence on the Lakers dynasty teams throughout that decade.
In 2002, West accepted a role with the Memphis Grizzlies and had a successful five-year run rebuilding the organization. West didn't stop there, as in 2011 he joined the Golden State Warriors as a special consultant of some sorts. His presence was felt immediately as the team went from a bottom feeder in the Western Conference to NBA Champions in 2015 and 2017. After the 2017 season, West left the Warriors to join the Los Angeles Clippers organization in a similar consulting role.

Willis Reed
Born
1942
Birth Place
Bernice, Louisiana
Playing Career
1960-1974
Championships/MVP Awards
3 (2 NBA, 1 MVP)
Teams Played For
Grambling State University 1960-1964, New York Knicks 1964-1974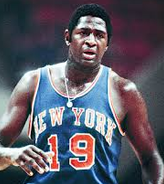 Willis Reed was a two-time champion during his 10-year career with the New York Knicks. The first Kick to ever win the Rookie of the Year Award came out blazing, making the All-Star Team in each of his first seven seasons.
Despite his stellar career in which he averaged 12.9 rebounds per game, Reed will always be known for his stunningly courageous act he pulled off in Game 7 of the 1970 NBA Finals. After being named the All-Star Game MVP and the season MVP that season, Reed saved his best for last in route to the 1970 NBA Finals MVP.
After sustaining a severe thigh injury late in Game 5, Reed was forced to sit out of Game 6. The Knicks were beaten badly by the Lakers and their hopes heading into the decisive Game 7 were slim to say the least. To everyone's surprise, Reed gathered enough strength to somehow suit up and score the Knicks's first two baskets. This brave act of selflessness rubbed off onto his teammates and the Knicks captured their first NBA Title.
Reed would go on to coach the New York Knicks and New Jersey Nets, as well as stints at Creighton University and St. Johns. He held front office positions with both the Nets and the New Orleans Hornetbefore finally hanging it up in 2007. A welcomed addition into the Hall of Fame in 1982, Reed's commitment and contributions to the game of basketball will always be remembered.

John Havlicek
Born
1940
Birth Place
Martins Ferry, Ohio
Playing Career
1959-1978
Championships/MVP Awards
9 (8 NBA, 1 NCAA)
Teams Played For
Ohio State University 1959-1962, Boston Celtics 1962-1978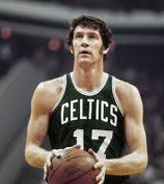 A supreme, all-around athlete that had his choice between football, baseball, and basketball. Imagine being recruited to play quarterback at Ohio State, batting over .400 as a freshman on the baseball team, and being the standout basketball player. That ultra-competitor was John Havlicek. After being drafted by both the Boston Celtics and the Cleveland Browns NFL Franchise, Havlicek chose to stick with basketball and this proved to be a wise decision.
The 13-time All-Star and 8-time NBA Champion was known for his guts and willingness to do whatever it took to win. This was never more evident than in his "steal heard around the world."
Havlicek heroically stole the 76er inbound pass with five seconds left in Game 7 of the 1965 NBA Finals to secure the victory for the Celtics.
For a storied franchise like the Boston Celtics, saying you played more games and scored more points than anyone ever did in a Celtic Uniform is a significant statement. That's exactly what 1984 Hall of Fame addition John Havlicek can claim. Both his no. 5 Ohio State jersey and his no. 17 Boston Celtic jersey were retired to honor his legendary basketball career.
1987-1993
The mid 1970's (and into the 1980's) are home to some of the most electrifying players the game has ever seen. The following players not only excelled at playing basketball- they did it with flair that was unprecedented at the time. Enjoy this section learning about some of the flashiest players the game of basketball has seen.

Rick Barry
Born
1944
Birth Place
Elizabeth, New Jersey
Playing Career
1962-1980
Championships/MVP Awards
2 (1 NBA, 1 ABA)
Teams Played For
Elizabeth, New JerseyLAYEDFOR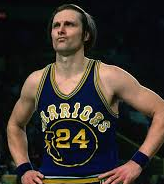 The underhand free-throw. Four sons who played professional basketball and a fifth son, who emulated his father shooting underhand free throws for the Florida Gators in the 2016 NCAA season, Rick Barry is known for a lot of things. Something that will always be remembered is his ferociousness on the court.
His unorthodox underhanded free-throw shooting style wasn't just for show. When Barry retired in 1980, his 89.3% clip was the highest in history. The 35.6 points he averaged per game in 1967 were five more points than the next highest scorer. The only players to average more points during a single NBA season were Wilt Chamberlain and Michael Jordan. Barry was an extraordinary offensive player and he wasn't afraid to tell you about it.
Former players and coaches have gone on record saying that Rick was an arrogant guy who didn't appreciate his teammates.
"He had a bad attitude. He was always looking down at you,"
said Hall of Fame player Robert Parrish.
This is evident if you look at his career in the NBA. Unlike other stars who played their entire career for a single organization, Rick Barry's time in the NBA was something like a game of musical chairs. After being drafted by the San Francisco Warriors with the second pick in 1965, Barry was traded or "switched teams" four times over the next 17 years.
24.8 points, 6.7 rebounds, 4.9 assists, and an NBA Title in 1975 over a 14-year career certainly warranted his Hall of Fame selection in 1987.

Walt Frazier
Born
1945
Birth Place
Atlanta, Georgia
Playing Career
1963-1080
Championships/MVP Awards
2 (NBA)
Teams Played For
Southern Illinois University 1963-1967, New York Knicks 1967-1977, Cleveland Cavaliers 1977-1980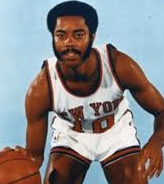 Walt "Clyde" Frazier was as smooth on the court as anyone who ever put on a uniform. With two NBA Titles and seven All-Star Game selections, Frazier was known for being a gritty defender, as evidenced by his seven All-NBA First-Team Defense selections.
Frazier may have saved his best performance for what would go down as a "Game for the Ages." It was the famous Game 7 of the 1970 NBA Finals, the same one where Willis Reed heroically came back from an injury to score the first two baskets of the game and give his team the boost they were looking for.
Some people tend to forget it was Frazier's brilliant effort of 36 points, 19 assists, 7 rebounds, and 6 steals that led the Knicks to victory and their first ever NBA Championship. It is widely regarded as the greatest Game 7 performance in NBA Finals history.
His career totals of 18.9 points, 5.9 rebounds, 6.1 assists per game combined with his flair and passion on the court were more than enough to gain entry into the Naismith Memorial Basketball Hall of Fame in 1987.

Pete Maravich
Born
1947
Birth Place
Aliquippa, Pennsylvania
Playing Career
1967-1980
Championships/MVP Awards
0
Teams Played For
Louisiana State University 1967-1970, Atlanta Hawks 1970-1974, New Orleans/Utah Jazz 1974-1980, Boston Celtics 1980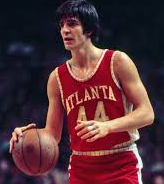 "Pistol Pete" Maravich will go down as the pioneer for fancy dribbling and passing. His highlight reels are played over and over and are appreciated by each generation. While his NBA career is full of behind the back dribbles and no-look passes, it was his collegiate career at LSU that truly defined his greatness.
During this time, freshmen were not permitted to play on the varsity team. Despite only playing three years, his 3,667 career points are more than 400 more points than anyone else in history of Division I college basketball. How in the world did he do this? Try 43.8, 44.2, and 44.5 points per game averages for your three seasons in college ball.
What's even more impressive is this was accomplished before the implementation of the 3-point line. Known for taking long-range jump shots throughout the game, his average would have been well over 50 points per game had those shots counted for three points instead of two points.
Maravich spent his first four professional seasons in Atlanta after the Hawks selected him third overall in the 1970 draft. In spite of 24.3 points and 5.6 assists per game during those four years, the team struggled and decided to move on from Pistol.
The New Orleans Jazz were a brand-new team entering the 1974 season. They were looking for an exciting player who could fill the seats. Who better than the fancy dribbling kid who was a celebrity in college at nearby LSU. A deal was imminent as the Jazz traded away a draft pick and two players in order to acquire Maravich.
"Playground dribbling and passing" are synonymous with Pete Maravich. His teams weren't always the best in the league, but if you ever watched Pistol Pete play you were not disappointed. Check out these clips to see just how far ahead of his time Maravich was. Elected into the Hall of Fame in 1987, Pistol Pete will always be remembered for his dominant scoring at LSU and his highlight reel dribble moves and passes in the NBA.

Julius Erving
Born
1950
Birth Place
East Meadow, New York
Playing Career
1968-1987
Championships/MVP Awards
2 (1 NBA, 1 MVP)
Teams Played For
University of Massachusetts 1968-1971, Virginia Squires 1971-1973, New York Nets 1973-1976, Philadelphia 76ers 1976-1987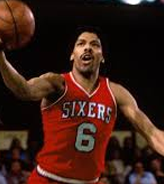 Julius Erving had it all. He had the skills, the flair, the attitude- all the qualities you would want your star player to have. The only player to ever be named MVP of both the ABA and the NBA, Erving was the original slam-dunk king.
Dr. J, as he would go onto to famously be known as, didn't just dunk the basketball. He was the first player to dunk a ball from the free throw line in the Slam Dunk Contest, an act that would be copied by countless players in later years.
Fancy dunks weren't all he was known for. His collegiate averages of 26.3 points and 20.2 rebounds per game make him one of only six players in history to average more than 20 points and 20 rebounds per contest over a college career.
Five stellar seasons in the ABA was enough for Erving. In 1977, Dr. J took the leap into the NBA and joined the Philadelphia 76ers. After a few productive seasons and two trips to the NBA Finals, everything clicked during the 1982-'83 NBA season.
Philadelphia cruised during the regular season and only lost one game in the postseason that year. After sweeping the Lakers 4-0 in the Finals, Erving finally had the NBA Championship title he longed for.
In 11 career seasons in the NBA, Erving was selected to 11 All-Star Games. Career averages of 24.2 points, 8.5 rebounds, 4.2 assists were more than enough to warrant a selection into the Hall of Fame in 1993.

Bill Walton
Born
1952
Birth Place
La Mesa, California
Playing Career
1971-1987
Championships/MVP Awards
5 (2 NBA, 2 NCAA, 1 MVP)
Teams Played For
UCLA 1971-1974, Portland Trailblazer 1974-1978, San Diego/Los Angeles Clipper 1979-1985, Boston Celtics 1985-1987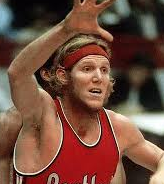 Bill Walton is known for many things. Being a great NBA player is just one of them. His Hall of Fame induction in 1993 was propelled by his amazing college career at UCLA, playing under famed coach John Wooden.
When you average 29 points and 25 rebounds per game as a high school senior on a 33-0 California State Champion squad, you get scholarship offers from every school imaginable. That was the case for the heralded Walton, who chose UCLA largely due to the presence of head coach, John Wooden.
Walton wasn't just a great player at UCLA, he was simply the most dominating inside force in the nation. After a 20-0 record on the freshman team, Walton played three seasons for UCLA. He destroyed his competition each and every night. The three consecutive National Player of the Year awards Walton won from 1972-1974 aren't even his most impressive accomplishments during that stretch.
In Walton's first two seasons, UCLA went a perfect 60-0 and won the National Championship both years. Walton's 24 points and 20 rebounds in the 1972 Championship seemed miniscule to his herculean effort in the Championship game the following season. Walton's 44 points on 21-22 shooting from the field against Memphis State in the 1973 Final game is as rock solid as a performance the Championship game has ever seen.
The Walton-led UCLA teams outplayed and outwitted the competition. It wasn't until January 19, 1974 that Walton lost his first game in a 71-70 thriller to Notre Dame. UCLA's 88-game win streak was finally snapped-a record that will almost certainly never be close to being matched, let alone broken. Dating back to high school, Bill Walton had won 129 consecutive games before that night.
Walton's NBA career wasn't as decorated as his historic run at UCLA, but it is nothing to be ashamed of. Championships with the Portland Trailblazers in 1977 and the Boston Celtics in 1986 were well deserved for the 1978 NBA MVP.
When Walton retired in 1987, he spent a few years with his family in San Diego before jumping into the commentating booth in 1991. His "second career," calling college and NBA games, has been equally productive as Walton has been known for being outspoken and having a lively personality on-air. Calling the game as he sees it and butting heads with NBA players is just the way it is for Walton in his later years. All things considered, his contributions to the game of basketball more than warrant his 1993 induction into the Hall of Fame.
1994-2000
If you like NBA records and NBA Championships, then you will surely enjoy reading about this next crop of players. This section includes the NBA's all-time leading scorer and it's the start of the heated rivalry between the Celtics and Lakers during the 1980's. If you appreciate genuine basketball history, read carefully. If you don't mind guys that didn't mind throwing some dirty elbows around and getting bloody, this is the right section for you.

Kareem Abdul-Jabbar
Born
1947
Birth Place
New York City, New York
Playing Career
1966-1989
Championships/MVP Awards
15 (6 NBA, 6 MVP, 3 NCAA)
Teams Played For
UCLA 1966-1969, Milwaukee Bucks 1969-1975, Los Angeles Lakers 1975-1989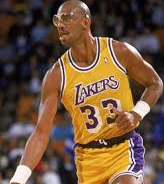 Kareem Abdul-Jabbar's career was legendary. That term is not used lightly- it's intended for someone who achieved milestones in basketball that have never been reached. His 38,387 career points are the more than anyone else in NBA history. Scoring that many points takes dominant offensive abilities, durability, and consistency over a long period of time. Kareem had all three.
From the time Kareem picked up a basketball, he was bigger and better than his foes. Dunking a basketball by age 13, Abdul-Jabbar was destined for greatness on the court. After a 71-game win streak and 3 consecutive New York City Catholic Championships, Kareem chose to skip across the country to the west coast and join coach John Wooden, who was in the midst of starting a college basketball dynasty out in Los Angeles.
Like for all the players mentioned above, the NCAA did not allow freshman to compete on the varsity squad in their first year. That's about the only thing that could slow him down. Abdul-Jabbar was still going by his birth name of Lewis Alcindor at the time, as he did not change his name to Kareem Abdul-Jabbar until 1971.
Saying his time at UCLA was dominant would be an injustice to his play. In his three seasons, he won three NCAA Titles and was named the NCCA Tournament's Most Outstanding Player award each time. 26.4 points and 15.5 rebounds per game and three titles over his three years-not too shabby by our standards. His senior season in 1969 was the first year the Naismith College Player of the Year award was handed out. Of course, that inaugural trophy sits on a mantle at Kareem's home today.
When his career at UCLA was over, the bidding war for Alcindor's services was fierce. Turning down seven figure offers from the ABA's New Jersey Nets and the Harlem Globetrotters, Kareem agreed to join the Milwaukee Bucks, who had selected him first overall in the 1969 NBA Draft. During his first six seasons with the Bucks, Kareem won one Title and was a three-time NBA MVP. When he was traded to the Los Angeles Lakers in 1975, Abdul-Jabbar's career ascended into the legendary level it is associated with today.
He would go on to play 14 seasons for the Los Angeles Lakers, disappointing only opposing players and fans. He would go on to win three more NBA MVP awards and five more NBA Championships during his run in Los Angeles.
Six MVPS and six NBA Championships over a 20-year career make Kareem one of the best and most decorated basketball players of all-time. A full list of Kareem's accomplishments and records might clog up your web browser so just know that nobody in history can match his 19 All-star game selections. His no. 33 jersey is retired at UCLA as well as in Milwaukee and Los Angeles. Records that will likely never get broken make his unanimous selection for the Naismith Memorial Basketball Hall of Fame in 1995 one of the most well-deserved inductions in history.

Larry Bird
Born
1956
Birth Place
West Baden Springs, Indiana
Playing Career
1976-1992
Championships/MVP Awards
6 (3 NBA, 3 MVP)
Teams Played For
Indiana State University 1976-1979, Boston Celtics 1979-1992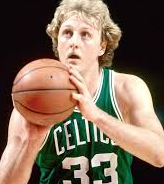 Larry Bird is not just a great basketball player. Simply put, Bird finds his name on almost every list of the top five players of all-time. He was that great, he was that consistent. If you were Larry's teammate, you were like his best friend. If you were an opponent, you were his worst enemy. Bird showed no mercy over his illustrious 13-season run with the Boston Celtics.
The Celtics style of play and utter dominance in the 1980's was led by the gritty play of 6'9" forward who grew up in French Lick, Indiana. It wasn't all pretty for Bird in high school.
Larry's family was dirt poor and his mother worked multiple jobs to support her six children, including Larry. After a divorce, Bird's father committed suicide. The combination of the unfortunate situations Larry had experienced did one thing to his basketball career- it fueled him to make sure he worked harder and practiced more than anybody else. This motivation to be the best carried Bird through college and into his days as a Celtic legend.
Bird's monstrous career averages of 30.3 points and 13.3 rebounds over four seasons at Indiana State helped lead the school to their first ever Final Four in 1979, and the Championship game didn't disappoint. The 1979 NCAA Championship Game between Bird's Indiana State Cyclones and Magic Johnson's Spartans of Michigan State was just a preview of what the NBA's landscape would look like for the next 12 years. The special bond between Bird and Magic is without a doubt one of the most influential personal rivalries in all of sports.
Bird played his entire 13-year NBA career with one franchise, the Boston Celtics. To stay on one team for that long, means Bird was doing something right. 24.3 points, 10,0 rebounds, and 6.3 assists per game while winning three consecutive NBA MVP awards and three NBA Championships certainly qualifies as "something right."
Basketball has witnessed pure scorers and dominant rebounders. We have seen terrific passers and great winners. Larry Bird embodied all of those characteristics. Diving into crowds for loose balls was an example of the extra mile Bird was willing to go for his teammates. If securing one extra possession for his team meant a bloody nose or some stitches over the eye-sign Larry up, he was always there to depend on.
Larry Bird's brilliance on the court came to an end in 1992, after back injuries no longer allowed Bird to compete at the level he was accustomed to. Bird stayed healthy just long enough to be part of the historic run at the 1992 Olympic Games with the famously dubbed "Dream Team."
After a stint in the front office of the Celtic organization, Bird began his coaching career with the Indiana Pacers in 1997. Despite only coaching for three seasons, Bird has since remained heavily involved with the Pacers organization in various front office roles, including President of the team from 2000-2012.
After taking a year of absence to regain his health, Bird returned as Team president in 2013, where he resided until reducing himself to an advisory role in 2017. Larry Bird's contributions to the game of basketball will be forever appreciated. He was welcomed with open arms to the Hall of Fame in 1998.

Kevin McHale
Born
1957
Birth Place
Hibbing, Minnesota
Playing Career
1976-1993
Championships/MVP Awards
3 (NBA)
Teams Played For
University of Minnesota 1976-1980, Boston Celtics 1980-1993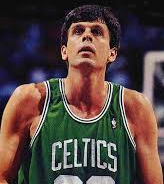 Kevin McHale was a mainstay on the Celtics dominant squads in the 1980's. A lifelong teammate of Larry Bird, this dynamic forward duo was as elite as any frontcourt combo the game has ever seen. If Larry didn't mind the occasional bloody nose, then consider McHale the angry Pitbull in a dogfight.
His killer demeanor combined with his tenacity and raw talent made opposing players despise the nights they played against McHale. His 17.9 points and 7.3 rebounds per game over his 13-year career may have been overshadowed by Bird's dominance, but make no mistake about it-Kevin McHale is one of the best power forwards to ever play the game.
The seven-time All-Star and three-time NBA Champion has a large wealth of basketball knowledge and expertise. He would go on to coach in the NBA for seven seasons between his spells in Minnesota and Houston. The 1999 HOF Induction looks to be a prime candidate for a significant front office position, such as Team President or General Manager, should McHale choose to go that route.

Isiah Thomas
Born
1961
Birth Place
Chicago, Illinois
Playing Career
1979-1994
Championships/MVP Awards
3 (2 NBA, 1 NCAA)
Teams Played For
Indiana University 1979-1981, Detroit Pistons 1981-1984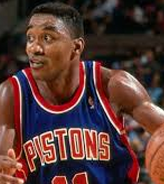 Isiah Thomas's basketball career is identified as someone never backing down to competition. When you grow up with eight siblings and you are the youngest, you learn to scratch and claw your way through life. This is the motto Thomas lived by, as the small, skinny point guard from Chicago was the top prospect in the country coming out of high school.
Thomas chose the Indiana Hoosiers and brought well-known coach, Bobby Knight, a National Title in 1981. After just two seasons, Isiah decided that declaring for the NBA Draft was his best move. The Detroit Pistons selected Thomas with the second overall pick in 1981, and his storied 13-year run with the Pistons was officially underway.
The Detroit Pistons franchise was struggling and in need of a makeover. Prior to Thomas arriving in 1981, The Pistons were consistently a non-playoff team and had never sniffed an NBA Finals appearance. Thomas led the Pistons to three consecutive trips to the NBA Finals from 1988-1990, winning the 1989 and 1990 Titles.
Thomas's leadership qualities make him an all-time NBA great player. Career average of 9.3 assists per game rank the 12-time All-Star 5th all-time. The Pistons' all-time leader in points, assists, steals, and games played rightfully earned his spot in the Hall of Fame in 2000.
2001-2005
The players that entered the Hall of Fame during the early 2000's, are a group of individuals that had a knack for electrifying basketball. This generation of players in the 1980's and into the 1990's continued the trend of playing captivating basketball. Countless highlights and intense rivalries dominated this period of basketball. Learn more about the top players that played key roles during this basketball era in the section below.

Moses Malone
Born
1955
Birth Place
Petersburg, Virginia
Playing Career
1974-1985
Championships/MVP Awards
4 (3 MVP, 1 NBA)
Teams Played For
Utah Stars 1974-1975, Spirts of St. Louis 1975-976, Buffalo Braves 1976, Houston Rockets 1976-1982, Philadelphia 76ers 1982-1986, 1993-1994, Atlanta Hawks 1988-1991, Milwaukee Bucks 1991-1993, San Antonio Spurs 1994-1995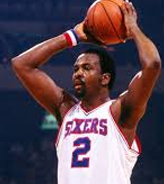 No college ball for Moses Malone. He was the first player in history to make the leap from high school to professional basketball, when he joined the Utah Stars of the ABA in 1974. Moses would go on to rack up the miles over the next 21 years, playing for eight different franchises.
It was his time in Houston and Philadelphia where Moses truly made a name for himself. After winning two MVP awards with the Rockets in 1979 and 1982, Moses had his most productive year in his first season in Philadelphia. Malone would win the 1983 regular season MVP award, along with the NBA Finals MVP that came along with his first and only NBA Title that year.
Moses would finish his decorated career with averages of 20.3 points and 12.3 rebounds. With the third most rebounds and 8th most points in the history of basketball, Moses's selection into the Hall of Fame in 2001 was well-deserved.

Magic Johnson
Born
1959
Birth Place
Lansing, Michigan
Playing Career
Lansing, Michigan
Championships/MVP Awards
9 (5 NBA, 3 MVP, 1 NCAA)
Teams Played For
Michigan State University 1977-1979, Los Angeles Lakers 1979-1991, 1996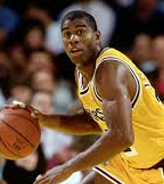 Anybody who respects the game of basketball appreciates Earvin "Magic" Johnson. From his early years as a kid in Lansing, Michigan, to his historic run with the Lakers in the 80's-Earvin Johnson was "Magic" when he touched a basketball. His nickname was simply earned by his magical play on this court.
Two years at Michigan State was all Johnson needed to garner the attention of every NBA scout. Magic led the squad to a National Championship over Larry Bird's Indiana State Cyclones during his sophomore season. 17.1 points, 7.9 assists, and 7.6 rebounds per game for a point guard was more than enough to warrant the number one pick of the 1979 Draft by the Los Angeles Lakers.
During Magic's 12 full seasons in Los Angeles, the Lakers appeared in the NBA Finals nine times, winning the Championship five times. The 12-time All-Star was a member of the All-NBA First-Team on nine separate occasions. One of only five men to record 10,000+ assists, Earvin Johnson will always be remembered for his "Showtime Lakers Days" in the 1980's. Some of Magic's most electrifying plays can be found here.
The Lakers teams were full of All-Stars and great players during this time, but none shined brighter than Magic. His career NBA averages of 19.5 points, 11.2 assists, and 7.2 rebounds per game only tell half the story. It was his uncanny ability to makes his teammates around him better that may have been his most appreciated asset. His keen sense to know exactly where on the court his teammates were, allowed those teammates to flourish. Magic always got them the ball in the right spots.
The battles between the Lakers and Celtics in the 1980's were featured in large part due to the budding rivalry between Magic Johnson and Larry Bird. What started in the 1979 NCAA Championship game blossomed into arguably the greatest rivalry in all of sports.
Magic and Bird would face off three times in the NBA Finals, with Magic winning two of the three series. The 1984 and 1985 Finals featuring the Celtics and Lakers would both go down as two of the greatest series in NBA Finals history. A 2002 inductee of the Naismith Memorial Basketball Hall of Fame, Magic is in the debate for the five greatest players in the history of basketball.
Johnson's career is unfortunately intertwined with his announcement of testing positive for HIV, just prior to the 1992 Olympic Games. This unfortunate news was the main proponent in his decision to retire from the game of basketball. A brief 32-game comeback for the Lakers during the 1996 season would be the last time we would see Magic competitive on the court. Magic did not walk away from the game completely.
A 16-game attempt to coach the Lakers in 1994 helped make Magic realize his passion wasn't to coach, but rather run the team from the front office. Magic served as team Vice President from 1994-2016. As of 2017 he remains an advisor to the Lakers but his focus concentrates on his newest endeavor, a partial owner of MLB's Los Angeles Dodgers.

Robert Parrish
Born
1953
Birth Place
Shreveport, Louisiana
Playing Career
1972-1997
Championships/MVP Awards
4 (NBA)
Teams Played For
Centenary College of Louisiana 1972-1976, Golden State Warriors 1976-1980, Boston Celtics 1980-1994, Charlotte Hornets 1994-1996, Chicago Bulls 1996-1997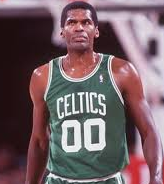 Robert Parrish emerged as an NBA star after going mostly overlooked during his four-year college career at Centenary College of Louisiana. After receiving severe penalties and sanctions due to academic reasons, the basketball team at Centenary was essentially "erased from existence" in terms of keeping records.
Despite averaging an impressive 21.6 points and 16.9 rebounds during his career, Parrish's name is nowhere to be found in any collegiate record books. The NCAA refused to acknowledge the team and any of the players statistics during the years the team was on probation. This wasn't enough to keep Parrish from exploding onto the scene in 1976 as the 8th pick of the draft.
Parrish's NBA career is known for being part of the most formidable frontcourt the NBA has ever seen. The trio of Larry Bird, Kevin McHale, and Robert Parrish made it nearly impossible for teams to penetrate the basket.
The 2003 Hall of Fame inductee and four-time NBA Champion had his infamous "00" jersey number retired by the Celtic organization thanks to his hard work and dedication over his 21 seasons on the court. Parrish never played less than 74 games in a season during his first 20 years. That certainly qualifies as being a true professional.

James Worthy
Born
1961
Birth Place
Gastonia, North Carolina
Playing Career
1979-1994
Championships/MVP Awards
4 (3 NBA, 1 NCAA)
Teams Played For
University of North Carolina 1979-1982, Los Angeles Lakers 1982-1994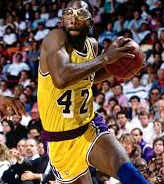 The number one overall pick by the Los Angeles Lakers in 1982 had a stellar basketball career. He was the Most Outstanding Player of the NCAA Tournament earlier that year after his North Carolina Tar Heel squad captured the NCAA Title in thrilling fashion over the Georgetown Hoyas.
Worthy decided to skip his senior year and enter the NBA Draft that summer, a choice that proved to be a wise one. Playing alongside Magic Johnson, Worthy was constantly the recipient of highlight passes. His highflying, powerful one-handed dunks make him one of the most memorable Lakers of all-time.
The 1988 NBA Finals MVP won three Championships in all, and was a seven-time NBA All-Star. Worthy was inducted to the Hall of Fame in 2003, having both his North Carolina Tar Heel no. 52 and Los Angeles Lakers no. 42 jerseys retired.
Worthy began his NBA coaching career in 2015 when he was added to the Los Angeles Lakers coaching staff as an assistant.

Clyde Drexler
Born
1962
Birth Place
New Orleans, Louisiana
Playing Career
New Orleans, Louisiana
Championships/MVP Awards
1 (NBA)
Teams Played For
University of Houston 1980-1983, Portland Trailblazers 1983-1995, Houston Rockets 1995-199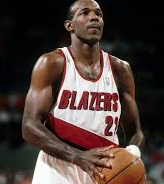 Coming out of high-school, Clyde Drexler wasn't the heralded standout recruit that every college team sought after. Drexler had only three offers, and chose University of Houston over New Mexico State and Texas Tech. This was a wise move as Drexler would compete in two Final Fours during his three years at the school.
After a First-Team All-American junior season, Clyde jumped into the NBA in 1983. Clyde played more 11 full seasons in Portland, before being traded to the Houston Rockets mid-season in 1995. This couldn't have worked out better for Drexler, as the Rockets won the Title that year, giving Drexler his first and only NBA Championship.
Clyde "The Glide" Drexler earned his nickname exactly how one would imagine. His highlight dunks literally looked as if he "glided through the air." Highlight dunks may be what Drexler is remembered for, but his overall abilities as a player should not go unnoticed. 20.4 points, 6.1 rebounds, and 5.6 assists per game over his career exemplify the type of player Clyde was-consistent, and good at everything.
His no. 22 jersey is retired at the University of Houston, as well as in the Portland and Houston NBA franchises. The 10-time NBA All-Star was an easy selection into the Hall of Fame in 2004.
2006-2009
This segment of players includes the most famous player of all-time, Michael Jordan. The 1990's privileged the fans to some of the best basketball competition we have ever seen. Alpha-male personalities were everywhere around the league-the problem was there was only one NBA Title to compete for each year. This was the recipe for the dazzling play we got to watch on a nightly basis during this era.

Charles Barkley
Born
1963
Birth Place
Mobile, Alabama
Playing Career
1981-2000
Championships/MVP Awards
1981-2000
Teams Played For
Auburn University 1981-1984, Philadelphia 76ers 1984-1992, Phoenix Suns 1992-1996, Houston Rockets 1996-2000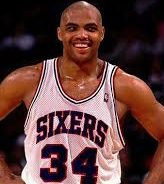 Charles Barkley is known for having one of the most colorful personalities in all of sports. It's a true statement, but this guy was also a hell of a competitor during his 16-year NBA career. It didn't come easy for "Chuck" as he was an overweight reserve on the varsity team as a junior in high school in Leeds, Alabama. A growth spurt that summer allowed him to improve just enough to receive one scholarship offer, from nearby Auburn University.
Thriving in the hostile competition, Barkley led the SEC in rebounding in each of his three seasons despite standing 6'4" tall. His hustle and raw determination over his collegiate career got the attention of plenty of NBA scouts. He was selected 5th overall in the 1984 NBA Draft by the Philadelphia 76ers.
Barkley's numbers were more than stout for an undersized power forward who played 16 seasons in the NBA. 22.1 points and 11.7 rebounds per game are impressive for anyone, let alone someone playing against competition four to five inches taller night in and night out.
The only knock on Barkley's playing career was that he never won an NBA Championship. However, the NBA's Most Valuable Player in 1993 was an 11-time All-Star and was the leading scorer on both of the USA Men's Basketball Teams that brought home the Gold Medals in the Olympics Games in 1992 and 1996. His 2006 selection in the Hall of Fame was more than justified.
When many NBA stars retire, they go away quietly- they stay out of the limelight. Not Barkley. Since Chuck's retirement in 2000, he has gained more fame as an NBA commentator and analysist then he did during his playing career. As the face of TNT's wide-spread basketball coverage, "Sir Charles" does not shy away from letting his opinion be heard. This hilarious snippet from Barkley when asked his thoughts on the NBA not having players play games on consecutive nights, is a prime example of how Chuck isn't afraid to speak his mind.
The bottom line is Barkley's fierce competitiveness and vibrant personality make him one of the most interesting and talked about players in the history of the game. His constant presence talking basketball on television keeps him relevant to the younger generations who were too young to see him play in the 80's and 90's.

Patrick Ewing
Born
1962
Birth Place
Kingston, Jamaica
Playing Career
1981-2002
Championships/MVP Awards
1 (NCAA)
Teams Played For
Georgetown University 1981-1985, New York Knicks 1985-2000, Seattle Supersonics 2000-2001, Orlando Magic 2001-2002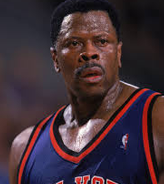 Patrick Ewing nearly had it all. An NBA Championship is literally the only thing that evaded Ewing during his incredible time playing basketball. A more than solid NBA career was first propelled by his dominance in college. Ewing was an NCAA Champion in 1984 and the National player of the year in 1985 while at Georgetown University.
The three-time First-Team All-American was the obvious choice for the number one pick in the 1985 Draft, and the New York Knicks were the team fortunate enough to draw the envelope that year. Ewing would play his first 15 seasons in New York and become one of the premier frontcourt players in the game.
Patrick Ewing was a unique talent. At seven feet tall, Ewing was more than comfortable shooting jump shots. His ability to score in a variety of ways combined with his shot blocking skills left the 11-time All-Star's competition outmatched most nights. His 22.8 points and 10.4 rebounds per night over 15 seasons with the Knicks were more than enough to have his no. 33 jersey retired into the rafters at Madison Square Garden. Selected into the Hall of Fame in 2008, Patrick Ewing retired as the Knicks career leader in-points, rebounds, blocks, steals, and games played.
Ewing continued his career in the NBA in 2002 as an assistant coach for the Washington Wizards. Ewing would spend the next 15 years as an assistant coach in the NBA with stops in Houston, Orlando, and Charlotte. It was in April of 2017, that Ewing got his break. He returned to his alma mater as the Head Coach of the Georgetown Hoyas basketball team.

Hakeem Olajuwon
Born
1963
Birth Place
Lagos, Nigeria
Playing Career
Lagos, Nigeria
Championships/MVP Awards
3 (2 NBA, 1 MVP)
Teams Played For
University of Houston 1981-1984, Houston Rockets 1984-2001, Toronto Raptors 2001-2002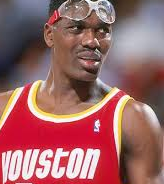 Hakeem Olajuwon's journey to NBA stardom didn't come easy. Hakeem was a born into a poor family in Nigeria and didn't touch a basketball until age 15. A short six years later Hakeem would become the first pick in the 1984 NBA Draft; ahead of Michael Jordan.
In college, Hakeem started slow, but picked up the pace dramatically. After averaging 16.8 points, 13.5 rebounds, and 5.6 blocks per game as a junior, Olajuwon decided to skip his senior season at University of Houston in hopes that the Houston Rockets would land the first pick. 1984 was the last year the NBA used the good old "coin flip" to decide the first pick. His wish came true and he stayed home where he would play the first 17 years of his illustrious 18-year career.
Olajuwon's personal accomplishments may have been greater had he not played during the Michael Jordan era. Despite playing at the same time as Jordan and other stars, Hakeem was able to win the 1994 MVP award, as well as the 1994 and 1995 NBA Championships. The 12-time All-Star did it on both ends of the floor. Olajuwon's 3,830 blocks are first all-time. In fact, Hakeem "The Dream" blocked 541 more shots than anyone else, and did this while averaging a cool 21.8 points and 11.1 rebounds per game.
Hakeem dazzled fans with his unique moves around the basket. His patented "Dream Shake" used to torment defenders is still one of the best post moves we have ever seen in the game of basketball. Both University of Houston and the Houston Rockets have retired his no. 34 jersey thanking him for his 20 consecutive years playing basketball in the city. He was a unanimous selection when he joined the Hall of Fame ranks in 2008.

Michael Jordan
Born
1963
Birth Place
Brooklyn, New York
Playing Career
1981-1993, 1995-1995, 2001-2003
Championships/MVP Awards
12 (6 NBA, 5 MVP, 1 NCAA)
Teams Played For
University of North Carolina 1981-1984, Chicago Bulls 1984-1993, 1995-1998, Washington Wizards 2001-2003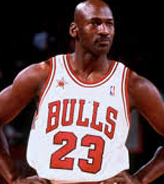 Grab a chair, get comfortable. This is the one and only Michael Jordan we are talking about here. In an article about the greatest players in the history of basketball, we have reached the top of the totem pole. We say arguably, (although there is hardly any argument) that Michael Jordan is the greatest basketball player to ever play the game.
His individual achievements and team accomplishments make him the guy that everybody chases, that everybody aspires to be. "Be like Mike" is a popular phrase still used today, and it originated from kids on the playground wanting to grow up and be like Michael Jordan.
For a guy who wasn't good enough to play varsity basketball as a sophomore in high-school, it's safe to say that Jordan improved. Using being cut as motivation, "MJ" was a McDonald's All-American two years later and had his pick as to where he would play college basketball.
Jordan only needed three seasons at Chapel Hill to convince himself and coaches that he was ready for the NBA. He was a First-Team All-American selection during both his sophomore and junior year campaigns. This came after Jordan hit the game winning shot as a freshman to win the 1982 NCAA Title Game over Georgetown. The talent of players in the 1984 Draft will go down as one of the best drafts in NBA history. Thanks to the Rockets and Trailblazers (picking first and second) in need of centers, Jordan fell into the Chicago Bulls' lap with the 3rd pick. Some people in Portland are still fuming some 30 years later. They still haven't forgiven the organization for selecting Sam Bowie ahead of Jordan that year.
While some stars started slowly in the NBA, Jordan was a full-fledged force to be reckoned with from day one. He averaged 28.2 points per game as a rookie while becoming a fan favorite nationwide. A broken foot caused Michael to miss 64 games during his second season. This however didn't stop Jordan from scoring an NBA playoff-record 63 points against the Celtics in Game 2 of the Divisional Round. This playoff performance was a just a taste of what the NBA world was about to witness the following season.
Jordan would average a ridiculous 37.1 points per game during the 1986-1987 season, more than anyone not named Wilt Chamberlain has ever averaged during a single season. Jordan's scoring pace never let up over his 15-year career. His career average of 30.1 points per game would finish atop the chart in NBA scoring leaders.
MJ's absurd stats could fill up this page most certainly. But not mentioning his six NBA Titles and the fashion they were attained would simply not be fair. The Chicago Bulls franchise had never been to an NBA Finals prior to 1991. Michael Jordan's skills and leadership changed the expectation levels in Chicago quickly.
The Bulls would win three consecutive NBA Titles from '91-'93 and Jordan's legacy was cemented. Unfortunately, Jordan's father was murdered just a couple weeks after Michael won his third straight Championship. This seemed to be too much for Michael to overcome and Jordan decided to retire from the game of basketball a couple months later.
An 18-month stint attempting to play professional baseball left Jordan humbled, and hungry to return to his true passion. His famous "I'm back" statement on March 18, 1995 left the world excited and anxious to see what he had left in the tank.
Apparently, Jordan's tank was full. All Jordan would do in his final three full seasons in a Chicago uniform from 1996-1998 was win three more Finals. He would average 29.6 points per game over those three seasons, without missing a single game. Not bad for someone who "came out of retirement."
After retiring from basketball after his second 3-peat of Championships, Jordan would once again shock the world and announce a comeback to the NBA. This time, it would come in 2001 and the Washington Wizards would the fortunate team to welcome his services. This final comeback would last two seasons, scoring 21.2 points per game from age 39-40. Jordan finally retired for the final time after the 2003 season. His 2009 induction into the Hall of Fame was simply a formality.
Jordan's stamp has been permanently left on the game, no matter what happens from here on out. His "Jordan" brand of sneakers and clothing have turned into a multinational brand, under the umbrella of Nike's leadership. Jordan purchased a stake in the Charlotte Bobcats (now Hornets) organization in 2006 and has continued to lead the franchise into 2017.

David Robinson
Born
1965
Birth Place
Key West, Florida
Playing Career
1983-2003
Championships/MVP Awards
3 (2 NBA, 1 MVP)
Teams Played For
U.S. Naval Academy 1983-1987, San Antonio Spurs 1989-2003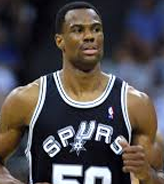 David Robinson was not the prototypical basketball prodigy like many of the players mentioned in this article. Robinson didn't play organized basketball until his senior year in high-school when the coach noticed he was too tall to not be playing. Robinson was a smart and driven high-school student who at the time was more interested in mathematics than basketball. He chose to attend the Naval Academy, where he would earn his fitting nickname, "The Admiral."
Robinson's basketball talents took off his final two years at Navy. After an NCAA record 5.91 blocks per game as a junior, Robinson average 28.2 points, 11.8 rebounds, and 4.5 blocks per game en route to being named the 1987 National Player of the Year. Despite being taken by San Antonio with the first overall pick in the NBA draft that year, Robinson was unable to join the Spurs until the 1989 season due to his military obligations.
Well worth the wait, Robinson ascended to NBA stardom immediately. The 1990 NBA Rookie of the Year averaged 24.3 points and 12 rebounds per game during his first year in the league. His 2.99 blocks per game over his 14 seasons rank 4th all-time.
After 10 productive seasons in the league, including being named the 1995 NBA MVP, Robinson won his first NBA Title in 1999. In 2003, he would win another Championship in his final season with the Spurs. A storybook ending for the 2009 Hall of Fame Inductee who is widely regarded as one of the best centers to ever play the game.

John Stockton
Born
1962
Birth Place
Spokane, Washington
Playing Career
1980-2003
Championships/MVP Awards
0
Teams Played For
University of Gonzaga 1980-1984, Utah Jazz 1984-2003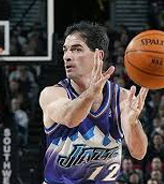 If you want to talk about the greatest true point guards to ever play the game, John Stockton will be on everybody's list. There is no denying the leadership and skills Stockton brought to the court each and every night. The "short and skinny kid" from Spokane garnered very little attention from colleges but was more than happy to stay home and play at Gonzaga University.
By his senior year, Stockton led the West Coast Conference in points, assists, and steals and would be selected 16th overall by the Utah Jazz in the star-studded 1984 draft class. Because so many of the Utah Jazz fanbase hadn't even heard the name John Stockton before, his selection by the Jazz organization left the fans speechless and disgusted. These would be the last boos Stockton would ever hear in Salt Lake City.
John Stockton doesn't just own the record for the most steals and most assists in NBA history. His numbers obliterate any and all competition. His 3,265 career steals are an amazing 581 more steals than the next closest competitor. Even more impressively, his 15,806 career assists are 3,715 more assists than anyone else. To put that in perspective, only four others have eclipsed 10,000 assists in a career. Stockton's 15,806 assists literally dwarf the competition.
John Stockton was as accountable, period. In his 19 seasons in the NBA, John just didn't miss games. He played every single game in 17 of his 19 seasons, missing a total of four games during his first 13 seasons in the league.
Stockton will be forever linked with his teammate Karl Malone, as the pair were able to lead the Jazz to back to back NBA Finals in 1997 and 1998. His time in Salt Lake City was more than appreciated as the arena renamed the street outside "John Stockton Drive." After having both of his no. 12 jerseys retired at Gonzaga and in Utah, Stockton was added to the Hall of Fame in 2009.
2010-2016
Continuing the trend of excellence from the previous section, this next crop of players impressed the league with their abilities and show stopping talents. The intense team rivalries from prior decades had simmered down and this era was all about the players making plays and breaking records.

Karl Malone
Born
1963
Birth Place
Summerfield, Louisiana
Playing Career
1982-2004
Championships/MVP Awards
2 ( MVP)
Teams Played For
Louisiana Tech University 1982-1985, Utah Jazz 1985-2003, Los Angeles Lakers 2003-2004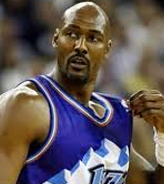 "The Mailman" earned his nickname by delivering buckets night in and night out. Karl Malone started scoring baskets in the NBA in 1985 and didn't stop until he scored 36,928 points-good enough for second all-time behind Kareem Abdul-Jabbar.
Malone had a solid collegiate career at Louisiana Tech, but didn't stand out like other players on this list. The 13th pick of the 1985 Draft had a slow start to his NBA career tallying only 15 points and 9 rebounds per game as a rookie. This would be the only time over the next 17 seasons with the Jazz that Malone would average under 20 points per game.
Although an NBA Title eluded the "Stockton and Malone" Utah Jazz teams, Malone's contributions to the game stick out like a sore thumb. The 14-time All-Star and 11-time First-Team All-NBA selection is widely-regarded as one of the three best power forwards to ever play the game. 25 points and 10.1 rebounds per game over 19 seasons is some serious work.
His selection into the Hall of Fame came in 2010, while he was serving as an assistant coach at his alma mater. His coaching career at Louisiana Tech lasted four seasons until 2011, when he ultimately stepped down.

Scottie Pippen
Born
1965
Birth Place
Hamburg, Virginia
Playing Career
1983-2008
Championships/MVP Awards
6 (NBA)
Teams Played For
University of Central Arkansas 1983-1987, Chicago Bulls 1987-1998, Houston Rockets 1998-1999, Portland Trailblazers 1999-2003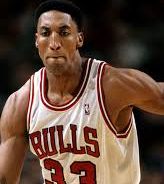 Scottie Pippen earned his way in to the NBA as much as any player before him. The youngest of 12 children, Scottie grew up poor and received zero scholarship offers. Pippen attended nearby University of Central Arkansas and played for the small, NAIA school. Because the school was part of the National Association of Intercollegiate Athletics and not the NCAA, little attention was paid to Pippen and his team during his college playing days.
By the time Pippen was a senior, his 23.6 points, 10 rebounds, and 4.3 assists per game averages could no longer be ignored. The Seattle Supersonics selected Pippen with the 5th overall pick in the 1987 Draft. The Bulls sensed Pippen's abilities and traded to land Pippen alongside Jordan in Chicago.
Scottie Pippen would come to be known as one of the best two-players in the league over his 16-year NBA career. Pippen averaged 16.1 points, while grabbing 6.4 rebounds and dishing out 5.2 assists per game during his run in the NBA. This was while he was the teams' top defender, having to guard the best player on the opposing team every game. His ability to defend combined with his all-around talents on the court made the seven-time All-Star an easy choice for the Hall of Fame in 2010. It certainly doesn't hurt your case when you have six NBA Championships on your resume.

Shaquille O'Neal
Born
1972
Birth Place
Newark, New Jersey
Playing Career
1989-2011
Championships/MVP Awards
5 (4 NBA, 1 MVP)
Teams Played For
Louisiana State University 1989-1992, Orlando Magic 1992-1996, Los Angeles Lakers 1996-2004, Miami Heat 2004-2008, Phoenix Suns 2008-2009, Cleveland Cavaliers 2009-2010, Boston Celtics 2010-2011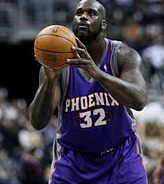 Simply known as "Shaq," Shaquille O'Neal had an incredible 19-year run in the NBA. However, dominating the low post started well before his NBA days. During O'Neal's sophomore and junior seasons at LSU, Shaq averaged a remarkable 25.8 points, 14.3 rebounds, and 5.1 blocks per game. Once O'Neal announced he was skipping his senior season to enter the 1992 NBA Draft, there was absolutely no doubt who the Orlando Magic were going to select first overall.
O'Neal got his career going quickly, breezing to Rookie of the Year honors with a noteworthy clip of 23.4 points, 13.9 rebounds, and 3.5 blocks per game. Shaq's enormous size and elite footwork made him an unstoppable force. Shaq would back his opponents down and use a variety of hook shots and spin moves to score at will. From 1993-2003, Shaq never averaged less than 26.2 points per game.
During the summer of 1996, Shaquille was the most heralded free agent in the league. After four successful years in Orlando, Shaq decided to change coasts and head to Los Angeles. Without missing a beat, O'Neal continued to put up beastly numbers.
Everything clicked for Shaq and the Lakers starting in 2000. By now, O'Neal and young Kobe Bryant were the deadliest duo in the league and the expectations were set high. Not letting the Los Angeles fans and media down, O'Neal delivered three consecutive NBA Championships to the city of angels.
After the 2004 season, rumors of a rift between O'Neal and Bryant were out in the media. Shaq was traded to the Miami Heat during the offseason after it was thought that the Lakers organization had "chosen Kobe over Shaq." Either way, the Miami Heat were thankful to be on the receiving end of the trade. The Heat organization had never reached an NBA Finals before O'Neal's arrival. Just two years later the Miami Heat were the 2006 NBA Champions.
O'Neal's fourth NBA Title would prove to be his last. An argument with Pat Riley in 2008 led Shaq to bounce around from Phoenix to Cleveland to Boston over his final three years in the league. The 15-time All-Star and 2000 NBA MVP was selected into the Naismith Memorial Basketball Hall of Fame in 2016.
Shaquille O'Neal will always be remembered as one of the greatest big men to ever play basketball. His more recent rise to fame as an NBA media personality has been almost impressive. Along with Charles Barkley, Shaquille heads TNT's coverage during the NBA season. His honest and humorous personality make him one of the great analysts in sports.

Allen Iverson
Born
1975
Birth Place
Hampton, Virginia
Playing Career
1994-2010
Championships/MVP Awards
1 (MVP)
Teams Played For
University of Georgetown 1994-1996, Philadelphia 76ers 1996-2006, 2009-2010, Denver Nuggets 2006-2008, Detroit Pistons 2008-2009, Memphis Grizzlies 2009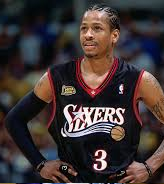 Allen Iverson played 14 wonderful seasons in the NBA. It was his first 10 seasons as a member of the Philadelphia 76ers that allowed him entry into this list of the greatest players in the history of basketball. It took the 6-foot tall, 165 lb. kid from Virginia only two years at Georgetown to convince the 76ers to select him first overall in the 1996 NBA Draft.
Once Iverson arrived into the NBA, his dribbling skills were quickly recognized as the best in the game. It was this famous crossover on Michael Jordan during Iverson's rookie season that helped earn him that recognition.
Michael Jordan wasn't the only guard Iverson tortured during his time in Philadelphia. Dubbed "A-I," Iverson would go on to average over 28 points per game during his time as a 76er. The 2001 NBA MVP and 11-time All-Star hardly ever came off the floor. Iverson led the NBA in minutes played per game on seven different occasions.
Iverson's noteworthy career didn't come without headbutting a few times with longtime coach Larry Brown. When looking back on his career, Iverson admittingly has said he could have handled his relationship with Brown much better. In 2016 Iverson told sportingnews.com-
"The emotional part of me, you know what I mean, is why I haven't spoken to him yet. Because I know that it won't be a conversation. It'll just be me crying."
Iverson's induction into the Hall of Fame in 2016 was well-deserved. In a sport associated with tallish people, AI will undoubtedly go down as one of the best "small guards" in NBA history.
Future Hall of Famers
The large catalog we have constructed of the best Hall of Fame basketball players to ever play is perfect if you want to know about the legends of the game that came before us. Below we are going to talk about the NBA greats who have recently retired or are in the tail end of their career. These players are absolute locks to join the Hall of Fame, such as Kobe Bryant and Kevin Garnett (pictured below).

Jason Kidd
Born
1973
Birth Place
San Francisco, California
Playing Career
1992-2012
Championships/MVP Awards
1 (NBA)
Teams Played For
University of California 1992-1994, Dallas Mavericks 1994-1996, Phoenix Suns 1996-2001, New Jersey Nets 2001-2008, Dallas Mavericks 2008-2012, New York Knicks 2012-2013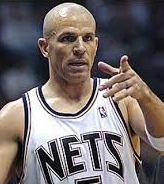 Jason Kidd always knew he was going to be an NBA basketball player. As a senior in high-school just outside San Francisco, Kidd swept nearly every award imaginable. The California State Player of the Year and the USA Today's Player of the Year chose to stay home and attend the University of California-Berkeley despite having offers from all the top programs around the country.
In his two seasons playing at Cal, Kidd grabbed the attention of all the sleepy eyes on the east coast that usually went to bed before Kidd's games tipped off. The National Freshman of the Year would lead the nation in assists per game as a sophomore thrusting him onto the radar of many NBA scouts. After just two years in college, Kidd went on to be the 2nd pick in the 1994 NBA Draft.
The 1995 Co-Rookie of the Year along with Grant Hill started dishing out assists early on, and continued to do so for five different teams over his 19 years in the league. His 12,091 career assists are second all-time in NBA history behind only John Stockton.
When Kidd wasn't handing out dimes, he was typically stealing the basketball. Jason's 2,684 career steals are also second all-time behind guess who—John Stockton. When it comes to being a point guard, Kidd truly was everything a coach could ask for.
What truly made Jason Kidd so great was his ability and determination to lead and guide his team. His 107 triple-doubles are third all-time behind only Oscar Robertson and Magic Johnson putting Kidd in some pretty elite company.
The 10-time All-Star will have to wait until 2018 to hear his name called for the Hall of Fame, and chances are Kidd will still be coaching. His brilliant basketball IQ makes him an excellent head coach candidate, and that's exactly what Kidd has done since his playing days. Kidd went from playing for the New York Knicks in 2013 to becoming the head coach of the Brooklyn Nets just one year later. After one season coaching Brooklyn, Kidd has found success in Milwaukee rebuilding the Bucks franchise, where he has been the head coach since the end of the 2014 season.

Kevin Garnett
Born
1976
Birth Place
Greenville, South Carolina
Playing Career
1995-2016
Championships/MVP Awards
2 (1 NBA, 1 MVP)
Teams Played For
Minnesota Timberwolves 1995-2007, 2015-2016, Boston Celtics 2007-20013, Brooklyn Nets 2013-2015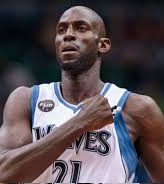 Kevin Garnett took the basketball world by storm in 1995 when he announced he would skip college and go straight from high-school graduation to the NBA Draft. Only Moses Malone in 1974 and two others in 1975 had ever made the direct leap at the time Garnett made his decision.
Was the lengthy kid out of Farragut Academy in Chicago good enough to play professional ball? To make such a leap, you better dominate the opposition. Gaudy averages of 25.2 points, 17.9 rebounds, 6.7 assists, and 6.5 blocks per game his senior proved he was indeed ready for NBA competition.
With the fifth overall pick in the 1996 draft, the Minnesota Timberwolves decided to take a chance on the high-school senior. Garnett more than returned his value after putting up 19.8 points and 11 rebounds per game over 14 seasons with the team. It was his trade to Boston after the 2007 season ended that would thrust Garnett into an NBA Champion.
Garnett captured his first and only NBA Title of his career in his first season with the Celtics. It was only fitting that Garnett secure at least one championship ring after pouring his heart and soul into the NBA for 21 seasons. The 2004 NBA MVP and NBA record nine-time All-NBA Defensive First-Team selection ended his career in the top 10 in career rebounds, while scoring over 26,000 points. The 15-time NBA All-Star will certainly hear his named called for the Hall of Fame when eligible.

Kobe Bryant
Born
1978
Birth Place
Philadelphia, Pennsylvania
Playing Career
1996-2016
Championships/MVP Awards
6 (5 NBA, 1 MVP)
Teams Played For
Los Angeles Lakers 1996-2016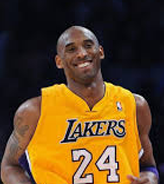 The question's not if Kobe will be in the Hall of Fame, but rather when. Kobe Bryant's historic 20-year run with the Lakers places him into the stratosphere of the greatest players to ever play. Kobe Bryant didn't play college basketball, simply because he was more than prepared for professional basketball. If the NBA was wondering if the skinny 17-year old Bryant was ready for the league, grab a pencil and jot down what he accomplished during his senior year at Lower Merion H.S. outside Philadelphia. Ready, set, go.
Bryant averaged 30.8 points, 12 rebounds, 6.5 assists, 4.0 steals, and 3.8 blocked shots per game while leading his team to the school's first Pennsylvania State Championship in more than 50 years. Kobe was more than ready. Because of the tremendous talent entering the NBA that year, Bryant slipped down to the 13th pick in the 1996 draft.
Kobe would play his entire 20-year career with one organization, the famed Los Angeles Lakers. When Kobe hung it up in 2016, he was in the conversation as being the greatest Laker of all-time. That puts him in some rarified air with legends like Magic Johnson and Kareem Abdul-Jabbar- superstars that wore the purple and gold before him.
It's difficult to decide which of Bryant's many milestones and achievements to discuss, so consider these facts- the five-time NBA Champion scored more points than Michael Jordan, leaving him third all-time behind only Kareem Abdul-Jabbar and Karl Malone. His 18 All-Star Game selections are topped only by Abdul-Jabbar's 19.
Kobe Bryant was selected to the All-NBA First-Team a record 11-times (Karl Malone and LeBron James also with 11). Kobe averaged exactly 25 points per game over his career scoring from all over the court. Kobe's offensive numbers are so great that people sometimes forget how tenacious of a defender he was. Kobe's nine selections onto the All-NBA Defensive First-Team are a record only matched by Kevin Garnett.
Kobe's legacy in Los Angeles and with the NBA will last long beyond Kobe's lifetime. Hopefully you were one of the lucky fans who were able to watch his career unfold into becoming one of the greatest players to ever play basketball.

Tim Duncan
Born
1976
Birth Place
Saint Croix, U.S. Virgin Islands
Playing Career
1993-2016
Championships/MVP Awards
7 (5 NBA, 2 MVP)
Teams Played For
Wake Forest University 1993-1997, San Antonio Spurs 1997-2016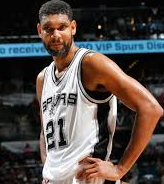 Tim Duncan is undoubtedly in the debate for being the greatest power forward of all-time. For Tim Duncan's career to be fully appreciated, we need to talk about what this seven-foot goliath from the U.S. Virgin Islands accomplished during his time playing basketball.
The 1997 National College Player of the Year would be the unanimous 1st overall pick in the upcoming draft, and the San Antonio Spurs were lucky enough to have that pick. It's safe to say that turned out to be a pretty good working-relationship as Duncan achieved superstardom status while bringing five Championships to the city of San Antonio.
One of only six men to eclipse 15,000 career rebounds in the NBA, Duncan always put his team first. Despite scoring over 26,000 career points, Duncan didn't let his personal stats get in the way of his ultimate goal- winning championships.
Clearly Duncan's formula for success paid off as the 10-time All-NBA First-Team selection won five NBA Titles. In an era playing with the likes of Kobe Bryant and Shaquille O'Neal, Duncan captured two MVP awards (2002, 2003) compared to the one award that Bryant and O'Neal each won.
Duncan, who's no. 21 jersey is retired at Wake Forest University and in San Antonio will be one of the surest locks to join the Hall of Fame when he becomes eligible in 2021.

Paul Pierce
Born
1977
Birth Place
Oakland, California
Playing Career
1995-2017
Championships/MVP Awards
1995-2017
Teams Played For
University of Kansas 1995-1998, Boston Celtics 1998-2013, Brooklyn Nets 2013-2014, Washington Wizards 2014-2015, Los Angeles Clippers 2015-2017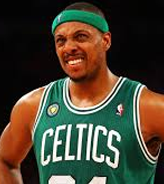 Paul Pierce had a great run during his time in Boston. Scoring more points in a Celtic uniform than Larry Bird definitely gives you some street credit in town. His 2008 Championship, including the NBA Finals MVP Trophy, cemented his legacy as a surefire candidate to get into the Hall of Fame one day.
The 1995 California High-School Basketball Player of the Year chose to attend the University of Kansas to begin his journey into the NBA. Four solid seasons as a Jayhawk led Pierce to being selected 10th overall in the 1998 draft by the Celtics franchise.
Pierce earned his nickname "The Truth" by being a clutch performer in the games tightest moments. Pierce would always be relied on to come up with the big play and hit the big shot during crunch time.
True, his 19.7 career points per game average doesn't jump off the page like some of these other NBA greats. But, the just for show either, this kid can fl 10-time All-Star'sno. 34 jersey is retired at the University of Kansas and will have his Boston Celtic jersey hung from the rafters on February 11, 2018.

Dirk Nowitzki
Born
1978
Birth Place
Wurzburg, West Germany
Playing Career
1994-Present
Championships/MVP Awards
2 (1 NBA, 1 MVP)
Teams Played For
DJK Wurzburg 1994-1998, Dallas Mavericks 1998-Present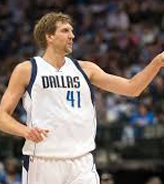 The seven-foot sweet-shooting German may go down as the greatest International player to ever lace it up in the NBA. Nowitzki was freakishly tall from an early age and joined German professional club DJK Wurzburg when he was just 15 years old. By 1998 Dirk had "outgrown" his German competition both literally and figuratively.
The Dallas Mavericks selected Nowitzki with the 10th pick in the 1998 draft. Fast forward to 2017 and Dirk is still wearing the same no. 41 jersey in Dallas he put on some 19 years earlier. If you are interested in which Dallas Mavericks franchise records Dirk holds, here's a peek into the laundry list- Dirk is the Mavericks career leader in:
Points, rebounds, games played, minutes played, 3-pointers, 2-pointers, free throws made, and player efficiency rating. And the list goes on.
The 13-time All-Star and 2007 league MVP had been searching for a coveted NBA Championship his entire career. It all came together for Dirk in the summer of 2011. Nowitzki brought the Mavericks and owner Mark Cuban their first NBA Title in the franchise's history. There is absolutely no doubt whether Dirk will be in the Hall of Fame when he becomes eligible. It is believed that 2017 could be his final year in the league, however we would not put anything past the talented German.
Current NBA Stars
By now, you have gotten familiar with an abundance of Hall of Fame and future Hall of Fame basketball players. It would only be fair to create a section listing the current superstars in the NBA. Keeping theme with the entire article, we aren't here to talk about all the good players in the NBA today. Remember- this article is dedicated to the greatest players to ever play basketball. There are without a doubt a few current NBA stars that will end up in that category when their playing days are behind them. Let's start with the obvious icon in today's game, LeBron James

LeBron James
Born
1984
Birth Place
Akron, Ohio
Playing Career
2003-Present
Championships/MVP Awards
7 (4 NBA, 3 MVP)
Teams Played For
Cleveland Cavaliers 2003-2010, 2014-Present, Miami Heat 2010-2014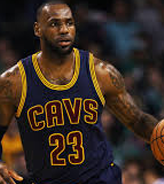 The only man on the list that's truly capable of perhaps one-day supplanting Michael Jordan as the greatest player of all-time. Some may think this is an arrogant statement, but what this guy has accomplished in basketball is nothing short of spectacular.
We must start in Akron, Ohio, when LeBron was just a teenager. In the early 2000's you could hardly talk about basketball without mentioning the high-schoolers name. The hype surrounding James was so large, his high-school campus became a routine stop for ESPN trucks and National News anchors. People couldn't get enough of the basketball prodigy they called LeBron and they craved more.
James was simply a man amongst boys at the high-school. His maturity and physical development by his teenage years was far greater than his high-school counterparts. By the time LeBron was a senior in 2003, his body resembled that of an NFL linebacker.
It all seemed to work out for LeBron, as his hometown Cleveland Cavaliers had the first pick in the 2003 draft. The Cavs would select James, entrusting him into an even bigger spotlight than he was in before. The hype and buildup was so big for LeBron, would he be able to live up to his expectations?
The answer is no. LeBron has far exceeded the lofty expectations the entire world set on him from an early age. LeBron would become only the third rookie in NBA history to average more than 20 points, 5 rebounds, and 5 assists per game. The 2004 Rookie of the Year was only getting started.
In 2017, at age 32, LeBron is still somehow in his prime. His numbers get better and his teams keep performing. With three NBA Titles in six NBA Finals appearances, LeBron is a contender for the NBA Championship no matter what team he is on.
This was proven in 2010 when LeBron left Cleveland to join the Miami Heat- a decision that was widely debated. He brought the city of Miami two Titles in 2012 and 2014 before ultimately deciding that his heart was still in Cleveland.
After the 2014 season, LeBron once again opted for free agency and headed back to Cleveland. It wasn't all flowers and rose pedals, as there were plenty of wounds he needed to mend with the Cleveland fanbase. When LeBron left Cleveland in 2010, fans burned his jersey and called him the biggest fraud in the history of basketball. Those same fans however had to endure a league-worst record of 118 games below .500 over the four seasons since LeBron bolted.
It didn't take long for the Cleveland fans to forgive James, as the Cavaliers have reached the NBA Finals in each of the three seasons since LeBron has returned. This includes LeBron delivering on his promise he made to Cleveland back in 2003 when he was drafted. The 2016 NBA Championship Trophy was the first in the history of the franchise.
Heading into LeBron's 15th season, he is already 7th all-time in the NBA's career scoring list, with nearly 29,000 points. He will almost certainly add to his already record 11 ALL-NBA First-Team selections as well as his 13 All-Star game selections. The four-time NBA MVP has twice been named the Associated Press Athlete of the Year, which spans across all major sports.
His outrageous totals of 27.1 points, 7.3 rebounds, and 7 assists per game over his first 14 seasons aren't just what people expected of the ultra-talented James. It's better.

Kevin Durant
Born
1988
Birth Place
Washington D.C.
Playing Career
2006-Present
Championships/MVP Awards
2 (1 NBA, 1 MVP)
Teams Played For
University of Texas 2006-2007, Seattle Supersonics/Oklahoma City Thunder 2007-2016, Golden State Warriors 2016-Present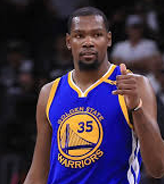 Only 10 years into his magnificent NBA career, Kevin Durant has undeniably earned his spot on this prestigious list. His career averages 27.1 points and 7.2 rebounds per game don't give justice to the type of player Durant is.
One year playing for the Longhorns at the University of Texas was all Durant needed. The freshman put up gaudy numbers that could not be ignored. In all, Durant would win eight major awards that season, including National Freshman of the Year, National Player of the Year and John Wooden Award, given to the best player in the country.
The 2008 NBA Rookie of the Year and 2014 NBA MVP winner has led the league in scoring four times. The five-time All-NBA First-Team selection and eight-time All-Star will surely tack on plenty more selections before it's all said and done.
He won his first NBA Title in 2017 with the Golden State Warriors in his first year with the team. Look out in years to come as the Warriors are firmly positioned to be the favorites to win the NBA Title each year until something drastically changes. This is because Durant is surrounded by studs everywhere, including the one we are going to talk about next.

Steph Curry
Born
1978
Birth Place
Akron, Ohio
Playing Career
2006-Present
Championships/MVP Awards
4 (2 NBA, 2 MVP)
Teams Played For
Davidson College 2006-2009, Golden State Warriors 2009-Present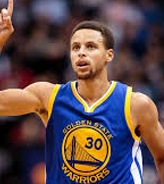 This page will certainly need to be updated by the time Curry calls it quits. The pace at which Steph Curry is shooting and making three-pointers is unprecedented in the NBA. While Steph was growing up, his father Dell was a three-point-specialist in the NBA. They grew up in Charlotte, NC where Dell was a deadly shooter for the Charlotte Hornets. The 6'3" guard decided to stay home and attend Davidson College, where he would average over 25 points per game over his three years.
The Golden State Warriors selected Curry 7th overall in the 2009 draft, and boy has that turned out well. Curry has dazzled fans and his own teammates with his uncanny ability to pull up and shoot deep three-point shots. It's not just for show either, this kid can flat out shoot the rock. In fact, he shoots the rock from three at a better rate than anyone in the history of the league ever has.
Curry finds his name atop the list for the most three-pointers in a single game by a wide margin. His 402 three-point field goals made during the 2015-2016 season are 78 more than the second highest total of 324, also recorded by Curry. When thinking about the most prolific three-point shooters in historyeved were mentioned to signify and portray all you need to know is this:
The three highest single season totals for three-pointers made, literally all belong to Steph Curry. In fact, it has been in his most recent three seasons in the NBA from 2015-2017 that he achieved these totals. Look for the 2017-2018 season to be more of the same.
The two-time NBA Champion and two-time league MVP in just his first eight seasons has already vaulted himself into the superstar category this page is intended for. We see absolutely no signs of Steph slowing down anytime soon.

Russell Westbrook
Born
1988
Birth Place
Long Beach, California
Playing Career
2006-Present
Championships/MVP Awards
1 (MVP)
Teams Played For
UCLA 2006-2008, Oklahoma City Thunder 2008-Present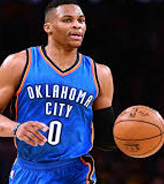 Russell Westbrook is an extraordinary talent that can flat out ball. The kid who was 5'8" as a freshman in high-school didn't truly break out until his senior year at Leuzinger H.S. in Lawndale, CA. Averaging over 25 points and 8 rebounds per game he received a scholarship offer from nearby UCLA. Russell would spend two seasons as a Bruin while steadily improving. The final product we see today is a 28-year old athletic specimen that is an absolute force in the NBA.
His most recent 2016-2017 season in Oklahoma City immediately pushed Westbrook into the discussion for the single greatest statistical season in NBA history. Westbrook had an extremely productive first eight seasons in the league, but nothing compared to his breakout campaign in 2017.
His 31.6 points, 10.7 rebounds, and 10.4 assists per game averages made him the first player since Oscar Robertson in 1962 to average a triple-double for an entire season. Westbrook not only averaged a triple-double, he also led the league in scoring. Westbrook's beefy stat-line earned him the league's 2017 MVP award. If his past season was any sign of what's to come, we might have to re-write a lot of records by the time Westbrook retires.

James Harden
Born
1989
Birth Place
Los Angeles, California
Playing Career
2007-Present
Championships/MVP Awards
0
Teams Played For
Arizona State University 2007-2009, Oklahoma City Thunder 2009-2012, Houston Rockets 2012-Present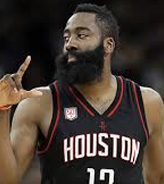 After winning consecutive California State High-School Championships in his junior and senior year, James Harden accepted a scholarship to play basketball at Arizona State University. The left-handed guard quickly gained stature around the country and was voted Pac-10 Player of the Year in 2009 while being a First-Team All-American. Harden bolted for the NBA after his great sophomore season and was selected 3rd overall by the Oklahoma City Thunder.
It's hard to believe that James Harden, Kevin Durant, and Russel Westbrook were all teammates. After three seasons in Oklahoma City, Harden had outgrown his role as the 6th man. Wanting to emerge from the shadows of Durant and Westbrook, Harden was traded to the Houston Rockets after the 2012 season. Harden more than emerged from the shadows; he turned into a bona fide superstar in the NBA.
Since joining the Rockets, Harden has averaged 27.4 points per game. His assists and rebounding totals have progressively increased each year to his recent career high totals in 2017. His final totals of 11.2 assists per game and 8.1 rebounds per game to go with 29.1 points per game makes Harden's 2016-2017 campaign one of the greatest statistical seasons in recent memory.
"The Beard" as Harden is referred to thanks to his noticeably long and bushy beard will continue to put up huge numbers in seasons to come. His three selections onto the All-NBA First-Team proves Harden's value wasn't as a sixth man in Oklahoma City. His value is clearly being the face of the Houston Rockets franchise. This was set in stone in July 2017 when Harden signed a record 228 million-dollar extension that runs through the end of the 2023 season.

Kawhi Leonard
Born
1991
Birth Place
Los Angeles, California
Playing Career
2009-Present
Championships/MVP Awards
1 (NBA)
Teams Played For
San Diego State University 2009-2011, San Antonio Spurs 2011-Present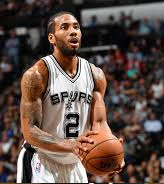 Kawhi Leonard is a man of few words and might be the most humble player on this entire list. But don't mistake his kindness for weakness. Kawhi Leonard was a relatively unknown commodity at the 2011 NBA Draft. The long-armed forward opted to leave San Diego State University after leading the Aztecs to their first ever NCAA Tournament Sweet-16 birth during his sophomore season. Playing on the west coast in a small-market conference, Leonard didn't have the hype and hoopla surrounding him that others had entering the draft.
The San Antonio Spurs were able to pounce on the opportunity to get to Leonard. The Spurs made a trade on draft night to acquire Kawhi from Indiana. We almost feel bad for the Pacers organization as they were never able to experience the excellence and work ethic Kawhi brings to the table.
With only six seasons in the NBA, we were a little nervous to include Leonard on such a prestigious list of NBA greats. But the superlatives and skills this kid has make it impossible to leave him off. The 2014 NBA Champion was the NBA Finals MVP that season along with being named the Defensive Player of the Year. Leonard joins Michael Jordan and Hakeem Olajuwon as the only three players in the history of the NBA that can claim both honors.
If you like with a guy with unmatched work ethic who improves each and every year, start paying attention to Leonard. Dubbed "The Klaw" by Shaquille O'Neal for his enormous hands, Kawhi's ascension to NBA Superstardom in such a short time has the attention of his peers, including the attention of the great LeBron James.
After the Cavs won the 2016 NBA Championship, NBC Sports interviewed James and asked him which player in the NBA defends him the best. LeBron was quick to point out,
"Kawhi Leonard. Kawhi Leonard, he's solid. He solid, solid at that end of the floor. He's very, very solid. I like him. I like the kid."
His 25.5 points per game average in 2017 takes Leonard out of the category of just being the league's premier defender. He is unquestionably a superstar in the league who will continue to improve as he has done each and every season.
Summary
We love talking about the greatest players in the history of basketball. Our goal was to give you an expansive list on who we thought the best and most influential basketball stars are.
We started with the beginning of the game and wound up talking about the current icons in today's NBA. The descriptions of the players are meant to give some insight into their careers.
The statistics and records achieved were mentioned to signify and portray how incredible the guys on this list are.
September
Sportsbook of the Month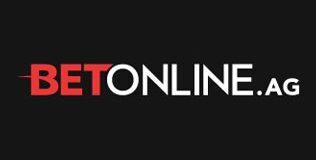 Welcome Bonus
50% up to $1,000