Classic Slot Games and Where to Play Them Online
Classic slots were the only game in town a few decades ago. Nowadays, they have taken a back seat to video slots with 3D graphics and dozens of slot features.
You can still play classic slot games, though. You just need to know where to find them, and we have you covered there. We've put together a list of the best online casinos with classic slots.
Rank
Gambling Site
Exclusive Bonus
Get Started

#1

Wild Casino

250% Up To

$5,000

Visit Site

Visit Site

#2

Las Atlantis

280% Up To

$14,000

Visit Site

Visit Site

#3

El Royale

250% Up To

$12,500

Visit Site

Visit Site

#4

Bovada Casino

100% Up To

$3,000

Visit Site

Visit Site

#5

Ducky Luck

500% Up To

$7,500

Visit Site

Visit Site

#6

Super Slots

250% Up To

$6,000

Visit Site

Visit Site

#7

Drake Casino

300% Up To

$6,000

Visit Site

Visit Site

#8

BetUS Casino

200% Up To

$5,000

Visit Site

Visit Site

#9

Ignition Casino

150% Up To

$1,500

Visit Site

Visit Site
A question we get asked a lot is can you still play classic slot machines?
That's why we compiled the above list of casino sites with real money classic slots. It's not actually that difficult to find classic slot games online, as many sites offer them, but it's important to play at the right place.
You can also find classic slot machines on the floor of most brick-and-mortar casinos.
We definitely prefer to play classic slots online. We enjoy these slots because they have additional features such as holds, re-spins, and progressive jackpots. But they offer these without sacrificing the elements that make them look and sound like the 3-reel slots you know and love.
There are some examples of what we mean below, along with details of the best classic slot in Las Vegas. We've also provided some tips for playing classic sot games.
Best Classic Slot Games Online
There are limitations with classic slot development. Video slots have endless possibilities with options like both ways pay, sticky wilds, cascading wilds, bonus games, and other slot features.
You're not going to see all these features on a 3-reel slot. But while classic slots are more feature-conservative, they don't stick to only three-symbol payouts, either.
Features of the Top Classic Slots Online
Wide range of betting denominations
Relatively high RTPs
Modifiers to break up the monotony of going several spins without winning
Progressive jackpots
Features such as holds, multipliers, re-spins, etc.
Now let's look at a few examples of classic online slots that have these features.
777 by Realtime Gaming
| | |
| --- | --- |
| Provider | Realtime Gaming |
| Paylines | 1 |
| Limits | 0.25-2.50 |
| RTP | 97% |
| Features | Wilds, hold, progressive jackpot |
Realtime Gaming's 777 classic casino slot looks like a game that is decades old. But it didn't hit online casino floors until 2019.
With three reels and one payline, 777 fits the mold for classic slots games. But it breaks the mold with a few features that increase the fun factor and payout possibilities.
Hold Feature
The hold feature is a bit like what you'll find on a fruit machine. You can hold a symbol and re-spin the other reels to try to get a winning payline.
For example, you might have a bar symbol on both the first and third reel, but not the middle. You can hold these reels so that you can re-spin the middle one.
Whether you win or lose, you can re-spin this reel as much as you want. But you'll pay a price to do so; a multiple of your bet. The multiple varies, but the numbers ranged from 0.8-9.37 for us.
What we like about this is that it allows for a bit of strategy. You need to decide when to hold a reel or when to let it go.
In fact, it's funny. Many slot reviews label 777 as a slot that's "as simple as it gets." But that's far from the truth.
Progressive Jackpot
Another benefit to playing 777 is the progressive jackpot on display at the top of the screen. To claim the big-money prize, you need two things to come together at once.
A Super Bet of 2.50 per spin
Three gold coin wild symbols on the active payline
Without the Super Bet, a standard wager (0.25 to 0.75) awards X1,000 for that same wild combination. If you're staking 1.00 to 2.25, then the payout jumps to X1,680.
While we'd love to win the progressive jackpot playing this classic slot online, a X1,000-X1,680 payout isn't a bad consolation prize.
The bottom line is that this classic online slot from Realtime Gaming is worth checking out.
iSoftbet's Lucky Stripes
| | |
| --- | --- |
| Provider | iSoftbet |
| Paylines | 1 |
| Limits | 0.01-1.00 |
| RTP | 95.92% |
| Features | Multipliers, re-spins, sticky wilds |
Lucky Stripes is a three-reel online slot by iSoftbet. It features just one payline and low-stakes betting from 0.10 to 1.00.
It sounds like a traditional online slot, even more so when you find out it uses nothing but stripes to determine payouts. But that's not the end of the Lucky Stripes story.
Four colors of lines, and three prizes for each one, create a unique paytable configuration.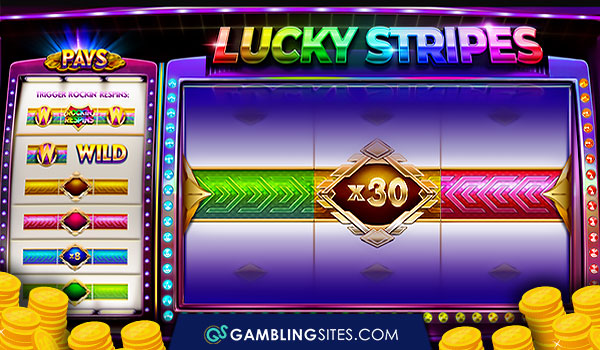 Here are the payouts for the Lucky Stripes real money classic slot machine.
Gold Stripes: X100, X50, X30
Pink Stripes: X25, X20, X15
Blue Stripes: X12, X10, X8
Green Stripes: X5, X3, X2
You need to get the same color stripe on each of the three reels. The one in the middle will be a multiplier which will apply to your wager.
For example, a green stripe with a 5x multiplier on a 1.00 bet will yield a 5.00 win.
But this is tough to pull off. We only won once after 20 or so spins. The good news is that you can increase your chances of winning by triggering the Rockin' Re-spins feature.
Endless Rockin' Re-spins
You wouldn't think that slot developers could do much with a one-payline classic 3-reel slot game. But Lucky Stripes takes a unique twist with a bonus called Rockin' Re-spins.
You'll trigger the Rockin' Re-spins feature by getting a wild symbol on the first and third reel and the Rockin' Re-spins symbol on the second.
Once it starts, the wild symbols become sticky. The only reel that (re)spins is the middle one.
The middle reel will spin indefinitely until you get the "collect" symbol. How much can you win between the time you trigger the feature and the "collect" symbol comes up?
You'll have this play this classic slot for yourself to find out!
Jester's Jackpot from Microgaming
| | |
| --- | --- |
| Provider | Microgaming |
| Paylines | 1 |
| Limits | 0.25-15.00 |
| RTP | 92.26% |
| Features | Jackpot prizes |
Jester's Jackpot is the most straightforward of the classic slot machine games we've introduced.
It provides the typical cherries and bars payouts, standard in traditional 3-reel online slots. And the game focuses on one payline and three betting levels, which are evenly distributed.
This means that, if you opt to play one or two coins instead of three, you're not penalized on the payouts. For example, three jester hats, which are behind the jackpot awards, pay as follows.
One coin = 800
Two coins = 1,600
Three coins = 2,400
Not bad, right? There's no reason to play two or three coins if you can't afford it because you're still getting the same payout relative to the number of coins you're playing. There's no advantage to playing more coins.
The other thing we like about Jester's Jackpot is that it will award one of the top two prizes if the three symbols are anywhere on the reels. They don't have to be directly in the middle unlike most traditional 3-reel slot machines.
This is a good example of a classic slot that takes your traditional game to another level by breaking the "rules." That is reason enough to check out this classic slot from Microgaming.
IGT's Triple Diamond
| | |
| --- | --- |
| Provider | IGT |
| Paylines | 9 |
| Limits | 0.25-100.00 |
| RTP | 95.06% |
| Features | Double and triple payouts |
If you've spent any time in Las Vegas casinos, you're familiar with IGT slots. IGT is one of the top slot providers for casinos worldwide.
While IGT has an entire line of modern, licensed video slots, they are also known for their classic slot machines.
Their classic slot games are exactly what you would expect between their symbols (diamonds, sevens, cherries, bars, etc.) and full paytable above the reels.
What's more is that IGT has converted quite a few of its land-based slot machines to digital so that you can play classic slots for real money online.
One of their most recognizable 3-reel slot games is Triple Diamond, the follow-up to Double Diamond.
Whether you pull it up in classic slot apps or play it on your desktop, it's a simple 3-reel slot with one big-money payout. Three Triple Diamonds on one of the nine paylines is worth X1,199.
It's Vegas classic slot simplicity in the palm of your hand.
More Top Online Classic Slots
We only covered four examples of classic 3-reel slots online. But there are many, many others.
Here are a few more real money classic online slots you should check out.
| | | | |
| --- | --- | --- | --- |
| Game | Provider | Paylines | Highliights |
| Grand Spinn | NetEnt | 1 | Three jackpots, including an X10,000 Mega prize; reel nudges |
| 7s and Bars | Rival | 1 | Allows for just 0.01 per spin; three symbol combinations pay up to 2,500 credits |
| Irish Charms | Pragmatic Play | 3 | Sevens are wild, and triple sevens pay 1,000 credits |
| Chinese Spider | Amatic | 12 | Wild and multiplying spider symbol; 2-3-2 reel setup |
| Diamond Duke | Quickspin | 5 | Two bonus wheels, up to X100 multipliers and X8,000 payouts |
| 888 Dragons | Pragmatic Play | 1 | Payouts up to X100 based on different colored dragons |
| Golden Tiger | iSoftbet | 5 | Golden Tiger collect feature, bonus wheel spins, double-pay multiplier |
| VooDoo Shark | Merkur Gaming | 5 | Re-win feature and a gamble-up option |
| Monkey Madness | Pragmatic Play | 9 | The wild monkey turns into an X9 multiplier when used in a winning payline |
| Reel Classic 3 | Playtech | 1 | One to three coin bets; top payout of 5,000 with three credits staked |
The Best Classic Slot in Las Vegas Casinos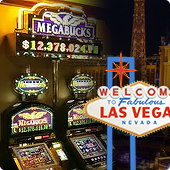 We'd be remiss if we didn't mention one of the best classic slot machines of all time, Megabucks.
What makes this slot so special? It paid one lucky winner $39.7 million, one of the largest payouts in Las Vegas.
Megabucks is an IGT slot game that first hit casino floors in 1986. At that time, the progressive jackpot started at $1 million.
These days, you won't see a Megabucks slot displaying anything less than $10 million. That is its current seed amount.
The original Megabucks classic slot machine is a $1 denomination, three-reel game. It allows players to bet one, two, or three credits.
While we never tell readers what to do, we strongly recommend that you play all three credits if you're sitting at a Megabucks machine. It could be the difference between winning $20,000,000.00 and $10,000.00.
While the unnamed player is laying low, IGT has reported that at least one person has hit the jackpot without betting all three credits. Yikes!
Strategy for Playing Classic Slots Online
In addition to a few classic slot recommendations, we've also got some general strategy guideline and tips and tricks to give you as much of an advantage as possible.
Just bear in mind, though, that it all ultimately depends on the symbols that appear on your screen. We are gambling, after all.
This is what we recommend you do to give yourself the best chance of winning when you play classic slots for real money online.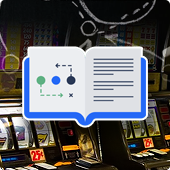 Select the most reliable casino sites online with classic slots.
Play classic slot machines with RTPs (return to player percentage) over 96%.
Use online casino bonuses wisely.
Bet the maximum number of credits unless the paytable is evenly distributed.
Consider the volatility.
Compare paytables.
Select the Best Casinos Sites with Classic Slot Games
One of the most important things you can do to give yourself an advantage and feel confident about fair and safe gaming is to pick the right gambling site.
We wouldn't recommend transferring money into the first online casino you find. Instead, use recommendations from a trustworthy source.
You can rely on suggestions from friends and family or choose one of our top-rated sites. Our list results from a lengthy process, including reviews, background checks, and ranking comparisons.
Stick to RTPs Over 96%
You'll find that classic online slots are usually more player-friendly than similar games in land-based venues. Virtual games tend to have higher RTPs (favorable to players) because online casinos have less overhead.
If you're not familiar with RTPs, a 96% RTP (return to player percentage) is the same as a 4% casino advantage. That number isn't too bad for slot gaming, as some slots dip into the mid-80 percentage range. Try to avoid those whenever possible.
Play Classic Slots with Bonus Cash
One of the benefits of classic slot games online is that you can play most of them while earning a bonus.
However, just as you don't want to register a gambling account with any casino you come across, you don't want to accept every bonus reward you find. You want to look over the promotional rules first to ensure the rollover isn't too high and the terms are acceptable.
If you're comfortable with the incentive, then a bonus can be a significant part of your classic slot strategy. You can use it to stretch your bankroll, which is especially helpful if you're playing on a limited budget.
Bet the Maximum (When it Makes a Difference)
Another advantage to classic slots is that you play fewer credits than video slots. Depending on the game, you might only need to stake up to three coins. Compare this to five-reel games that require 25, 50, or even more credits to cover every payline.
Your goal is to make sure your stakes are getting you the best odds and putting you in contention for jackpots and other high-value payouts.
Three-Coin Advantage
Let's say you're playing a real money classic slot online with the most valuable symbol paying as follows.
One coin = 1,000 credits
Two coins = 2,000 credits
Three coins = 5,000 credits (or even a jackpot)
You can see that the payouts aren't distributed evenly. In this case, your best bet is to play three coins, even if you have to slightly lower the credit denomination to compensate and stay within your budget.
No Advantage to Three-Coin Bets
Somtimes it doesn't matter how many credits you play at a time. You won't be missing out on anything by staking one or two coins when the bet-to-reward ratios are the same.
Here's an example.
One coin = 1,000 credits
Two coins = 2,000 credits
Three coins = 3,000 credits
The point is that you want to compare the payouts to how much you must bet to win them. You need to do this so that you can decide whether to bet the max.
If not, you can bet according to your budget without sacrificing the possibility of a large win.
Consider the Volatility of the Machine
Low volatility classic slots tend to have smaller but more frequent payouts. Higher volatility games lean more toward big-money potential, but you could go a long time without winning anything.
If your overall strategy is to play longer sessions, then a low volatility classic slot is a better choice.
Do Some Paytable Comparison Shopping
Classic slot machine games are more about the paytable than special features. This means that you don't want to choose a game based on a theme or features, like you would a video slot. Instead, you want to shop for top payouts.
You don't have to compare every symbol. Just look at the top line for the maximum payout potential. If you have two similar three-reel slots with the same RTP and volatility, one with a 10,000-credit prize and the other with 5,000 credits, then the choice is easy.
Play Classic Slot Games Online Now
We've covered quite a bit of ground about classic slot games in online and land-based casinos.
They might be much more straightforward games than their five-reel counterparts, but even one-payline slots can pack a punch with some unique features and exciting three-symbol payouts.
Unless you're playing a game like 777 that involves some strategizing with its custom hold feature, there's no learning curve when you play online classic slots, either. It's easy to get started.
All you have to do is select a site from our list of the best online casino sites with classic slots, create an account and make a deposit, and then you'll be ready to start playing your favorite classic slot machines online for real money.

Sign up Bonus
250% Up To $5,000
READ REVIEW
Visit Site
X