Online Casinos With Evolution Gaming Software
If you love playing live dealer casino games, you have to check out Evolution Gaming casino sites. They have blackjack, roulette, game shows, and even craps games with a live dealer.
Here are some of our recommendations for the top sites to play Evolution Gaming casino games for real money.
Evolution Gaming is the undisputed leader as far as live dealer casino games. The company made a name for itself by creating unique live dealer games you won't even find in land-based casinos.
Instead of competing with other companies, Evolution Gaming began acquiring them. Thanks to those acquisitions, there are hundreds of games available on casino sites with Evolution games.
If you have access to Evolution Gaming casinos online, you should take advantage of all the games they have to offer.
Unfortunately, Evolution Gaming software is not available everywhere. Several restricted countries, including the United States, are not allowed to offer Evolution Gaming casino games. Players in the US and other restricted countries can check out this page for other recommended live dealer casinos.
Evolution Gaming Company Background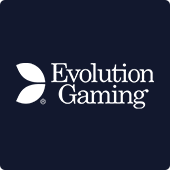 Evolution Gaming was founded in 2006 by Richard Hadida, Jens von Bahr, and Fredrik Osterberg in Stockholm, Sweden. Jens von Bahr has been the CEO since 2006 and has taken various roles on the company's Board.
Several online casino software providers, including Microgaming, NetEnt, and Playtech, were well-established by the time Evolution Gaming joined the scene.
To compete with companies that already had years of experience in the online casino world, Evolution needed something to make them stand out.
While their competitors focused on digital slots and table games, Evolution Gaming took a different path by exclusively developing live dealer games.
A few other companies had explored the live dealer concept, but none of them were particularly successful. Evolution Gaming changed all of that because they had newer technology.
The company was able to create live dealer games with much higher quality than their competitors. Their high-quality games immediately gained attention from some of the largest online casinos. Evolution has not stopped growing since then.
Within the first two years, Party Gaming, William Hill, 888, Ladbrokes, and Unibet were all operating Evolution Gaming live dealer casinos.
In 2015, the company went public on the Nasdaq First North Premier Stock Exchange.
There are more than 10,000 Evolution employees working in more than 20 locations around the world.
The company has received many awards and has gone on to acquire other live dealer studios and casino game developers.
Evolution Gaming Software Awards
We are not the only ones who think that casino games from Evolution Gaming are the best. Several online gambling organizations have consistently recognized the company.
Here are just a few of the most noteworthy awards that Evolution Gaming software has won over the years.
2021
Global Gaming Awards London – Online Casino Supplier of the Year
Global Gaming Awards London – Product Launch of the Year- NetEnt Divine Fortunes Megaways
Global Gaming Awards London – Casino Product of the Year- Gonzo's Quest Megaways
2020
Gaming Intelligence Awards – Casino Supplier of the Year
Gaming Intelligence Awards – Game of the Year- Monopoly Live
Global Gaming Awards London – Online Casino Supplier of the Year
EGR Italy Awards – Casino Content Supplier of the Year
EGR Nordic Awards – Casino Content Supplier of the Year
Sports Betting Community Awards – Innovation in Casino Entertainment – Crazy Time
2019
Global Gaming Awards London – Online Casino Supplier of the Year
American Gambling Awards – Service Provider of the Year
EGR Nordic Awards – Casino Content Supplier of the Year
EGR Italy Awards – Casino Content Supplier of the Year
Sports Betting Community Awards – Innovation in Casino Entertainment
2018
Sports Betting Community Awards – Innovation in Live Casino Award
EGR Operator Awards – Game of the Year – Lightning Roulette
EGR Nordic Awards – Casino Content Supplier of the Year
Global Gaming Awards Las Vegas – Product Innovation of the Year – Lightning Roulette
EGR B2B Awards – Multi-Channel Supplier of the Year
2017
Gambling Compliance Global Regulatory Awards – Head of Risk/Fraud Category – Tania Johannisson
2010
EGR Awards – Live Casino Software Supplier
EGR Awards – Software Rising Star of the Year
The EGR (e-Gaming Review) B2B awards are the most prestigious awards for online casino software providers.
Evolution Gaming has won the title of Live Casino Supplier of the Year twelve years in a row, beginning in 2010. That award didn't exist before 2010.
Evolution Live Gaming Studios and Licensing
The Evolution Gaming headquarters are in Stockholm, Sweden. That is where their game ideas are developed and where the company operates the software and hardware side of its business.
But that is not where their games are actually filmed.
There are ten Evolution Gaming studios around the world. Here are their locations.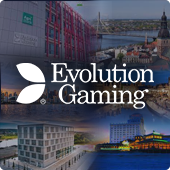 Riga, Latvia
Malta
Belgium
Romania
Canada
Georgia (country)
New Jersey
Pennsylvania
Michigan
Lithuania
In addition to these studio locations, Evolution also streams some games from live land-based casinos. One of their most noteworthy land-based casino locations is the Hippodrome Casino in London.
Evolution needs multiple studio locations so that they can offer live dealer games with different native languages and so they can meet licensing requirements.
The company has multiple gambling licenses from Malta Gambling Authority, Alderney Gambling Control Commission, and the UK Gambling Commission. Those licenses allow them to develop casino games and stream them to other locations.
Evolution also has location-specific licenses that they need to be able to work with online casinos in different markets. These include licenses from Italy, Spain, New Jersey, Pennsylvania, Romania, and Belgium.
Evolution's Corporate Strategy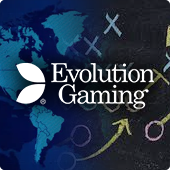 All of those licenses and certifications are really important. Evolution live casino games have to meet strict standards for fairness to maintain licenses from so many different regulatory agencies.
You can trust that Evolution online casinos are safe and legitimate because of all these licenses. All of Evolution's games are also tested by the NMI Metrology and Gaming Laboratory.
Multiple studio locations and international licenses are crucial components of Evolution's corporate strategy.
They strive to be the first live casino provider whenever regional jurisdictions introduce new gambling regulations. Evolution casino software was the first live casino provider in Italy, Spain, and Denmark.
It was also the first live casino provider to gain a Preliminary Waiver Approval in New Jersey. Since then, it has also received licenses in Pennsylvania and Michigan.
That means that Evolution Gaming is the only international software provider available in states with regulated casino markets.
Their goal is to help their casino clients be the first to enter new markets with compliance with local laws and games that appeal to customers in different regions.
One way that they have increased their geographical presence is by acquiring other companies.
Companies Acquired by Evolution Gaming
During the first few years of the company's existence, Evolution grew by creating new games that attracted more clients. Now that they are an established software company, Evolution is concentrating on acquiring other companies and expanding into new markets.
Here are some of their most noteworthy acquisitions.
NetEnt and Red Tiger Gaming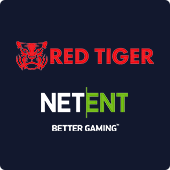 NetEnt was a leading online software company that started in 1996. The company had a few live dealer games, but their focus was on slot machines in particular.
Evolution Gaming acquired 90% of the shares in NetEnt for more than $2.1 billion in December 2020.
Red Tiger Gaming was another digital games creator that started in 2014. Their progressive jackpot network, bonus management system, and tournaments software were particularly noteworthy.
NetEnt acquired Red Tiger for €223 million in March 2020. When Evolution acquired NetEnt, they automatically acquired Red Tiger Gaming as well.
Ezugi Gaming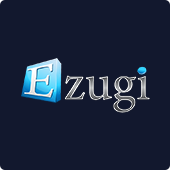 Ezugi Gaming was one of the primary competitors for Evolution Gaming. The company focused solely on live dealer casino games when it launched in 2012.
Many of Ezugi Gaming's clients were casinos in Latin America, South Africa, and a few smaller markets in the US and Europe.
Evolution Gaming bought Ezugi in a $12 million cash deal that was finalized in 2019. Ezugi now operates as a sister brand.
This acquisition helped Evolution to expand to multiple regions that it did not operate in previously. Evolution software capitalized on Ezugi's regional expertise to expand into new markets.
Big Time Gaming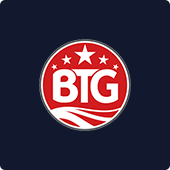 The latest acquisition is the purchase of the Australia-based company Big Time Gaming. Evolution purchased Big Time Gaming for €450 million in June 2021.
Before the merger, Big Time Gaming was one of the leading digital games providers in Australia. They are specifically known for their Megaways jackpot network.
All of these acquisitions represent Evolution Gaming's market strategy. The company cornered the market on live dealer games in Europe and Canada.
Now they are capitalizing on that success to acquire other companies that have already conquered other markets.
That way, Evolution gains access to Australia, Latin America, South Africa, and parts of Asia without competing or starting from square one.
Instead of branching out to develop digital casino games, they are simply acquiring other companies that already do that.
It is an impressive corporate growth strategy, but Evolution can only acquire these other studios because they are already such a successful company.
You can play NetEnt and Big Time Gaming casino games on Evolution casino sites thanks to these acquisitions.
But the live dealer games that made Evolution so successful are still the main attraction. Let's explore some of the casino games by Evolution Gaming.
Unique Live Casino Games from Evolution
Every live dealer casino studio offers table games like blackjack, roulette, and baccarat. Evolution Gaming casinos have those too, but they stand out because they also offer other unique games.
Most of the unique live casino games from Evolution are game shows. Here are a few examples of the games you can play.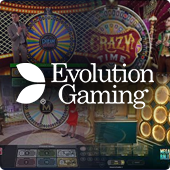 Dream Catcher, Crazy Time, and Monopoly Live are all variations of wheel games. The dealer/host spins a "wheel of fortune"-style wheel, and you have to bet on where it will land. Each variation includes different multipliers and bonus options.
Mega Ball is a live dealer bingo game that is constantly going. You can get up to 200 online bingo cards with 24 numbers each. The computer will mark spaces on your cards as the dealer draws a ball from the ball machine. If you get five spaces in a line, you can win a payout.
Deal or No Deal Live allows players to participate in the game show just like they would on TV. You start with a digital qualifying game and then enter the top-up round, where you get to pick briefcases to multiply your payouts.
All of the Evolution Gaming casino game shows have a host or dealer who might press the button or spin a wheel, but that is not their primary objective. The game host is there is interact with the players, celebrate wins, and create excitement.
These games do not move as quickly as digital casino games because they are designed to allow the dealer to interact with the players.
You will enjoy the Evolution Gaming game show-style games if you like interacting with dealers and playing unique games. Most of their gameshows include multiplier bonuses to add even more excitement.
Live Casino Table Games from Evolution
Table games are the bread and butter for any live dealer casino studio. Evolution Gaming casino software includes a broad range of live table games to choose from.
Live casino roulette, baccarat, and blackjack are the fundamentals, but Evolution also offers poker games and Dragon Tiger.
Evolution Gaming sites can choose several different table game options in each of those categories. For example, they can choose VIP and Salon Prive variants for high roller customers. Or they can choose from dealers who speak different native languages.
Here are some of the unique table game variants that Evolution Gaming casino sites offer.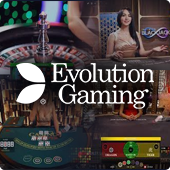 Immersive Roulette uses Hollywood camera equipment to offer players multiple angle views of the roulette wheel. Players can see 200 frames per second and view slow-motion replays.
Infinite Blackjack allows an unlimited number of players to play blackjack without having to bet behind. It also includes four side bet options.
Baccarat Control Squeeze allows players to reveal the cards when and how they want to. The dealer lays the cards face down on a glass panel. Optical filters blur out the cards until players click on corners or edges to view part of the card without seeing all of it.
Evolution Gaming was the first live dealer studio to offer casino poker games like Casino Hold 'Em. In addition, Side Bet City is a unique poker option with a 1980s theme.
Dragon Tiger is a two-card game where players bet on whether the dragon or tiger will get the higher card.
Many of the live casino table games from Evolution are lightning games. All of the Lightning Games include random multipliers at the beginning of each round.
Table games are a standard part of live dealer casinos. Evolution Gaming online casino software offers all of the table games you can find from other providers.
But Evolution offers the highest quality video streaming, as well as unique variants and exciting side bet options.
The quality of Evolution's live dealer casino games and their game variety is what makes them stand out.
Evolution's Live Dice Games
Dice games do not translate to a live dealer format as easily as card games. As a result, many live dealer casino studios stay away from dice games altogether.
Evolution Gaming online casinos offer three different live dealer dice games. The company has developed one-of-a-kind technologies that allow them to offer these games.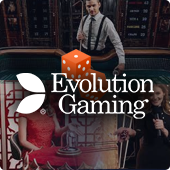 Craps – Most live dealer casinos don't offer live craps games because the croupier could easily affect the game's outcome while handling the dice. Evolution overcame this by developing a robotic dice thrower. The croupier just moves the dice from the table to the thrower.
Super Sic Bo – Evolution's sic bo variant is unique because it uses a random number generator to determine a random multiplier before the game starts. If the number you bet on is one of the multiplier numbers, you can earn higher payouts.
Lightning Dice – This dice game is similar to Asian games like pachinko. The dealer will toss the dice in a machine and let them fall to the bottom. While the dice are falling, random multipliers are awarded.
None of these dice games are particularly complicated, but they are unique because of their live dealer format. Evolution Gaming is the only live dealer studio to offer a variety of dice games.
Online Slots from Evolution
For the first decade that Evolution was in business, the company completely ignored slot machines.
There were dozens of other software providers that focused on slots. Evolution didn't need to compete with them because they had the live dealer market cornered.
Now that other software providers, including Microgaming and Playtech, have launched their own live dealer games, Evolution has to adapt.
Acquiring NetEnt and Red Tiger Gaming was their first move toward incorporating online slots. By acquiring these two companies, Evolution gained instant access to more than 200 digital games.
Check out these pages to learn more about the NetEnt and Red Tiger slots games you can play on casino sites with Evolution Gaming games.
Evolution Gaming has a reputation for being innovative. Now that they have acquired the rights to hundreds of slots games, they are exploring the possibilities of live slot games.
Gonzo's Treasure Hunt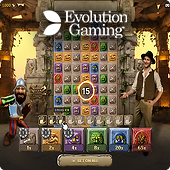 Gonzo's Treasure Hunt is the first attempt. It is a new and exciting game show that combines a live dealer game show with a classic slot machine.
The Gonzo character from Gonzo's Quest slot game comes to life beside the dealer with virtual reality. Behind them, you will see a giant wall with 70 stones. Each stone represents different prizes.
You and Gonzo go on a treasure hunt by choosing stones on the wall. First, you will choose which color of stone you want to search for.
Each stone has a different payout value, and the higher the payout, the harder it is to find that stone. You can buy up to 20 chances to search for stones.
Gonzo can help you win by turning the golden key to activate the prize drop. Bonus prizes and multipliers will appear at the top of the wall and fall into different places on the wall.
This exclusive slot is only available at online casinos with Evolution Gaming games.
It is the first of its kind, but it is hopefully a sign of new and exciting products coming from Evolution and its sister brands.
Mobile Live Casino Games from Evolution Gaming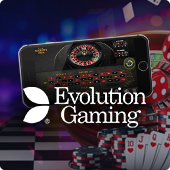 When Evolution Gaming began to offer live dealer casino games in 2006, mobile technology was not what it is today. Smartphones were popular, but they did not have the capabilities of modern technology.
Live casino games are different from digital games because they require a combination of digital game components with live video streaming.
The technology needed to offer live casino games took a lot longer to develop than the technology for digital mobile games.
Fortunately, Evolution Gaming has been quick to embrace new technology. They began offering Evolution Gaming casino apps with live dealer mobile games in 2012.
It took several years, but Evolution Gaming released a full range of mobile live casino products for iOS and Android devices.
All of the Evolution live dealer games are available on mobile devices. You can stream gameshows, like Dream Catcher, or play live table games from your smartphone or tablet.
If the games are loading slowly or glitching, it is most likely because of your internet connection. Live dealer games require a lot of bandwidth to stream the HD videos of the dealers.
As long as you have a strong internet or mobile connection, mobile casino games from Evolution Gaming should perform the same as the computer versions.
Downloadable Apps or Mobile Casino Sites?
You can play mobile live dealer games on Evolution Gaming apps that are specifically designed for your device, including Evolution apps for iPads.
If you don't want to download a specific app, you can also play Evolution casino games for real money on mobile gambling sites.
To access mobile Evolution sites, you simply have to visit your favorite casino site from your device's internet browser.
There are pros and cons to both mobile sites and casino apps. You can learn more about live dealer casino apps on this page.
Our Opinion of Evolution Software
Evolution live casino software is top-notch across the board. They have high-quality games that are streamed from locations around the world.
Because Evolution has so many studios in different countries, you can access live dealer games 24/7. You can also interact with dealers that speak your native language. They have dealers that are native speakers of twenty different languages.
All of their dealers are well-trained, professional, and interactive. Those are a few reasons why we like Evolution live casinos. Here are some more.
First, they have more side-betting options than other live dealer studios offer.
Another reason we love Evolution casino games is that they are the only studio to offer lightning games with random multipliers. You can play roulette, dice games, and baccarat with lightning multipliers.
The number one reason that Evolution software is the best live casino provider is that they have more games and variants than any other studio.
This is how Evolution's game collection compares to other live casino providers.
| | | | |
| --- | --- | --- | --- |
| Software Provider | Evolution Gaming | Microgaming | Playtech |
| Live Table Games | 38 | 4 | 12 |
| Live Game Shows | 8 | 1 | 0 |
| Live Dice Games | 3 | 1 | 0 |
| Live Slots | 1 | 0 | 0 |
There is only one flaw with Evolution online casino software. You cannot play Evolution Gaming casino games for free.
Live dealer games cost more to operate than digital games because you have to pay the dealers, camera operators, and tech support teams. Therefore, it is not financially feasible to offer live dealer casino games for free.
If you want to see what Evolution's games are like, you can watch video reviews of their games. Or you can give yourself a limited budget and play a few games with low stakes.
Evolution Gaming has dominated the live casino industry for more than
15 years.
Now that the company is expanding with acquisitions, they are well on their way to becoming a leader in all aspects of online gambling.
If you are ready to experience Evolution casino games for yourself, you can sign up for one of the recommended casinos we listed at the top of this page.
You can also check out the following casinos that have casino games from several different software providers.
Rank
Online Casino
Exclusive Bonus
Get Started

#1

Bovada Casino

100% Up To

$3,000

Visit Site

Visit Site

#2

Las Atlantis

280% Up To

$14,000

Visit Site

Visit Site

#3

Wild Casino

250% Up To

$5,000

Visit Site

Visit Site

#4

Red Dog Casino

225% Up To

$12,250

Visit Site

Visit Site

#5

Ducky Luck

500% Up To

$2,500

Visit Site

Visit Site

#6

Super Slots

250% Up To

$6,000

Visit Site

Visit Site

#7

BetUS Casino

200% Up To

$5,000

Visit Site

Visit Site

#8

Ignition Casino

150% Up To

$1,500

Visit Site

Visit Site

Sign up Bonus
250% Up To $5,000
READ REVIEW
Visit Site
X