Hide Bonus Offers
| | | | | |
| --- | --- | --- | --- | --- |
| #1 | BetOnline Sports | 60% Up To $1,000 | Visit Site | BetOnline Sports |
| #2 | Bovada Sports | 50% Up To $250 | Visit Site | Bovada Sports |
| #3 | BetUS | 125% Up To $2,500 | Visit Site | BetUS |
| #4 | Everygame | 100% Up To $500 | Visit Site | Everygame |
| #5 | MyBookie | 100% Up To $1,000 | Visit Site | MyBookie |
Ranking the 9 Best Boxing Fights We've Ever Seen

I've seen various lists of the best boxing matches of all time doing the rounds online.
Half of them aren't worth reading. You can put that down to snobbery if you like. But while I may look down my nose at what some believe to be the best boxing matches, I understand that such things are subjective. They are a matter of opinion.
Establishing that, first and foremost, is important for what I am about to do today. That is, to rank the top nine greatest boxing fights in history. The ones that we have seen that is. And I don't mean in person.
Of course, feel free to critique my list ranking the best boxing matches ever. Please, criticize me for leaving that mid-19th Century scrap between Philly Dan Bumbleknocker and Frederick H. Flimpengriddle off this list. Why? Because no footage exists. No footage means I can't have possibly watched it. Therefore I would be trying to impress you and come off as a boxing encyclopedia.
Well, I might as well have made two names up, right?
Whether you are just getting into the wonderful world of the "sweet science" or a boxing purist who knows their stuff, I hope you enjoy this list.
With that covered, let's start at number nine in this list, ranking the greatest boxing matches of all time.
9. Pernell Whitaker vs. Julio Cesar Chavez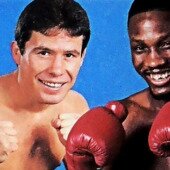 Date: September 10, 1993
Venue: Alamodome – San Antonio, Texas
Billed As: "The Fight"
Weight Class: Lightweight
Winner: Draw
Some of the best boxing matches in history have come from fights that initially went under the radar.
Not Whitaker vs. Chavez, though. This was a battle between two very different fighters. Fans were torn on whether the elusive, technical wizardry of "Sweet Pea" Whittaker would resemble the ways of a master matador to the bullish, intense pressure style of one of Mexico's greatest fighters.
This was also the first fight in the history of The Ring's pound-for-pound rankings where the number one and two rated fighters would square off. Chavez was king of the rankings, and Whittaker's job was to dethrone him in San Antonio the weekend before Mexico's independence day.
"That is the title every man dreams of. This fight is the World Series, Super Bowl, and NBA finals. It's boxing's two best fighters."
The build-up for this WBC lightweight clash was intense. But bouts like these can often flatter to deceive.
Although the pressure to make this one of the best boxing fights ever witnessed was overbearing, it delivered. But it was Whittaker's defensive acumen and laser-precise jab that controlled proceedings. Chavez tried to find his rhythm but was disrupted at many turns, simply unable to catch the slick and stylish American.
When the last bell rang, it appeared that Whittaker had done enough to take the victory and be crowned as the king of boxing. But this sport, being as it was and still is, sprung a surprise when judges Mickey Vann and Franz Marti scored the fight as a draw.
Despite Whittaker out landing his man with 311 punches to 220 and looking the better fighter, only Jack Woodruff would award him the decision. Boxing fans raged, with cries of robbery and boos ringing around the Alamodome.
There are several reasons why I rank Whittaker vs. Chavez as one of the top boxing matches of all time. But the main one is that it highlighted everything that is good and bad about the sport we suckers love.
8. Joe Louis vs. Billy Conn 1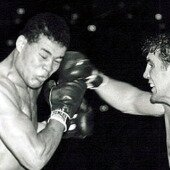 Date: June 18, 1941
Venue: Polo Grounds, New York – New York
Weight Class: Heavyweight
Winner: Louis KO (13)
Coming in at number eight in my top boxing matches of all time is a fight that could have been placed anywhere from 10 to 1.
The legendary Joe Louis vs. Billy Conn scrap is one that I would encourage any budding boxing enthusiast to read up on. Even better, there is a lot of footage of the fight online, despite this one going down in 1961.
The fight is highly regarded for numerous reasons. The most obvious of them all being that Conn was given little to no chance of beating arguably the greatest heavyweight of all time. Of course, neither would touch the scales as heavyweights by today's standards.
Conn was barely a super-middleweight. Despite reportedly weighing in at 174 pounds to Lewis' 199.5, he was 169 on fight night. That is insane if you take even a little time to think about it. I mean, this was Joe Louis he was fighting. Crazy!
If you could have accessed odds for this fight on the best boxing betting sites, Louis would have been priced at around -800, at least. Despite others stating that he was -220. I don't buy that at all. This was expected to be a walkover by the heavyweight champ, but it was anything but.
Louis was looking to nail his 19th consecutive title defense but faced a game Conn who pushed him all the way. In fact, Conn was leading on two of the judges' three scorecards and needed just one more round to shock the world by beating the king of the heavyweights.
It was a case of unlucky 13 for the underdog, however. Despite rocking Louis in the Round 12, he was knocked out with just two seconds remaining of the one that followed. Heartbreaking for Conn, who was heralded for his bravery and exceptional performance after the fight.
One of the greatest boxing matches of all time, hands down.
7. Sugar Ray Leonard vs. Thomas Hearns 1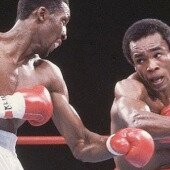 Date: September 16, 1981
Venue: Caesars Palace, Las Vegas – Nevada
Billed As: "The Showdown"
Weight Class: Welterweight
Winner: Leonard by KO (14)
At number seven in the best boxing matches of all time comes an epic battle between two of the greatest fighters of all time.
While ranking boxing's fabulous four remains a controversial endeavor, many fans can look back at the top fights between this quartet of legends to help them make their claims. One of the bouts frequently cited as a reason why Sugar Ray Leonard deserves to be rated above Thomas "The Hitman" Hearns is, naturally, the one I will talk to you about now.
Both Leonard and Hearns were truly on top of their respective games in 1981. The phenomenal "Sugar Man" was rebuilding following an upset defeat to Roberto Duran in June of 1980 when he switched up his style and stood toe to toe with the vicious Panamanian.
Hearns was hunting the WBC and The Ring welterweight titles that Leonard had lost to Duran that night, coming in with a record of 32-0 with 30 KO/TKOs. Many had expected the fight to go Hearns' way, and it looked as though the "Motor City Cobra" was on his way to taking out one of the sport's true greats.
Five rounds in, Leonard failed to get inside the long jab of Hearns. His eye was beginning to swell as progressively as the lead grew in favor of the unbeaten man.
But in Round 6, something clicked for Ray. He threw all caution to the wind and began to chop at Hearns, who was now fighting off the back foot. Leonard scented fear and drove into Hearns' chin with a ferocious left hook, following up in the next round with another flurry of devastating shots.
Hearns bounced back and won four rounds on the bounce from 9 to 12. The iconic Angelo Dundee famously scolded his fighter in the corner, telling Leonard, "You're blowing it now, son! You're blowing it!"
Despite his eye almost completely closed at this point, Hearns hit the championship rounds as a man possessed. He sent The Hitman through the ropes, with Hearns somehow managing to get back to his feet.
In Round 14, Leonard saw an opening and smashed into Hearns' jaw with an incisive overhand right. He pushed his man against the ropes, opening the Gates of Hades and pulling off one of the greatest comebacks in boxing history.
Leonard had done it. He was the undisputed welterweight king, again.
6. Aaron Pryor vs. Alexis Arguello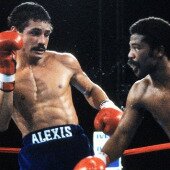 Date: November 12, 1982
Venue: Miami Orange Bowl – Miami, Florida
Billed As: "The Battle of the Champions"
Weight Class: Light Welterweight
Winner: Pryor TKO (14)
Billed by many as the greatest boxing match in light welterweight history, Pryor vs. Arguello comes in at number six.
I've grown up watching videos of both of these fighters and hold nothing but the utmost respect for both. Sadly, Arguello and Pryor passed away in 2009 and 2016, respectively. We still have their fights to look back on, of course.
With that said, I would be lying if I didn't highlight some of the controversies surrounding what is still one of the best boxing matches of all time. And trust me, there were plenty. Feel free to look the following up if you're not aware of them.
A man with a weapon attempted to enter Arguello's dressing room before the fight.
The "magic" water bottle.
The failure to collect urine samples after the fight.
About this being among the greatest boxing matches of all time, I do not doubt that it is. It was a phenomenal battle between two all-time greats that were aiming for iconic status at that point. Pryor was the WBA and The Ring light welterweight champion, while Arguello had already won titles in three separate weight classes.
From the first bell, Pryor made his intentions known. Fans watched as "The Hawk" came forward with ferocity at "El Flaco Explosivo" or "The Explosive Thin Man," throwing combinations as though they were going out of fashion. But Arguello stuck to his guns and slipped, blocked, and escaped the shots.
Arguello's counterpunching strategy was beginning to work, or so it seemed. But Pryor started to take a stranglehold of the fight. It was a phenomenal back and forth between the greats that left fans with their jaws on the floor.
However, before Round 12, a water bottle that had not been previously used was slipped into Pryor's corner. Upon drinking from it, he appeared to come out with more energy. Despite this, Arguello was still in the fight and was finding his stride.
Panama Lewis, a man I could describe as worse than a vile specimen, was heard to tell an aide to bring him another bottle of water. When handed the original bottle, Lewis exclaimed, "No, not that one, the one I mixed."
In the 14th, Pryor came out again with almost super-heroic energy and battered Arguello. Despite still hanging in, it was clear that the Nicaraguan could not cling on for much longer and was stopped.
Although controversy marred this one, it's still one of the greatest fights of all time. Panama Lewis would go on to play a part in the Bill Collins tragedy while cornering Luis Resto the following year.
Pryor would go on to stop Arguello for the second time just ten months later.
5. Diego Corrales vs. Jose Luis Castillo 1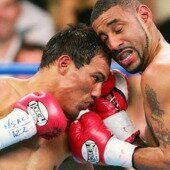 Date: May 7, 2005
Weight Class: Lightweight
Venue: Mandalay Bay – Las Vegas, Nevada
Winner: Corrales TKO (10)
The WBC and WBO lightweight titles were on the line the first time Corrales and Castillo locked horns.
Cited as the greatest boxing match of all time, especially by younger fans of the sport, there's no doubt in my mind that it is up there. There are fewer fights in history that have come close to this one for the twists, turns, and complete surprises this bout was packed with.
If you haven't; seen this one, I'd recommend watching it from the start. Don't read about it. I'm not going to talk about this one anymore, as it's beyond description.
Fans who are aware of why Corrales vs. Castillo is one of the greatest fights in the history of boxing will understand my reasons for wanting new fans to experience this one for themselves. You can watch the whole fight on YouTube via the link I have shared above.
4. George Foreman vs. Muhammad Ali
Date: October 30, 1974
Venue: Stade Tata Raphael – Kinshasa, Zaire
Billed As: "The Rumble in the Jungle"
Weight Class: Heavyweight
Winner: Muhammad Ali – KO (8)
At number four in the greatest boxing matches of all time is an undeniable classic.
This fight was more than a fight. It was a historic night when the unthinkable happened. It was the night when the great Muhammad Ali shut the world up again.
While Ali was a legend before boarding a plane to Zaire in the summer of 1974, he was immortalized as one of the greatest humans of all time on his way back. I'd love to say that I'm being hyperbolic with that statement. But that is not the case.
The fight, arranged by Don King and Jerry Masucci — with the approval and aid of Mobutu Sese Seko and Muammar Gadaffi — was billed as the greatest sporting event of the 20th Century. The African nation became the focal point of the world, with almost one billion viewers tuning in for the fight.
George Foreman was the heavyweight champion of the world. A ferocious wrecking ball, the Texan had won 40 straight fights, destroying the likes of Joe Frazier, Ken Norton, and George Chuvalo on his way to meeting Ali.
At 25, he was seven years younger than "The Greatest," who was marked as a 4 to 1 underdog to win the fight.
But the great man had other ideas.
Muhammad Ali's timeless speech after defeating George Foreman in 1974. pic.twitter.com/gf00HelGLa

— Roots of Combat (@RootsOfCombat) May 15, 2022
To put this into perspective: if this fight happened tonight, and you placed a $100 bet with the top boxing betting apps, you would have seen a $400 profit from backing Ali to win. A knockout of the unbeaten Foreman would have likely paid out at over +1000.
Why? Foreman was one of the scariest men the world had ever seen. His power was considered far too much for the aging Ali to handle.
Having had his license suspended for four years for refusing to comply with the U.S. Army Draft, the "Louisville Lip" had lost what was considered his prime years. Joe Frazier and Ken Norton had beaten him in the three years leading up to the bout. He was considered to be slower, with declining reflexes.
But that night, in front of 60,000 fans, Ali slew the giant. It was magical to watch. The Greatest of all Time took every colossal blow to the body thrown his way. It was as if he used the crowd's energy —specifically the chants of "Ali Bomaye" — against his man. He traded with Foreman; he rope-a-doped, made him miss, and made him pay.
The best boxing match ever? Well, it's my favorite fight. You could also say it's my favorite sporting event of all time. But objectively, I have to rank a few others above it.
3. Marvelous Marvin Hagler vs. Thomas Hearns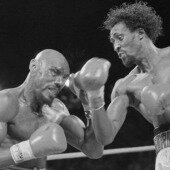 Date: April 15, 1985
Venue: Caesars Palace – Paradise, Nevada
Billed As: "The War"
Weight Class: Middleweight
Winner: Hagler TKO (3)
When we're talking about the best boxing bouts in the history of the sport, we're invariably going to run into this one.
It was a ferocious, unbelievable display of blood and guts that I wished I could have watched live. But hey, let's be thankful for the inventor of the video recorder, right? We can watch this one all day long, thanks to modern tech. So, it isn't so bad.
The WBA, WBC, IBF, and The Ring middleweight titles were on the line on a fresh April evening in Las Vegas. Two of the world's most ferocious fighters, Hagler and Hearns, were set to go toe to toe for 15 rounds in what was billed as a classic before a punch had even been thrown.
It didn't long for the fight to get up and running as Hagler burst out of his corner. Hearns' reluctance to step off made for arguably the best boxing round of the 20th century.
HAGLER HEARNS ROUND 1 – One of the greatest rounds in boxing history🥊 #boxing pic.twitter.com/RiHxtHu9we

— No Nonsense Boxing (@NNBoxing) May 23, 2022
Both men gave everything they had that night, squeezing what could have been spread across ten fights into just three pulsating rounds of action. Hagler, who looked to be out on his feet at one point, landed a right-hand square on Hearns' jaw with less than 1:30 of the third.
The Hitman had been hit. As he lost his balance, he turned his back on the champ, who charged at him before knocking him out in one of the most famous stoppages in the history of the sweet science.
2. Erik Morales vs. Marco Antonio Barrera 1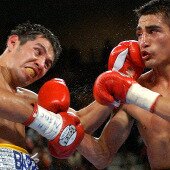 Date: February 19, 2000
Venue: Mandalay Bay Resort & Casino – Las Vegas, Nevada
Billed As: "Campeon vs. Campeon"
Weight Class: Super Bantamweight
Winner: Morales – Split Decision
Whenever I am asked what the best boxing match of all time is, this one will likely come to mind before most others.
This was Ring Magazine's Fight of the Year in 2000. It was also named the greatest fight of all time that same year. Furthermore, these bitter rivals would call each other the best they have ever fought. You can read Barrera's account of why Morales was his toughest opponent, and vice versa, for a deeper understanding of their respective interpretations.
To anyone who had the pleasure of watching this fight, as I did in my younger years, there's nothing you can say that hasn't already been tacked to this one. It was an unbelievable contest between two men who had genuine hatred for one another.
Morales was a firm favorite with the bookies, with Barrera coming in at a +500 shot with some sportsbooks.
Erik Morales was heralded as the working-class hero. Barrera, meanwhile, was raised in a middle-class setting in Mexico City and was seen as a privileged kid born with a silver spoon resting gently on his tongue. As you can imagine, this was referenced by both his opponent and his detractors and made it something of a cultural battle in Mexico.
But away from the pre-fight nonsense, the bout was phenomenally exciting. It was a war that stretched across twelve rounds, with neither man willing to give an inch. Barrera had surely done enough to pick up the win, or so we thought.
The judges saw things differently, awarding Morales the win with scores of 113–114, 114–113, 115–112. Two more fights between the rivals would occur in subsequent years, with Barrera winning both.
Iconic.
1. Arturo Gatti vs. Micky Ward 1 – The Greatest of Them All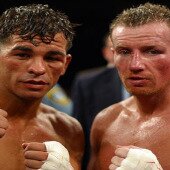 Date: May 18, 2002
Venue: Mohegan Sun Arena – Montville, Connecticut
Weight Class: Light Welterweight
Winner: Ward by Majority Decision
I'm crowing the best boxing match ever here. I know that some will disagree with me, and that's fine.
But of all the greatest fights in the history of boxing, there is no one that I come back to watch as much as Gatti vs. Ward 1. Even though I have billed Foreman vs. Ali as the best sporting event of all time, much of that has to do with the incredible feat "The Greatest" was able to pull off. But against Gatti vs, Ward, it was nowhere near the war we saw on May 18, 2002.
This was a fight that would go on to spawn a trilogy. It would go some way to inspiring the 2010 Hollywood flick, "The Fighter," despite not even featuring in the movie. The 2005 hit from Dropkick Murphys' "Warrior's Code" was also a nod to the scrap that is now firmly embedded in boxing lore.
While plenty of fans and pundits cite Round 9 of this bout as the greatest round in the history of boxing, I go one further. It's the best boxing match of all time. It had blood, guts, thrills, and spills. It was two warriors with no intention of relenting when faced with more punishment in one fight than few boxers take in a career.
Ward was the winner on the night, according to the judges. But at the risk of sounding corny, both guys came away as the victors. They would go on to fight two more times, earning another Fight of the Year award from ESPN for their third and final fight.
Before his death in the most suspicious of circumstances, Gatti carried around a cyst under his ribcage. Ward still feels the effects of a burst eardrum courtesy of the Italian-born Canadian, who started as a foe but ended up being one of his closest friends.
Gatti made a poignant remark after the epic battle that summed up this great fight.
"I used to wonder what it would be like to fight my twin; now I know."
Top Boxing Bouts of all Time – Honorable Mentions
That's nine of the best boxing matches of all time, ranked. Let me tell you; this was a tough list to compile.
Ultimately, I had to lean toward being subjective when crowing the greatest fight of all time. But I doubt anyone will look at me like a cat with six tails for picking Gatti vs. Ward 1. With that said, I also had to be impartial when it came to leaving out some other favorites; objectively speaking, they weren't as important nor as exciting as some of the other candidates.
Here's a quick look at the best boxing fights of all time that just about failed to make the grade.
Joe Frazier vs. Muhammad Ali 1
Sugar Ray Robinson vs. Jake LaMotta 6
Sugar Ray Leonard vs. Roberto Duran 1
Floyd Patterson vs. Ingemar Johansson 2
Erik Morales vs. Manny Pacquiao 1
Roberto Duran vs. Iran Barkley
James "Buster" Douglas vs. Mike Tyson
If you're looking for some top boxing matches in history to watch, you've got some solid suggestions to run with. I'd certainly recommend the top nine fights of all-time first. But have it your way and work through the ones that failed to make the top nine, if you prefer.
So, that's all for now. Let me know if there is a fight that you think deserves to be on this list by dropping me a line in the comments section below.
If you'd like to read more about the "sweet science," I highly recommend the following piece!